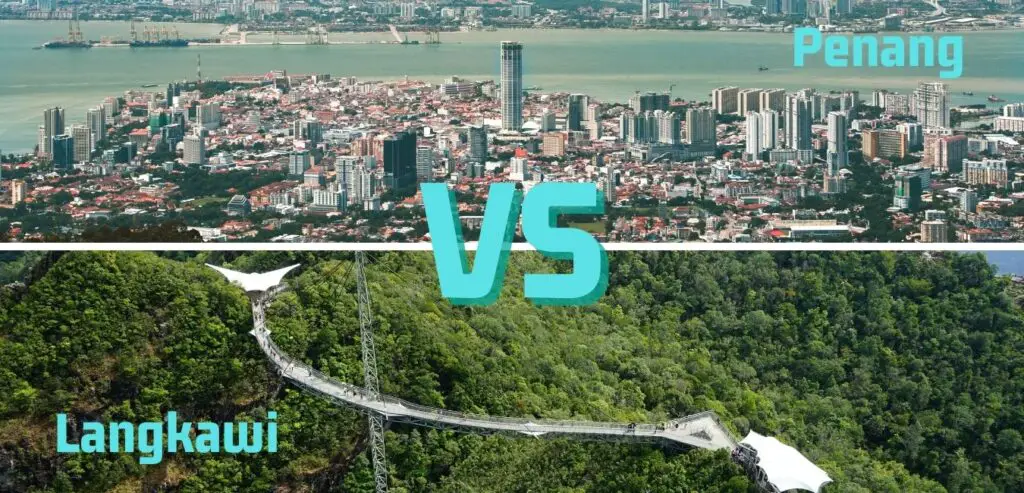 After the long, exhausting months of movement control order and travel restrictions implied by the government to curb the rising cases of Covid-19, Malaysians can finally breathe easy as we are beginning to see some light at the end of the tunnel; our vaccination rate has passed 90 per cent and the number of new cases is slowly going down to the point that interstate travel is now allowed. So, now you may plan to visit Langkawi Island and Penang, two of the favourite vacation spots in Malaysia.
However, both of the destinations have completely different ambience and activities, so if you want to find out which one suits you best, you're on the right place! 
Continue reading below to find out which destination is best for you and what do they have to offer.
What is Langkawi Famous For?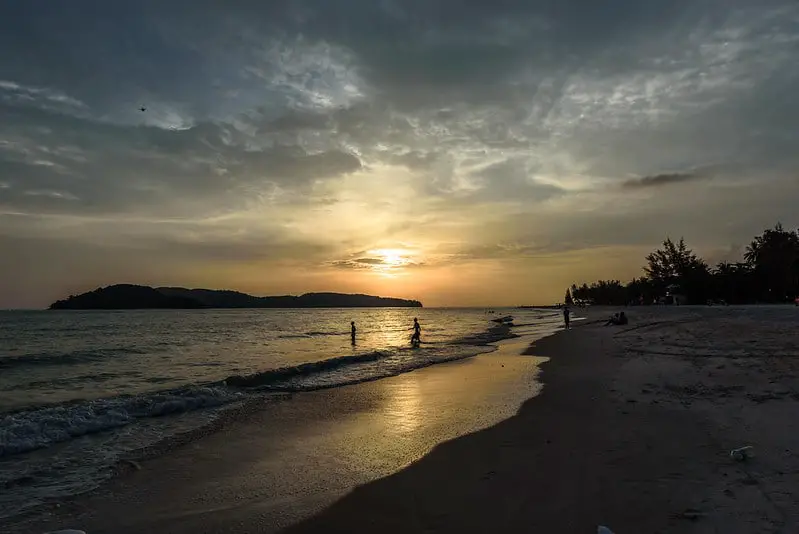 Aside from its mythical legend and duty-free chocolates, the Jewel of Kedah has almost everything that you ever need in a vacation getaway. Best for a couple who want to spend their honeymoon in Langkawi.
The island is widely popular for its beautiful beaches, lush tropical rainforests, cable cars, and of course, duty-free shopping – be it imported chocolates or pots and pans!
If what you're looking for are days full of sightseeing and listening to the sounds of the waves beating the soft sands of the pristine beaches, then you have your answer.
What is Penang Famous For?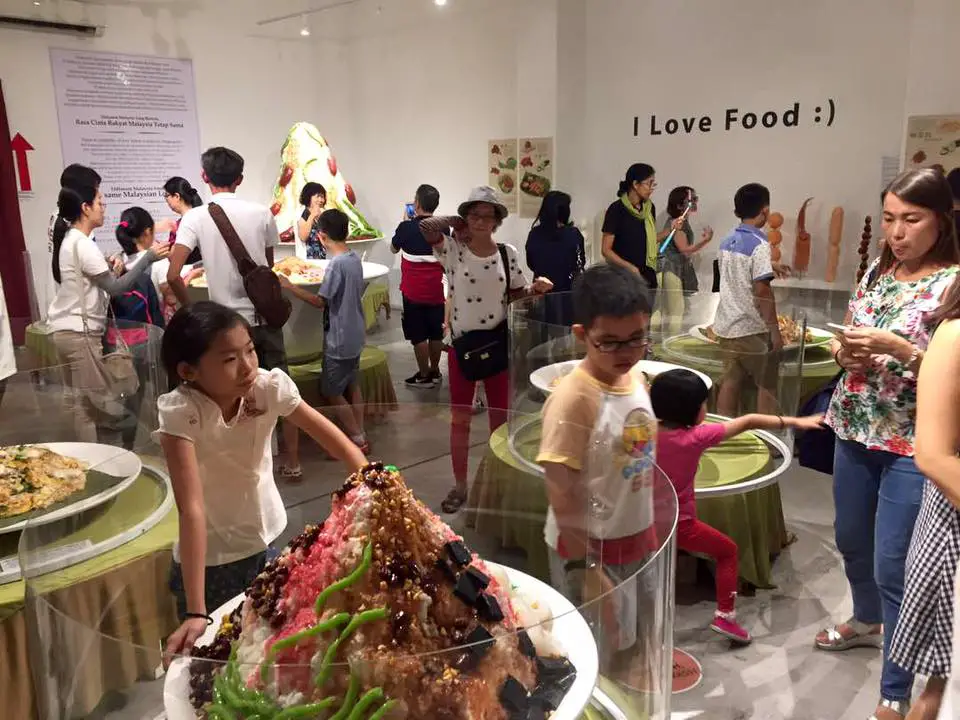 Unlike Langkawi, the sandy beaches are not the main attraction of Penang. Nicknamed the Pearl of the Orient, Penang Island is actually a heaven for foodies – which explains why it is also known as the Food Capital of Malaysia!
From mouth-watering Nasi Kandar to Pasembur, Cendol, and Butterbeers inspired by Harry Potter, your trip will be filled with hours of food hunting sessions. But, food is not all Penang has to offer; the island is also brimming with interesting museums and not to forget, the breezy Bukit Bendera overlooking the entire city.
How to Go to Langkawi from Penang?
You can also visit both destinations if you can't decide! Here are some of the transportation options that you can use to travel from Penang to Langkawi: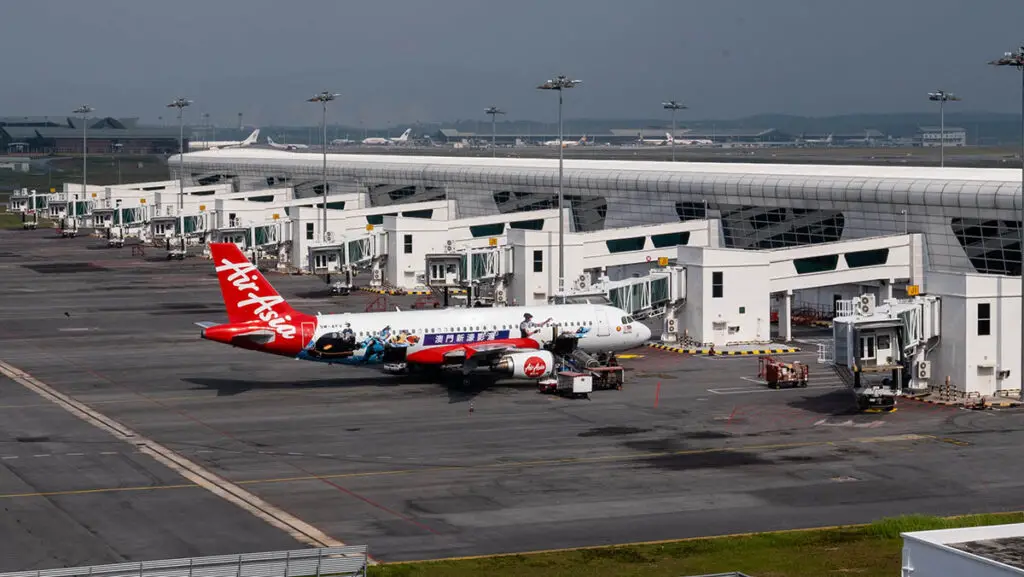 This is the easiest way to get to Langkawi from Penang, but of course, it might cost more. However, this option does save you a lot of time – the journey will only take you about 40 minutes! 
But, don't forget to arrange your transportation to take you from the Langkawi International Airport to your hotels beforehand since there's no public transportation available there. So, either a or book a Grab.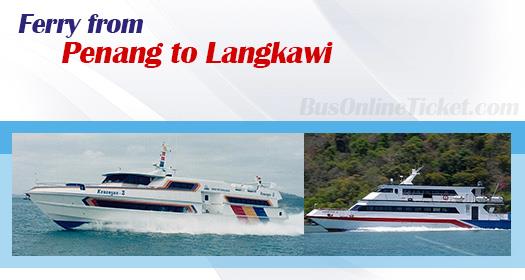 Image source: BusOnlineTicket.com
If you don't mind a longer journey, the ferry could be a great option as it'll take almost three hours of your time until you reach Pulau Langkawi. You can embark on the ferry from Georgetown and the ticket price is about RM70 for one way.
Do keep in mind that there are only a few ferry trips available each day, so check their schedule first! Also, the journey could be a little rough if the weather's not on your side, so you might want to avoid this option if you're prone to seasickness.c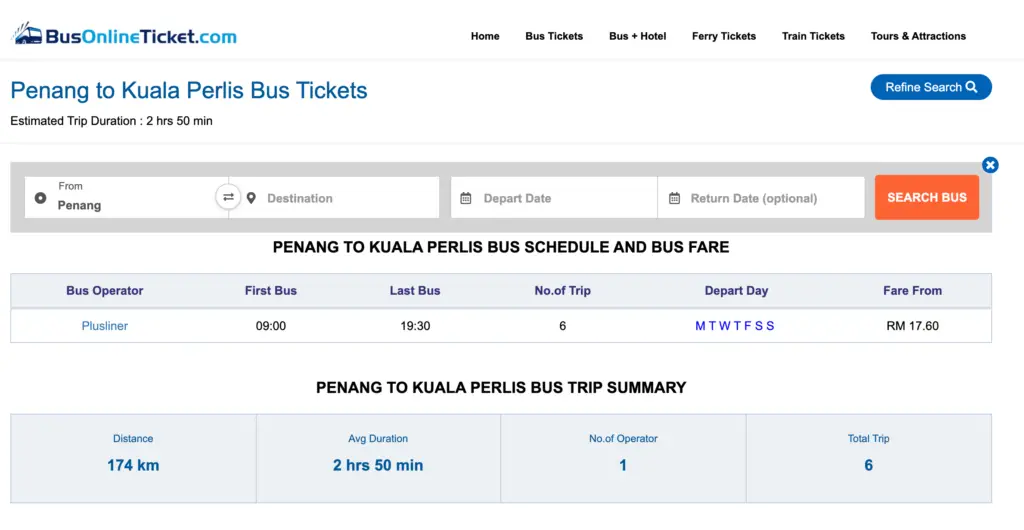 Screenshot from BusOnlineTicket.com
For those who are on a budget, you can take the bus from Butterworth to either Alor Setar or slightly further north to Kuala Perlis Jetty. From there, you just have to pay around RM18 to RM23 for the ticket and enjoy the two hours ferry ride.
If you're travelling by car, you can either leave your vehicle at one of the designated car parks at the jetty and get yourself a ferry ticket or you can also take your car with you on the ferry and arrive in Langkawi in just under two hours.
However, this option also might cost you more since the price of the ticket varies depending on the size of your car and the number of passengers. It normally starts at RM130 for smaller cars and the price will go higher for larger vehicles, especially MPVs and SUVs. 
Being famous holiday destinations in Malaysia, it is not a surprise when both Penang and Langkawi have dozens of comfy places to stay.
As a beach town, most hotels and homestays in Langkawi can offer you spectacular sea views and some can even provide you with exciting water sports packages while hotels in Penang value their heritage, history, and culture.
Here are some of the best hotels that you can find in Langkawi and Penang: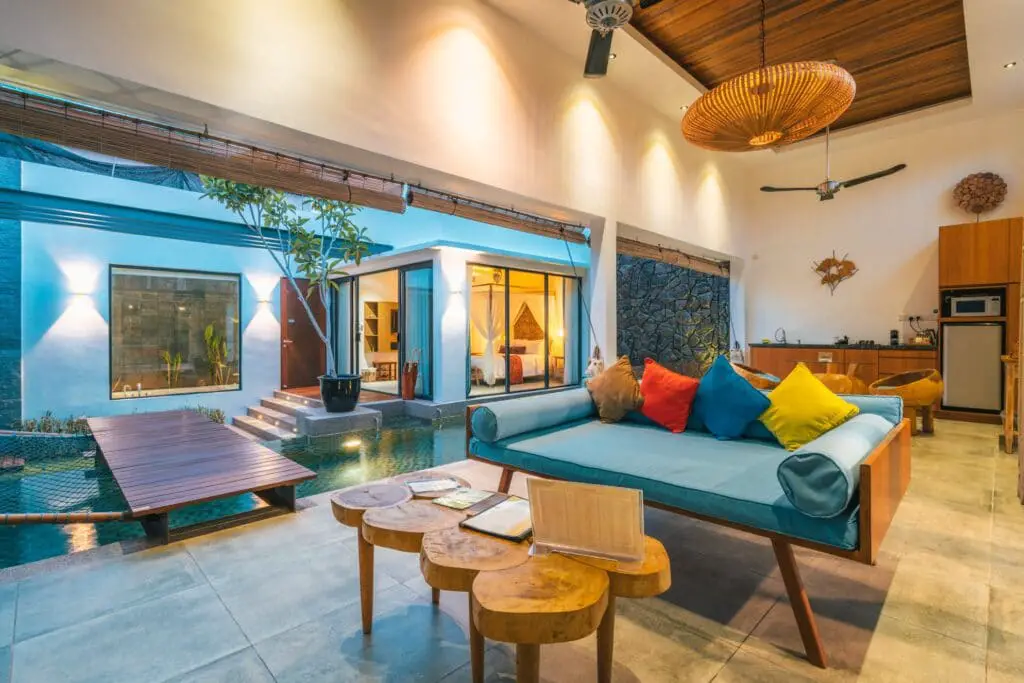 La Villa Langkawi has been attracting visitors with its exclusive indoor private pool. Whether you're planning on a honeymoon or a fun yet private short vacation, this place is for you.
Located in Pantai Tengah, you can easily reach several of Langkawi's best bars and restaurants as well as Cenang Beach in just under ten minutes. Aside from the great location, La Villa also offers a tranquil environment, making you feel peaceful and at ease.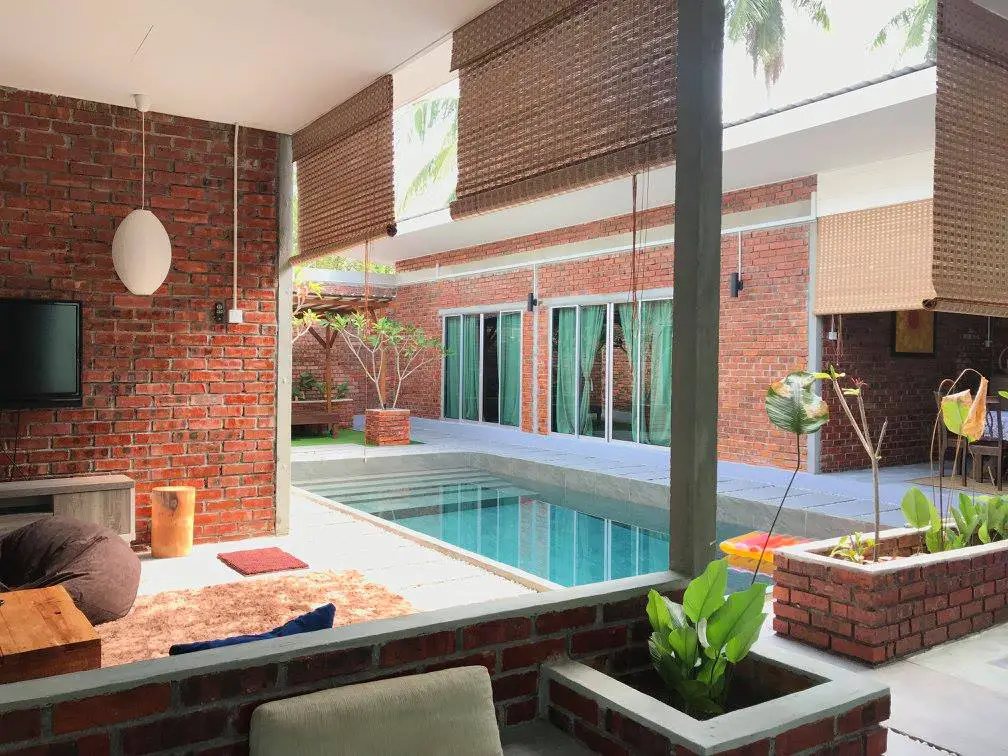 As for those who love everything Instagrammable, Tanjung Rhu Village Villas & Cottages is somewhere you should consider staying. With its all-white interior, exposed brick walls, trendy and rustic decorations, you'll feel as if you're in a tropical village especially with tall palm trees surrounding you.
The beach is also located within a short distance and this place even has its very own cafe serving creative plates of desserts and other dishes – perfect for your Instagram feed.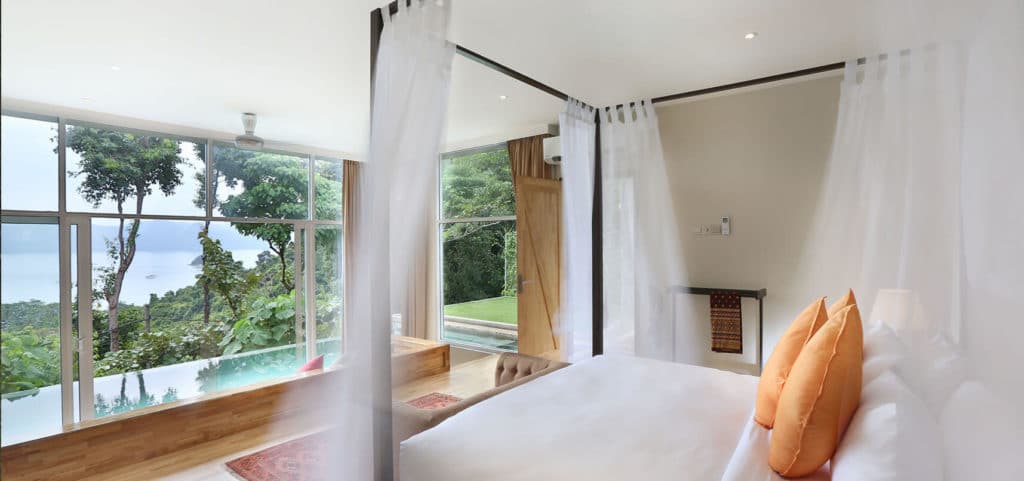 If you wish to step up the game a little bit, this gorgeous, luxurious rainforest retreat is a perfect fit for you. Completely surrounded by lush mother nature, this hotel will reward you with a serene environment.
All of the villas are beautifully decorated with a tropical theme and each of them features a 12-metre long swimming pool. Other than the stunning sunrise and sunset views, Ambong Pool Villas also has great experiences that you can enjoy; relaxing spa sessions and private dinings.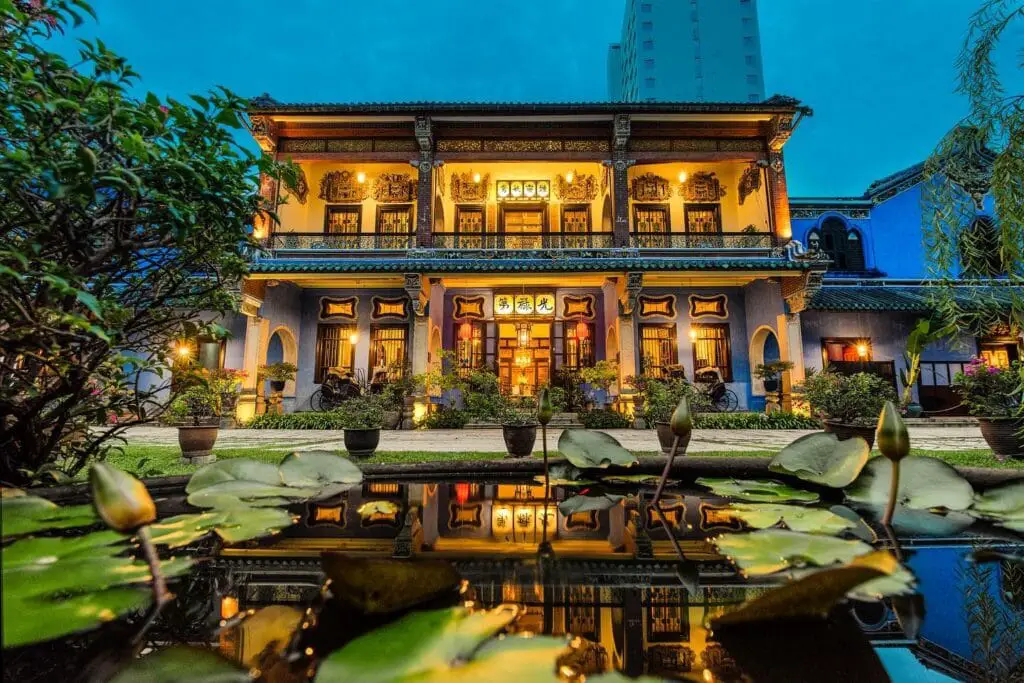 Built in 1880, The Blue Mansion is a place full of history. It is located in Georgetown's UNESCO Historic Site and has a vibrant indigo blue facade, making it stand out from the other buildings on the street.
If travelling back in time and experiencing what it feels like to live in the 19th-century is what you have in mind, then nothing can go wrong with this place.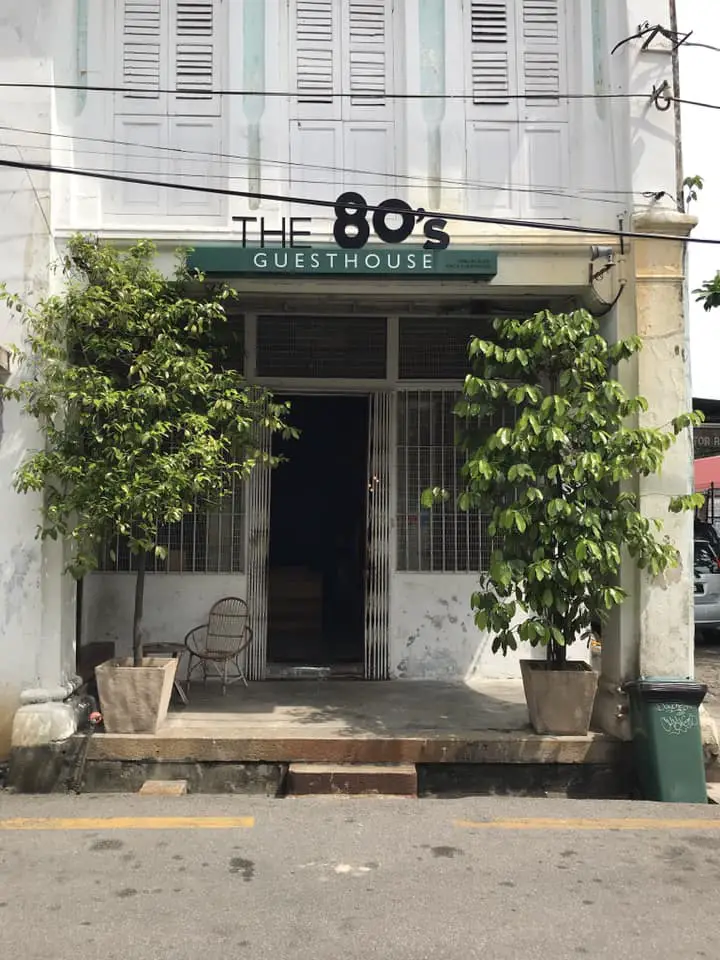 On a budget and looking to bring back the nostalgia? Then book a night at The 80s Guesthouse, an accommodation built in a 100 years old shophouse. This guesthouse combines both vintage and contemporary decorations, making you feel at home. It also offers dorm rooms!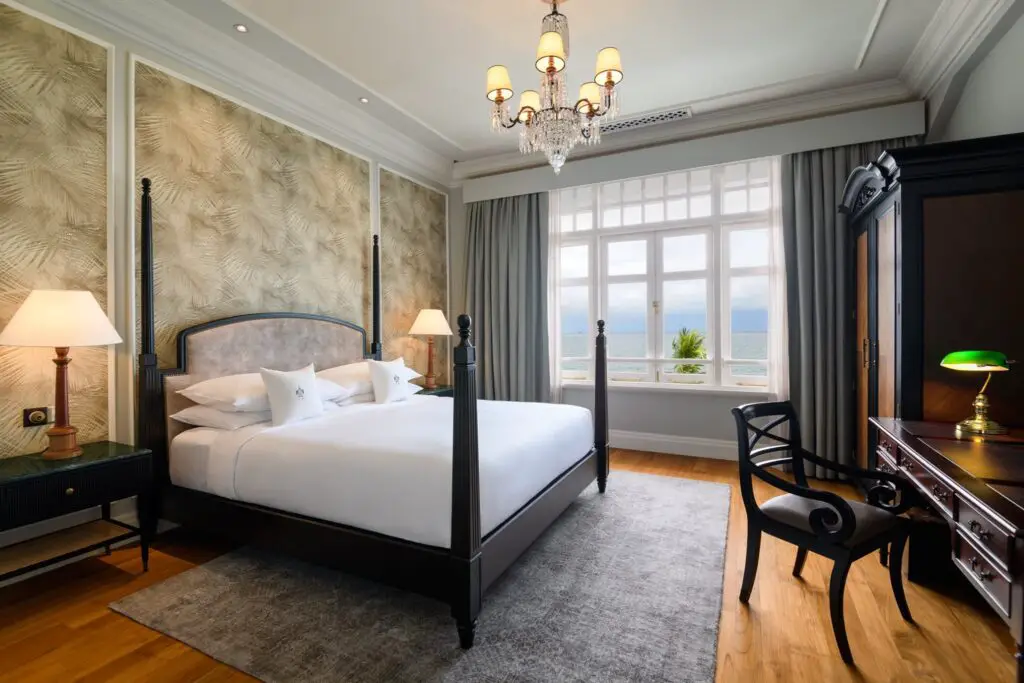 For something more luxurious, you can stay at the Eastern & Oriental Hotel in Georgetown. Situated in a 19th-century building, this colonial-era hotel is fully equipped with spacious rooms that are adorned with antique furniture and a swimming pool by the sea surrounded by tall palm trees.
It also has its very own restaurant that serves a wide range of international cuisines as well as a bar.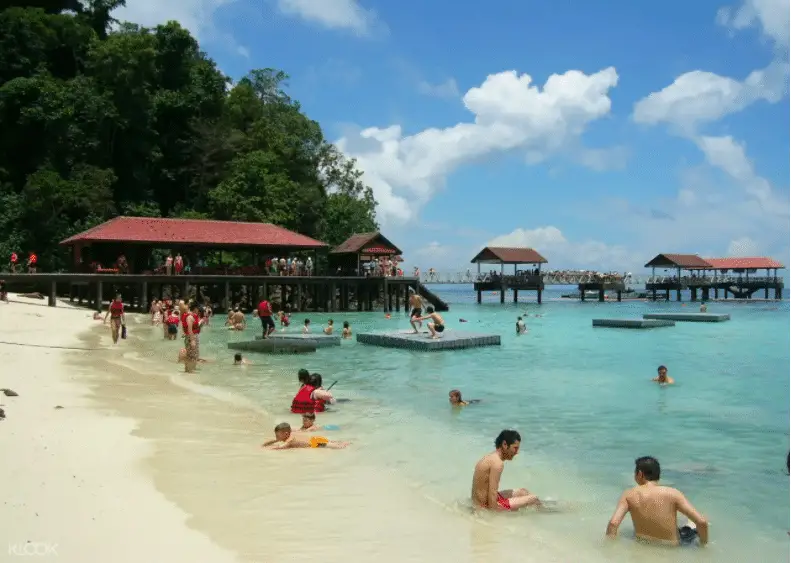 Taking a vacation in Langkawi simply means that you're spending days lounging by the beach and doing all sorts of water activities.
If you're a licensed diver, go ahead and book a scuba diving session to explore the unique marine lives living in the Andaman Sea or you can also go snorkelling and witness the clownfish hiding behind the colourful corals at Pulau Payar Marine Park.
Travelling with families? Visit the Underwater World, get on the banana boat, go island hopping or rent a jet ski and explore the entire island.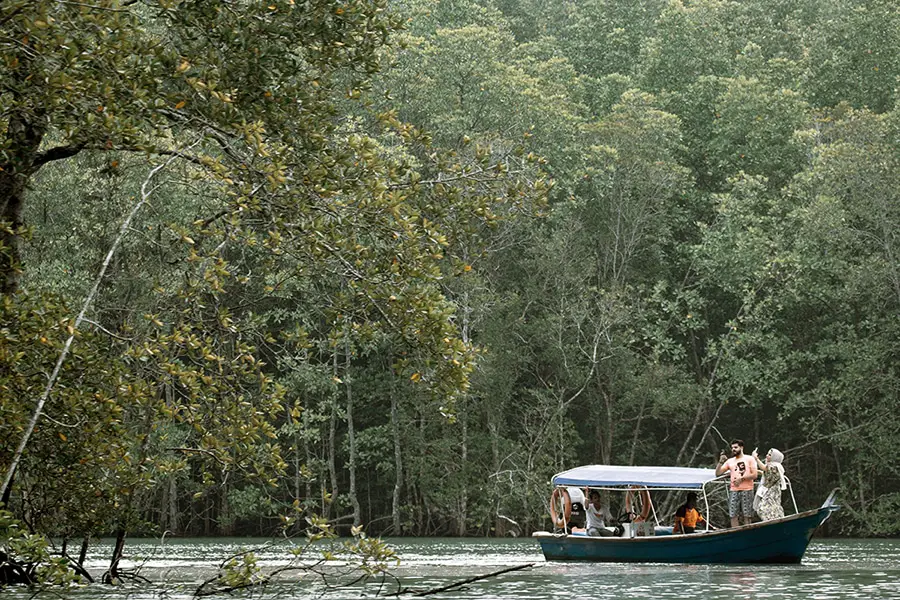 Other than water sports, Langkawi is also the home to a few majestic waterfalls and serene tropical rainforests. Go on a hike or a jungle trekking and end it with a dip into the cold waters.
For a spectacular view of the blue sea, ride the cable car and cross the sky bridge. Right before you end your trip, don't forget to do some shopping!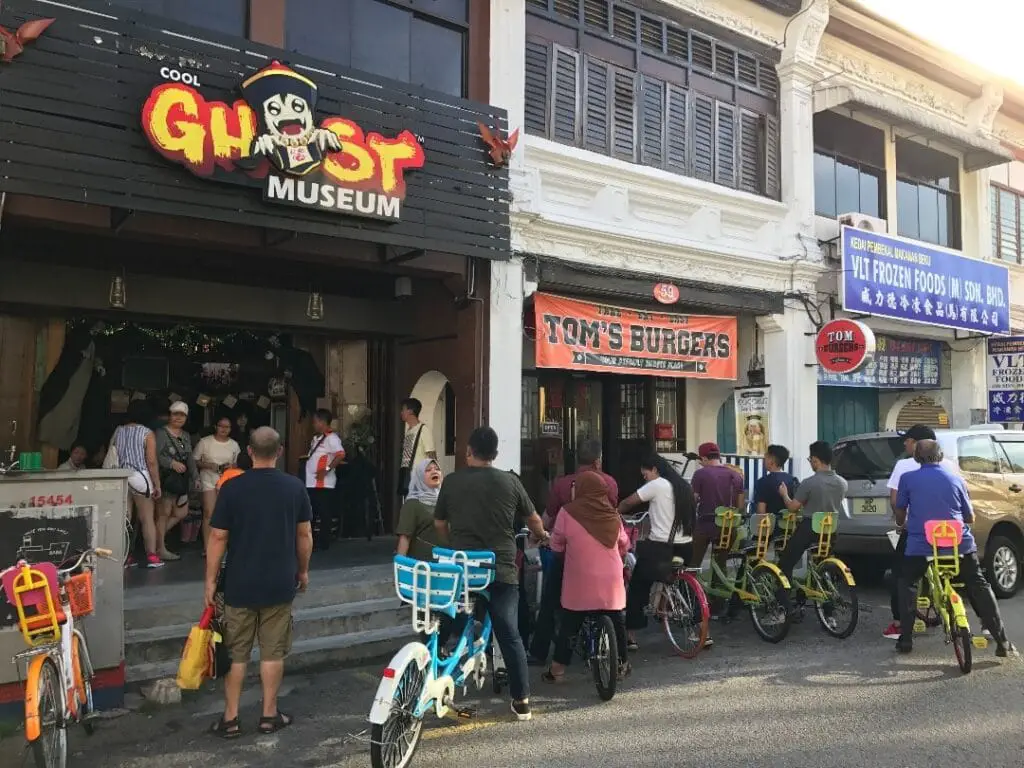 Penang too has so many things to offer. It is brimming with interesting points of interest ranging from heritage museums to unique temples that have been around for more than a century!
If you wish to learn more about the Straits-Chinese, visit the Peranakan Museum or go to the Upside Down Museum and Wonder Food Museum for some silly photos.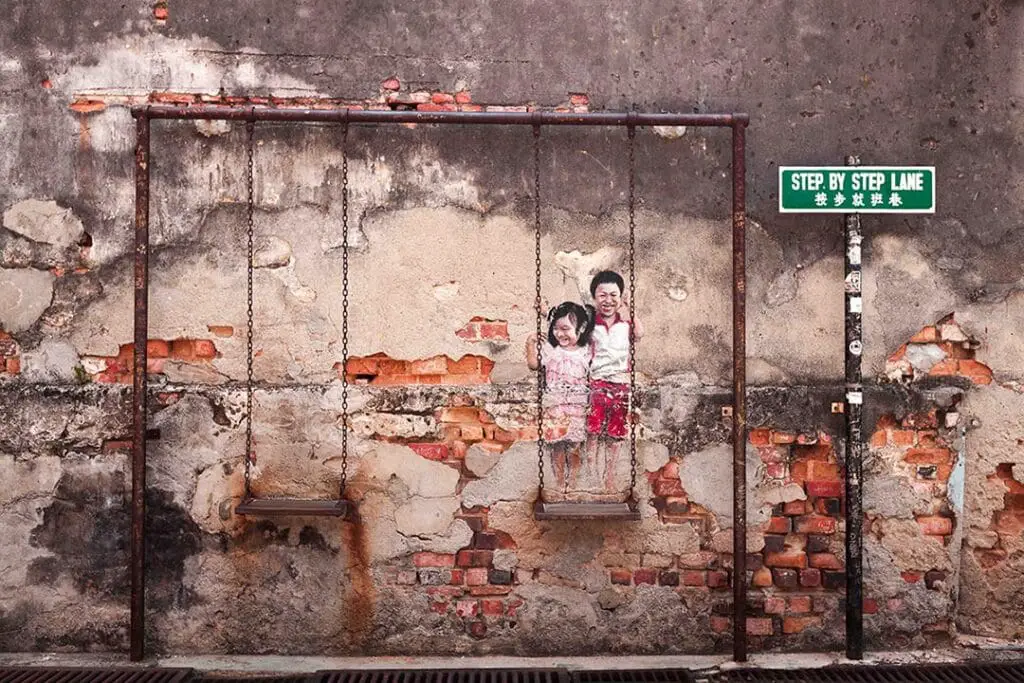 Of course, a visit to Penang won't be complete without walking through Armenian Street and posing in front of the creative street arts. You can also tour the city on intricate trishaws while munching on local sweets.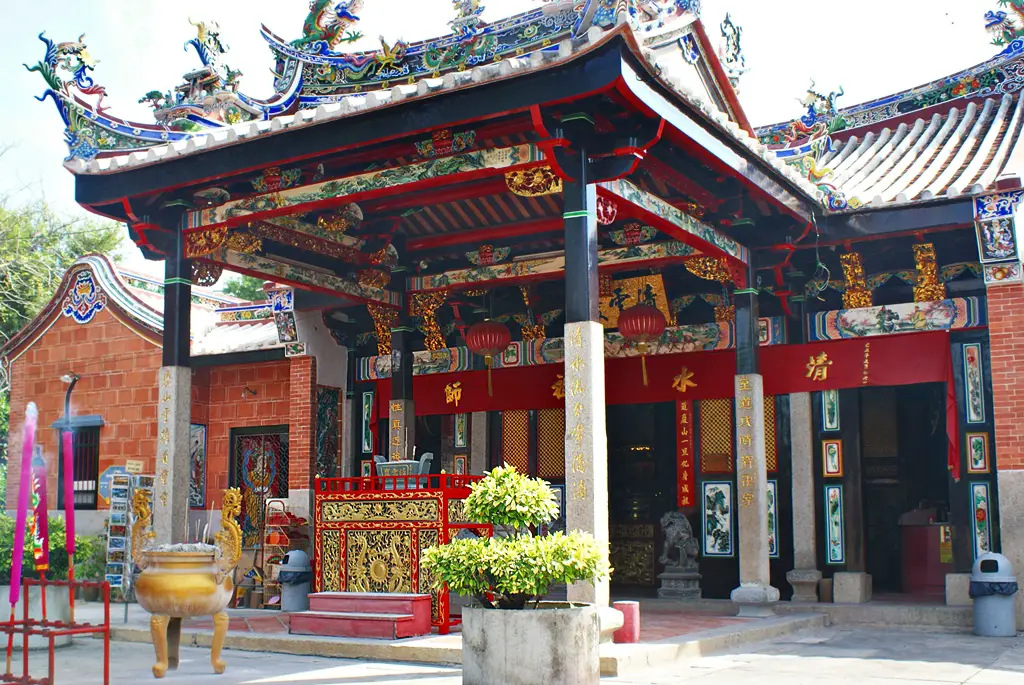 Looking for something different? Visit the Snake Temple, where you'll see those slithering creatures relaxing at every corner of the temple halls or head to Khoo Kongsi, one of the most iconic Chinese temples in Penang that occasionally holds Chinese opera shows.
While Pulau Langkawi is a great destination for water activities and outdoor fun, the island is not really a place for food hunters. You might find it hard to get good food especially during the day and some of them are overpriced.
But, if you're up for local street food, then you don't want to miss the lively night markets. The night markets are held every day at different locations and all of them feature a bunch of tasty street food!
As for seafood lovers, Langkawi has a little something for you too – Wonderland Food Store is best known among locals and tourists alike for its fresh seafood ranging from juicy tiger prawns to salted egg squids.
Penang on the other hand is all about food. Known as Malaysia's food paradise, Penang is where you should go if you plan on filling your stomach with dozens of good foods.
You can easily find many restaurants serving hearty portions of Nasi Kandar and you can never leave without tasting the famous Mee Sotong or sipping a bowl of cendol under the scorching sun.
Penang Island also has several Insta-worthy cafes worth visiting and don't miss a chance to try some of the mouth-watering street food found in Armenian Street. 
Planing for a breakfast spot in Penang? We have this guide for you!
So, which island is better; Langkawi or Penang? Depending on your plans, both locations can provide you with endless fun – if you're planning for a romantic getaway with your partner or a family trip filled with activities on the beach, then perhaps Langkawi is for you.
If you crave tasty food or are in the mood to visit unique museums and tour a UNESCO heritage site while snapping photos for your Instagram feed, then Penang might be suitable for you.
Truth be told, they are both winners! These two places each have their own specialities and uniqueness that they would absolutely be great destinations for a memorable holiday.
Disinfectant Essential Items (Hand-picked!)
As you know we're going to live in the post-covid world. So getting the essential sanitise products with you when you travel are part of our life.
Here is the list of curated disinfectant products with high rating and ready stock in Malaysia without you spending time to search for the best one on the market.
Disclosure: This post contains affiliate links. If you click these links to purchase the product we may earn a commission without extra cost to you. We carefully select the best and all products sold by high rating seller.