Amidst the verdant expanse of Perak lies Teluk Intan, a hidden gem filled with enchanting wonders for all who seek adventure. This charming town is a trove of experiences, beckoning to history enthusiasts, food connoisseurs, and nature lovers alike.
With roots reaching back to ancient times, Teluk Intan was once the heart of Perak state's royal family before bowing to Kuala Kangsar's reign in 1877.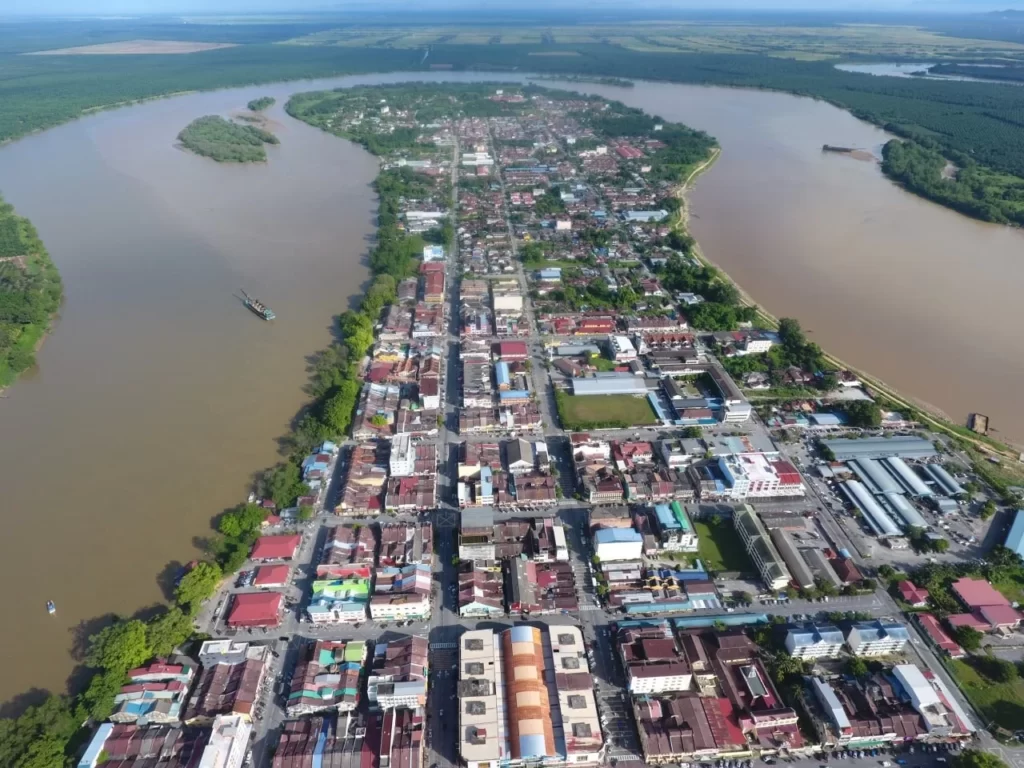 Image source: mpti.gov.my
Today, Teluk Intan is a tapestry of time, with ancient landmarks interwoven with a vibrant food scene that will tantalize even the most discerning palate.
From cultural marvels that whisper of the past to culinary treasures that enchant the senses, this town is a realm of enchantments that will leave you spellbound.
How to Get to Teluk Intan
Traveling to Teluk Intan is convenient and accessible by various modes of transportation. For those coming from different parts of Malaysia, bus services provide a well-connected option, with operators offering routes to Teluk Intan from multiple locations.
The Teluk Intan Express Bus Terminal, located in the town centre, serves as the primary arrival point for buses. Additionally, travellers can opt for train travel to nearby cities like Ipoh or Kampar, followed by a short bus or taxi ride to reach Teluk Intan.
For those who prefer driving, the North-South Motorway (NSE) is the route to take, connecting Teluk Intan to the rest of the country.
Starting from Kuala Lumpur, a journey via the NSE (Route E1) to the Bidor/Teluk Intan interchange (Exit 143) and following the road signs to Teluk Intan typically takes around 2 to 3 hours, depending on traffic conditions.
Places to visit in Teluk Intan
Menara Condong Teluk Intan
Welcome to the Leaning Tower of Teluk Intan! While it might not have the fame of its Italian cousin, it's got heaps of character and a leaning stance that just begs for your attention.
Originally constructed to serve as a reservoir for local water needs during dry periods and as a precaution against fire, the tower's gradual tilt, caused by its soft soil foundation, has transformed it into a popular tourist attraction.
So, what's the fun part? Well, you can start by striking your best "leaning" pose next to the tower. It's a classic photo op, and your friends will surely get a kick out of your optical illusion masterpiece.
Plus, you'll join the ranks of countless visitors who've had a good laugh posing with this 25-meter-high tower landmark.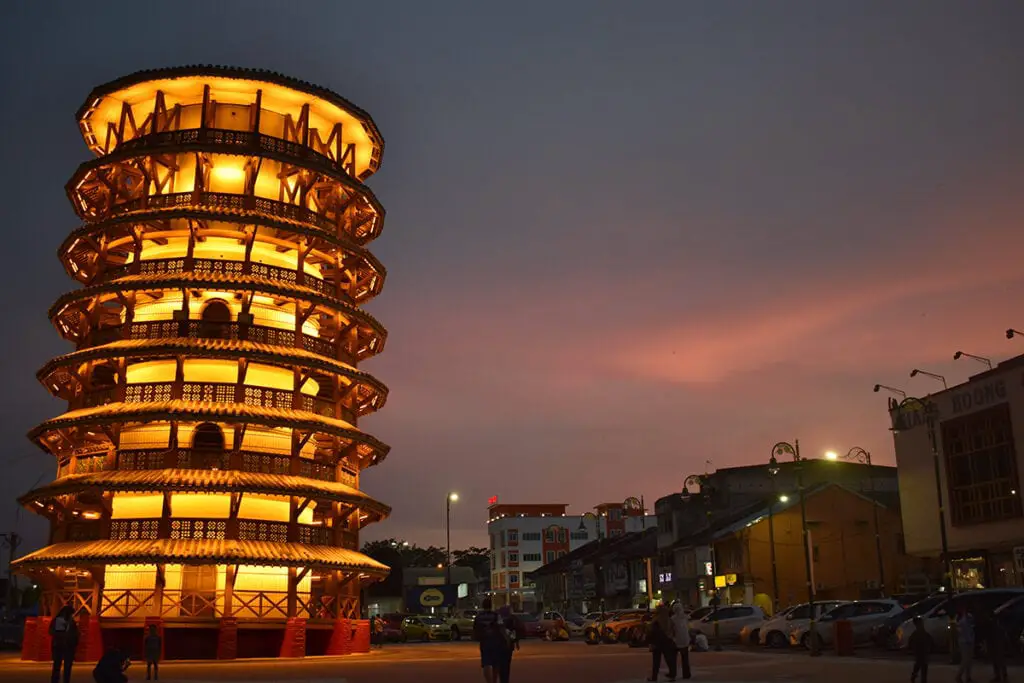 Next, take a moment to soak in the local atmosphere. The Leaning Tower is situated in a bustling part of town, so you'll find stalls selling local snacks and souvenirs nearby.
Treat yourself to some tasty Malaysian street food and pick up a few keepsakes to remember your visit. Finally, don't forget to appreciate the town itself.
Teluk Intan is rich in history and culture, and you can explore other nearby heritage buildings and attractions on foot. Take a leisurely stroll through the town centre and discover the hidden treasures of Teluk Intan that await around every corner. Make sure to swing by in the evening as well to witness it illuminated with vibrant, colourful lights.
So, when you visit the Leaning Tower of Teluk Intan, make sure to bring your sense of fun, your camera, and your appetite for adventure. It's not just a leaning tower; it's a leaning tower of fun!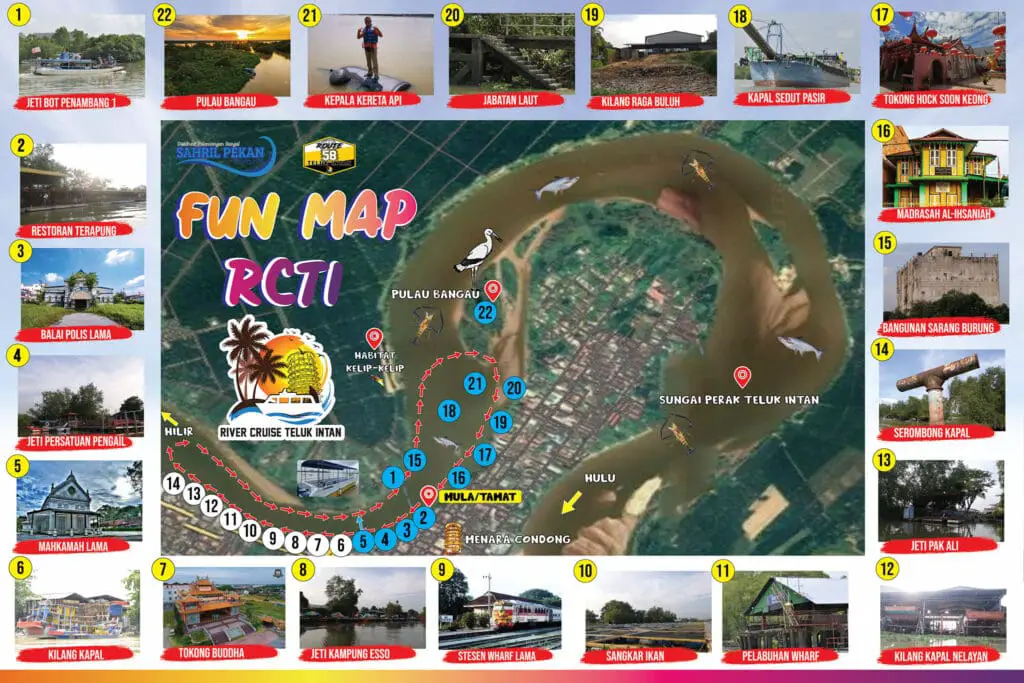 Looking to add some splash of excitement to your Teluk Intan trip? Hop on board the Teluk Intan River Cruise! This adventure-packed tour takes you along the picturesque Perak River, offering breathtaking nature views and intriguing river artifacts.
But it's not just about sightseeing. Get your hands dirty with shrimp fishing, immerse yourself in local culture, and even try your hand at birdwatching. As you cruise, you'll also spot historic gems like the Old Police Station, Post Office, HSBC Building, and the Old Teluk Intan Court. These charming colonial buildings will transport you back in time.
Teluk Intan Firefly Marvels Cruise
However, the cruise offers more than just fireflies. Keep your eyes peeled during the journey, and you might catch a glimpse of graceful egrets returning to their roosts as the golden rays of the setting sun paint the sky. It's a safari-like experience that brings you closer to nature in Teluk Intan.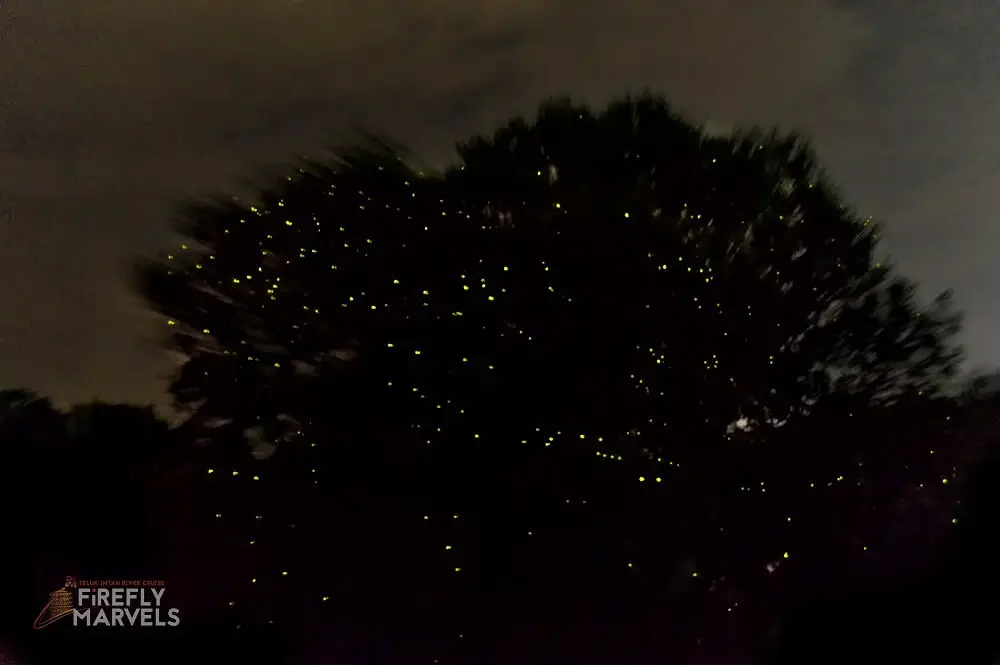 Embark on a two-hour boat ride along the scenic Perak River with the Teluk Intan Firefly Marvels Cruise. As you glide through the waters, listen to captivating stories from the boatman about the river's rich history. The real magic happens at night when the riverbank lights up with the mesmerizing glow of fireflies.
The Firefly Marvels Cruise also provides the opportunity to witness countless incredible water birds in their natural habitat. This is one experience you won't want to miss during your visit to this charming town.
Top three must-try delights in Teluk Intan
No need to stress over meal options in Teluk Intan; this town serves up various of delectable choices to satisfy your taste buds. 
Liew Kee Chee Cheong Fun, the culinary legend of Teluk Intan, is celebrated for its signature dish – the 'Stuffed Chee Cheong Fun.' This time-honoured establishment has been serving flavour-packed steamed rice rolls, generously filled with preserved turnip, lively shallots, crispy dried shrimps, and spirited pickled green chillies for over a century. It's a must-visit for food enthusiasts.
Given the limited seating, typically just three or four tables available, most patrons prefer the convenience of takeout. For a quicker and more comfortable dining experience, we recommend placing a takeaway order. 
Grab a few packets and enjoy this delicious fare in the cozy confines of your own home. Liew Kee Chee Cheong Fun welcomes you from 10 AM to 10 PM, with the exception of Mondays.
Heong Peah (Fragrant Biscuits)
In the quaint town of Teluk Intan, the air is often filled with the delicious scent of Heong Peah, lovingly referred to as "Fragrant Biscuits."
Among the well-known brands, you'll find Sin Guan Tin and the famous Sin Joo Heong, often called the Tiger Brand.
What makes these biscuits so special is their delightful combination of a crisp pastry shell and a sweet, gooey filling.
While Sin Joo Heong has expanded with branches across West Malaysia, it's the headquarters in Teluk Intan where you can truly savour the essence of Heong Peah.
Each bite brings forth the delightful maltose flavour that dances on your taste buds. For those seeking an authentic Heong Peah experience, this is the place to be.
Exploring Night Markets in Teluk Intan
In case you're having trouble deciding what to have for dinner, don't forget to check out the night markets there.Every Saturday night, a night market springs to life near the iconic Leaning Tower in Teluk Intan.
It's a local gathering where you can savour authentic Malay delicacies, such as Nasi Lemak and 'Apam Balik.' Interestingly, on Sunday night, another different night market opens its doors, offering not just food but also souvenirs, plants, and other local goods.
These markets are a delightful way to experience the flavours and culture of Teluk Intan.
Extra activity: Day Trip to Sekinchan from Teluk Intan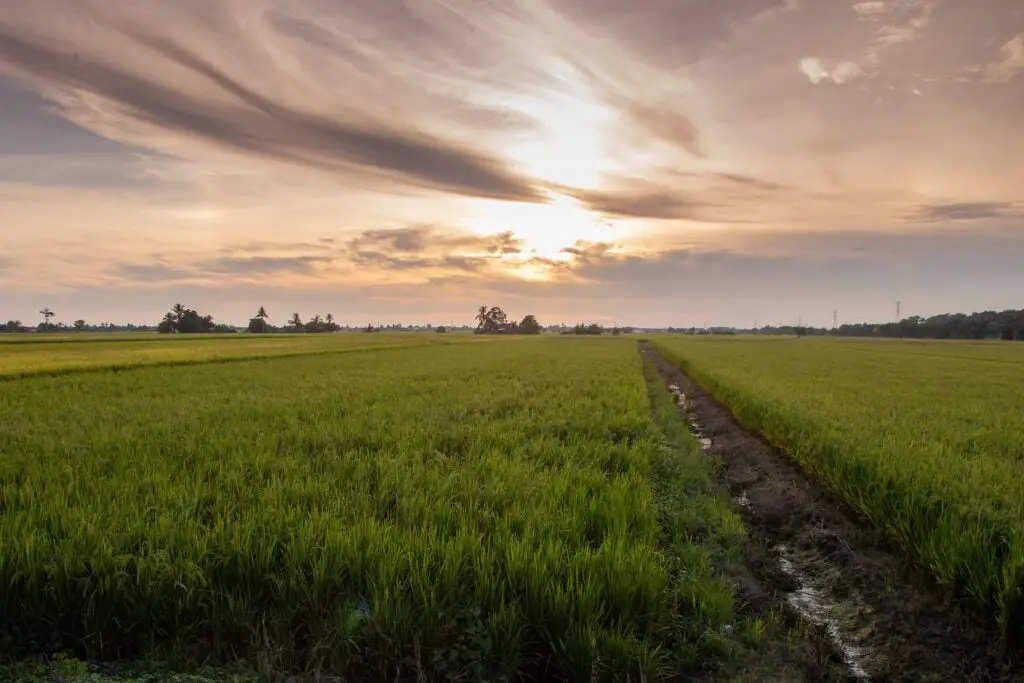 Located just a short drive from Teluk Intan, Sekinchan beckons as an excellent day trip destination.
In less than an hour, you can immerse yourself in the charming town of Sekinchan, known for its picturesque paddy fields and the famed Sky Mirror phenomenon, where during low tide, the water transforms into a natural mirror, creating stunning reflections of the sky and surroundings.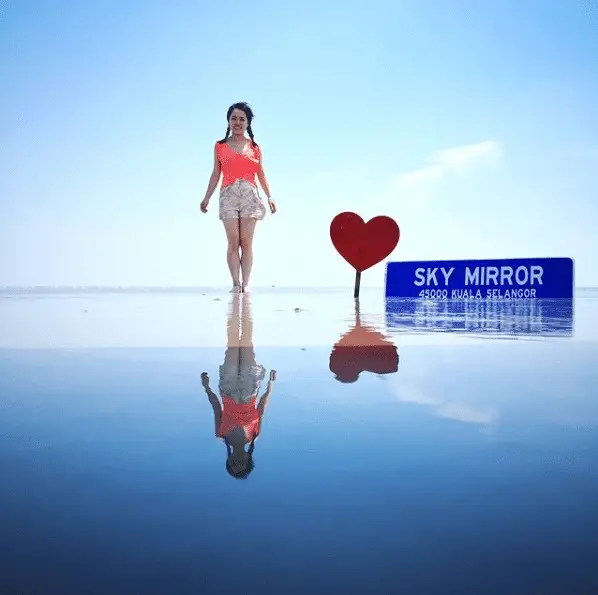 This natural wonder in Sekinchan, often referred to as "Tian Jing" or "Heaven's Mirror," is an Instagram-worthy attraction and a must-visit when exploring the vicinity.
In Teluk Intan, history, culinary delights, and natural wonders blend harmoniously to create an unforgettable experience.
From the leaning tower and river cruises to delectable local dishes, this charming town has something for everyone. It is definitely a celebration of Malaysia's heritage and contemporary charm, offering delightful surprises for all who visit.