Petaling Street has a history dating back to the 1870s when Malaysia was still known as Tanah Melayu. In Cantonese, this Chinatown is known as Chee Cheong Kai which directly translates to Starch Factory Street.
Believe it or not, this part of Kuala Lumpur once functioned as a centre for the production of tapioca flour.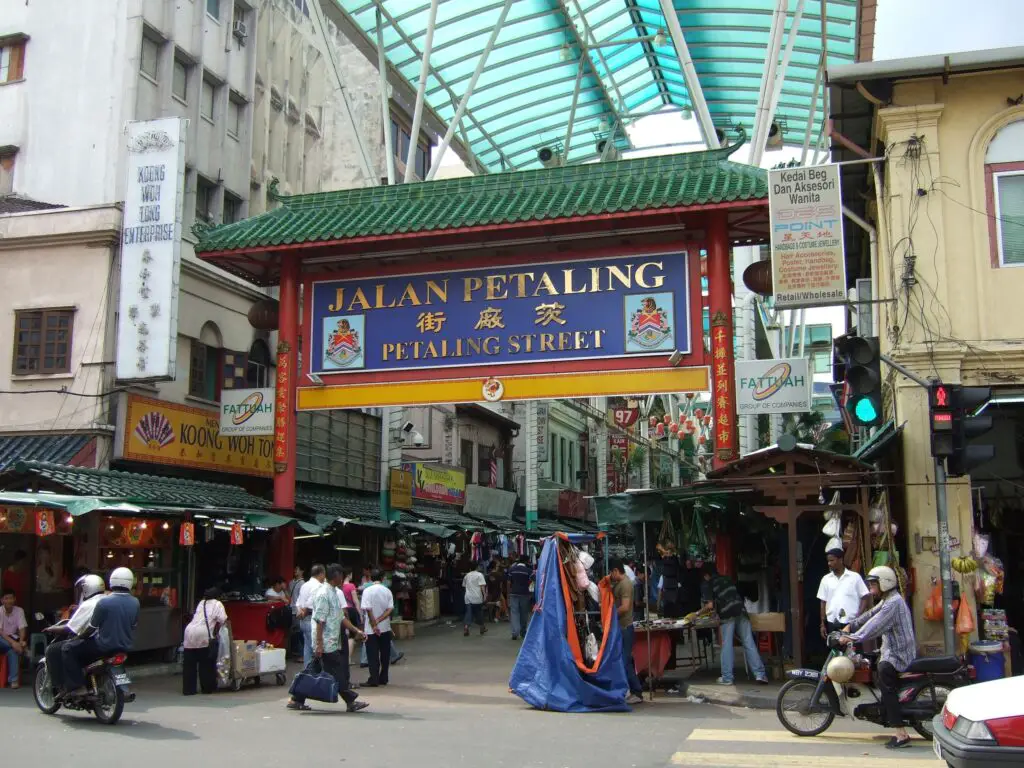 Ever since it went through a major facelift 18 years ago, Petaling Street has become the most vibrant night market in the city – it stretches for almost 1 kilometre and is always filled with crowds. 
At the entrance, tourists can easily spot a beautiful oriental archway, bright red lanterns hung along the streets, and a number of food stalls as well as shops selling various kinds of items – from t-shirts to watches and handbags.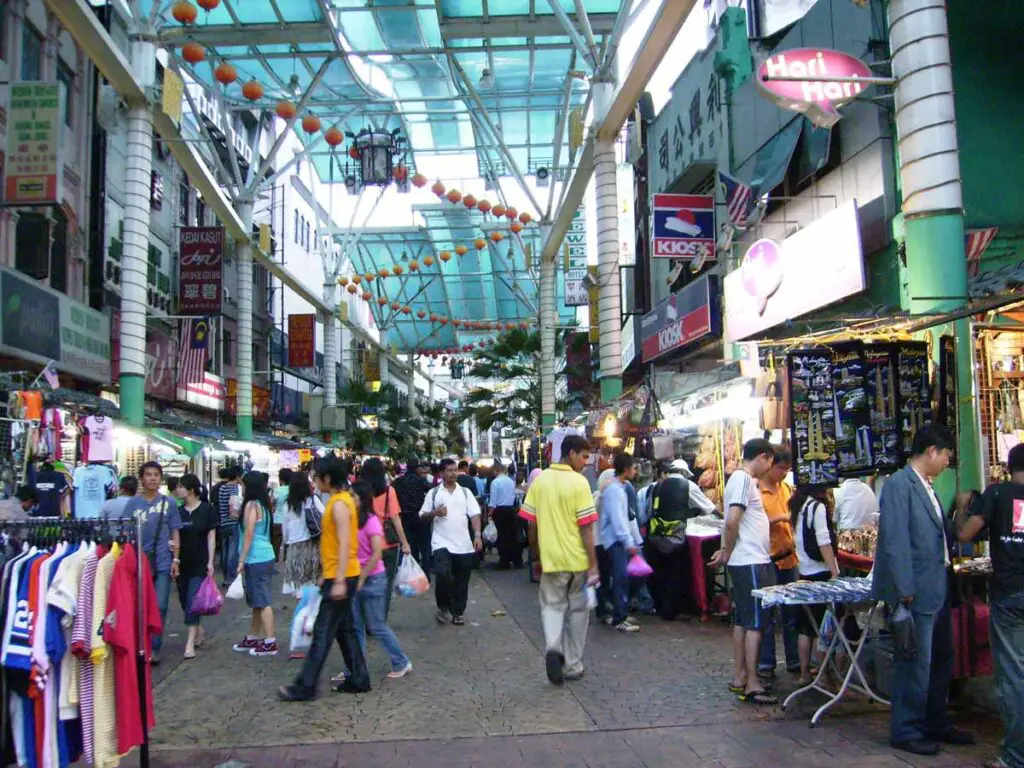 So, if you're planning for a shopping spree without leaving a hole in your wallet, this is the place and if you have an exceptional haggling skill, that's a plus point!
Another reason that causes tourists to flock to Petaling Street is its close proximity to the train stations – You can easily access this part of Kuala Lumpur via MRT, LRT, and Monorail! But what else can you discover in Petaling Street?
Insta-worthy places and unique cafes around Petaling Street
Central Market & Kasturi Walk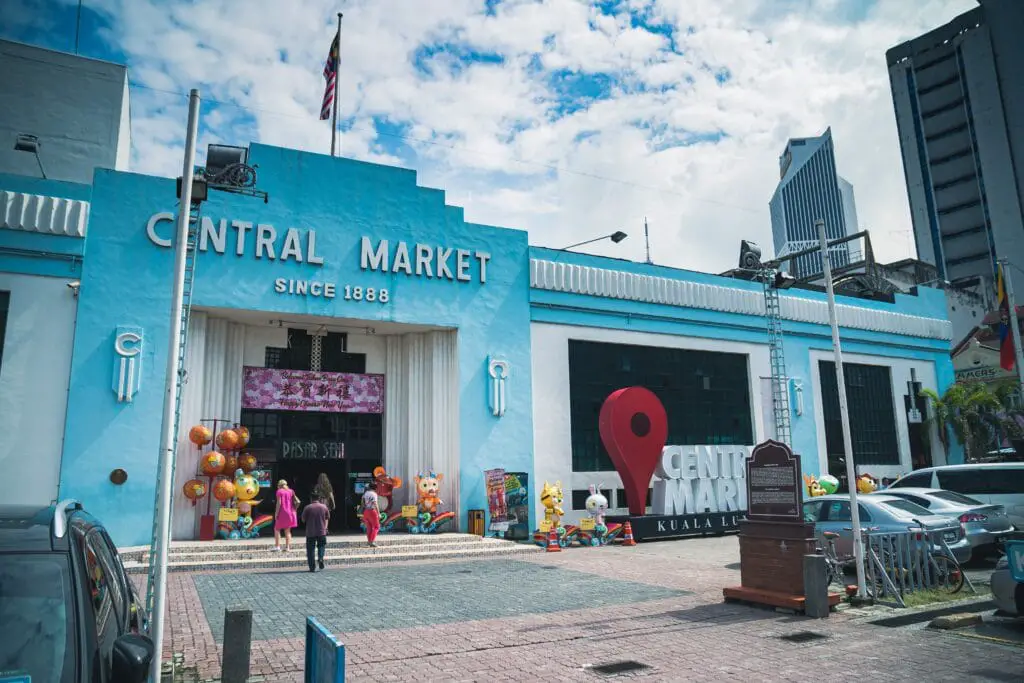 Back in 1888, this site was once a wet market built by a Chinese Kapitan named Yap Ah Loy – the same person who owned the starch factory in Petaling Street! 
After the wet market relocated to another location in the 1980s, this area was then transformed into a cultural hub called Central Market or Pasar Seni. 
Tourists and locals alike can find an array of batik fabrics, handcrafted souvenirs, and local crafts here. Central Market boasts over 300 stores, so don't get lost!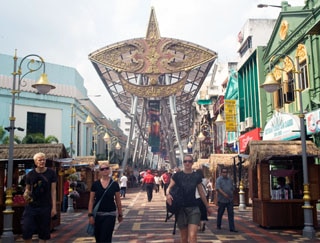 Right outside of the building, you can find Kasturi Walk, a flea market brimming with local snacks, souvenirs, and even portrait artists. This place is pretty hard to miss as it features a huge archway in a shape of a Wau, a Malaysian kite. 
Kasturi Walk even hosts various cultural events on special occasions throughout the year!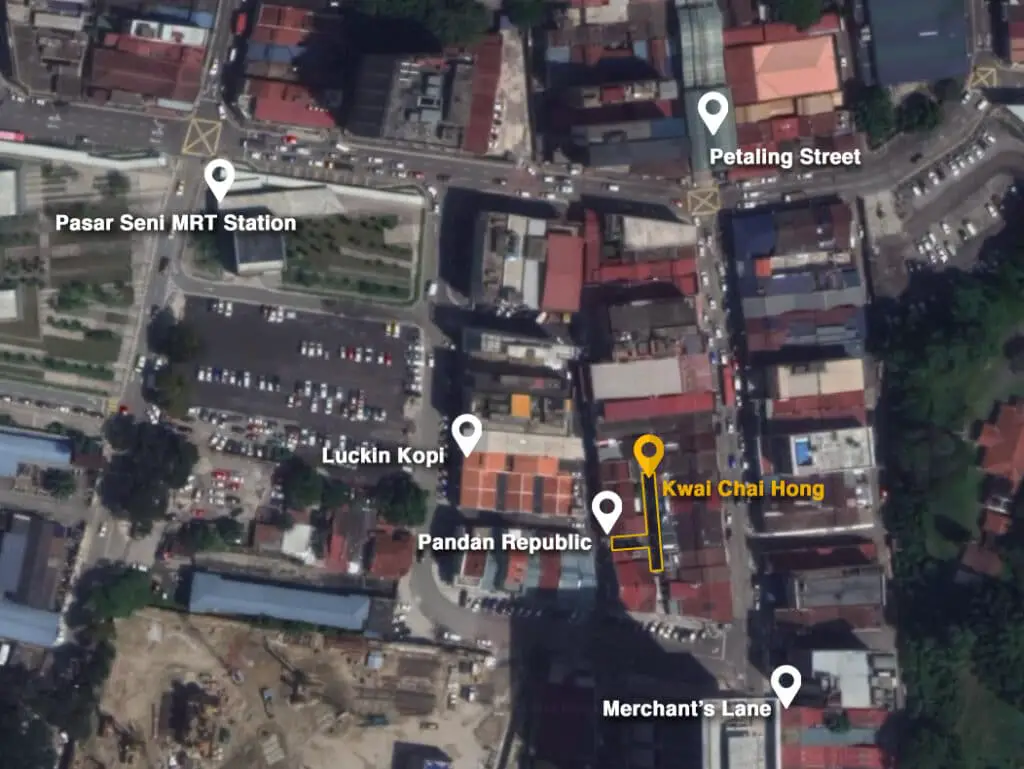 Project Kwai Chai Hong was first unveiled in 2019 that involved the restoration of ten shophouses along a hidden back alley just a few minutes away from the Pasar Seni MRT and LRT stations. 
The name Kwai Chai Hong means Ghost Lane. According to the locals, China migrants started to call this alley Kwai Chai Hong when they frequently saw mischievous children playing around the lane. 
Another story also suggests that this lane was once a hideout for a Chinese gang called Dragon Tiger Clan.
Before this spot was restored, Kwai Chai Hong was nothing but a neglected alley. The sight of the entire area was sombre especially with the dull pre-war shop lots.
Certain parts of the alley were infested with cockroaches and rats – no wonder passersby wouldn't even stop to explore this place back then!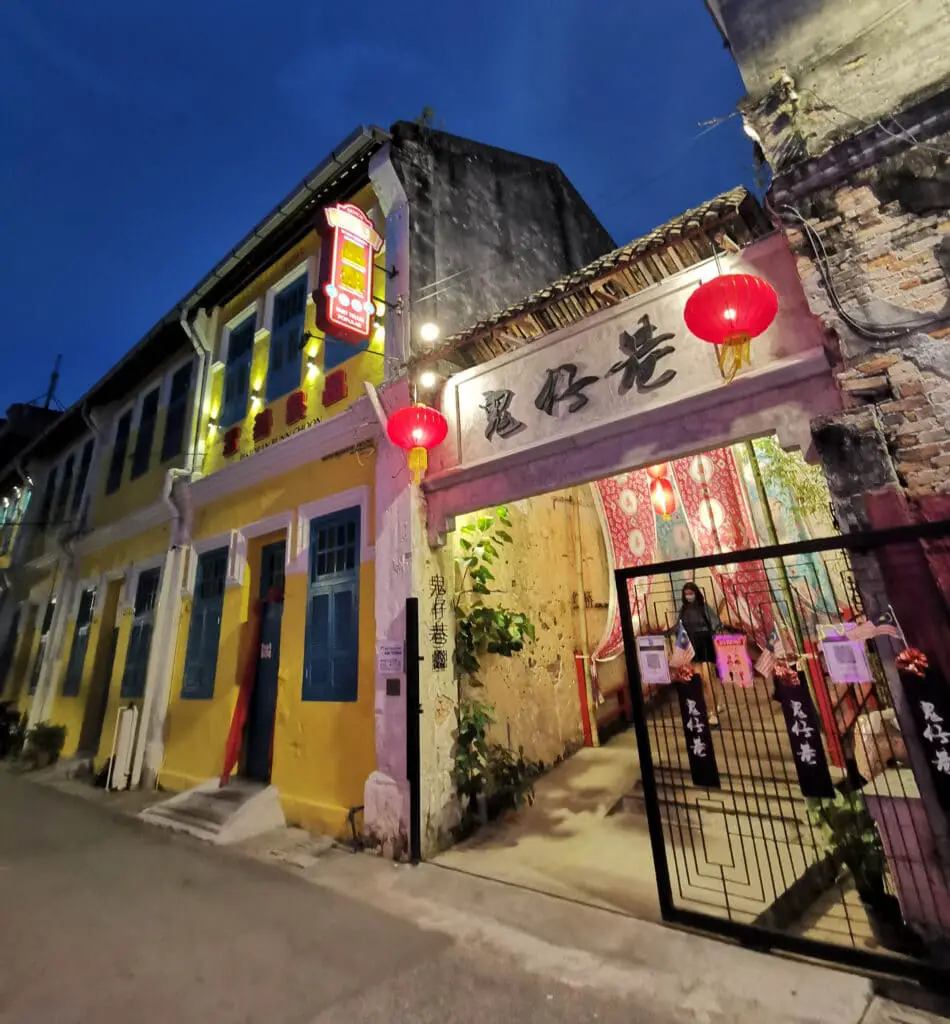 Today, this spot is beautifully adorned with creative murals on the walls. Even the old shop lots are painted in bright yellow colour that you wouldn't even believe that it's the very same place!
Once you arrive here, you'll be greeted by a vibrant red bridge that will lead you to a hidden area surrounded by six murals depicting the routines of the Chinese settlers back in the '60s.
Looking up, you'll also notice a set of Chinese lanterns and there's also a century-year-old lamp post still standing strong along the alley! So, make sure to ready your cameras as Kwai Chai Hong is definitely an Instagram hotspot.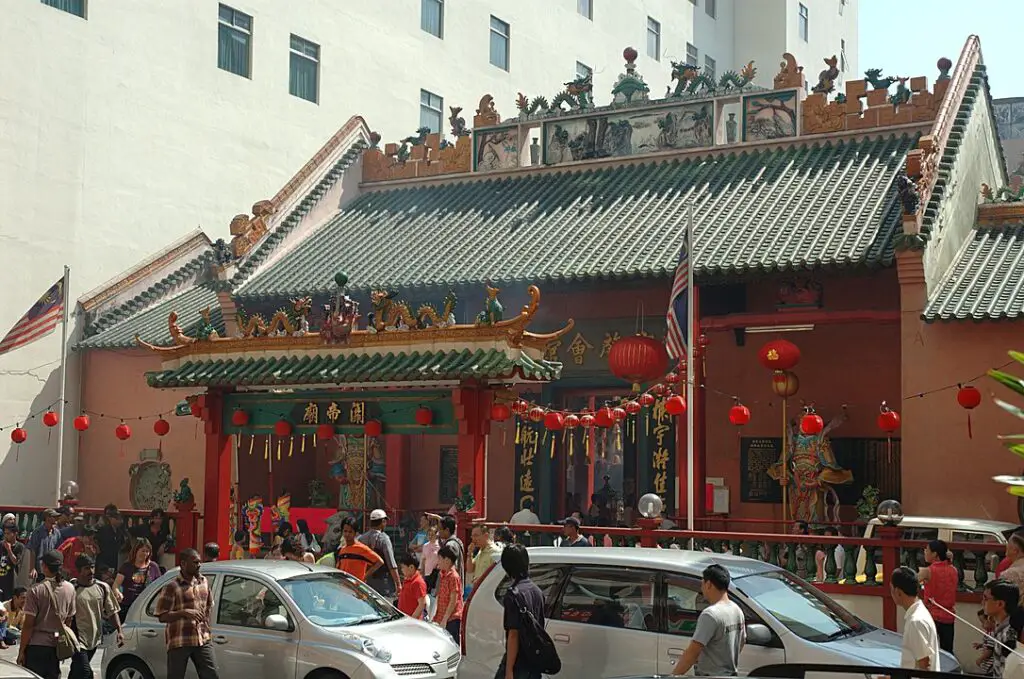 Guan Di or also known as Kuan Ti Temple is a 121-year-old Taoist Temple. Unlike Kwai Chai Hong, this temple is absolutely hard to miss due to its close location to Chinatown and its bright coloured facade. 
This worship place is dedicated to the Taoist God of War, Guandi. You can even find its bearded statue in the temple accompanied by his godson and possessor, Guan Ping and Zhou Cang!
Before entering the temple, you'll have to pass through two stone Chinese lions and another two fierce-looking statues of Chinese generals. But what makes this place special is the legendary Guan Dao, a Chinese pole weapon made out of 59 kilograms of copper. 
Worshippers believe that if you lift or simply touch this weapon, your life will be blessed and protected. You might even live your life full of luck!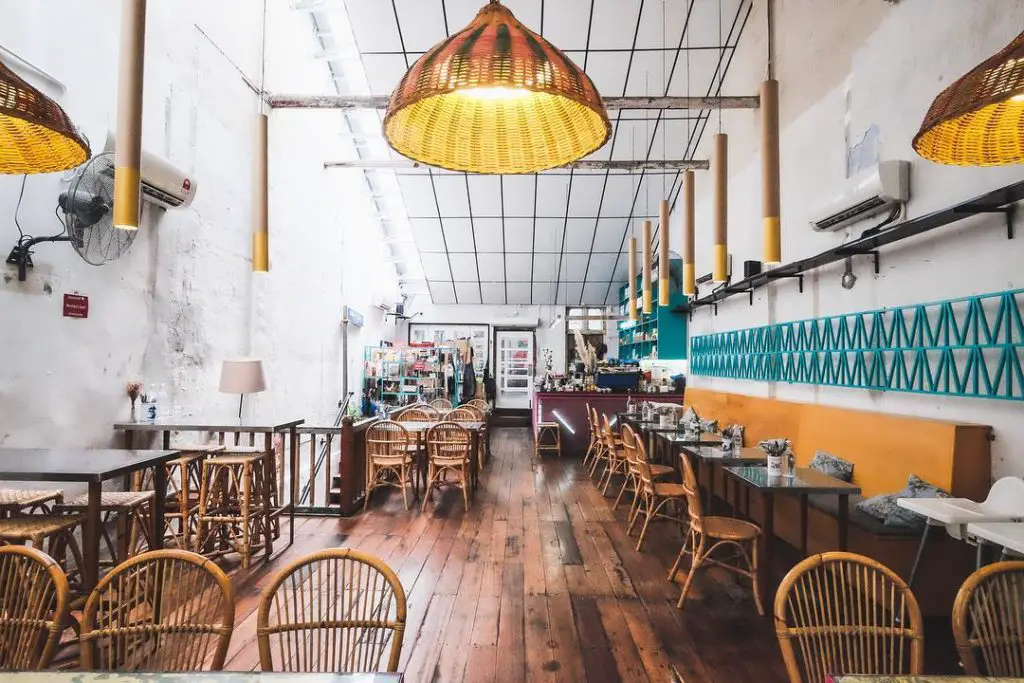 Merchant's Lane is a hidden restaurant located on the upper floor of an old Petaling Street shophouse. 
To enter this gem, go through the Tiffany blue wooden door and climb up the bright red staircase until you can see a space filled with green plants and rattan chairs. 
With its aesthetic run-down interior, exposed ceilings, and giant tree roots spreading on the walls, it's no wonder that this restaurant has become a popular hangout spot especially for youngsters out there.
The owners of this restaurant also did a brilliant job at transforming the place into a serene spot that no one would've guessed that the building was once a brothel!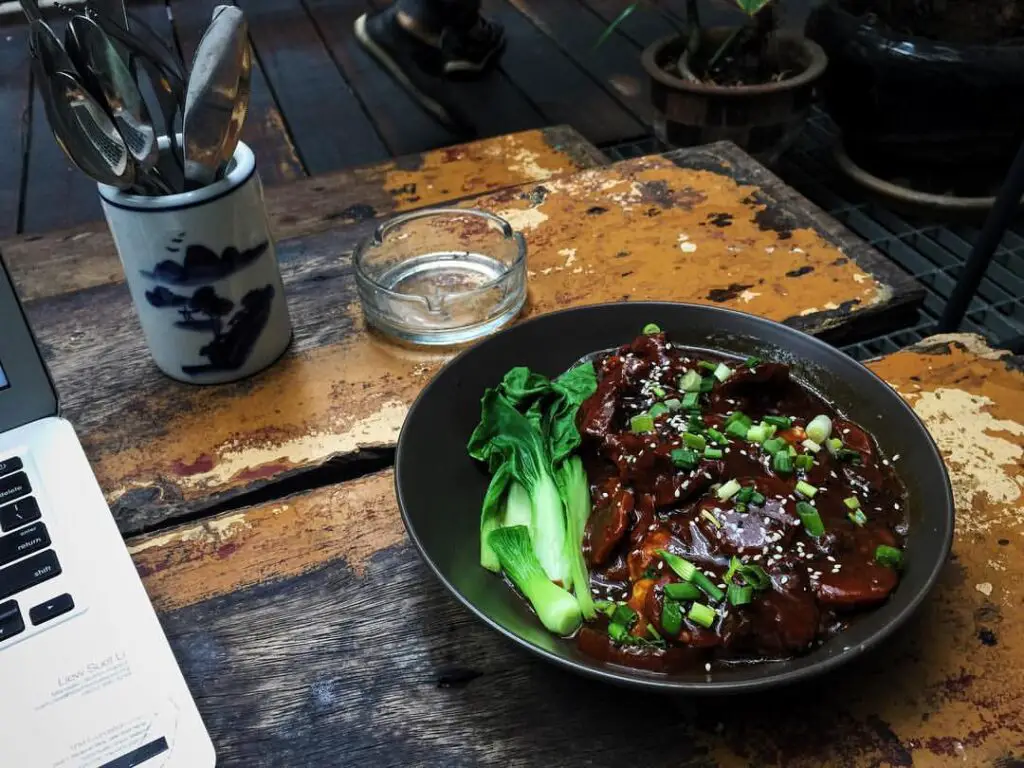 Other than its pleasing interior, Merchant's Lane is also known for its tasty international cuisines with a few dashes of Asian twists. If you're getting lost in their menu and have no idea which meal to try, go ahead and order the Honkie Beef Stew. 
This Cantonese-style beef is slow cooked for 12 hours, served with a creamy mashed potato and covered in flavourful gravy.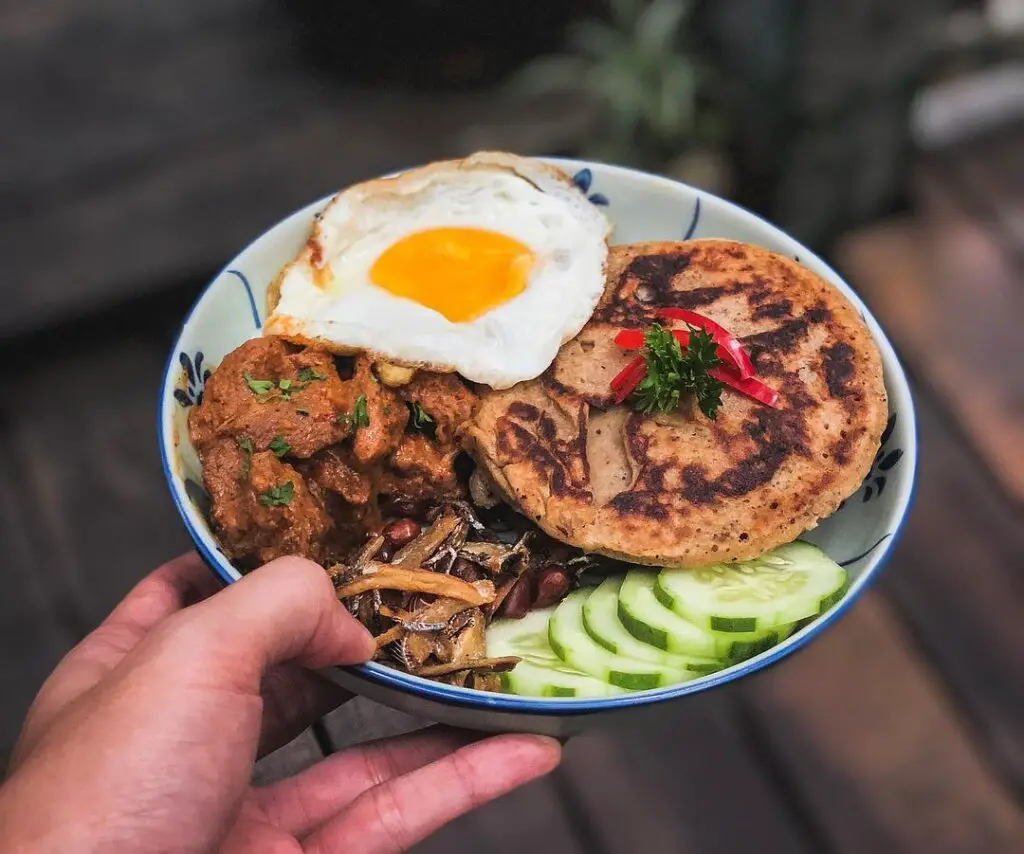 If you're in for something even more unique, go for the Nasi Lemak Pancake – a plateful of coconut pancakes accompanied by chicken rendang, fried egg, and sambal. 
Just like your normal Nasi Lemak except that the rice is replaced with fluffy pancakes!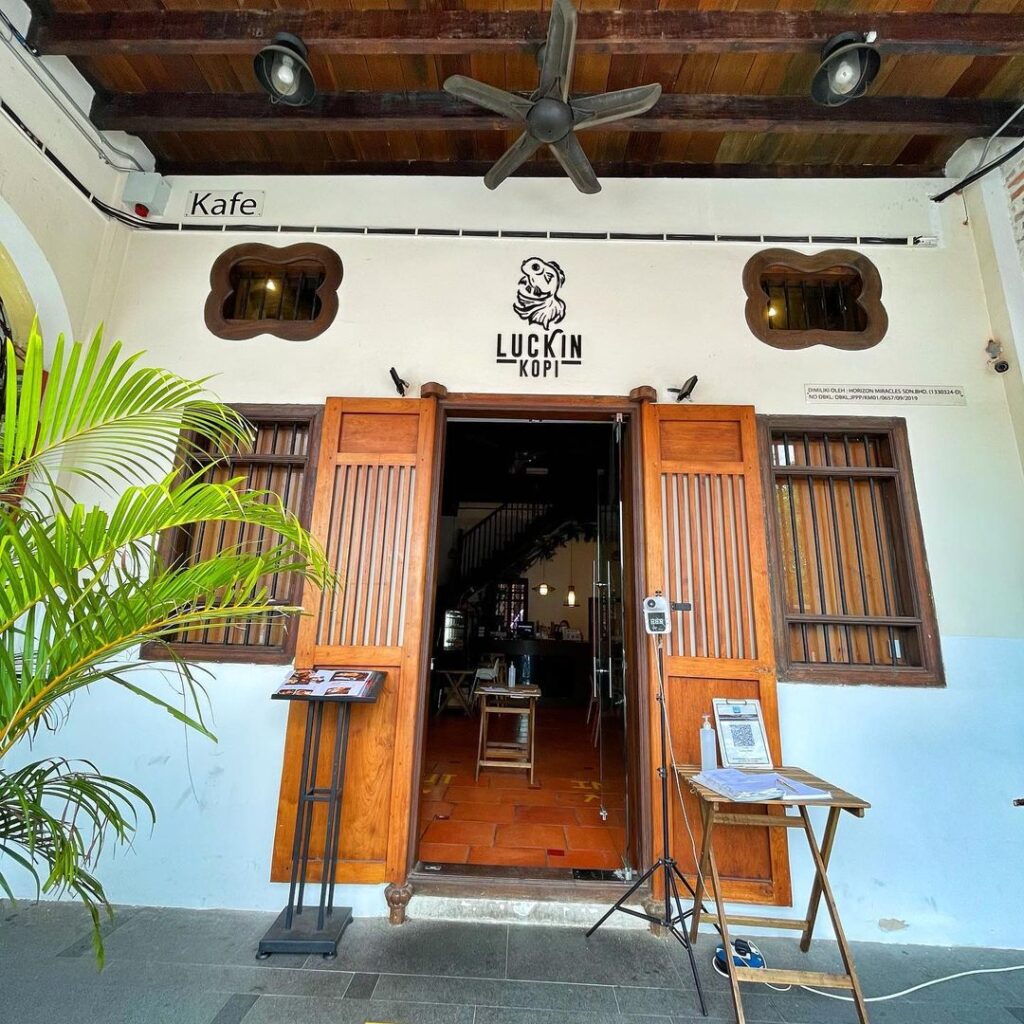 Are you a die-hard coffee drinker and wondering what it feels like to dine in a Peranakan-inspired place? If so, grab your car keys and make your way to Luckin Kopi – a contemporary Kopitiam sitting right behind Kwai Chai Hong.
This cafe is housed in a 150-year-old shophouse. Combined with its amazing decors and atmosphere, stepping in this place can surely teleport you to the 1960s!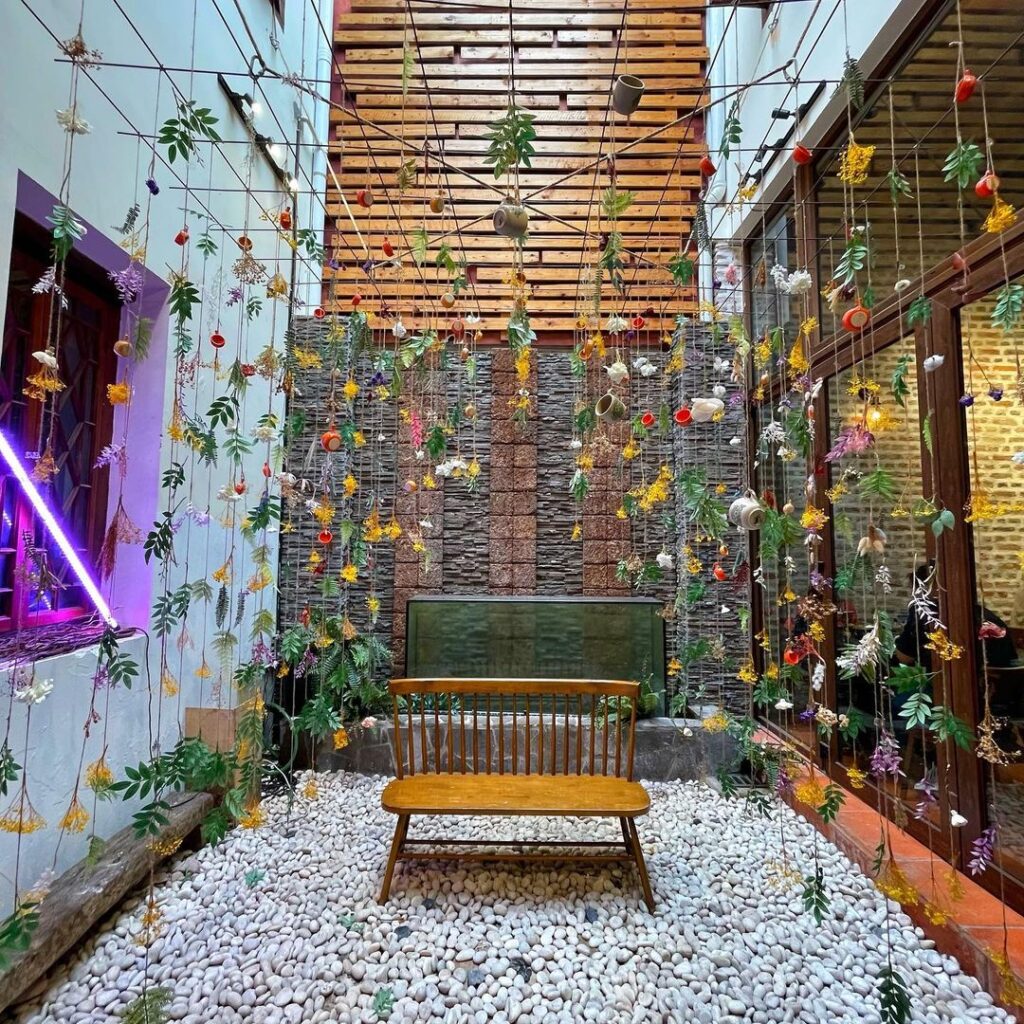 Luckin Kopi features a long menu of local and traditional cuisines ranging from Nasi Lemak to Hainanese Chicken Chop, Mee Siam, Indo Mee, and Kaya Toast. Not in the mood for traditional delicacies?
They also serve western fusions including Smoked Duck Carbonara, Aglio Olio and Salted Egg Pastas. But the main highlight of this cafe is their perfectly brewed coffee and the unlimited refills!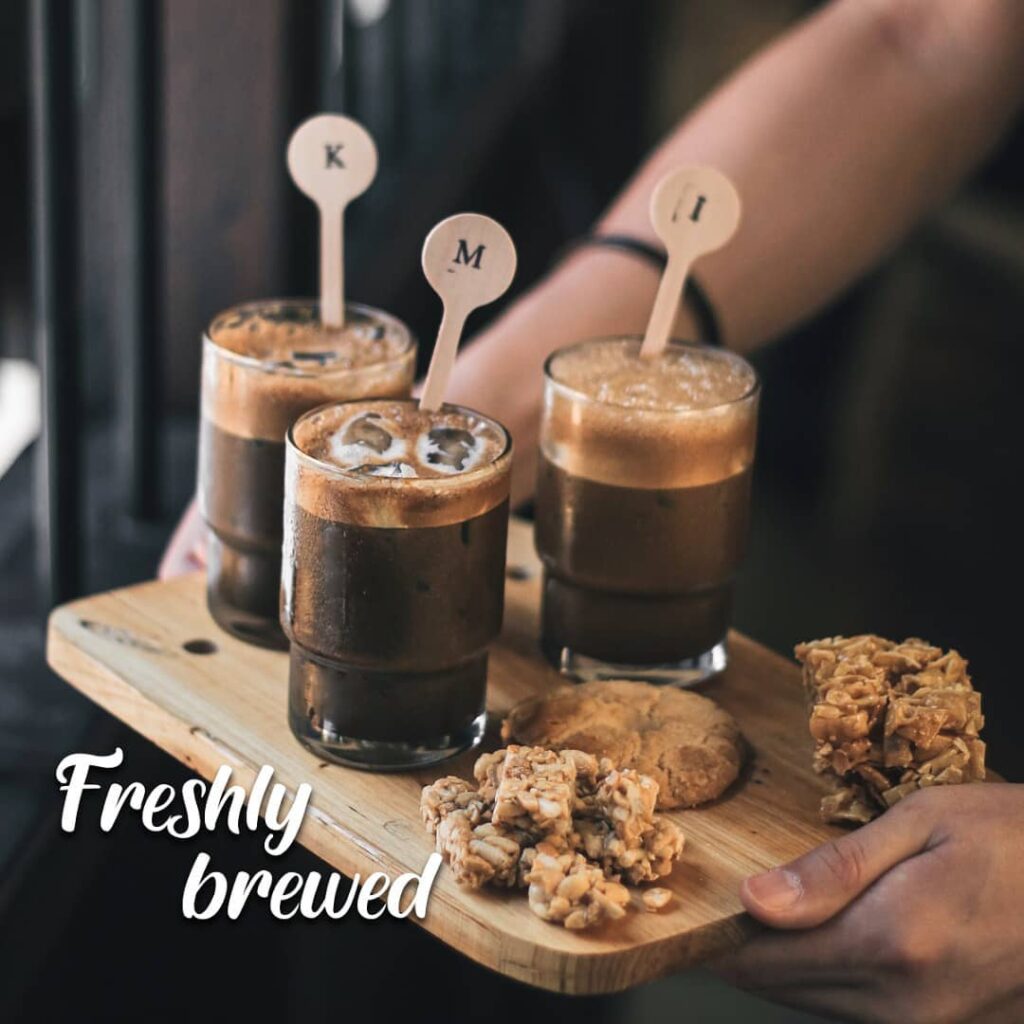 If you're planning to visit Luckin Kopi, make sure to try out the Three-States Kopi – you'll be served with three small cups of coffee originating from KL, Melaka, and Ipoh!
Pandan Republic (Non-Halal)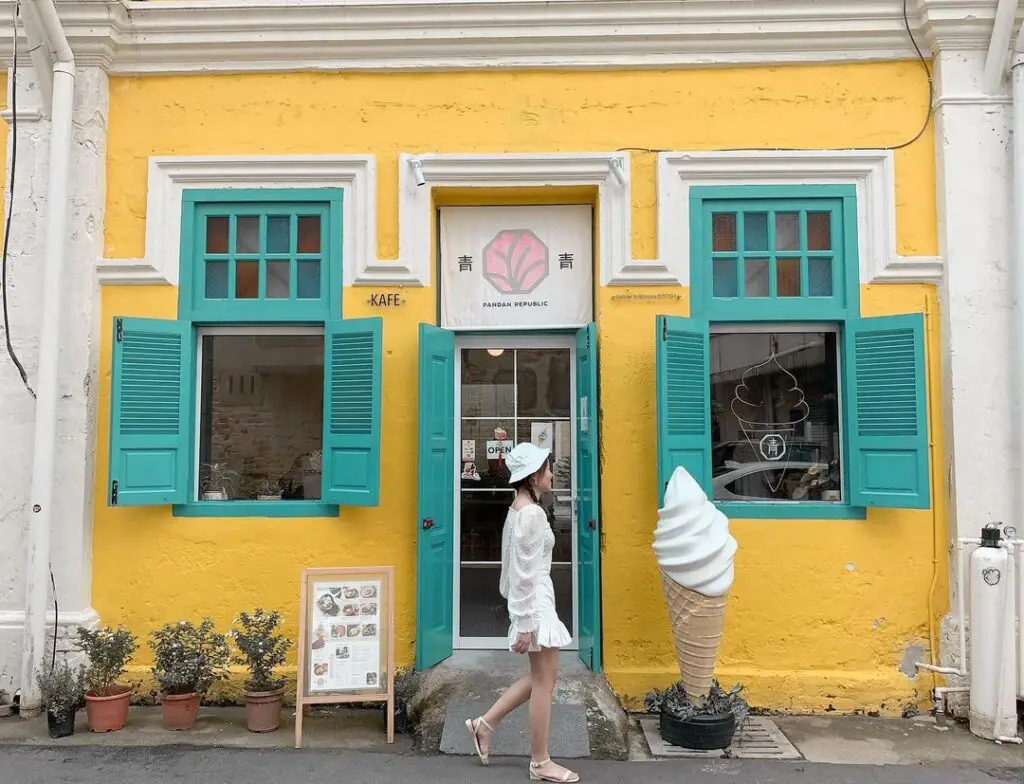 Also located in Kwai Chai Hong, Pandan Republic sports a bright yellow exterior with a vibrant set of turquoise window panes – you can't miss it! So, once you reach this cafe, don't be surprised if there are groups of travellers posing for pictures as the entire building surely does look like a great photo spot!
Even though the Pandan Republic also serves hot food, the choices are rather limited compared to the other cafes listed above. 
But, if you're here to satisfy your cravings for sweet desserts, then you're at the right place! One of the must-try delights is their signature Pandan Soft Serve. 
This creamy dessert comes with a flower-shaped cone and topped with a cute bunny biscuit. So, make sure to snap a photo of this adorable soft-serve first and upload it on your Instagram account before you dig in.
Other than soft serves, Pandan Republic also serves a multi-layered pandan cake and a variety of Nyonya Kuih that not only look pleasing to the eyes but taste as good too! 
Enjoy it with an espresso-based coffee served in a chemistry lab measuring beaker – how unique is that!
Words are not enough to describe the wonderful charms that you can find around Petaling Street. Whether you're a Malaysian or a tourist from another country, this place should definitely be on top of your list.
You can get a chance to learn more about Malaysia's heritage and given the dozens of other insta-worthy cafes scattered around the area, you can easily enjoy a full day of food-hunting. 
Plus, Petaling Street is easily accessible via public transports, so don't worry if you don't feel like driving through the congested road!
Discover unique places to stay in Kuala Lumpur