Penang is best enjoyed with friends and family due to the beautiful natural surroundings, historical landmarks, murals, and beach attractions.
It is famous across Malaysia for its many museums and historic landmarks, most of which are within walking distance of each other and just near or in the heart of the island, George Town.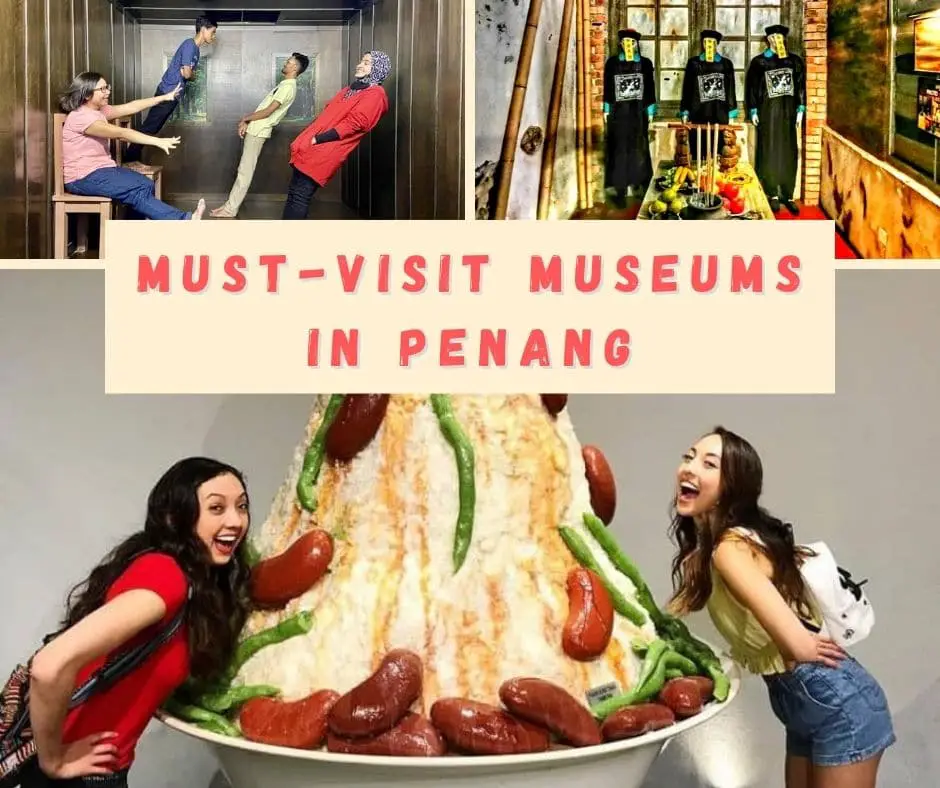 There are five popular museums in Penang that will encourage sightseers to plan a DIY walking tour of the town. Consider being versatile, however, as there are many more Penang sites you likely won't miss while walking to and from these museums.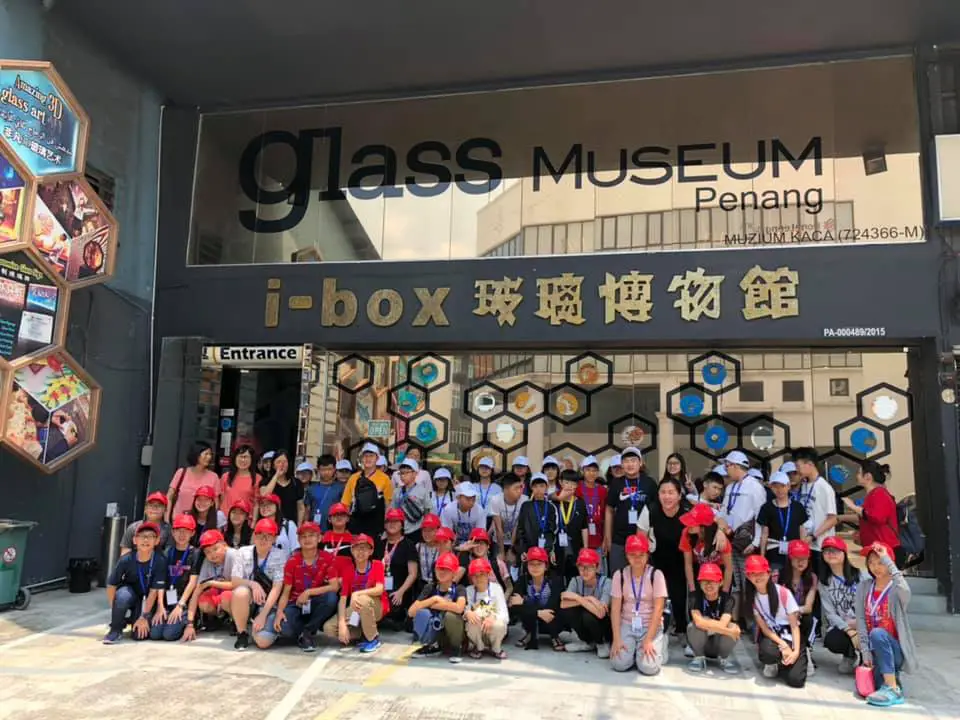 The Penang Glass Museum is a museum of rare glass art giving the impression of artistic work and imagination.
The Do-it-yourself session is the biggest attraction and is a perfect learning experience for children and gives adults the chance for creative expression. Relax and have some fun while enjoying the intricate designs with friends and family.
Technically not a museum, but a decorative glassware sales gallery, do purchase anything that catches your fancy! 
A brief glass-decorating demonstration is included in the entrance fee. Visitors can draw a template on a glass piece, and they can bring it home as a memento of Penang after some sand-blasting!
You travel through an infinity-effect mirror tunnel as soon as you enter, with the longest batik-motif glass painting in Malaysia as a highlight. 
Upstairs, you can view the interactive exhibits such as ultraviolet-lit glass art panels, kaleidoscopic mirrors, coloured glass floor panels, glass murals, and fun 3D imaging trick art.
Penang State Museum and Art Gallery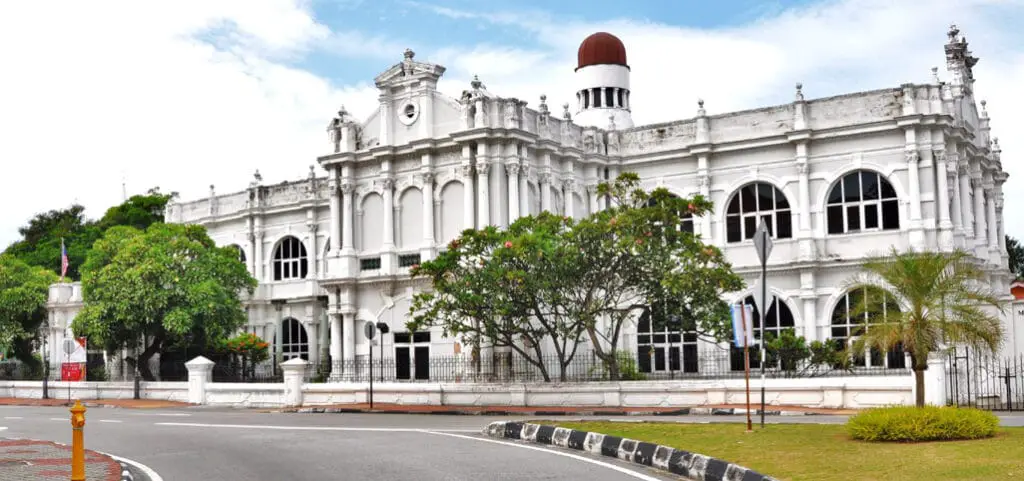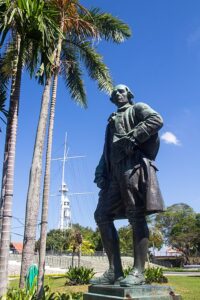 The State Museum was established in 1962 and is the country's finest state museum. You will be welcomed by the bronze statue of Captain Francis Light, the founder of the Penang Straits Settlements, upon entering the museum. 
The museum is divided into galleries that illustrate the historical events that have taken place in Penang.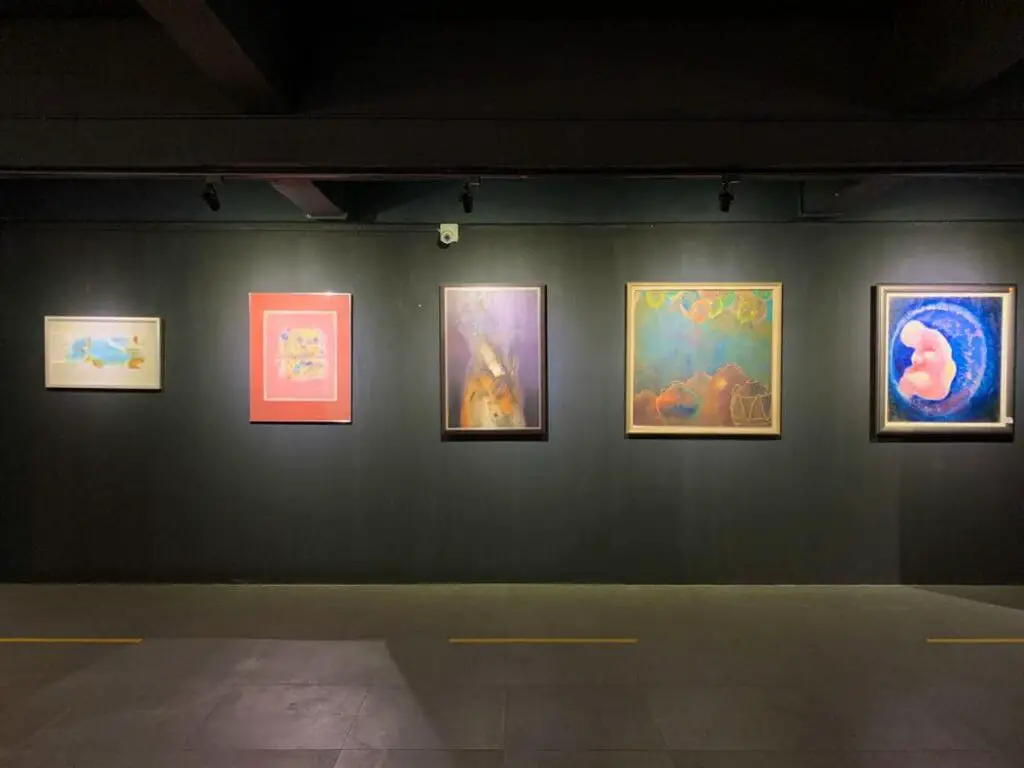 A great selection of images, maps, historical documents and costumes is available at the museum. The art gallery also exhibits the works of both local artists and foreign artists. The museum is open from 9 a.m. Till 5 p.m. Closed on Fridays and Public Holidays.
This is the place to go if you want to understand the people of Penang. The two floors will help you learn about their history, ethnicities, traditions and so much more. The museum is cold and a great place to get away from the Southeast Asian heat.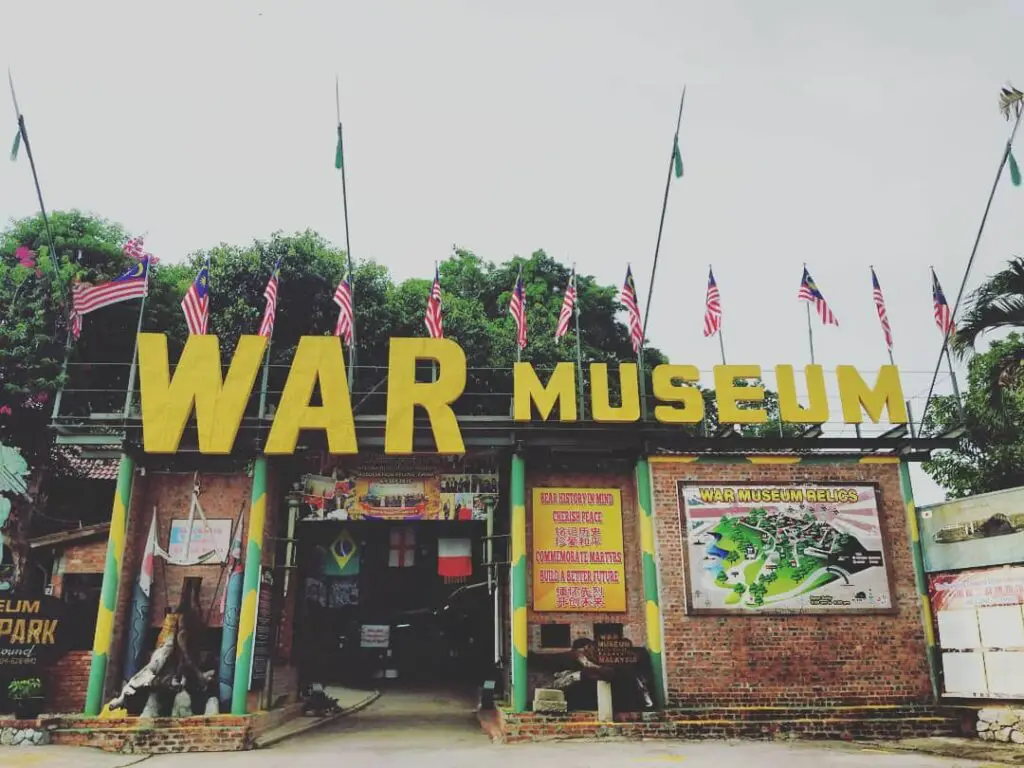 The Penang War Museum is otherwise referred to as Muzium Perang Pulau Pinang. This 20-acre hilltop museum is situated on top of Batu Maung in the south-eastern portion of Penang Island and unlike an indoor museum, this is a real site of war. 
The Penang War Museum is Southeast Asia's biggest war museum and is a real fortress designed in 1930 by the Royal British Engineers.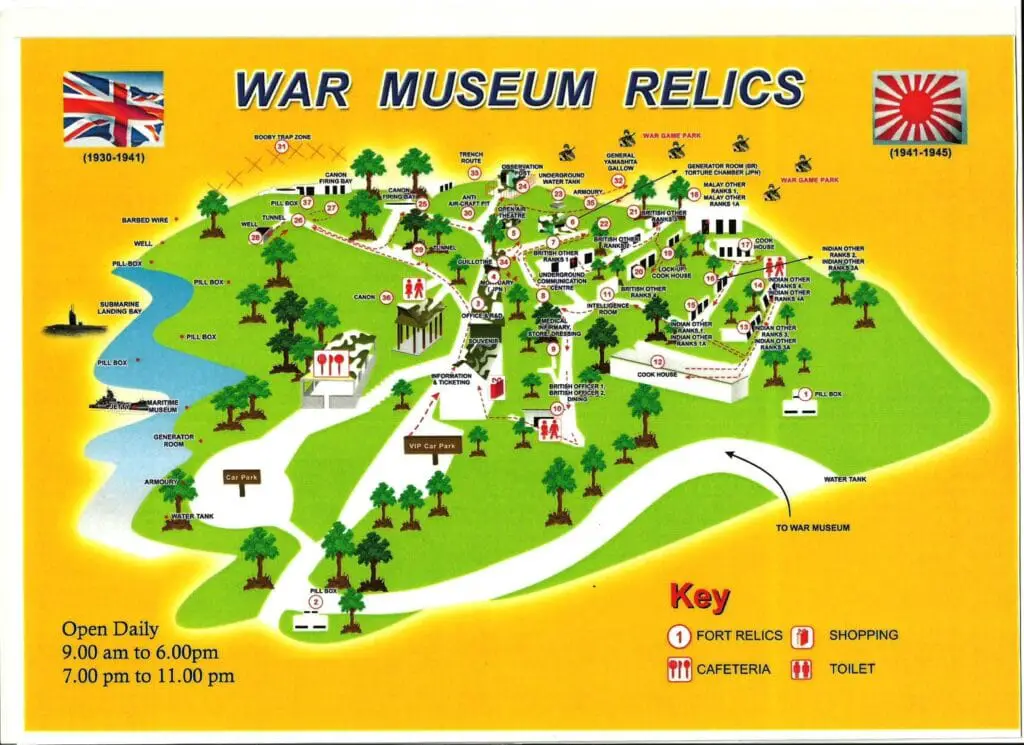 The Museum of the Penang War is an old British military base hacked out of the jungle and into a hillside tunnel.
After the start of the Second World War, the Japanese invaded the garrison here and committed unimaginable massacres. You can visit this place and read about what happened during World War II.
The British built this fortress when Malaysia was still Malaya, to defend this island from enemies coming from the Malacca Strait. Unfortunately, during WWII, the Japanese Imperial Army occupied the whole of Malaya, making this fortress a prisoner of war camp. 
This fortress was then deserted for nearly 60 years after the Japanese surrendered. Later, Mr Johari Shafie converted this abandoned fortress into Southeast Asia's first outdoor war museum!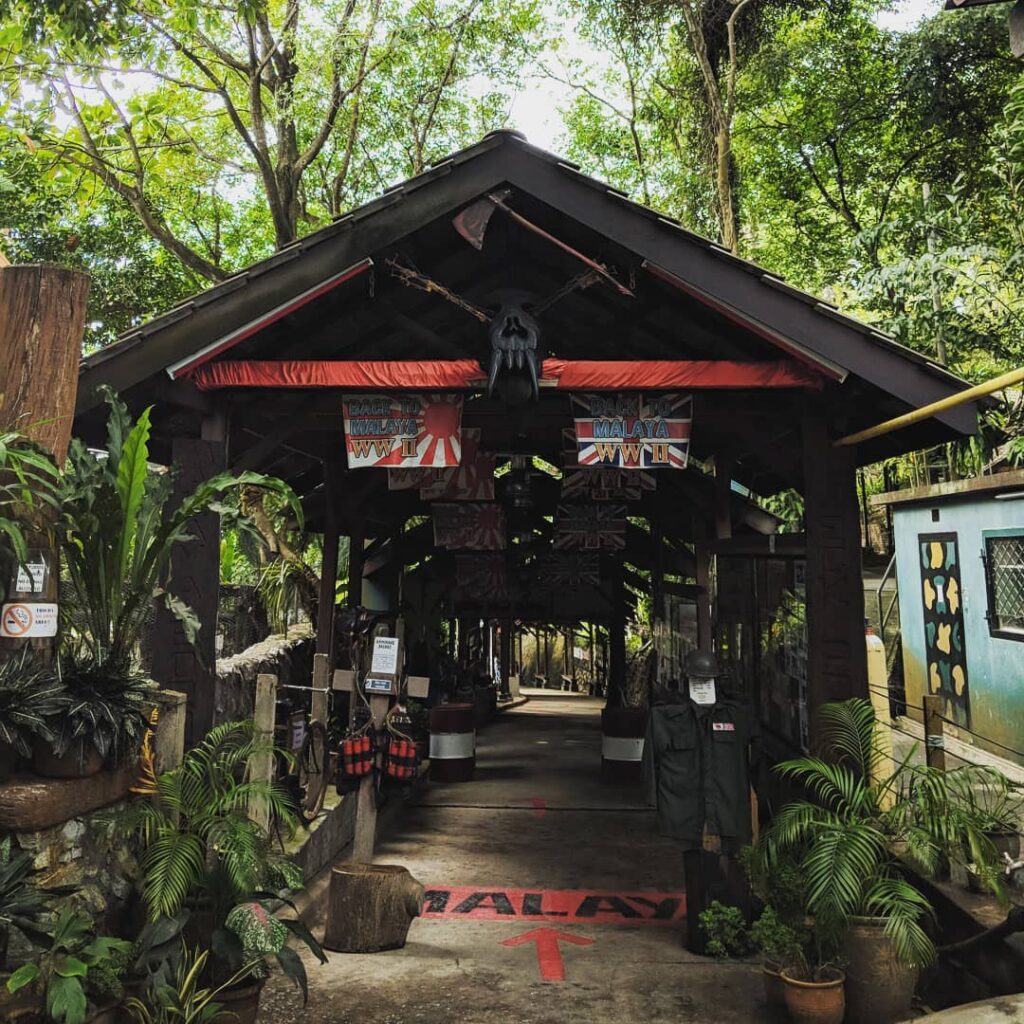 A polished wooden skull at the entrance looms down over passing visitors, looking more like a dragon than anything else.
There is a Japanese suicide vest, complete with dynamite replica sticks, and a sign that invites tourists to wear a mock WWII uniform and get their picture taken.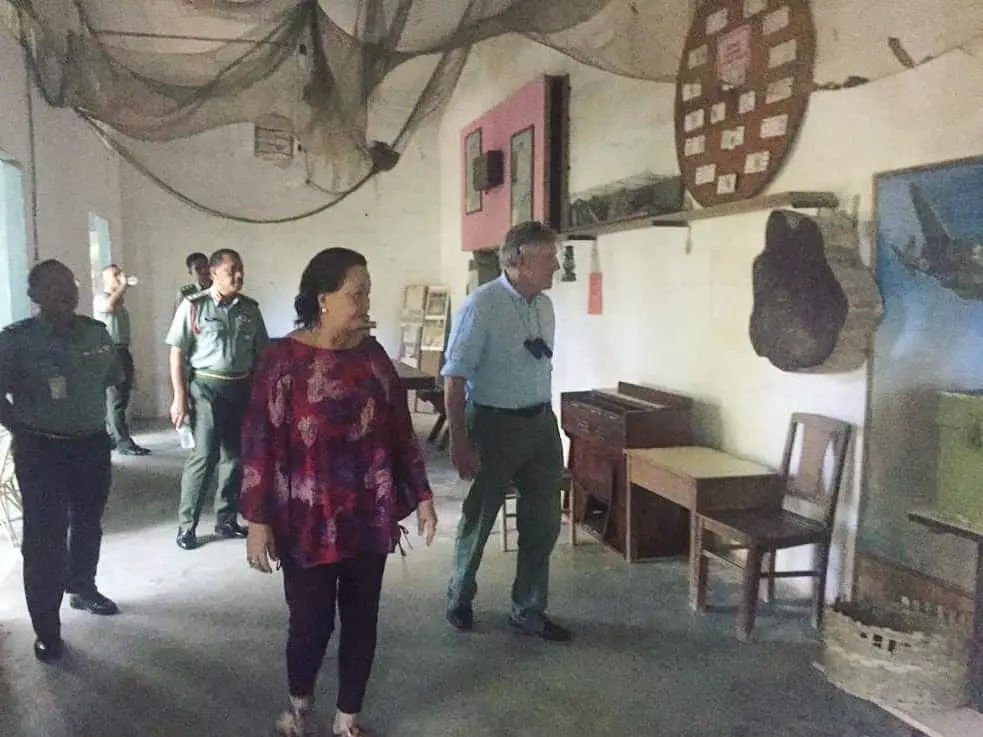 Photos have been framed and hung up on walls in the museum during the British and Japanese occupations. The House of Agony next to General Yamashita Gallow is one of the truly heart-wrenching ones on display. 
In the room that illustrates the violence that occurred during the Japanese occupation, you can also read the testimony provided by the actual witnesses to the massacres.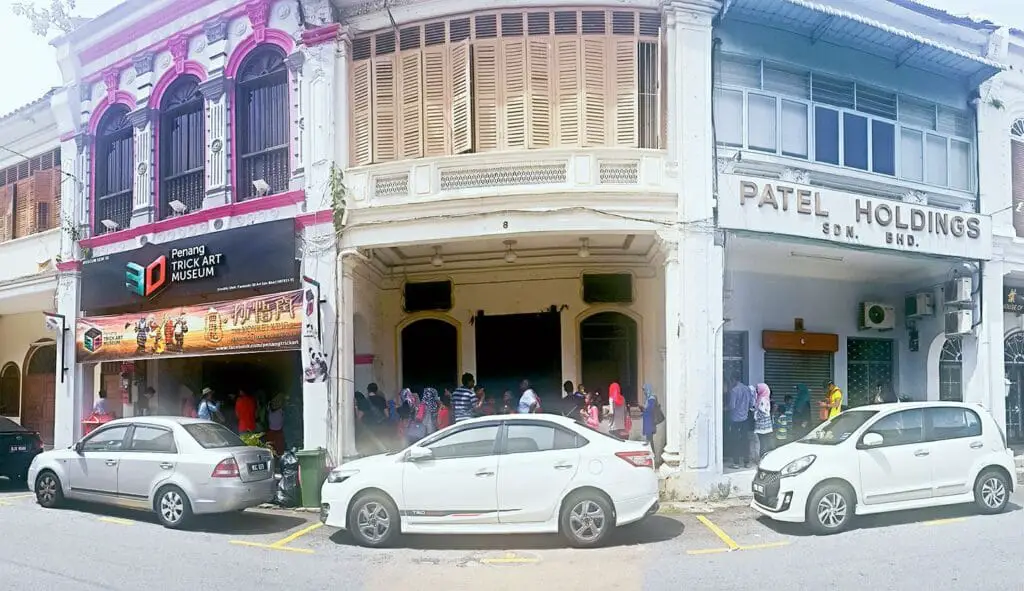 In George Town, Penang, the Penang 3D Trick Art Museum is an interactive museum on King Lane. It opened on the 25th of October, 2014. The museum occupies two floors of a long shophouse that extends from King Street to Penang Street. 
Visitors make their way to the ground floor and then head up the stairs to the first floor as the museum takes them through scenes, and then moves on to more amazing and outlandish terrain.
What makes the Penang 3D Trick Art Museum' stand out is that it uses both perspective murals and life-size figures that protrude from the walls and provides a fresh and distinct experience.
3D art is abundant, and when you look at it, it's just a regular painting of art on the wall but when you film it on camera, it's a different story. They also have a very helpful team who can help you take the photo and direct you to what the pose can do to make your image come alive.
Adrenaline junkies visiting Penang should go to the Penang Ghost Museum for a special experience. The museum is situated in Lebuh Melayu, specifically in the UNESCO Historic Site of George Town. 
The Ghost Museum provides fun (and spooky!) scenes featuring local urban legends such as Pontianak, Pocong, Toyol, Orang Minyak, and more, as the first museum of its kind in the world.
With these ghosts, you can not only get your heart pounding, but you will also learn the lore of each one of them.
That being said it is a one-of-a-kind attraction only found in Penang. Visitors will take photographs of the 'exhibits' that often provide comprehensive descriptions of the different ghosts and their related legends.
The displays contain several ghost beings from different cultural and religious folklore, and it's just a truly unforgettable experience.
The Ghost Museum is an experience in Penang for those who love a bit of a scare. In this Ghost Museum, you can see several forms of ghosts such as a Chinese ghost, a headless ghost, Sadako and many more.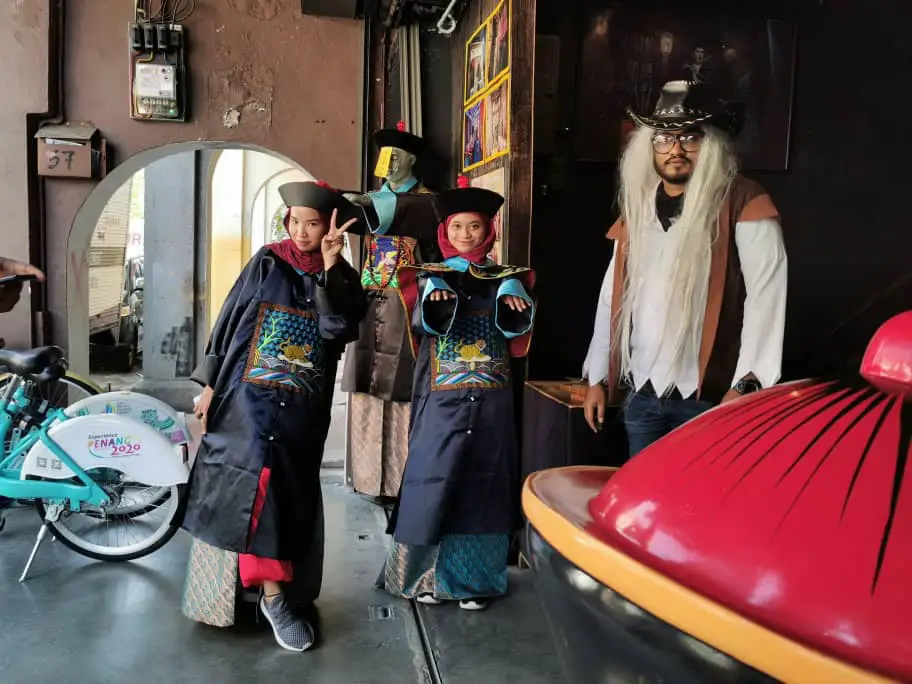 Additionally, the Ghost Museum also provides visitors with many styles of clothing and head-wear to experience becoming a ghost.
By visiting this unique and enjoyable museum in town, you will attempt to conquer your fear and anxiety.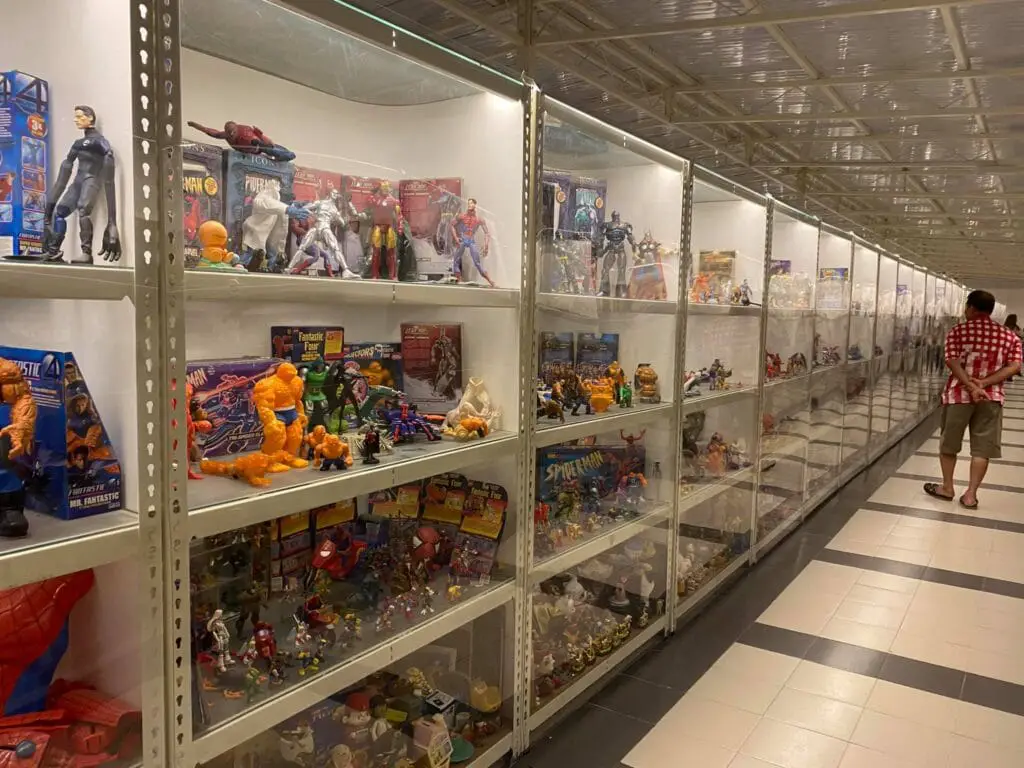 Visit this intricate array of over 100,000 items at the Penang Toy Museum which might include your favourite cartoon characters. 
If you can name the character, chances are they have it here, whether it's a copyrighted Hollywood animation, video games, comics or television shows, in a collection built over more than 40 years.
See colourful Jurassic Park, Garfield, Rango, Smurf, Mario, Thomas the Tank Engine, Nemo, Barbie or Star Wars series toys and life-size figurines. To add to the experience, the venue even co-hosts a wax museum!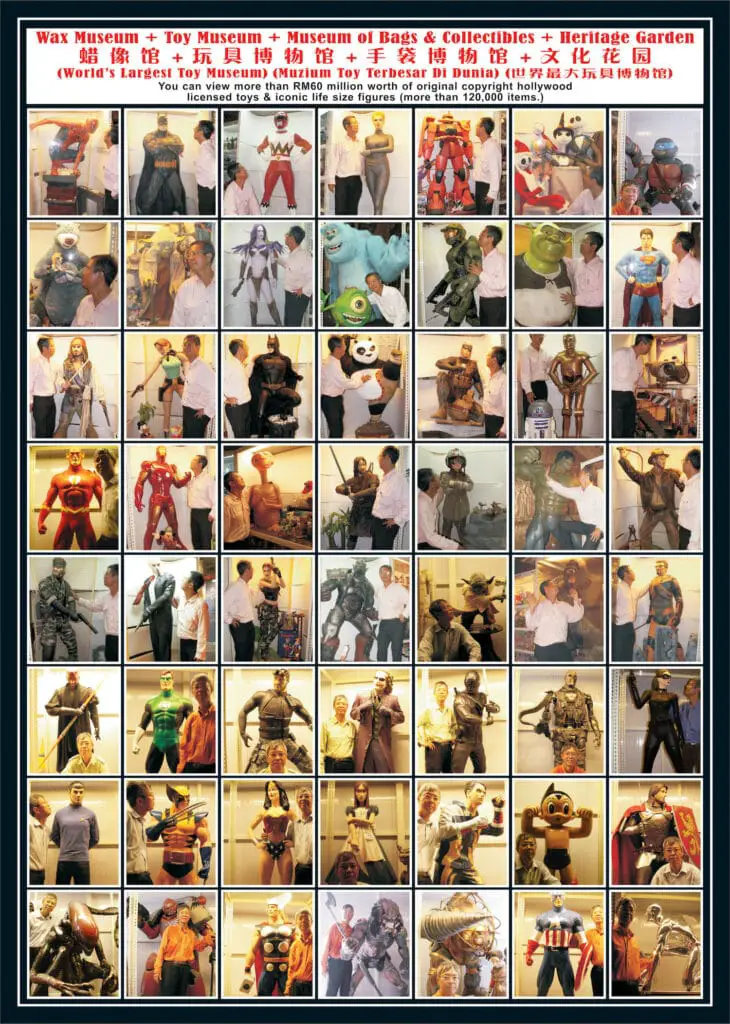 Set against a background of green hills, the Toy Museum is also educational. Walk to the tropical vegetables, fruits, spices that are commonly used by the local communities in the nearby Heritage Garden.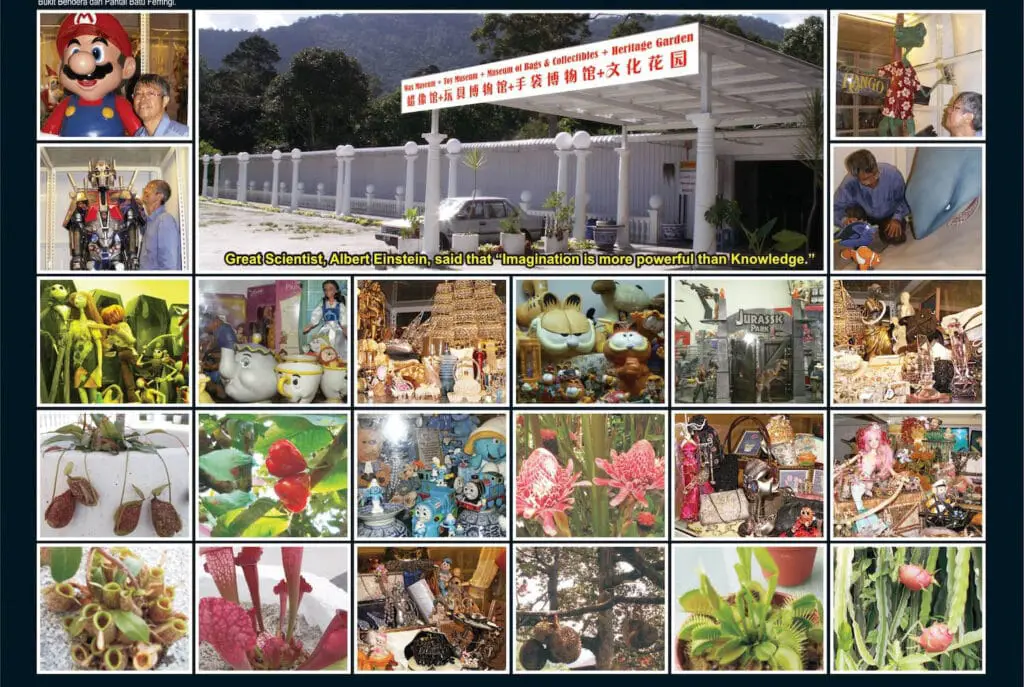 This is also an opportunity to witness the popular carnivorous pitcher plant and other rare vegetation. 
You might even see eagles in the garden's treetops if you're lucky! A full treat for families visiting Penang is provided by the Toy Museum.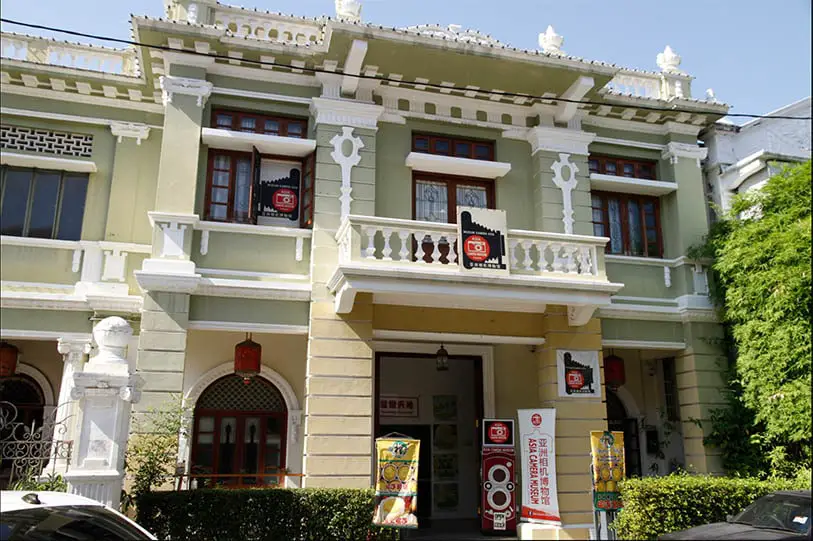 Camera Obscura, Box Camera, Folding Camera, Large and Medium Format Camera, 35mm Camera, Single and Twin Lens Reflex, Digital Camera and more are part of the first Camera Museum in Malaysia, which can be found in Penang. 
They come like Britain, Europe, France, India, Japan, Russia, Thailand and other parts of the world. You will get the chance to touch real antique cameras and the 'experience booth' will let you feel the weight of these historical artefacts.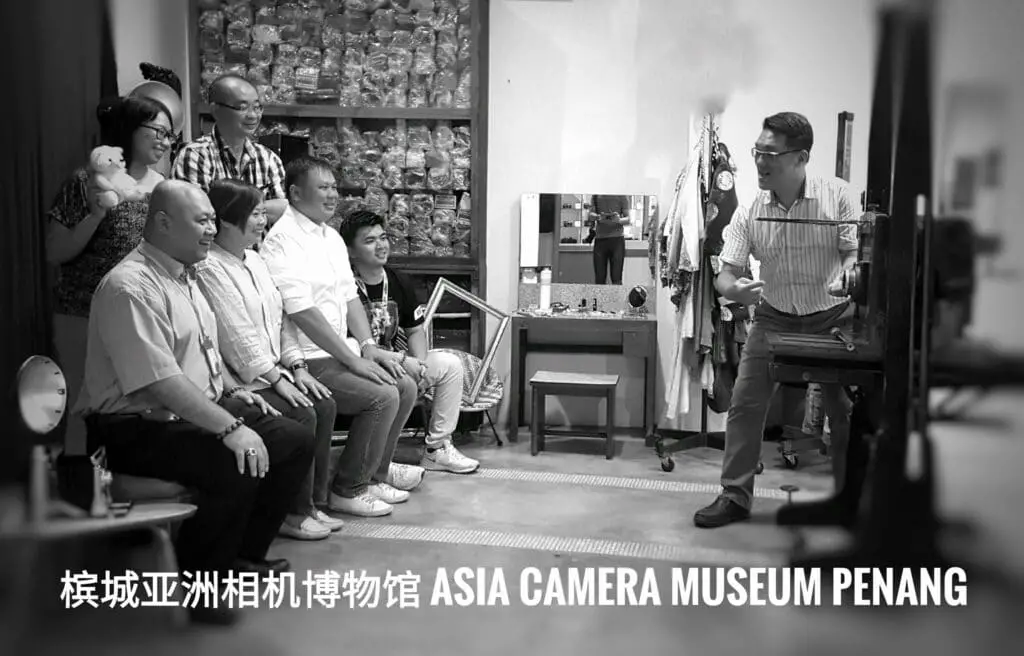 With a spacious open space, the Camera Museum is located on the 2nd floor and brings visitors to the main display space. A large set of cameras is stored in the first place, nicely arranged behind glass doors.
There is a reproduction of a dark room for visitors to experience developing and processing the photographic film.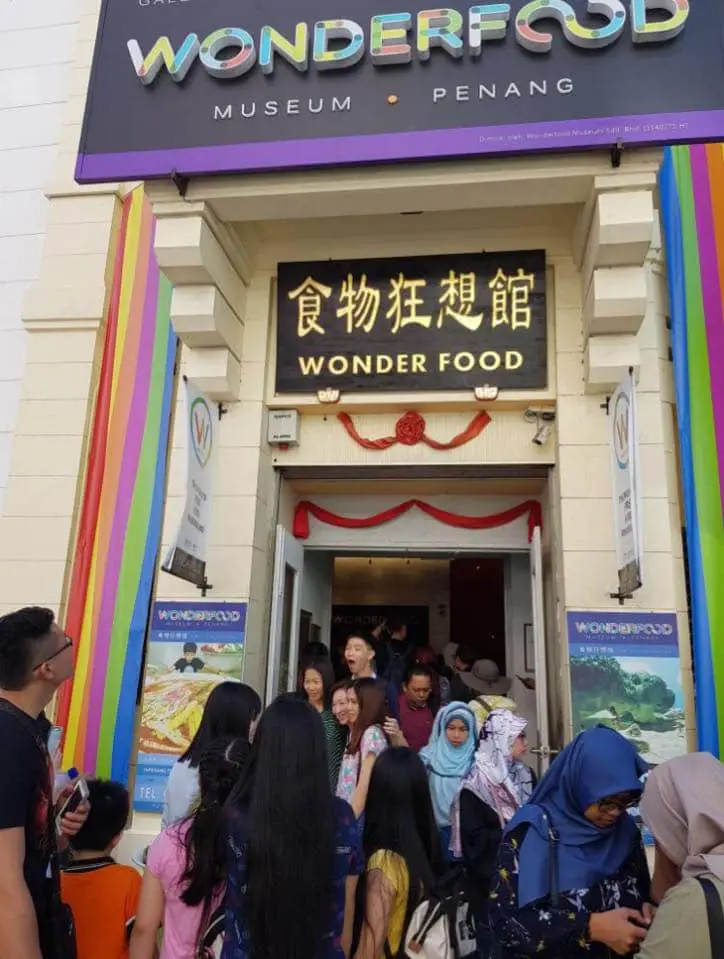 The Wonderfood Museum is situated in Penang Old Town in the middle of Georgetown and draws visitors from around the world. This museum not only promotes the city's food culture but also honours the art culture of Penang. 
There's no question that you would not get bored exploring the imaginative walls of food dishes displayed, created and designed quite innovatively.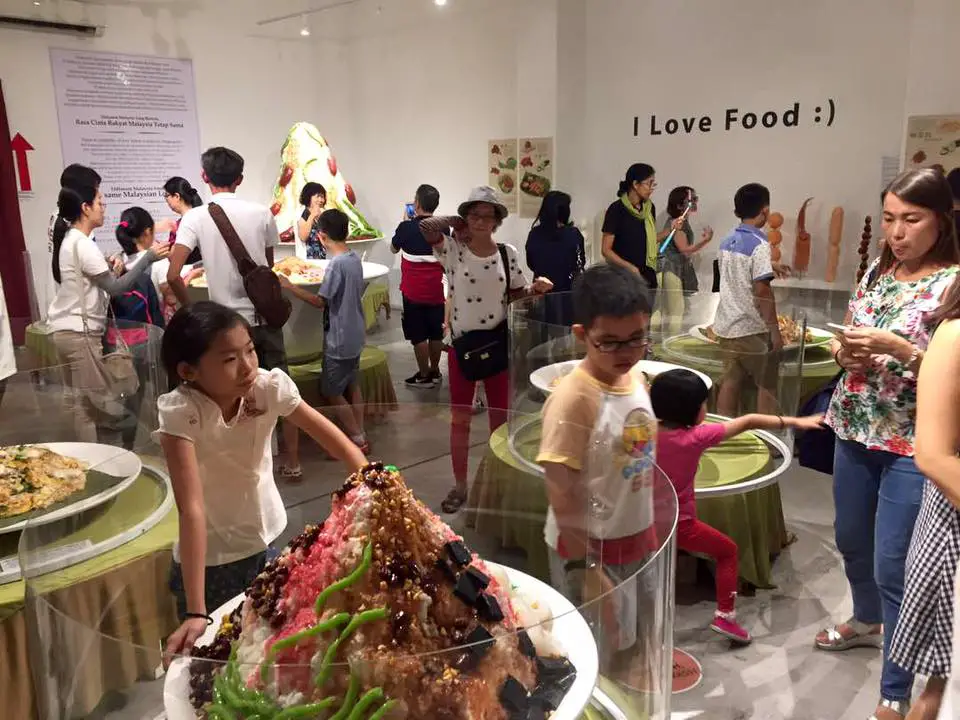 You can learn more about Penang's food and other world cuisines at this museum. In the most immersive way, it highlights the rich quality of Malaysian cuisine, where you also hear about the social meaning of the food. 
The employees are very kind and supportive in sharing data about the best places you can find the food you want
The Wonderfood Museum is not a spot to be missed because it is a brilliant space celebrating Malaysian food, highlighting the culture of Malaysian food, and raising awareness of pressing issues related to food. 
The museum is divided into thematic sections: food spread from various Malaysian cultures, how we view food from various perspectives (against colours, time, and gravity), giant replicas of popular Malaysian hawker food, photo-op food trail area, and finally, for educational purposes, nooks and corners.
Wonderfood Museum shows that museums don't have to be dry and boring. The people behind the Wonderfood Museum, along with a good dose of quirks and experience, inject fun elements. It's a spot for the geek, the vain or even the adventure-seeker.
Planing a trip to Penang? You could be looking for a place to chill after exploring museums? Check out our curated and unique stays below