Malaysia is a colourful country widely popular for its diverse culture and history.
Being the home sweet home to three main races; Malay, Chinese, and Indian, it is no surprise that the country is brimming with various unique places of worship that are definitely worth a visit.
From a crystal mosque sitting on the river to a century-old Hindu temple and a Siamese Wat – you name it!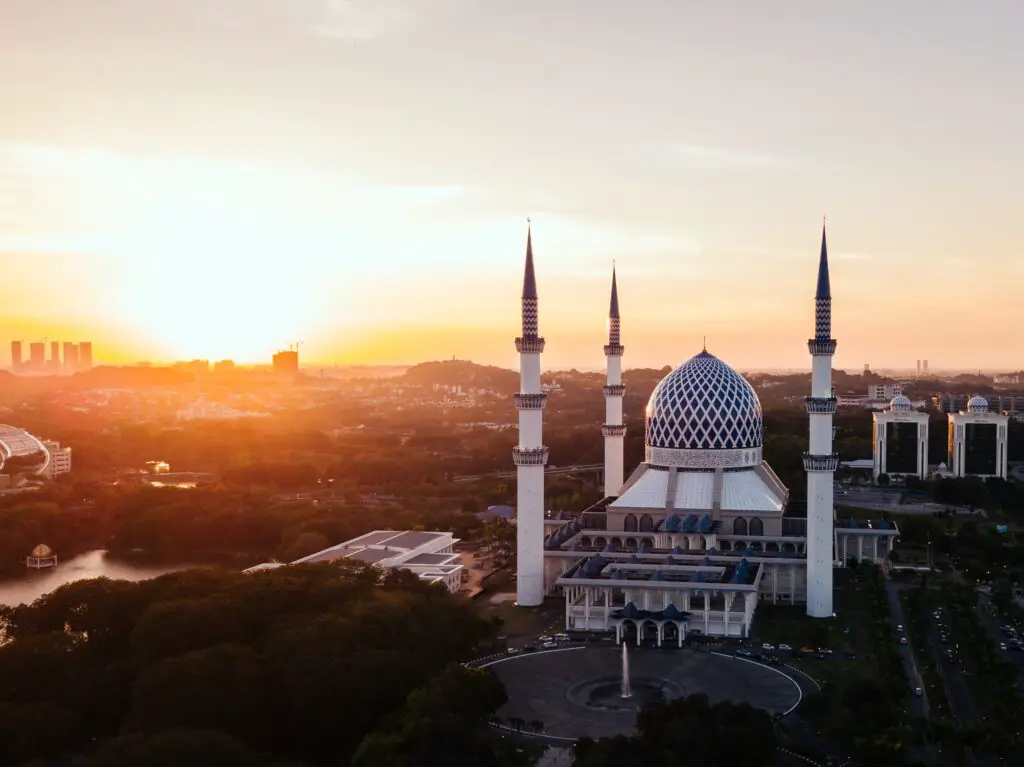 Continue scrolling through to discover some of the most beautiful temples and mosques scattered throughout Malaysia that should make it into your trip itinerary.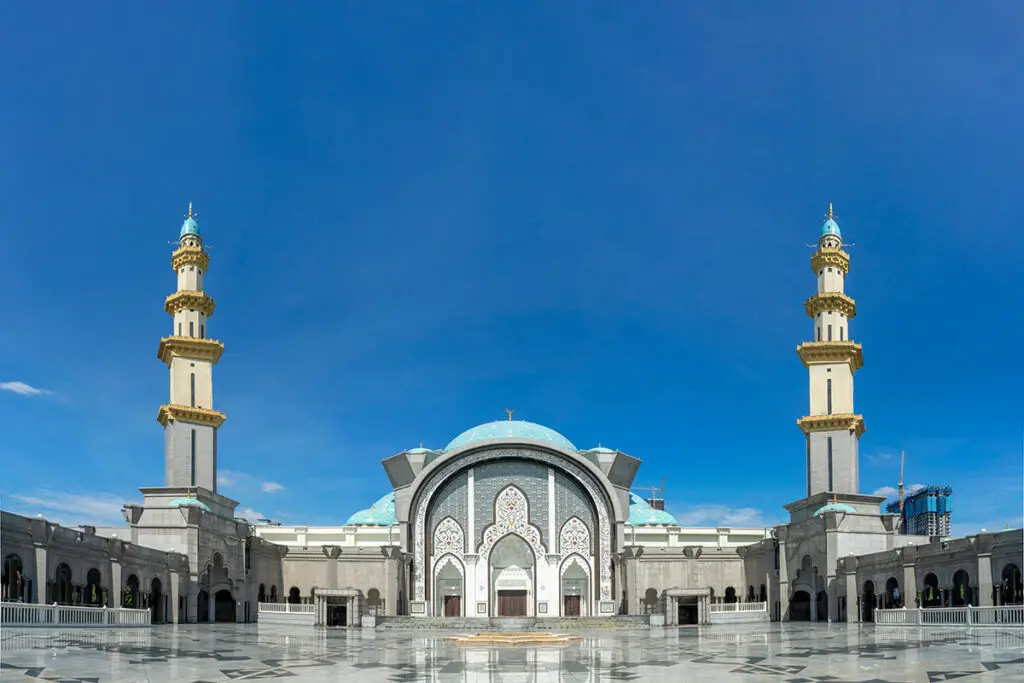 If you've ever been to Turkey before, then you will notice that the Federal Territory Mosque has a striking resemblance to the world-famous Blue Mosque in Istanbul.
Located in Kuala Lumpur and pretty close to the MARTRADE complex, this mosque was constructed in the late '90s and opened to the public in October 2000.
Inspired by 16th century Ottoman architecture, this mosque features 22 beautiful domes, a serene garden, and a moat surrounding it. Even though the design of the mosque is heavily influenced by the Blue Mosque, you can still expect to find a unique touch of Malay architecture here and there.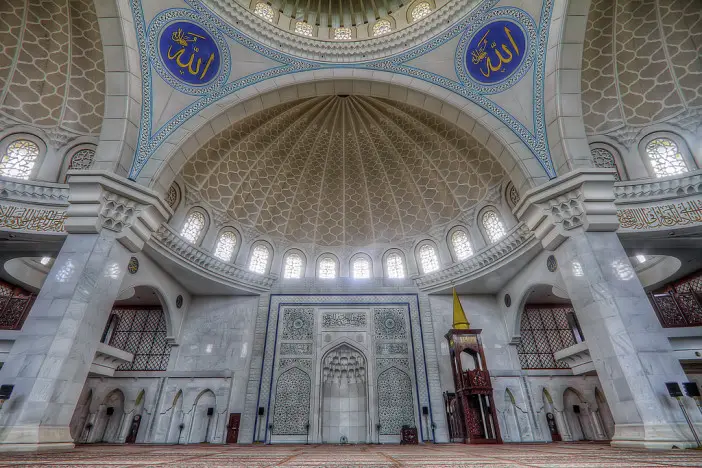 Inside the mosque, the light coloured surroundings combined with the warm lighting will surely calm your mind. The exquisite Islamic motifs and carvings are also some of the things that you should not miss.
Iron Mosque(Tuanku Mizan Zainal Abidin Mosque)
Iron Mosque or also known as Tuanku Mizan Zainal Abidin Mosque can be found in Precinct 3, Putrajaya, right across from the Palace of Justice.
 Unlike the typical mosques, the Iron Mosque has a rather modern look – it does not feature a single minaret, and the entire structure has a geometrical shape with only one dome on top of it.
Just as its name suggests, the mosque is constructed mostly out of steel. The design and architecture are also influenced by the Germans and Chinese.
Since it is located near the lake, you can get a stunning panoramic view with the Putrajaya Bridge in the background. The mosque also has a serene compound featuring well-trimmed hedges and a beautiful archway greeting you at the entrance.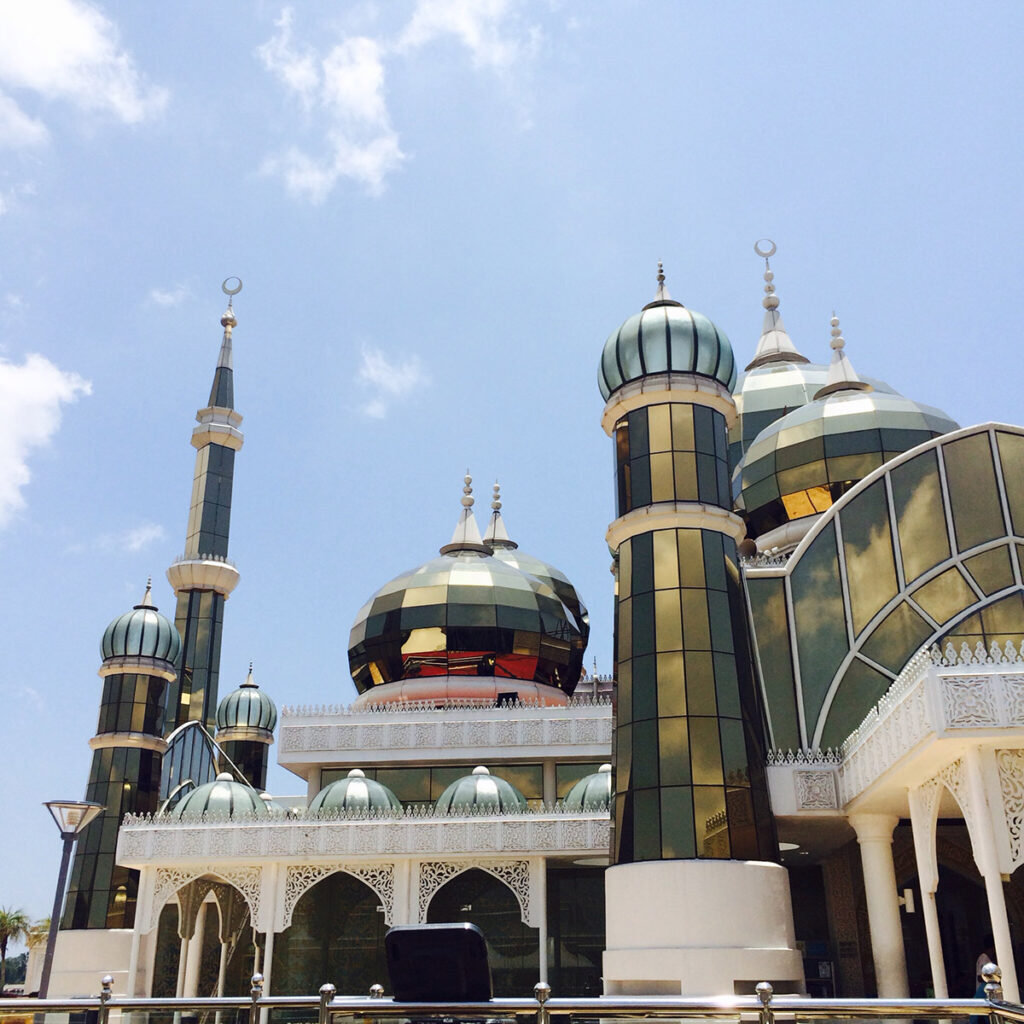 Crystal Mosque, one of the most unique places of worship in Malaysia, is situated within Islamic Heritage Park in Terengganu. It sits on a river and has an exquisite exterior made out of steel, glass, and of course, crystal.
First opened to the public in February 2008, the Crystal Mosque has been a favourite spot for wedding photography.
The sight of this place is even better during a hot day as the sun rays reflecting on its nine glass domes will make the mosque appear shiny and magical.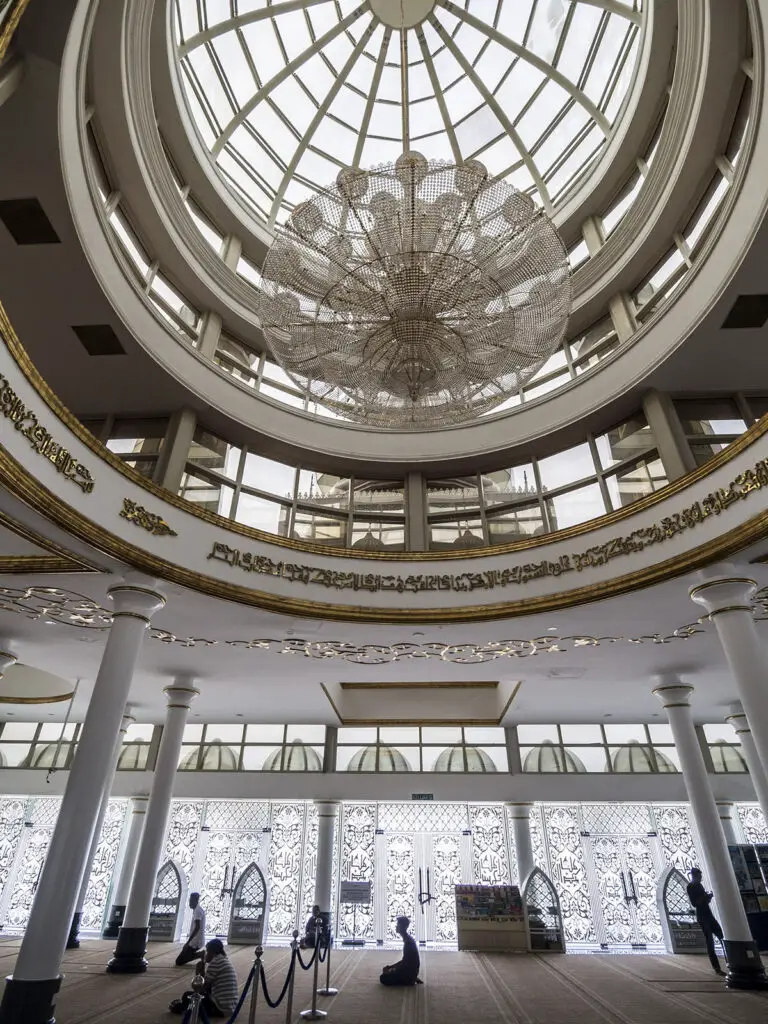 When it comes to the interior, the mosque has a sleek look, especially when it is painted in white and decorated with subtle Islamic carvings and motifs in gold. Believe it or not, this mosque can accommodate up to 1,500 people at once!
Wat Chetawan(Chetawan Buddhist Temple)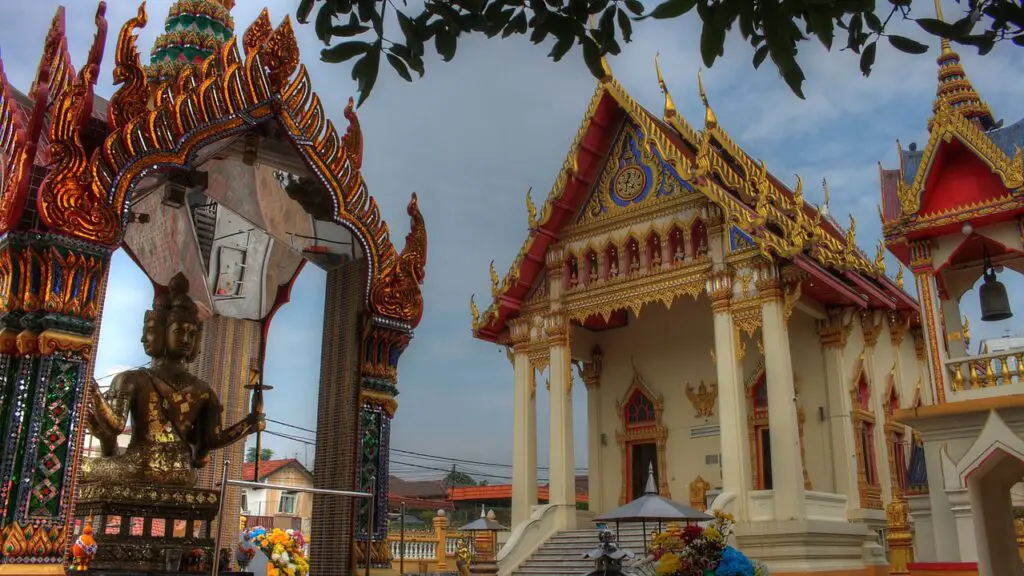 Who said you have to travel to Thailand to see a classic Thai temple with golden pagodas? Wat Chetawan or also known as Chetawan Buddhist Temple can be located in Petaling Jaya.
This stunning temple was built in 1957 and was officiated by the former king of Thailand himself!
As soon as you set foot at this temple, you'll be welcomed by a set of stairs guarded by two golden statues of Thai serpents. Just like the other temples in Thailand, Wat Chetawan is heavily adorned in gold and features colourful glass tiles and multi-tiered roofs.
In the temple's main hall, you can find several images of Buddha and a statue of Phra Phrom, the four-faced god standing at the pavilion.
What makes Wat Chetawan unique is that it is the only Malaysian Siamese Temple that houses a few sacred Buddha relics!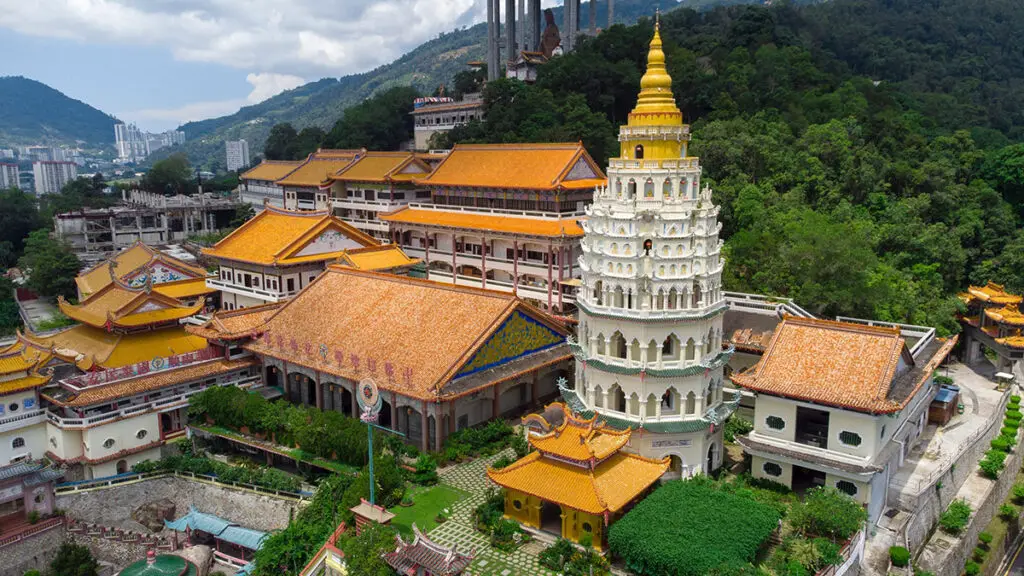 Kek Lok Si Temple is the largest Buddhist temple in Malaysia nestled in Air Itam, Penang. It also acts as an important pilgrimage centre for Buddhists from several Southeast Asia countries as well as Hong Kong.
Located within the rolling hills and facing the sea, the temple was actually constructed in the late 19th century.
Some of the main highlights that you should not miss are, of course, the 7-storey pagoda that infuses three different architectural styles, the 37-metres tall bronze statue of Guanyin, the goddess of mercy, and the flower garden.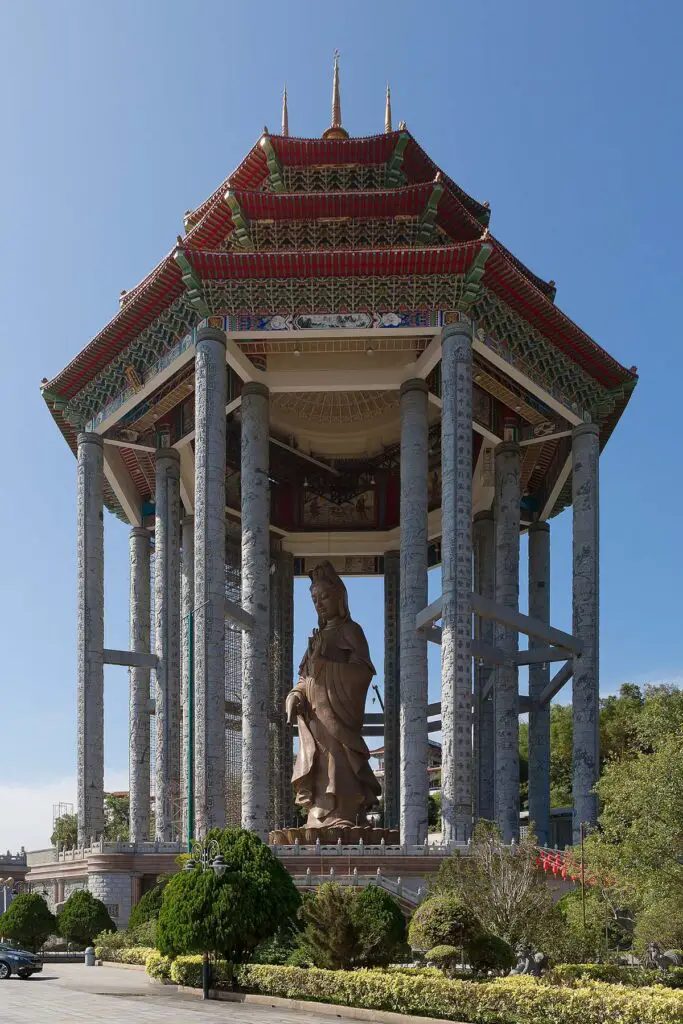 If you wish to have a different experience, you can plan a visit to this temple during the Chinese New Year where you can get a chance to see thousands of lights and lanterns lighting up the entire place. Plus, the temple also stays open until late at night!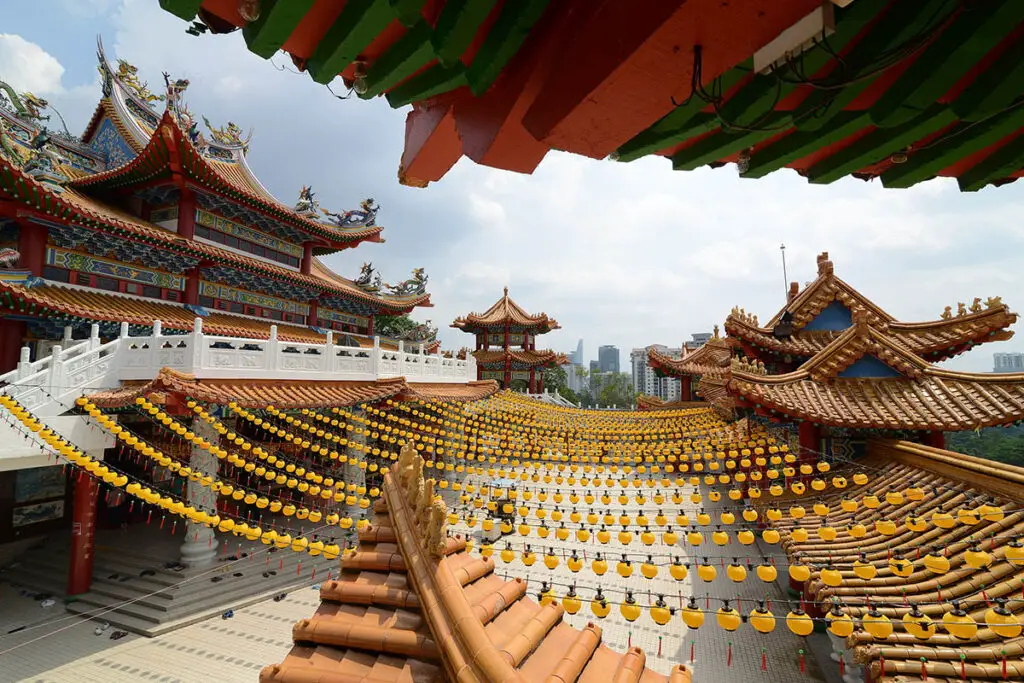 This six-tiered temple can be found in Jalan Klang Lama, Kuala Lumpur. Also known as the Temple of the Goddess of Heaven, this temple was built as a dedication to Tian Hou, a goddess that is said to protect fishermen. 
Since it is located right on top of a hill, you can expect to get an amazing view of the city of Kuala Lumpur from the temple!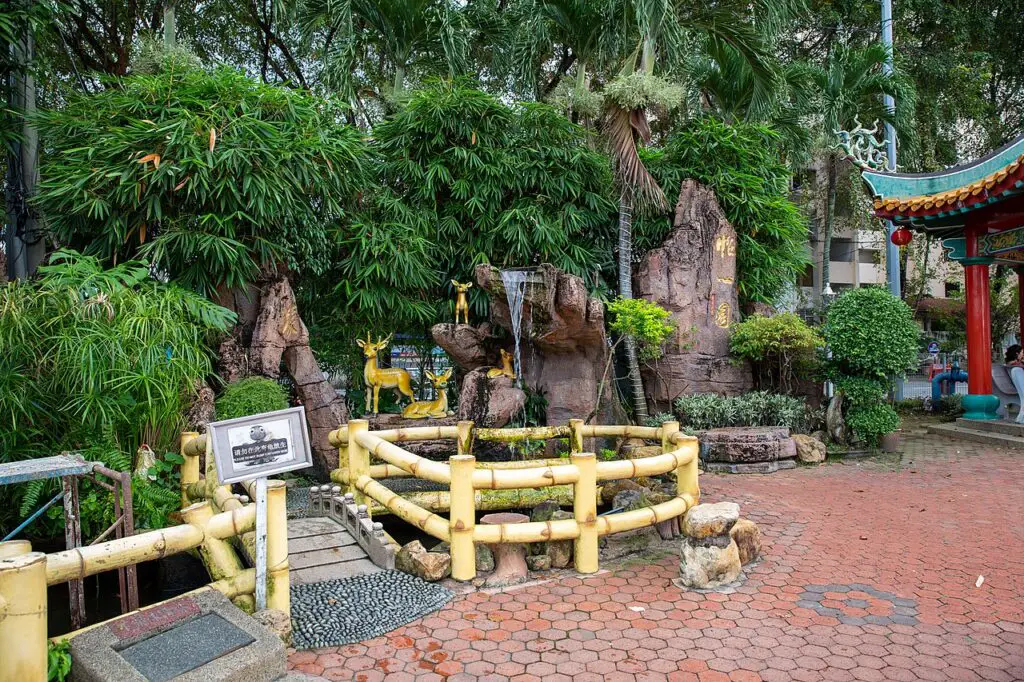 Other than the bright red lanterns, dragon columns, and ornate carvings, the temple also houses a Chinese herb garden and a tortoise pond. But, the main highlight is the modern Buddhist pagoda as well as the exquisite prayer hall.
Thean Hou Temple is also one of the best places for marriage registration, especially for Chinese couples. With its peaceful and traditional ambiance, you might even spot a newly wed couple posing for wedding and portrait photos here!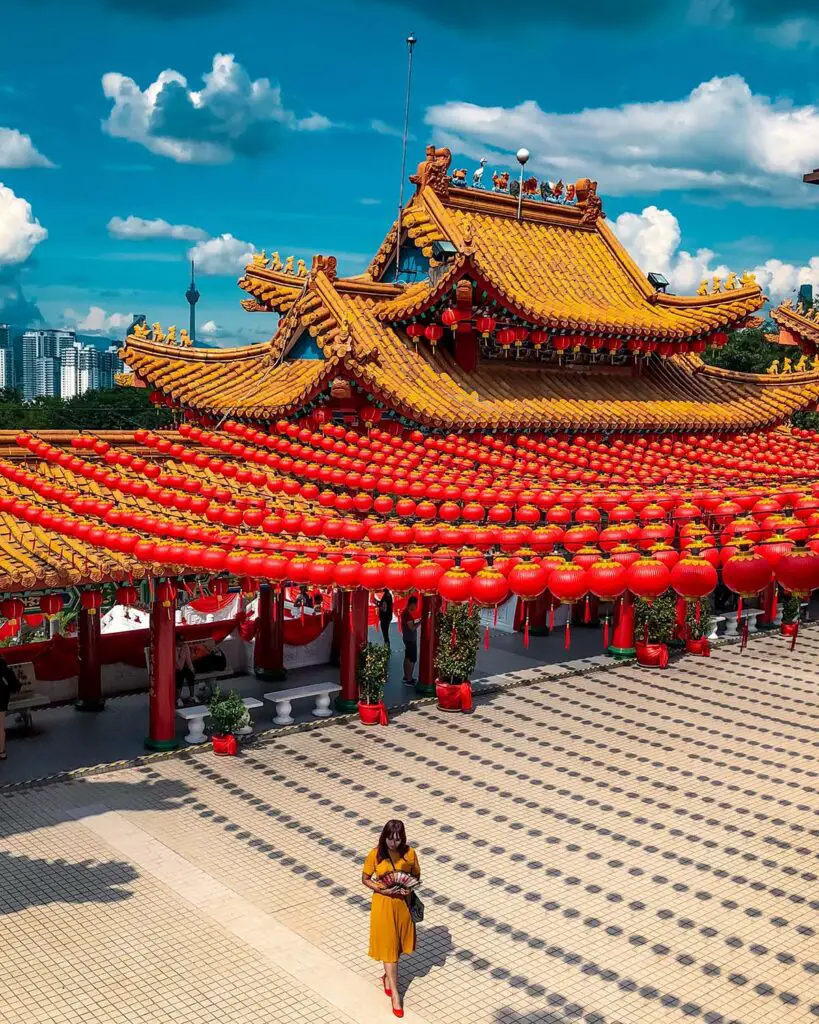 Being recognized as one of the oldest temples in Southeast Asia, it is no surprise that it has become a spot for various Buddhist events including Wesak and Mooncake Festival.
You can even find locals practising martial arts around the temple complex such as Tai Chi and Wushu. If you'd like to take a glance at your future, go ahead and talk to the fortune-tellers there!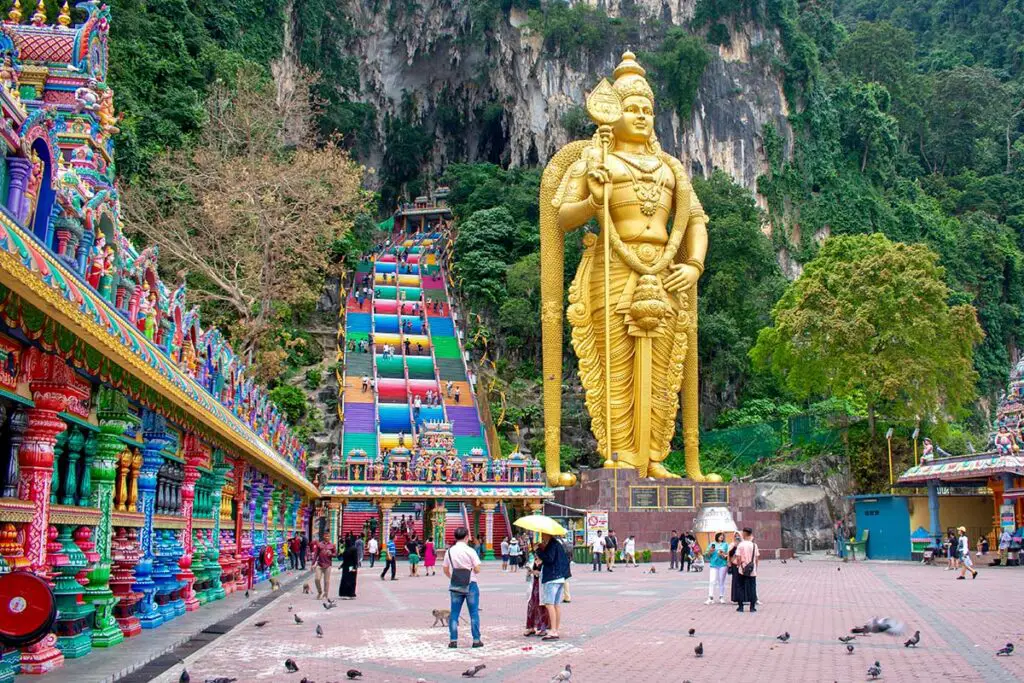 One can never say they've visited Malaysia without setting foot at Batu Caves, one of the most important Hindu landmarks in the country.
A little fun fact about this limestone temple – Batu Caves is actually a century old and it was built as a dedication to the Hindu deity, Lord Murugan.
This is also the very place where you can find the world-tallest statue of Lord Murugan. It is 140 feet tall and painted in gold!
This temple consists of three major caves. The two minor caves are the Art Gallery Cave and Museum Cave that showcases various Hindu paintings and statues.
To get to the main cave or also called the Cathedral Cave, you have to climb up a total of 272 colourful steps. Inside the cave, you can find several spectacular Hindu shrines surrounded by 400 million years old limestone formations.
Waterfall Hill Temple (Arulmigu Balathandayuthapani Temple)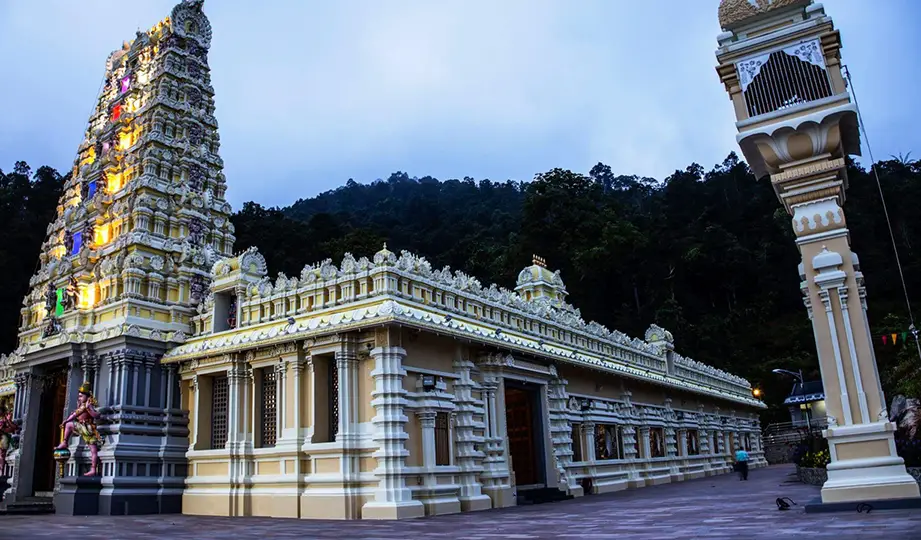 Arulmigu Balathandayuthapani Temple or more commonly known as the Waterfall Hill Temple can be found at the base of the majestic waterfall in Penang Botanic Garden.
Also dedicated to Lord Murugan, this unique temple has been named one of the largest Lord Murugan temples in the world.
Given its location on a hill, a visit to this temple will also reward you with an amazing view of Georgetown, Penang. However, you do need to climb 513 steps to reach the temple complex.
The Waterfall Hill Temple is best known for its seven-storey gopuram, an ornate Hindu entrance tower. This temple is also where the Thaipusam festival takes place every year.
Aside from the main temple, you can also find a couple of other small Hindu temples at the complex as well as a statue of Lord Shiva.
Sri Sundararaja Perumal Temple(Klang Perumal Temple)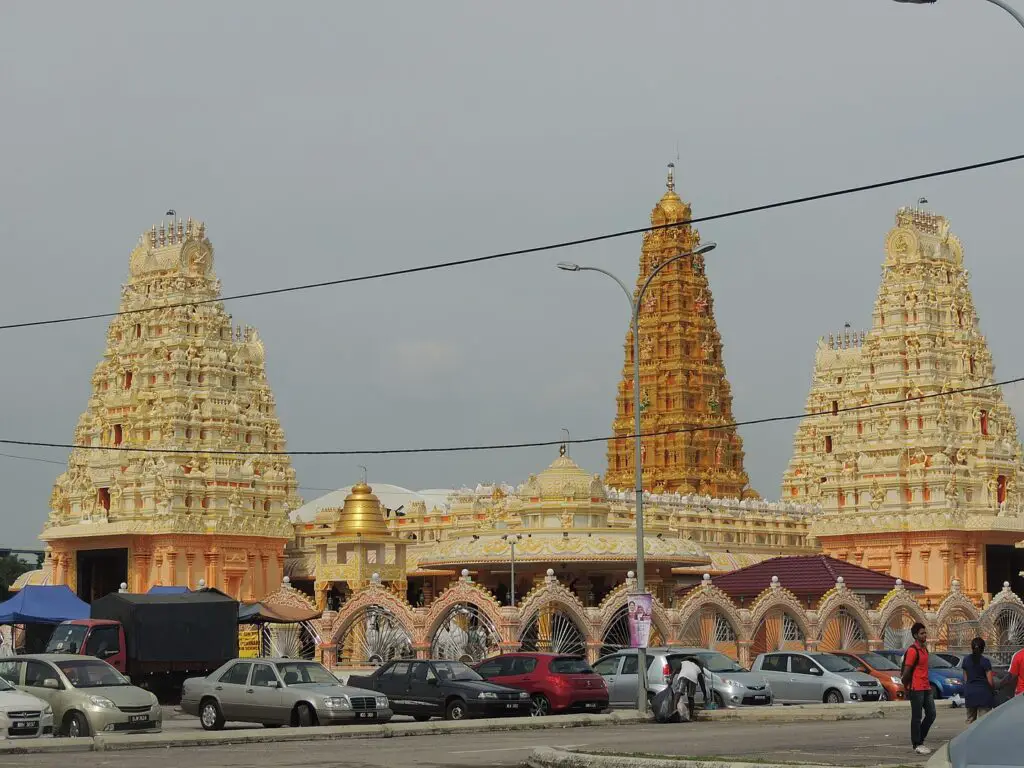 Sri Sundararaja Perumal Temple or locally known as Klang Perumal Temple is one of the oldest Hindu temples in the world. It was built about 127 years ago and went through a reconstruction process in 2015.
This is also the first-ever granite temple in Malaysia and it is located within close proximity to Klang's Little India.
Dedicated to Lord Vishnu, the main landmark in this temple is its several Gopuram that features intricate carvings of Hindu deities.
Inside this temple, you can find a few complexes that house smaller temples that are dedicated to the other Hindu deities as well as a hall that is mostly used for wedding ceremonies.
This place is also usually packed with devotees during the Hindu festivals such as Deepavali and Tamil New Year.
Aside from learning more about the religions' history and background, these temples and mosques can also be great spots for photography as the unique architectures and designs surely are insta-worthy.
However, since these are all sacred and religious points of interest, keep in mind to be respectful at all times and be sure to dress in appropriate attire. 
There's no entrance fee charged to enter these places of worship, but donations are always welcome! 
Discover unique places to stay in Malaysia