Whenever Kuala Lumpur is mentioned, some of the things that come to mind are, of course, shopping complexes, the twin towers, restaurants, and hipster cafes. But, do you know that Kuala Lumpur is also blessed with several nature parks and hiking trails surrounded by dense rainforest? 
The busy city even has its very own canopy walk where you can take a stroll right above one of the oldest jungles in Malaysia!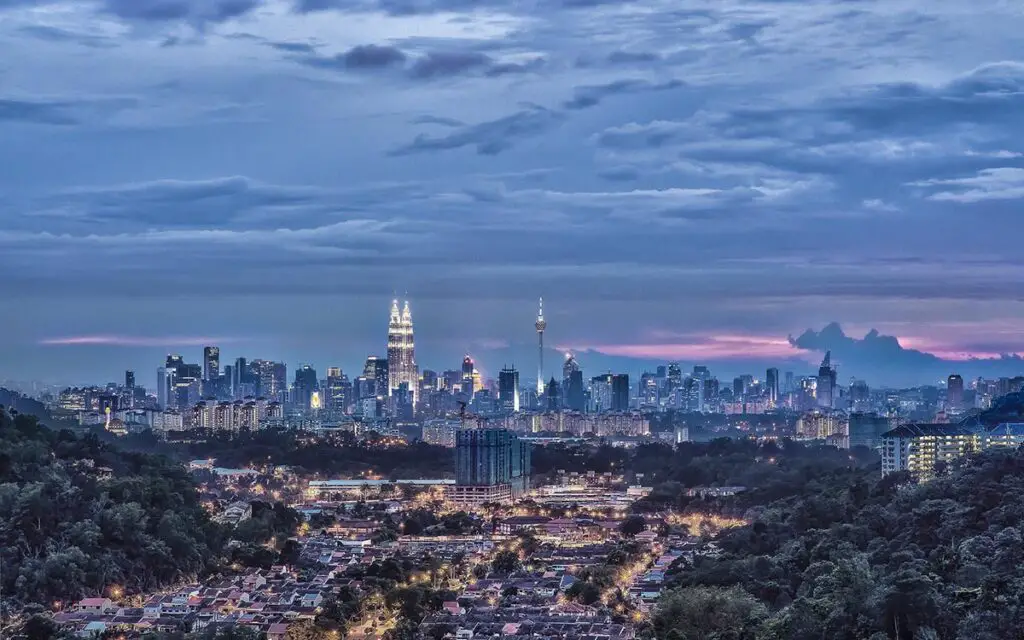 Whether you're a hiking enthusiast or simply a nature lover, hiking in KL is something that you should definitely do during your free time. Not only does it offer tranquillity and great panoramic views, but you'll also get to see various unique plants and wildlife thriving in its natural habitat. 
So, continue reading below to find out the best places to hike near KL.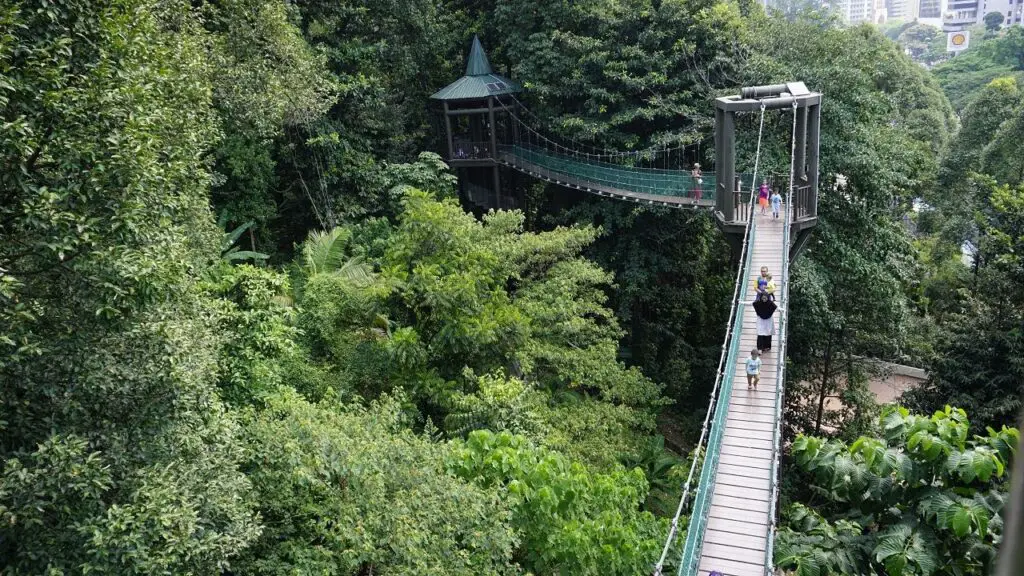 KL Forest Eco Park or formerly known as Bukit Nanas Forest Reserve is one of the most famous green spaces that can be found in the heart of Kuala Lumpur. This family-friendly nature park is a great spot for those who'd like to breathe fresh air without having to go through a tough trail in the jungle.
The park is most famous for the 200 metre insta-worthy canopy walk where you can get a chance to witness the spectacular view of the city skyline combined with the green rainforest. 
This is where you can get the best view of the KL Tower. You can also find three hiking trails here – Jelutong, Penarahan, and Arboretum trails. Don't worry if you're not an experienced hiker as these trails are rather easy! 
After an hour or two of hiking, don't forget to stop by the Herbal Garden or the KL Tower Mini Zoo, a small petting zoo that houses small animals ranging from meerkats to parrots, rabbits, tortoises, and pythons.
Visiting tips: It is recommended that you visit this park early in the morning (from 7 am to 9 am) to avoid crowds and get a clearer view of the city.
Another hiking spot that is suitable for beginners to intermediate hikers is Bukit Gasing, a 100-hectare forest reserve sitting in between Petaling Jaya and Kuala Lumpur. 
Believe it or not, this area was once a rubber plantation before it was turned into a nature reserve packed with several trails with different difficulty levels.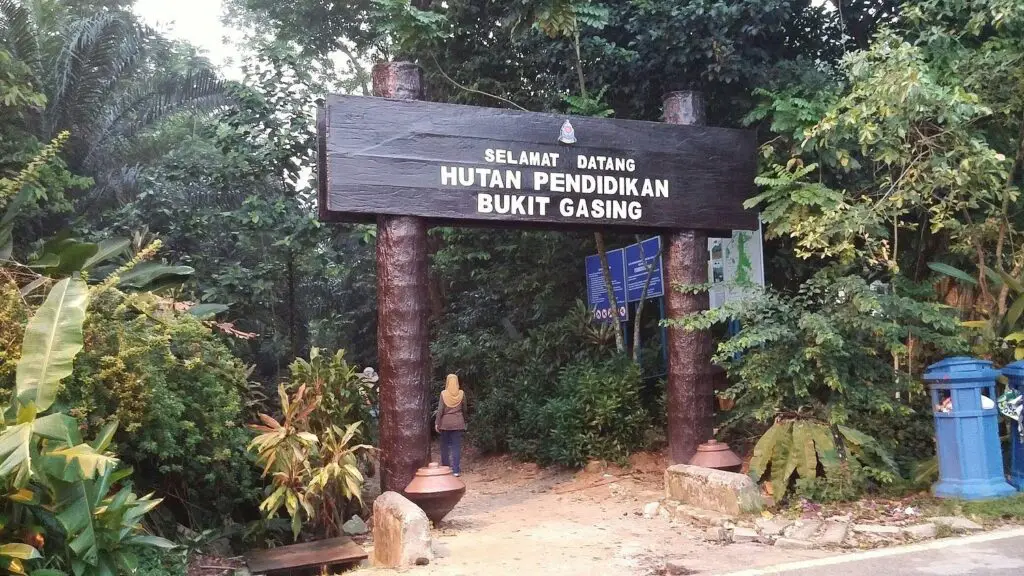 Depending on the trail that you choose, you can reach the peak which is 160 metres above sea level in approximately an hour and a half.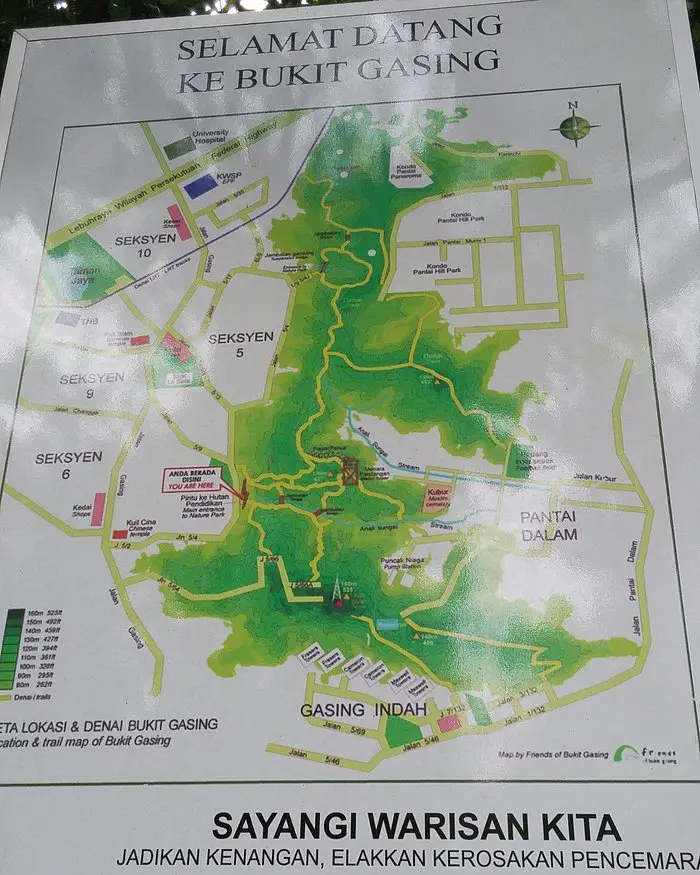 To ease your hiking journey, it is advisable to snap a picture of the trail maps on your smartphone when you are there, but there are always friendly hikers along the trails that can show you the right way.
If you're lucky, you might even see a couple of eagles circling the skies or colourful geckos rustling through the leaves. 
Aside from the beautiful flora and fauna, you'll also come across several highlights of the park including the steel bridge, a few streams of freshwater, an old Hindu temple, an abandoned bungalow, and of course, the suspension bridge.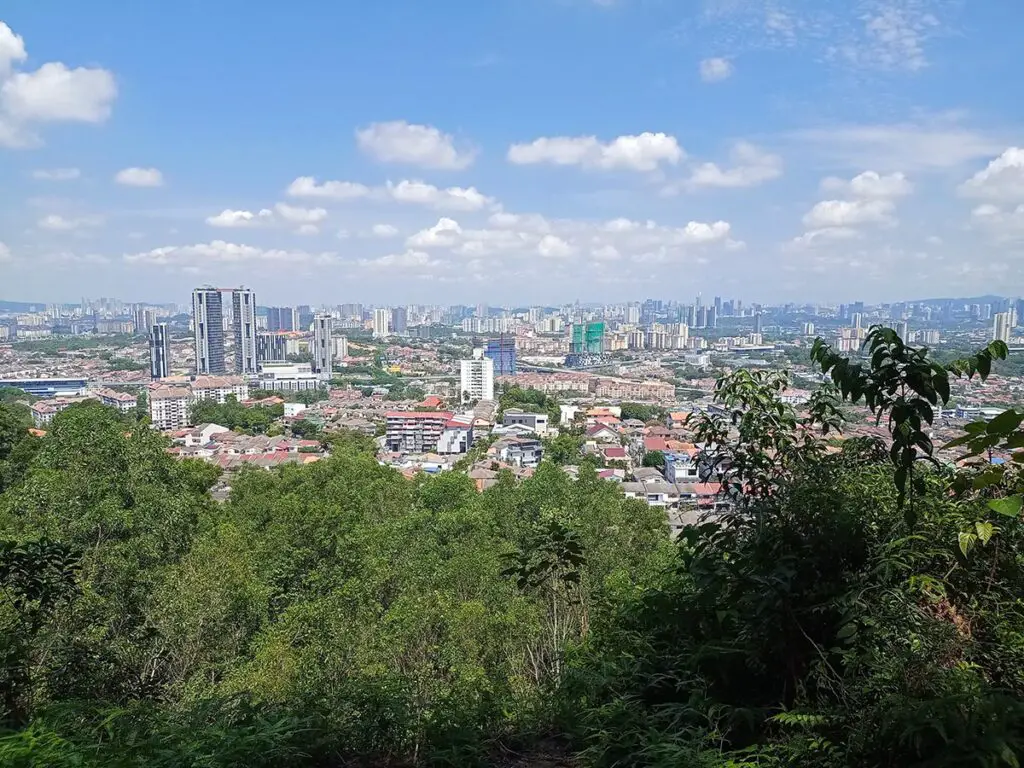 If you think those two hiking parks are too easy for you, then Ketumbar Hill is where you should head to next. Situated in Cheras, Kuala Lumpur, the 2.1 kilometres hiking trail will take you to 300 metres above sea level. Since it is a loop trail, you don't have to worry about getting lost as long as you stay on the designated routes.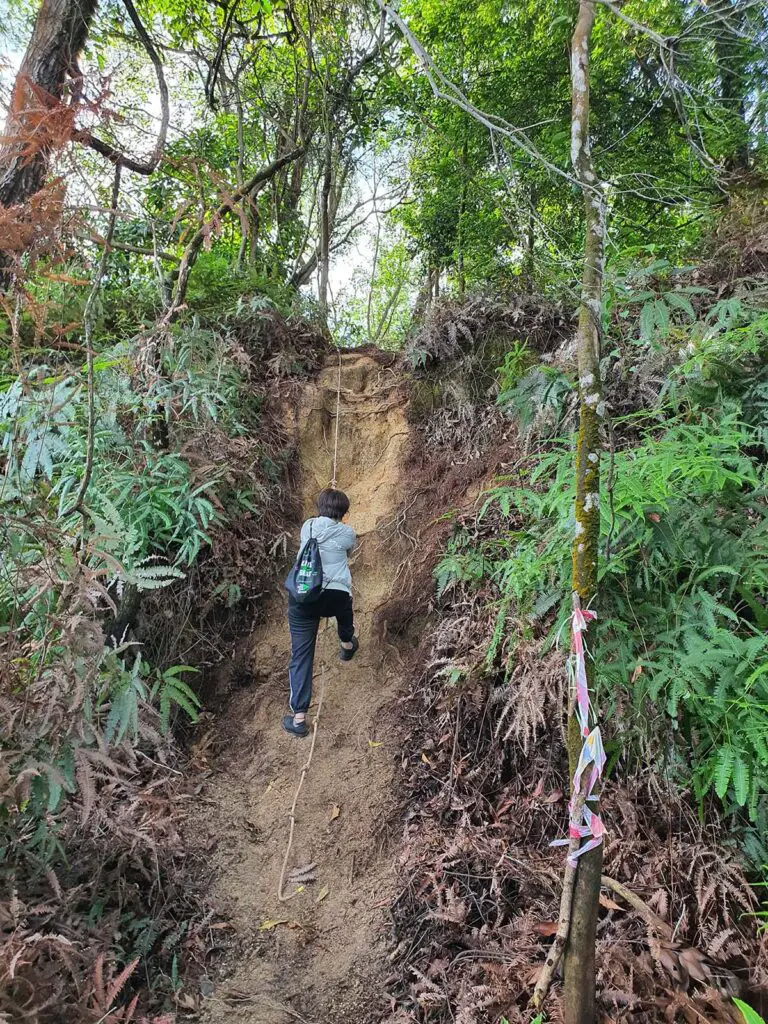 Ketumbar Hill features two routes that you can choose from. One of them takes only 20 minutes to reach the top, but you have to go through steep ascends. The other route is more scenic and might take you about 40 minutes to an hour as the steps are rather flat, but you do need to cross a couple of small streams. 
You'll know you've reached the top as soon as you're greeted by Peak Garden, an open area decorated with colourful flags and umbrellas hanging from above. If you still have full energy even after the hike, you can make use of the jungle gym where you can find various makeshift gym equipment made out of natural materials.
While you're wandering around the area, you'll also get to see several wild boars roaming in the forest! Don't worry as the wild boars won't attack you since they are well accustomed to humans passing through the forest. 
Are you planning to go on a hike early in the morning to see the sunrise? If so, Broga Hill should definitely get included in your list. Broga Hills is located in a small town in Semenyih, just a 45-minute drive away from Kuala Lumpur. 
A little fun fact about the name of the hill – it is actually derived from a mythical beast living in the forest called Buragas! Before you head to Broga Hill, be sure to have some cash with you as the entry fee will cost you RM 10.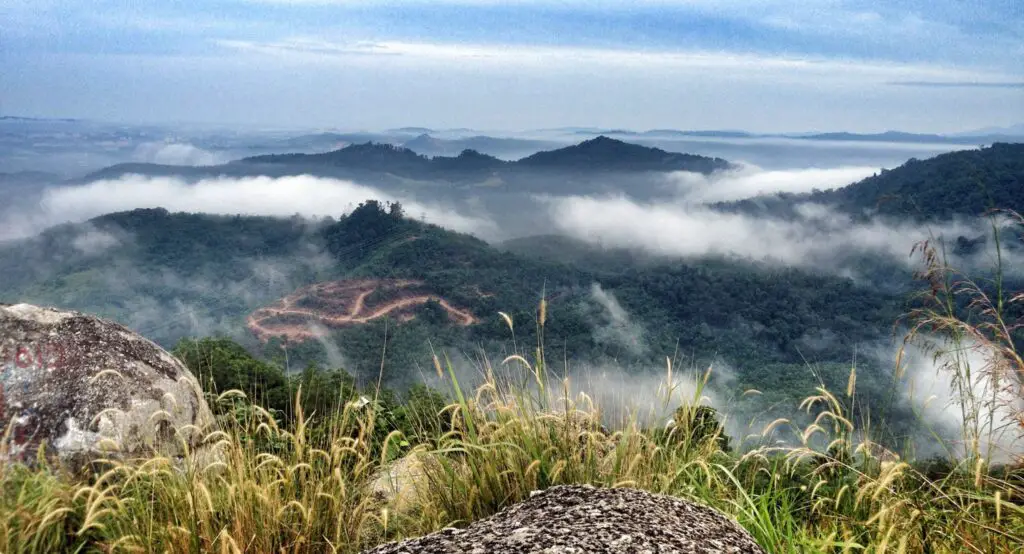 With an elevation of 400 meters, you can reach the peak in 50 minutes to an hour, depending on your fitness level. There are two trails available that can take you to all of the three peaks of Broga Hills. If you want a challenge, go for the Old Trail or pick the New Trail if you prefer an easier journey.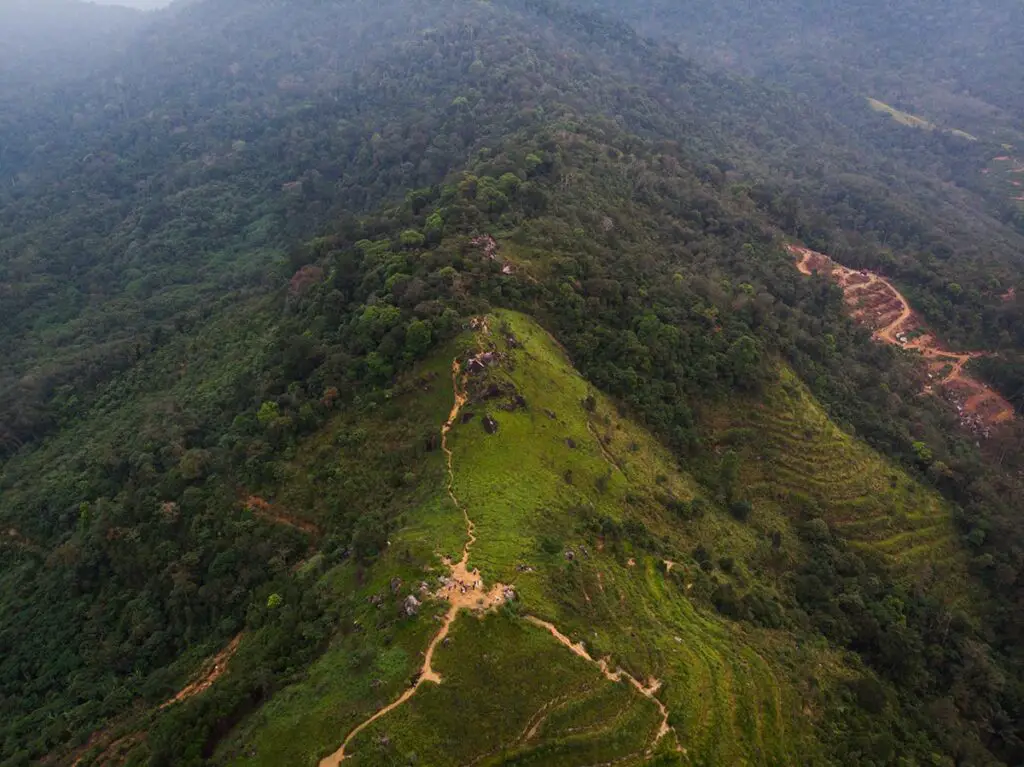 Do keep in mind that the peak is not covered at all, so it could be scorching hot during the day. However, the view is definitely to die for, especially if you managed to reach the top during sunrise. The sight of the orange sky combined with the rolling hills and the lush green forest will surely leave your jaw hanging.
If you're there during the weekends, you can stop by the stalls at the foothill and quench your thirst with some refreshing coconut drink. 
Gunung Datuk can be reached in just under two hours from Petaling Jaya. Sitting in Rembau, Negeri Sembilan, this mountain got its name from a legendary figure in Malaysia named Datuk Perpatih Nan Sebatang. 
This hiking area is one of the favourite spots for experienced hikers as the trails can be pretty challenging.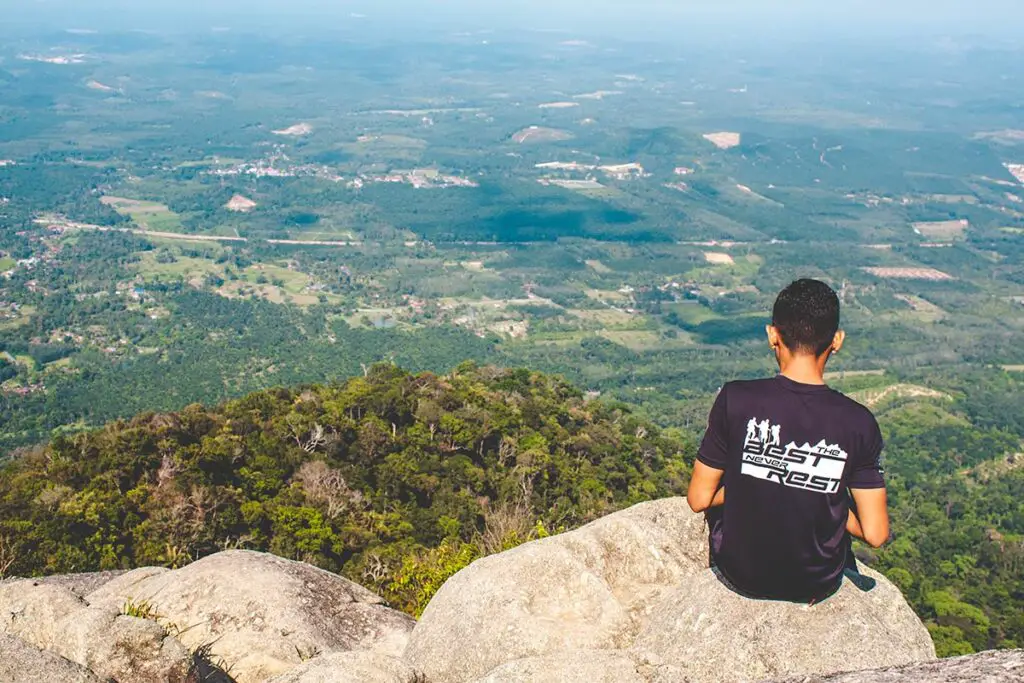 As soon as you arrive, you'll have to record your name at the ranger station and pay an entrance fee of RM5. To start the 3.9 kilometres trail, you'll have to cross a stream and continue the route until half an hour later, when you'll have to climb up the steep steps. 
But, don't fret as guide ropes are installed along the way to ease your climb. Do watch your step as there are many giant roots spreading on the ground.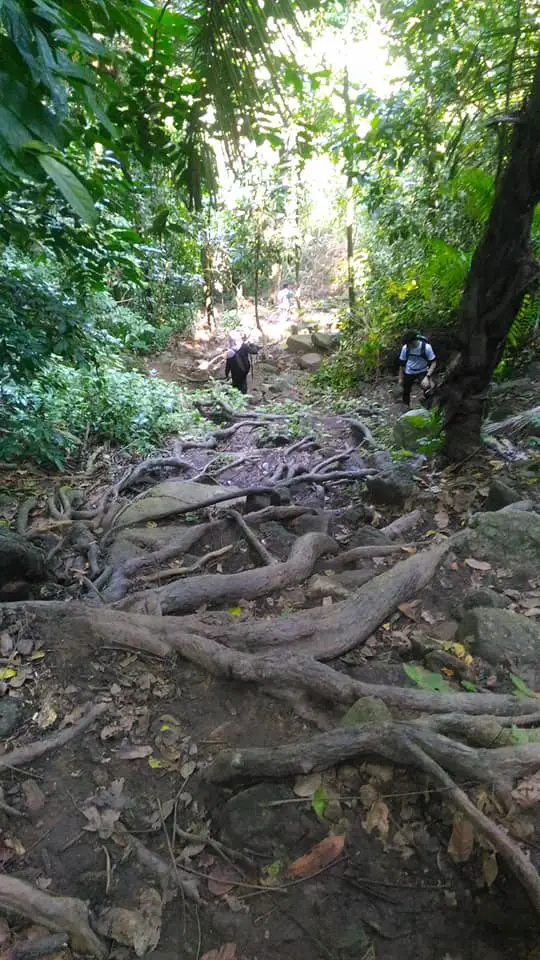 At 885 metres above sea level, you'll be rewarded with a stunning 360 panorama view. If you're there on a clear day, you might even get a chance to see the Straits of Melaka!
If you can't get enough of the beautiful mother nature, you can also opt to camp at the foothills.
If you've gone through all of the hiking trails above and they're still not challenging enough for you, then go to Kuala Kubu Baru and hike up Bukit Kutu or also known as Treacher's Hill. 
This 1,053 metres mountain once served as a colonial hill station back in the late 19th century – which explains why you can spot a few old ruins around the area.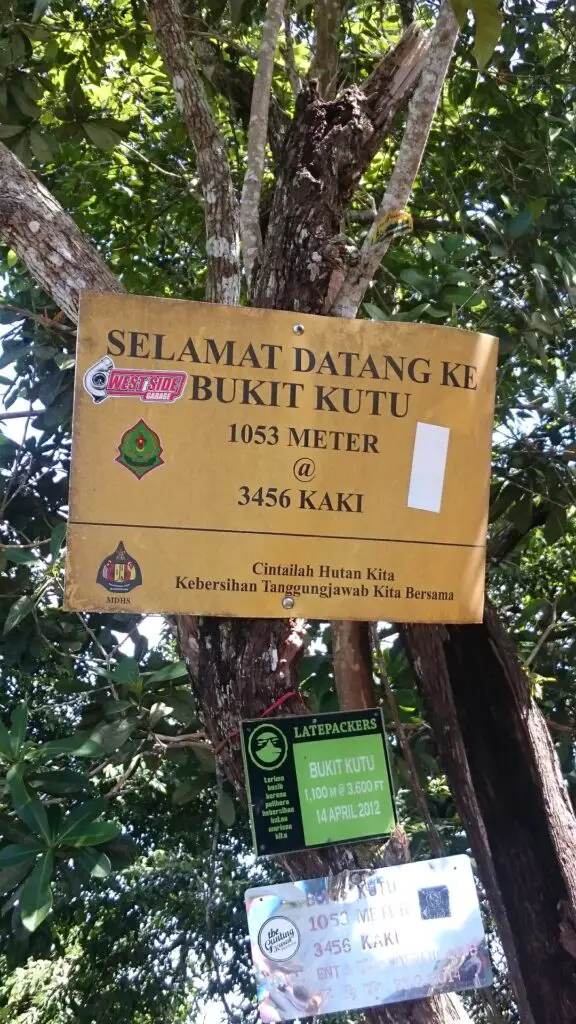 Going on this trail means that you have to face several obstacles including a river crossing, root climbing, crawling under a massive log, and making your way through the thick bamboo forest. Depending on your hiking experience, you might be able to reach the top in 2 to 3 hours. 
Once you reach the peak, all of that tiredness will be gone and replaced with a heart full of satisfaction as the view is out of this world! You can get an opportunity to snap a photo with the Titiwangsa range and the entire Selangor as your backdrop. 
If you don't fear the height at all, carefully climb the metal ladder that'll take you to the top of a huge boulder overlooking the deep green rainforest.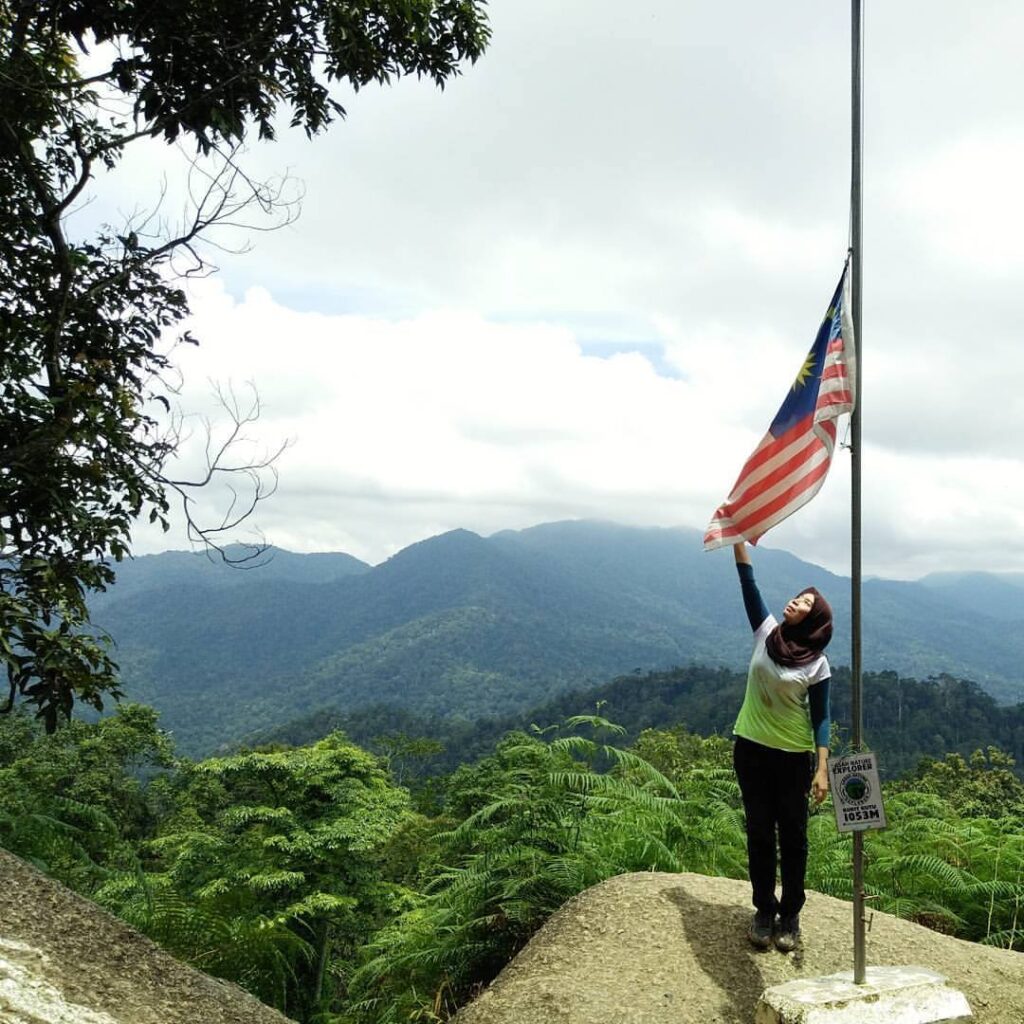 To freshen yourself once you've made your way down the mountain, spend some time taking a dip in the cold fresh water.
Before you plan your adventure, check out the hiking checklist below to make sure you have everything you need in your backpack.
Disclosure: This post contains affiliate links. If you click these links to purchase the product we may earn a commission without extra cost to you. We carefully select the best and all products are shipped from the local by high rating seller.
So, these are the best hiking trails that you can find near Kuala Lumpur. Even though hiking can be fun and exciting most of the time, always remember to watch your steps and wear suitable attire to avoid any accidents.
It's highly advisable to hike in groups and with the company of an experienced hiker.