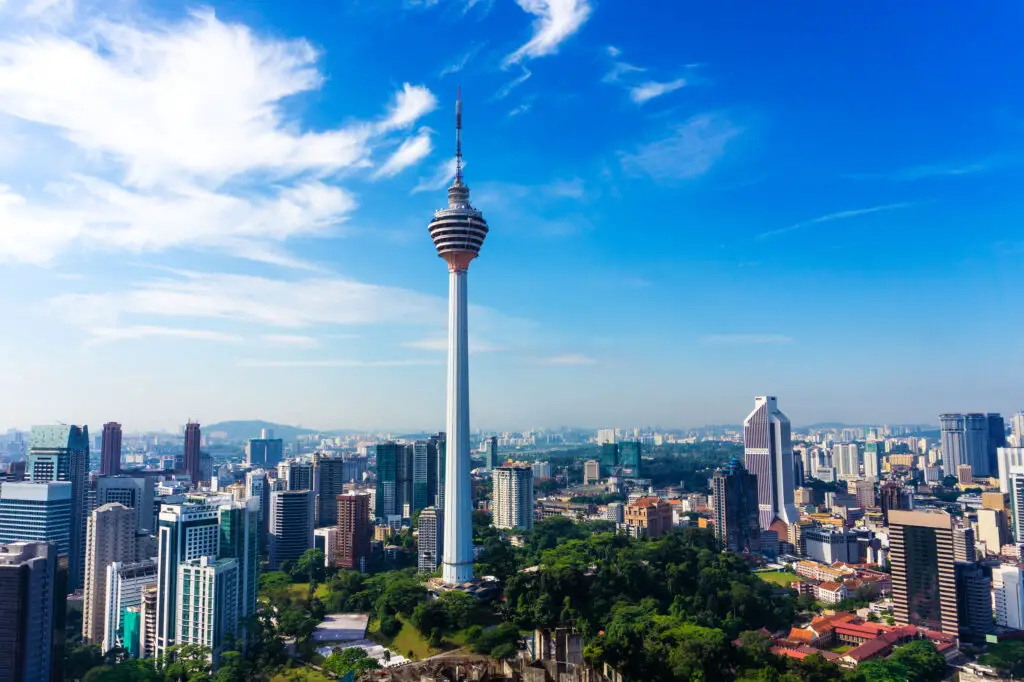 KL Tower is one of the several main landmarks in Malaysia situated in the heart of Kuala Lumpur. Standing at 421 metres above sea level, the KL Tower has been recognized as the 7th tallest telecommunication tower in the world.
Since it is perched on top of Bukit Nanas, this tower could appear even taller than the iconic Petronas Twin Tower from a distance!
A little fun fact about KL Tower; aside from being used for broadcasting purposes, this tower also serves as a location to observe the crescent moon every year to determine the starting day of Ramadhan.
Of course, being a landmark in the city, the tower is also used for tourism purposes. There are actually various fun activities in proximity to the tower and all of it can be done in a day.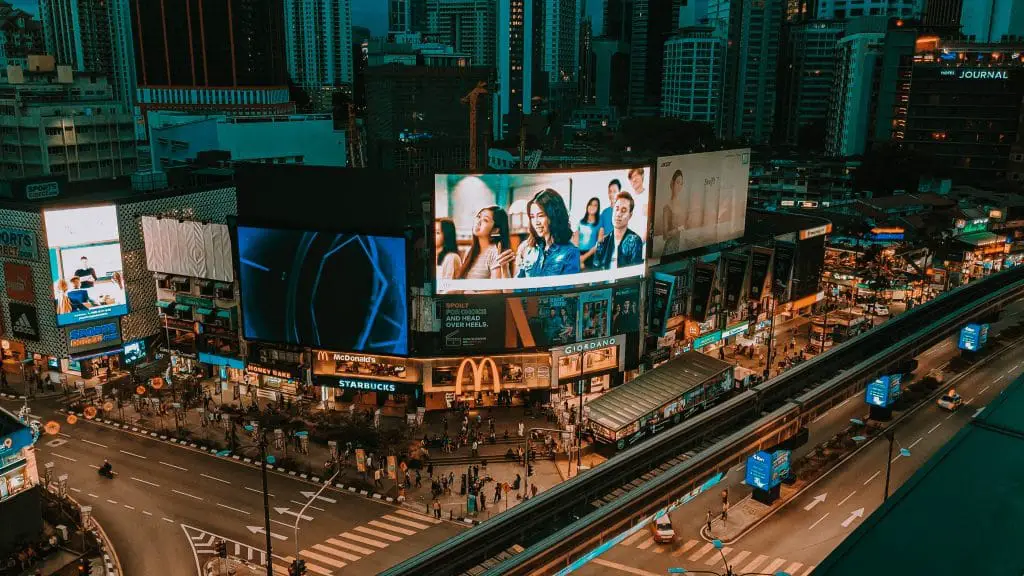 Also, the KL Tower is easily accessible via public transport! You can avoid the congested roads by either taking the Go KL City Bus, monorail or LRT. 
Other than avoiding stressful traffic jams, you can also stop by various shopping malls in Bukit Bintang since it is just a few stops away from the Monorail station! To discover some of the activities around KL Tower, continue reading below.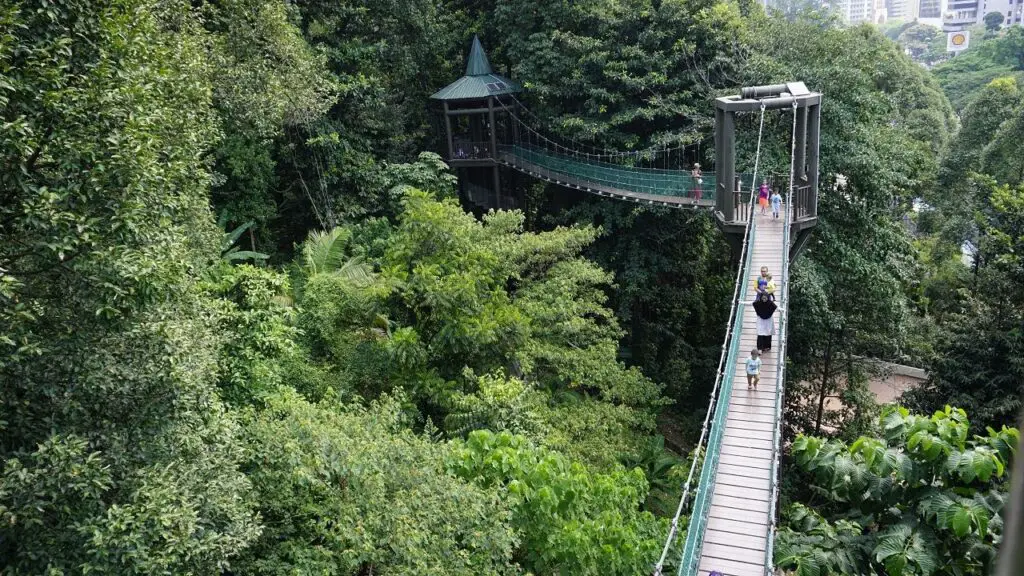 Previously known as Bukit Nanas Forest Reserve, this green park is an attraction that you should not miss if you're visiting the tower. It is one of the oldest forest reserves in Malaysia and what's best is that this eco-park features a 200 metres canopy walk!
You can take a peaceful stroll while admiring the beauty of mother nature surrounding you and not to forget, snap a few pictures of yourself with a backdrop of the lush greenery accompanied by the KL Tower itself—the shot is definitely Insta-worthy!
If you wish to do some outdoor activities during your visit to KL Tower, then don't skip KL Forest Eco Park as this place even has three different trails that you can experience.
Operating hours: 7 am – 7 pm.
Admission Fee: Free.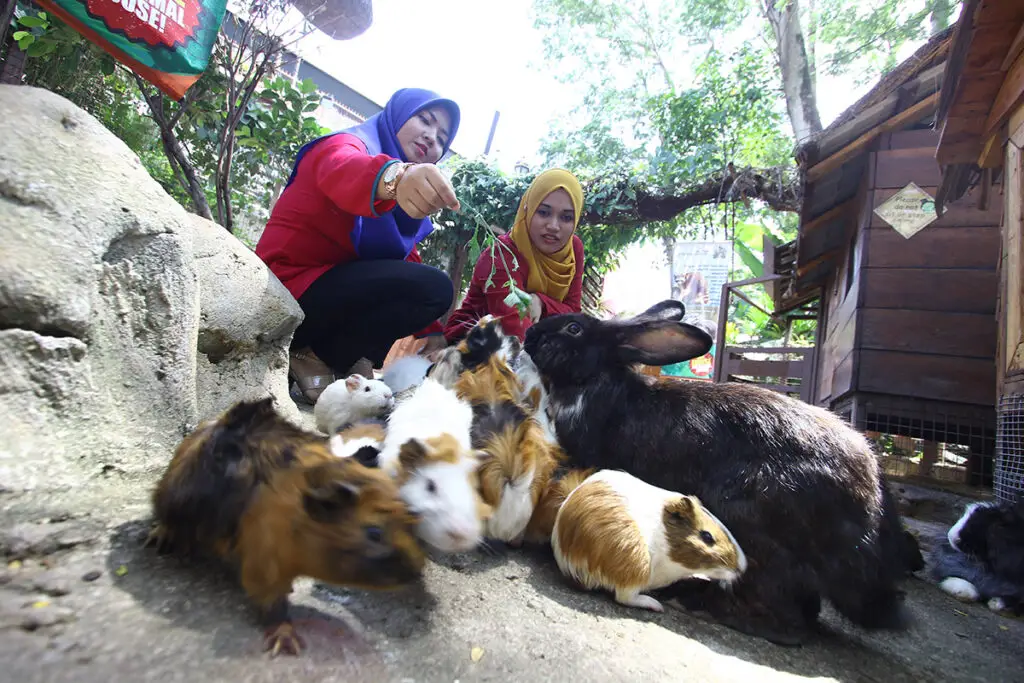 If you're visiting the tower with your family and kids, this mini-farm in the city will surely put a smile on their faces. Located on the ground floor of KL Tower, this place is home to various species of animals ranging from tortoises to rabbits, raccoons, and iguanas.
Not only limited to small mammals, this mini zoo also houses other unique species such as the friendly ferrets, capybara, albino macaques, and adorable llamas.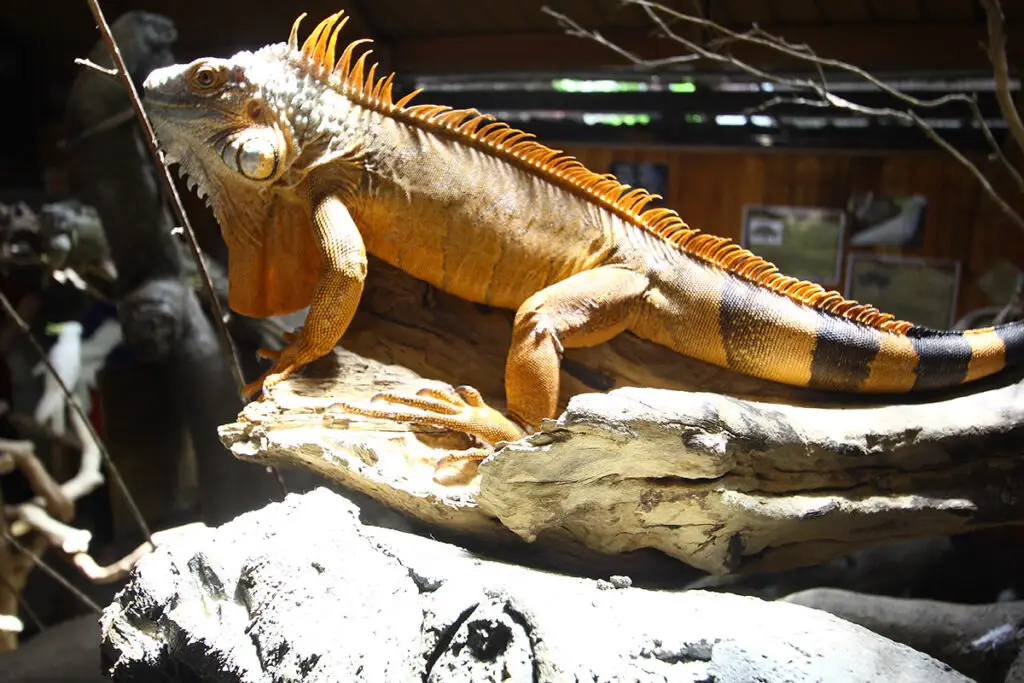 The zoo might not be as big as your typical zoo, but it still has a collection of sections that you can explore including the Mini Jungle, Happy Farm village, Birdy School, Per Village, Jungle View, Forest Walk, and Moonlight Shed. 
Get a chance to take a closer look at the massive reticulated python relaxing by the huge rocks or become friends with the colourful birds and interact with the guinea pigs.
Operating hours: 10 am – 7 pm.
Admission fee: Starting from RM27.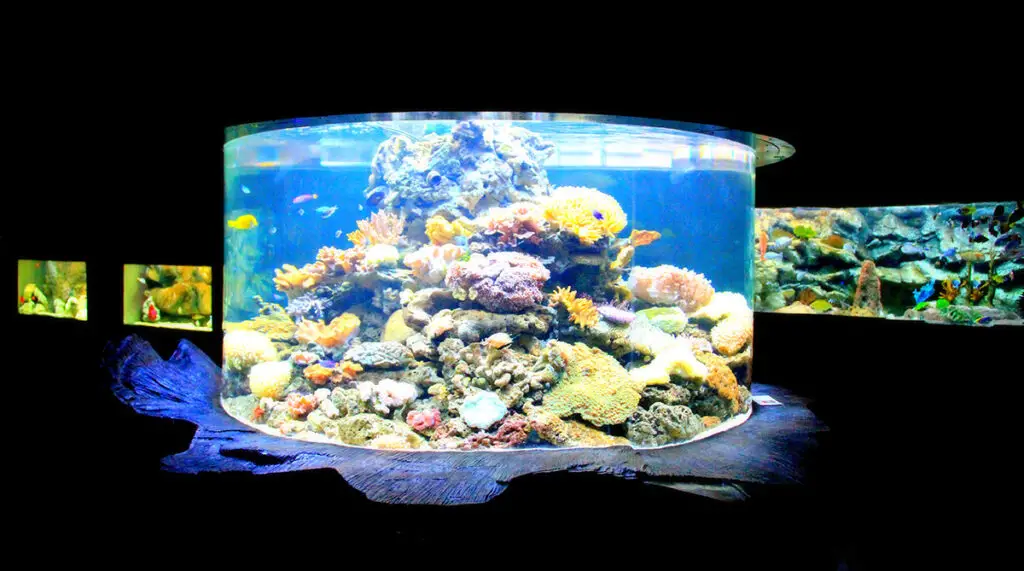 Are you more of a fan of aquatic animals? If so, then get a ticket to Blue Coral Aquarium and spend an hour or two marvelling at the unique marine animals swimming peacefully in the aquariums.
From species that are native to Malaysian waters to exotic ones originating from Hawaii, Fiji, and the Caribbean Islands, you can see it all!

You can get an opportunity to spot the peculiar-looking Blue Unicorn Tang, Foxface Rabbitfish, the brownish Stone Fish camouflaging with its surroundings, Fire clownfish, and even the White Tip Reef Shark!
Aside from watching those fishes swimming in their colourful tanks, you'll also get to learn interesting fun facts about them.
Operating hours: 9 am to 9.30 pm.
Admission fee: RM18 (Adult) and RM15 (Children).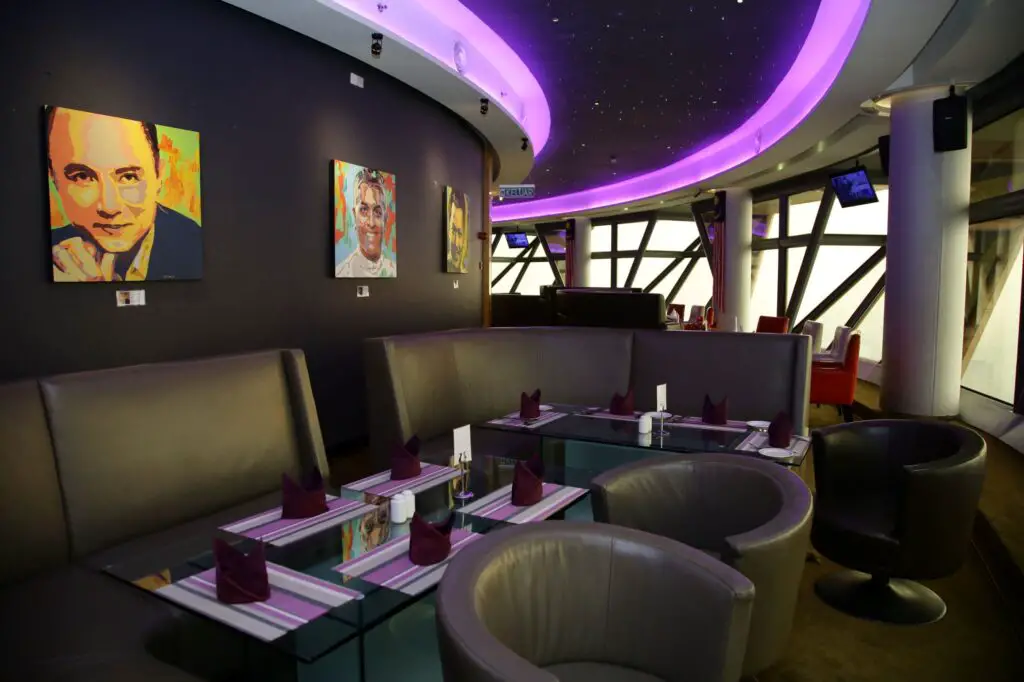 After all those outdoor walks and visits to the zoo and aquarium, how about you spend an hour having a fancy dinner overlooking the beautiful city skyline of Kuala Lumpur?
Not only can Atmosphere 360 provide you with an elegant dining experience, but since it is located about 280 metres above sea level, they claim to be the highest revolving restaurant in Southeast Asia—how cool is that?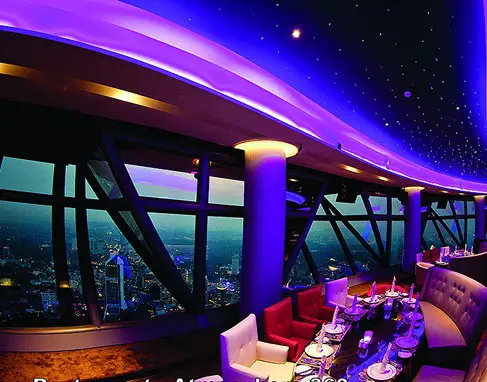 Either book a table for lunch, hi-tea or dinner, and indulge yourself with the tasty buffet prepared by highly skilled chefs. What's best about this spaceship-like restaurant is that the cuisines are not only limited to one.
In fact, they serve all sorts of cuisines ranging from local delicacies and juicy steaks to fresh seafood and french pastries!
Operating hours: 12 pm – 10 pm.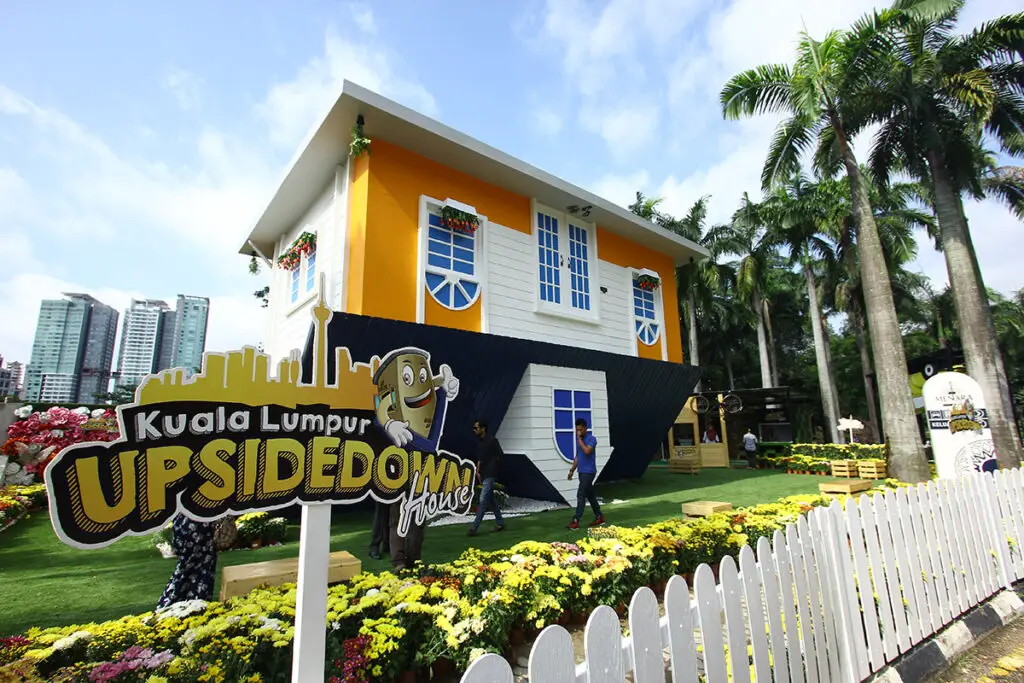 The KL Upside Down House is another attraction that you should not miss especially if this is your very first time exploring the tower.
To find the museum, all you have to do is look for a vibrant-looking English cottage placed in an upside-down position right outside of the tower.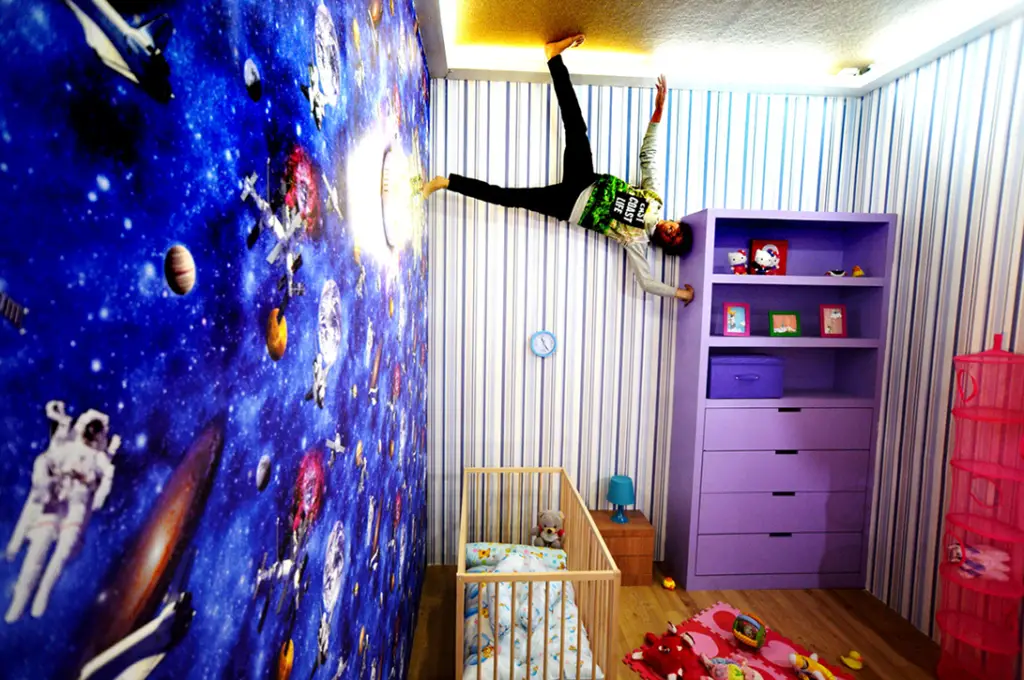 At the entrance, you'll be greeted right away by an upside-down yellow Volkswagen Beetle and a colourful bed of flowers. Inside of the cottage itself is a set of rooms that you'll find in typical houses, but the twist is that every single piece of furniture in the house is, of course, upside down.
That includes the dining table, sofa, bed, bookshelves, and even the kitchen cabinets! So, ready your cameras and be prepared to take silly pictures.
Operating hours: 9 am – 10 pm.
Admission fee: RM20 (Adults) and RM15 (Children).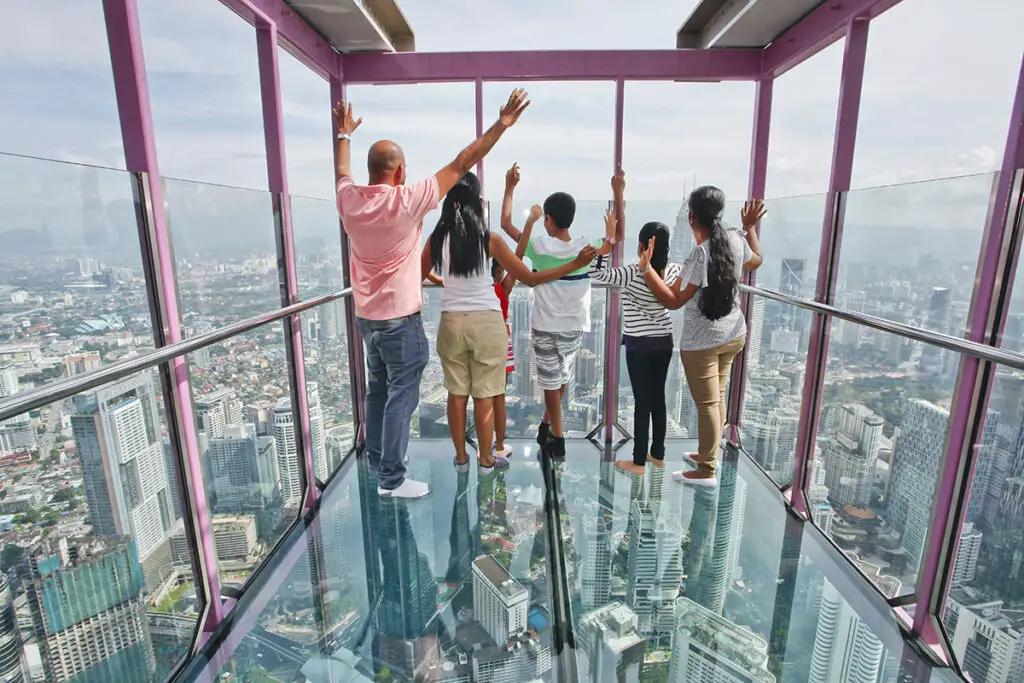 For those who would like to challenge themselves and face their fear of height, head straight to the KL Tower Skybox. Remove your shoes, stand in the transparent box that extends out of the tower and absorb the magnificent view of the city from 300 metres above the ground.
The skybox can accommodate up to six persons at once and feel free to snap a few photos for your social media feed as there are no time limitations for you to stay in the box—however, please keep in mind to always be considerate of others who would like to experience the attraction too! 
Operating hours: 7 am – 10 pm.
Admission fee: Included in the KL Tower Observation Deck ticket.
Another fun activity that can be done near KL Tower especially for those visiting with kids aged six years old and above is the XD Theatre. This 6D motion simulated theatre can surely provide you with a thrilling experience even by sitting indoors!
You'll have to pick one out of six 6D simulation rides and once you've made up your mind, all you have to do is get ready to hold on to your seats and enjoy the interactive experience where you'll be accompanied by various impressive special effects throughout the entire session including wind and lightning.
Operating hours: 7 am – 10 pm.
Admission fee: Included in the Sky Deck combo ticket.
Being a popular tourist spot in the middle of the city, it is not a surprise that KL Tower has an array of activities that can be done.
A visit to this family-friendly attraction does not only mean you'll be spending your time on its observation deck while enjoying the panoramic view of Kuala Lumpur, but you also get to do other fun stuff too!
You can wander around the eco-park at the foot of the tower, pet some friendly animals at the mini zoo, dine in one of the tallest restaurants in Asia, and many more.
Disinfectant Essential Items (Hand-picked!)
As you know we're going to live in the post-covid world. So getting the essential sanitise products with you when you travel are part of our life.
Here is the list of curated disinfectant products with high rating and ready stock in Malaysia without you spending time to search for the best one on the market.
Disclosure: This post contains affiliate links. If you click these links to purchase the product we may earn a commission without extra cost to you. We carefully select the best and all products sold by high rating seller.