Ipoh is undoubtedly one of Malaysia's top tourist destinations for both locals and foreigners alike. While many are aware that travelling to the historic mining town will reward them with scenic limestone landscapes and an insight into the town's rich heritage, Ipoh is also brimming with a great number of cafes that can cater to all cafe-hoppers and avid Instagram users.
From Hogwarts-themed and anime inspired cafes to a humble eatery with unfinished industrial looks, Ipoh can give you all.
Choosing which one to visit, especially when you're short on time might not be an easy task. But, don't worry as we have already prepared a list of our top cafes in Ipoh just for you!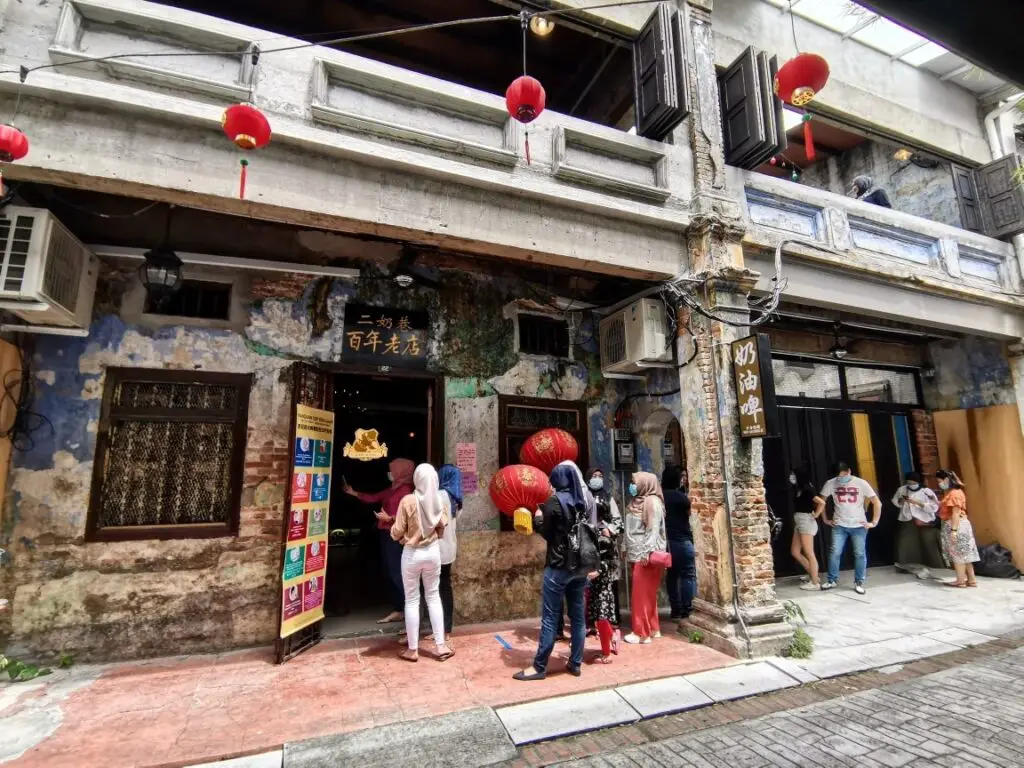 Image source: Platfo9rm Cafe FB
Whether you're a powerful wizard or perhaps a simple muggle, you must stop by Platf9rm Café whenever you're in Ipoh.
Inspired by the Harry Potter series, it is not surprising that the cafe is amazingly decorated in the most charming and whimsical way possible–its vintage lamps, exposed orange brick walls, and a Hogwarts Express-themed corner will sure make you feel like you're being transported to the fantasy wizarding world. Some of the staff can even be seen walking around in Hogwarts robes!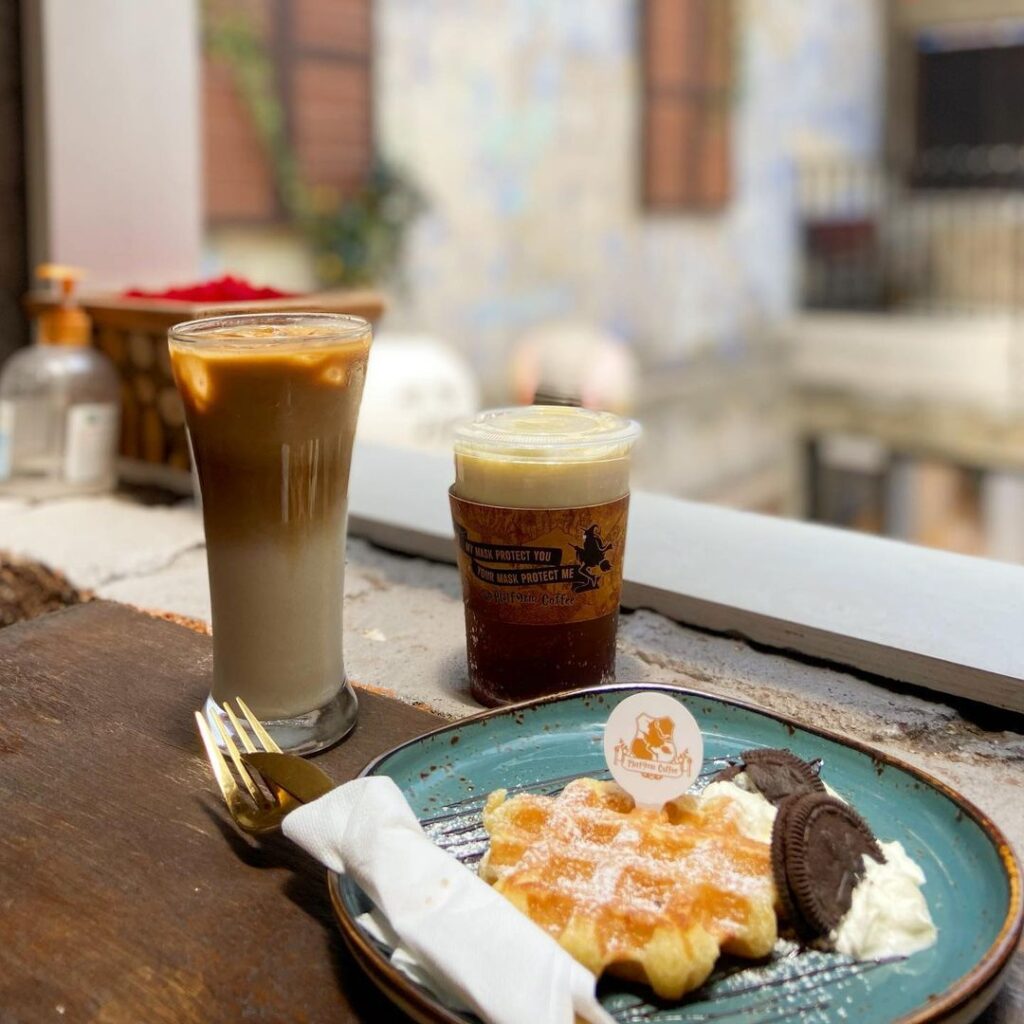 Of course, the Platf9rm Café is not only popular for its ambience and decor as the cafe also serves an array of delicious pastries, cakes, and savoury menu items including their signature Butterbeer–even Dumbledore would be proud if he were to taste this beverage.
Also, don't forget to take a photo or two at the cafe's entrance which bears a splitting resemblance to Hogsmeade!
If you're looking for a unique dining experience in Ipoh, look no further than Fujiwara Tofa Shop. Not only is Fujiwara Tofa Shop a great dining option in the quaint city, but it's also a must-visit spot for fans of the popular manga and anime series, Initial D!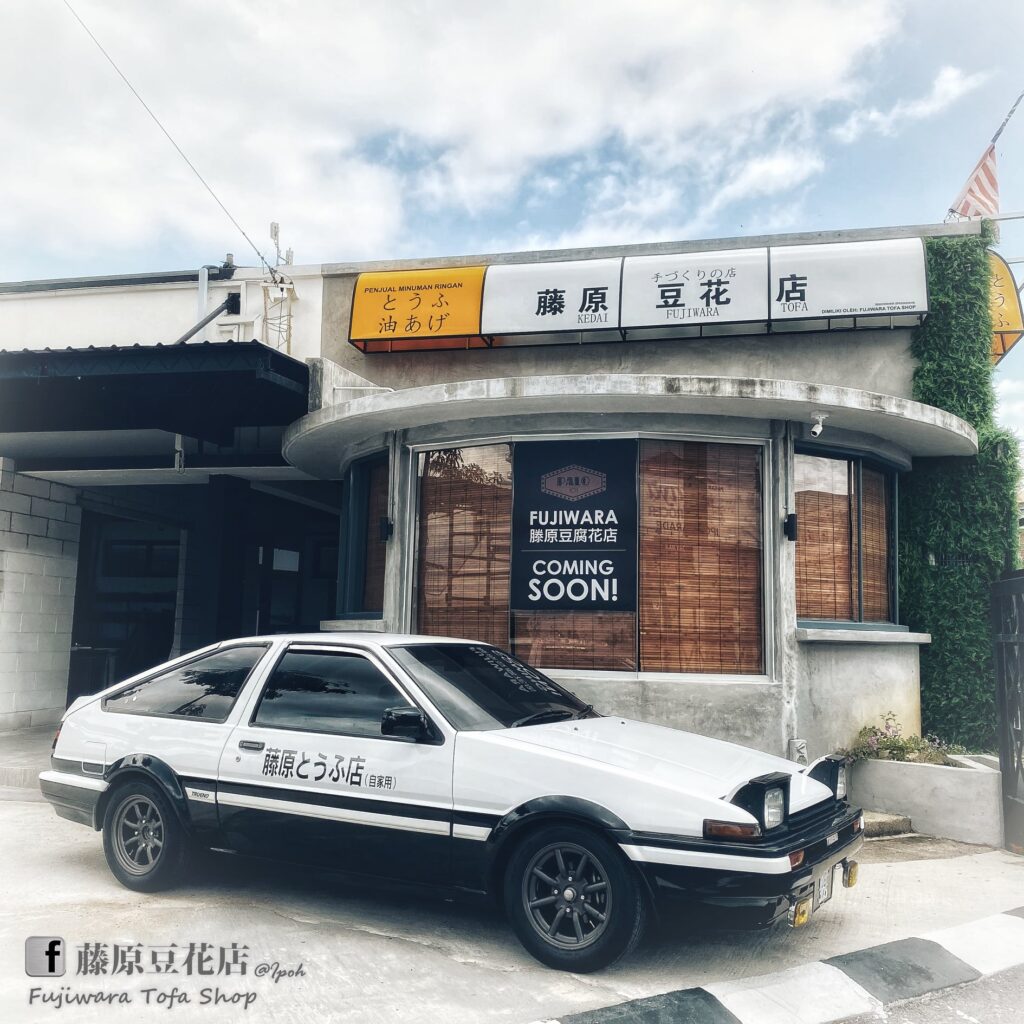 Image source: Fujiwara Tofa Shop FB
What's best is that you can also find the iconic Toyota Sprinter Trueno AE86 from the series right outside, making this cafe a great spot for photos and a chance for you to feel as if you're a part of the manga.
If you happen to be at the cafe at the right time, you might even get a chance to spot other iconic cars parked on display outside!
Now, who says you need to fly for at least seven hours to experience Tokyo? A step into the cafe is all you need as the cosy Japanese-style decor and ambience will no doubt transport you to the land of the rising sun. Don't forget to try their signature silky smooth tofu or tau fu fah while you're there.
They also have other menu items if you plan on treating yourself, such as the turmeric chicken curry rice, nasi lemak, and a variety of nyonya kuih. It's also worth noting that the Fujiwara Tofa Shop is pork-free and alcohol-free, making it a great choice for those who follow dietary restrictions.
Best of all, everything is priced affordably, so you don't have to worry about spending a lot of money on a great meal.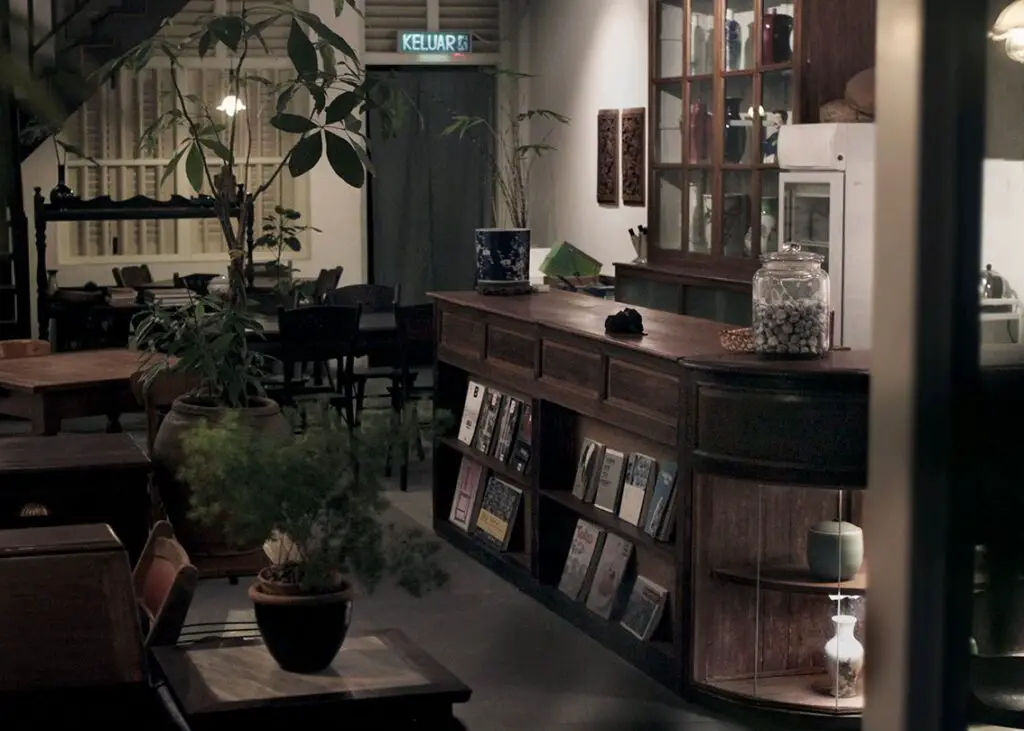 Image source: Seong Man Teahouse FB
Whether you're in the mood for some light snacks or a hearty meal, a visit to Seong Man Teahouse can never go wrong. Situated on Jalan Sultan Iskandar, this place is highly recommended especially for those who prefer tea over coffee.
Here, customers can order up an extensive selection of relaxing and flavourful types of tea each with their very own unique blends and specialty–from traditional Chinese tea packed with health benefits to Taiwanese tea including oolong and Japanese favourites such as matcha and hojicha.
The moment you enter the teahouse, you'll immediately get swarmed by a pleasing ambience; many might even experience an extremely calm and serene atmosphere. The beautiful rustic oriental decor and old Chinese melodies subtly playing in the background also play a great role in making sure you're feeling cosy and welcomed.
All in all, Seong Man Teahouse surely is a perfect place to unwind and enjoy some quiet time alone or catch up with friends.
De Cafe & Rest House is yet another one of Ipoh's unique gems popularly known for its unfinished industrial surroundings. Located just a couple of minutes away from the famous Concubine Lane, the cafe also comes with a comfy hostel perfect for travellers who planned on staying a night or two in Ipoh.
The cafe also has its very own secret alley complete with a set of jungle-like vines and wooden planks lining the narrow passageway, making it a great spot for a few Instagram-worthy shots.
But, what makes De Cafe truly shine is its long menu packed with flavourful dishes and out-of-the-world desserts.
While they have an extensive list of savoury and hearty meals to fill your rumbling stomachs, their best-seller is none other than their mille crepe cake, so be sure to not leave the cafe without tasting it!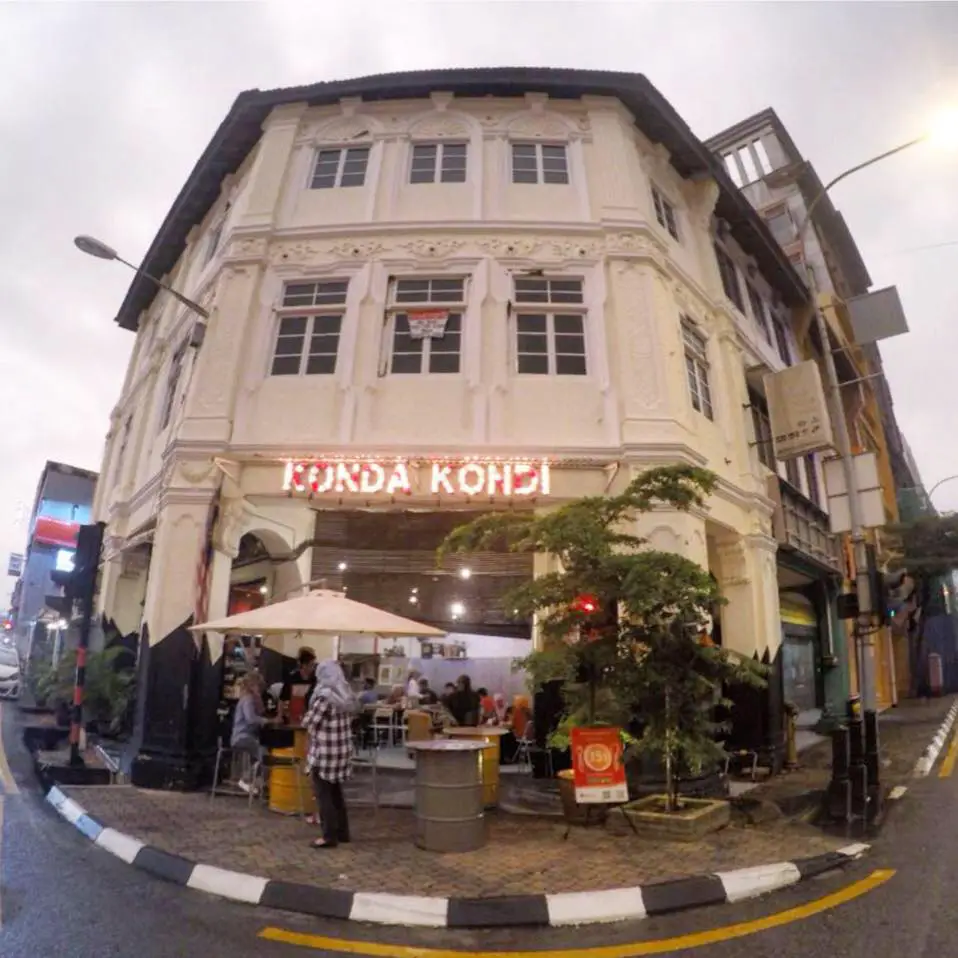 If you're searching for a chic place to hangout with a few friends or family, then Konda Kondi should definitely be on your list. Located on Jalan Sultan Idris Shah, this cafe is quite easy to spot as it sports several vibrant hand-painted murals and hip pop arts, making the entire place look fun and energetic.
Apart from its laid-back atmosphere, Konda Kondi is also best known for their generous portions of food each placed at a very reasonable price.
They have a wide variety of options to choose from, so get ready to spend more than ten minutes staring at their menu–from local favourites such as nasi lemak and mee goreng to Western-style dishes such as pasta, burgers, and beefy nachos.
Also, for those who are concerned, all of the food is halal certified. One thing to note is that the cafe often gets busy especially on weekends and public holidays, so expect to queue up a little bit before you can get yourself seated.
Those who crave some delicious local grubs can give Nifayyi Warung & Kafe a visit. Not only do they specialise in some mouth-watering Malaysian comfort food and mamak-style platters, but they also pay great attention to the quality of the ingredients and their plating. Plus, each menu item has a reasonable price tag, so don't worry about breaking the bank!
Since the founders of the eatery are passionate foodies themselves, you can expect that every dish is crafted with ultimate care and packed with a burst of flavour–whether you're in the mood for some light Malaysian snacks or something a little heavier and spicy, they've got your back. The best part of all?
You don't have to sacrifice comfort for local street food flavours. The cafe is beautifully decorated and spacious, making it a great spot for families to dine in.
Whether it is your first time travelling to Ipoh or you've already fallen in love with the quaint town ever since your last visit, a stop at any one (or more) of these cafes is definitely not a bad idea at all!
Not only can you treat your tummy with some mouth-watering meals and desserts, but you'll also get a chance to update your Instagram feed with a few cool pictures.