Ipoh has come a long way—over two hundred years ago, the capital of Perak was only a small village. That was, however, until the discovery of tin within the area which eventually led to the town's rapid growth. Today, Ipoh has become one of the most visited destinations in Malaysia, especially for those who plan on getting a quick getaway from the hustle and bustle of the big cities.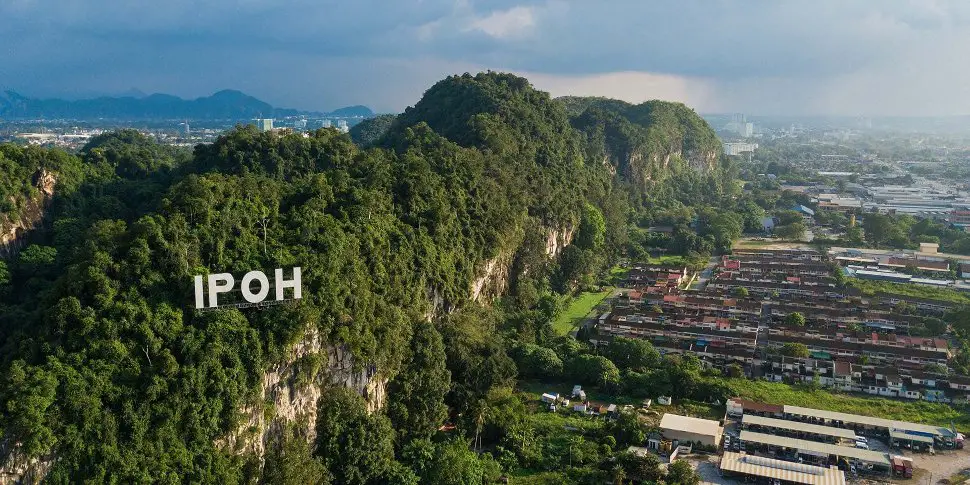 So, what can you expect during your stay in Ipoh? This little gem of Perak might appear rather small compared to other locations in Malaysia, but Ipoh definitely has quite a number of attractions that can keep the fun going! Continue reading below to discover some of the town's best highlights.
Have a Blast at the Lost World of Tambun
Of course, you can never say you've visited Ipoh without spending several hours at the Lost World of Tambun, an exciting theme park best suited for both kids and adults!
Managed by none other than the Sunway Group, this theme park features over eighty attractions across its ten different parks—you can slide through the many water slides at its water park, ride a roller coaster, get spooked by the ghosts at the haunted houses, pet a few friendly animals at the petting zoo, and unwind at the Hot Springs Night Park.
What makes this amusement park unique is that it is nestled right in the middle of a lush tropical jungle and surrounded by 400 million years old limestone hills! 
Visit BookXcess Kong Heng & Yasmin Ahmad Museum
Whether you're an avid reader or simply searching for a new novel to read during the weekends, a visit to BookXcess can never go wrong—all of the books here are placed at an affordable price too, so that's definitely a plus!
Believe it or not, before this place is transformed into a rustic yet aesthetic-looking bookstore, the building was once the very home to one of Ipoh's busiest banks so you can expect to find several old bank vaults and safety deposits here acting as shelves for the books. 
Since Ipoh is also a town filled with history, it is not a surprise when you can find a great number of museums scattered around. But, if you've already explored all of the typical museums, don't forget to visit the Yasmin Ahmad Museum which is located in the basement of BookXcess.
All you have to do is follow the neon signs in the bookstore until you reach a set of stairs that leads you to the mini museum. Here, you can take a closer look at some of the posters and items once belonging to Yasmin Ahmad, Malaysia's legendary filmmaker. You can even get a chance to take a peek at the original scripts for her best and award-winning films, Wasurenagusa and Sepet!
Explore Gunung Lang Recreational Park
Apart from museums and historical sites, Ipoh also has a little something for nature lovers out there. If you wish to spend some time under the sun, feel free to head straight to Gunung Lang Recreational Park which is popularly known among tourists for its gorgeous backdrops of Gunung Lang and Gunung Bilike, the several million years old limestone hills.
Filled with an abundance of flora and fauna, this nature park also has an array of attractions for you to enjoy. You can explore the swamp, take a few pictures by the lake with a view of the rolling hills, visit the man-made waterfall, take a boat ride or paddle your own canoe, and interact with several friendly animals at the mini zoo.
This recreational park also features a jungle trekking trail and a few climbing routes for those who wish to test their fitness skills.
Go Caving at Gua Tempurung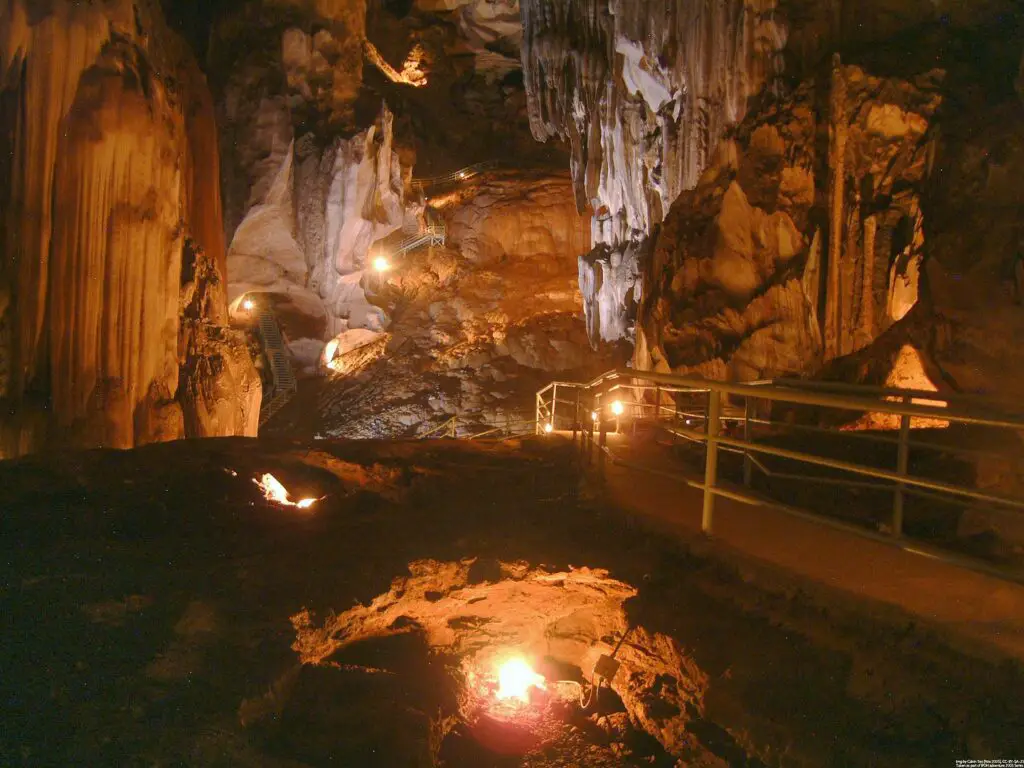 If you're looking for a different experience to spice up your trip, then be sure to pack your sports attire along and drive up to Gua Tempurung which is located in Gopeng,  approximately 25 kilometres away from Ipoh. Recognized as one of the longest caves in Peninsula Malaysia, Gua Tempurung has several different tours for you to take part in.
The difficulty and duration to complete each tour differs from one another, so you can choose which one suits you best. Depending on your selected tour, you'll get a chance to witness marvellous stalagmites, stalactites, and unique rock formations that are believed to have existed since 10,000 years ago!
Also, do keep in mind that while torchlights and helmets are available for rent, you might have to prepare certain additional items for your tour—those who chose the river adventure tour, for example, are advised to bring extra clothes as along the way, you'll have to crawl through shallow water and cross the river. 
Now that you've spent enough time outdoors and exploring the beautiful mother nature, it is time to feed your hunger with a great selection of Ipoh's signature cuisines. Some claim that you can never leave the charming town without indulging in a few sets of dim sum.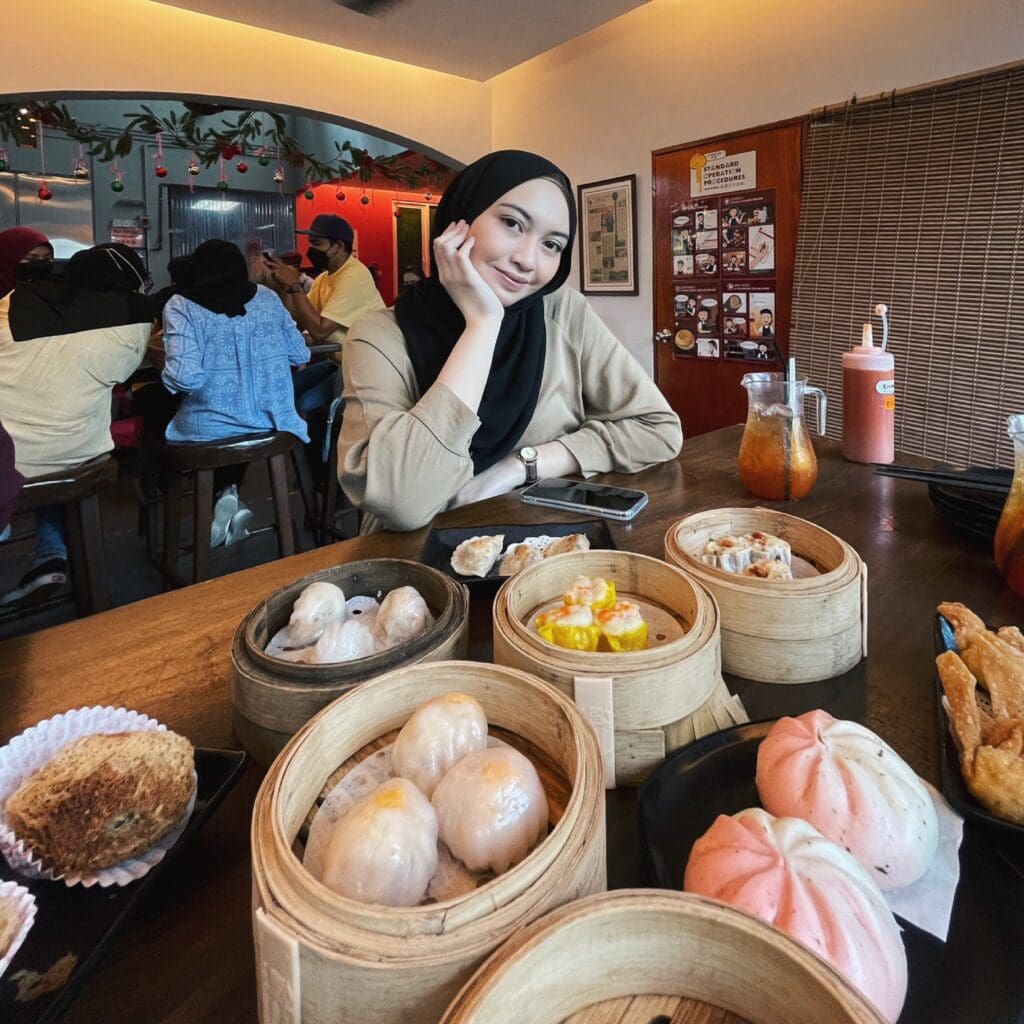 Image source: Canning Dim Sum FB
Whether you're a fan of all seafood or steaming hot custard buns, you can never go wrong with Canning Dim Sum, one of Ipoh's popular dim sum restaurants. Offering over a hundred selections of dim sum, this muslim-friendly restaurant is also a favourite among many due to its spacious and comfy dining area.
For those who are hunting for delicious breakfast meals and snacks, don't forget to drop by New Holly Wood, a humble eatery just across the road from Canning Dim Sum. They're best known for its Hong Kong chee cheong fun and prawn char kuey teow.
Operating for over three decades, this simple kopitiam is typically packed with hungry customers, so it is highly recommended for you to arrive earlier in the morning if you wish to avoid long queues and secure a table easily.
As for coffee lovers out there, be sure to enjoy a cup of thick and frothy Ipoh white coffee at one of the many classic kopitiams scattered around the town. Some of our recommendations include Chang Jiang White Coffee on Jalan Windsor, Nam Heong, and Sin Yun Loong. They're just within walking distance so you could try all their coffee at once!
The Three Vibrant Lanes of Ipoh Old Town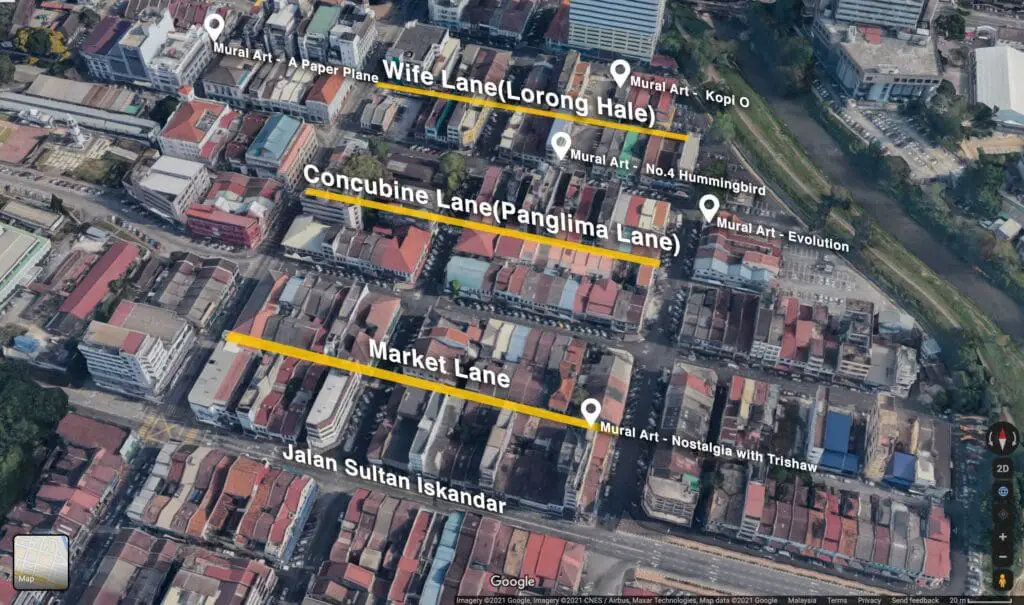 No trip to Ipoh is complete without setting foot on one of its rustic and artistic streets. The three lanes—Concubine Lane (Lorong Panglima), Wife Lane (Lorong Hale), and Second Concubine Lane (Market Lane)—have their roots traced back to over a century ago.
The most popular one, however, is none other than the Concubine Lane which is often packed with both local and international tourists especially during the weekends.
Apart from the many stores and stalls lined by the streets, these three lanes are also best known for their creative murals and pleasant ambience, so be sure to prepare your camera since almost every corner is perfect for a shot!
Exposed orange bricks, restored wooden shophouses, centuries old trees, and aesthetic paintings—these are some of the things that you can expect to find during your stroll at Kong Heng Square.
Also located at the centre of Ipoh Old Town, this historical site is definitely Instagram worthy especially when it also features an artisan market that sells an array of trinkets ranging from handcrafted jewellery, souvenirs, books, and accessories.
The best part about the local vendors here is that most of their sales go to charity! While snapping a few pictures for your Instagram feed, don't forget to enjoy a few local snacks sold around the area such as the sweet caramel pudding and the colourful and flavoured ice kepal.
Qin Xin Ling Leisure and Cultural Village
About twenty-minutes drive away from the centre of Ipoh is another scenic spot perfect for a few Instagram shots known as the Qin Xin Ling Leisure and Cultural Village. This precious gem is known for its beautiful scenery.
You'll surely be amazed by the gorgeous backdrop of the limestone formation combined with the lush tropical greenery surrounding the entire area. Apart from the lake—the most popular spot within the park for photographs—this cultural village also features dozens of activities to keep you entertained for a couple of hours.
You can find a chalet equipped with a variety of antiques, ride a trishaw to explore the grounds, and write a wish under the Banyan tree—who knows it'll come true!
Despite being only a small and quiet town, Ipoh surely does have an abundance of attractions that can turn your trip into one of a kind.
From an exciting amusement park surrounded by a tropical jungle to a quaint cultural village, a 400 million years old cave, and artsy streets filled with murals—these are some of the places to visit in Ipoh that you should definitely include in your itinerary.