If you love Armenian Street in Penang, then you'll surely fall in love with Concubine Lane!
Concubine Lane is one of the main points of interest in Ipoh, Perak aside from the Lost World of Tambun. Every time this little gem is mentioned, people will be imagining a single street brimming with street peddlers and boutique cafes.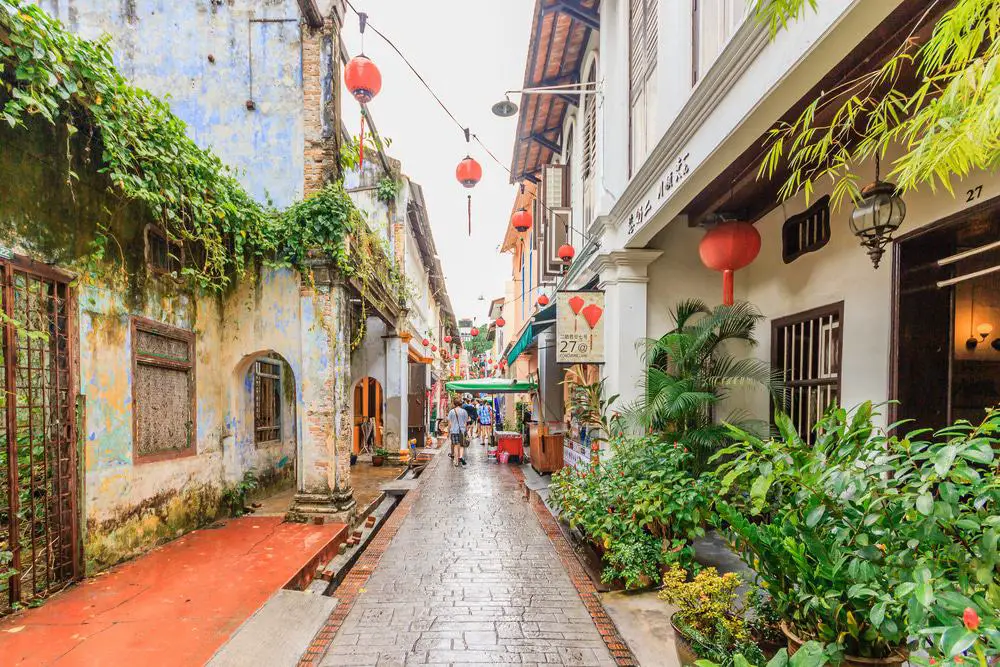 So, why concubine out of all words? According to the local folks, there was a Chinese mining tycoon who rebuilt the entire area right after the town was caught in a fire back in the late 19th century. 
After restoring the place, he then gave these three streets to his three wives and even gave them the rights to collect the rental payments from the residents.
Some people even said that these streets were where rich folks hid their mistress, hence the name Concubine Lane! However, those days are long gone.

Today, the streets are beautifully adorned with colourful murals, 'instagramable' cafes, and tasty street snacks! So, if you're wondering about the things that you can do and the best food around Concubine Lanes, continue reading below.
Things To Do in Ipoh Concubine Lane
When it comes to street food, Concubine Lane surely does not hold its back! It's nearly impossible for you to walk around the street without having the urge to munch on something sweet. 
But these are the ones that you must try in order to get the best out of Concubine Lane:
Kuma Rainbow Cheese Toast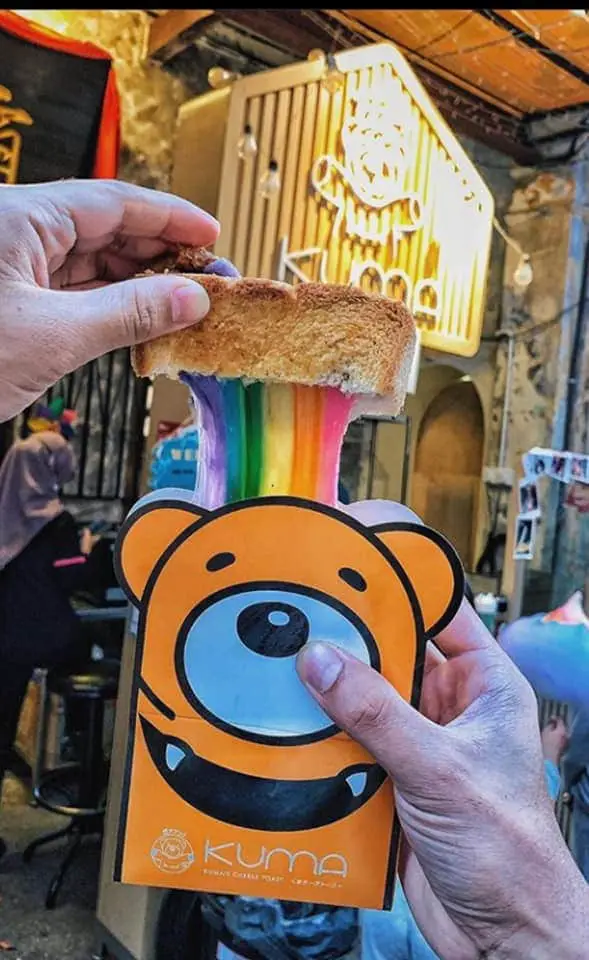 Who doesn't like the beautiful colours of a rainbow? At first glance, this thick, golden cheese toast might look like your ordinary piece of bread that you had for breakfast, but wait until you pull the toasts apart – you'll be greeted with a set of vibrant rainbow colours! 
Of course, it might taste like your typical cheese toast, but it's not every day that you get to see rainbows coming out of your bread! 
Opening hours: Opens daily from 9 am to 7 pm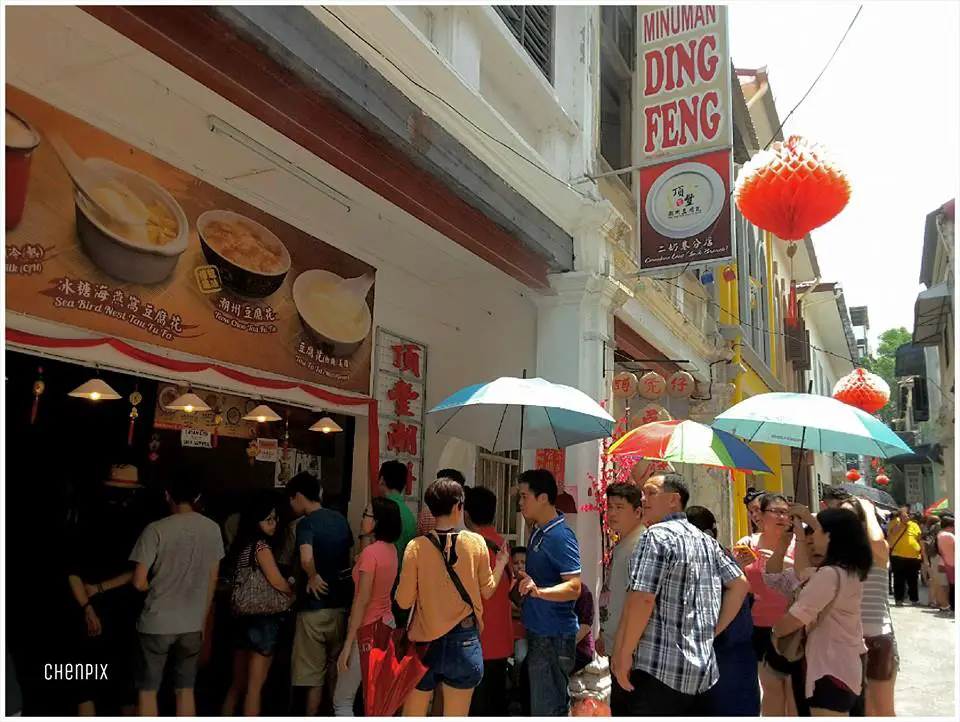 Tau Fu Fa is a sweet Chinese dessert made out of soft tofu and sweet syrup. If you're planning to try and get your hands on this famous Tau Fu Fa, make sure your energy is charged to the maximum level as there's usually a long queue lining up in front of this place! 
What makes them so special from the normal Tau Fu Fa that you can buy from a night market? They have a total of three flavours to choose from – Birds Nest, Teochew Tau Fu Fa, and White Sugar! 
Opening hours: Opens daily (except Tuesdays) from 8.30 am to 4.30 pm.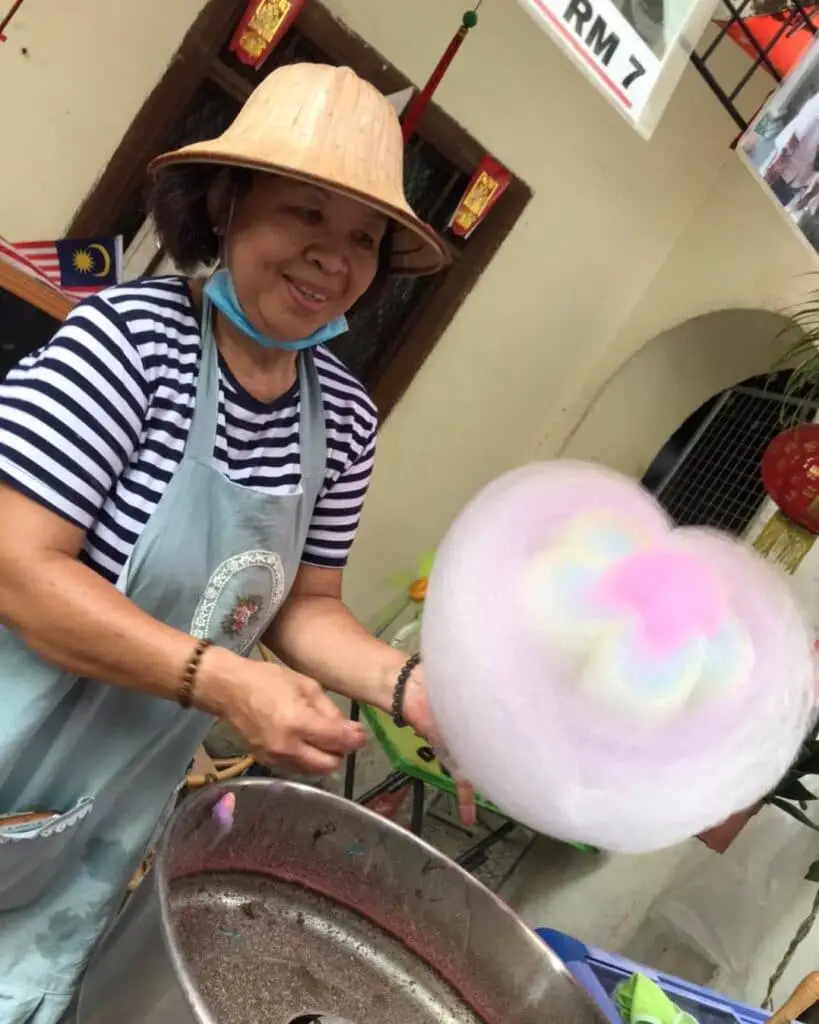 You've eaten cotton candy before, but have you ever tried making one? This friendly street peddler can offer you a chance to create your very own fluff of colourful cotton candy! 
If you're not so keen on making one and just want to take a bite, simply choose the various shapes available and witness the magic. 
You can walk around with a heart or flower-shaped cotton candy in your hands – how cool is that? 
Nothing beats eating an ice-cold snack in the middle of a sunny day. This ice ball on a skewer stick is pretty iconic around the area that you might see everyone taking a stroll while holding one in their hands!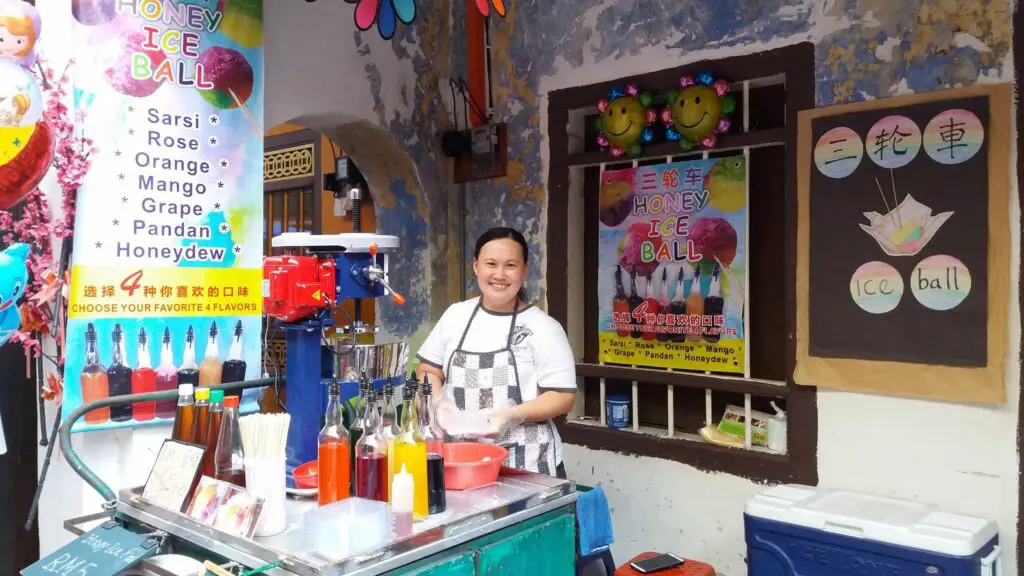 Choose two flavours from the menu and get mesmerised by the beautiful colour before enjoying the sweet and cold flavour hitting your dry throat. But make sure to finish it fast as the weather in Malaysia can be unforgiving sometimes! 
Now that you know what are the must-try street snacks in Concubine Lane, let's jump to the unique cafes available around the area! 
Platf9rm Coffee & Brew Cafe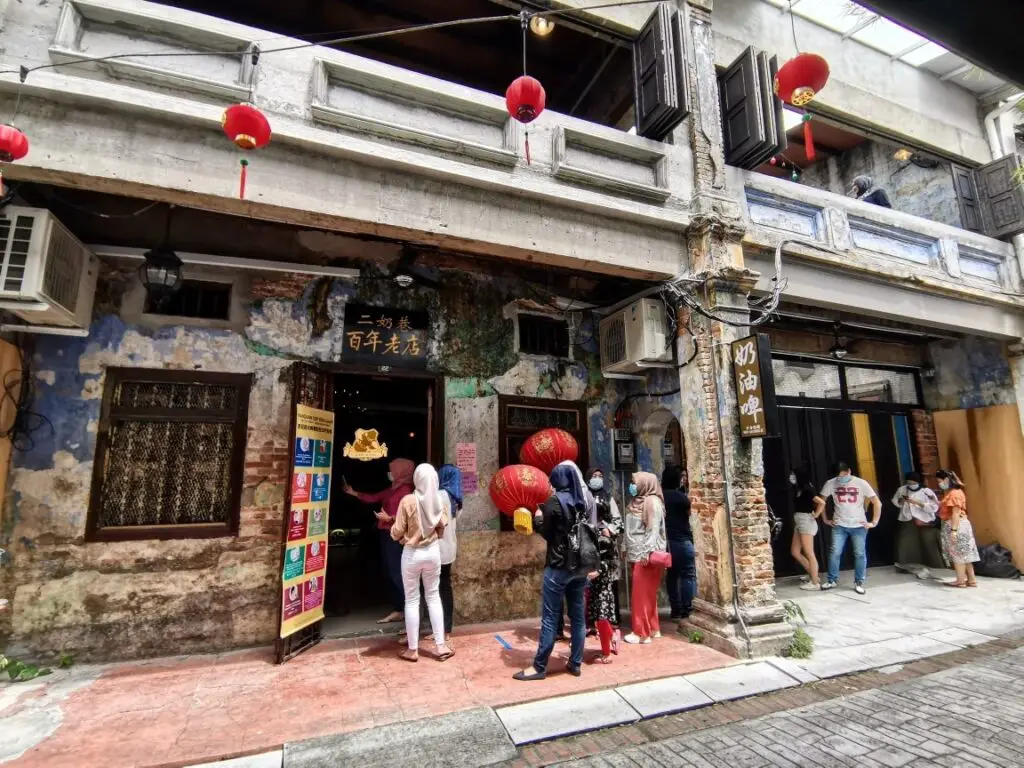 Whether you're a hardcore fan of the Harry Potter series or just someone who loves the world of wizards and witchcraft, then Platf9rm Coffee & Brew Cafe should definitely be on top of your list. 
You don't even have to wait for the acceptance letter to Hogwarts to set foot in this Harry Potter-themed cafe! 
All you have to do is head to Lorong Panglima or Concubine Lane and look for a quirky two-storey cobblestone cafe that looks like it belongs in Diagon Alley.
Inside, the cafe is enchantingly adorned with all sorts of decors from the Harry Potter movies – from a huge candelabrum to a classic payphone on the wall and a wooden wardrobe filled with wizard costumes and props. 
So, go ahead – get dressed, grab a broomstick, and snap a few photos!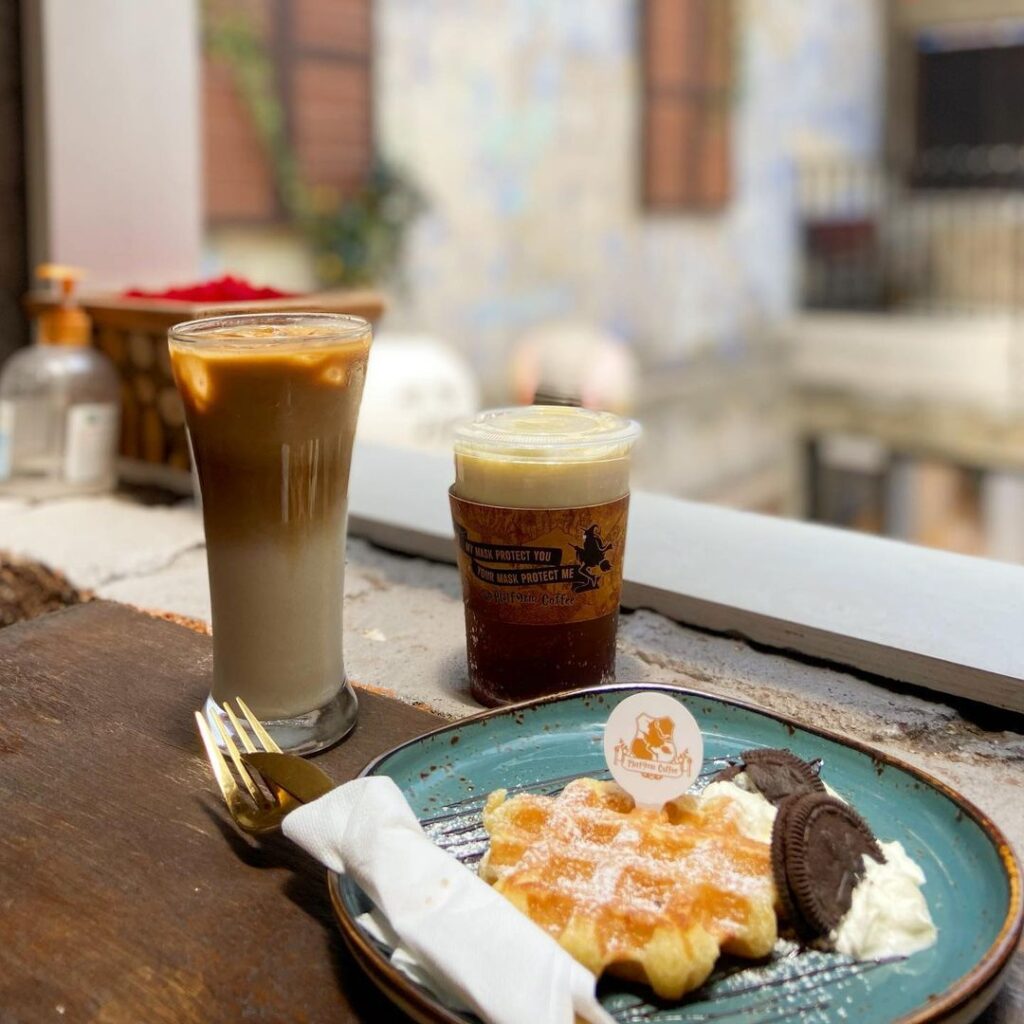 Of course, one can never leave this place without taking a sip of the iconic butterbeer. It's always a great idea to quench your thirst with tasty drinks after an hour of wandering around the streets under the scorching sun! 
However, this place does not serve hot meals, but they do have some delicious baked goods and desserts.
Opening hours: Opens daily from 11.30 am to 6.30 pm.
Located in Market Lane or previously known as Second Concubine Lane is this Instagram-worthy dessert shop fully equipped with massive glass windows and neon lights.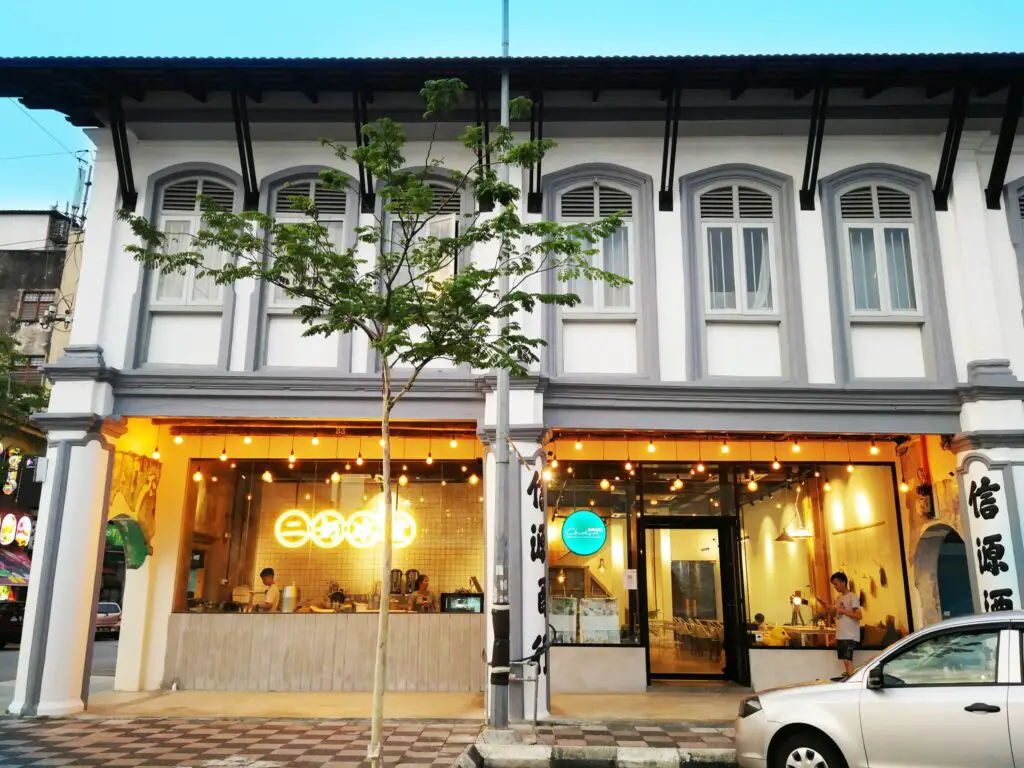 If you're a sweet tooth, then don't miss a chance to include this spot in your itinerary. It has an attractive menu of waffles and gelato with different flavours.
To coffee drinkers out there, do keep in mind that Chakori does not serve coffees, but don't let that stop you from visiting as they have one of the best ice cream waffles in town! 
Good news for matcha lovers – order their Charcoal Waffle topped with a scoop of matcha ice cream, pair it up with a glass of iced matcha latte, and let your taste buds explode. 
Even the food plating is on-point that it deserves to get featured on your social media feeds!
Operating hours: Opens daily from 10.30 am to 11.30 pm.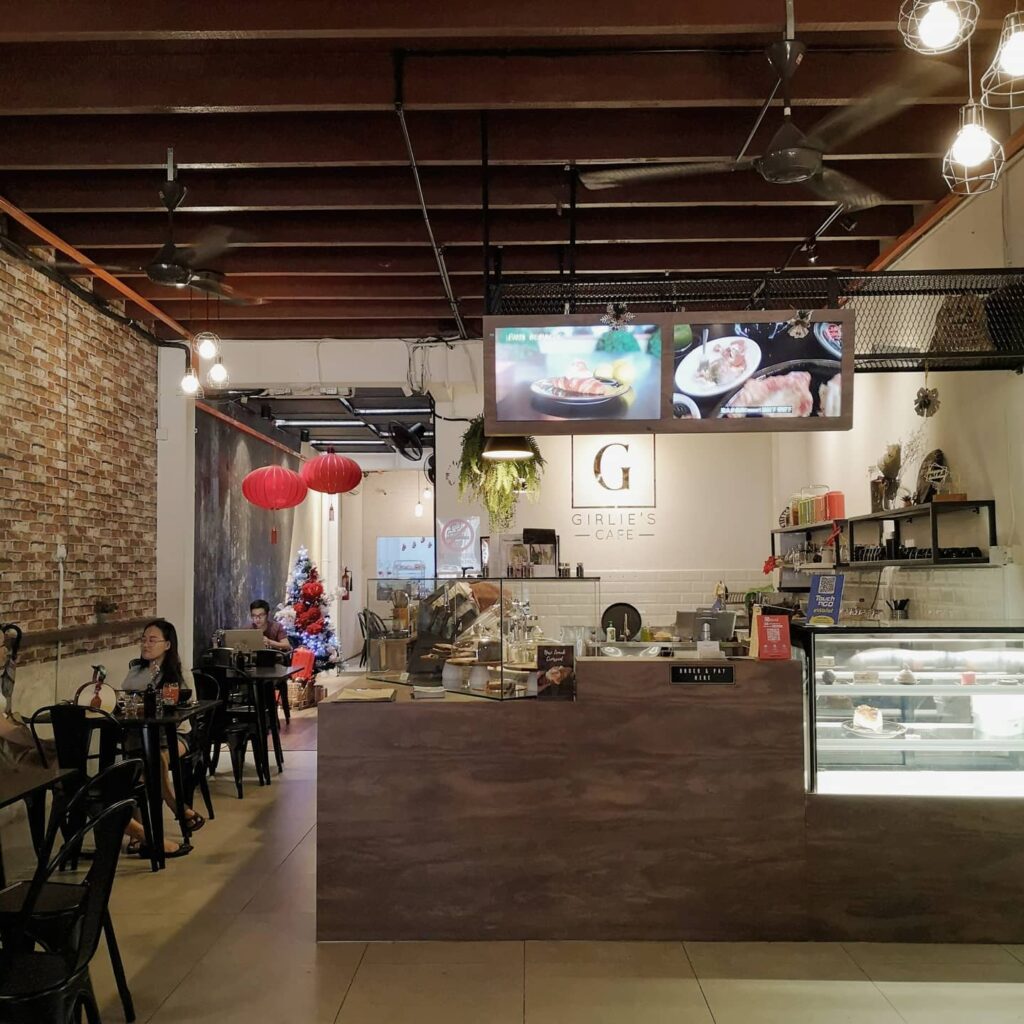 Also located in Market Lane, Girlie's Cafe is an aesthetically pleasing spot that is popular among food hunters out there. 
Unlike the other two cafes mentioned above, Girlie's Cafe serves hot food ranging from pasta to Torikatsu Rice.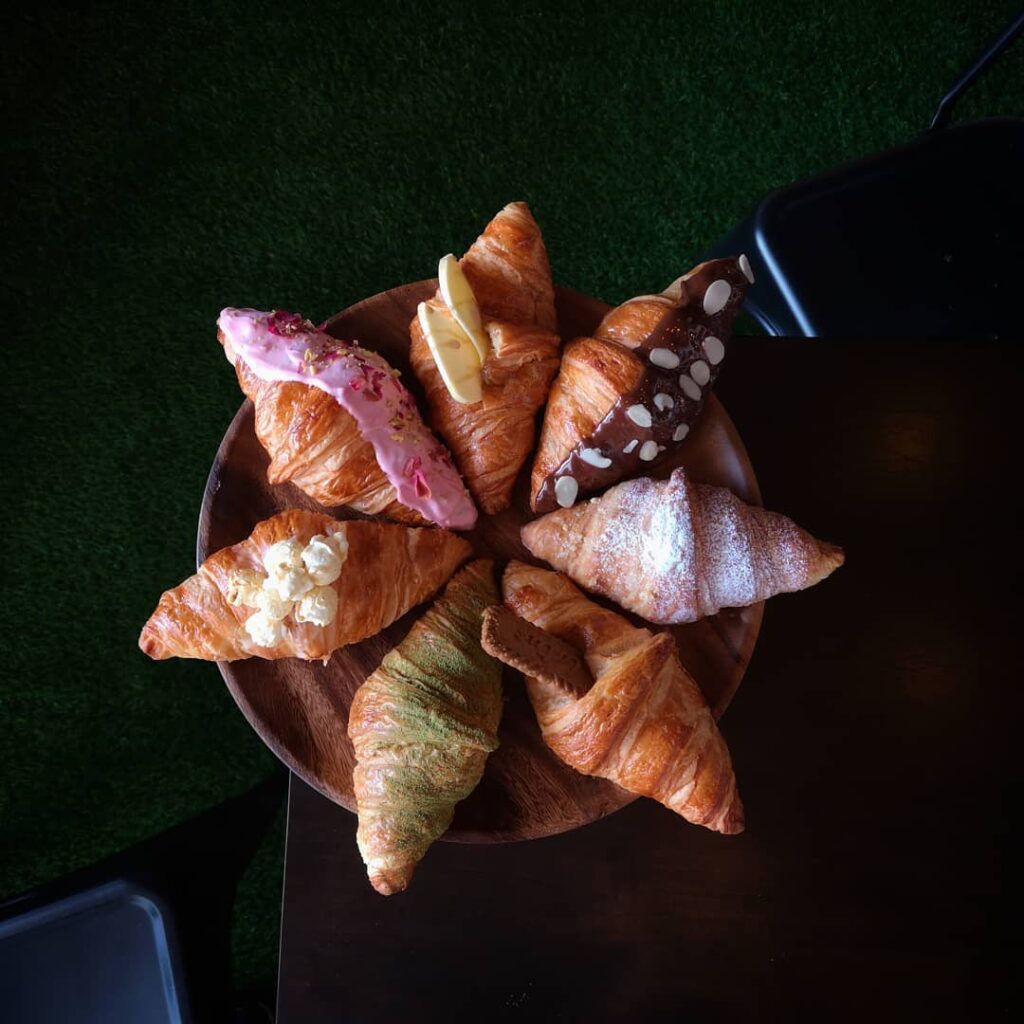 But what's so special about this place that causes the travellers to come flocking in? It's their cute pastries and coffees with adorable printed arts. They even have croissants served in various styles!
If you prefer something savoury, go with the croissant with scrambled eggs and mushroom or if you want it as a dessert, order the lemon meringue croissant or boba croissant!
Opening hours: Opens daily (except Mondays and Tuesdays) from 10 am to 6 pm.
So what else can you do in Concubine Lane? Are they all food-related? The simple answer is no – you can also find unique museums along the street! One of them is Time Tunnel, a museum that can teleport you back in time.
 You'll get to see a mock-up of a kampung house interior, barbershops, and a Kopitiam back in the 20th century. 
The Concubine Lanes opening hour is from 11 am to 8 pm. However, this part of Ipoh normally starts to turn into a ghost town starting from 5 pm, so it's highly recommended for you to visit this place in the morning or during noon!
Placed to stay near Concubine Lane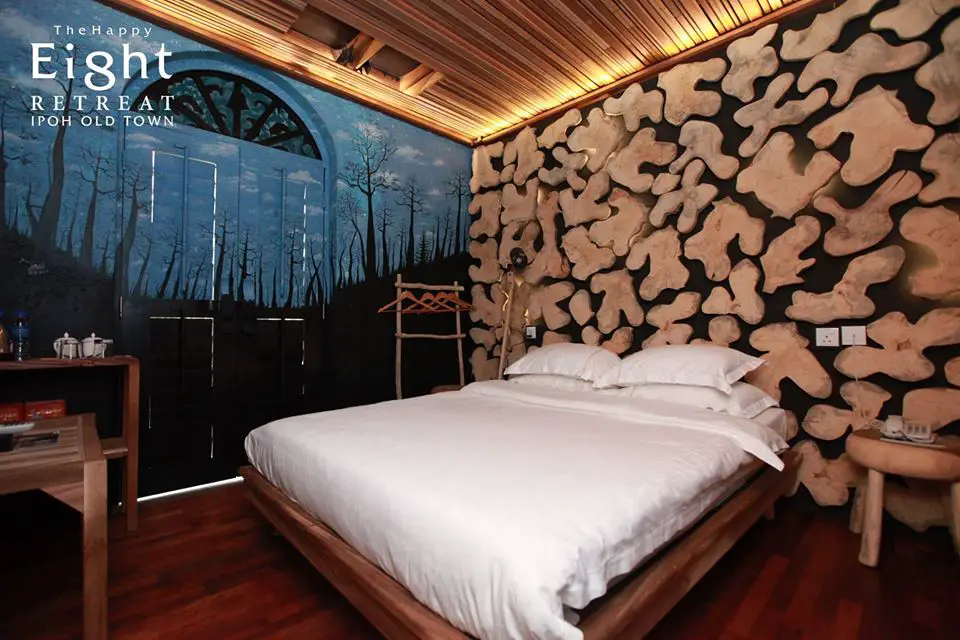 Things that you need when you're on-the-go (Hand-picked!)
Make your travels convenient and enjoyable with these essential products by your side! We curated the products that are high rating and ready stock in Malaysia without you spending time to search for the best one on the market.
Disclosure: This post contains affiliate links. If you click these links to purchase the product we may earn a commission without extra cost to you. We carefully select the best and all products are shipped from the local by high rating seller.