Batu Ferringhi is a popular coastal town in Penang and it is the next go-to place for a staycation after Georgetown. It is known for its beautiful beaches, vibrant nightlife, and a wide variety of outdoor activities, making it the perfect package for a holiday while you're on the island!
Whether you are a local or a tourist, there is always something that appeals to everyone in Batu Ferringhi. Read on to find out what you can do, where you can eat and the best places to stay at Batu Ferringhi!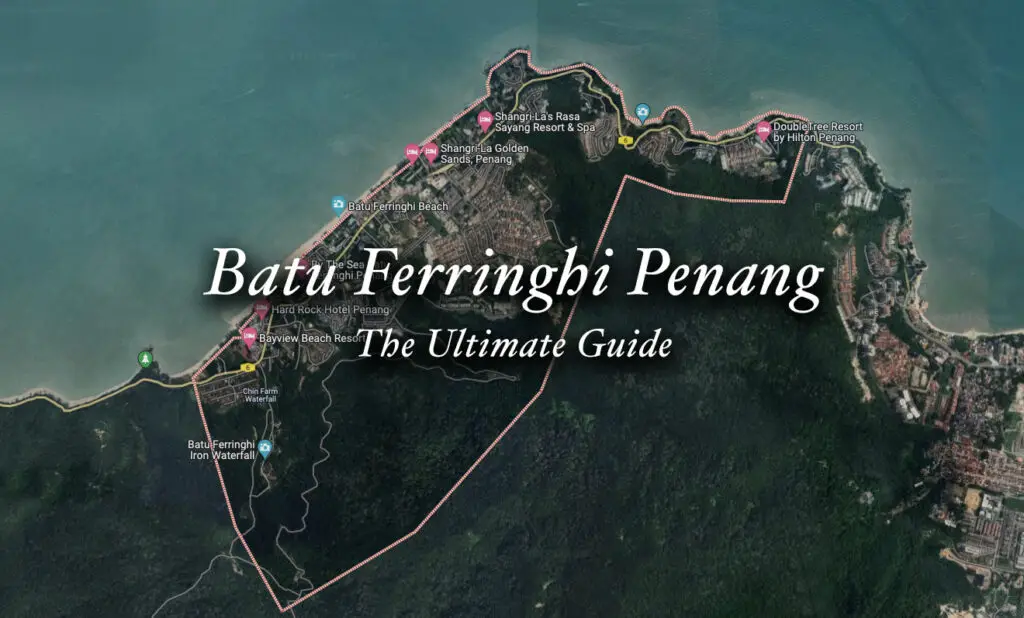 What to Do in Batu Ferringhi
#1 Learn Batik Craft at Penang Batik Factory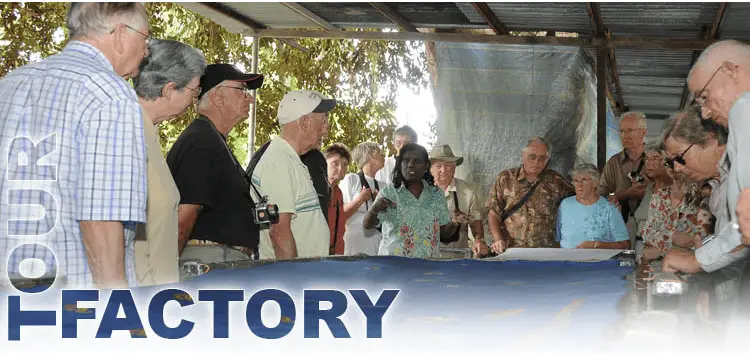 Image source: penangbatik.com.my
The Penang Batik Factory is a must-visit for those interested in traditional Malaysian handicrafts. Visitors can watch the artisans at work and learn about the history and techniques of Batik printing.
The factory also has a gift shop where visitors can purchase Batik products, including clothing, accessories, and home decor.
#2 Enjoy Scenic View at Chin Farm Waterfall
For nature lovers, the Chin Farm Waterfall is a must-visit attraction. Also known as the Batu Ferringhi Waterfall, this beautiful spot can be rather hidden from those unfamiliar with the area – search for the path opposite the road of Bayview Hotel Penang, and you should notice a sign saying "Chin Water Fall Lam Thean Mui Temple".
A short hike from base later, you will be rewarded with a lovely view of the cool, cascading clear spring water of the waterfall! This place makes for a great photo-taking and picnicking session.
#3 Day Trip to Tropical Fruit Farm

The Tropical Fruit Farm is a great destination for families and those interested in agriculture. Take a guided tour of the farm and learn about the various tropical fruits grown on the property, including durian, mangosteen, and rambutan.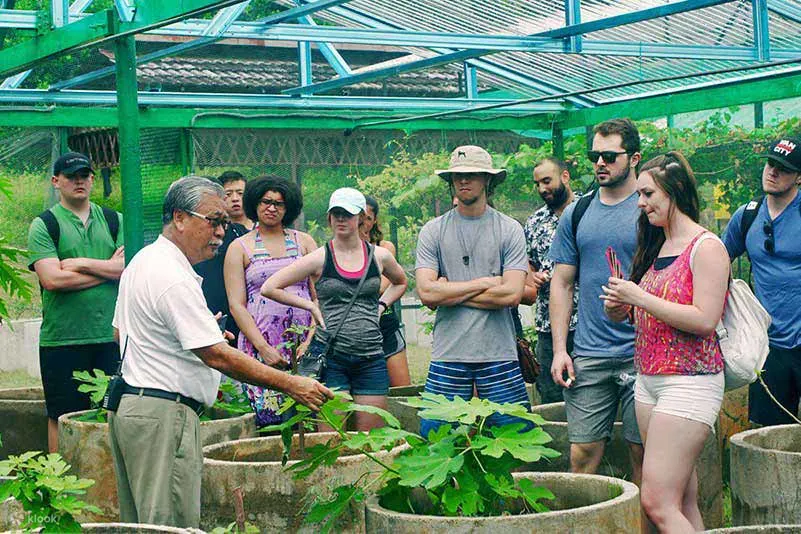 The Tropical Fruit Farm is a great destination for families and those interested in agriculture. Take a guided tour of the farm and learn about the various tropical fruits grown on the property, including durian, mangosteen, and rambutan.
#4 Eat and Shop at Batu Ferringhi Night Market
The Batu Ferringhi Night Market is a bustling bazaar that takes place every evening along the main road. Visitors can browse a variety of stalls selling clothing, souvenirs, and local snacks.
This pasar malam is also a great place to sample traditional Malaysian street food, including satay, laksa, and rojak.
#5 Spend Time With Mother Nature at Penang National Park
The Penang National Park is a protected area of rainforest and coastline that offers a variety of hiking trails and beaches to explore.
A nature lover's paradise, the park is home to a diverse range of flora and fauna, including over 1000 species of plants and hundreds of different animals, such as monkeys, monitor lizards, and hornbills.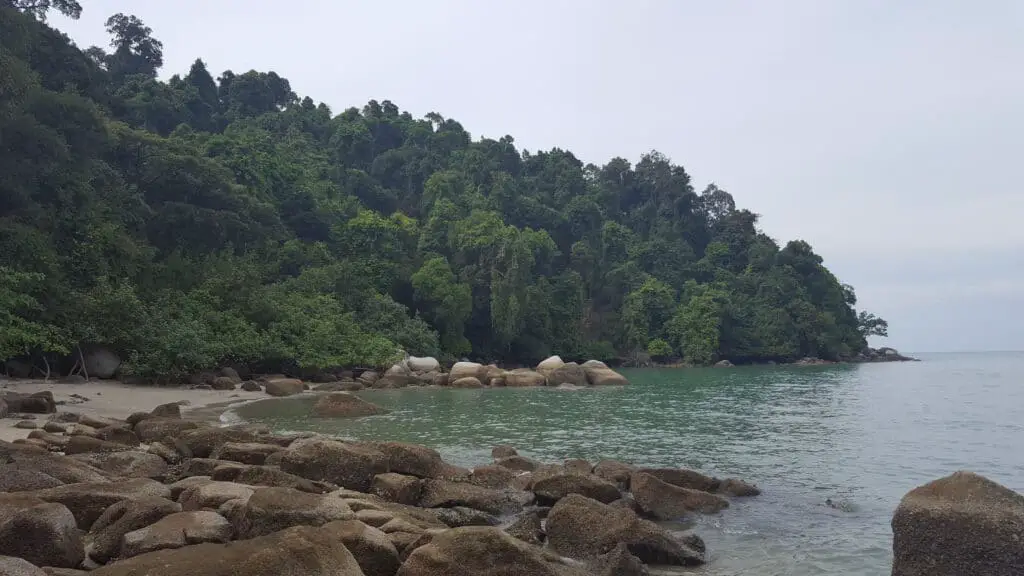 One of the most popular destinations within the park is Monkey Beach, a secluded cove that can only be reached on foot or by boat so there's a lot to see and do at this National Park!
#6 Go for Water Sports Activities
Batu Ferringhi is a hub for water sports activities, including kayaking, banana boat rides, parasailing and jet skiing. You can do so by renting equipment from the Penang Water Sports Centre or taking a guided tour of the coastline.
The centre also offers water sports lessons for beginners. Make sure to enjoy the thrill of riding the waves while taking in the beautiful scenery of Batu Ferringhi while you are here!
#7 Experience Horse Riding by the Beach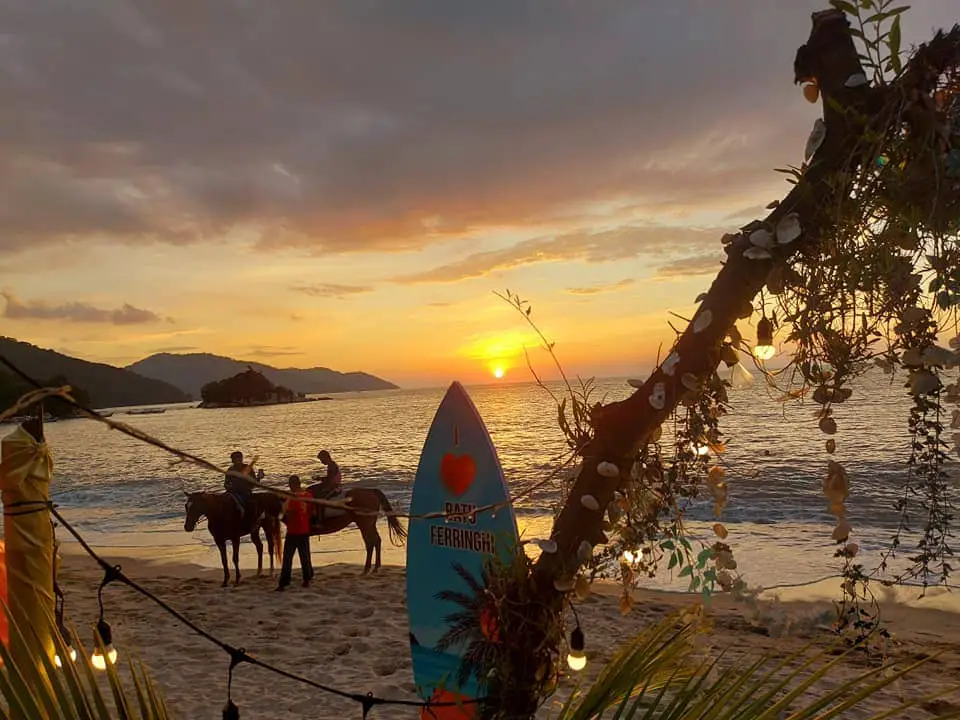 Yes, you can ride horses at Batu Ferringhi Beach! This is a unique experience not to be missed while staying at Batu Ferringhi.
The rides are suitable for all levels of experience and offer stunning views of the coastline. Apart from horses, you can also go for camel and donkey rides.
#8 Picnic Time at Moonlight Bay
Moonlight Bay is a secluded beach located just a short drive from Batu Ferringhi. The beach is a great spot for a picnic or a relaxing swim in the calm waters.
The bay is a hidden gem in Penang, and its location between Miami Beach and Batu Ferringhi proper makes it easy to access.
This spot is great for bringing your kids, family and friends along to enjoy the cool clear waters, the beautiful rocks and the pebbly-grainy sand, not to forget, the scenic sunset views!
#9 Tour Around Tropical Spice Garden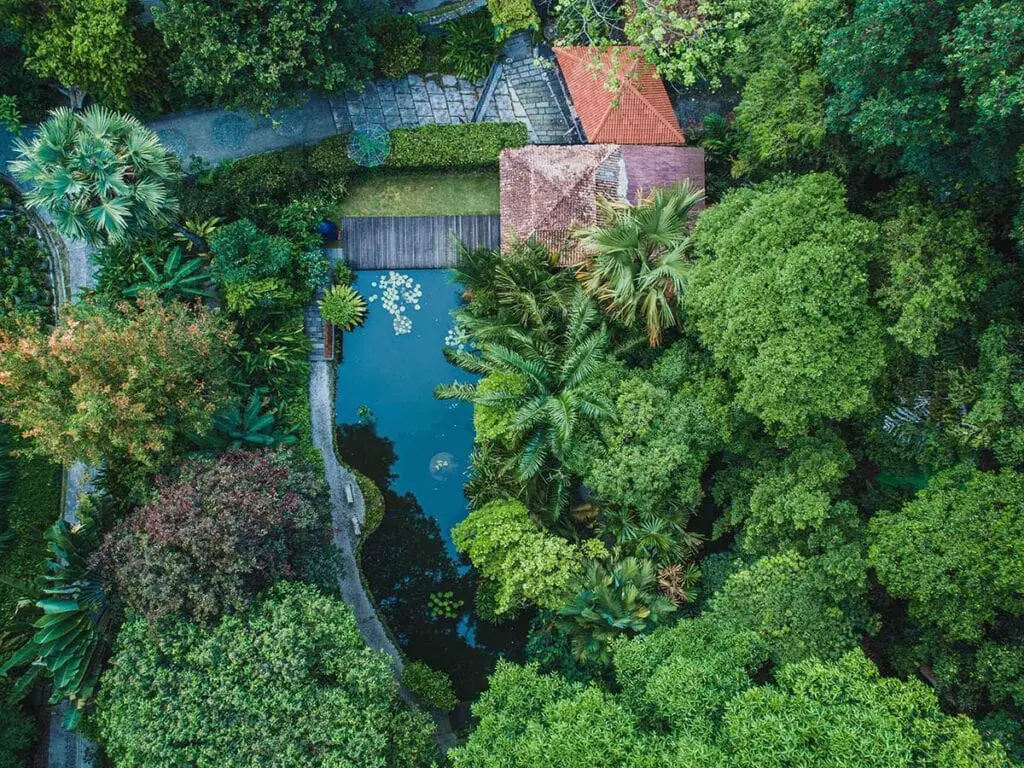 Image source: tropicalspicegarden.com
The Tropical Spice Garden is a botanical garden that showcases a variety of herbs and spices grown in the region.
You can take a guided tour of the garden and learn about the various plants and their uses in traditional medicine and cooking.
The garden also has a gift shop where visitors can purchase spices and other local products. This is truly a haven for nature and spice lovers!
Where to Eat in Batu Ferringhi
The Hard Rock Café is a must-visit for music lovers and foodies alike. This popular chain restaurant that is located within the famous Hard Rock Hotel serves up classic American fare, including burgers, ribs, and nachos, as well as a range of cocktails and beers.
The restaurant also features live music performances on select nights, perfect for vibing along your vacation!
For a taste of local hawker food in Penang in the area, head to the Long Beach Cafe aka hawker centre. This open-air food court is home to a variety of stalls serving up Malaysian favourites like Char Koay Teow, Nasi Lemak, Satay and BBQ Chick Wings!
The food is reasonably priced yet delicious, making it a popular spot among locals and tourists alike. The food court also has a great variety of drinks, so this makan spot is definitely recommended!
Frandy Beach Bar And Restaurant
Frandy Beach Bar and Restaurant is a great spot to enjoy a meal with a view, especially during sunset. Located right on the beach, this restaurant serves up a range of Western and Asian dishes, including fresh seafood and delicious cocktails along with live music.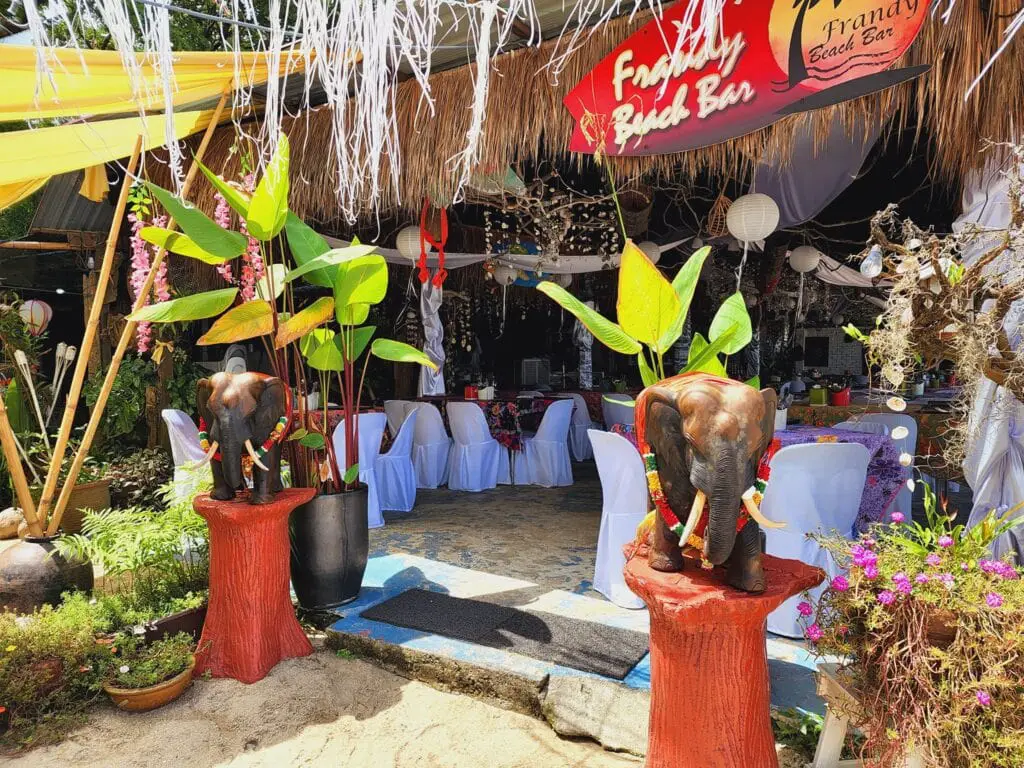 The laid-back atmosphere and friendly staff make this a popular spot for both lunch and dinner. Some foods to try include chicken satay, fish dishes like Fish and Chips and Grill Salmon, Chicken Parmigiana and pizza. Beer lovers can also get Thai Singha beers here.
Feringgi Garden Restaurant
For a more romantic dining experience surrounded by the gardens, head to the Ferringhi Garden. Here, you can enjoy your meals in a serene yet beautiful ambience with a lush garden filled with flowers and water features.
The restaurant serves a variety of cuisine including Chinese, Asian, and Central European dishes, from fresh seafood, lamb shank, fish and chips, and more.
Overall, Ferringhi Garden Restaurant is a great place to dine for those looking for a unique and relaxing dining experience – we definitely recommend this place if you are looking to celebrate some special occasion during your trip! 
Happy Garden Restaurant is a popular spot for Chinese cuisine in Batu Ferringhi. This family-run restaurant serves up a range of Cantonese dishes, including dim sum, roasted meats, and seafood.
The restaurant is known for its generous portions and friendly service, so if you want a change from Western meals or hawker food, consider this Chinese restaurant instead.
Rubin Mardini Cafe Restaurant (Muslim-friendly)
For a taste of Turkish cuisine, do check out Rubin Mardini Cafe Restaurant! This Muslim-friendly restaurant serves up a range of Middle Eastern dishes, including kebabs, hummus, and falafel.
This cosy restaurant also features a range of Turkish teas and coffees, making it a great spot for a relaxing afternoon break.
Best Places to Stay in Batu Ferringhi
Shangri-La's Rasa Sayang Resort & Spa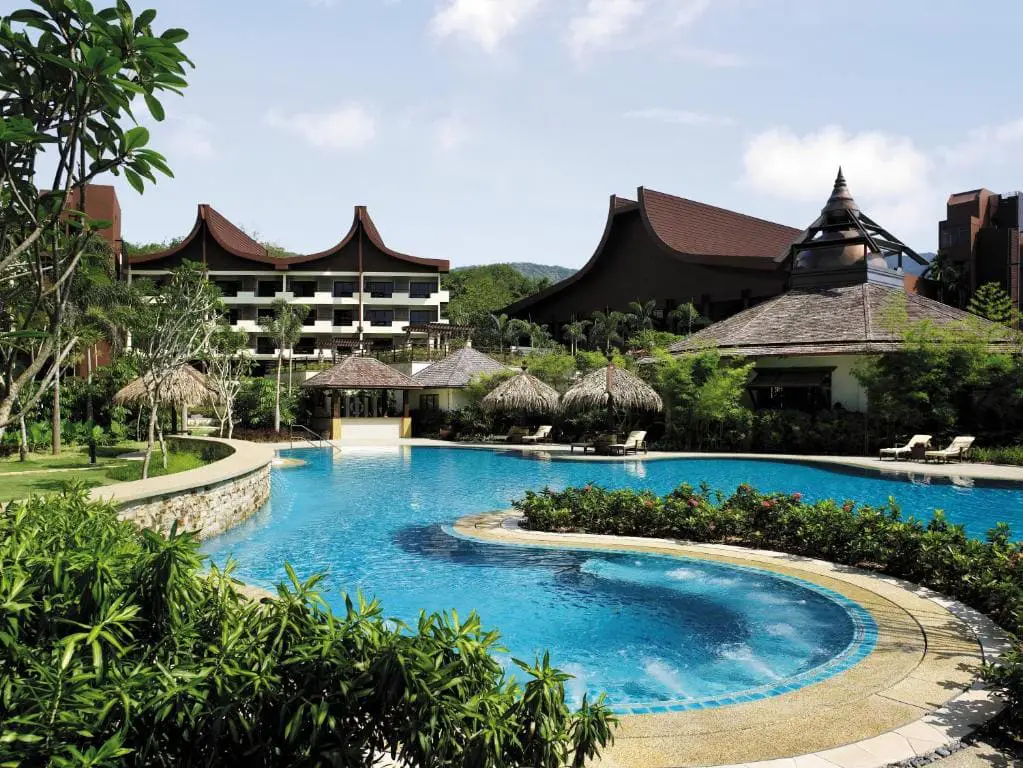 Boasting a beautiful beachfront location, Shangri-La's Rasa Sayang Resort & Spa is an award-winning luxurious hotel brand that offers a slice of upper-end paradise to Batu Ferringhi's seaside.
The hotel is surrounded by large, shady trees, and the garden has swimming pools that are perfect for relaxation.
The sea is just a walk away, and the rooms are cosy and spacious with a choice of facing the sea or having a garden view – you will be in for an enjoyable stay here.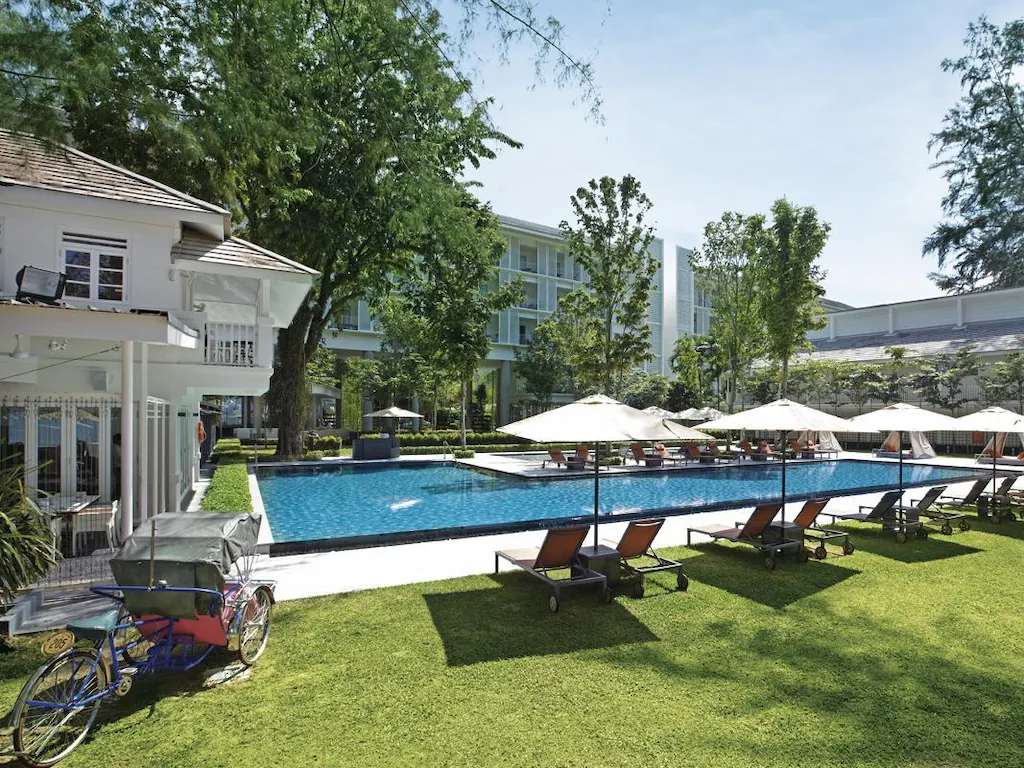 Lone Pine Hotel is a boutique hotel that is located right by the beach. Relax and unwind in this 4-star establishment that offers a range of stylish rooms and suites that are perfect for couples and families.
An interesting note about this serene place of stay is that it is housed in a beautifully restored heritage building that dates back to 1948, thus retaining its colonial charm while offering modern amenities.
Hard Rock Hotel Penang is a popular accommodation choice in Penang. This may be the accommodation for you if you love a rock-and-roll theme throughout the hotel, with music memorabilia on display and a vibrant atmosphere.
Hard Rock Hotel also has an amazing 26,000 square feet outdoor pool complete with poolside cabanas and water slides that will appeal to kids and adults alike.
DoubleTree Resort by Hilton Penang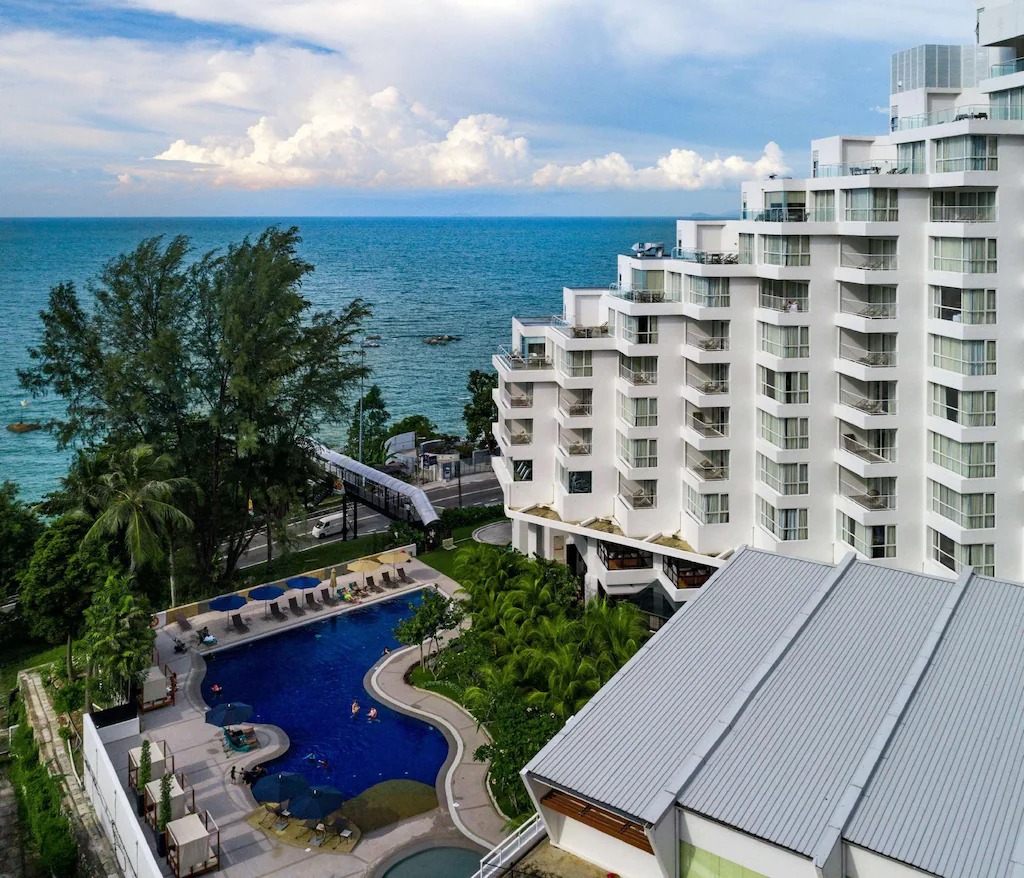 DoubleTree Resort by Hilton Penang is a luxurious hotel adjacent to Miami Beach. What sets this hotel apart from the rest of the beach hotels in Penang is the special welcoming gesture of warm chocolate chip cookie given to guests upon check-in, which has become a signature feature of the DoubleTree brand.
You will also be glad to know this hotel is home to Teddyville, which is the first teddy bear museum ever built in Malaysia, making this place a popular choice for travellers with small children.
Roomies Suites is a cosy and welcoming Batu Ferringhi homestay with a range of comfortable yet affordable accommodations, including private rooms and dormitory-style rooms. Amenities include complimentary Wi-Fi and a communal kitchen.
Guests will appreciate the personalized touch provided by the friendly hosts, who are always available to provide insider tips on the best local attractions and restaurants.
Staying at Roomies Suites allows you to experience the local culture and way of life in a more authentic way than staying in a hotel, making it an excellent choice for a unique and personalized homestay experience in Batu Ferringhi.
Hope you have some great ideas on what to do, where to eat and where to stay at Batu Ferringhi, Penang! Batu Ferringhi is a must-visit destination for anyone travelling to Penang – rest assured you will find yourself in a tropical paradise, surrounded by beautiful beaches, lush greenery, and a vibrant food scene when you are in the area.
That said, we hope you have a great time visiting Batu Ferringhi!