Searching for luxurious villa for your holidays off the beaten track? You will never run out of stuff to do in this Southeast Asian heaven full of rainforests, secret beaches, and adventures in Malaysia.
The thought of staying in a villa is probably often an exciting one, with a longing that gets even stronger the more you think about it. If you're all set and have your mind made up to go on a short trip to get away from all your worries then read on!
We've got you covered if you're looking for a palatial home for your Malaysian holiday, a change of air on your mini weekend getaway or even for hosting an event!
List of Luxury Villa in Malaysia
There's definitely something enchanting about the deep and massive rainforests found throughout Southeast Asia, and Malaysia embodies that very theme in its fullest essence.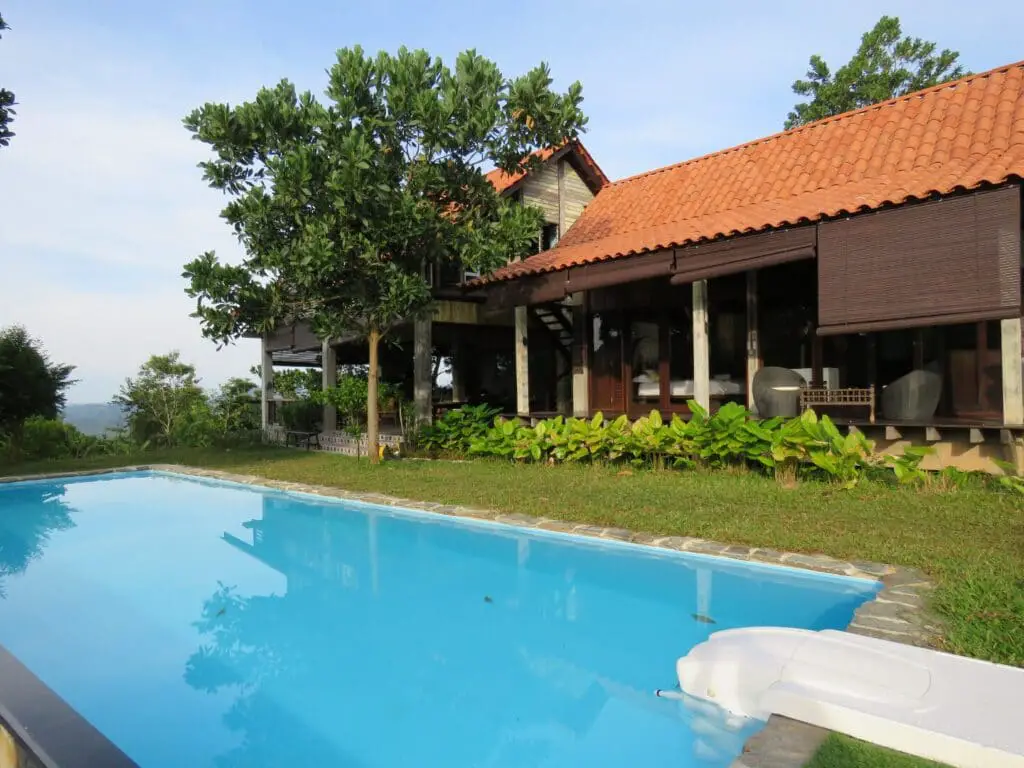 Selepas Hujan is a hidden gem that capitalizes on the scenic beauty of nature, as a quaint and lovely villa based just outside of Seremban and not far from the Berembun Rainforest.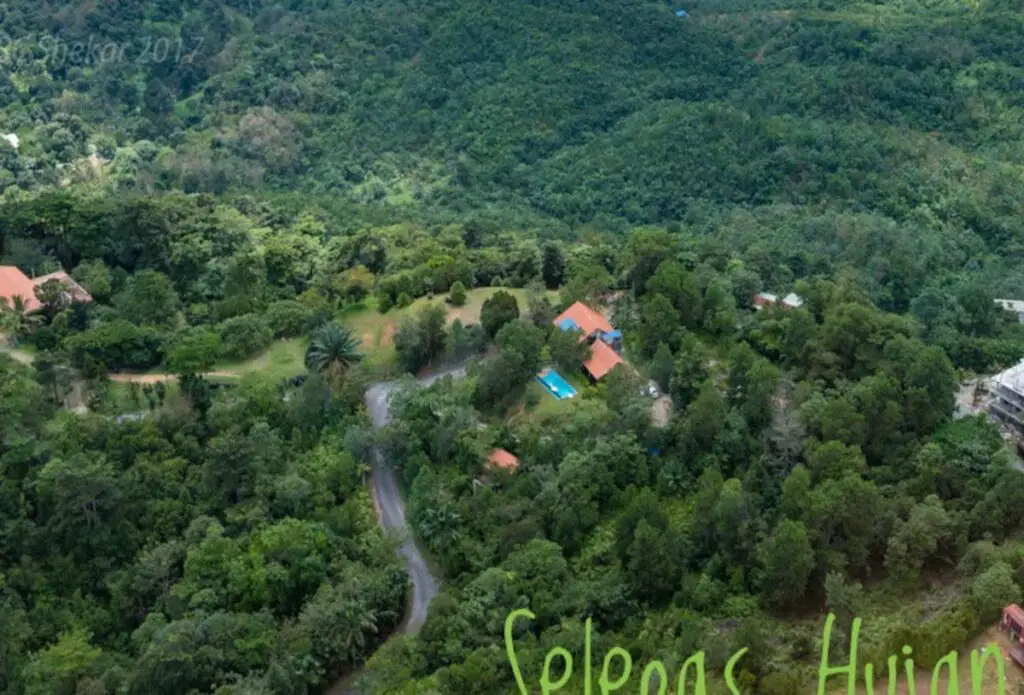 Stunning landscapes featuring luscious green rolling hills, misty mornings and endless opportunities to relax far away from the city's noise await all who choose this fantastic Airbnb option.
The home is unexpectedly spacious, with an open concept design that includes large bedrooms with several beds each. It's cozy, yet serene enough to make guests feel like they're on the perfect vacation.
Its two-bedroom and two-and-a-half bathroom layout can accommodate roughly up to 10 people at any given time, so there's no doubt you can come along with a big group of friends or bring your entire family for the stay.
The house overlooks hundreds of acres of woodland, giving you a quiet, private escape. Enjoy the saltwater tub, or cook something up in the full kitchen. You will have direct access to the appliances and all of the home's common spaces.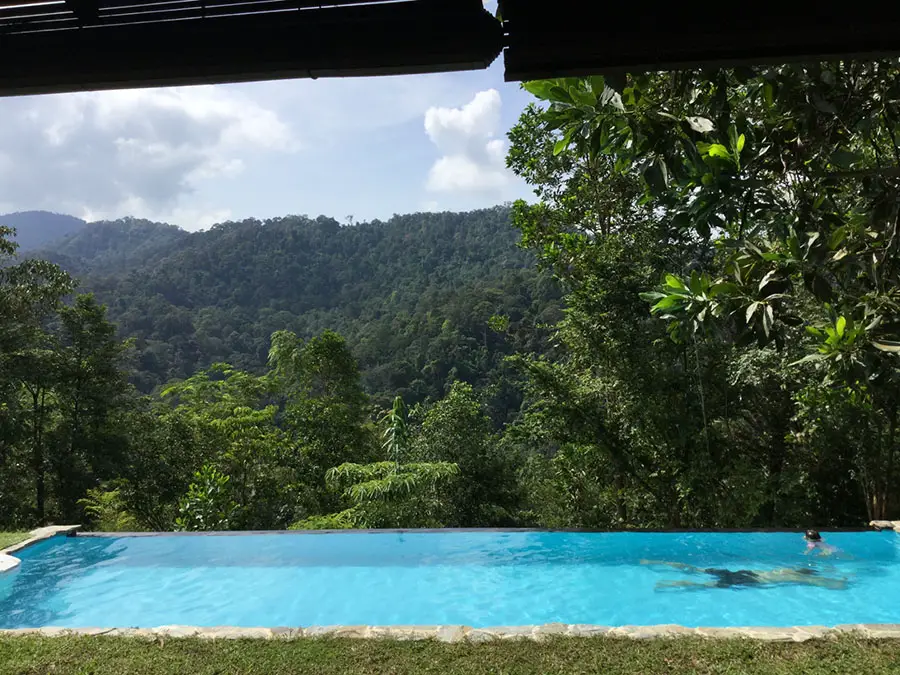 Best of all, there's a pool at the back where you can cool off amid the lovely rainforest atmosphere. The town of Seremban itself is located about an hour away by car, ideal for day trips, while not compromising your privacy.
Nouri Glass Villa | Hulu Langat, Ampang
Need to get away for a quick time out from your busy schedule?
The Nouri Glass Villa offers a stay experience filled with pure bliss – featuring a giant private pool, coupled with amazing amenities and a massive crib that's packed full of amazing amenities and interior excellence.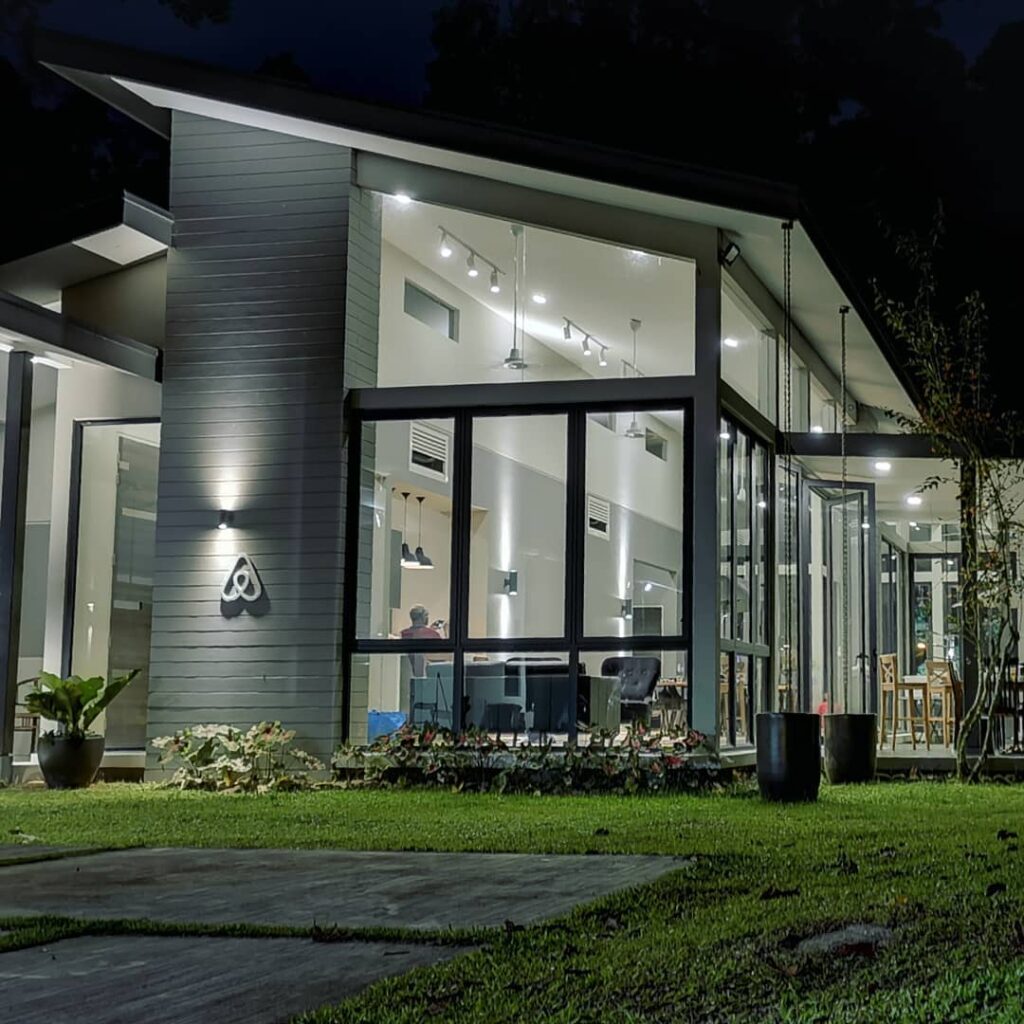 With its impeccable architecture and interior design, this stunningly built villa will blow you away, featuring high ceilings and tall dark pillars for extra spaciousness and breathability, coupled with accented walls, plenty of glass panes and beautiful wooden floorings throughout the home's many sections. It's really a sight to behold!
The villa can hold up to 20 people in 7 bedrooms, and you'll have the whole place to yourself, so your privacy is guaranteed.
There are a ton of features and amenities accessible to guests, including a fully fitted kitchen, and a patio (with barbecue facilities available) where you can dine outdoors in the large backyard.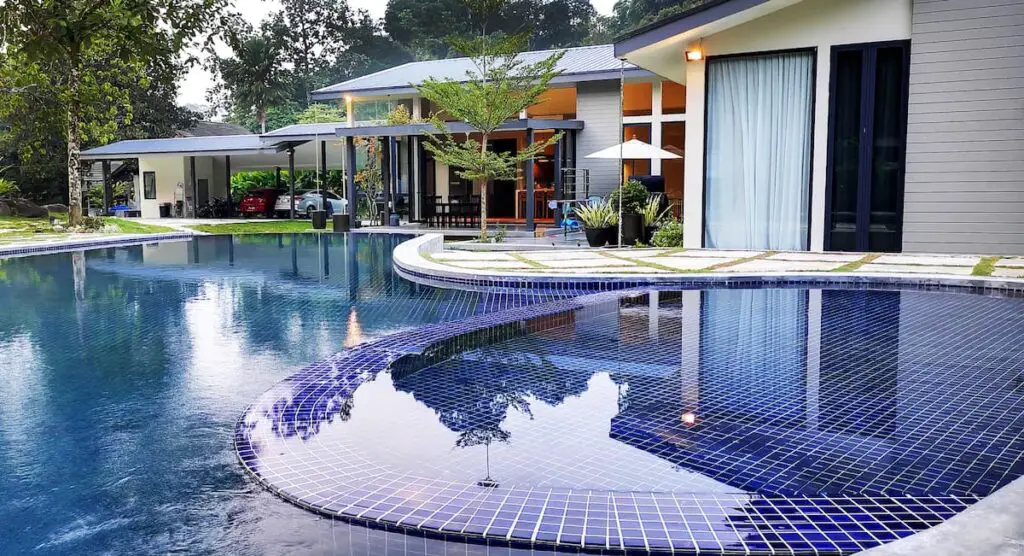 The entire property is situated on the ground floor, and thus ideal for the elderly or those with difficulties with accessibility and mobility.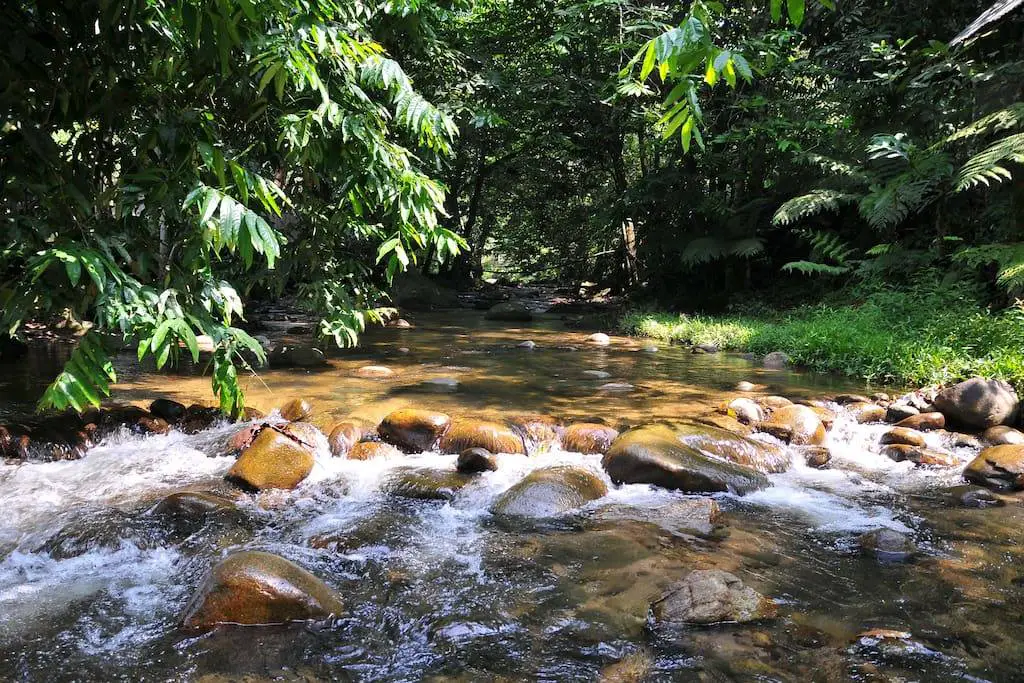 Guests at Nouri Glass Villa will love how the house is surrounded by greenery and a lovely highlight is its stunning landscape. 
There is also an adjacent orchard packed with, among other items, durian, mangosteen, rambutan and papaya trees.
Villa Tiga Datai Valley | Langkawi
Villa Tiga (V3) @ Datai Valley is located in Langkawi, and that alone should be enough to pique your interest with the island being one of the most renowned and celebrated among Malaysia's many vacation spots.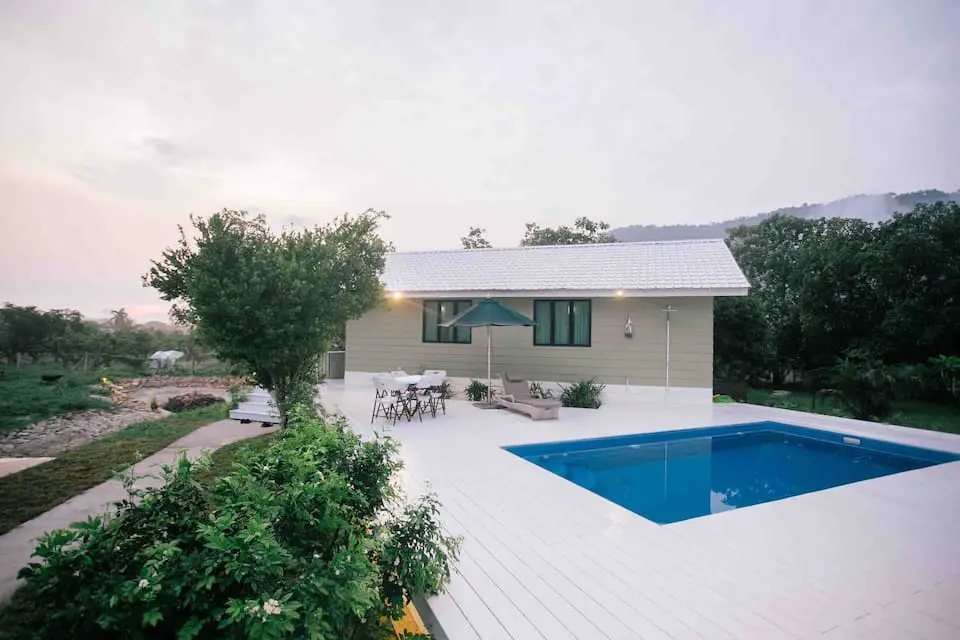 Many who are familiar with Langkawi would know the various attractions like the Sky Bridge and the Cable Car as well as Datay Bay. 
The good news is that Villa Tiga is not very far at all from most of these landmarks, which means that you can go on a full exploration of the island's many stops before coming back to this lovely stay to rest your head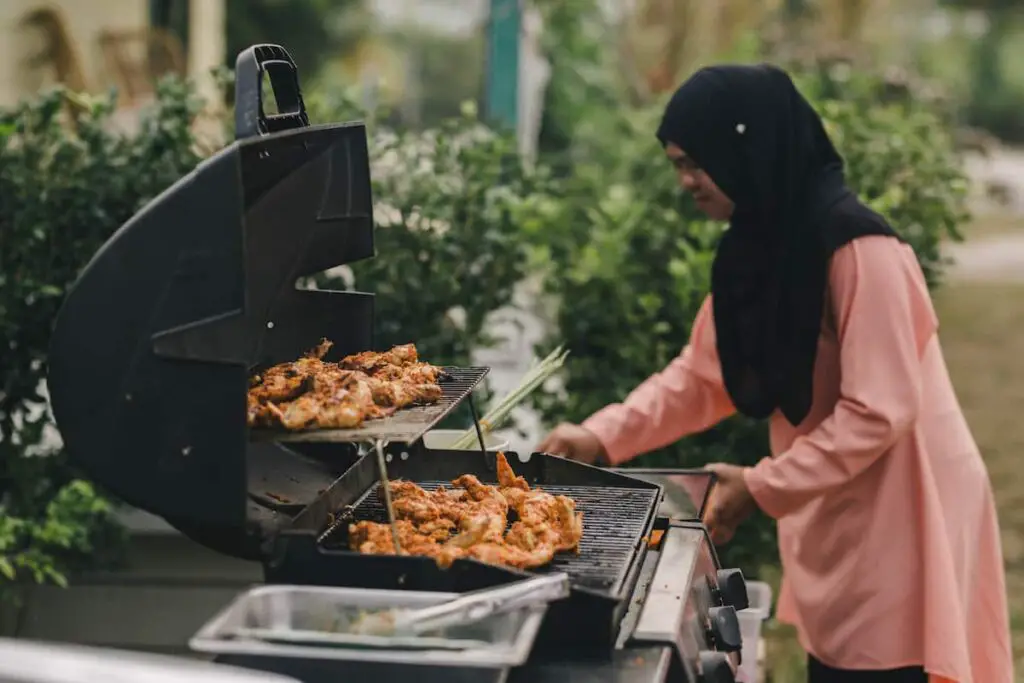 Take advantage of leisure facilities such as an outdoor swimming pool or enjoy the view from a garden and terrace. A picnic area and barbecue grills are additional facilities available. 
Other perks include luggage storage, a microwave in the common room, and a communal refrigerator.
There is free on-site self-parking. Make yourselves at home in one of the 4 air-conditioned guestrooms. The communal kitchen is big enough for everyone to prepare their meals before heading out again.
Rooms open to the patios or balconies. Guestrooms come equipped with TVs. Showers, free toiletries, and hair dryers are included in the bathrooms. Of course, expect to find free WiFi at this stay (it is a necessity nowadays isn't it?).
Additionally, rooms have ironing/ironing boards and fans for the ceiling. Housekeeping maintains the rooms every day.
Alamanda Minang Villa | Langkawi
For those of us infatuated by elements of olden tradition, this Airbnb choice takes that preference into consideration. For one, it's located in an idyllic location in the excitingly popular destination of Langkawi.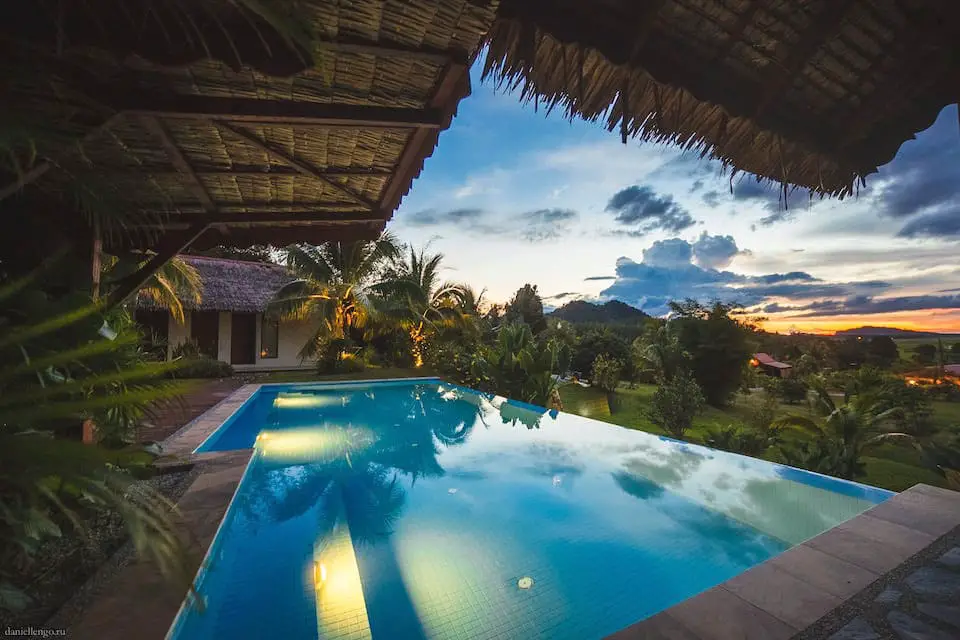 But what's more, the Alamanda Villas boasts amazingly grand and authentic traditional Malay architecture infused with traces of contemporary design, while the breathtaking panoramic views consisting of huge mountains and far-reaching paddy fields empower the spot even more.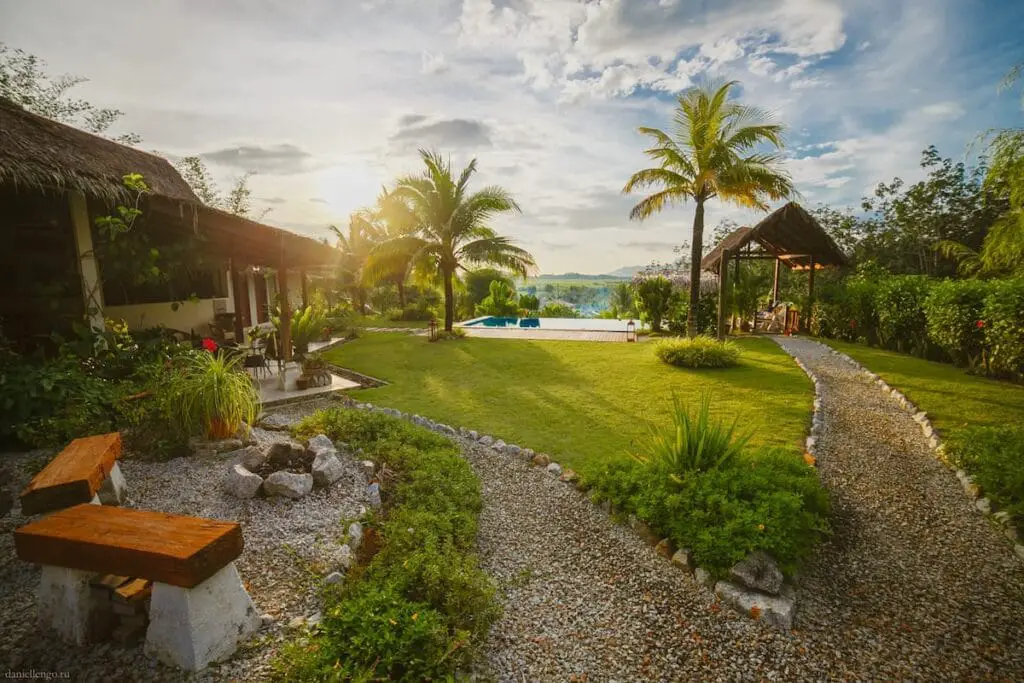 It consists of 5 guest villas decorated in a blend of traditional Malay architecture and contemporary design, all offering different views and unique features, named Hilltop Villa, Minang Villa, Tropical Wooden Villa, Markisa Villa and Garden Villa.
With its traditional Malay architecture and an unrivalled rice field view, the spacious Minang Villa will take your breath away.
Complemented by the lush green carpet of paddy fields, the surrounding village is renowned for its serenity.
The villa features 2 bedrooms with A/C (1 queen-size bed and 2 single beds), hot and cold showers, airy living room, kitchen, veranda, and baby cot upon request, located just 15 minutes' drive from the lively Cenang Beach town.
Enjoy a quiet respite from the sound of nature and feel the breeze as you relax on the veranda in your hammock.
To top it all of, head down to the large communal infinity pool for a relaxing swim, or hang out in the nearby lounge room. 
With the tropical birds and the unexpected troop of monkeys, be one with nature throughout the day and at night with a glorious sunset and star-studded sky! 
Templer Park Rainforest Retreat | Rawang
Yet another rainforest retreat makes it onto the list, and it's a noteworthy Airbnb villa situated on a gorgeous hilltop that spans 3 acres of sprawling scenic greenery.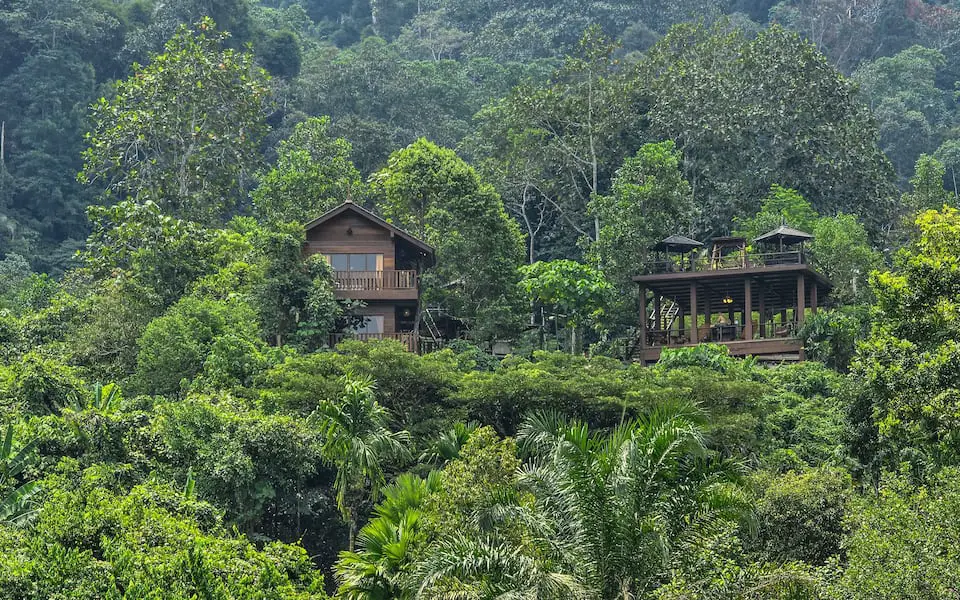 Simply called The Retreat, this spot features two apartments with plenty of privacy to boot – seeing that they're surrounded by trees and shrubs. 
Additionally, the retreat itself dons panoramic views of the beautiful and massive Kanching Rainforest Reserve.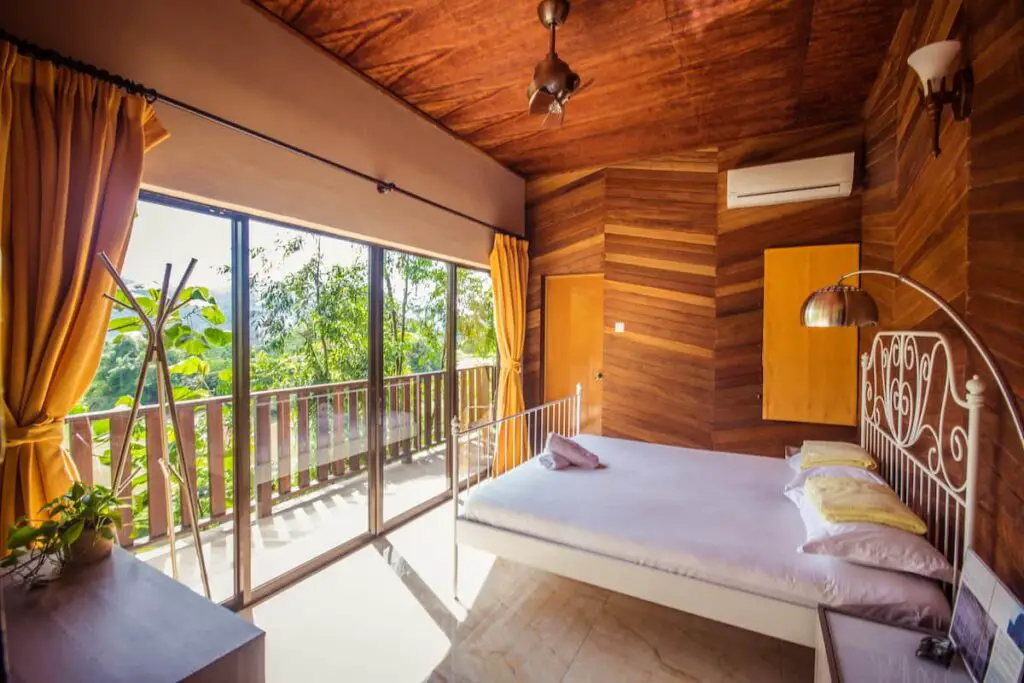 This makes guests feel like they're world's apart from city life when in fact, they're only about a half-an-hour's drive away from the centre of KL. How convenient is that?
Escape the hustle and bustle of city life and host gatherings for your family and friends here. The natural environment is the perfect place for you to unwind,, destress and refresh.
There are viewing decks and golf courses with scenic views overlooking the mountains (Bukit Takun/Anak Bukit Takun). 
There is a communal swimming infinity pool with jet spa + retreat splash pool, outdoor barrel sauna & 14′ wide trampoline (shared with other the Container house).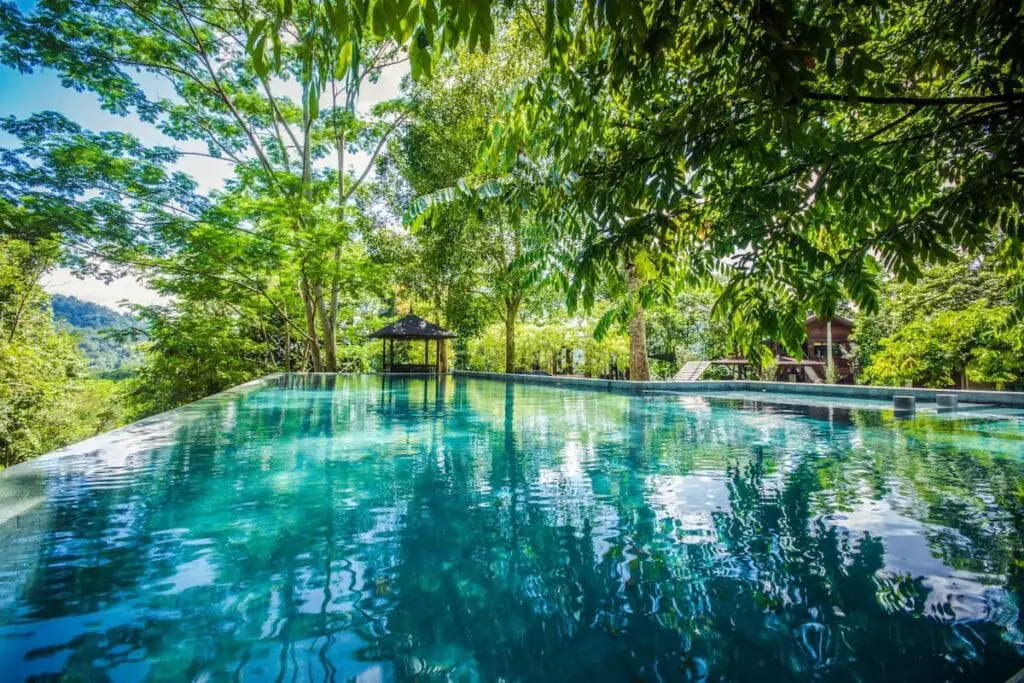 Wi-Fi is provided. For your culinary needs, charcoal with a BBQ and other kitchen equipment is also provided.
Breakfast is included in the price and when you arrive, it's ready in the fridge. Bread, butter, jelly, eggs, bananas, coffee and tea are all included, so get your aprons on.
In the kitchen, there is no dishwasher, but a bit of elbow grease will do the trick. There is a small cooling area next to the kitchen and dining area, with hammocks and a great view of the jungle for those who want to relax. 
A large air-conditioned multipurpose hall with a 50 inch HDTV is located on the third floor if you find you need to wind down.
Dawn Haven Private Resort | Bentong
Dawn Haven, Janda Baik has found a sweet spot in terms of aesthetics, somewhere between rustic villa vibes and grand luxury.
Whatever they've done with the place, it's guaranteed to make you fall in love at first sight.
Nestled in the Central Mountain Range just 40 minutes away from the centre of KL, the exclusive retreat holds no punches to offering a sublime look and feel for its guests.
The architecture is evidently inspired by maritime elements that extensively utilize Indonesian old teak which is what brings out the rustic ambience as a whole.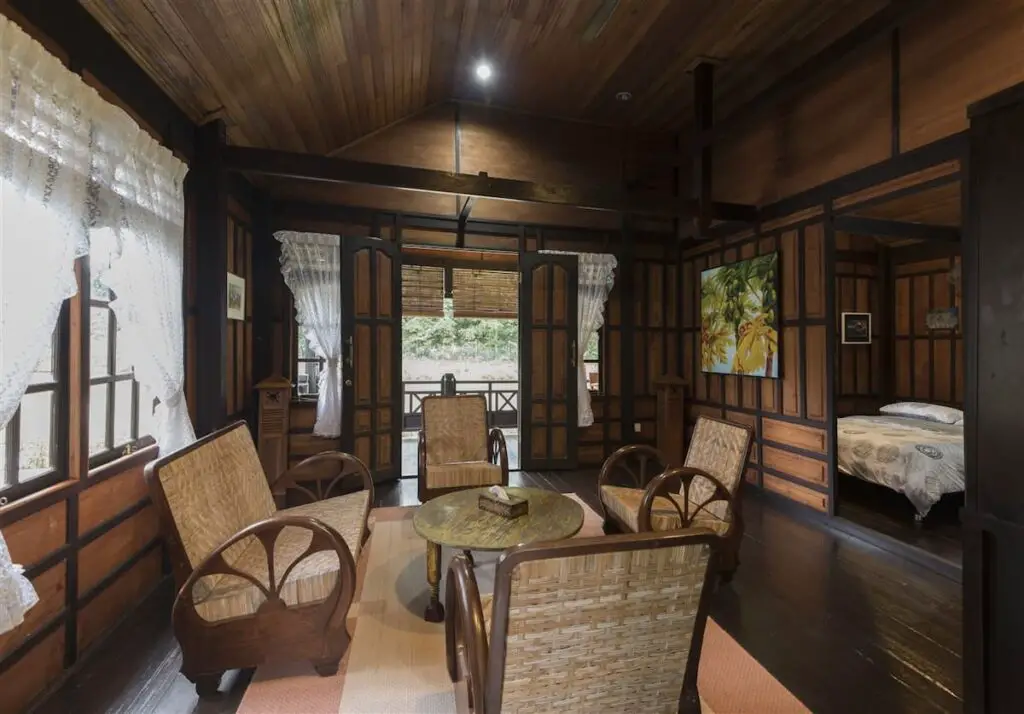 Dawn Haven provides over twenty different varieties of fruit trees and fish ponds and a wide variety of flora and fauna for outdoor living. 
The ultimate sanctuary and family retreat is Dawn Sanctuary.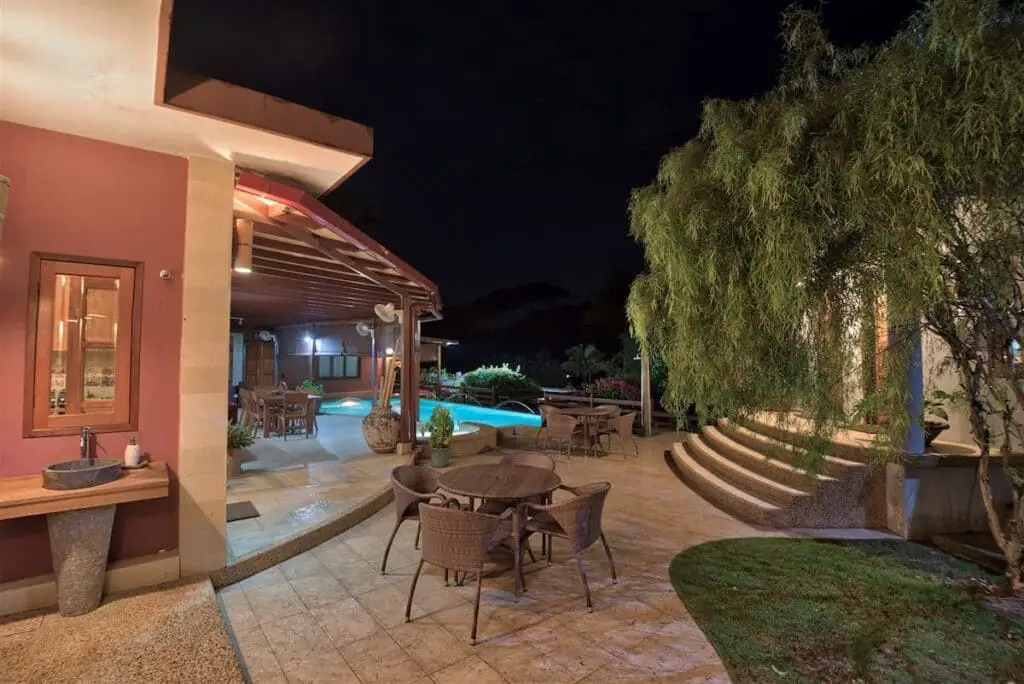 There are so many things that contribute to Dawn Haven's impeccable experience. For one, the balcony is stunning – much like the rest of the villa. The garden outside is massive and perfectly compliments the encompassing mountainous landscapes that are clear in the day.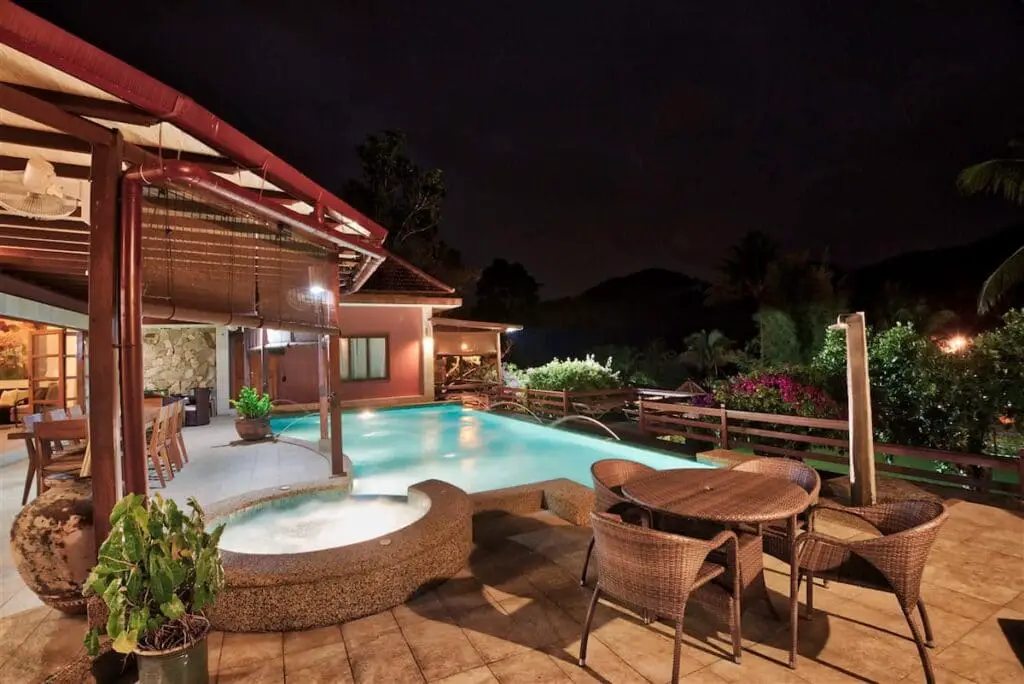 When it gets hot, the luxuriously designed outdoor swimming pool is there to cool you off. On cold nights, there's a hot tub and a sauna to warm you up.  suave, romantic and elegant.
Featuring 9 bedrooms, 2 baths, a flat-screen TV, and a beautiful patio, Dawn Haven takes you to another world that's suave, romantic and elegant.
Sea Horizon Resort | Kota Tinggi Johor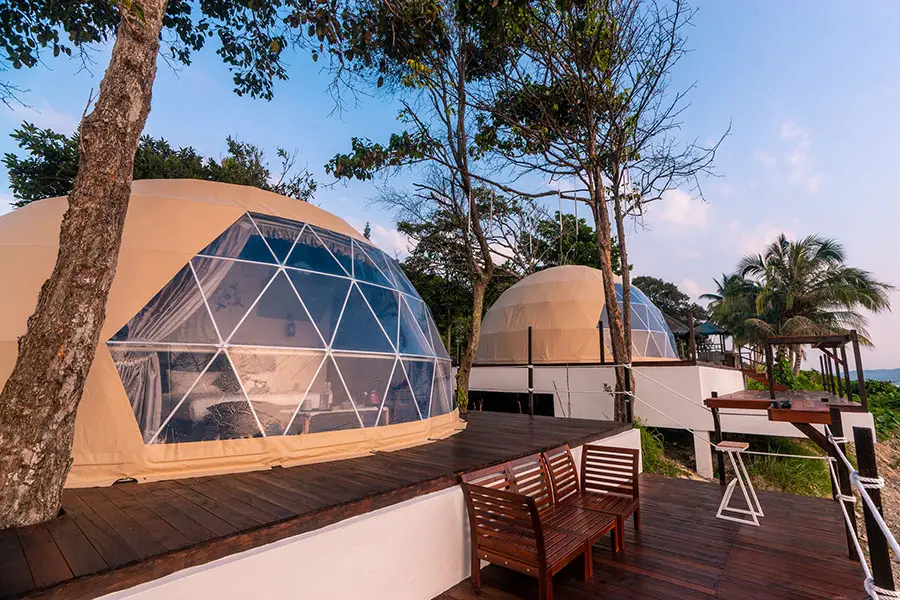 The Sea Horizon Resort has an interesting theme that in turn  inspires its overall concept, because it's peacefully hidden in the serene fishing village of Sedili Besar, which was constructed high over a breath-taking cliff overlooking the South China Sea.
Only 1.5 hours east of Johor Senai Airport, this magnificent stay will definitely bring you back to nature, and one step closer to your inner self.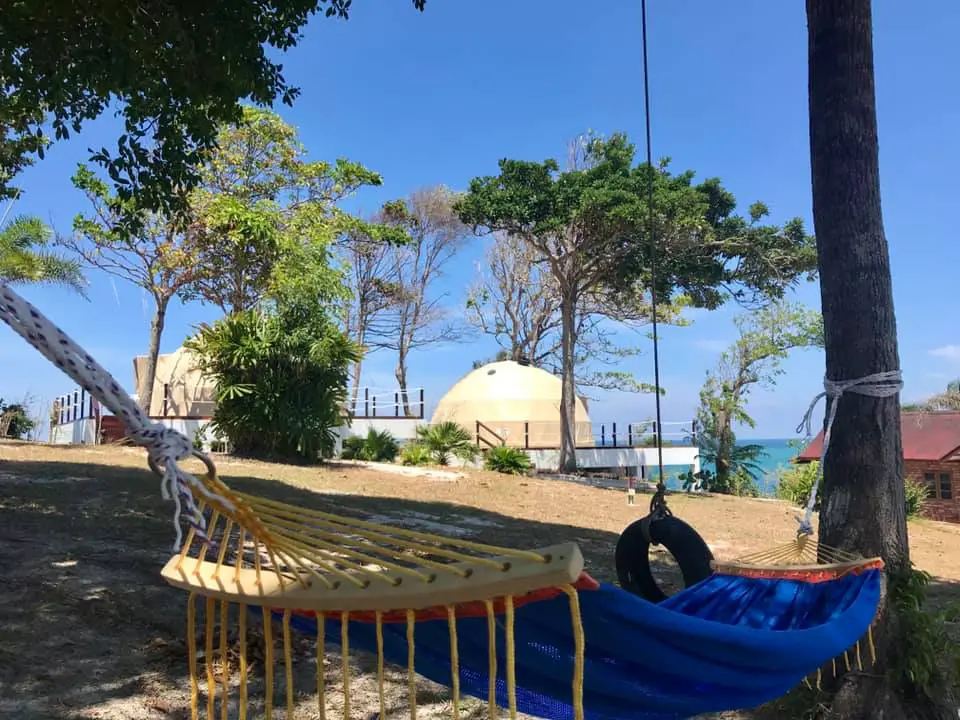 To embody the spirit of old seafarers in the development of Sea Horizon Resort, Sea Horizon Resort has drawn profound inspiration from the local people, culture and architecture.
This "Mediterranean" by-the-sea life is modest in its ways, but one that transmits in modern, fast-paced culture the laid-back, relaxed and peaceful elements that are highly uncommon these days.
Sleep in one of the resort's famous igloo domes under the glamping-style stars that give unhindered panoramic sea views over the cliff. 
Lie back from under the covers on the bed and stargaze – among couples looking for a relaxing yet romantic getaway, the Sea Horizon Resort is a popular choice.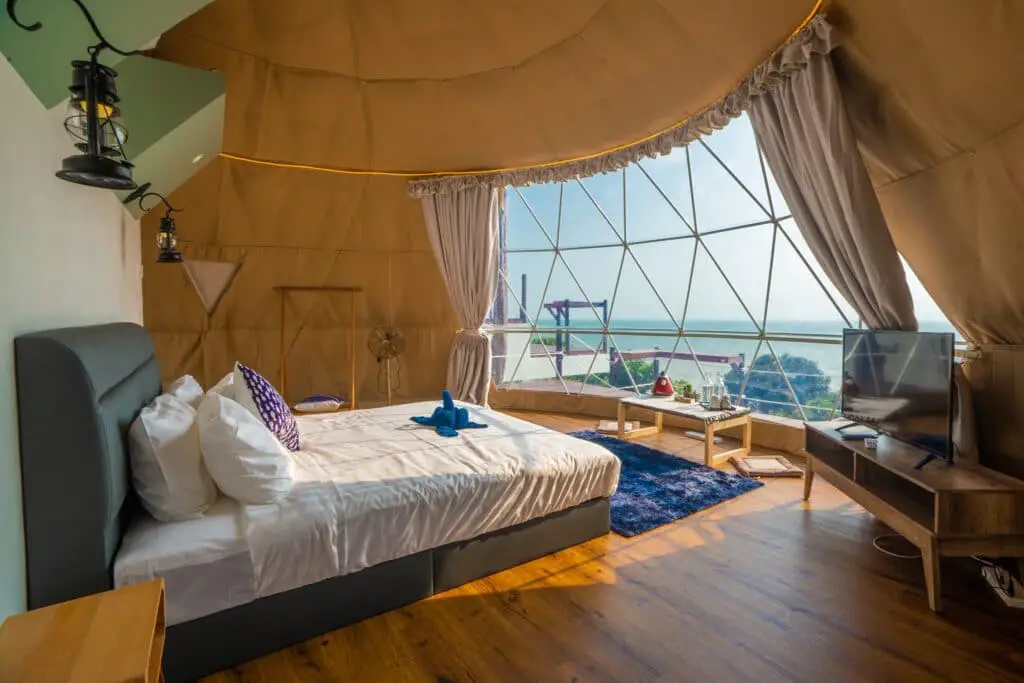 A king-size bed, a TV, air conditioning and a fan, a mini-fridge, a kettle, a private bathroom and a hot tub, a private viewing and dining deck, and a swimming pool are all included in the suite. 
Overlooking the sea, the rooms promise you a good night's sleep.
When you schedule a getaway here, know that you'll be leaping head first into the liberating arms of nature – hop on a bike and begin your discovery of the nearby historic fishing village, go kayaking, paragliding, bird watching, or just have a relaxing soak in the pool. 
Although there's not much in the area around the resort, it's a quick one-hour drive to Johor Bahru town centre.
Tanjung Rhu Pool Villa | Langkawi
On the other spectrum of aesthetic glory, the Tanjung Rhu Pool Villa @ TRV takes a step away from all the rustic beauty and leans more towards a uniquely designed foundation that's more contemporary and modern.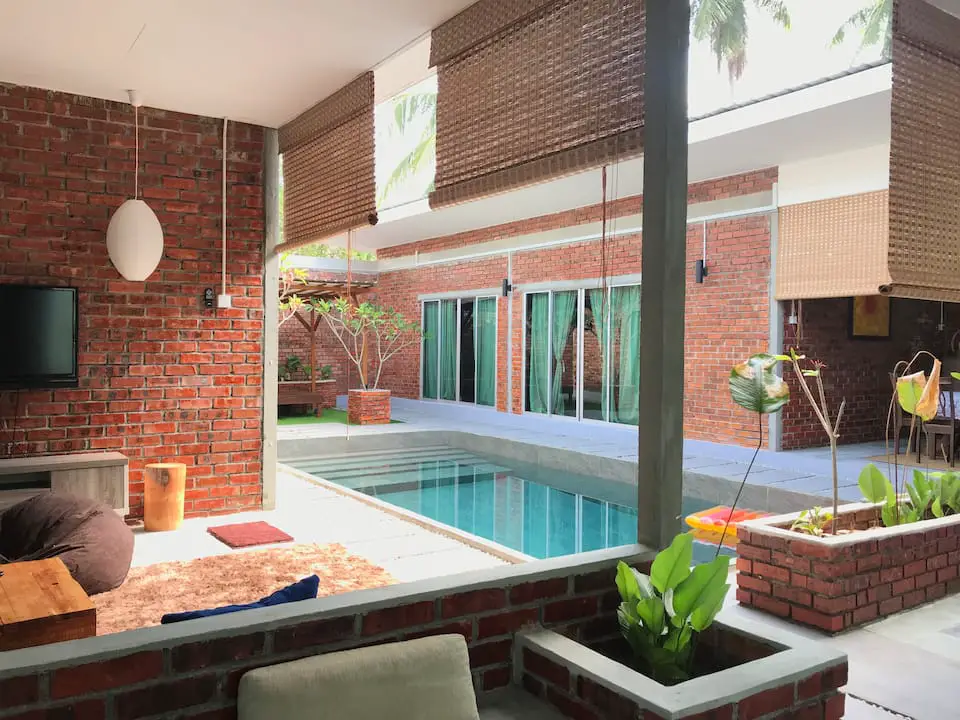 For one, the red brick walls lining most of the villa's quarters are striking, and it makes for a nice, solid look and feel in totality.
This, combined with streaks of green in the form of tiny plants and other flora, along with a beautiful emerald-colored pool right smack in the middle of the villa's layout makes everything look like it belongs in a designer magazine.
Apart from the private pool, other amenities include WiFi and a private parking. Of course, the villa is air-conditioned and dons 4 separate bedrooms as well as a dining room and a completely fitted kitchen.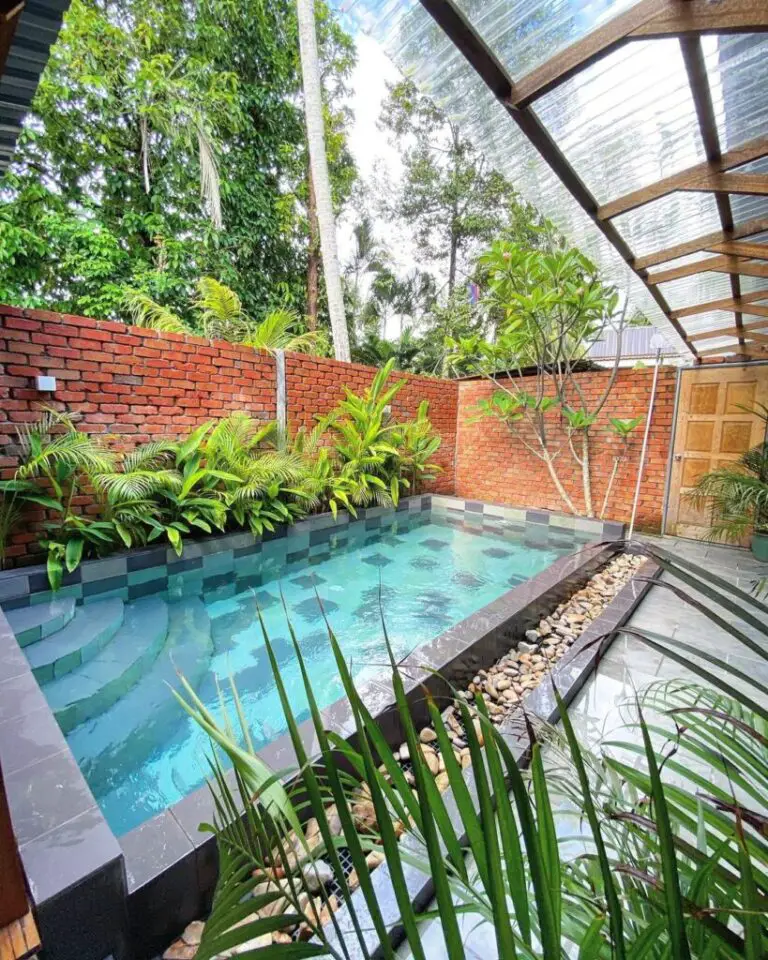 All-in-all, this is a great private villa with amazing design, convenient accessibility and subtleties that make a world of difference.
To enrich the experience of visitors, the concept is to let the tropical exterior spread into the house. Most of the furnishings are hand-made to improve the elegance of the villa.
Puncak Rimba Villa Lata Timur | Bentong
A tinge of oriental design, mixed in with earthy color palettes and a spacious interior fit for a king – that's a summarized description of  Puncak Rimba in Bentong, Pahang , nestled high up on a very private mountain and surrounded by miles and miles of picturesque rainforest beauty.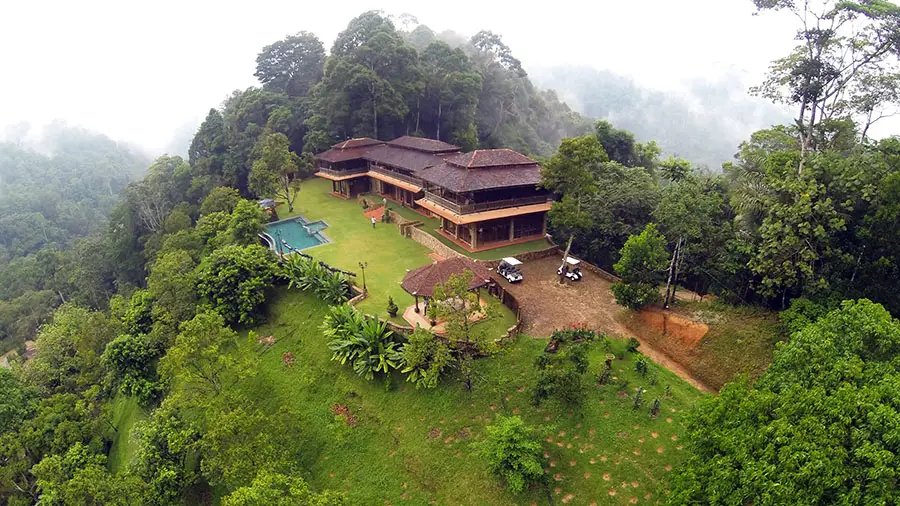 If you seek momentary peace and calm, away from whatever's bothering you in the city, then this option will definitely clear your head.
The enthralling sounds of nature and endless fields of perfect green are enough to leave you breathless.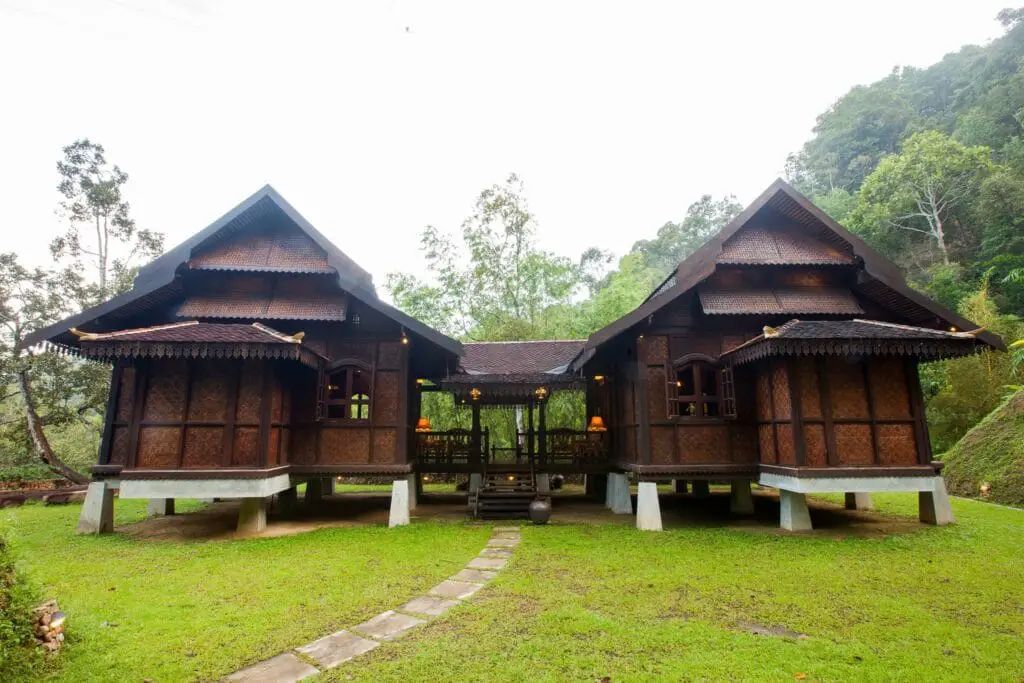 Book this two-bedroom villa for a weekend stay in the arms of nature that is clearly kampung-inspired.
On request, breakfast and other meals will be served here (most of which are prepared via delicious Malaysian-cooking styles) and guests are also invited to bring along groceries to prepare a feast in the completely equipped kitchenette of the villa.
Guests will be pleased by the intricate Malaysian architectural style of the villa. Villa Puncak Barat & Timur is 2 out of 6 villas situated at the top of the hill in Puncak Rimba, with an infinity pool facing lush tropical views.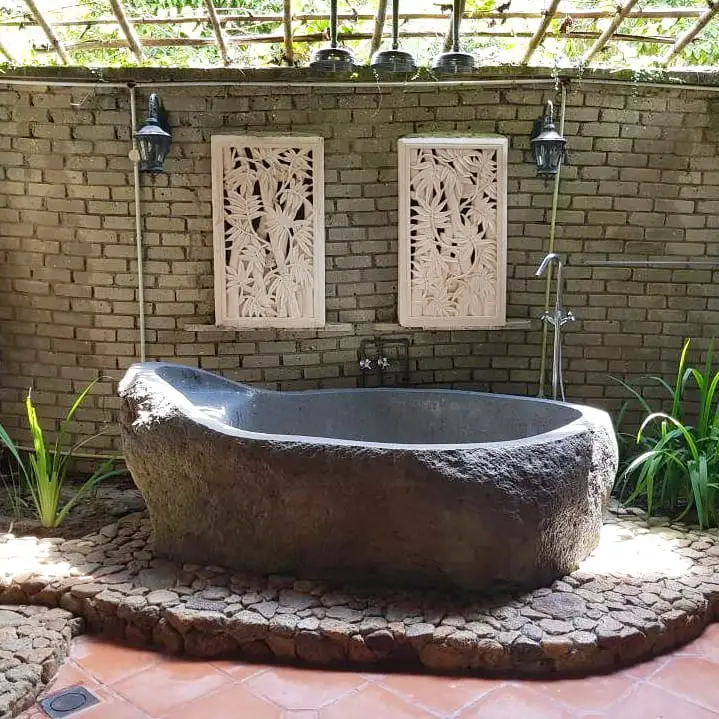 This connected villa can comfortably accommodate 8 guests, has 2 bedrooms (each room has 1 king-size bed and 2 floor mattresses), 2 bathrooms with a Jacuzzi tub, a dining area, a fully fitted kitchen, and a patio with views of the pool.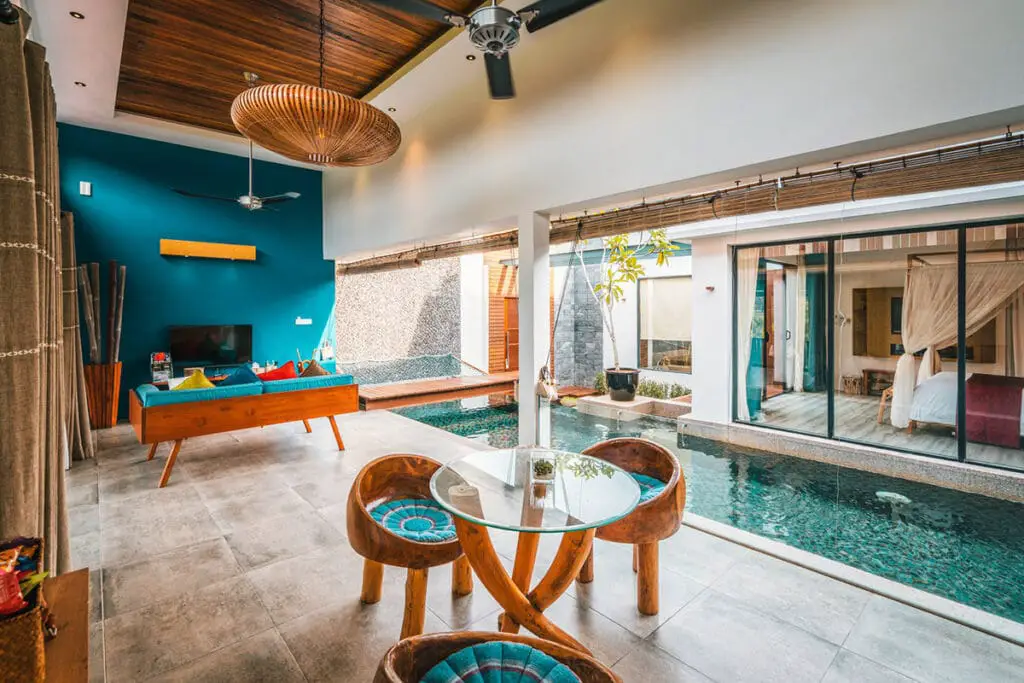 Image source: La Villa Facebook
Found in the quaint and lovely village near Pantai Cenang, La Villa Langkawi offers peace and quiet, as well as endless luxury among many other things.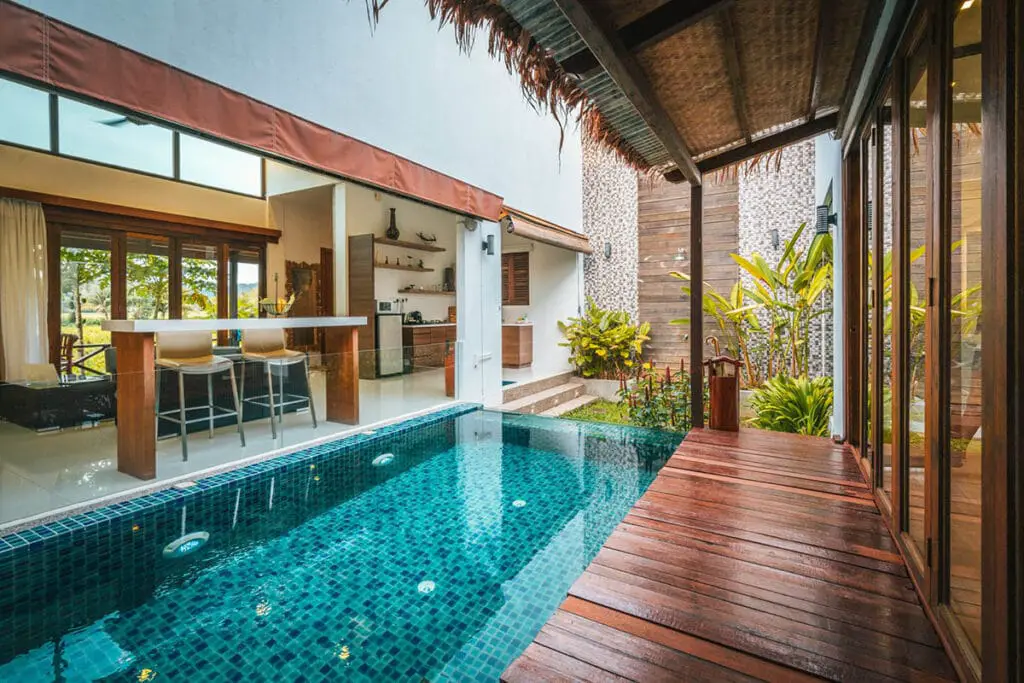 An elongated private pool, accompanied by an extensive ensemble of beautiful architectural elements, are some of the key attractions to La Villa.
Woven furniture, luxurious tiles and plenty of flora tie the whole interior together while spacious rooms and fresh air from the clear Langkawi sky fill the ambience with absolute bliss.
Living rooms and refrigerators provide conveniences, and visitors can appreciate thoughtful touches such as espresso makers and bathrobes. On request, housekeeping is available.
Featured amenities include dry cleaning/laundry services, a 24-hour front desk, and luggage storage facilities. All-in-all there are 12 soundproofed villas, and they come ready with minibars and even a poolside bar.
This gorgeous villa is a real find, and it's built to render visitors totally at ease with serene and quiet surroundings hidden from all the noise and traffic.
The location is accessible too, since Pantai Cenang's best restaurants, pubs, beaches and surfing spots are just 800 metres away. Pantai Cenang is well known for its delectable food, shopping destinations and nightlife on the island. 
It's close to the beach too – it's a 3-minute drive from Tengah Beach and 9 minutes from Pantai Cenang Beach.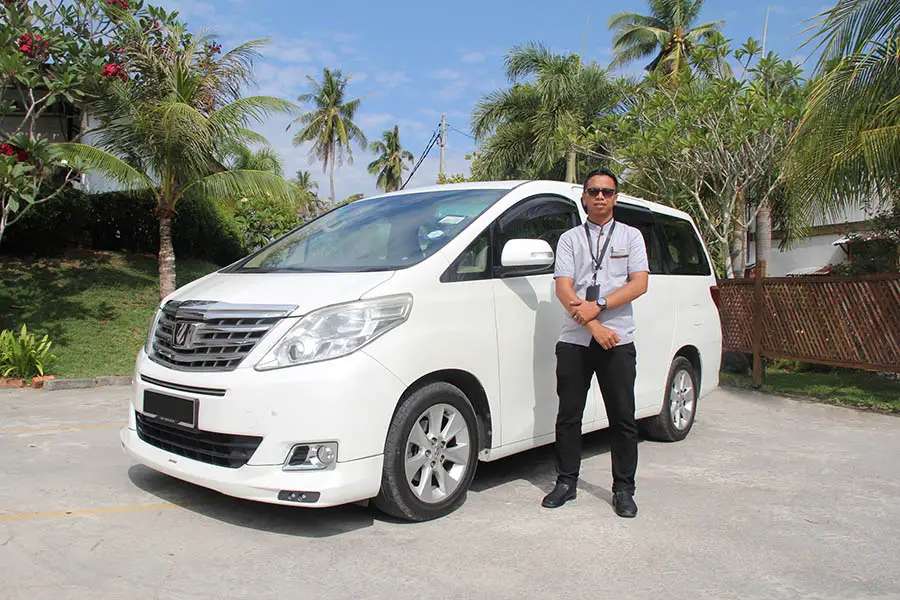 A round trip airport shuttle (available 24 hours) is free of charge and a ferry terminal shuttle is also offered free of charge.
Take note that except for Grab service, there is no public transportation in Langkawi; therefore, we strongly suggest renting a scooter or car to explore the island.
Whether you're out with your friends or family, a place to lay your head down when you come back is important. Looking for more unique stays?
Explore all on placefu.com