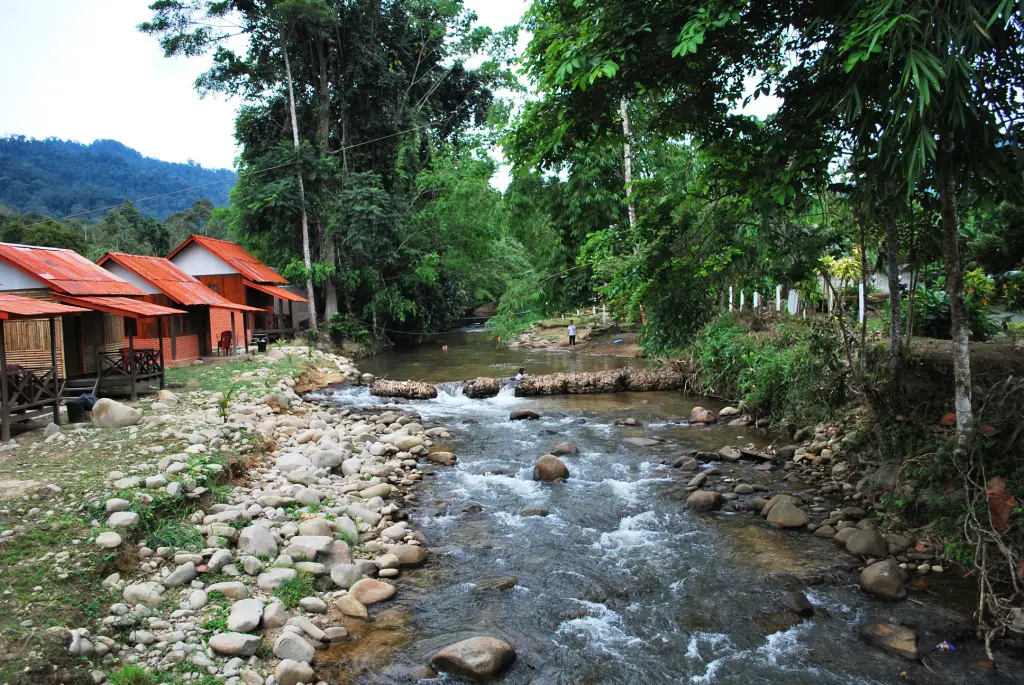 Beautiful mother nature, dense forests, rolling hills, fogs and mists – these are the words that come to mind whenever you think about Janda Baik. Located in Bentong District, Pahang, this rural village of Janda Baik can be reached in just under an hour from Kuala Lumpur.
For those who are curious, Janda Baik or directly translated to English as the Good Widow actually has an interesting story behind its name. Back in the 1930s when it was first founded, the village was called Kampung Tiga Haji until it was permanently changed to Janda Baik six years later. 
It is said that the name was chosen to honour a kind-hearted widow in the village who nursed injured villagers that took part in a war in Selangor.
As of today, Janda Baik has been transformed into one of the best destinations for a quiet holiday in Malaysia. It is also brimming with an abundance of activities and places of interest ranging from camping sites to hiking trails and unique cafes. 
So, continue reading below and discover what Janda Baik has in store for you.
Things to Do in Janda Baik
You can never say you're having a great weekend getaway in Janda Baik without witnessing the magnificent seven-tier waterfall. Aside from its rich mother nature, this spot is also perfect for avid hikers out there.
But, make sure you're wearing a good hiking outfit as the trail could be slippery and uneven at times.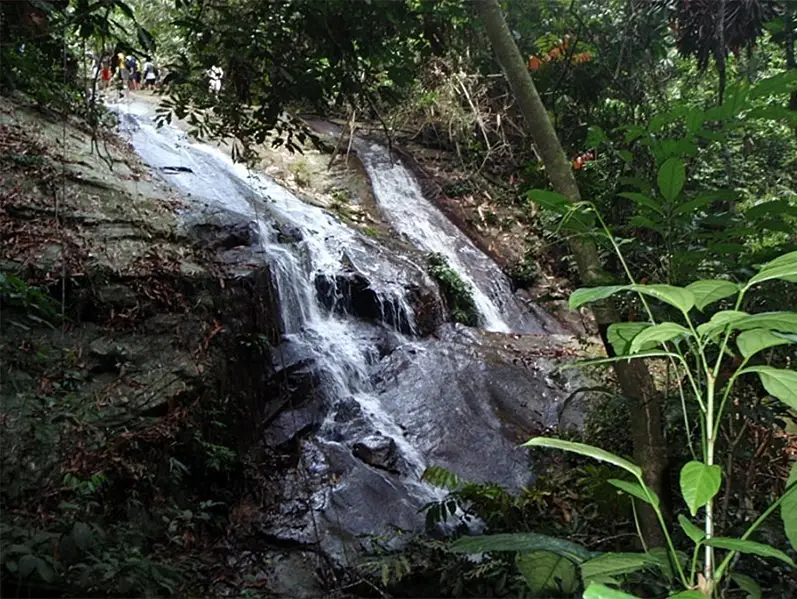 However, do keep in mind that this waterfall is actually located within a reserved forestry territory. So, you must request for a permit and book a local guide in order to explore the area.
Since the waterfall is also under the care of a local association called Sahabat Alam Tampik, feel free to contact them at +6016 3304321 should you wish to plan a visit to the waterfall or if you have any other enquiries.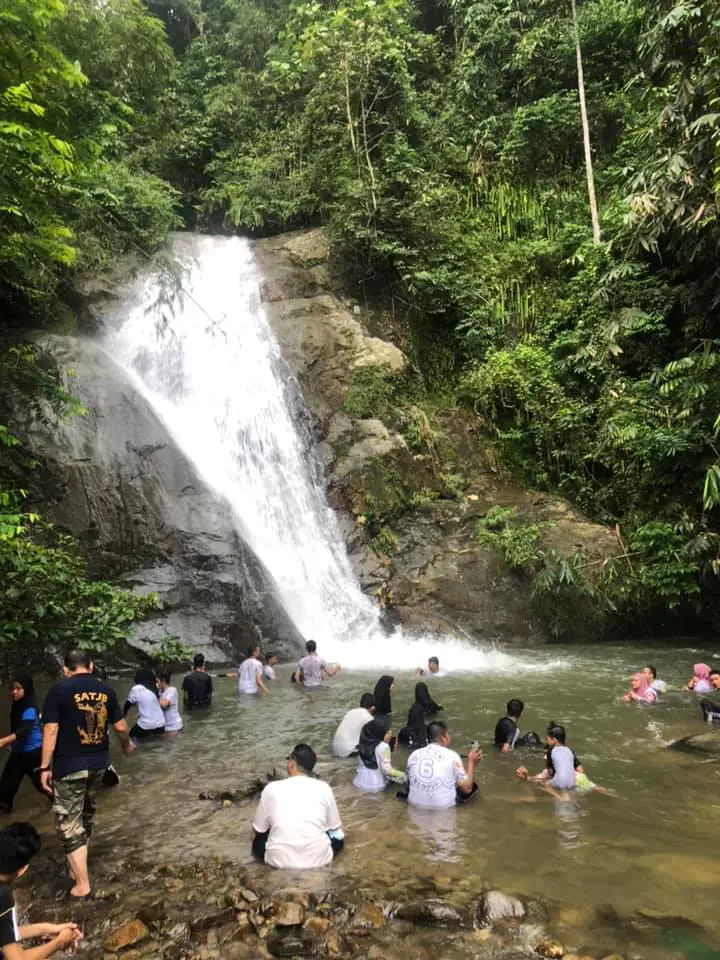 You can even contact them if you're having trouble finding a local guide to assist and guide you through the waterfall trail since the association has over ten local guides ready to show you the mesmerising beauty of Ulu Tampit Waterfall and its surroundings.
Horse Riding at Bidaisari Stables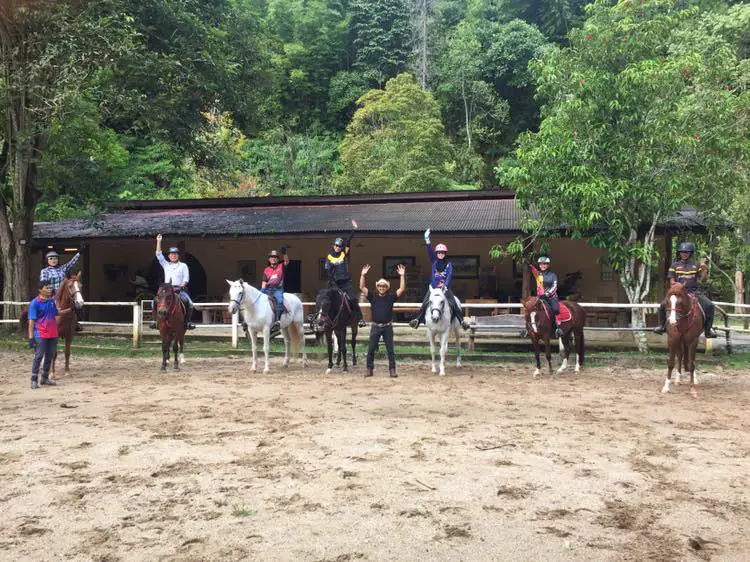 Not a fan of hiking activities? How about going through the lush green forest on horseback? Don't worry if you've never ridden a horse before a there are friendly instructors ready to show you the ropes.
At Bidaisari Stables that is located in Kg Cheringin, you can choose any of the packages available; short ride, 40-minutes riding lessons, and jungle trekking where you can get a chance to get on the saddle and explore the tropical rainforest and cross the river streams. 
Other than horses, this place also has a fig farm that you can tour around!
If you wish to include this activity in your itinerary, be sure to book the package that you want at least two days in advance! This will ensure your trip runs smoothly and you don't have to wait in line once you're there.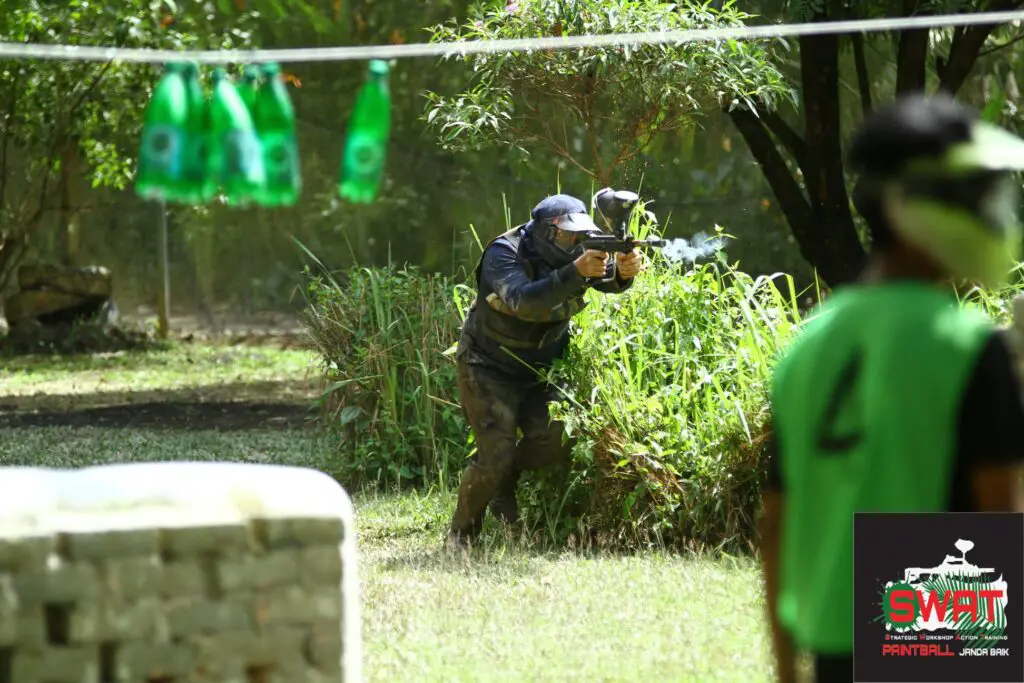 For something more challenging and exciting at the same time, you can head to SWAT Paintball, a paintball center nestled within a jungle. This place has different levels suitable for both beginners and experts – even children can participate in this activity!
As for those who are travelling in families, you can opt for the easier arena where you'll be shooting paintballs on a smaller field. What makes it different from the typical paintball arena in the city is that this one is fully equipped with natural bushes, streams, and bridges – making the experience as real as possible. 
If you want to step up the game a little bit, go for the harder arena where instead of an open field, you'll be competing on jungle terrain.
A Little Farm on the Hill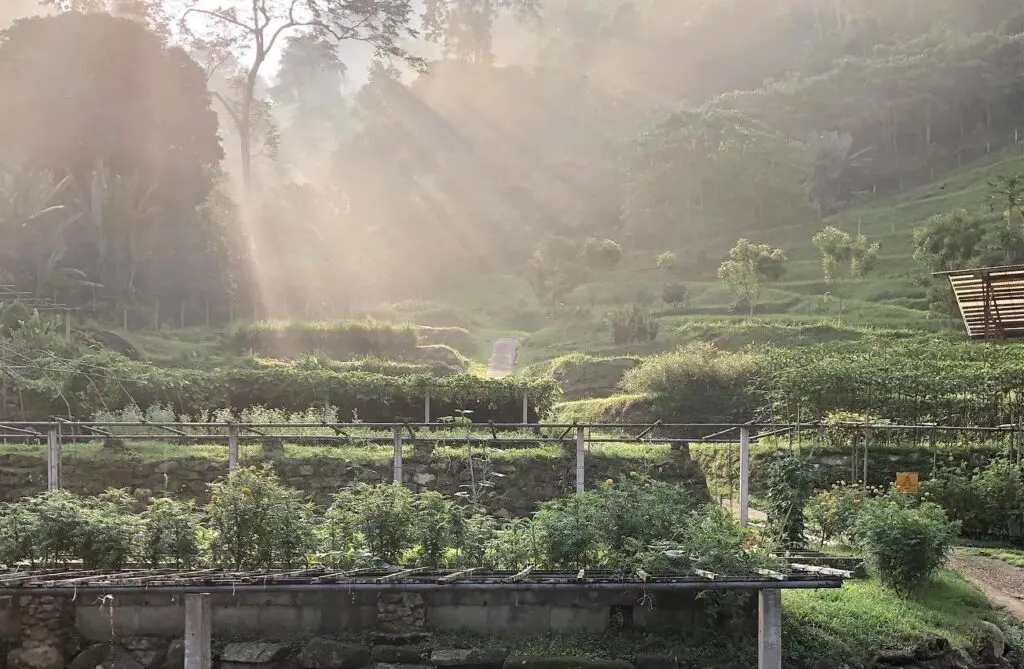 After all those outdoor activities, it's finally time for some relaxing hours. This 6-acres farm in the forest is a quaint location that offers an array of calming activities, making it perfect for those who wish to unwind heaps of stress. 
For green thumbs, go ahead and book the gardening class. In the mood for some action in the kitchen? Join the cooking class where you'll be preparing mouth-watering dishes using only fresh farm products.
Other than gardening and cooking classes, A Little Farm on the Hill also hosts yoga retreats and other interesting events such as theatrical performances and small concerts. So, check their calendars first to see what's on!
Here an overview video of their farm and farm-to-table restaurant some time back by UNOX the Italian oven maker.
Where to Eat in Janda Baik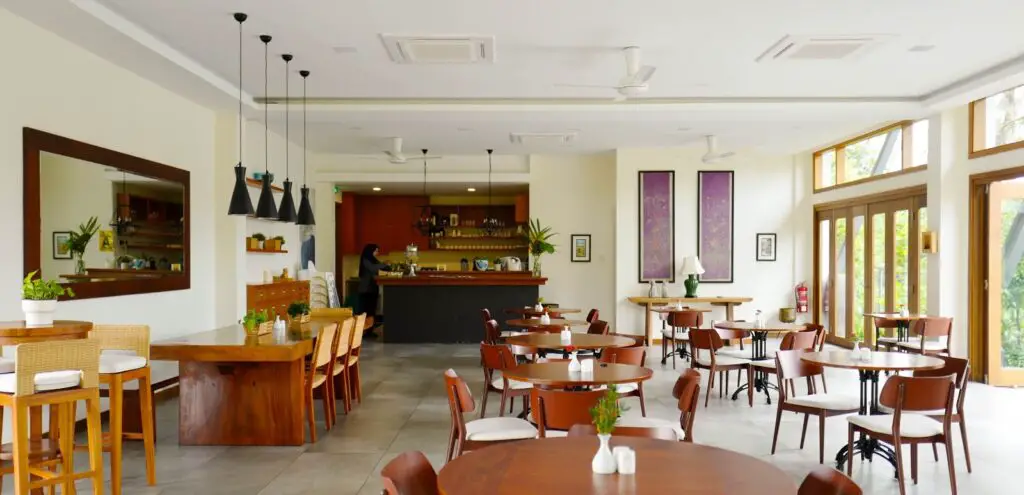 Nestled within Embun Luxury Villas is an elegant eatery called The Cafe. Since it is set on top of a breezy hill overlooking the thick green forest, you will straight away notice its breathtaking panoramic view and the mountains acting as your backdrop – so ready your cameras as this spot can be a great photo opportunity.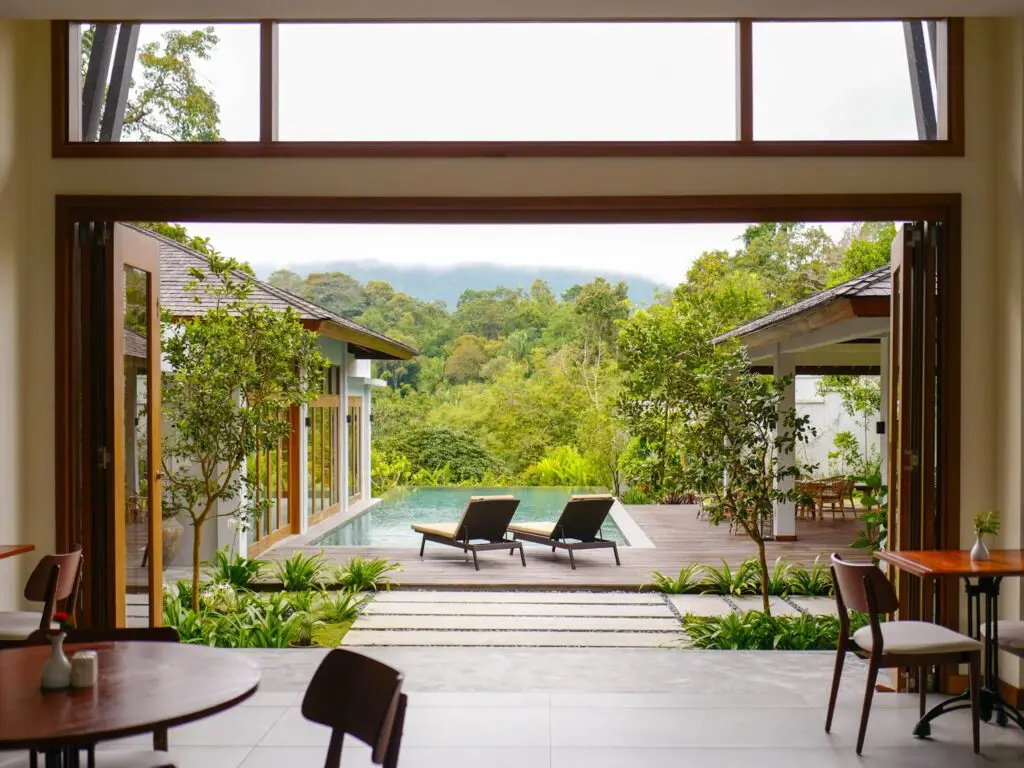 While listening to the sounds of nature breaking the silence, take your time browsing through its long list of creative and high-quality dishes prepared by a highly experienced chef. What's best is that the chef only uses local supplies to enhance the flavours. 
Among the best dishes that you can try here are Lempeng Janda-Baik Style, a hearty plate of pancakes accompanied by Sambal Hijau and anchovies. For something heavier, order the tantalizing Tempoyak and enjoy it with hot steamed rice. 
Prefer international cuisines? Get your hands on the Ribeye Steak Sandwich or Embun's Pesto Pasta.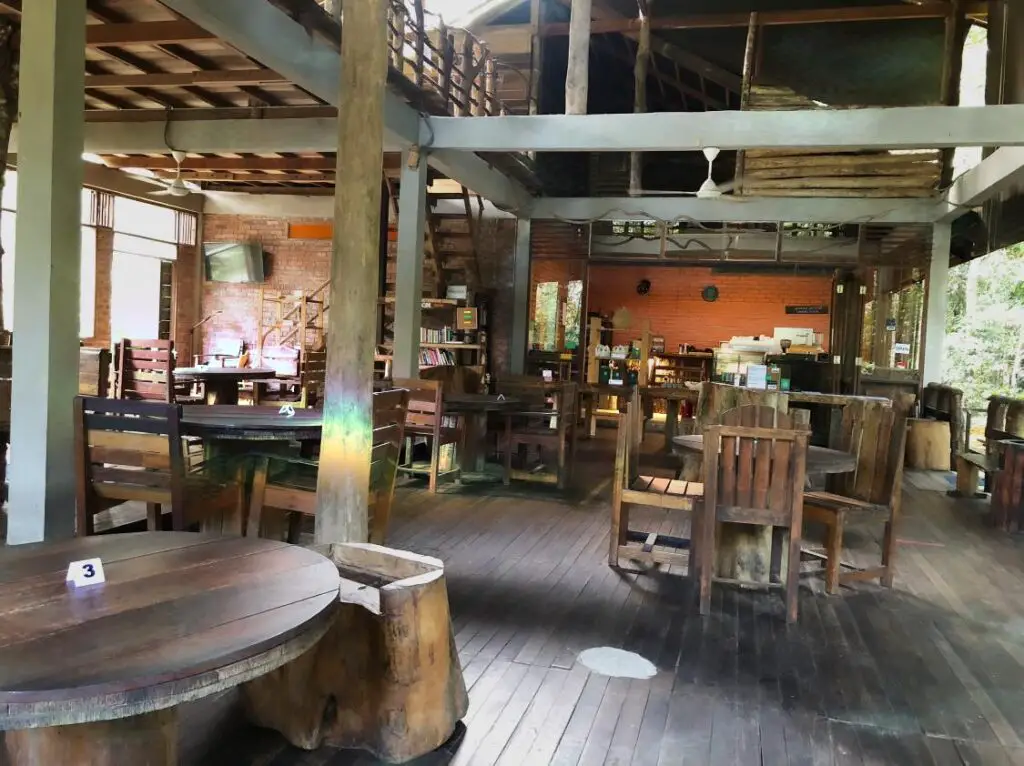 How about taking a sip of a freshly brewed coffee while reading your all-time favourite novel in a cafe tucked away in a breezy forest? 
If you'd like to experience that, then make your way to Pinto Coffee. Also, don't fret if you don't have a book with you as this cafe has its own shelf full of novels – just remember to put them back once you're done reading.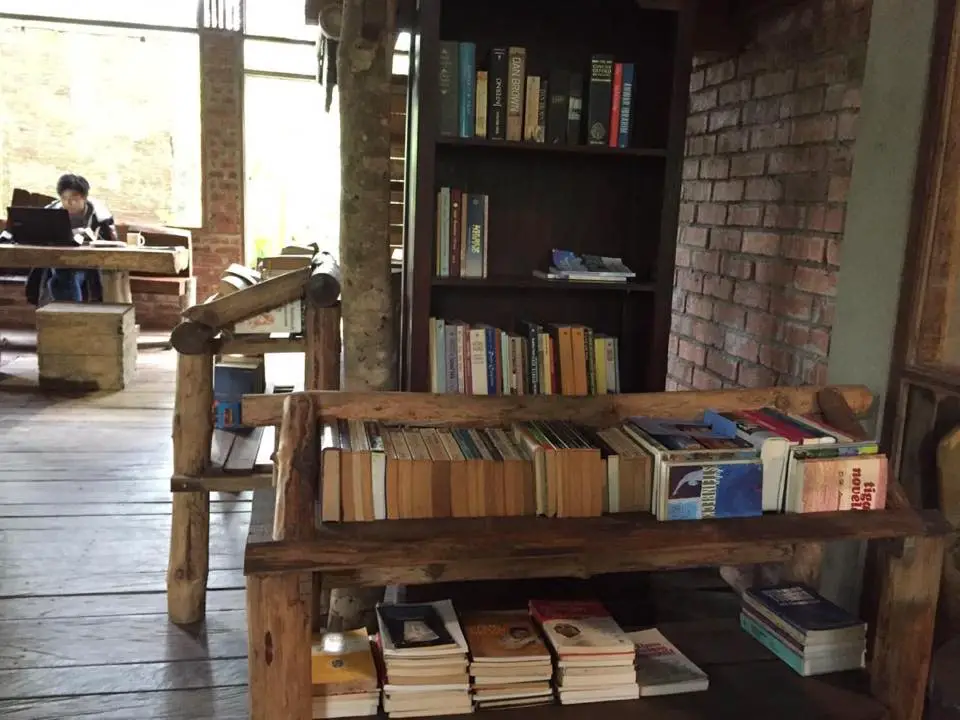 This unique cafe is adorned with rustic decor where almost everything is made out of natural wood! But, what's a coffee session without a great snack by your side? 
At this place, you can choose from the several sweet desserts available such as the classic and blueberry cheesecakes, and other traditional Malay desserts. 
If you want to try something different than your regular latte, order their Ice Blended Coffee & Avocado – you won't regret it!
Can't get enough of the aesthetically pleasing cafe complete with rustic feels and green environment all around you?
Then plan a visit to Pineyard whenever you're in Janda Baik. This cafe, however, might get slightly crowded during the weekends despite its hidden location, but it can still provide you with a pleasant and serene atmosphere.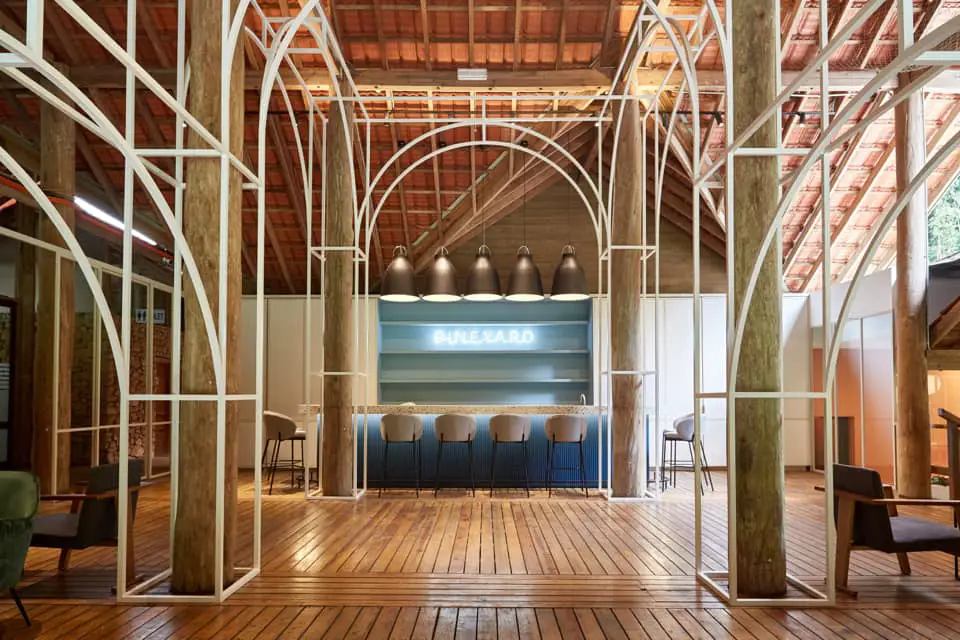 Image source:  Pineyard Facebook
Featuring high ceilings and simple yet elegant wooden floors and furniture, Pineyard is not only best known for its quaint ambience, but also for its family-friendly menu.
Hungry for a generous plate of breakfast? Then go for their Big Breakfast which includes classic breakfast items such as a piece of sourdough bread, scrambled eggs, and chicken sausages.
Craving for pasta? Order up their Lemongrass Pasta if you prefer something aromatic or the Salted Egg Pasta for something creamier and flavourful.
They even have Nasi Ayam Percik and Curry Rice should you're in the mood for some local tastes. Before leaving, don't forget to take a bite of their freshly baked croissant which goes so well with any hot beverages such as matcha green tea, latte, and cappuccino. 
Places to Stay in Janda Baik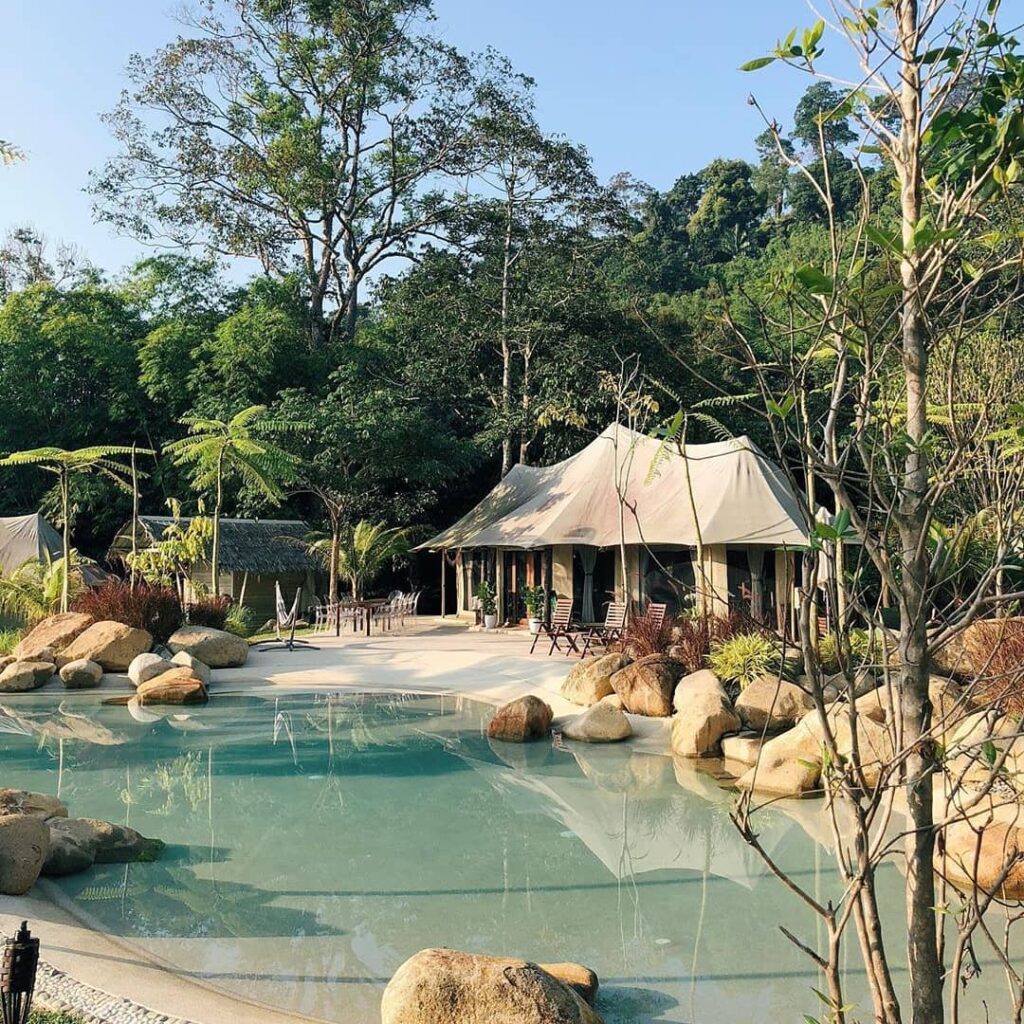 Since you're already surrounded by nature, how about stepping up the game a little bit and go glamping. This tranquil location has a total of 20 safari-style tents, 5 treetop villas, and a few suites. 
Imagine yourself waking up in the morning, listening to the birds chirping and the soothing sounds of the stream flowing through. Start the day by taking a dip in their free-form pool or put on your sunglasses and relax on the hammock. 
Spend the day having a picnic by the river and share spooky stories during bonfire night.
Canopy Villa Tampik Valley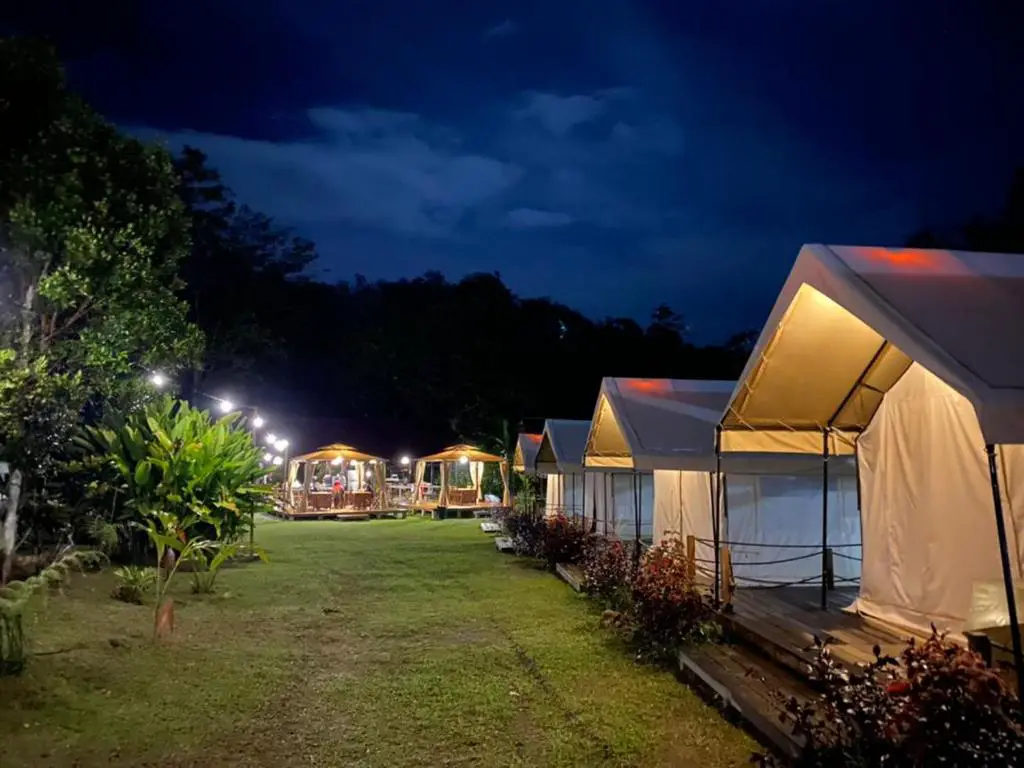 Located in Kampung Janda Baik, Canopy Villa can cater to almost everyone – from those who are on honeymoon to those who are traveling with a group of friends. This resort also features a great view of the greenery. But what's so special about them is its lively 'kampung' feel.
You can book any of their tents that can fit up to six people, each tents equipped with cooler, private bathroom with hot water shower, and a small kitchenette.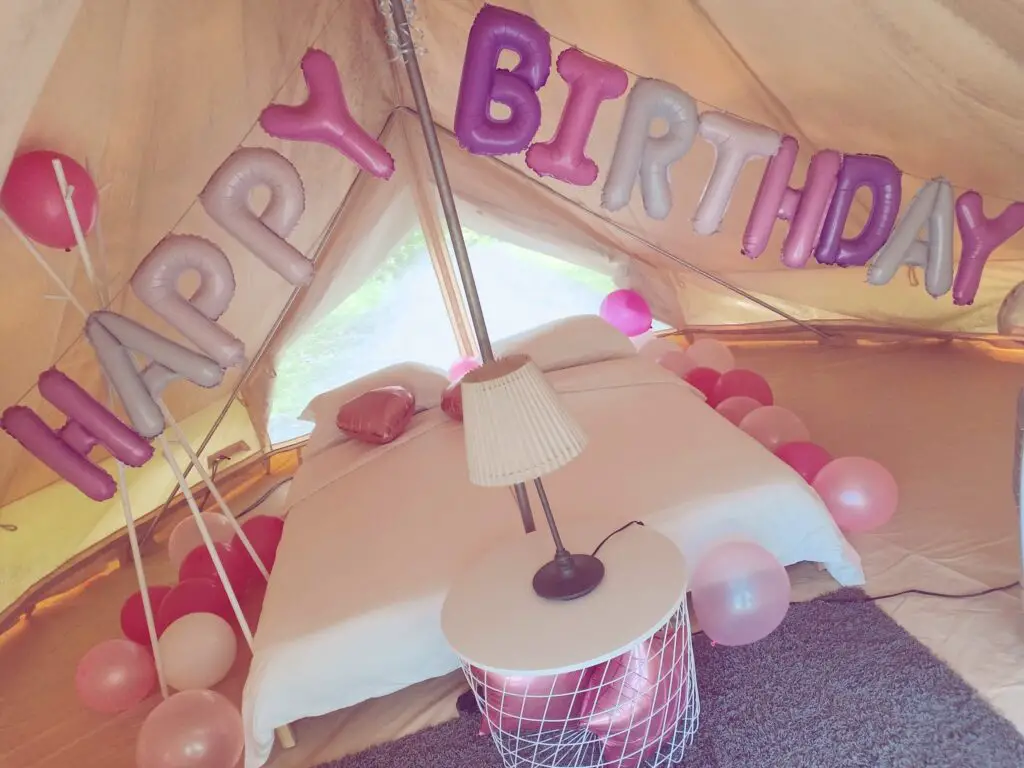 Activities includes BBQ, archery, playing at the riverside, cycling and many more!  Want to celebrate birthday or anniversary? You can also ask to decorate the tents according to your occasion!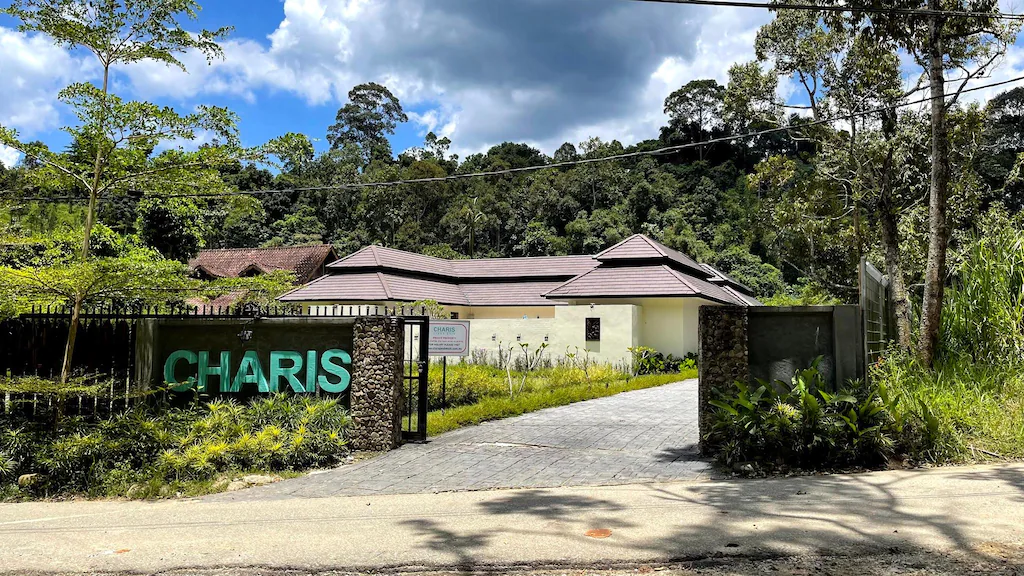 If you're searching for the best Janda Baik villa, then this place is the answer. Perched on top of a breezy hill about 500 metres above sea level, Charis River Villa can be found right across Sungai Chemperoh, one of the best rivers in Janda Baik.
This villa can also be a great option for outdoor enthusiasts out there as there are plenty of outdoor activities available near the area.
You can take a dip in the river nearby, play ping pong with your friends and family members, test your skills in soft archery or ride either an ATV or a mountain bike through the jungle trails if you're feeling adventurous.
Other than its cozy atmosphere, this place also boasts a total of four different accommodation options to choose from with most of them featuring three rooms, an ensuite bathroom, along with a kitchen and dining area.
For those who are planning on having a barbecue night, you can choose the option called Villa Emerald that has a BBQ gazebo.
However, you're not allowed to make loud noises and only Halal food is permitted.
Janda Baik is definitely the best destination if you're planning for an escape from the busy concrete jungle. By having a retreat in this Village, you can easily replace the sounds of traffic and crowds with the pleasant songs by mother nature. 
Relax, breathe in the chilly yet fresh air, take in the stunning scenery, and return home with a clearer mind.
Things that you need when you're on-the-go (Hand-picked!)
Make your travels convenient and enjoyable with these essential products by your side! We curated the products that are high rating and ready stock in Malaysia without you spending time to search for the best one on the market.
Disclosure: This post contains affiliate links. If you click these links to purchase the product we may earn a commission without extra cost to you. We carefully select the best and all products are shipped from the local by high rating seller.