Are you in the mood to hunt for some of the best Instagrammable cafes in KL, but have no idea where to start? If so, you're reading the right article as we're about to reveal some of our top 8 Insta-worthy cafes that you can find around Kuala Lumpur!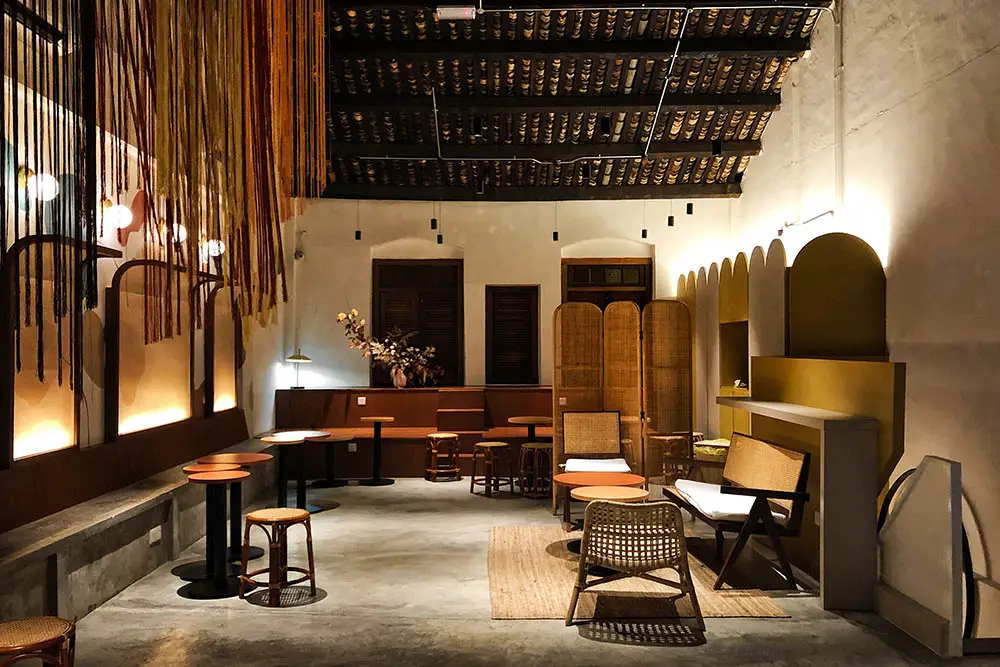 Whether you're looking for some tasty breakfast in KL or just simply in need of a great picture to post on your hipster Instagram feed, the list below is definitely for you.
Not only do these cafes have gorgeous interiors and mouth-watering menus, but each one of them is also easily accessible via public transport should you want to avoid going through long, stressful hours on the congested road!
Continue reading below to find out which cafe should make it into your must-visit list.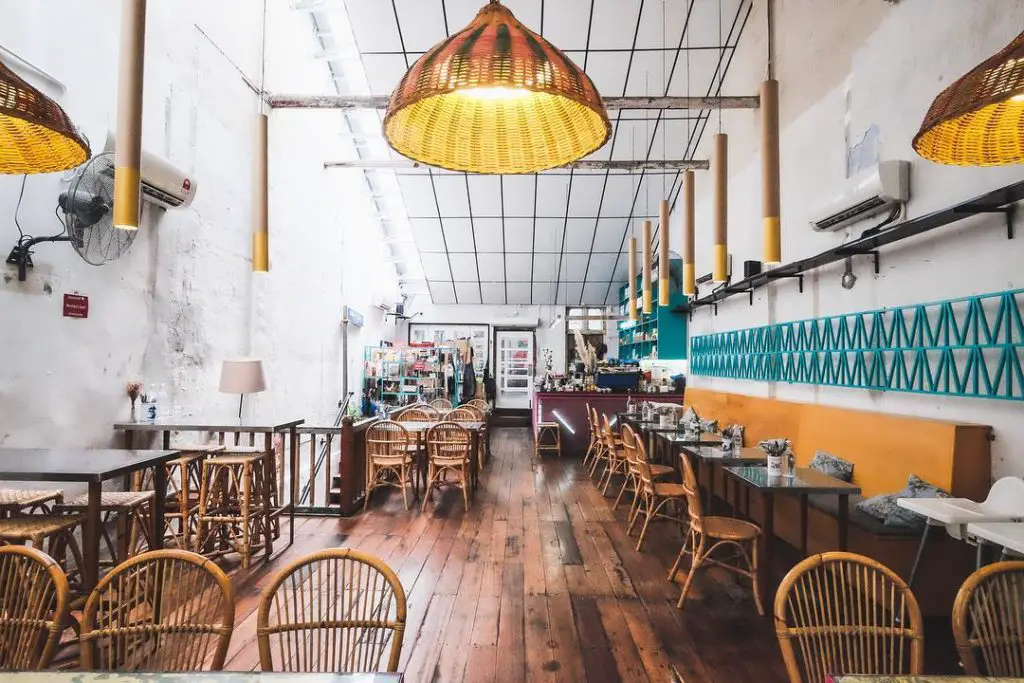 This precious gem can be located in Petaling Street, just a few minutes away from MRT Pasar Seni. What makes this cafe famous among both locals and tourists alike is, of course, its unique interior.
Built in a restored pre-war house, this building once served as a brothel a few decades ago. Today, it has been transformed into an aesthetically pleasing cafe perfect for your mini Instagram photoshoot.
Taking a step inside, you'll immediately notice its rustic surroundings especially with the exposed cement walls, old trees with their roots spreading on the run-down walls and vintage rattan furniture filling up the space.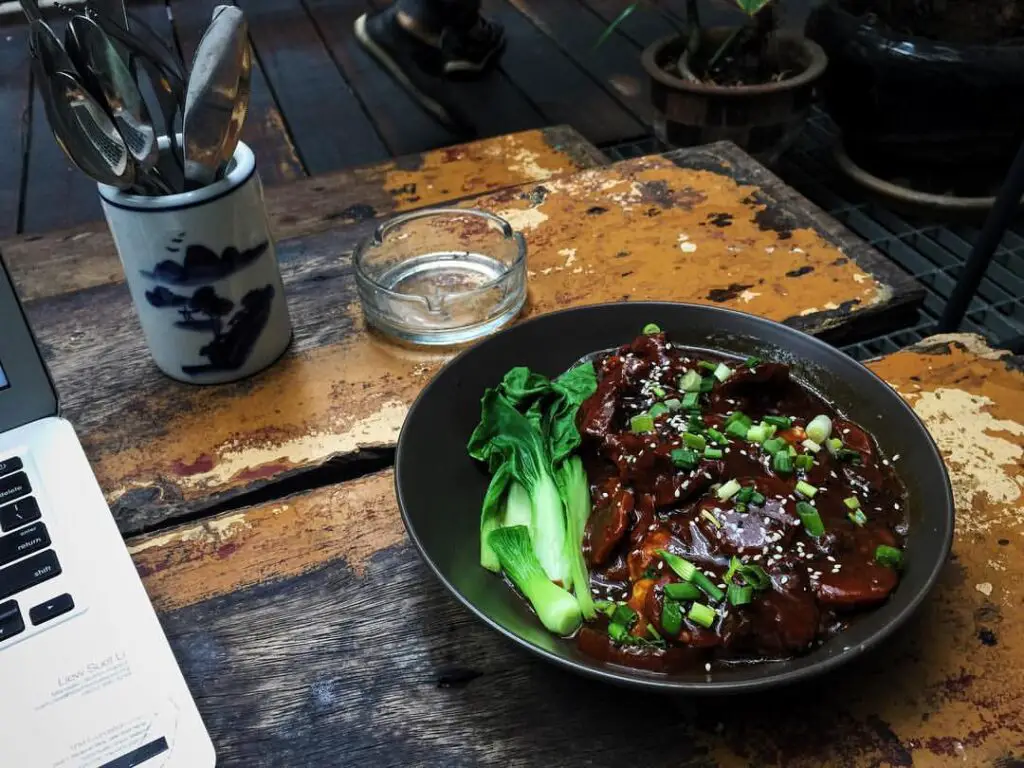 As for the food and drinks, Merchant's Lane has a satisfying menu of western dishes with a sprinkle of Asian twists—ranging from Italian Chow Mein to Hongkie Beef Stew and a plate of beef burgers with peanut sauce. The cafe also serves great lattes and sweet desserts.
Opening hours: 11.30 am – 9 pm. (Closed on Wednesdays)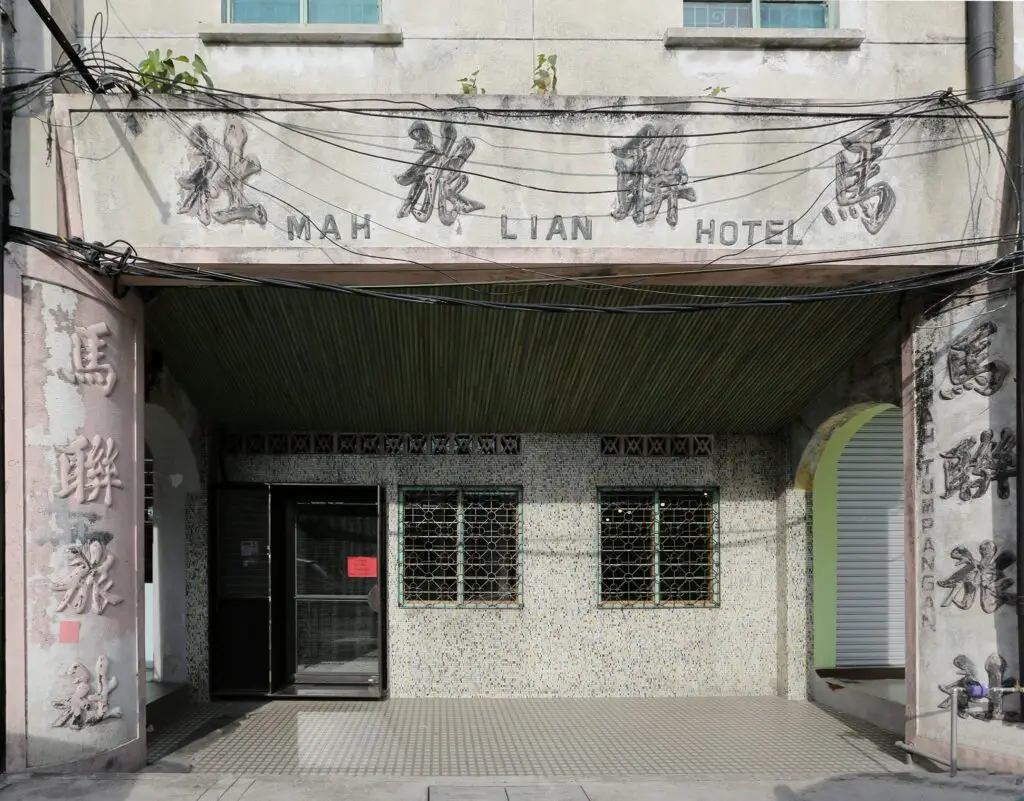 Also situated in Petaling Street, Chocha Foodstore can be reached from Chinatown in just under 5 minutes of walking distance. From the outside, this place appears rather simple, but wait until you get inside where you'll be greeted by a casual and cosy ambience.
Once a hostel, the owners of Chocha Foodstore managed to transform this cafe into one of a kind while still maintaining its vintage look. The green plants and the natural lighting of the cafe will surely look good in the pictures!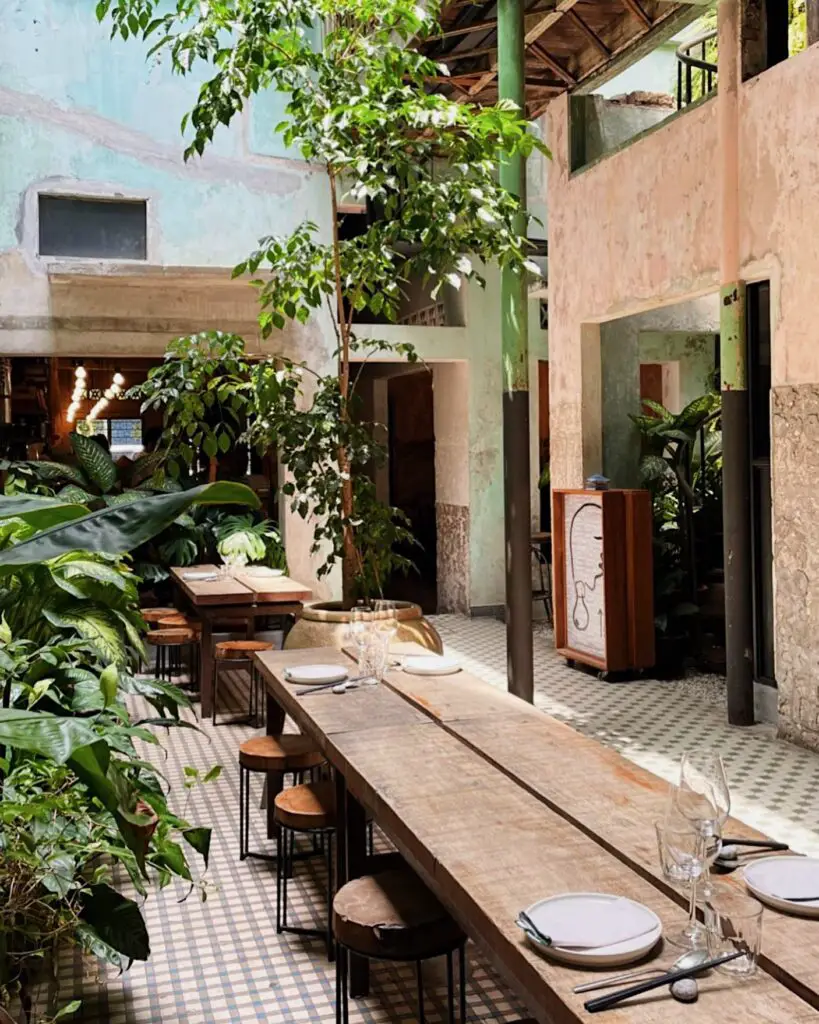 Chocha Foodstore serves an array of unique and tasty Malaysian cuisine with a splash of international flavours. You can try out their Smoked Mackerel Pate or the Oxtail Risotto if you're planning to treat yourself with something different than usual.
This vintage cafe also can be a great spot for those who want to spend an hour or two with a glass of alcohol. They have a long menu of alcoholic drinks from sake to refreshing Malaysian cocktails and Chardonnay.
Opening hours: 12 pm – 3.30 pm, 5 pm – 12 am. (Closed on Mondays)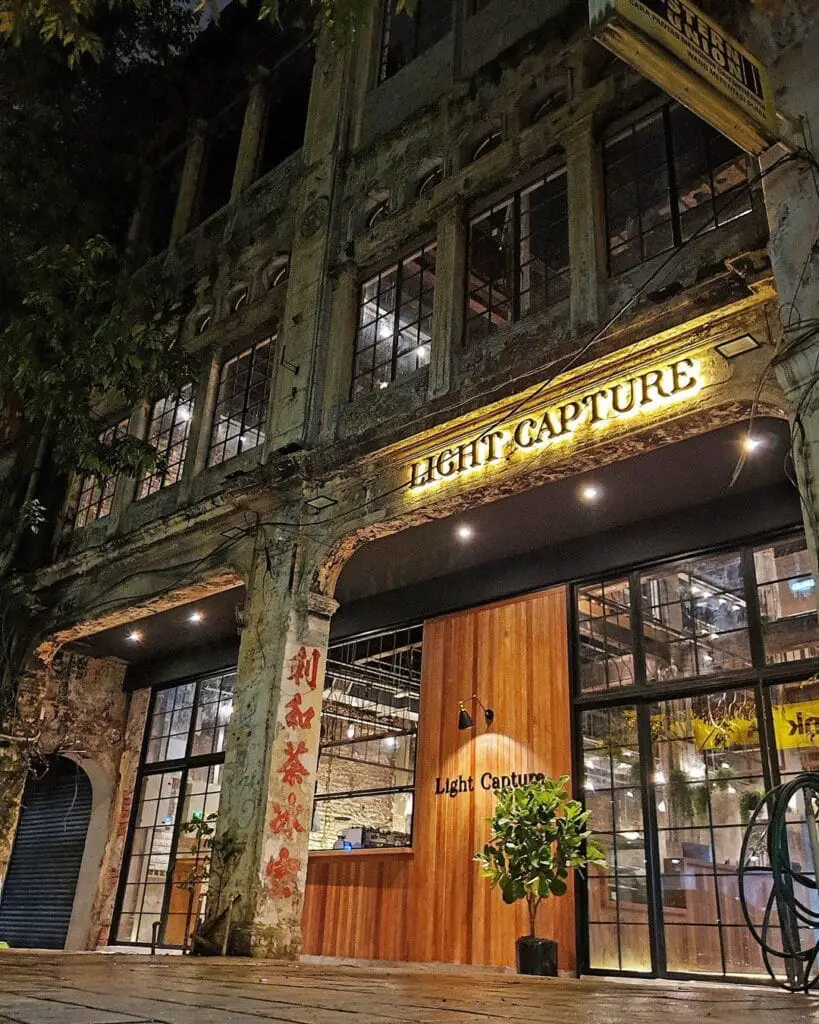 Light Capture Cafe can be found at Jalan Tun H S Lee, just 4 minutes away from the Central Market. This two-storey hipster cafe has an Insta-worthy rustic industrial interior with massive window panes that could provide you with a great amount of natural light!
On the outside, Light Capture Cafe almost looks like it came straight out of the Harry Potter universe.
You can choose to either take a seat on the ground floor that has a calmer surrounding or head upstairs where the area is a bit more open and spacious. Once you've settled down, scan the QR code for the menu and choose your most desired food and drink.
In the mood for pasta? Order up the Aglio Olio Seafood or the tantalising Soft Shell Crab Pasta.
Want something different? Try out the Aussie Beef Bulgogi and end your lunch with a cup of coffee and a sweet Lotus Biscoff Cheesecake. The cafe also hosts live music every Friday and Saturday!
Opening hours: 9 am – 9 pm.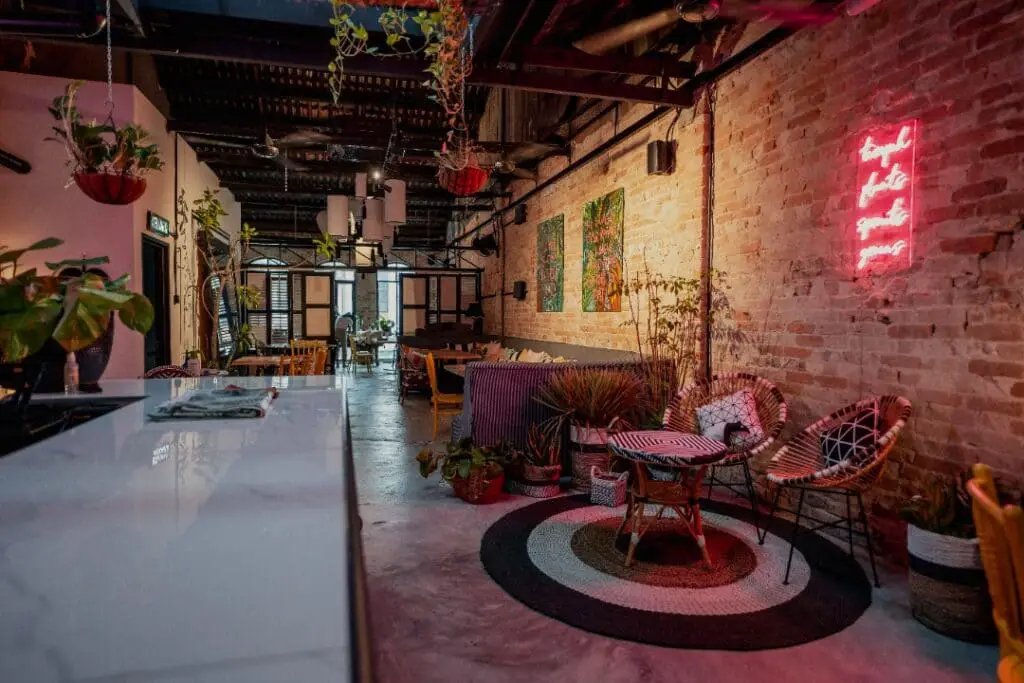 Searching for a restaurant that serves amazing vegan and vegetarian food? Then, look no further than the Hungry Tapir, an attractive restaurant in Chinatown.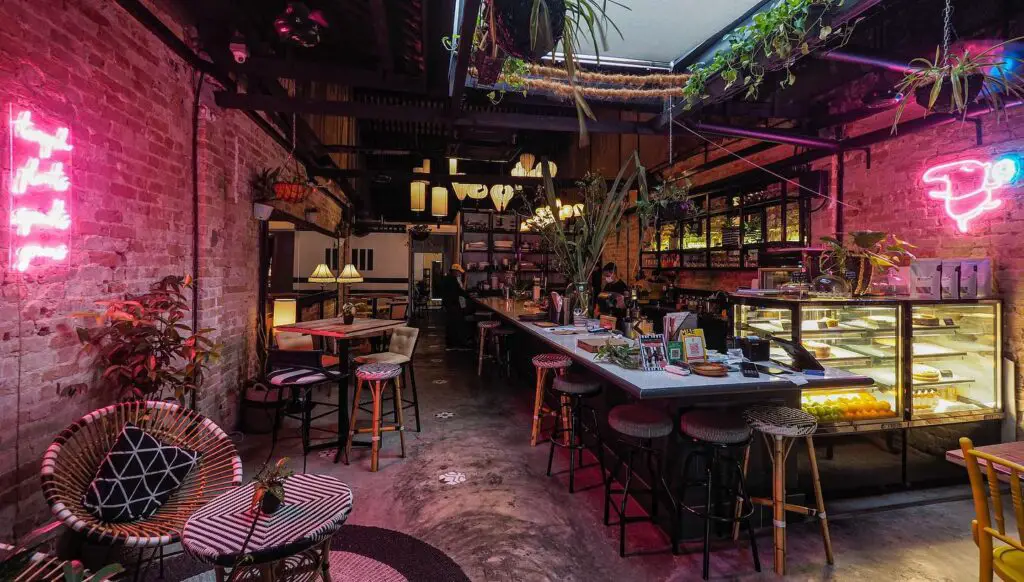 With its exposed brick walls, wooden beams, vibrant murals, and pink neon lights, this vegan restaurant is surely a feast to the eyes. The green hanging plants and colourful furniture make the entire space appear both beautiful and quirky.
What's special about this particular restaurant is that the chefs only use 100% local ingredients in their cooking. Planning to munch on something light yet tasty?
Get the Vegan Roti Canai that is served with lentil sauce and sambal tempeh or if you're up for a bowl of delicious vegan laksa, get your hands on their Jungle Laksa or the Ginger Soba Noodle Salad if you want to try something out of the ordinary.
Despite being a healthy restaurant offering vegan and vegetarian cuisines, The Hungry Tapir also serves great desserts to accompany your preferred coffee, kombucha, and juices.
Opening hours: 12 pm – 10 pm. (Closed on Mondays)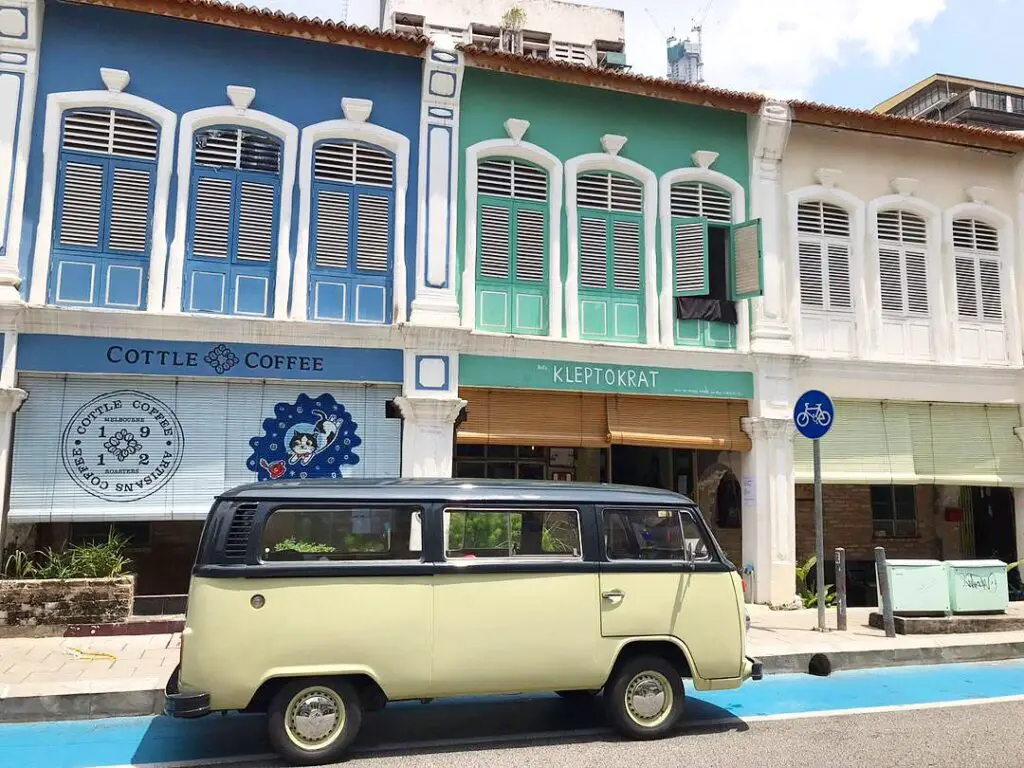 Have you ever been to a cafe that has a pool located in its courtyard before? If not, then you should definitely include Kafe Kleptokrat in your list! Just like the previous cafes that we mentioned above, this cafe too has a rustic look since the building itself has been around for decades!
But, the aqua blue pool and the cool ambience are what distinguish this cafe from the others. From the outside, the cafe wears a vintage yet vibrant facade and on the inside, you'll find two levels that you can choose to sit at—you can either sit upstairs if you prefer brighter lighting or take a seat on the ground level, next to the pool.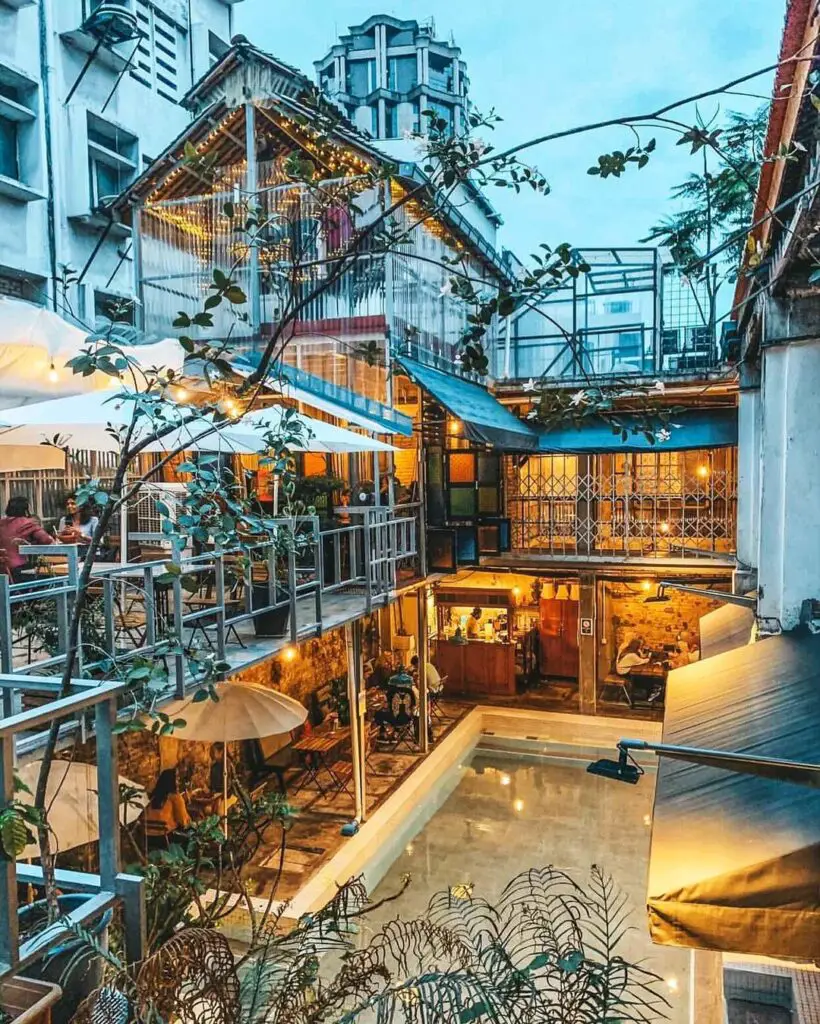 As for the delicacies, Kafe Kleptokrat offers a great selection of Malaysian favourites such as Soto Ayam, Lontong Kering, and Laksa Johor. They even serve different plates of pasta and an amazing sourdough sandwich filled with a generous portion of grilled chicken.
Not to forget, the cafe also has great cakes to pair with your coffee and mocktails including the Avocado Cheese Cake, Tiramisu, and Matcha Mousse Cake.
Learn more about the cafe on our in depth review article for Kafe Kleptokrat.
Opening hours: 10 am – 9 pm.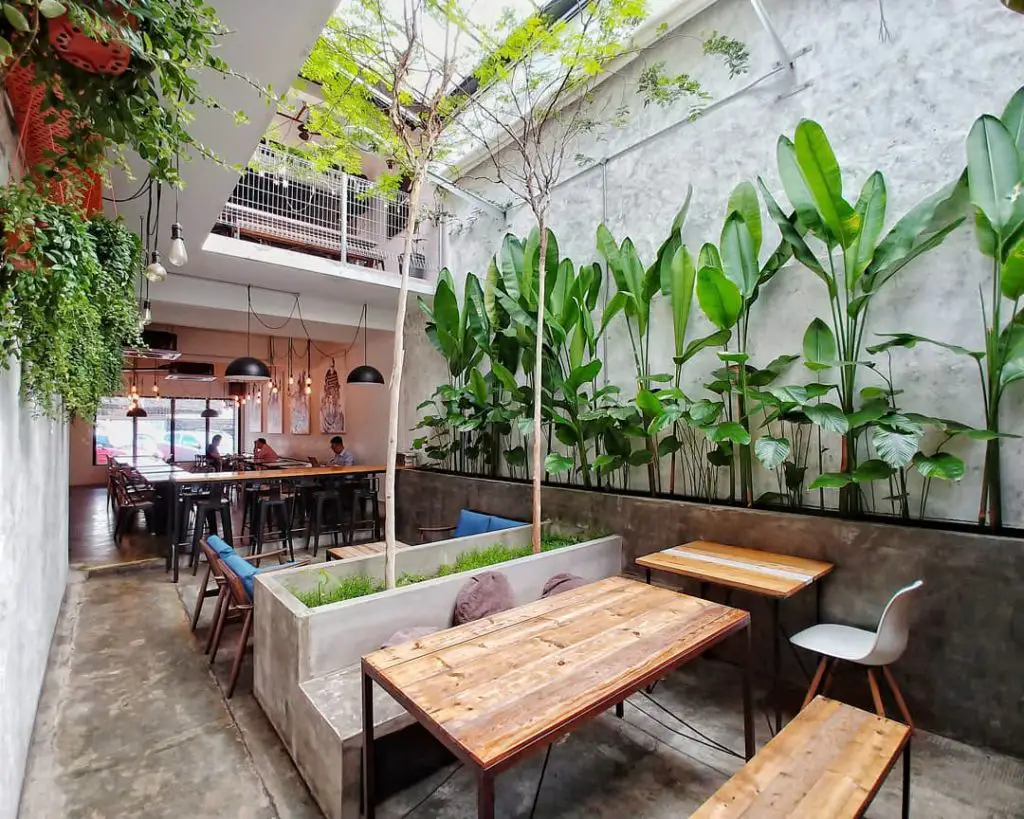 Now that we've covered some of the best cafes scattered in the heart of Petaling Street, let's head slightly away from the area. Tujoh Cafe can be located in Section 17, Petaling Jaya, and is a gorgeous-looking spot, perfect for your Instagram feed.
At the centre of the cafe is a collection of lush greenery accompanied by a shelf full of vintage electronics including old televisions and radios. On the walls, you'll notice several monochrome paintings and artworks as well as yellow bulbs hanging from the ceiling, making the entire place appear cosy and calming.
Being one of the best cafes in PJ, Tujoh Cafe also has a great menu consisting of both Western and Asian cuisines. From Pan-seared Pasta topped with Ebiko to Tom Yum Pasta with Soft Shell Crab and Lamb Fondue.
Also, don't forget to enjoy your main dishes with a glass of ice-cold Pandan Latte or their Black Sesame Latte.
Opening hours: 11 am – 10 pm.
To get to Therefore Cafe, all you have to do is head to Menara Symphony, Petaling Jaya. Once you've arrived at the cafe, you'll be greeted by its vibrant pink exterior combined with elegant gold finishings.
Taking a step inside, you'll notice straight away that the cafe is beautifully adorned with modern decor—which explains why it deserves a spot on your Instagram feed!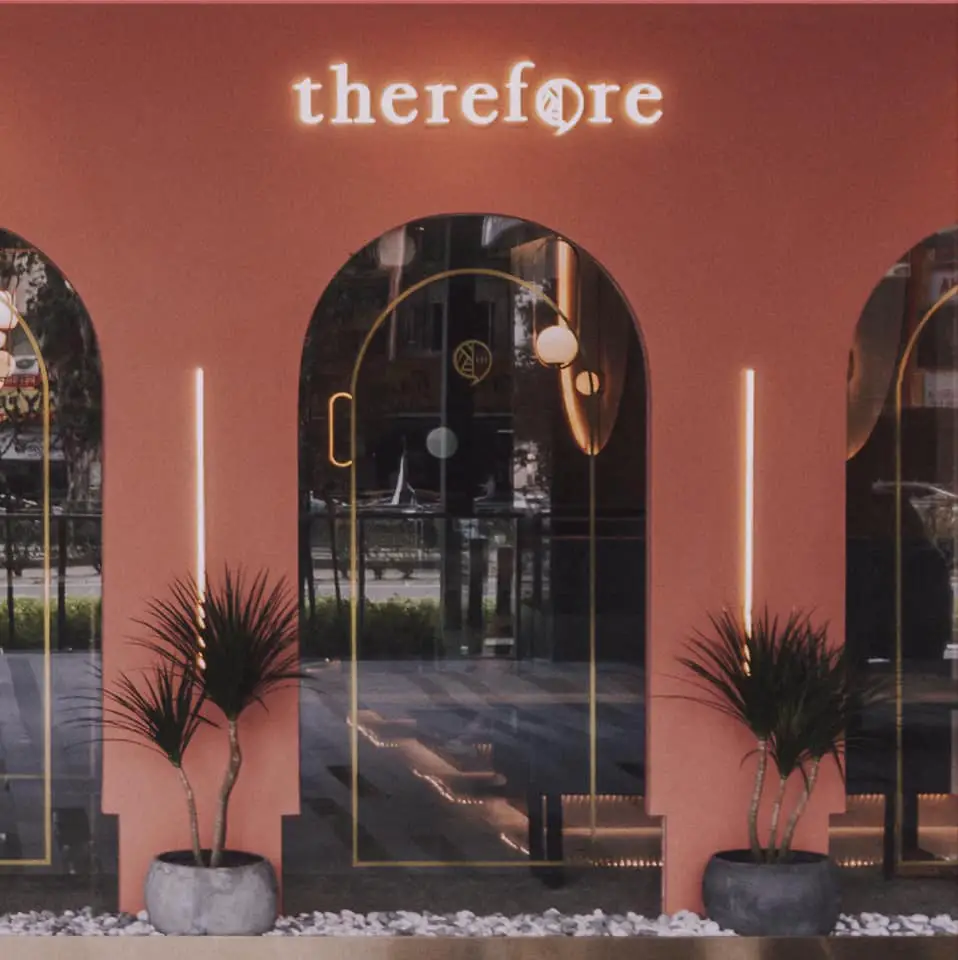 This cafe might not have that many window panes like those rustic cafes that you've been to, but don't worry as Therefore Cafe can still provide you with great lighting for your pictures.
Speaking of its food and beverages, Therefore Cafe has an array of unique cuisines that you can choose from. To get started, you can indulge yourself with their Jackfruit Nachos and as for your main course, order up the Juicy rib-eye steak that is served with herb potato fondant and seasonal grilled vegetables.
As for dessert, tickle your tastebuds with the Green Tea Panna Cotta. All of the dishes and desserts are plated in the fanciest way possible too, so don't forget to snap a photo or two!
Opening hours: 12 pm – 10 pm. (Closed on Tuesdays)
With its soothing ambience and amazing atmosphere, Pokok KL is surely a great spot for you to visit, especially if you're an avid hipster cafe hunter. This glasshouse cafe can be found on MAHSA Avenue, about twenty minutes away from KL City Centre.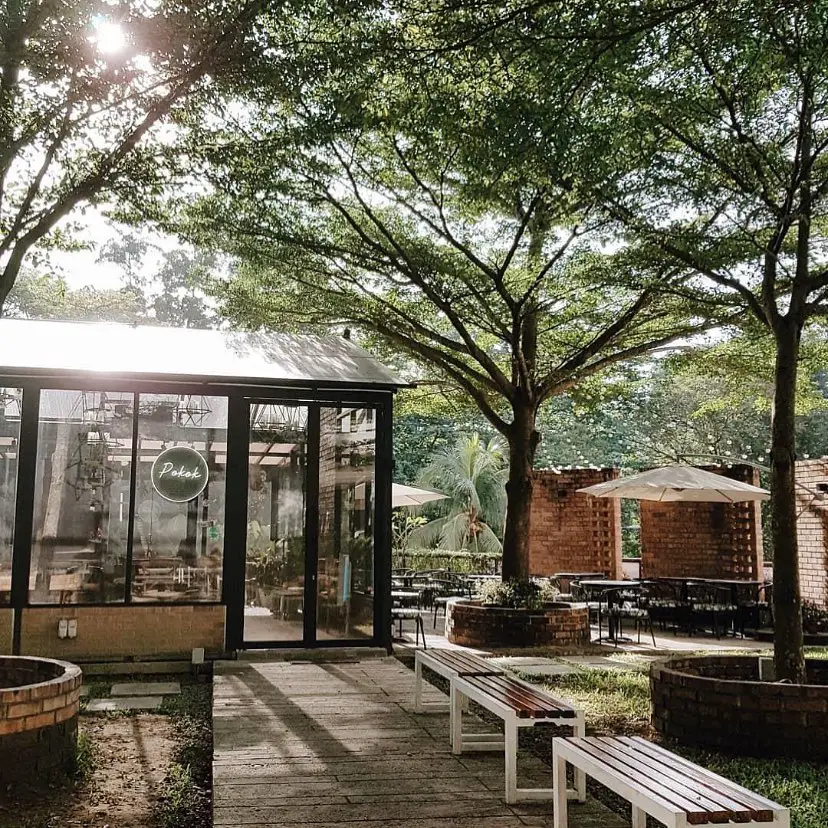 You can opt to get a table inside the glasshouse itself or if you prefer some fresh air, feel free to request the garden table. While listening to the calming jazz tunes coming out of the speakers, browse through their menu and take your time choosing the food that you've been craving.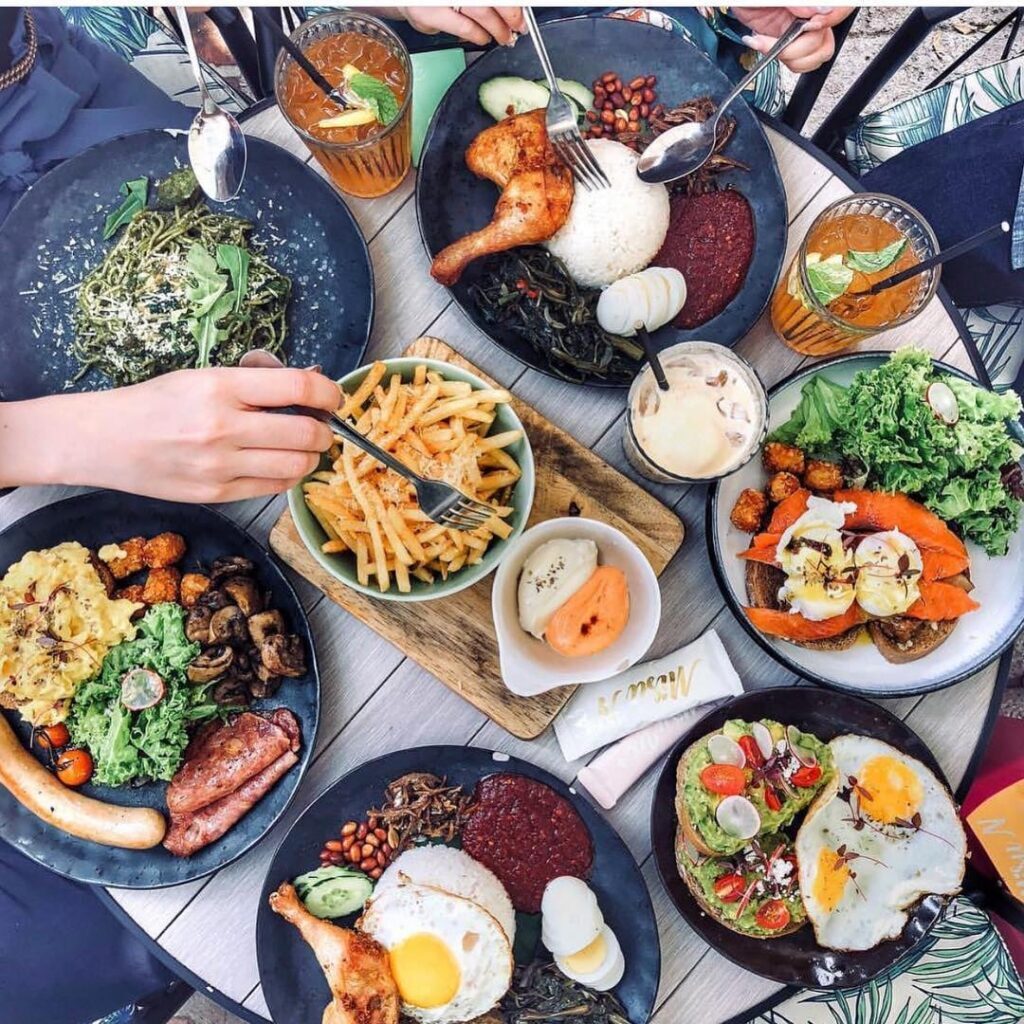 One of the favourites among its regular customers is the Smoked Salmon Benedict. If you're not a fan of salmon, try out their Rosemary Whole Chicken Leg or choose their Nasi Lemak Platter if you prefer a local flavour. 
As for dessert, don't forget to try their signature Chocolate Lava that is served with their in-house vanilla ice cream! Check out our review for Pokok.KL
Opening hours: 10 am – 9 pm.
Kuala Lumpur is, no doubt, filled with a number of Instagrammable cafes. Whether you're in love with local delicacies, a pasta lover, a sweet tooth or a vegetarian, you can find all sorts of cafes that can suit your tastes.
Not only do these places serve tasty food and drinks, but they also have great decorations and relaxing atmospheres for you to chill and hang out with your friends. So, be sure to visit them at least once in your entire lifetime!