Kuala Lumpur is undoubtedly brimming with a bunch of Insta-worthy cafes with beautiful interiors and mouth-watering food plated in the most creative way possible, but this time around, we're going to specifically talk about Pokok KL! After hearing nothing, but good words about the glasshouse-inspired cafe, we decided to pay a visit ourselves. 
We were already intrigued just by looking at a few photos of the cafe online, so of course, we have high expectations! Aside from being known for its aesthetic decor, Pokok KL is also a halal-certified cafe. Continue reading below to find out what we like most about this cafe and our honest ratings.
 Cafe Review on 04/12/2021
Where is Pokok KL and Where to Park Your Car?
Pokok KL is located on MAHSA Avenue, about fifteen to twenty minutes away from the city centre of Kuala Lumpur.
As for those who don't drive, you can take the train, however, the station is not directly connected to the cafe area. You can stop at Universiti LRT station and from there, you can reach the cafe in just under 5 minutes of driving.
As for those who are driving, don't worry since the parking spaces are easily available around the area. You can find parking spots in MAHSA and there are also friendly security guards stationed at each corner of the area, so you can always ask them for directions.
If the parking in MAHSA is full, you can go ahead and park your car at another spacious parking lot right across the street. However, do keep in mind that you need Touch N Go to park there. You might have to spend about RM 2 per hour on the parking.
As soon as we parked our car and arrived at the cafe, we were greeted by a long line of customers. Turns out, there was an event going on in a building right in front of the cafe – it was an event called 'Whimsical Mess', a mini bazaar filled with booths of local businesses. Because of that, a lot of visitors decided to stop by and dine in the cafe.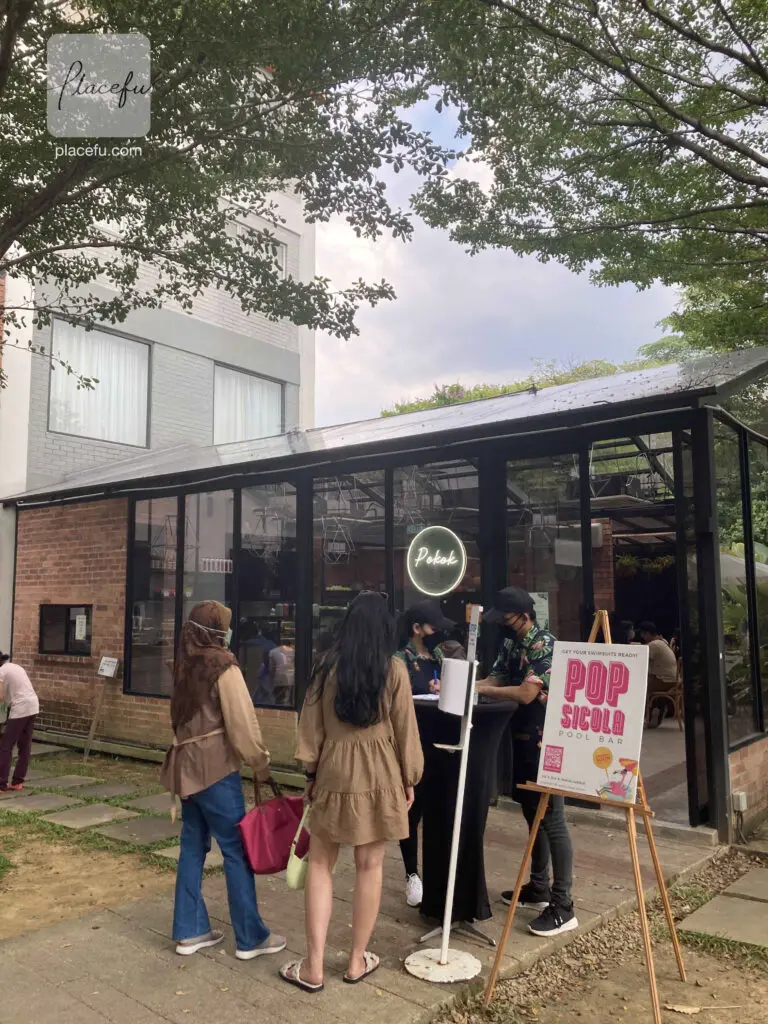 However, we were also informed by the staff that you can expect long lines on the weekends too. As for our visit, one of us gave her name to the staff and we were informed that they will call us once a table is available.
Thank god for the event, we managed to fill our time with some window-shopping and about an hour later, we got a call informing us that our table was ready!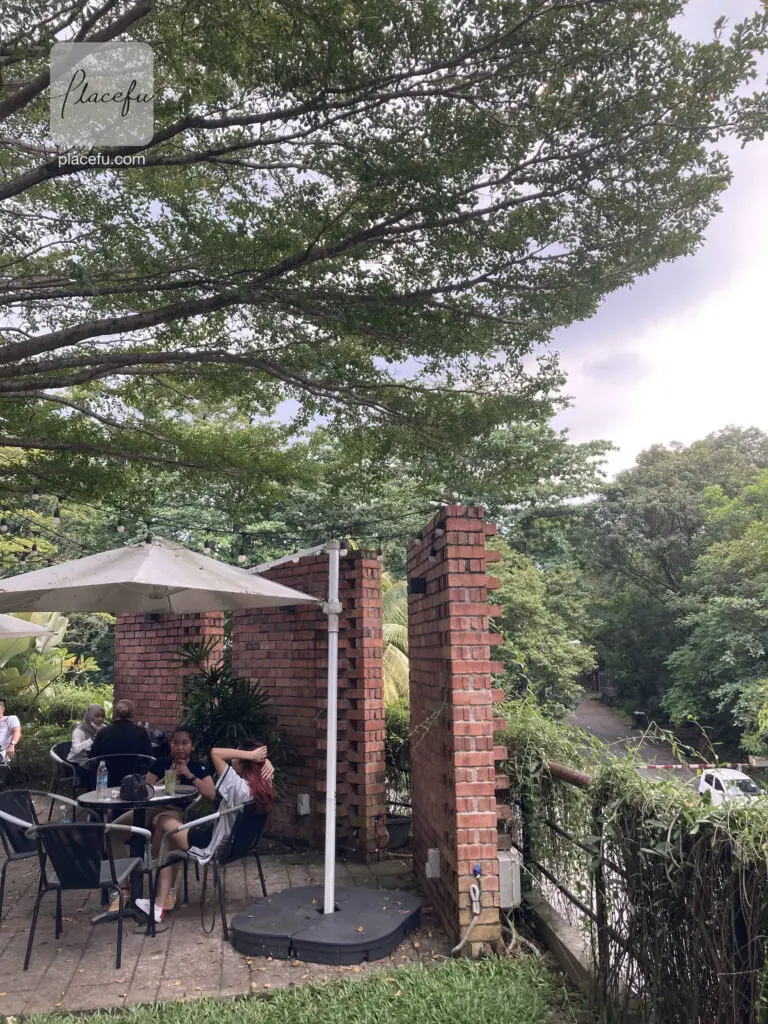 As much as we wanted to sit inside the glasshouse itself, we were given the garden seats since there were too many people sitting inside. With soothing jazz music playing in the background, soft wind brushing your hair and the clear view of the blue skies, we sure did have a great time.
The music was not too loud so you can still chat with your friends without raising your volume. Since we were seated outside, we were rewarded with natural lighting which played an important role when we were taking pictures! Overall, the vibe and atmosphere were pretty great. 
Just like many other cafes, Pokok KL also has started using a digital menu where you'll be needing your phone to scan the QR code for the menu. We love this feature because we didn't have to get up from our seats to order at the counter!
All we had to do was to add our food and drinks to the cart, make an online payment on the site itself, and our orders would go straight to the kitchen.
Pokok KL has a wide range of tasty delicacies that you can indulge yourselves in to the point you might spend longer to figure out which food you want—like us!
From the classic Big Breakfast plate to fresh Acai Bowl for those who'd prefer a healthier option, Nyonya Laksa, Chilli Padi Pesto, Nasi Lemak platter, Fish and Chips, and Smoked Salmon Benedict.
To accompany your main dishes, the cafe also serves great coffees, refreshing juices, slushies, and smoothies.
The cafe also has a great selection of desserts to satisfy your sweet cravings ranging from Lotus Biscoff Bundt Cake to Banoffee Salted Caramel Pavlova, Matcha Nutella Brownie, and Raspberry White Chocolate Mini Loaf. 
But keep in mind that most of their desserts are fast-selling, especially their pavlovas! So, it is better to visit earlier during the day or you'll end up missing their desserts like us.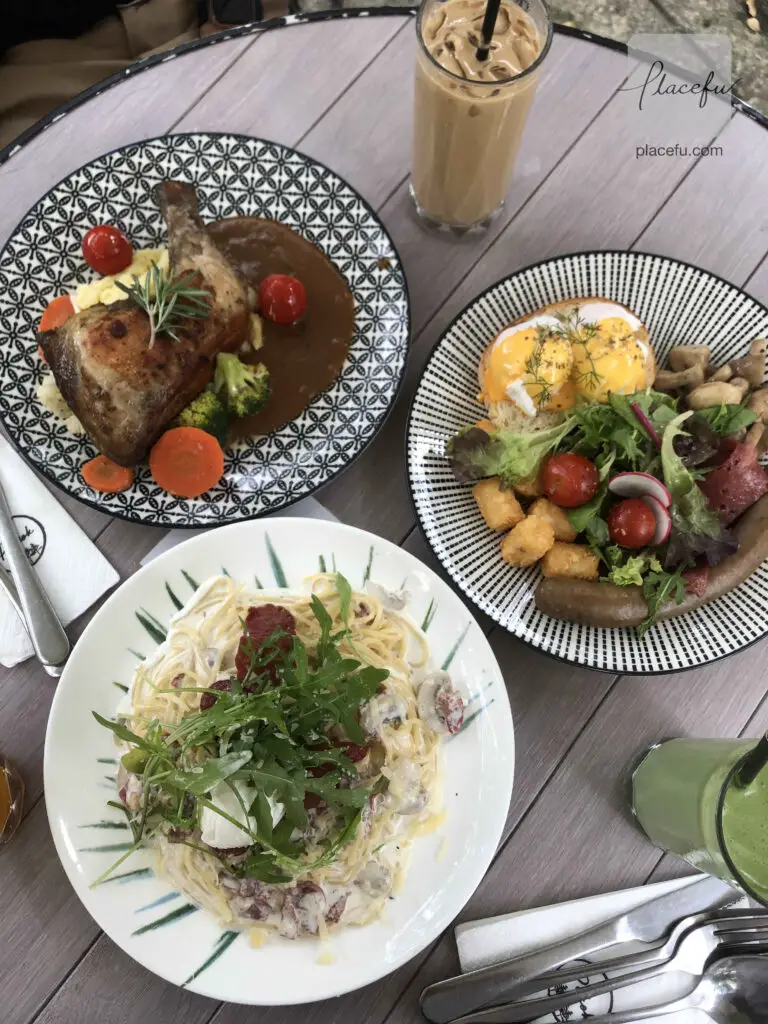 After scrolling through the entire menu and thinking hard which delicious food we should go for, we finally decided to go with a plate of creamy Carbonara Pasta which also happens to be their best-seller, the Rosemary Grilled Whole Chicken Leg, and the classic Big Breakfast.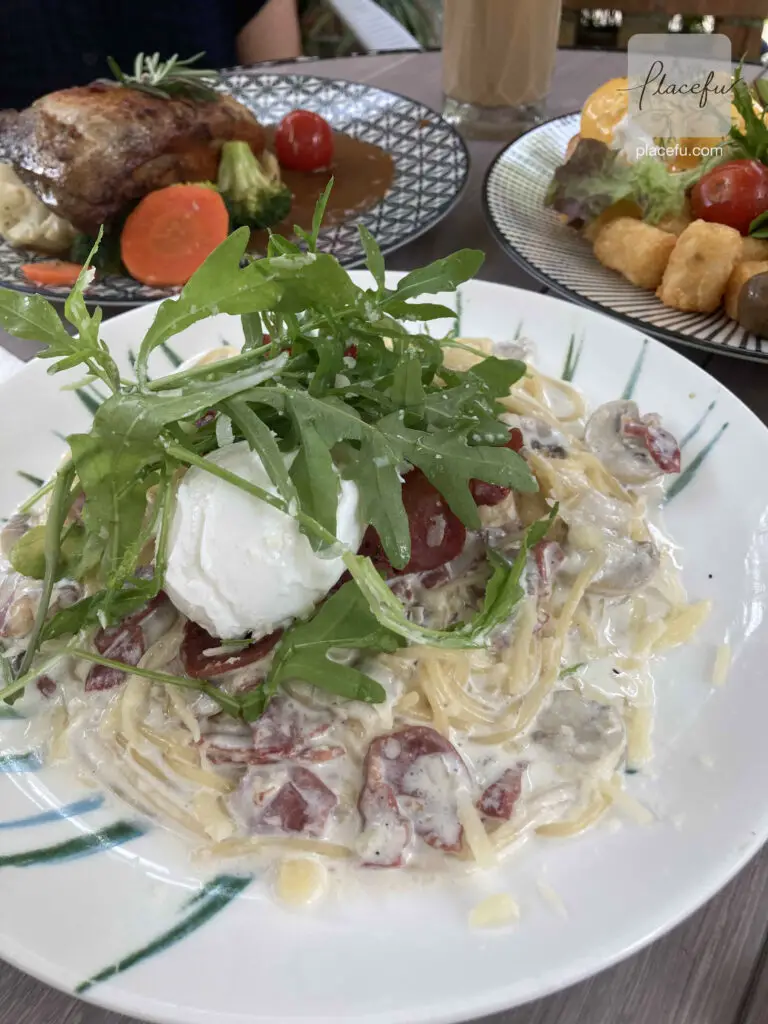 The Carbonara Pasta (RM 28) is served with a perfectly cooked poached egg and you can choose to include either beef bacon or turkey ham in your pasta free of charge.
Topped with some greens, the carbonara sauce was indeed creamy and it was flavourful too! Our favourite part was the poached egg—one light slice across the egg and the runny yolk ran down, infusing the creamy sauce and enhancing the overall taste.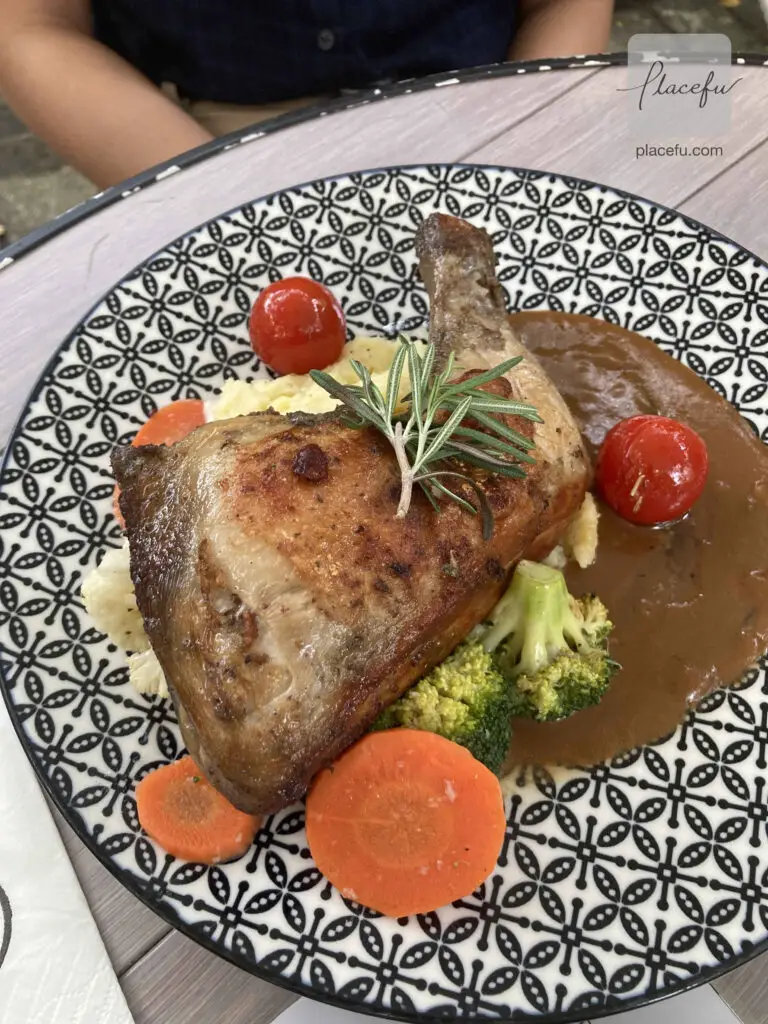 The Rosemary Grilled Chicken Leg (RM 28) is also a delight. It is served with a silky smooth truffle mash with sauteed broccoli and cauliflower, cherry tomatoes, and carrots.
The chicken leg itself is cooked nicely until its skin is golden brown and its meat tender and juicy. The herbs and spices were not really that flavourful, but the truffle mash makes up for it.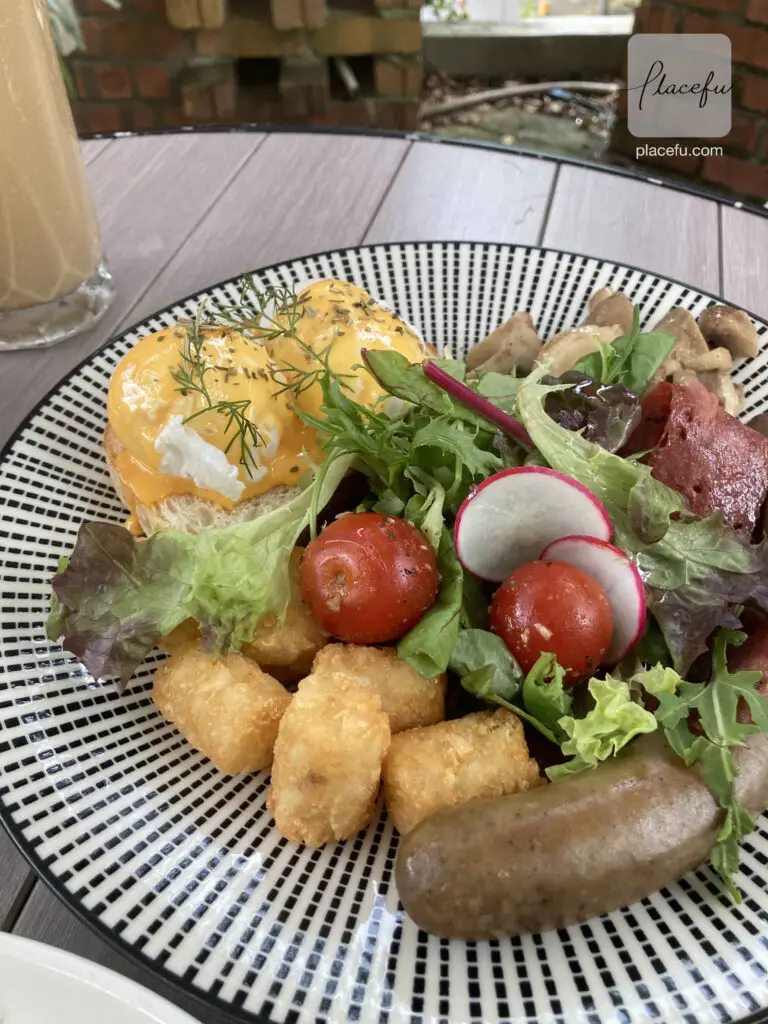 As for the Big Breakfast (RM35), we were more than happy with its hearty portion. The plate was filled with a beef gourmet sausage, crispy fried potatoes, beef bacon strips, grilled tomatoes, button mushrooms, some salad, and a slice of sourdough bread topped with a poached egg.
Just like the Carbonara Pasta, the poached egg was cooked to perfection and the gourmet sausage too was surprisingly tasty! The portion was huge until we had to stop for a few minutes before we could continue and finish the entire plate!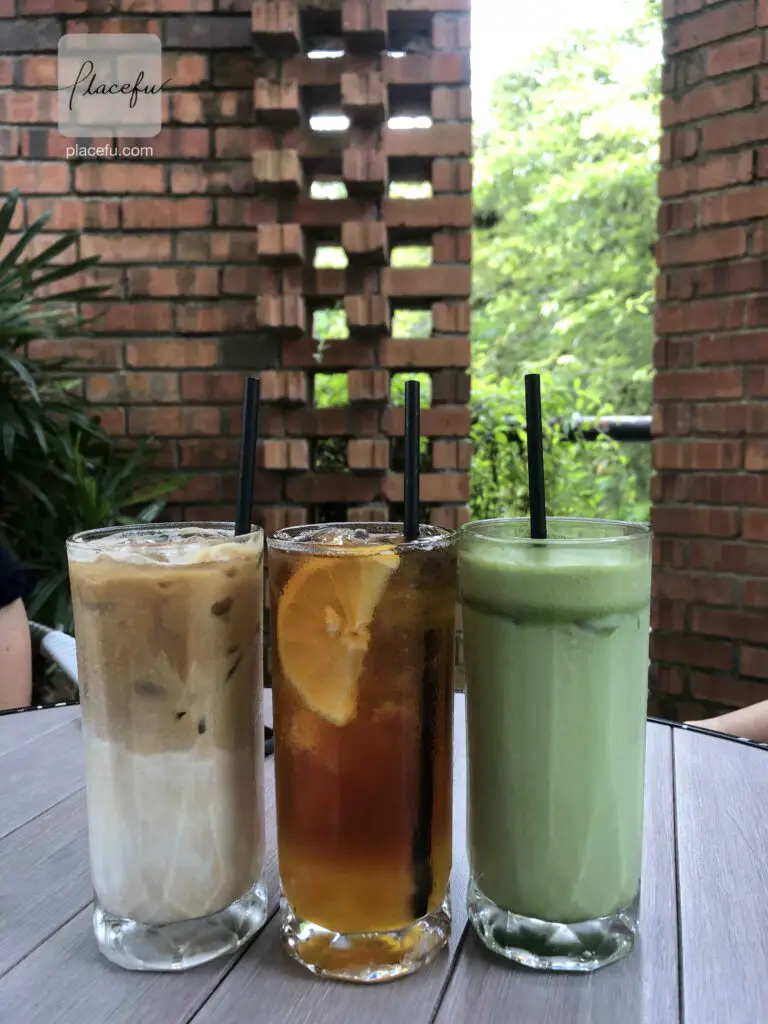 For our drinks, we ordered a glass of iced Latte (RM 10), Iced Matcha Latte (RM 12), and Peach Passion Iced Tea. The iced latte and peach passion iced tea were decent, while the iced matcha latte did not reach our expectations—we couldn't really taste the matcha flavour because the milk kind of overpowered it.
Despite the busy hours, the service was not at all bad! The staff were friendly and wore a smile on their face the entire time too. We waited for only a short time before our food and drinks were served and we even requested some sugar syrup for our lattes and it didn't even take a minute!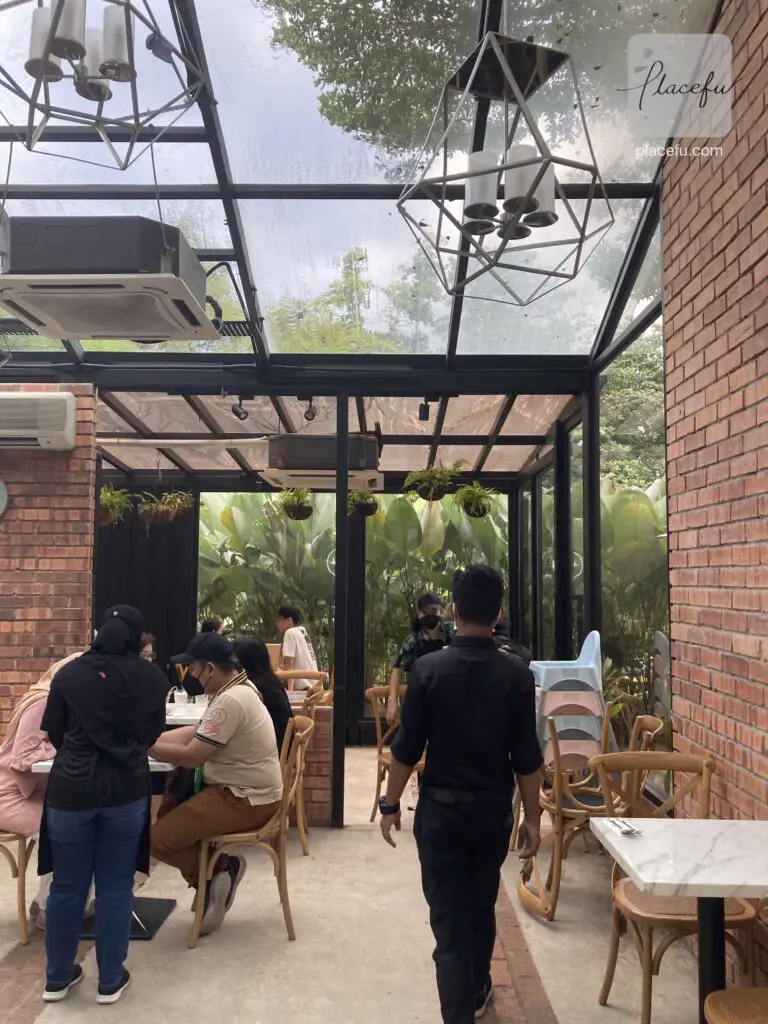 Once we've finished our food, they will straight away clear the dirty plates in front of us. At the end of our visit, one of the staff even asked us if the food was all good and whether we had a pleasant experience.
We did see some baby chairs inside of the glasshouse, so this cafe is definitely suitable for those visiting with small kids. Plus, the glasshouse is air-conditioned, so you don't have to worry about your children sweating and getting moody!
However, the space inside is pretty limited if you bring along a stroller, but the garden seats are completely the opposite—there is ample space to place your strollers and your children and toddlers can explore the area too!
Since the cafe uses a digital menu and you don't have to stand up and walk to the counter to order your food, this cafe could be a good location for disabled individuals as long as they have a smartphone in their hands!
The staff are also pretty friendly, so we believe there won't be any issues. However, there might be a small problem for those who are in wheelchairs. 
Apart from its limited space and the lack of accessibility options, the pavements leading towards the cafe are not levelled, so it could be dangerous for them.
So, what's our final verdict? Overall, Pokok KL surely deserves the good words spread around by its customers!
This cafe does not only have an aesthetic look, but most of the food and beverages too are quite good. You can definitely snap great photos while you're visiting and you might also leave with a happy tummy! 
The only thing holding this place back is the limited seats. This cafe is growing popular each day, so you can expect long lines of visitors queueing outside. For those who are not-so-patient when it comes to lining up for a seat, you might have to plan a visit outside of peak hours. 
However, Pokok KL should get included in your must-visit cafe list!
Credits: Photos and content written by Atiqah
Disinfectant Essential Items (Hand-picked!)
As you know we're going to live in the post-covid world. So getting the essential sanitise products with you when you travel are part of our life.
Here is the list of curated disinfectant products with high rating and ready stock in Malaysia without you spending time to search for the best one on the market.
Disclosure: This post contains affiliate links. If you click these links to purchase the product we may earn a commission without extra cost to you. We carefully select the best and all products sold by high rating seller.