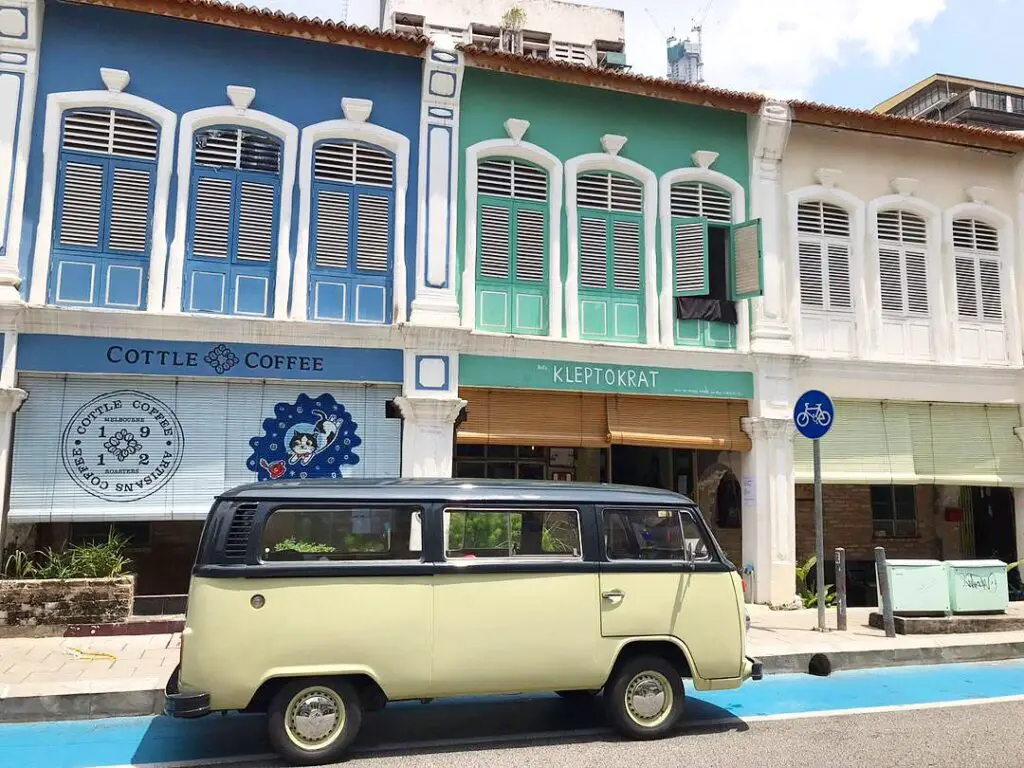 A couple of weeks ago we decided to go for a cafe adventure in the middle of the busy city of Kuala Lumpur. We have heard some good things about Kafe Kleptokrat and without a single hesitation, we made our way there with high hopes set in mind. 
But, is the cafe worth your time and does it live up to all those expectations? Yes, it does and it's also a muslim-friendly cafe! Continue reading below to find out some of the recommended menus at this gem and our ratings based on our visit.
 Cafe Review on 22/09/2021
Where is Kafe Kleptokrat and Where to Park?
Kafe Kleptokrat is located at Jalan Tun HS Lee and if you're familiar with the area, you should know that this is one of the hardest locations to find a car park.
Since the cafe is situated in an old shop lot right at the side of a busy road, it is nearly impossible for you to find a parking spot near to the cafe.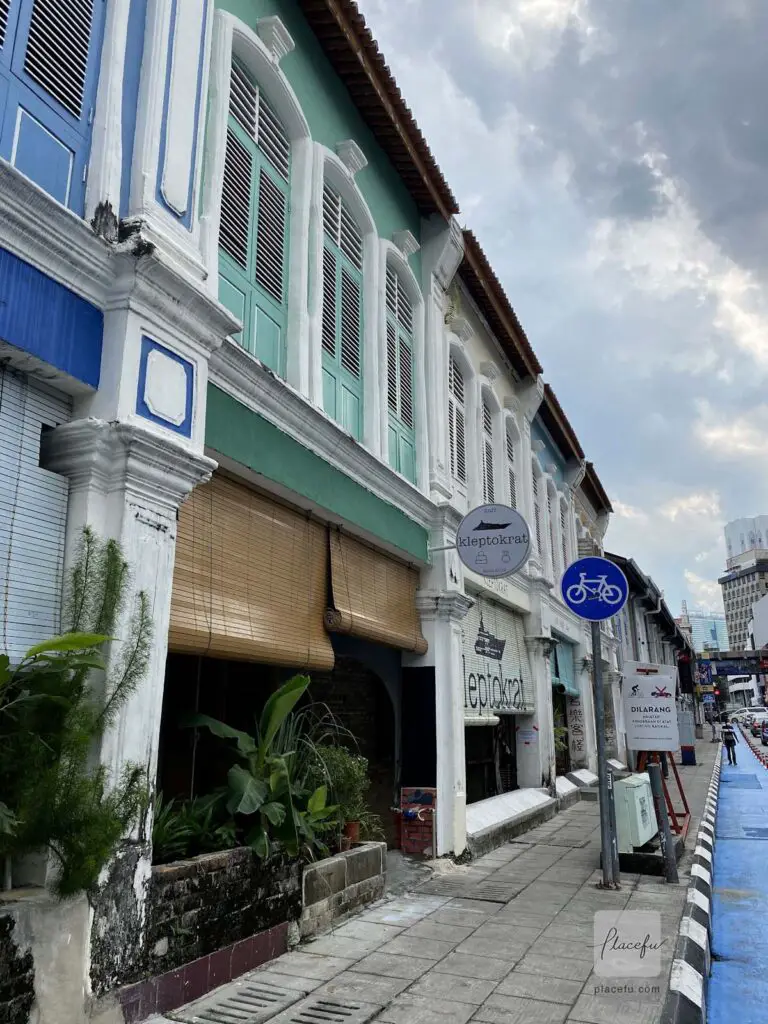 We don't recommend you to use Waze to find the nearest car park too or you'll end up like us – it took us to a spacious car park in front of Bursa Malaysia and we had to walk for about 10 minutes to reach the cafe! 
So, instead, turn on your Google Maps and search for CCP which is the nearest parking spot that you can find near the cafe.
However, keep in mind that the nearer ones have higher parking fees, so be sure to have some cash in your purse or you can also take the LRT and stop at Masjid Jamek station if you don't want to stress yourself with the traffic jams and the lack of parking spots.
After a 10 minutes walk, we finally arrived at the cafe. Since we went there during the weekdays, there were no long queues outside at all. The staff there informed us that it is totally different during the weekends.
There are usually long lines of people waiting outside and you might have to wait at least half an hour before you can get a table. So, reservation is highly recommended – just drop them a message and the friendly staff will get back to you in no time.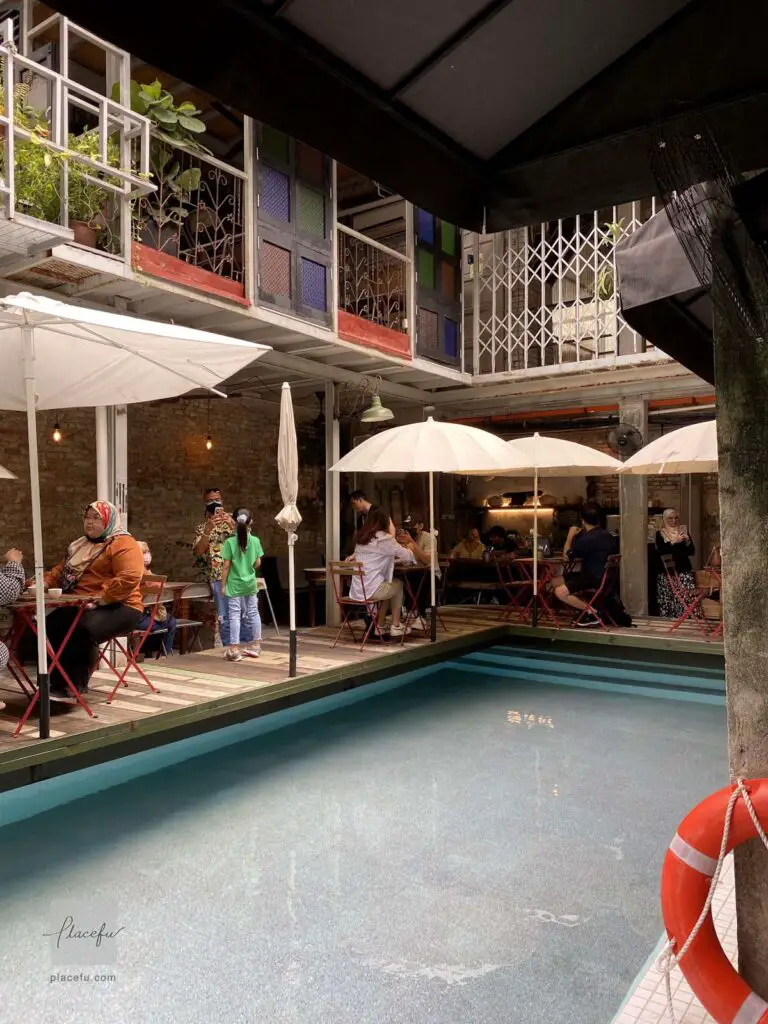 Luckily for us, it didn't even take a minute before we were ushered to our table. We were seated in a room since there were three of us and what's great about that is we get full privacy without having to sacrifice the amazing view of the baby blue pool in the middle of the courtyard – the cafe's main highlight. 
Of course, you can't swim in the pool even though you're tempted to as it is strictly for aesthetic purposes only.
The cafe has two levels and since the shop lot has been standing there for almost a century, you can get a nostalgic feeling, especially with the old, exposed brick walls and restored vibrant facade.
The rectangular pool and patio umbrellas, combined with the green plants and vintage surroundings will definitely look good on your Instagram feed!
You also don't have to worry about the SOP as they take it very seriously. Other than the requirement to wear face masks, only those who have been fully vaccinated are allowed to dine in.
The tables are also placed at a good distance from each other, so you won't be cramped in with crowds.
What's a good cafe without a menu filled with delicious food and refreshing drinks? Kafe Kleptokrat's menu is neither too short nor too long. It has a perfect combination of both local cuisines and a little touch of international delicacies. The price of the food ranges from RM 16 to RM 28 while you can get drinks from RM 6 to RM 15.
From the big breakfast plate consisting of their signature sourdough toast, beef rendang and salmon to Lontong Kering and Teriyaki chicken rice bowl. 
They also have a great selection of homemade cakes including Matcha Mousse Cake, Tiramisu, and even Durian Burnt Cheesecake! Pair it up with a glass of ice-cold coffee and enjoy them by the pool.
After a few minutes of staring at the menu and figuring out which one do we indulge ourselves in, we decided to go with the Rice served with Daging Salai Masak Lemak Cili Padi, Soto Ayam, and Nasi Lemak Ayam Berempah since we were all in the mood for local flavours that day.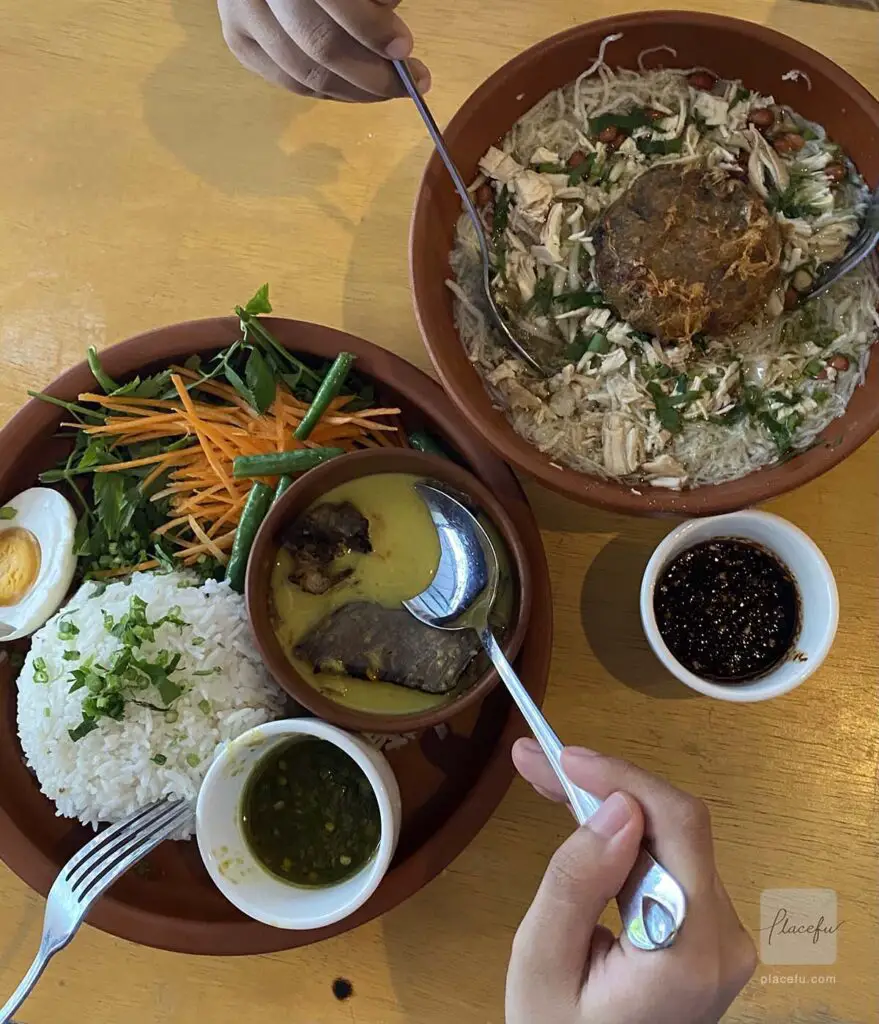 The Masak Lemak Cili Padi was surprisingly good and packed with rich flavours. The coconut milk is spot on, making the gravy creamy and the smoked meat is soft too. There was only a slight spiciness in it, so those who are not a fan of spicy food can try this too!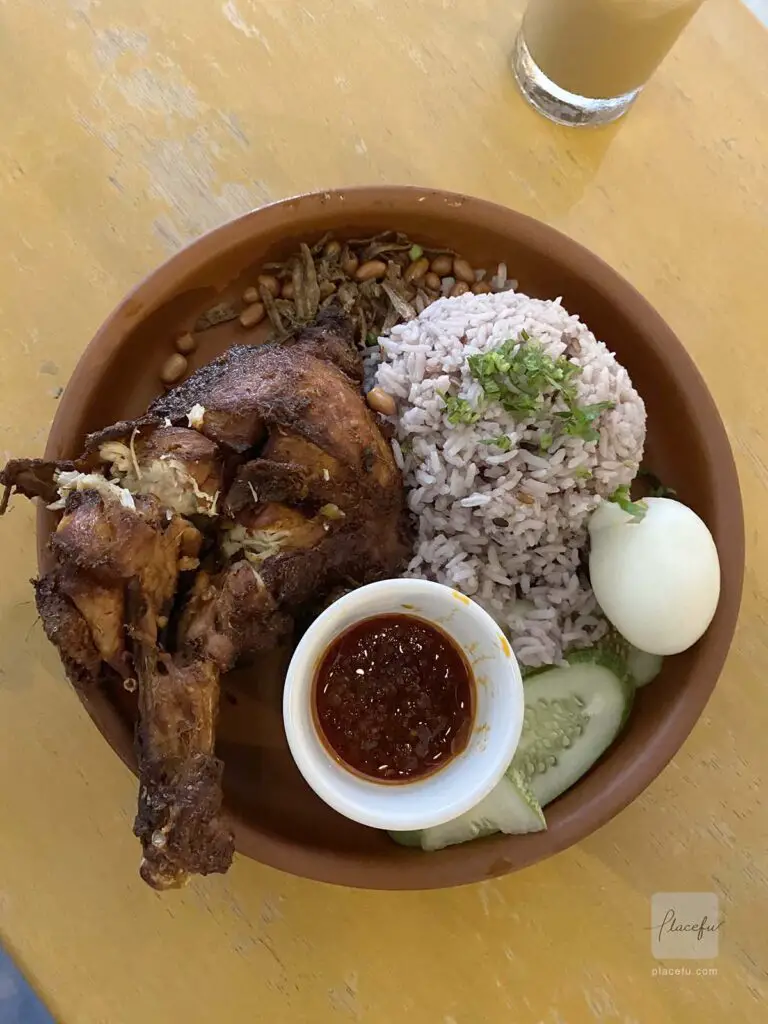 Same goes for both Soto Ayam and Nasi Lemak Ayam Berempah. Truth be told, we were not expecting them to be full of flavour, especially at a cafe that is mostly known for its aesthetically pleasing decor, but we were blown away for sure!
The meat broth in the Soto Ayam is nice and hot, while the fried chicken that came with the big portion of Nasi Lemak is juicy and aromatic.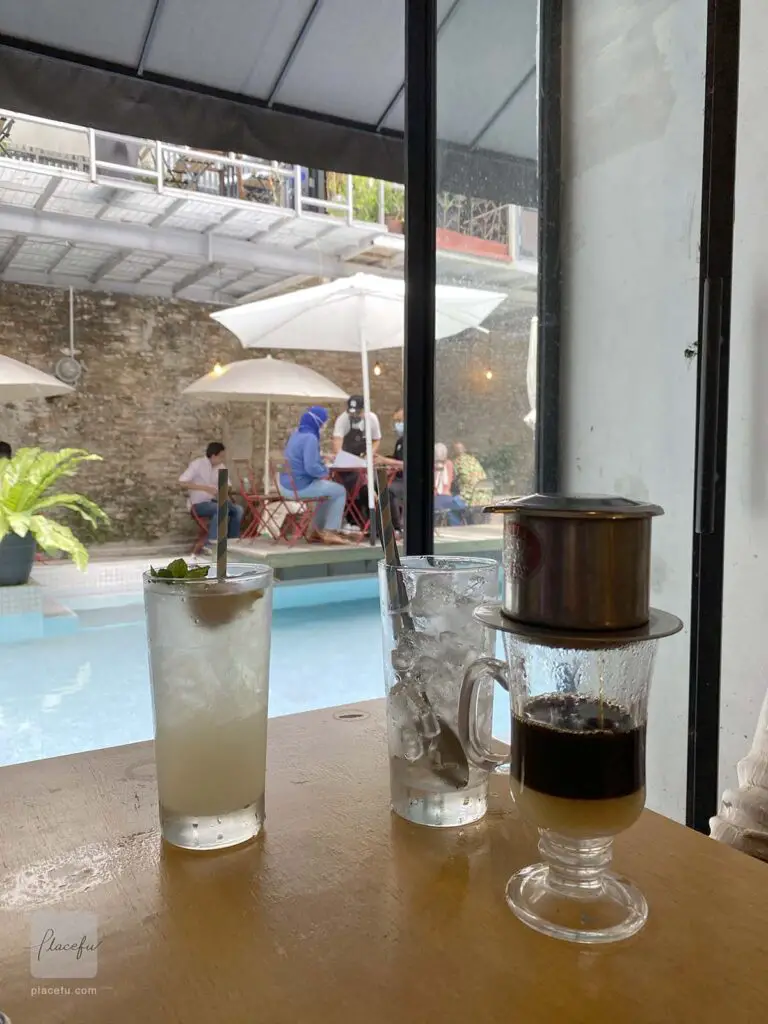 As for the drinks, we ordered Vietnamese Coffee and a drink called Dancing on the Floor – a refreshing mixture of lemon and lychee juice as well as wild mint. The Vietnamese Coffee was a bit too sweet for us, but the coffee tasted good!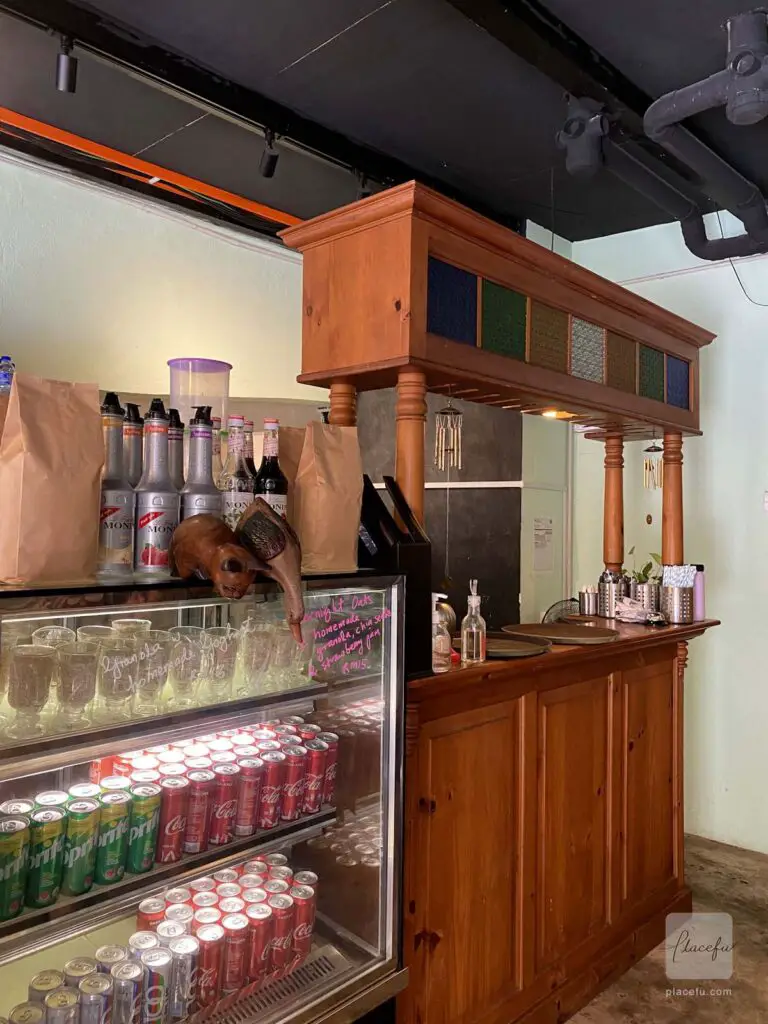 Even though we were satisfied with our food and drink, the service is not really what we expected. We wouldn't say it was slow as there were several other customers too, but we wish there would be some improvements.
We waited for about twenty minutes for the first two meals to arrive at our table and another additional ten minutes for the third to arrive. So, this is not the place if you're famished and do not have the patience of a saint!
The cafe has a limited space if you're thinking of bringing along your kids and toddler. It would be quite a hassle, especially if you have a stroller since the seating area is pretty small.
Plus, you also have to be alert at all times, just in case your little ones fall into the pool or if they decide to jump into it – whose kid doesn't get excited when they see a swimming pool, right?
We wouldn't recommend those in wheelchairs to this cafe too as the spaces are limited. Plus, the second floor is only accessible by a set of stairs.
The private dining rooms could be suitable for wheelchairs, but there were only a few of them. So, you might have to wait a while to get a table there, especially when it's a full house.
Our final verdict? Kafe Kleptokrat is indeed a must-visit if you're planning for a session of cafe-hunting with friends! 
The environment is great for a picture or two, the food and beverages passed our expectations, and the location is near to other attractions in KL too.
Visit their Facebook page: https://www.facebook.com/kafekleptokrat
Visit their Instagram page: https://www.instagram.com/kafe_kleptokrat/
Get direction to Kafe Kleptokrat
Credits: Photos and content written by Atiqah
Things that you need when you're on-the-go (Hand-picked!)
Make your travels convenient and enjoyable with these essential products by your side! We curated the products that are high rating and ready stock in Malaysia without you spending time to search for the best one on the market.
Disclosure: This post contains affiliate links. If you click these links to purchase the product we may earn a commission without extra cost to you. We carefully select the best and all products are shipped from the local by high rating seller.