Embarking on a Malaysian adventure is a thrilling experience, but staying connected throughout your journey can be a challenge. Thankfully, the ultimate solution has arrived: eSIM options.
Say goodbye to the hassle of swapping out physical SIM cards and embrace the convenience and flexibility of eSIM technology.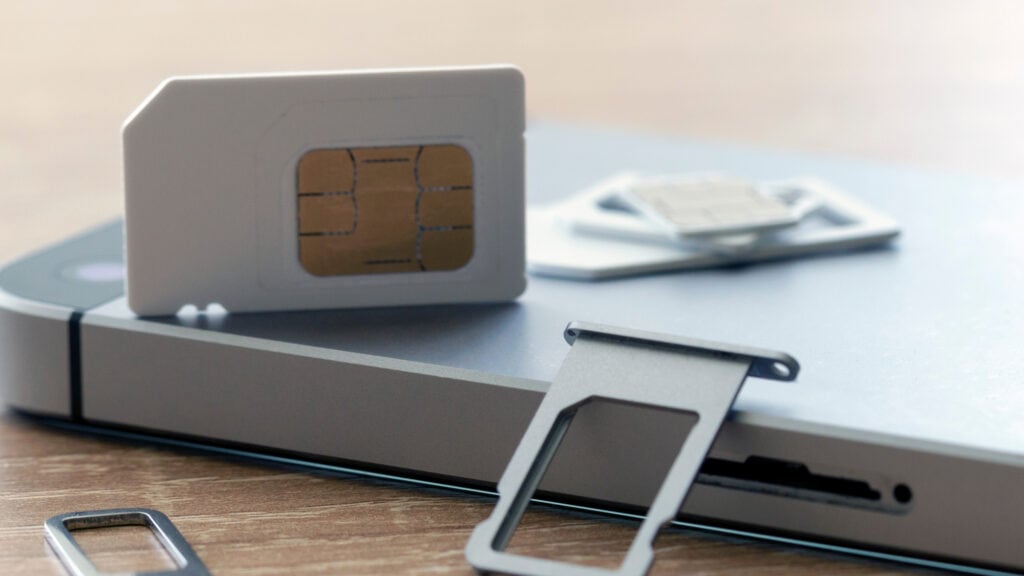 whether it's delving into the vibrant streets of Kuala Lumpur, basking in the beauty of Langkawi's pristine beaches, or immersing yourself in Penang's cultural wonders, staying connected throughout your journey has become a breeze.
Here, we unveil the finest eSIM provider Airalo, guaranteeing uninterrupted access to data, calls, and texts, no matter where your wanderlust leads you over 200 hundred countries
From reliable coverage to affordable plans, we have done the research so that you can focus on creating unforgettable memories. So, buckle up and get ready to explore Malaysia like never before, with the ultimate eSIM options as your trusty travel companion.
But first, What is an eSIM?
An eSIM, or embedded SIM, is a digital SIM that's built into your compatible device. It eliminates the need for a physical plastic SIM card, making it super convenient for travelers like us.
With an eSIM, you can easily switch between different mobile carriers without fiddling with tiny cards or trays as everything is stored digitally in your device. It's like magic!
Benefits of using an eSIM while traveling in Malaysia
Now, let's dive into why you absolutely need an eSIM for your next adventure:
1. Global Connectivity with No Roaming Charges
One of the most significant advantages of using an eSIM, especially one from Airalo, is the ability to access the Internet in over 200 countries and regions worldwide without those dreaded roaming charges.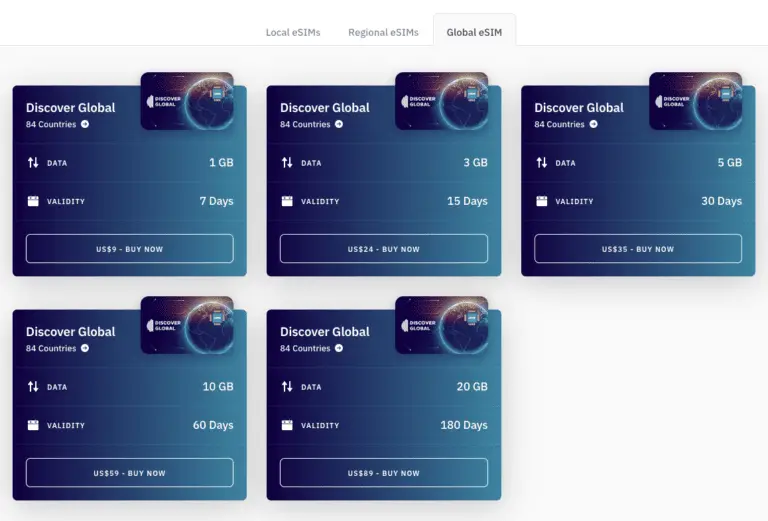 Screenshot on Airalo.com on 20 July 2023
Say goodbye to sky-high bills and hello to hassle-free connectivity wherever you go in Malaysia and beyond.
2. Instant Activation, No Local SIM Hunt
Picture this: you land in Kuala Lumpur, eager to start your journey, but instead of frantically searching for a local SIM card, you can activate your eSIM right away.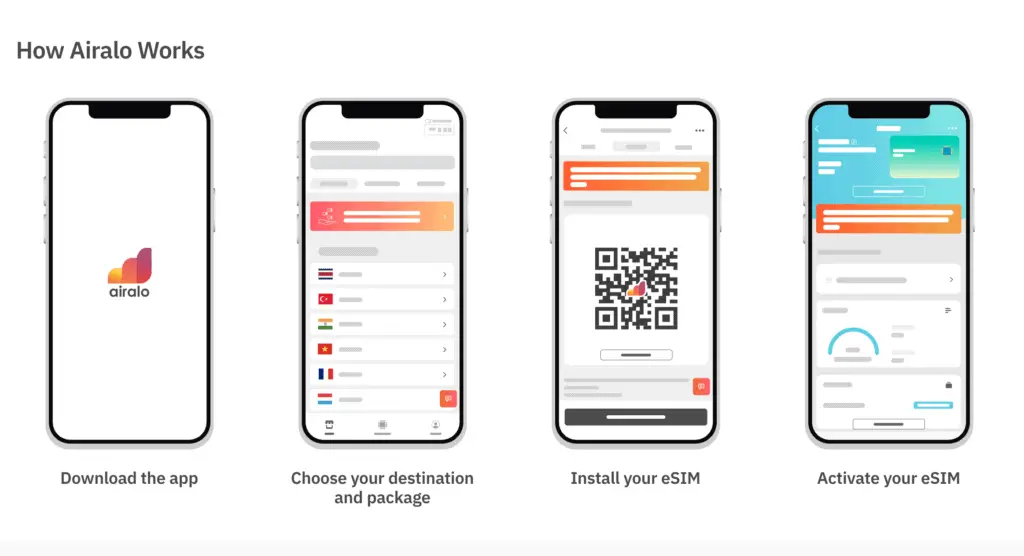 Yes, it's that simple! With Airalo's eSIMs, activation can happen immediately after installation or upon arrival at your destination. More time for adventure, less time for SIM hunting!
3. Versatile Options for Every Traveler
Whether you plan to explore Malaysia alone or embark on a Southeast Asian escapade covering multiple countries, Airalo's got you covered.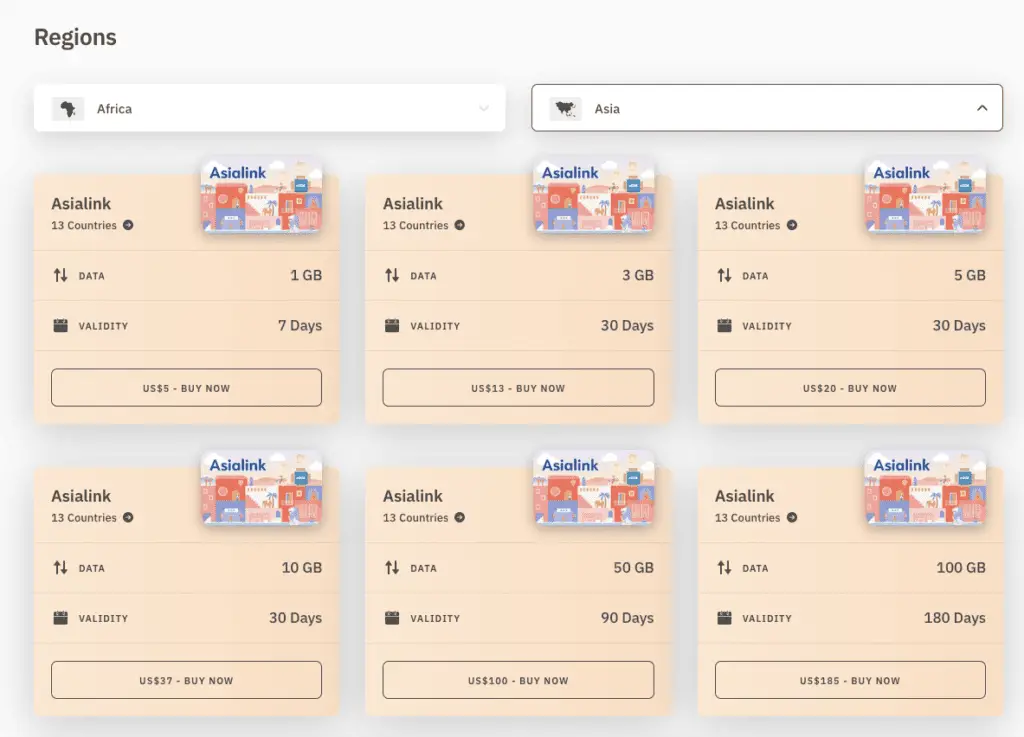 Screenshot on Airalo.com on 20 July 2023
Choose from a variety of eSIM options tailored to specific countries, regions, or even entire continents like Europe. No matter where your wanderlust takes you, you can stay connected effortlessly.
4. 24/7/365 Support at Your Fingertips
Travel hiccups can happen, but fret not! Airalo's support team is always ready to assist you, round-the-clock.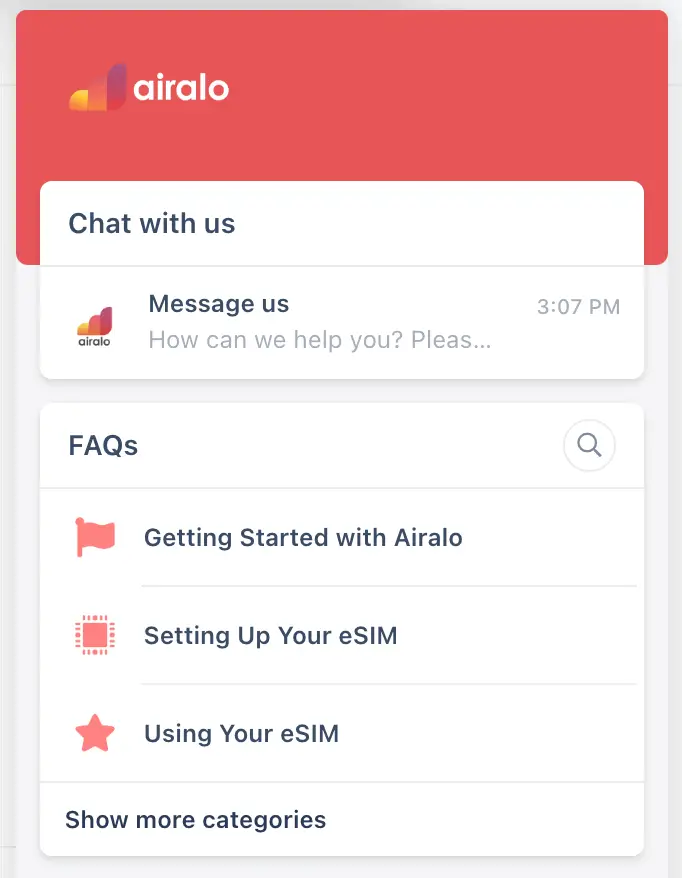 Got a question or need help? Just head to their website or mobile app, use the chat function, or reach out via social media and email. They've got your back every step of the way.
Comparison of eSIM plans and pricing
Okay, let's talk specifics! When you're planning your Malaysian adventure, you want the best value for your money. So, here's a quick one to one comparison of eSIM plan by different providers:
*The above table provides a basic comparison of eSIM plans and pricing offered by the top eSIM providers in the market. However, it is essential to note that these plans may vary in terms of additional features, network speeds, latest offers and customer support.
It is recommended to visit the respective provider's website or contact their customer service for detailed information and to confirm the latest offerings.
How to activate an eSIM for your Malaysia adventure
Alright, it's time to get you set up with your very own eSIM. Here's a step-by-step guide to help you activate your eSIM for your up coming trip:
Step 1: Check Device Compatibility
Before anything else, ensure that your device supports eSIM functionality. Most modern smartphones, tablets, and smartwatches do, but it's always best to double-check.
Step 2: Choose Your eSIM Plan
Head over to Airalo's website or app and browse through their extensive selection of eSIM plans. Select the one that aligns with your data needs and duration of stay in Malaysia.
Once you've made your choice, follow the on-screen instructions to download the eSIM. Airalo will provide you with a QR code that you'll need to scan using your device's camera.
Step 4: Activate and Enjoy!
After scanning the QR code, your eSIM will be activated, and you'll be ready to stay connected throughout your Malaysian adventure.
No more worrying about SIM card swaps or dealing with spotty connectivity.
Tips for maximizing your eSIM experience in Malaysia
With your eSIM activated and your journey underway, here are some handy tips to ensure you have a seamless and enjoyable experience:
Before traveling to different regions or remote areas in Malaysia, research the coverage areas of your chosen eSIM provider. This will ensure that you have reliable connectivity wherever you go.
**Note: Maxis and Celcom cover the most rural area in Malaysia
To make the most of your data allowance, take advantage of Wi-Fi networks whenever possible. Many cafes, hotels, and public spaces in Malaysia offer free Wi-Fi.
Before setting off on your adventures, download maps for the areas you plan to explore. This way, you can navigate with GPS even without an internet connection.
Back Up Important Documents
It's always a good idea to have electronic copies of your travel documents, like passports and itineraries, stored securely in the offline on your device.
Don't forget to update your friends and family back home about your incredible journey! Share your stories and photos on social media to keep them in the loop.
Common misconceptions about eSIMs
Lastly, let's address some common misconceptions about eSIMs that might be lingering in your mind:
Limited Coverage: Some travelers worry that eSIMs might not provide coverage in remote areas. Fear not! Airalo's extensive network partners ensure you'll stay connected in most parts of Malaysia, including rural and off-the-beaten-path destinations.
Device Compatibility Hassle: You might think setting up an eSIM could be complicated, but it's surprisingly easy! Most modern devices support eSIMs, and the activation process is straightforward.
Higher Costs: On the contrary, eSIMs often offer cost-effective options compared to traditional roaming plans. With Airalo's competitive pricing, you'll get excellent value for your money.
So, my fellow adventurers, it's time to embrace the wonders of eSIM technology and unlock the full potential of your Malaysia exploration. Say goodbye to costly roaming charges, endless SIM card searches, and connectivity woes.
With Airalo's eSIMs, you're all set to capture unforgettable memories and share your experiences with the world as you traverse through Malaysia and beyond.
Remember, your journey is about to get even more exciting with the power of eSIMs, so gear up, get connected, and let the adventure begin!
This article contains affiliate links promoting Airalo, the world's first eSIM store that empowers travelers with digital data packs for over 200 countries/regions.
By using these links, you not only enjoy fantastic eSIM benefits but also support the maintenance of this website. Thank you for your kind support!