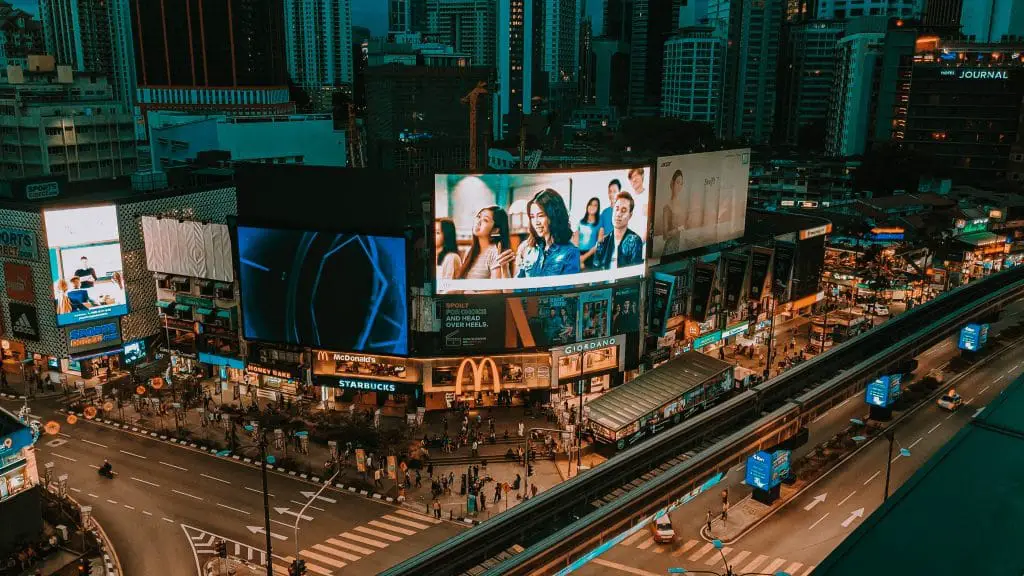 Bukit Bintang, the heart of Kuala Lumpur and a paradise for both shopaholics and food hunters. Located within Kuala Lumpur's Golden Triangle, Bukit Bintang is a busy area renowned for its eclectic mix of world-class shopping malls, restaurants, cafes, as well as five-star and boutique hotels.
Some might say that Bukit Bintang is Malaysia's very own concrete jungle while there are also others who agree that this is the only part of Kuala Lumpur that never sleeps.
So, where exactly can you go and visit in Bukit Bintang and what can you actually do around the area when the night falls?
Trying to set up an itinerary for your stay in Bukit Bintang can be a bit overwhelming since there are so many things available day and night in KL, to keep you entertained.
But, don't worry as we have prepared a list for some of the best highlights in Bukit Bintang that should definitely get included in your must-visit list!
Best Hotel in Bukit Bintang
If you're planning to spend more than a day exploring the vibrant city, you might want to spend some time searching for a place to stay that is not only comfortable, but also located within a short distance to some of the area's best points of interest.
Here are some of the best hotels in Bukit Bintang in our opinion:
Since you're already planning to stay in the city, why not spend some extra cash and book a stay at The Kuala Lumpur Journal, a four-star hotel located just a few minutes walk away from the train stations and the city's main points of interest.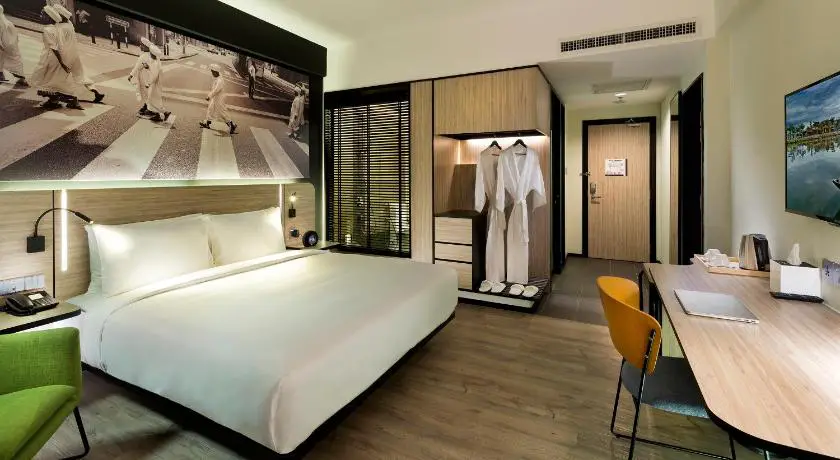 Although it is situated right in the middle of the buzzing city, you can expect to get a serene ambience once you take a step into this hotel.
Featuring a modern decor and a black and white theme, this hotel is equipped with all the things that you need for a short getaway—spacious and tidy rooms, a lounge bar as well as a cafe should you're in the mood for some snacks and coffee.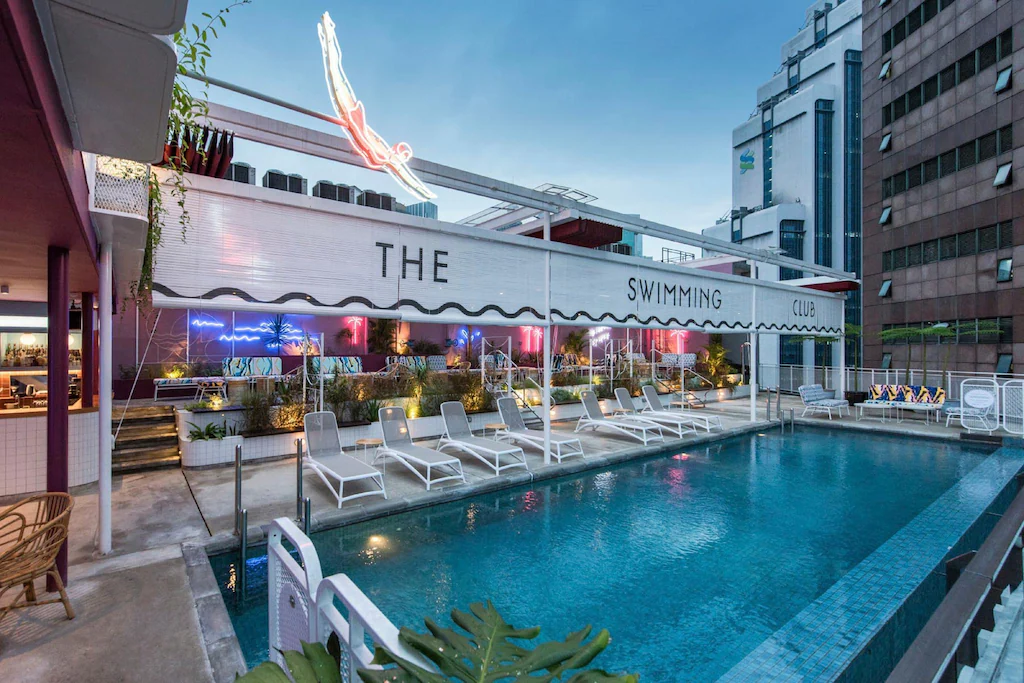 Aside from its amazing surroundings, one of the main highlights of this hotel is none other than its swimming pool. Dubbed as one of Kuala Lumpur's most Instagrammable infinity pools, you can spend the day swimming, enjoying the sun, and have a few drinks while overlooking the entire city.
You can even host your very own party or any other private events here, but make sure you give them a call to make some arrangements and place your reservation.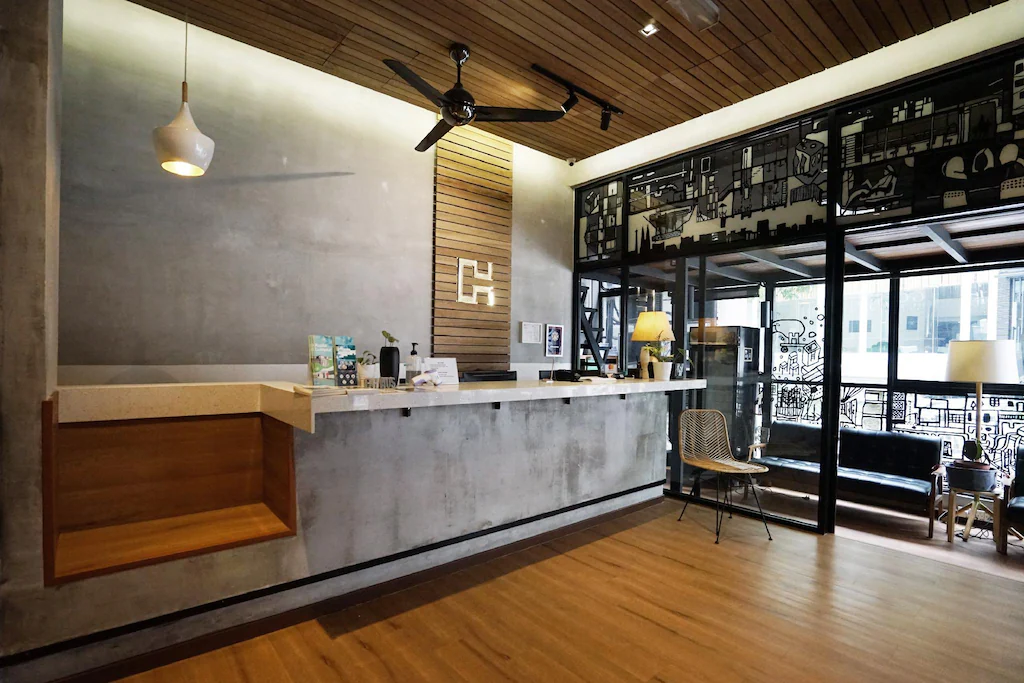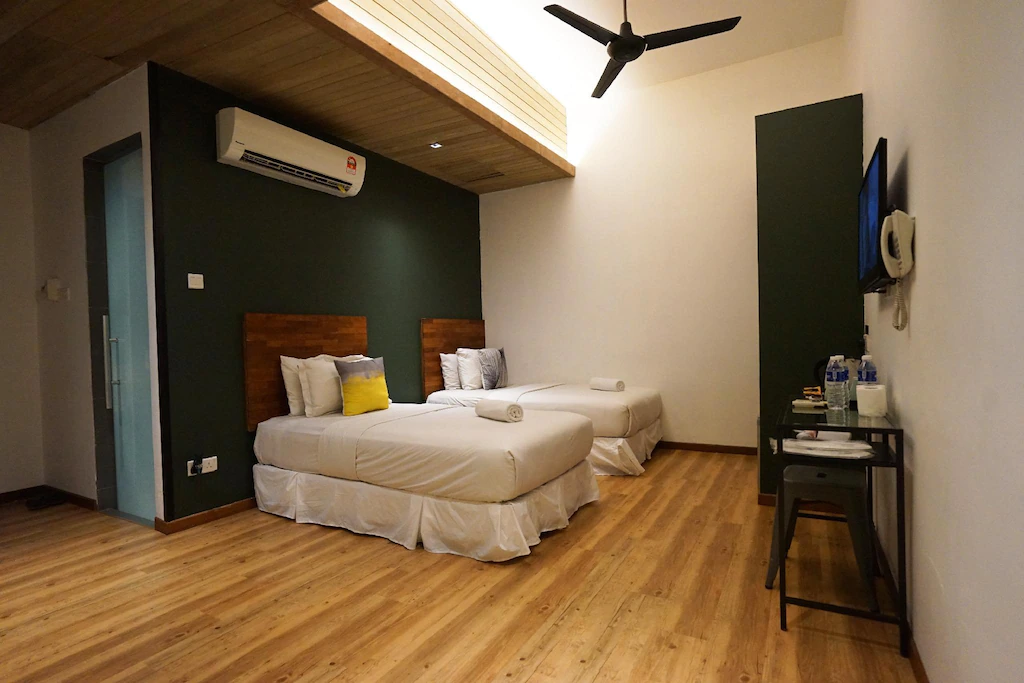 For those who prefer more privacy, but still prioritize the location and convenience of the accommodation, look no further than Chaos Hotel.
Situated along the streets of Bukit Bintang—right next to Fahrenheitt's Brands Outlet, to be exact—this boutique hotel can offer you the ultimate comfort without leaving a hole in your wallet.
There are three different rooms that you can choose from with each of them featuring a rustic and organic environment although they have no swimming pool.They even have room options for big groups and those who are planning for long-term stays.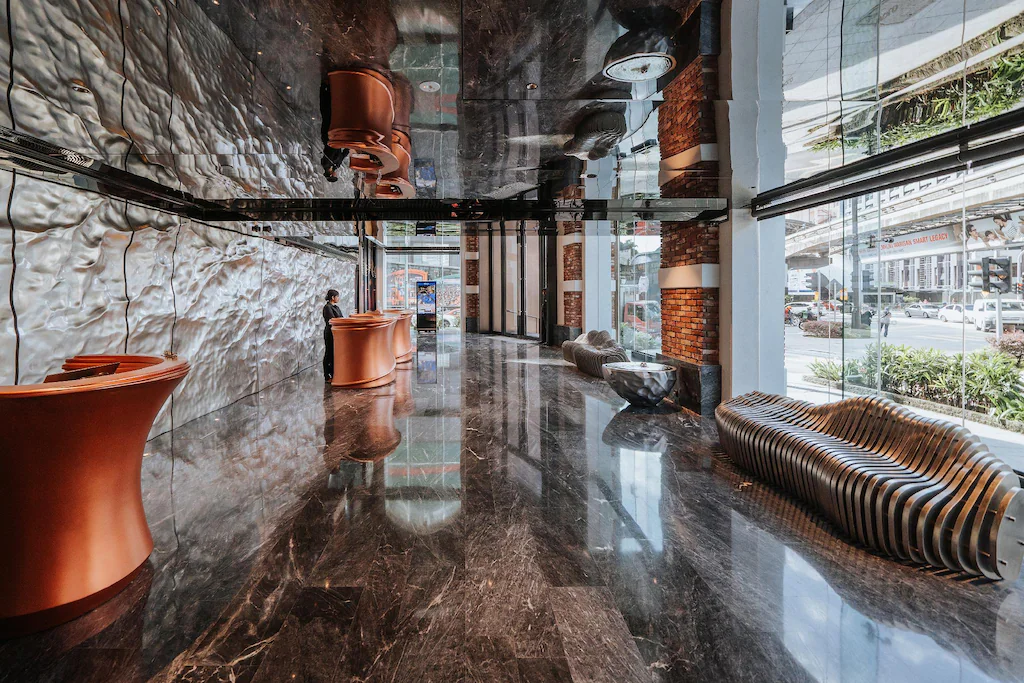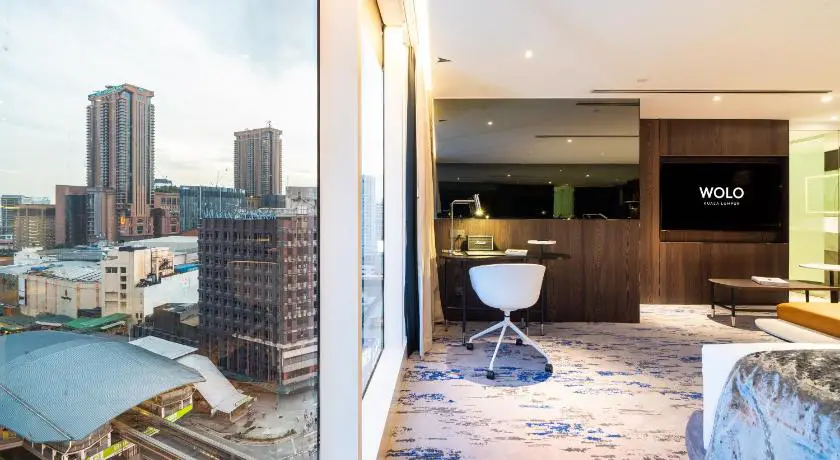 Given its strategic location right at the corner of Jalan Bukit Bintang, WOLO Kuala Lumpur has been a popular place of stay especially among tourists and young adults. The aesthetic design combined with its modern quirks are what attracted most travellers to book a stay at this four-star hotel.
The rooms are decorated with a rather minimalist style, however, all basic amenities are there. Do keep note however, that most of the rooms here lack windows and they also don't have a swimming pool.
Although this hotel does not feature a full restaurant, breakfast is available, but you have to add a certain amount of fee. This hotel also features a great wine lounge as well as a gym should you somehow feel the need to workout after a long day of shopping and food hunting.
Explore places to stay in Kuala Lumpur
Where to Eat in Bukit Bintang
Many would say that either Penang or Ipoh is the best destination if you're an avid foodie, but don't be fooled by such statements as Bukit Bintang is also brimming with an abundance of eateries and restaurants serving dozens of cuisines. Here are some of the highlights that you should never miss:
Hawker Food at Jalan Alor
Whether you have an undying love for street food or simply someone who likes to explore new cuisines, Jalan Alor is somewhere that you should never miss to visit.
Known by many as Kuala Lumpur's best street food destination, Jalan Alor has dozens of hawker stalls lining up the street with each of them selling a wide variety of local favourites.
From oyster omelette to satay, char kuey teow, chicken wings, and even refreshing coconut ice creams, Jalan Alor is surely a food heaven that won't disappoint you. What's best is that these hawker stalls stay open until late at midnight.
None can say no to a few mouth-watering snacks after spending hours walking around Bukit Bintang. The most popular spot where you can get your hands on different kinds of snacks is none other than Petaling Street.
This night market is located slightly away from Bukit Bintang, but it's pretty easy to reach via MRT since it is only two stops away. 
The place is also brimming with a great number of hawker stalls, so it might be quite impossible for you to try everything in one day. However, make sure to get yourself either a cold cup of "Air mata kucing" or soya bean milk.
These two stalls have been around for ages, so don't miss a chance to try these drinks. Sweet potato balls, glutinous rice balls coated with crushed peanuts, raw fish porridge, and chee cheong fun are some of the most popular snacks that you can get in Petaling Street.
Like to explore different cafes in KL? Visit this article to find out more!
The Ship has been operating in Kuala Lumpur for over three decades and is best known for its premium steaks cooked to perfection.
Although there are more than one outlet scattered throughout KL, many would agree that the one in Bukit Bintang is the best of all.
Just as its name suggests, it is not a surprise when the restaurant is fully adorned with maritime-inspired decor—you can even see an almost life-size hull of a ship at the entrance of the restaurant.
Since the food and dishes here are prepared only by highly professional chefs, you can expect to leave the place with a happy tummy!
Looking to dine in a more unique restaurant? Then head to Changkat and look for a restaurant called Dining in the Dark. Instead of enjoying your perfectly plated entree in a dining area with bright lighting, you'll be taking a bite in the dark!
What's best is that the menu at this restaurant is also a total surprise, so you'll have to guess them on your own using only your sense of taste and smell when they arrive on your table. 
Of course, vegans, vegetarians, and those who have allergies for certain ingredients will have to inform the staff beforehand so that they won't serve you something that you can't enjoy!
Craving for some flavorful Asian delicacies? If so, then Capitol Cafe is the right place for you. You can get almost every Asian dish here—from their signature nasi lemak served with tender fried chicken to nasi ikan bawal balado, bali-style duck served with honey sauce, and even Hainanese chicken chop.
What's even better is that each of these foods is priced decently and comes in a generous portion too! But, do keep in mind that this cafe is also a favourite place among working locals, so the place might get extra crowded during lunch time!
Now comes the best part of Bukit Bintang—shopping malls and high-end outlets! These are some of our suggestions should you're planning on spending those paychecks: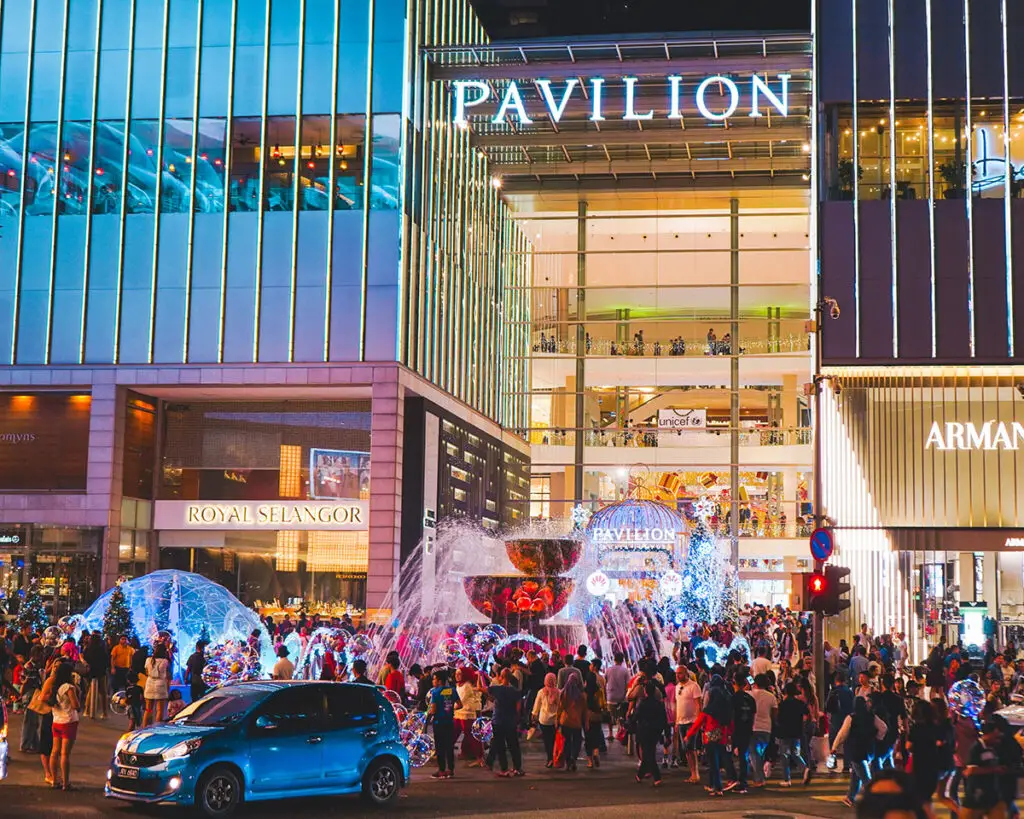 It is pretty safe to say that none has ever left Kuala Lumpur without setting foot at Pavilion KL, the most precious gem of Bukit Bintang. Beautifully adorned with a three-tiered rafflesia water fountain, Pavilion is the home to a wide array of designer outlets, restaurants, and bars.
You can either spend your time swiping those credit cards at one store after another, hangout at one of the many bars and restaurants located on the ground floor, watch a newly released movie at the cinema, or even join a baking class at ABC Cooking Studio that is located on the seventh floor of Pavilion Elite.
Can't get enough of all those designer stores in Pavilion? Then continue your hunt for luxurious items at The Starhill.
Located just a few steps away from Pavilion, Starhill is the perfect place especially for those who seek to splurge on luxurious timepieces and exquisite jewellery. From Rolex to Patek Philippe, Tom Ford, and Stefano Ricci—you can find them all
First opened its doors to the public earlier this year, Lalaport is yet another one of Bukit Bintang's massive shopping malls. Initially a site of the historic Pudu Prison that was built in the late 19th century, Lalaport sports a sleek interior, fully influenced by the Japanese minimalist style.
Being Mitsui Fudosan CoLtd. 's first regional retail facility in Southeast Asia, this mall is equipped with a variety of Japanese stores, gastropubs, and restaurants. So, if you're a fan of everything Japanese, don't miss a chance to visit this lively shopping mall
You can never say you've toured around Bukit Bintang without experiencing its vibrant nightlife. From a laid-back spot to hangout with a bunch of friends to live music, and spooky bars. Below are the places that you should not miss:
A relaxing cafe during the day and a whimsical yet lively bar at night. Rabbit Hole can be found in Changkat, Bukit Bintang, right across Havana Bar & Grill, another one of Kuala Lumpur's exciting nightlife spots with live music.
Featuring a chic interior and a crystal clear pool, Rabbit Hole is a great hangout spot especially for night owls out there as this place stays open until 1 am.
They even serve an array of food to keep you full all through the night along with a long list of drinks—both alcoholic and non-alcoholic, of course!
Looking for something different rather than a normal bar with loud music blasting through the sound system? Then jump on the MRT, stop at Pasar Seni station, and make your way to The Deceased, a spooky speakeasy bar tucked hidden within Chinatown.
Holding tight to eerie and spooky concepts such as death and ghosts, you'll be greeted with walls smeared with bloodied handprints and dim lights to enhance the experience! However, do keep in mind that they only serve drinks here, so make sure you're not visiting with an empty stomach!
Of course, listing all the best places in Bukit Bintang might require more than a few thousand words, but these places mentioned above are a great start.
This part of Kuala Lumpur is busy pretty much all day and night, so don't worry about getting bored even in the slightest minute whenever you're on a short getaway in Bukit Bintang.
Your day will be filled with hours of shopping spree, food hunting activities, and hangout sessions at night which are all the definitions of fun!