A week ago we saw a couple of nice pictures online about a trending cafe located right in the heart of the busiest city in Malaysia, Kuala Lumpur! Known by many as Ruma Puteh, this cafe has been attracting a great number of visitors with its aesthetically pleasing interior and decorations. First opened its doors to the public early last year, the name of this cafe simply translates to White House, so you can expect to be greeted with a bunch of white decor once you arrive here.
For muslims out there, don't worry as this cafe is Halal-certified. But, is this cafe any good and does it match or even better, surpass our expectations?
Continue scrolling below to find out yourself! Spoiler alert: This cafe has an average rating of slightly over three stars online, so we didn't really have too much of a high hope
 Cafe Review on 27/05/2022
Where is Ruma Puteh, How to Get There, and Where to Park
The routes are rather simple—you'll know you're on the right track as soon as you notice the unique triangular roofs of the Istana Budaya! Since the cafe is located in a neighbourhood area, it is pretty easy to find parking spots there. You can either park along the roadside right in front of the cafe itself or you can also opt to park at Istana Budaya.
To be exact, Ruma Puteh is located on Jalan Kuantan, Taman Tasik Titiwangsa which is right on the opposite side of Kuala Lumpur's Istana Budaya. For those who are driving, you can just type in Ruma Puteh on your Waze or Google Maps.
The routes are rather simple—you'll know you're on the right track as soon as you notice the unique triangular roofs of the Istana Budaya! Since the cafe is located in a neighbourhood area, it is pretty easy to find parking spots there. You can either park along the roadside right in front of the cafe itself or you can also opt to park at Istana Budaya.
As for those who prefer to use public transportation, you can easily take the trains (MRT, LRT or Monorail). You can stop at either Titiwangsa or Chow kit which are the two nearest train stations to Ruma Puteh.
However, once you've arrived at one of the stations, it is highly recommended that you book a Grab ride in order for you to reach the cafe since walking might take you at least twenty minutes.
After looking at several photos online of the cafe's entrance, we were expecting to be welcomed by a set of white, Santorini-like arches, but to our surprise, they have actually repainted all of them into vibrant colours! Truth be told, we kinda liked the white version of the arches, but still, the vibrant colours looked nice on camera especially at noon, when the sun is high up in the sky, providing a great amount of lighting.
Since we went on a weekday, the cafe was nearly empty. Inside, only a couple of tables were occupied. Initially we wanted to take advantage of the great weather and make ourselves comfortable outdoors, however, we were informed that the outdoor seating area was closed for a private event that'll take place later that day.
Inside, the tables were placed quite a distance apart from each other, so we didn't feel confined or congested in one place. The seating area is also divided into different sections. There is an all-turquoise seating area with a classic chandelier hanging from the ceiling which looks absolutely cool (it could also be a great spot for birthday events), but the lighting was not so great and it was pretty hot in there. So, in the end, we decided to sit somewhere else.
As much as the decor was quite pretty, the vibe of the place was not really what we expected—it was too quiet, making us feel a tiny bit awkward to even have a conversation with each other. It would be great if they could turn on some music to enlighten the mood a bit. But, other than that, the entire place is squeaky clean!
Just like any other restaurants and cafes, Ruma puteh also no longer uses a physical menu and instead, you'll have to use your smartphones and scan the QR code prepared on the table to view all of their menu items and place your orders. Click here to access Ruma Puteh's menu.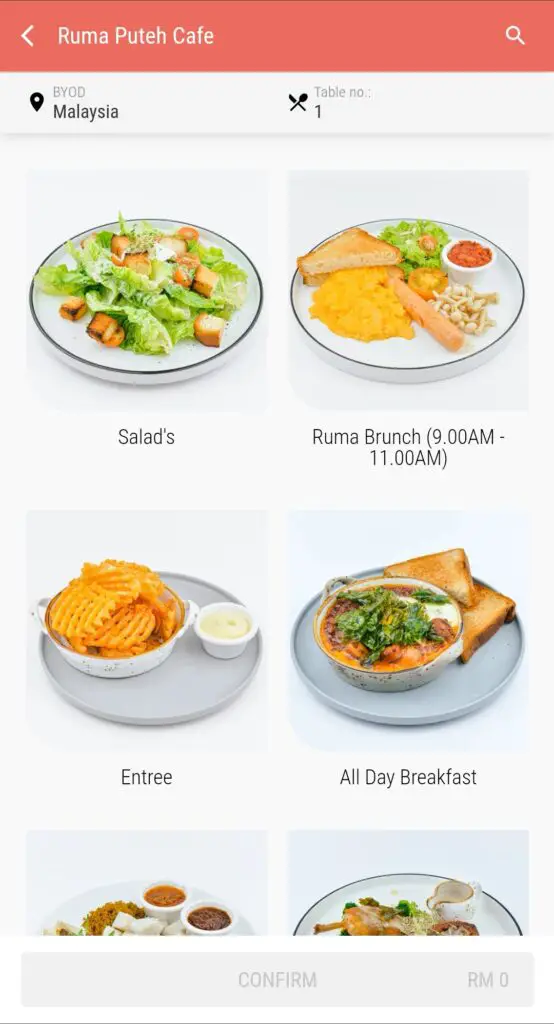 We were surprised to see a long list of menu items, however, our smiles quickly faded as most of them were not available, especially their desserts—perhaps we were not that lucky on the day of our visit.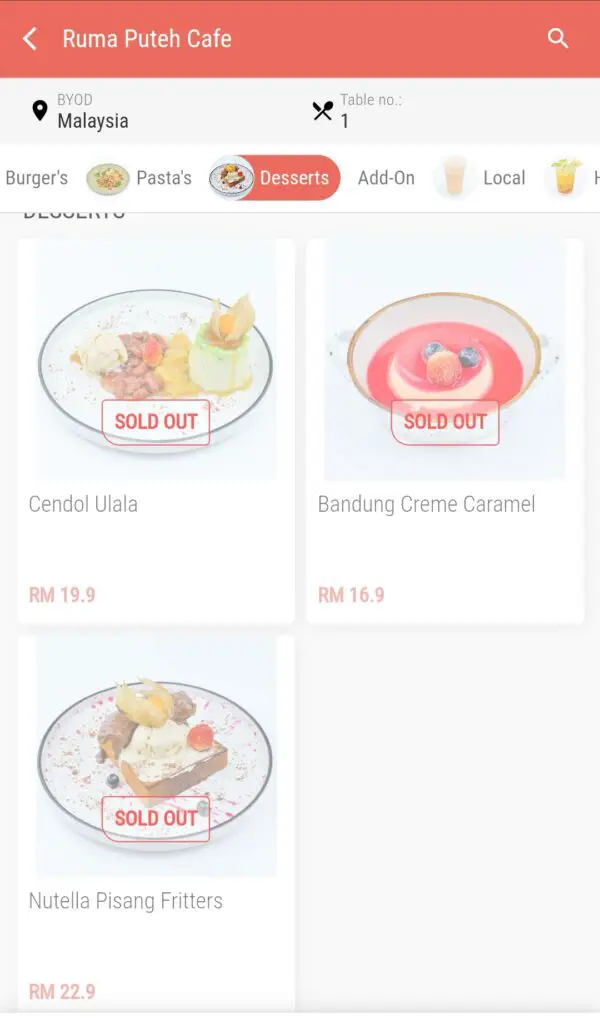 The cafe serves both local and western cuisines. They have several pasta choices, burgers, sandwiches, chicken wings, and salad bowls if you prefer something healthy.
As for the local dishes, Ruma Puteh has Lontong Darat, Nasi Kerabu, Peranakan and Bugis Laksa, Kacang Phool and Nasi Lemak listed on their menu to which most of them are considered local favourites.
Not only the foods, but this cafe also serves an array of drinks ranging from coffees to juices, coolers, teas, and soft drinks.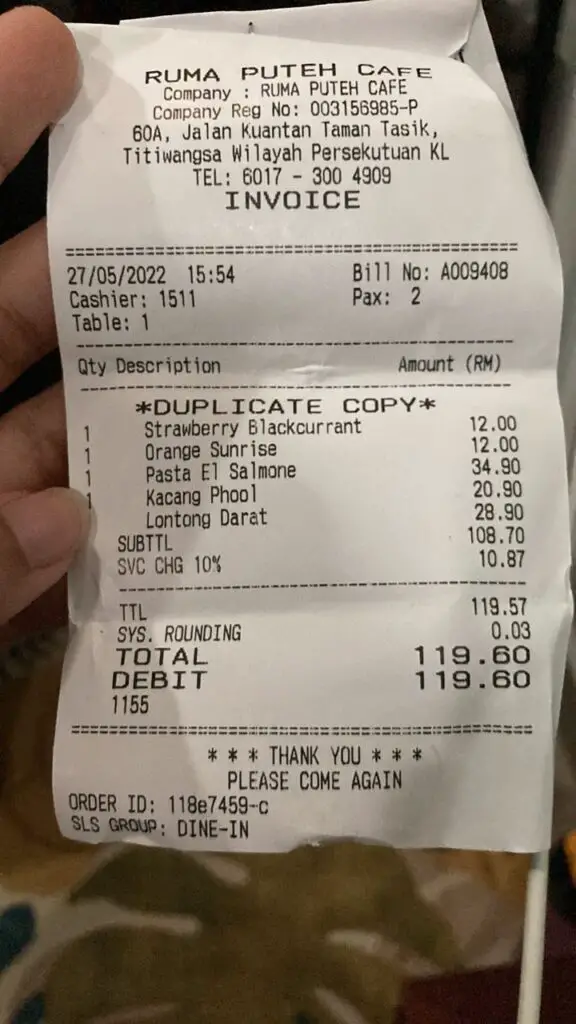 Speaking of the prices of all the menu items of this cafe, we think they are sort of on the pricier side. You might need a minimum of RM50 to eat here or perhaps even more if you're planning to get some desserts after the main dish. Even we spent slightly over a hundred Ringgit for two pax!
After staring at the menu on our phone screens for a couple of minutes, we decided to try out both their local and western cuisines. So, we ordered their Kacang Phool (RM 20.90) to act as our starter, Lontong Darat (RM28.90) and Pasta El Salmone (RM 34.90) as our main dishes along with two fresh coolers called Strawberry Blackcurrant and Orange Sunrise (both priced at RM 12 each).
Bad news first, the Kacang Phool did not really reach our expectations. We were only served with a cold and thin slice of toast which was cut into four small pieces. The kacang phool itself is a little too thick to our liking, but the overall flavour okay—but, we wouldn't recommend this menu item especially for Kacang Phool lovers out there.
Luckily, our disappointment slowly went away when the main dishes arrived on our table. The portion of the pasta was fine, the cherry tomatoes were sweet and juicy, and the salmon itself was well infused with all the seasonings and flavours. The only downside was the excessive olive oil mixed with the pasta itself.
The Lontong Darat, however, was the most flavourful dish out of all three in our opinion. Like the pasta, the portion of this dish was perfectly fine. The nasi impit were cut into bite sized cubes, the flavours of both sayur jawa and serunding were on point and the beef rendang is filled with nothing but tender pieces of meat. So, it is safe to say that this menu item reached our expectations!
There is nothing special about the drinks we ordered, however, we still enjoy the sweet and fruity flavours.
The moment we set foot at the cafe, we were almost immediately greeted and welcomed by their friendly staff who then proceeded to show us the tables that were available for us. After we sat down and made ourselves comfortable, one of them even came to our table to inform us that we were required to order through our phones.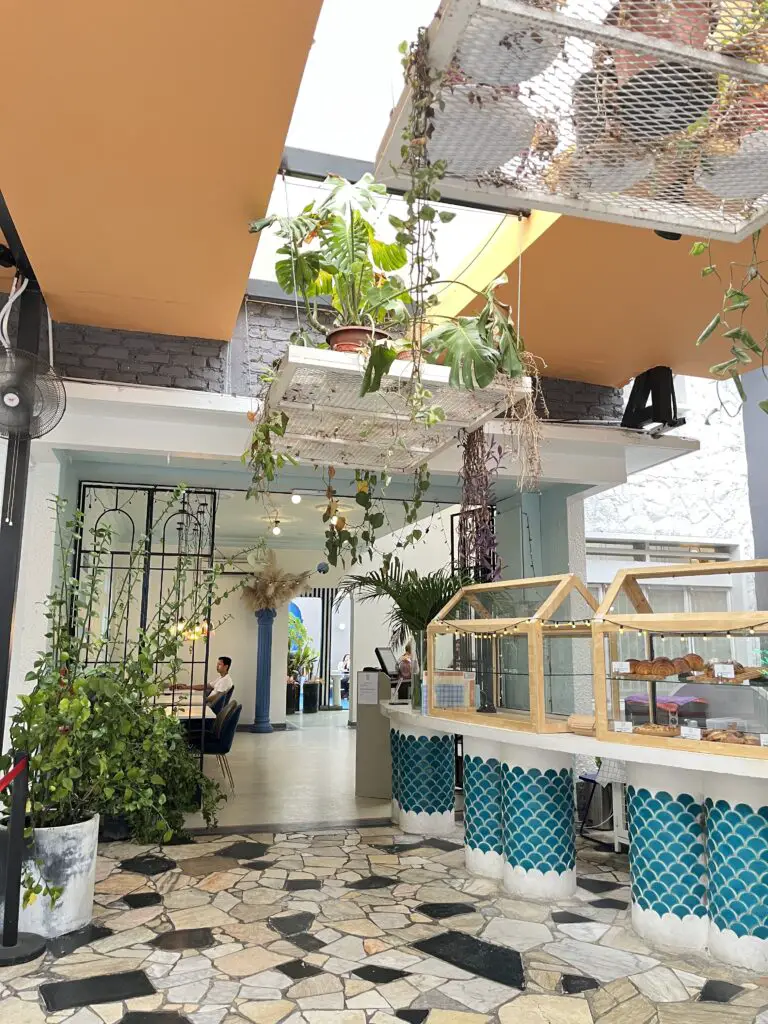 It did not take long for our food and drinks to arrive on our table—it was approximately fifteen minutes after we placed the order, so that's definitely a plus! Although the orders were made via our smartphones, there was no option for us to pay online, so we had to ask for the bill and make our payment at the cashier counter.
They accept cash, any form of online payment as well as both credit and debit cards. The entire payment process was smooth and the cashier wore a smile on their face the entire time.
The cafe also features a muslim prayer room, so don't worry about rushing back home or to the nearest mosque when it is time for you to pray!
The entire cafe is, no doubt, spacious, so your children can do a little bit of exploring especially if you're sitting outdoors. You can also park your little one's stroller right by your table as there is plenty of space for others to walk around.
There is, however, neither baby chairs nor a special kid-friendly menu, so keep that in mind especially if you're visiting with toddlers or kids who are picky eaters!
The spacious eating area and flat grounds make it possible for our disabled friends to enjoy some good time at this cafe. Those who are on a wheelchair can easily get around as the tables at the cafe are all arranged with quite a distance between each other. Plus, you don't have to go to the counter to make your order!
A click on your smartphone is all you need and your food and drink will arrive right in front of you in just a matter of minutes. The staff too are quite friendly and they are always there to ensure everything is fine! 
But keep in mind to avoid choosing the tables outdoors, especially for those in wheelchairs since the grounds are not so levelled—you might find it hard to go around as the area is full of potted plants, soft grasses, and pebbles.
So, now that we've given our ratings, is this cafe really worth a visit or should you skip it? Well, it actually depends on what you're expecting—if you're all about the aesthetic looks and instagrammable decor, then why not?
But if you have a taste palate of a professional chef, you might want to take some time to think about visiting this place. In our case, we're not so sure if we're going to return to this cafe anytime soon.
Credits: Photos and content written by Atiqah
Things that you need when you're on-the-go (Hand-picked!)
Make your travels convenient and enjoyable with these essential products by your side! We curated the products that are high rating and ready stock in Malaysia without you spending time to search for the best one on the market.
Disclosure: This post contains affiliate links. If you click these links to purchase the product we may earn a commission without extra cost to you. We carefully select the best and all products are shipped from the local by high rating seller.