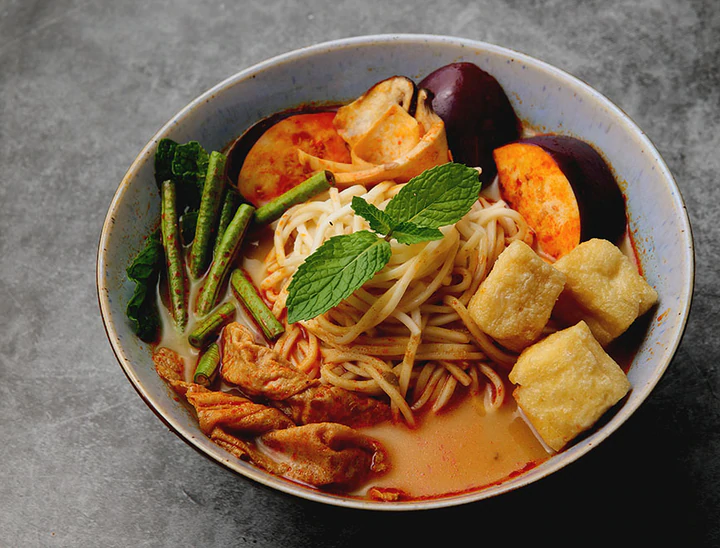 Some might have wondered what it's like to be a vegetarian and how exactly it can affect our life.
Of course, this particular diet has an array of benefits especially when it comes to physical health—a vegetarian diet can help you boost your heart health, reduce the risk of cancer, and prevent diabetes. But, do you also know that a vegetarian diet can also keep your brain sharp? 
That's right, high-quality plant-based foods can actually play a part in maintaining your cognitive performance and believe it or not, studies have shown that it could even lower the risk of dementia!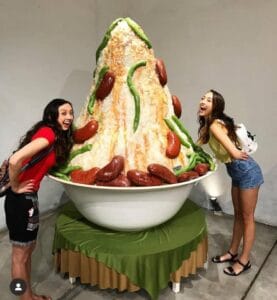 However, if you're a traveller who would like to explore the wonders of a vegetarian diet or perhaps, you already have been a vegetarian ever since you could remember, finding the best place that features the perfect vegetarian menu could be pretty overwhelming especially when you're in Penang, Malaysia's very own food paradise!
But, don't worry as we have prepared a short list full of Penang's most famous vegetarian restaurants just for you. Continue scrolling below to discover them all.
Top 5 Vegetarian Restaurants in Penang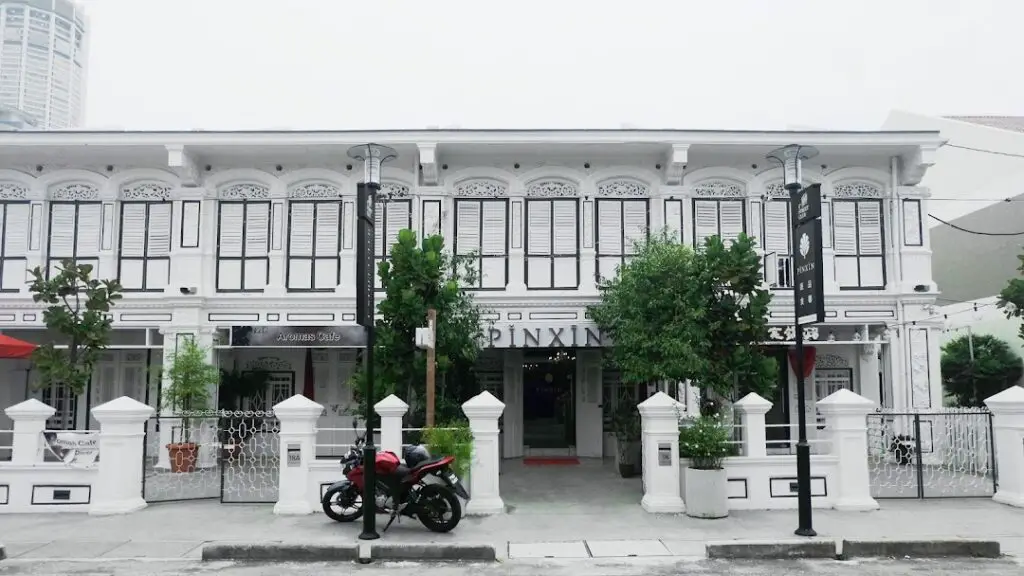 Who says both vegan and vegetarian cuisines can't appear as aesthetically pleasing as those non-vegetarian dishes that we typically see served at Instagrammable cafes?
Located in Georgetown, this wonderful vegan/vegetarian-friendly restaurant claims to serve the best authentic Penang dishes and is attracting over 4,000 families to its doors each month—no wonder they were once considered Tripadvisor's travellers' choice back in 2020 and featured in Lonely Planet!
From Nasi Lemak to Nasi Kandar, Asam Laksa, spaghetti, burgers, salad bowls, and sourdough toasts—they have almost everything that you ever want with each of them known for their mouth-watering vegan twists.
They even have an eclectic selection of kid-friendly meals for your little ones! Don't miss to order their Dark Sauce Hericium Rice or opt for their Fiery Curry Noodle if you love rich and spicy cuisines.
Woodlands Vegetarian Restaurant
Nestled right in the neighbourhood of Little India along Penang Street, Georgetown is yet another one of Penang's most famous spots for vegetarians.
Woodlands Vegetarian Restaurant is notable for their wide variety of Indian delicacies including fluffy naans, idili, dosa, masala, and biryani.
Not only do the foods all come in generous amounts, but this Indian vegetarian restaurant is also packed with rich flavours and spices.
Order a chapati if you're in the mood for something light or a plate of garlic chili noodles with some mushroom manchurian if you prefer something heavier.
Of course, don't leave the restaurant without tasting their masala tea and take a sweet bite of the jangri—you'll surely leave the place with a happy tummy!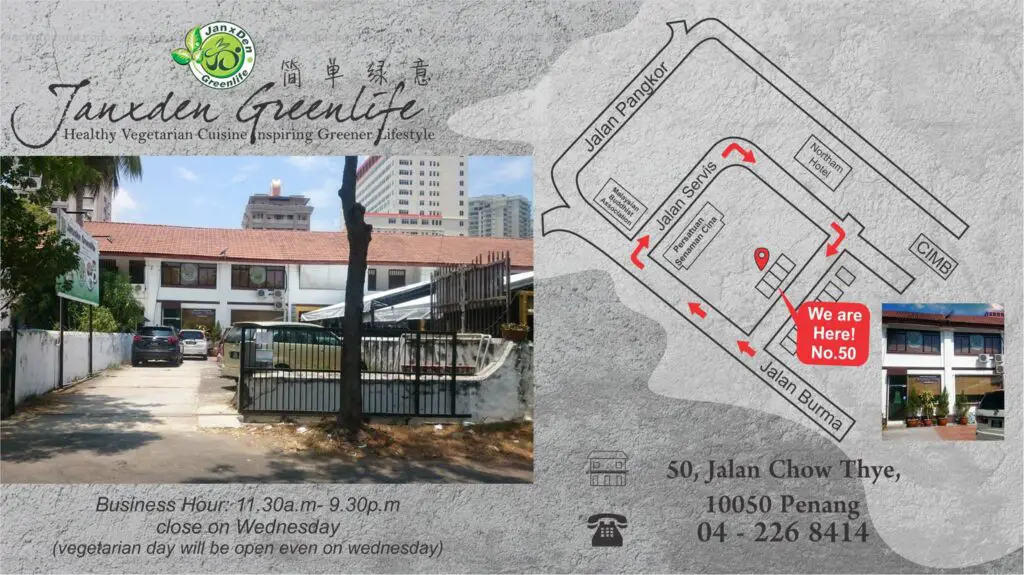 There is only one way to describe this vegetarian restaurant: one look at any of the dishes served at this restaurant and you'll immediately drool. JanXden Greenlife is a restaurant located on Jalan Chow Thye, Georgetown that is known among locals for its colourful western plates that promote healthy diet.
Infused with its special homemade sauce, patties, and buns, their signature burgers are definitely to die for!
You can either opt for the Hawaiian burger if you're the type of person who loves the unique combination of tangy pineapples with the savoury mushroom patty.
Their teriyaki burger is also a great choice should you want a hundred percent vegan option. Other than burgers, their pesto pasta, pizza, mushroom chop, and the cheesy kimchi platter are some of the best options that you can choose from.
What's best is that you can even find the amount of calories, carbs, protein, and fat listed alongside the delicacies on their menu!
Looking for a place where you can get an abundance of vegetarian options without leaving a hole in your wallet?
Then, you can never go wrong with Ee Beng Vegetarian Food that can be found in Lebuh Dickens, Georgetown. Operating as early as 7 am, this place can also be a great spot for early risers out there to get a hearty breakfast before kickstarting your day.
Famously known for its Malaysian Chinese meals, this humble self-service eatery offers different kinds of vegetarian-friendly fried mee, steamed buns, banana leaf curry, and so many more.
Believe it or not, you can get a plate of rice accompanied by a generous amount of flavourful vegetables and some pau (steamed buns) on the side with a price below RM20!
If you do have more space in your stomach by the end of your breakfast or lunch, feel free to order up their vegetarian Loh Mah Kai and enjoy it to the last bit.
Yun Shan Ge Vegetarian House
Craving for some authentic Nyonya dishes but you're also on a vegetarian diet? Then Yun Shan Ge Vegetarian House is the perfect place for you.
This restaurant claims that they do not use any dairy products, garlic or even onions in their cooking, so for those who are avoiding these exact ingredients, you're good to go!
A great location for both single travellers and families, this Chinese vegetarian restaurant in Penang Street is best visited during either lunchtime or dinner.
There are indeed a lot of tasty foods that you can choose from their menu, but we do recommend you order their vegetarian satay for starters. Instead of chicken or beef, the satay is freshly prepared only with marinated white mushrooms and cucumber.
Don't be fooled by its look as it tastes as delicious as the non-vegetarian satay especially when you pair it up with their peanut sauce.
For curry lovers, don't miss a chance to taste their Curry Kapitan which uses mushrooms to substitute chicken meats. The aroma of the curry alone will leave your jaw on the floor—you have our word!
Last but not least, you can treat yourself with some sweet dessert after finishing all those hearty dishes.
At Yun Shan Ge, you can feast on several traditional desserts such as the Gula Melaka Sago Pudding and also the Sweet Cassava, a plate full of silky smooth tapioca topped with sweet gula melaka and coconut milk.
Of course, Penang has a lot more vegetarian-friendly restaurants scattered throughout the area other than the ones that we have listed above.
Other than Georgetown, Bayan Lepas too has a variety of vegetarian-friendly restaurants.
If you happen to be in Queensbay Mall, don't miss to dine in Idealite, which is located on the third floor. Herbal Bak Kut Teh, Claypot Rice, Hakka Lei Cha Rice, and spicy Cauliflower Nugget—these are some of their best menu items.
For those craving for Japanese cuisines, head to Jalan Mahsuri and look for a restaurant called Plant A Seed Vegan.
Not only does the restaurant serve great Japanese fusion dishes with a unique vegan/vegetarian twist, but it also features a cozy ambience!
So, check out any of the restaurants mentioned above if you happen to be in Penang.
Who knows, even if you're not an avid vegetarian, these restaurants might end up as one of your favourite places in Penang!
So, grab your car keys, explore them all and let the rich flavour of these healthy and rich vegetarian dishes surprise you.