Penang was a former British colony known as the 'Pearl of the Orient,' where commerce flourished, with traders flocking to pass this trade route from all parts of the world.
Indulge yourself in this most beautiful exotic city of scrumptious cuisine, rich heritage, and cultural delights, well-known for its highly diverse population, ethnic groups, and history.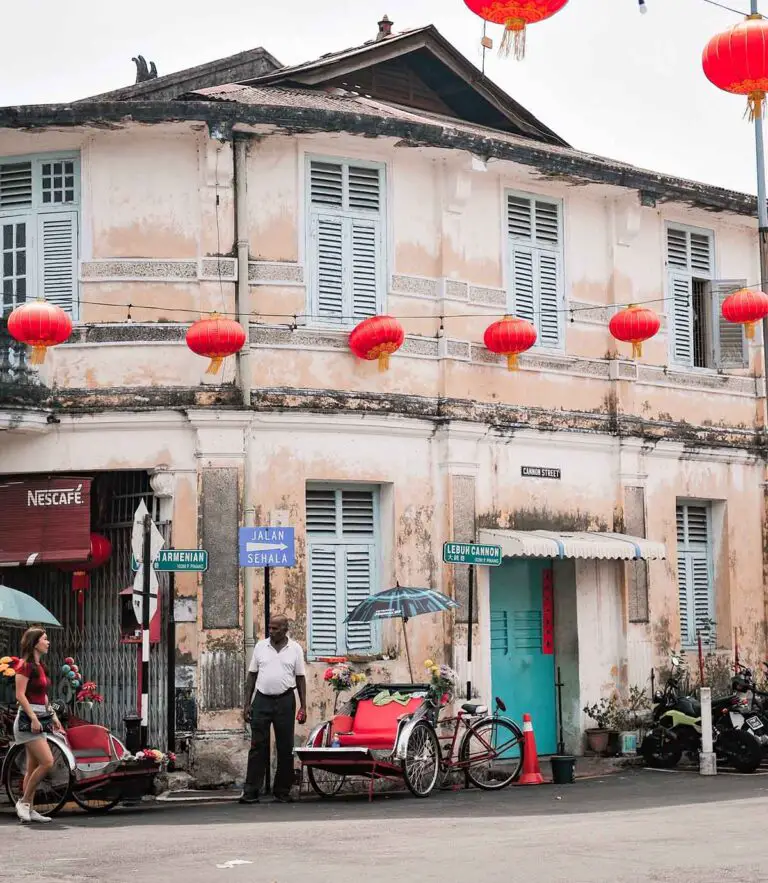 Penang can be a good idea for a fast getaway if you're in the area. Are you a fan of modern hotels or traditional architecture?
The island city has moved into the spotlight in recent years with its series of ancient mansions transformed into charming hotels, a spot with street food, and big-ticket attractions. 
You may have heard of Peranakan hotel in Penang. Here are several others to consider staying at if you're on the island.
Top 6 Boutique Hotels in George Town
Blue Mansion (Cheong Fatt Tze Mansion)
Penang has an array of environmental initiatives in place, and for good reason. There are numerous historic landmarks, sites of interest and significant attractions that have been preserved throughout time.
The Blue Mansion is one notable example of a long-standing structure with a rich history.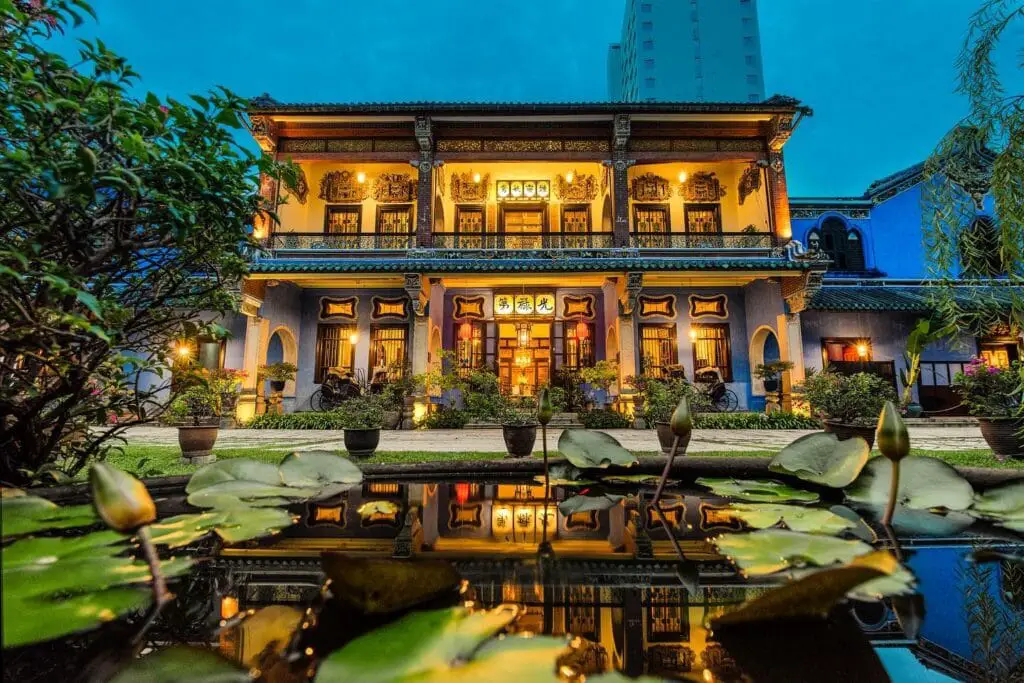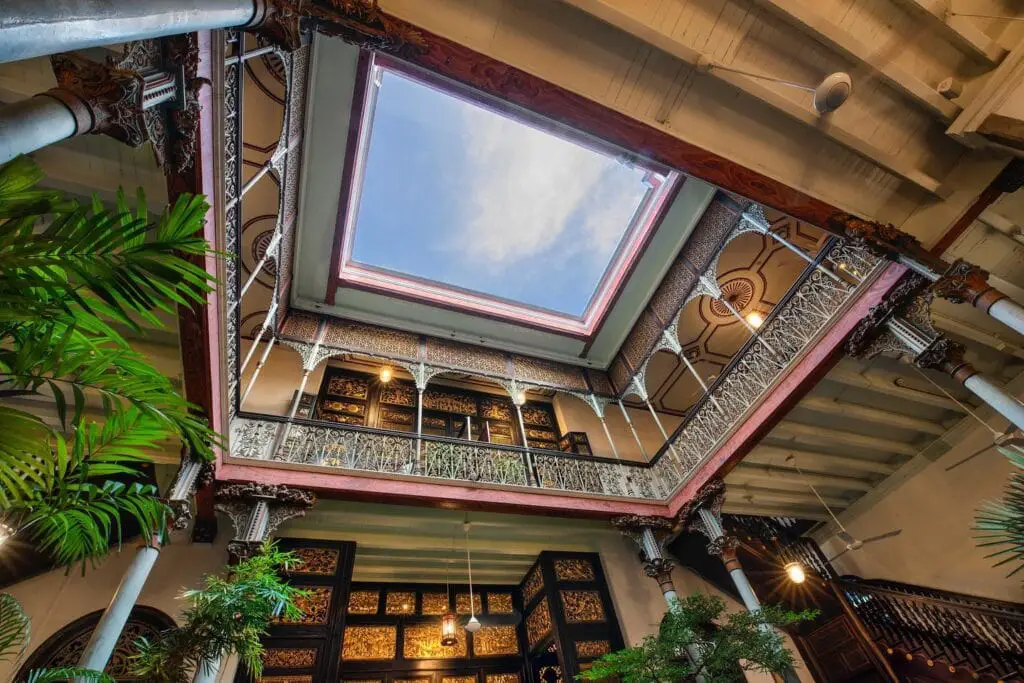 The historic site was the beloved home of a wealthy Chinese merchant who built a massive manor to accommodate nine generations of offspring. It was effectively abandoned after World War II until a local architect, Professor Laurence Loh personally saved it from destruction. 
He also employed artisans from China to incorporate traditional decorative and construction techniques lost to local craftsmen, meticulously keeping to his original look.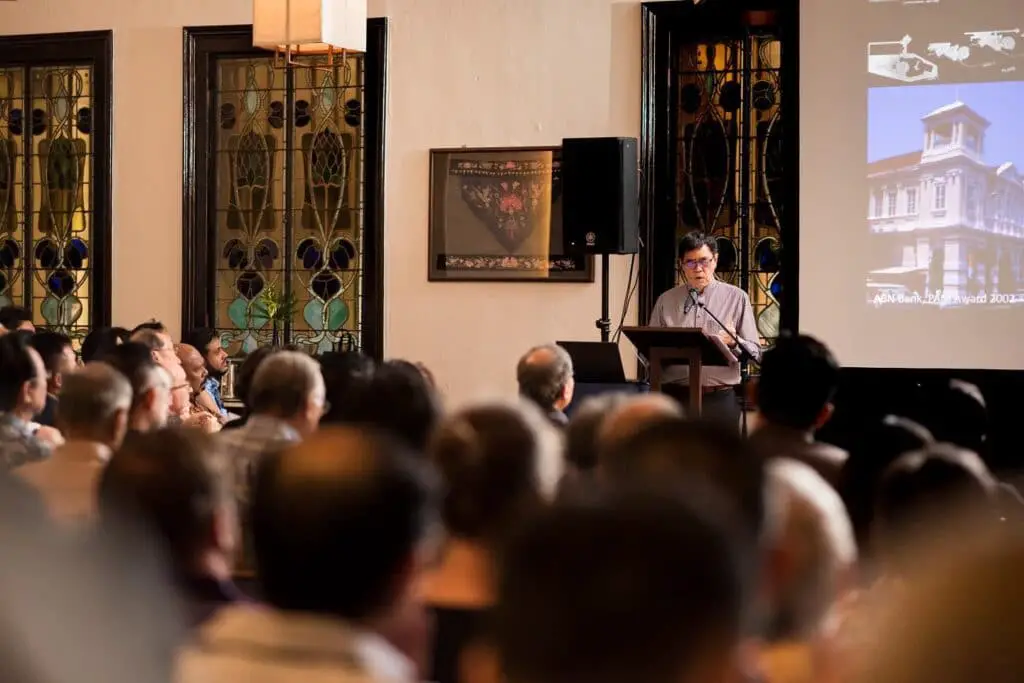 Now, the Blue Mansion is a hotspot for weddings and film shoots among many other occasions.
The treasured structure has gained a reputation as one of the most aesthetically elegant places to stay and boasts 18 rooms of regal Mandarin luxury.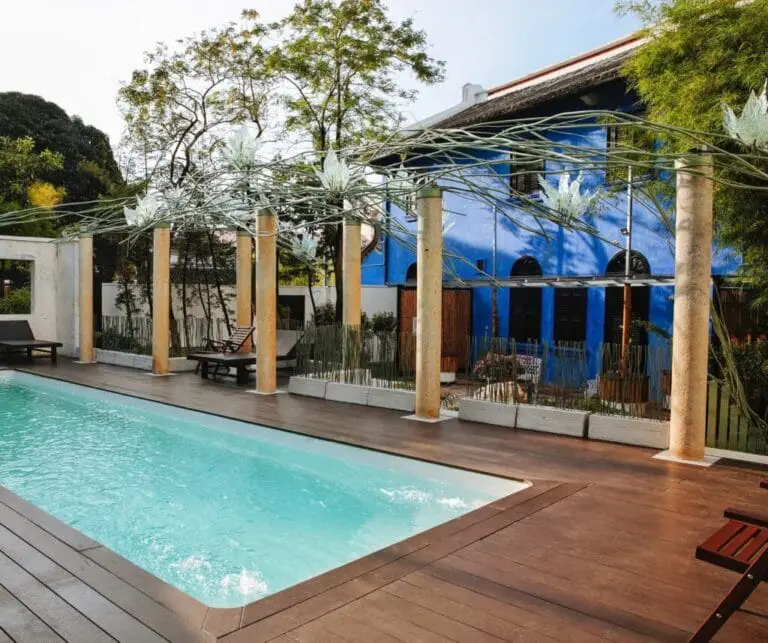 A portion of the mansion's hotel and outdoor swimming pool is roped off to the public, so you will not find randos walking out near your bed. There is a great bar and a delicious restaurant called Indigo.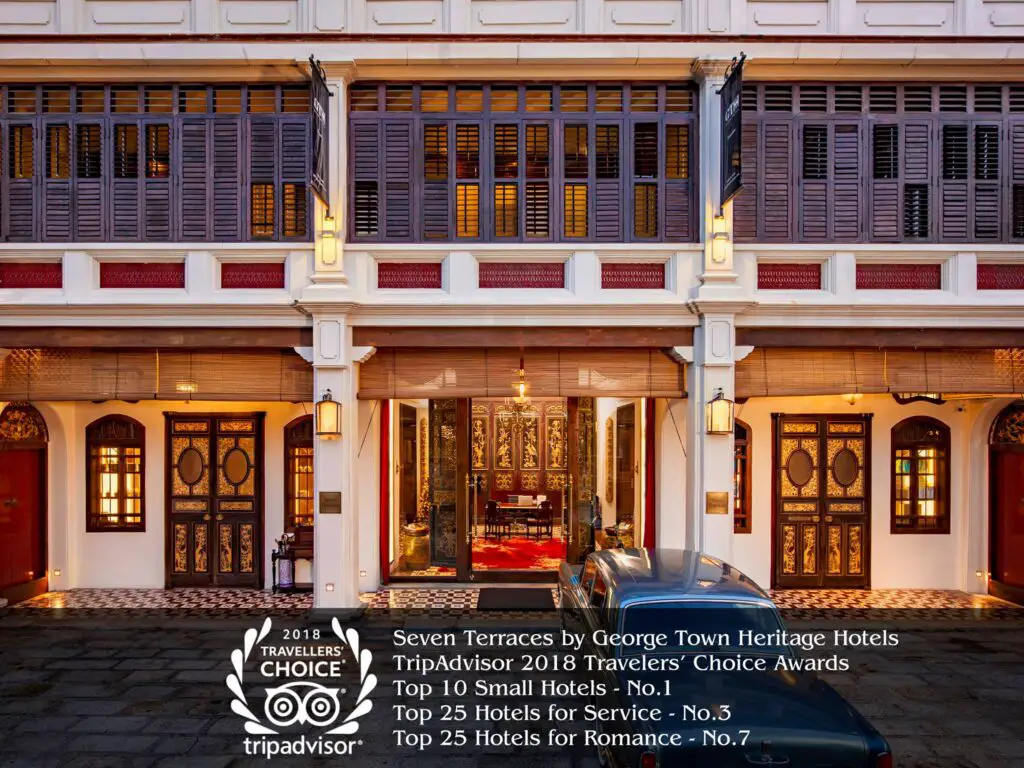 Built in the late 19th century, the Seven Terraces stands to this day as a gorgeously built row of Anglo-Chinese terrace houses which are also considered heritage buildings.
Renowned for its unique take on the oriental style of architecture, the hotel comprises long stretches of shophouses fitted with classical decorative elements that mimic traditional urban homes found commonly in parts of Southern China.
Seven Terraces is the flagship of the George Town Heritage Hotels group, headed by former Hong Kong investment banker and Penang-born Chris Ong, and consists of seven Chinese Straits homes converted into a magnificent Peranakan property.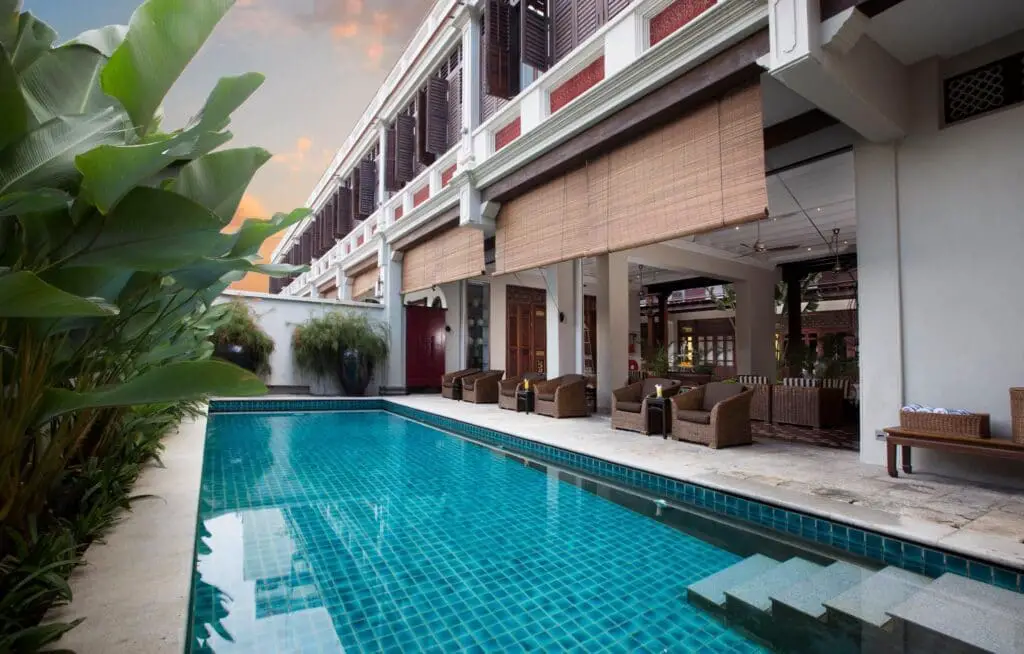 Conservation organizations have received architecture awards and praise for the 18 suites. All of the guest rooms are on the second floor, while the gutted interior now has a perfect granite courtyard for a sequel to Crouching Tiger.
This is a hotel built to impress and can be excellent for honeymooners, boasting a powerful red colour scheme of the rooms.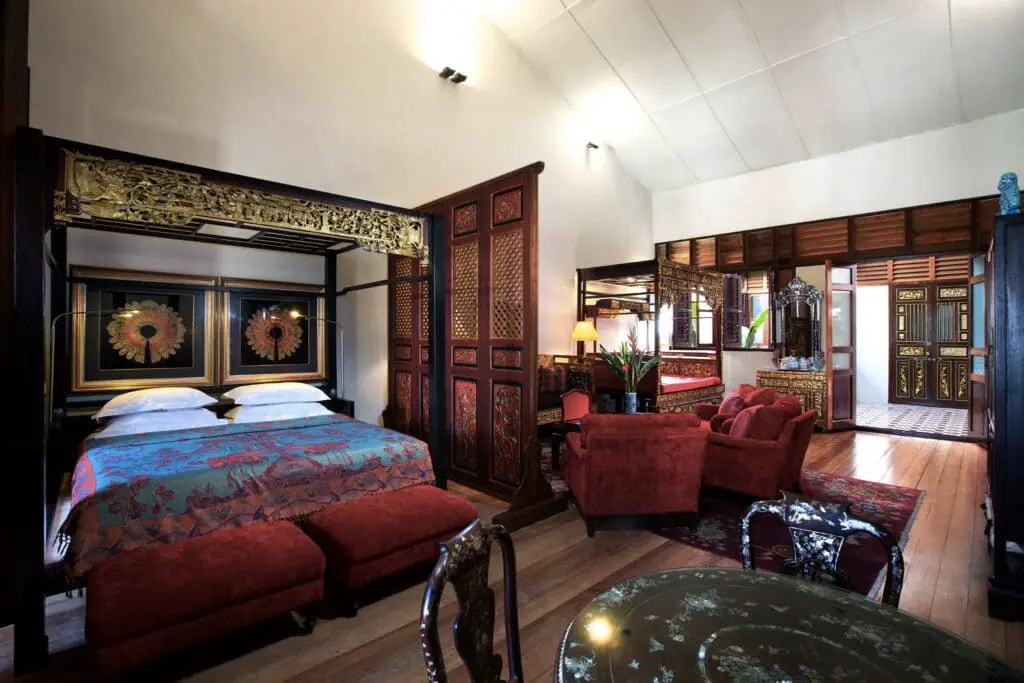 Using techniques and furniture from a period long past, it has been meticulously restored. It's like sitting in a museum.
Expect to feel like you've been whisked away to a different era when you step in, one with rich detail and in which opium dens are considered common.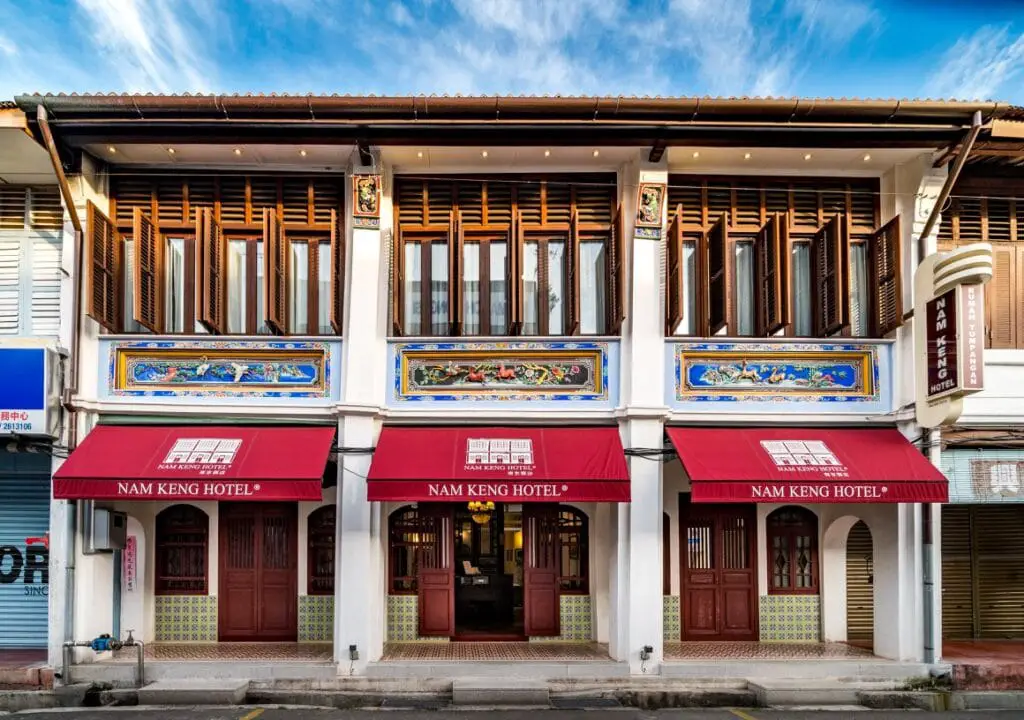 The idea behind the preciousness of a gem revolves around its scarcity and beauty. This is exactly how Nam Keng Hotel brings an added uniqueness to its offering. 
With a limited amount of vacancies at any given time, patrons strive for a time where they can experience the delightful hospitality of this well-known landmark.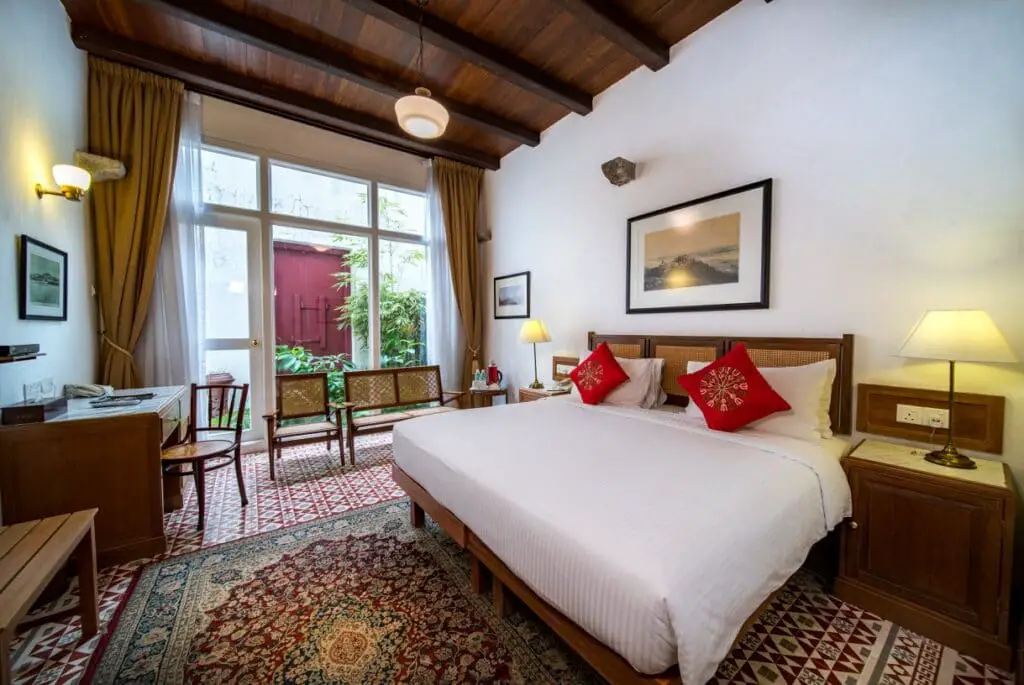 With just 8 rooms up for grabs, Nam Keng Hotel provides more personalized service to patrons in the middle of Georgetown.
The rooms here are soundproof, and the rainfall showers have also delighted many guests. Consider this spot for unwinding after a long day out.
Its location is also a big selling point, being at the heart of the UNESCO World Heritage City of Georgetown, within Chulia Street. 
This means that guests can find a huge list of things to do around the area, as well as many gastronomic attractions including breakfast and eateries along the sidewalk in the mornings and hawkers offering delectable Malaysian street food.
Tho Yuen Restaurant, which is well-loved by locals for its Cantonese-style dishes, dim sum, and hum jin peng (Chinese deep-fried salted pancakes), is also near the Nam Keng Hotel. They are open until late, so if those food cravings hit, head down for a fast supper.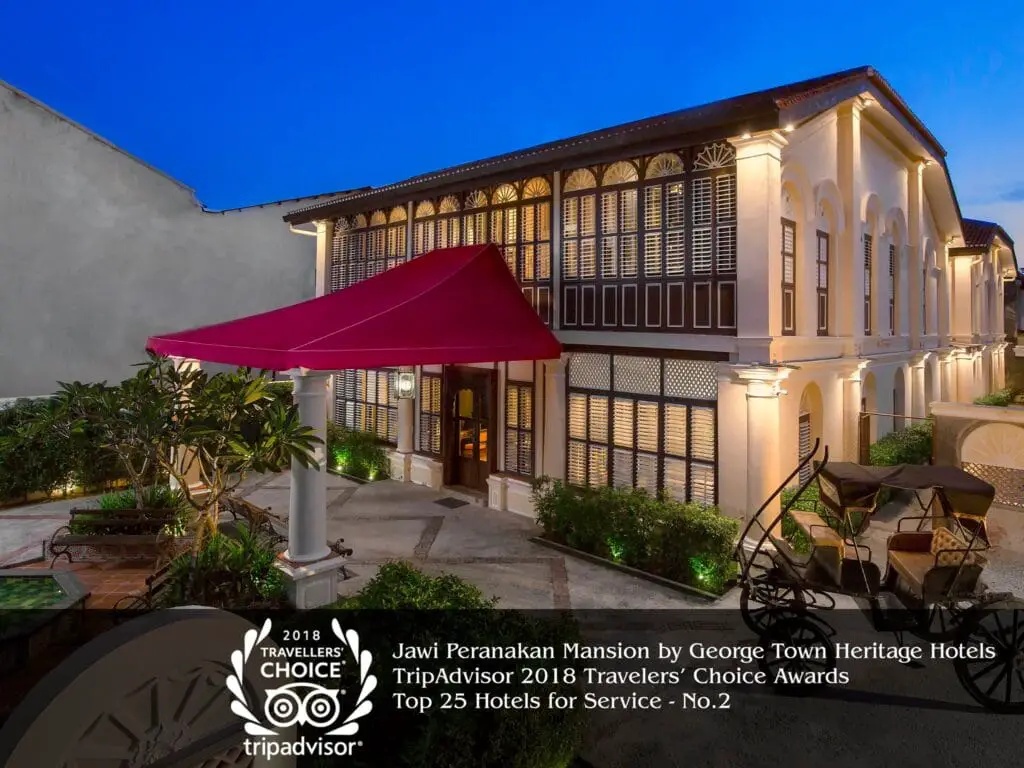 Yet another one to add to the list of George Town Heritage Hotels' collection, the Jawi Peranakan Mansion (JPM) was also established by Chris Ong after being acquired in 2012. 
It has been restored into one of the most gorgeously designed hotels in the area, comprising 8 beautiful mansion rooms and 6 family suites.
Donning interiors that usher in a mix of modern and traditional atmospheres, and architectural brilliance that evokes historical beauty, JPM adds yet another iconic landmark to the family of hotels in Penang.
Jawi Peranakan Mansion is definitely one stay that's known for its look and feel. The mansion itself is a feat of wonder, with beautiful Mughal-inspired architecture and Anglo-Indian designs that harken back to a time long ago.
Gorgeous traditional interiors and furniture are complemented by rustic wooden window arches and contemporary layouts. Its convenient location means that the stay offers access to many of the city's popular destinations.
The Jawi Peranakan Mansion is able to accommodate both comfort and convenience. Guests can enjoy free WiFi (available in all rooms), a hearty breakfast, daily housekeeping, tight security and a taxi service. 
Many guests have been pleased with the great customer service and friendly staff here too. There's also a swimming pool for those who want to cool off on a hot day.
Looking for a cosy place to rest your head, close by to the city centre? Well, Tien Hotel is a luxurious choice that offers cleanliness, comfort and noteworthy hospitality for respectable guests. 
What makes Tien Hotel unique, is that it strives to marry the meticulous capabilities of a grand hotel with the intimacy of a humble bed and breakfast. 
As a result, the stay offers one of the most elegant experiences you could ever find in a hotel.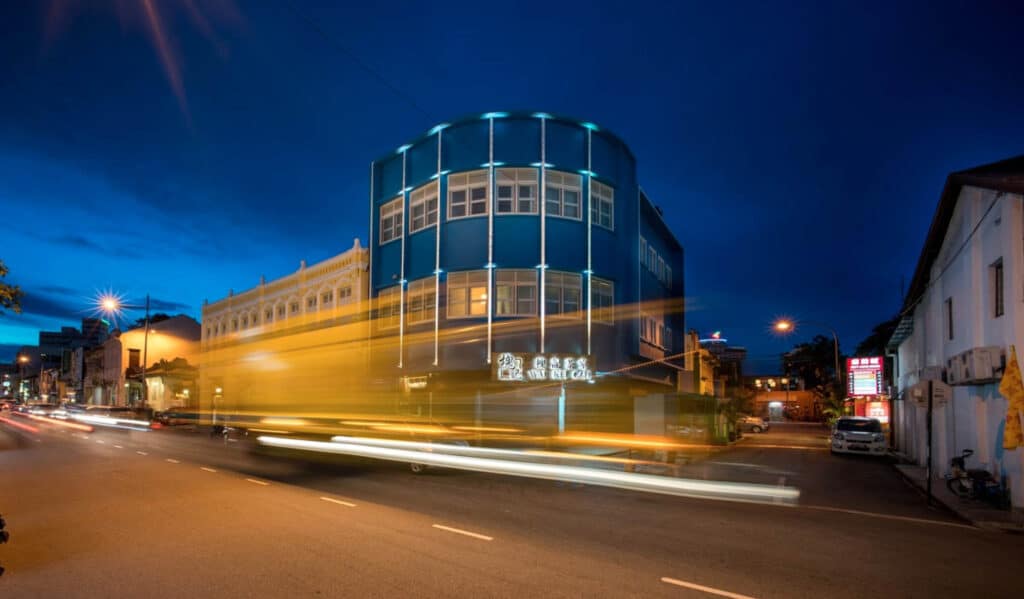 Tien Hotel Residence is popular for a variety of reasons, but one of the main selling points here is that it's strategically located close to many of George Town's prominent attractions.
You and your family can check-in and chill out in your lavish room for a bit before heading straight out and exploring the great central area of Penang.
Chinatown and Little India aren't far away from Tien, and you can look forward to hotel workers who are willing to help you find your bearings.
The Penang International Airport is about 17 kilometres away and airport transfers from the hotel are available for an extra fee.
The rooms themselves are brilliantly designed to accommodate guests. Fitted with strong WiFi, air-conditioning, flat-screen TVs and soundproof walls, you can look forward to having all the amenities required during your stay an arm's length away.
 There's also a huge continental breakfast, a cosy lounge area, a rooftop swimming pool and a spectacular view of the city skyline from the Sky Bar.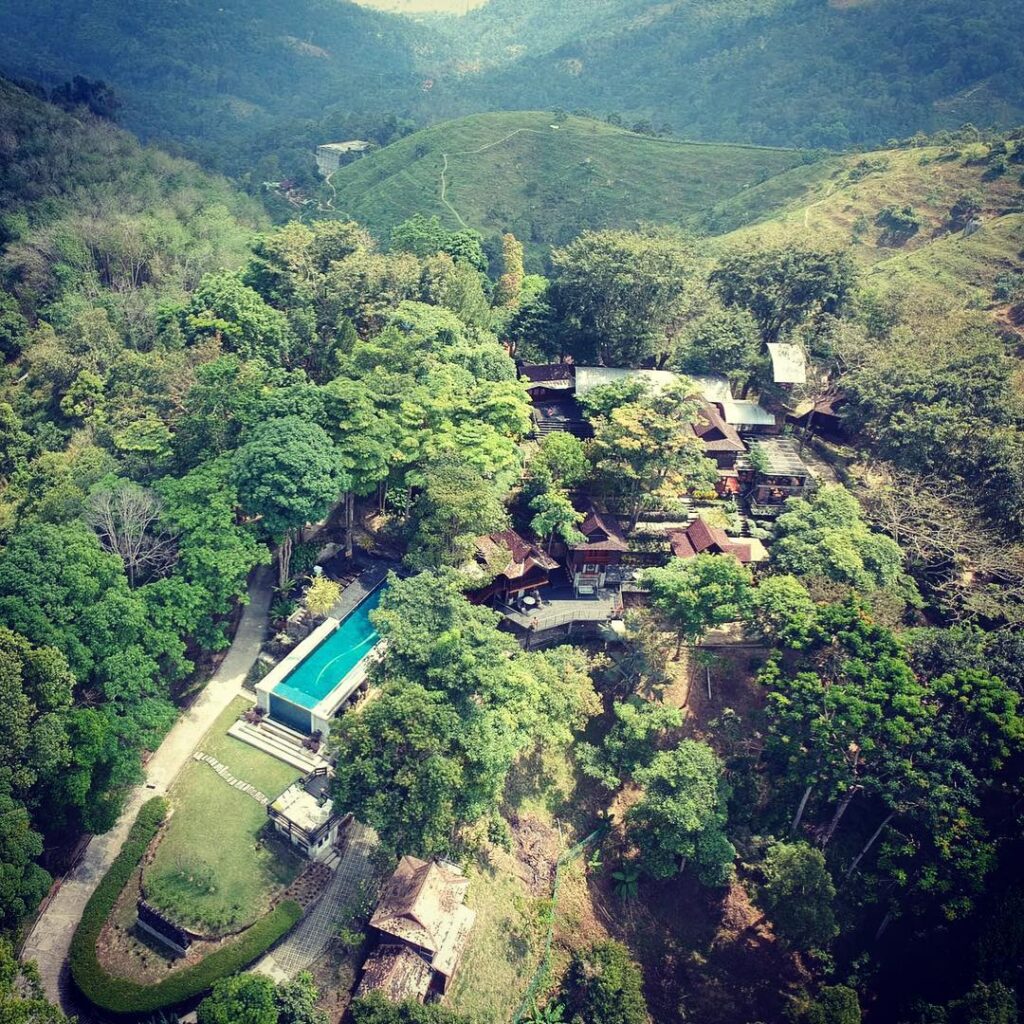 If you are searching for a retreat off-the-beaten-track that allows you to unwind and reconnect with nature, then one of the best places to be on the island of Penang is the Malihom Private Estate.
Penang's well known for its hilly areas and this popular spot was built with this in mind, consisting of a cluster of modern amenities with traditional Thai rice barns, which can be great for those who want to escape the city and be one with nature.
The swimming pool, filled with natural spring water, is another plus point.
The Hilltop Barns are the signature accommodation at Malihom, and their private atmosphere adds to the greatness of the whole experience for guests.
Architecturally grand yet rustic, each barn comprises comfortable beds and en-suite bathrooms with plenty of space to boot.
It's all part and parcel of the amazing offering that Malihom has lined up for its guests.
Whether you're out for work or leisure, a place to lay your head down when you come back is important. Looking for more unique stays?
Explore all on placefu.com