Most of us are aware that Kuala Lumpur has an abundance of Instagrammable cafes filled with whimsical decor and artsy interiors, but not all of them are family-friendly.
Some serve food that only attracts adults while others have fragile pieces of decoration that you would not want your child to get near to. So, where can you bring your little ones for some good weekend outings?
Continue scrolling below to find out some of the best kid-friendly cafes in Klang Valley that features not only special kid's meals, but also fun play areas to keep the fun going.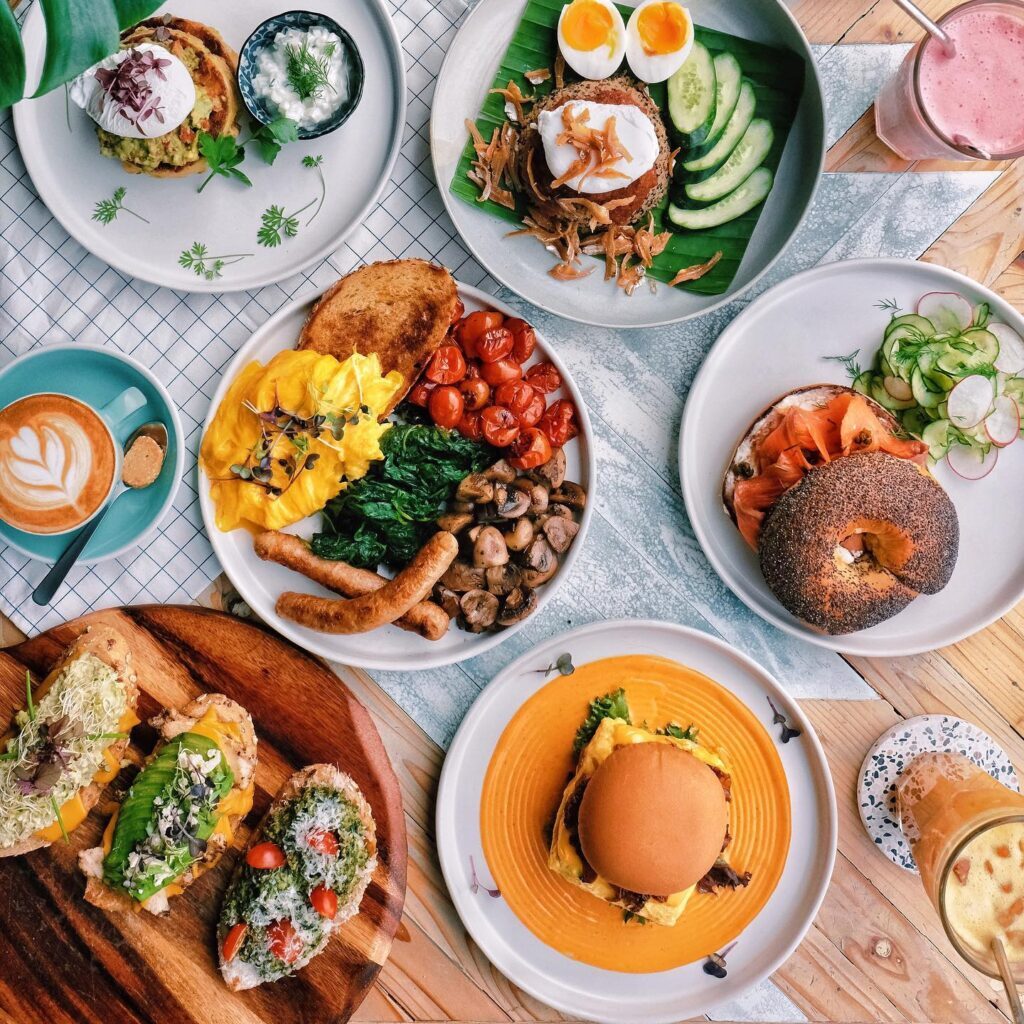 Located on the first floor of Bangsar Village 2 shopping mall is a spacious family-friendly cafe called Marmalade. Sporting a modern look and combined with its colourful decor, this cafe has been a favourite spot for both youngsters and families.
Not only is it known for its wide range of nutritious menus including freshly pressed juices, but Marmalade also serves a great selection of kid-friendly menus such as fish fingers, creamy mac and cheese, and thick smoothies for your little ones to enjoy.
This vibrant cafe also features a play area specially designed for kids and toddlers—so don't worry about your kids throwing a tantrum while waiting for the food to arrive as they can have fun playing with some toys here!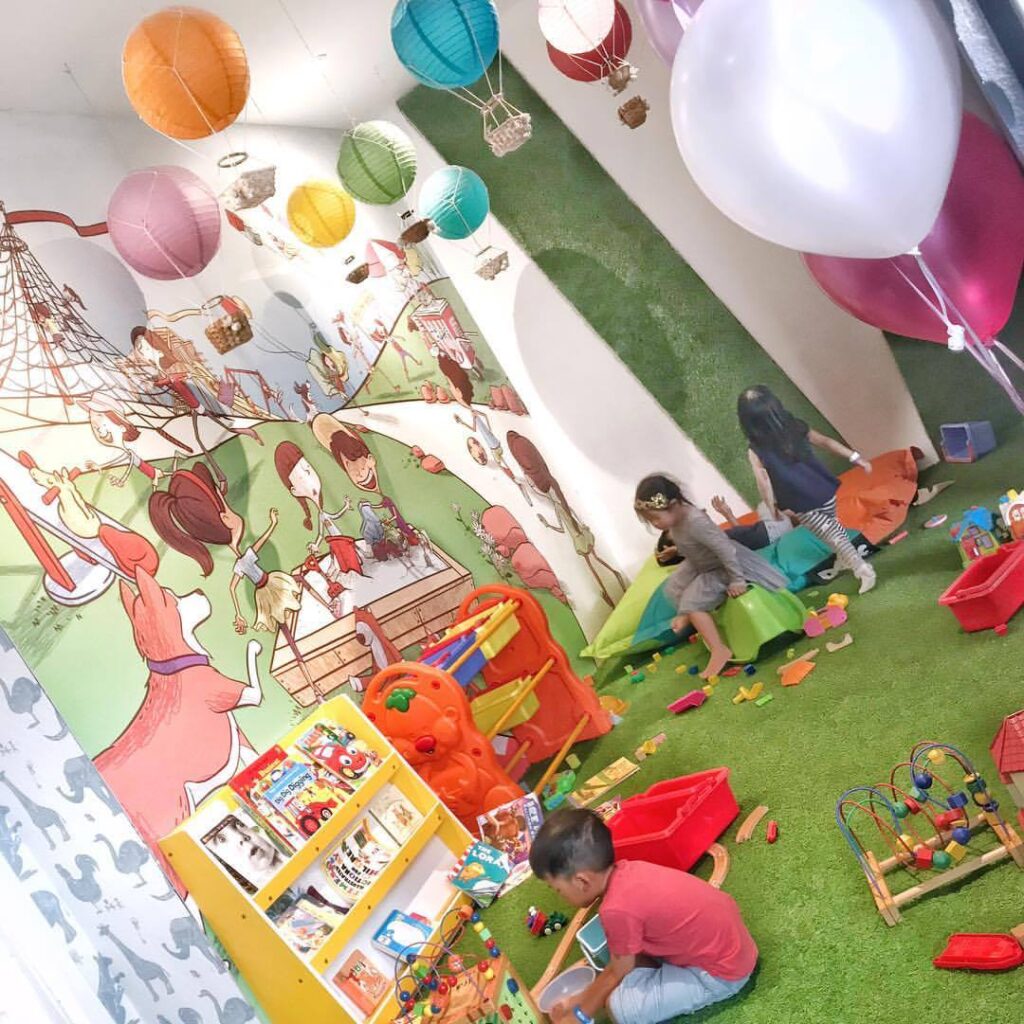 As for the adults at the table, nothing could beat a flavourful bowl of salmon laksa or if you prefer something healthier, a Norwegian bagel
Antipodean (Non-Halal) - Astria
Antipodean is no doubt one of the most well-known cafes in KL as it has become a go-to place, especially for those who love all-day breakfast menu items and brunch snacks.
While the adults can enjoy their big breakfast or a plate of delicious french toast with a hot cup of latte, children can enjoy some pancakes accompanied with their very own drink resembling a cappuccino called the Fluffy Babycino!
Normally sugar-free, the Fluffy Babycino is a type of drink made by mixing warm milk and cinnamon or cocoa powder, so don't worry as it is completely caffeine-free and safe for your kids to consume. Plus, it came with some marshmallows!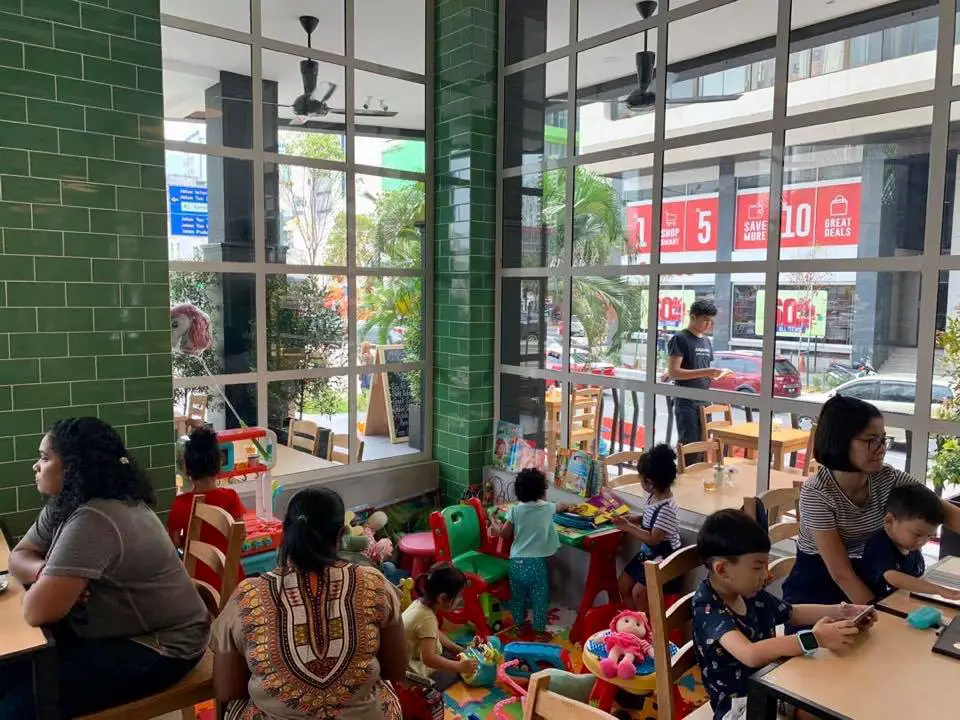 Of course, a family-friendly cafe is not a hundred percent complete without a special play area for the little ones! At Antipodean Atria, kids can watch some cartoons on the television, play with a few cool toys, and even have fun in its mini tents!
Although Antipodean has several outlets scattered throughout Klang Valley, keep in mind that the one in Mid Valley does not feature a play area.
Beauty in the Pot (Non-Halal) - The Gardens Mall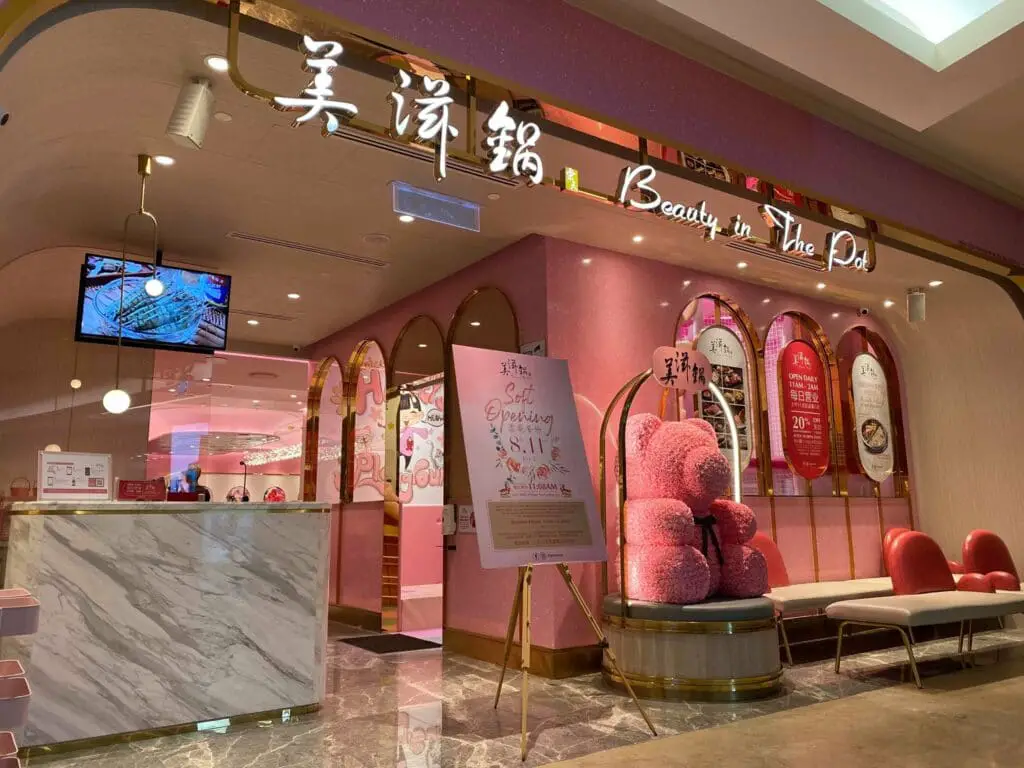 Not in the mood to feed your hunger with some typical cafe food or perhaps, you have been craving hot pot for so long, but not sure which restaurant could also cater to your young ones?
Then, include Beauty in the Pot in your list! This restaurant can be found on the third floor of The Gardens Mall and has an all-pink interior—the one in Tropicana Gardens Mall, however, has an all-blue theme!
Not only is it known for its hearty selection of meals and healthy steamboat options, but you'll also get to cure your cravings for fresh seafood and juicy meat slices.
As for your kids who are already done with their food, they can have some fun and let out a few good laughs at the mini play area while you enjoy every last bit of the steamboat broth.
Wondermilk - Damansara Utama
Starting out as a small cupcake business, Wondermilk has now turned out to be a must-visit cafe for those with a sweet tooth. Not only does it have a family-friendly interior complete with a vibrant play area for kids, but Wondermilk also serves an array of colourful cupcakes in the form of cartoon characters, unique cakes, and homemade cookies.
No kid will be able to resist their temptation once they lay their eyes on those little cupcakes, so if you're planning on treating them with something sweet once in a while, this is the right place.
Although this cafe is popular for its amazing desserts, Wondermilk also features many savoury meals. From mushroom sandwiches to loaded baked potatoes, and burgers.
Parents can also have a nice cup of coffee to kick start their day or if you're not a fan of caffeine, share a glass of the cafe's signature flavoured milk with your kids! 
RGB Coffee & The Bean Hive
If you're planning on getting your children to try vegetarian food at least once in their entire lifetime, then RGB Coffee is where you should head to. They are not strictly a vegetarian cafe, but they do serve great vegetarian options in their special kid's menu—so don't worry if your little ones are not in the mood for some greens as they have other options too!
The space of the cafe is also spacious, so it's great for those who are visiting with more than one child as well as those who have strollers with them. They also feature a play area to ensure your children never get bored; they can play board games and even read some great storybooks there.
Bucket B Cafe - IPC Shopping Center
Bucket B Cafe can be located on the second level of the IPC Shopping Centre. Sporting a colourful interior, this cafe is the perfect place for those who would like to relax and enjoy a cup of artisanal coffee while watching their children have a blast at the spacious play area.
Featuring dozens of building blocks for the little ones who are feeling creative, books, soft toys, and even arcade machines, your kids will surely have the best time of their life.
Aside from the fun play area, Bucket B Cafe also offers a wide range of menu items that you can choose from. While you sip on your favourite coffee, your young ones can enjoy a glass of creamy milkshakes and while you're indulging in the chicken kebab, they can fill their stomachs with homemade chicken nuggets and other special kid-friendly meals.
Namoo Korean Dessert Café - Publika
Namoo on the Park is yet another child-friendly cafe that features a fun play corner to keep your children entertained. Operating within a two-storey building, the cafe offers its customers two seating options; indoor and outdoor. Both seating options also feature a play area, so don't fret!
The cafe can be found in Publika and just as its name suggests, you can choose to order an array of Korean delicacies such as the rice beef burger, beef bulgogi taco, and a bowl of flavourful kimchi soup. Your little ones can also enjoy their kids' meals that are presented on adorable plates and cutlery.
Green Tomato Cafe - Ampang
Nestled within a bungalow on Jalan Mengkuang, Ampang, the Green Tomato Cafe can offer you and your family a homey environment. Claimed to serve only dishes that are free of MSG, this kid-friendly cafe also features a great play area for your children; they can either ride bicycles and jump on the bouncy castle located in the garden, or they can also have some fun in another play area on the second floor.
From egg benedicts to chicken pot pies, big breakfast plates, bolognese pasta, fish and chips, and fluffy pancakes—they have almost everything to keep you full for the entire day! The cafe also holds batik painting activities from time to time, so if you and your child are feeling creative, this is the very place for you.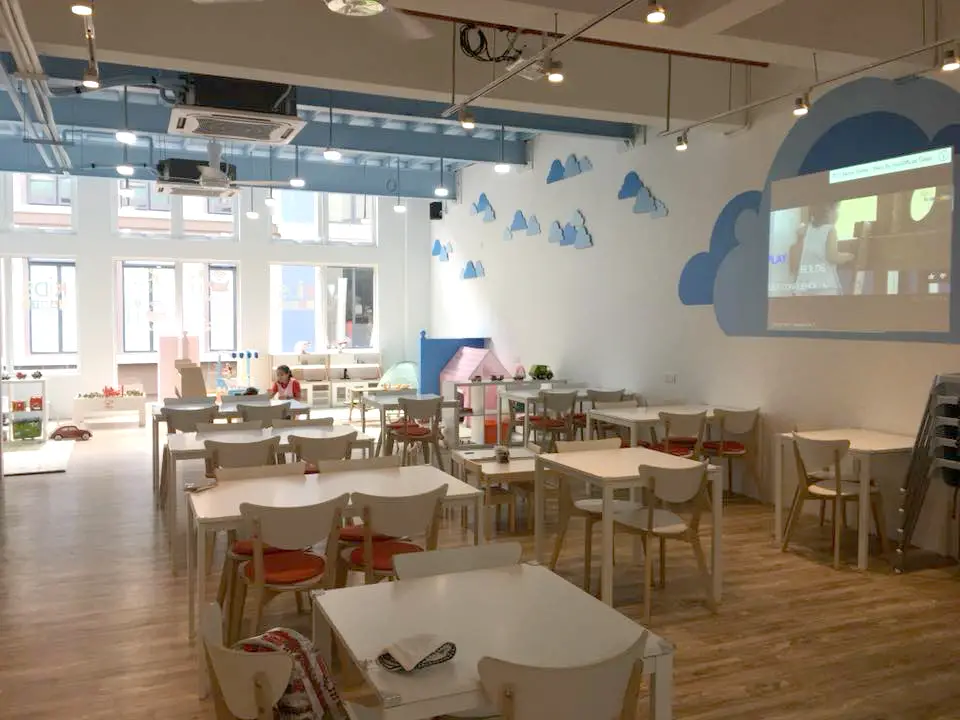 Image source: Noriter Facebook
Planning for a playdate for your beloved kids on the weekends or hosting a birthday party for your child who is turning five in the next few weeks?
If so, then, take a look at Noriter, a family-friendly cafe designed especially for these kinds of events. Not only does this place have a few menu items for you to choose from, but it also features an open-space area, so you can always keep your eyes on your kids playing around.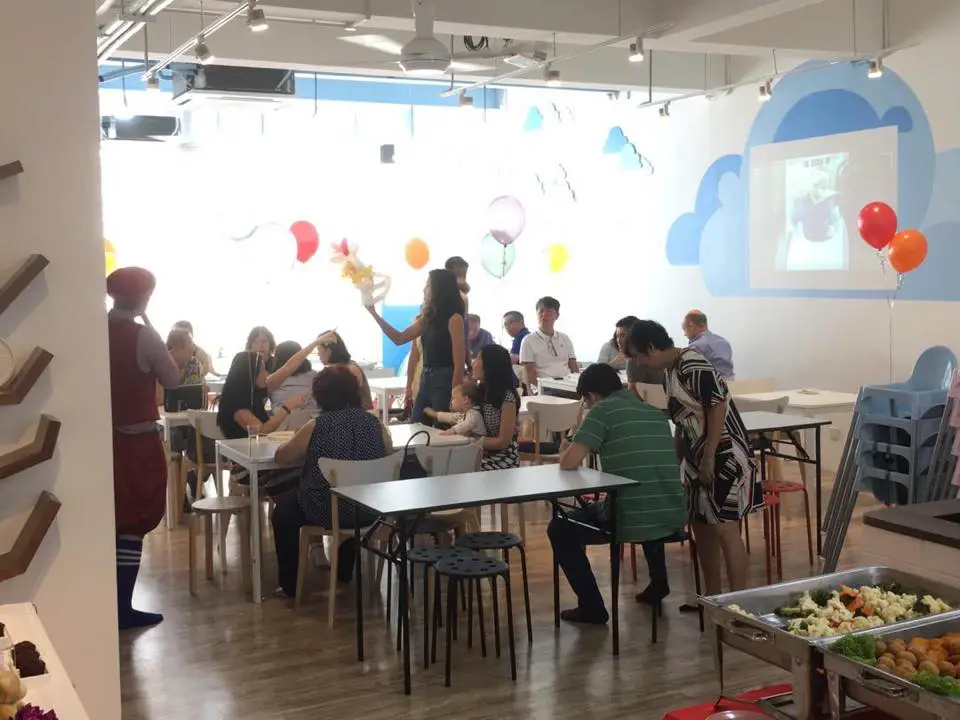 Noriter also holds various activities for children, so be sure to check what's on! However, keep in mind that since the place is often booked for private events, they might close their doors to the public at certain times—so check out their Facebook page or contact them first before you head there.
Out of Africa Restaurant - Petaling Jaya
For those who would like to take their family to get a taste of exotic flavours, Out of Africa can be a great option for you. Located in PJ Palms Sports Centre which is right in the middle of Petaling Jaya, this unique restaurant is well-known for its African specialities.
One step into the restaurant, and you'll definitely feel as if you're being transported to South Africa—its decorations are both quirky and unique and its spacious space even makes it great for your little ones to have some fun. 
You and your family can either dine on the terrace or in the garden should you feel like getting some fresh air while your children can run around in its outdoor play area. They can play tag, sit on the swings and even go down the slides!
And of course, don't worry when it comes to food, as the restaurant has an expansive option for you to choose from. Kids can enjoy a wide selection of their children's favourite menu ranging from pasta to pizza, burgers, and chicken fingers. What's best is they are all made from scratch!
Whether you're planning for a private event with your family or even just a simple weekend outing with your little ones, these are the cafes and restaurants that you should definitely take a look at.
These places also pay attention to their hygiene and sanitation are said to have been done frequently—so don't worry!
Things that you need when you're on-the-go (Hand-picked!)
Make your travels convenient and enjoyable with these essential products by your side! We curated the products that are high rating and ready stock in Malaysia without you spending time to search for the best one on the market.
Disclosure: This post contains affiliate links. If you click these links to purchase the product we may earn a commission without extra cost to you. We carefully select the best and all products are shipped from the local by high rating seller.