Johor Bahru, a lively city that sits right across Singapore is known for many reasons. Some love its many entertainment spots and theme parks, some enjoy shopping at its popular premium outlets and several huge shopping malls, some prefer spending time visiting its dozens of historical landmarks and some others are also in love with its local food ranging from chicken chops to fried bee hoon, fish head curry, and even coconut buns.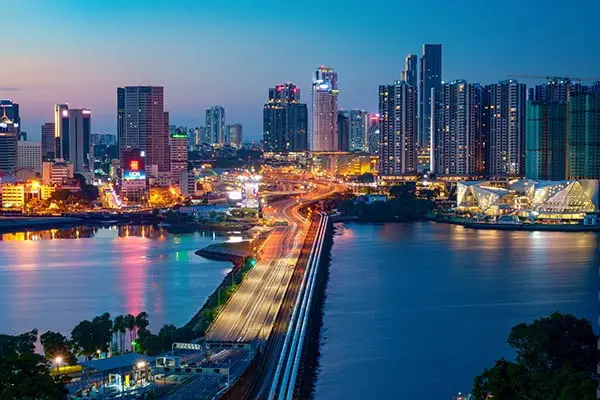 While it is easy to search for must-visit points of interest in Johor Bahru, finding some of the best spots to eat might be slightly confusing as the city has a number of them! So, to ease your travel journey, we have prepared a list of the best authentic local food in Johor Bahru down below—from top breakfast restaurants to open-space food courts with live bands entertaining you at night.
All you need to do is scroll down and get ready to embark on an amazing food-hunting session!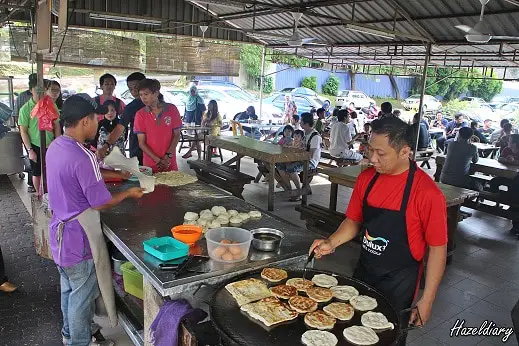 Nothing beats having a plate or two of roti canai early in the morning. So if you ever crave for one, you can never go wrong with Gerai MFR Roti Canai. Located on Jalan Tengku Azizah, this roti canai stall has been a popular spot among both locals and tourists alike.
It is said that they sell nearly one thousand pieces of roti canai each day despite its short opening hours!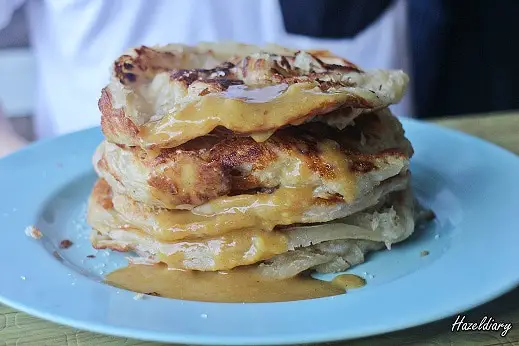 What's best is that you can get a plate of roti canai for as low as RM 1. For those who prefer simple ones, feel free to go with the plain roti canai that has a crispy layer on the outside and fluffy on the inside.
Top it with either some curry or lentil gravy and you'll definitely want more. Want something else? The stall also serves toasts, nasi lemak, nasi padang, and an array of traditional kuih-muih.
Operating hours: Opens daily from 6.45 am – 11 am.
Ever wonder where you can get authentic Hainanese dishes around the city of Johor Bahru? If so, then Restoran Hua Mui should definitely be your first stop for breakfast. The restaurant first opened its door to their customers in the '40s and they claimed to stay true to their roots. In fact, the restaurant is managed by a family and all of their recipes were passed down from one generation to the other!
Since it has been in business for over 70 years, it is not a surprise that the restaurant sports an old school surrounding—one step inside and you'll surely be able to bring back some of your memories of the past. As for their menu, the most popular pick is of course, the Hainanese Chicken Chop.
Coated with some batter, this chicken chop is then deep fried, resulting in a crunchy bite on the outside, and juicy on the inside. Aside from its thick mushroom sauce, it is also served with a great portion of potato wedges, green beans, and perfectly sliced tomatoes. If you're up for something out of the ordinary, go with their signature Fried Rice with Blueberry Chicken Chop.
But, don't worry if you're the type of person who would only eat something light for breakfast as Restoran Hua Mui also serves various toasts to accompany a hot cup of Nanyang coffee.
Operating hours: Opens daily from 8.30 am to 5.30 pm.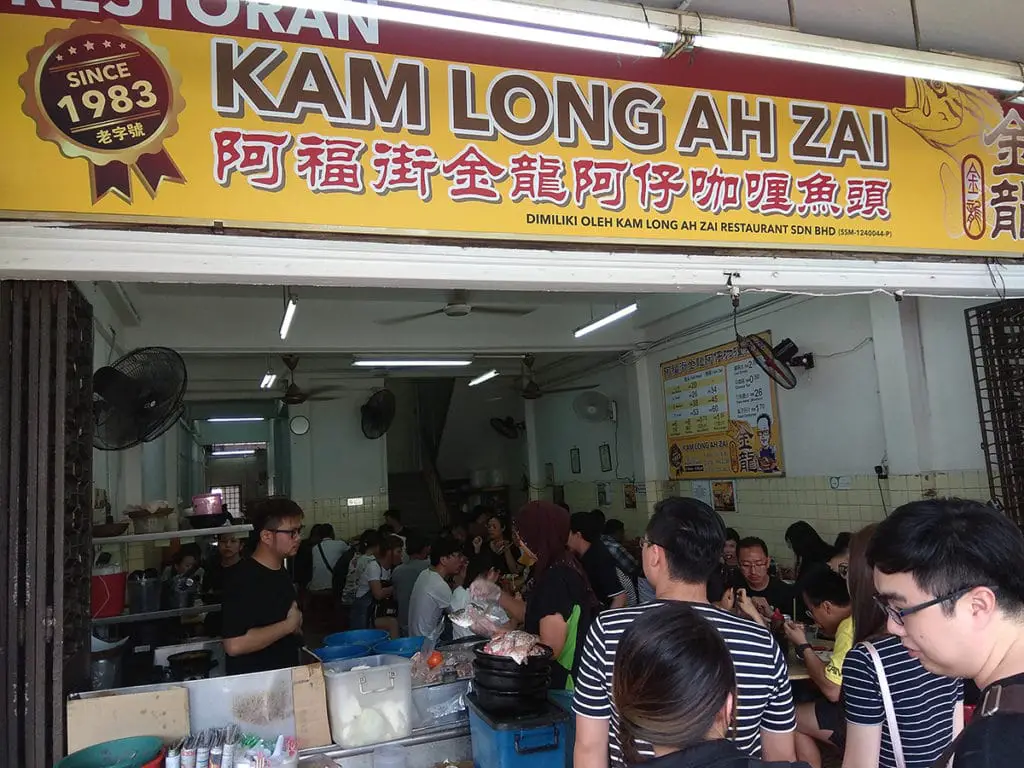 You'll know it's time to get some lunch when the sun is high up in the sky, but where exactly is a place that serves the best authentic food in the city? Located near to City Square is a restaurant famously known for its tantalizing fish head curry called Kam Long Restaurant. 
Opens as early as 8 am up until 4 pm, this restaurant has been in business for more than 25 years and not once did they let anyone down with their great menu!
First thing you'll notice as soon as you arrive at its corridor is the rich smell of the curry. However, if you're looking for a restaurant with instagrammable interior, this is not for you. Kam Long Restaurant is but an old Chinese kopitiam, so you won't be finding any quirky neon lights on the wall or green plants adorning the place. But, if a good lunch is what you desire, then don't miss this place!
All you need to do when you arrive is to take a seat and wait for the waitress to get your order. Since the curry is made upon order, you can expect to get the curry served to you in the freshest way possible.
Aside from the red snapper fish head as the highlight of the curry, there is also a hearty amount of cabbage, lady fingers, and fried tofu skin included. Of course, the best way to enjoy this is with a plateful of rice!
Operating hours: Opens daily from 8 am to 4 pm.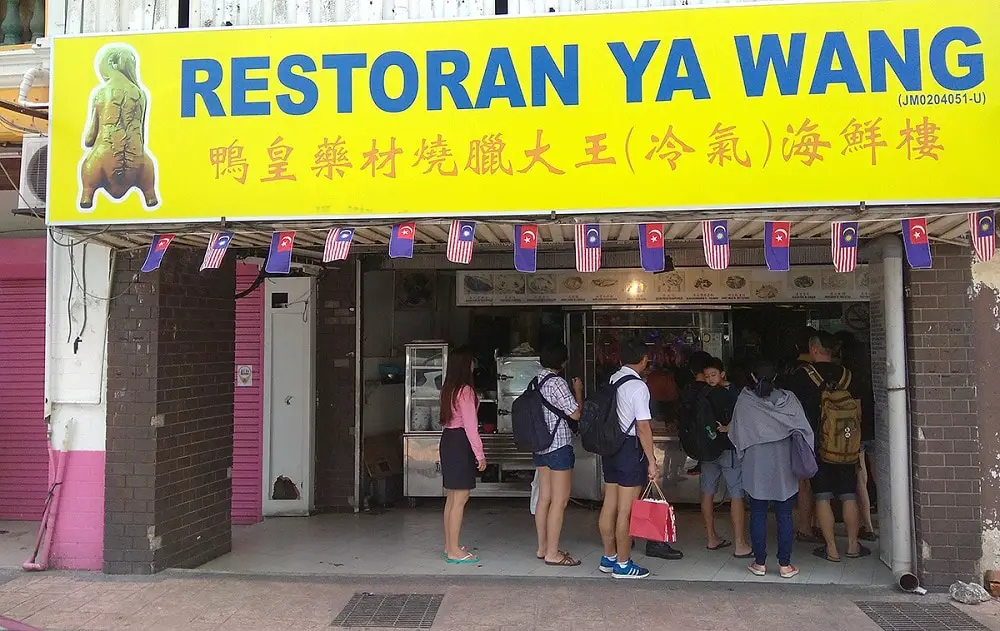 Ya Wang Restaurant is one of the most popular places in Johor Bahru serving duck rice. It operates from 8 am to 6 pm every day and is located pretty close to Restoran Huai Mui (which is also a great place for lunch).
It is quite impossible for you to miss it since the restaurant itself has a massive replica of roasted duck hanging right outside its shop lot.
Like most Chinese restaurants, it has a rather humble interior, but the air-conditioner can surely cool you down after spending hours under the scorching sun.
Their signature dish is of course, the Herbal Roast Duck that features crunchy skins and soft, tender meat underneath. They also serve a great plate of roasted pork if you're in the mood for something more carnivorous! 
Operating hours: Opens from 8 am to 6 pm. Closed every Wednesday.
As for those who crave a tasty plate of Hainanese Chicken Chop, you should definitely include It Roo Cafe in your itinerary. This cafe claims to serve the best chicken chop in the entire town and believe it or not, The Star Newspaper agreed with them—It Roo Cafe was once awarded as the best chicken chop in Malaysia back in 2003.
Operating within a pre-war building, this cafe normally would be filled with a bunch of locals and tourists, so you can expect to wait for a few minutes before you can get a seat for yourselves. However, their chicken chop would definitely make up for every minute you spent waiting in line! 
There are two different options of chicken chop that you can choose from; grilled and deep fried. No matter which option you choose, the chicken chop comes with either black pepper sauce or a thick mushroom gravy.
The dish is also accompanied by some coleslaw, potato wedges, and tomatoes. Truth be told, one bite is all you need and you'll soon come back for more.
Operating hours: Opens daily from 11 am – 8.15 pm.
Finger Food in Johor Bahru
Hiap Joo Bakery & Biscuit Factory
Located on Jalan Tan Hiok Nee, this hole-in-the-wall bakery is well-known for its authentic banana cakes and coconut buns. What makes them even better is that all of the goods are actually baked in a wood-fired oven. This bakery has also been operating since 1919–which is slightly over a century ago!
Most customers often get their hands on either their signature banana cakes or the coconut buns which are filled with a good amount of tasty coconut shreds and gula melaka. While those two are the popular picks, there are also other soft buns filled with a variety of fillings; red beans, peanut, sardine, kaya, and otak-otak.
They also have special cakes sold on selected days. On Thursdays, you can get a chance to buy their delicious coffee cakes.
Operating hours: Opens from 7.30 am to 5 pm. Closed every Sunday.
Dinner and Supper in Johor Bahru
Some claim that you can never say you've travelled to Johor Bahru without tasting another one of its popular comfort foods, Kway Teow Kia. To get the best kway teow kia in the city, you can head to none other than Restoran Woon Kiang which is located in Taman Stulang. 
This exact restaurant is said to be the best in town—ask any locals in the city and they would straight away point you in the direction of this simple eatery.
It opens daily from 9.30 am up until 3.30 am, so it can also be a great spot should you feel like having supper in the middle of the night. Once the dish is served on the table, you'll immediately notice the amazing smell of the dark broth combined with the silky smooth noodle soaked in it.
Their great portions of braised duck, hard boiled eggs and pig offal are also to die for, so don't leave the place without trying them!
Operating hours: Opens daily from 9.30 am to 3.30 am.
San Low Seafood Restaurant
Established more than thirty years ago, San Low Seafood Restaurant is the very place where you can get the best fried bee hoon—many believed that they had never tasted a plate of bee hoon as good as the one from this restaurant.
Although the ingredients were rather simple, the cooking method is what makes this dish special. After the bee hoon is fried, it is then left in the smoking hot wok for a few moments and pressed completely using a stainless steel spatula until a crispy layer is formed at the bottom.
It is said that this step is a must so that all those tasty sauces dumped into the wok are sealed perfectly. Many other restaurants tried to recreate this dish, but none can top the original! 
Even though their signature bee hoon is the dish that keeps their customers coming back, they also serve a wide variety of other food including seafood platters and curry wild boar.
Operating hours: Opens daily from 4.30 pm to 1.30 am.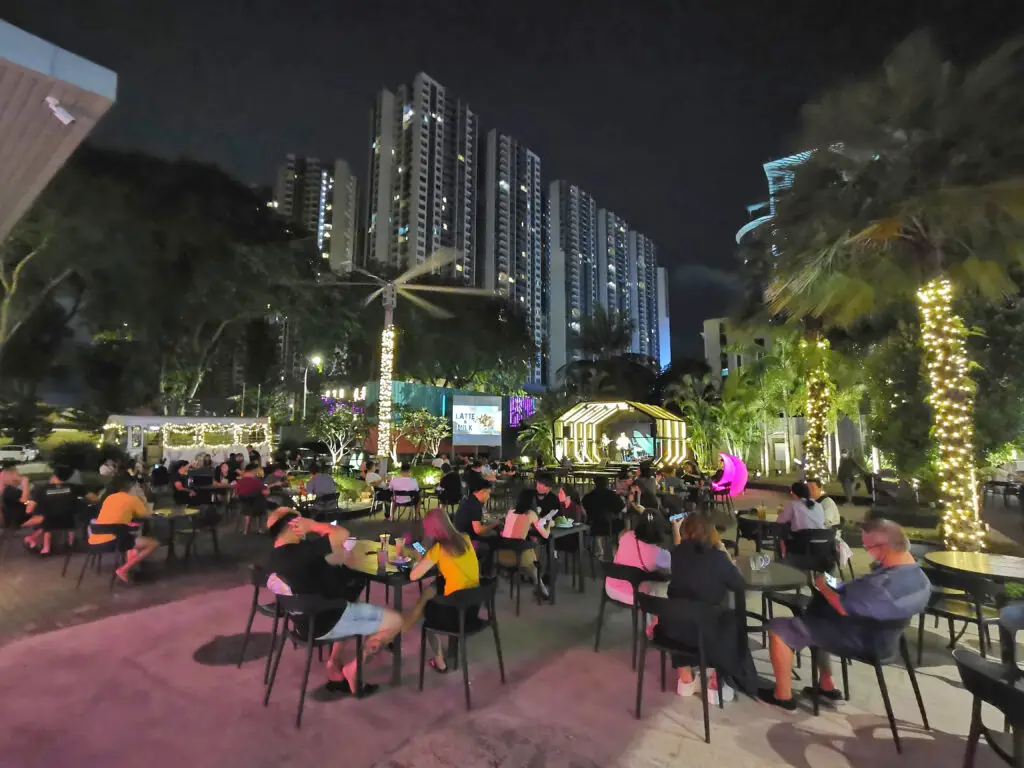 Planning to fill your grumbling stomachs with an array of good food, but can't really make up your mind on which dish you'd like? Then head to FGJB, an open-space food court situated on Jalan Bukit Meldrum. 
Operating from 4 pm to midnight, the food court features dozens of small stalls serving a wide range of local street food, drinks, and comfort dishes. From freshly cooked satays to Foon Yew Laksa, pork burgers, claypot chicken rice, fried prawn mee and even boba milk teas—this place has almost everything.
During the weekends, you can even enjoy your food while listening to live bands performing right in front of your eyes!
The lively city of Johor Bahru is, indeed, filled with various selections of authentic food that you should try at least once in your entire lifetime. Whether you're an avid foodie or just a simple traveller, the city can cater to almost everyone.
Words surely are not enough to describe all the delicious food that you can find in the city, so pack your bags and try them all yourself!