When was the last time you visited a national zoo? In fact, when was the last time that you visited any zoo at all? Visiting from Johor to Singapore Zoo can be a fun activity for the entire family – especially if there are children involved!
Did you know there are about 315 species of animal in Singapore zoo? So this can be an educational family trip with your children.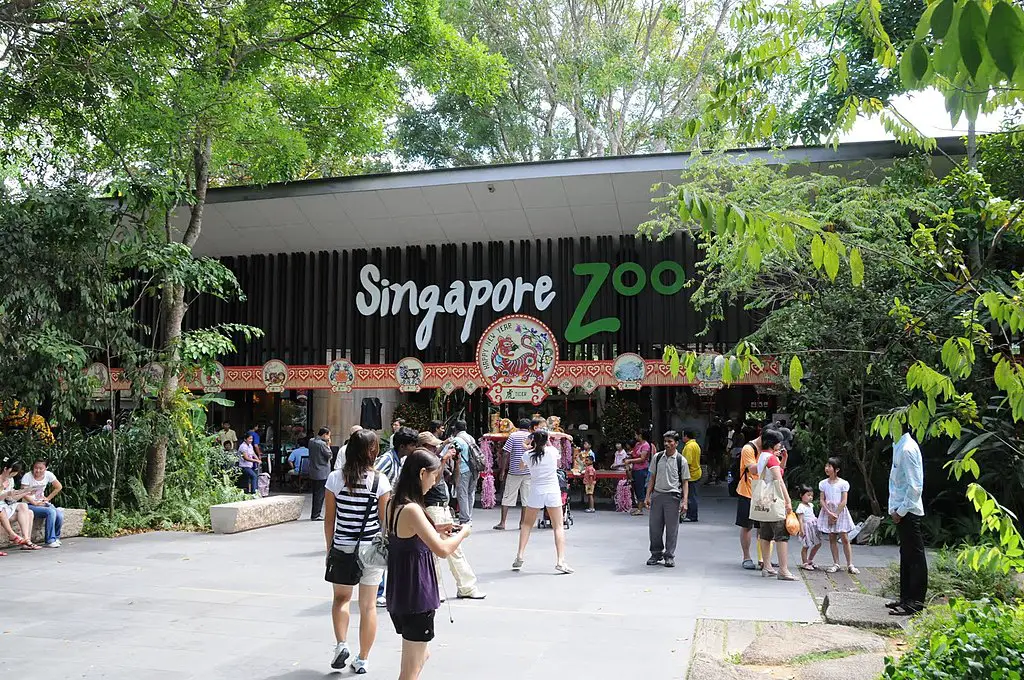 Why not visit the Singapore Zoo and Night Safari this upcoming weekend with your family?
This activity would take up most of the day, and even if the trip does not last that long, there is plenty of other attractions in Johor Bahru that you can bring your family to.
Let's dive in.
How to Travel from Johor to Singapore Zoo.
We recommend a day trip since the hotel stays in Singapore can be pricey with a family of 3-5. When the trip is all done with and night falls, you can stay at Artsy Guesthouse located near the JB customs for only about RM250 a night!
Furthermore, it takes you only 3 minutes drive to the JB checkpoint and around 20 mins(non-peak hour)Johor to Singapore zoo!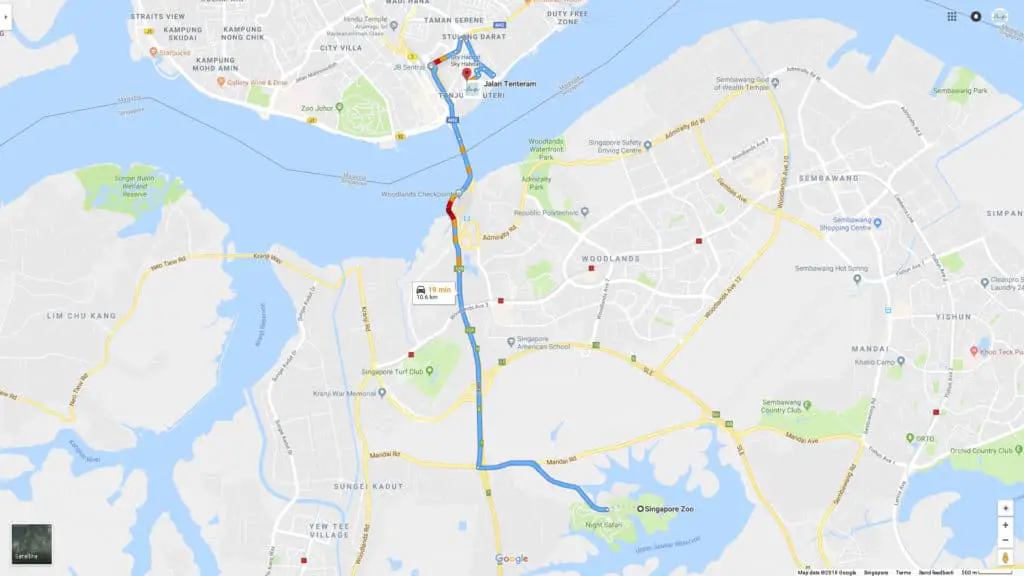 google map shows direction from artsy guesthouse to Singapore Zoo
Let's say that you are travelling to Singapore zoo from JB Sentral. You can get through the customs either by train or by bus if you are not driving.
Train Route (Johor to Singapore Zoo)
You can take the shuttle train from JB Sentral railway station to cross the Causeway in just 5 minutes, stopping at Woodlands railway station.
However, these shuttle trains are often full during rush hours – early in the morning and around evening when most working hours end, so it would be wise to book a train ticket in advance. These shuttle bus tickets only cost you a flat fee of RM5.00 whether it's for children or adults each trip.
You can also purchase a round-trip ticket for RM10.00! The earliest train departs from JB Sentral at 5.00a.m. in the morning.
Bus Route (Johor to Singapore Zoo)
From JB Sentral, the Johor Bahru Checkpoint (JB CIQ) is easily in sight. Take about 5 to 10 minutes to get there simply by walking, and be sure to prepare your passport to present at the checkpoint!
Here, you can take the Causeway Link buses which will cost you only RM1.50 to reach the Woodlands Checkpoint.
If you have an EZLink Card, the SBS Transit 160, 170, 170X and SMRT 950 will take you to the Woodlands Checkpoint for SGD1.40.
SMRT 950 departs from JB CIQ as early as 5.15a.m. from Mondays to Saturdays, and from 5.50a.m. on Sundays or public holidays, so you can be sure that you are heading out early in the day! Meanwhile the SBS Transit buses depart as early as 5.30a.m. daily from JB CIQ.
After arriving at Woodlands Checkpoint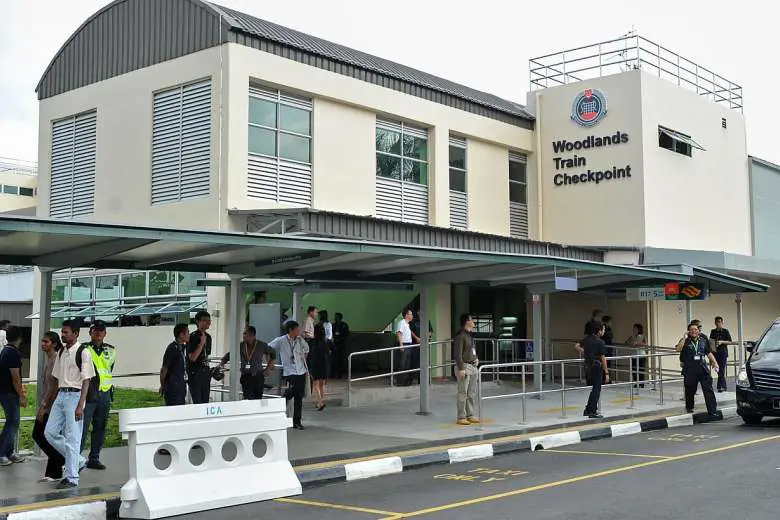 Congratulations! You have made your way to the Woodlands checkpoint. The next goal would be to reach the Singapore National Zoo. Here's a few ways routes that you can take to travel from Woodlands Checkpoint to Singapore Zoo.
As a general guide, you can visit this link to find out which transportation mode is the best for you at certain hours of the day.
Do keep in mind that once you have arrived at the Woodlands Checkpoint, the causeway buses and any other transportations no longer utilize the JB CIQ rates, and the bus fares will be in SGD rather than MYR. Having an EZ-Link card on hand will be convenient for cash-free travelling later on if you decide to go buy bus or train.
Traveling by Bus
If you are travelling with few company, taking the bus would be a cheaper option. Once you have reached the Woodlands Checkpoint, walk to the bus stop, and board bus 160.
This bus will bring you to After Mandai road in about 10 stops. Walk to the bus stop at Before Mandai Road, and board bus 926.
It will take you approximately 10 minutes to cross the 9 stops before you reach the Singapore Zoo. In total, this trip would take you up to an hour inclusive of the bus waiting time, and cost you approximately SGD1.30.
Travelling by Taxi / Grab
If you are travelling with your family or have more than, say, 4 people travelling together, splitting the taxi fees would be cheaper. You will only need approximately 10 minutes to reach the Singapore Zoo by taxi, with your fares amounting up to SGD7.45 or up to SGD10 if you were to avoid the expressways.
However, these rates can increase during peak hours, so do check the rates before you board a taxi! For maximum efficacy, you can book a taxi as you are heading to Woodlands Checkpoint by dialing 63425222.
Alternatively, Grab is the best way to get you from A to B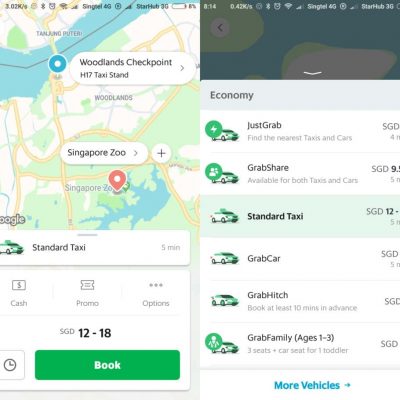 Now that you are there, we hope that you will enjoy your trip! The Singapore Zoo is open from 8.30a.m. to 6.00p.m., and the ticket prices are SGD33 for adults and SGD22 for children.
If you are already planning your trip from Johor to Singapore zoo, you should book your tickets online for discounted rates & to avoid the queue when you reach the zoo. Here's what you can expect when you arrive at the zoo.
Rent a Car in both Malaysia and Singapore with EasyBook! The largest transport service provider in South East Asia.
What are the Reviews Suggesting?
For starters, the Singapore Zoo has a review of 4.5 and above on Google, Yelp, Trip advisor and many other similar platforms.
Of course, it's not just the ratings that count! The reviews have provided several helpful insider tips that you should take note of when you visit the zoo.
What to Bring
Bring your own bottles, and do remember to wear sunscreen and a hat. The zoo is an open space area, and the Singapore weather can be more than just a little overwhelming once the sun is up and blazing.
Aside from being able to refill water at Ah Meng Bistro and near Reptopia, you will also be playing your part in Singapore Zoo's aim for conservation when you bring your own reusable bottles!
There is also a swimming area for kids at Rainforest Kidzworld, so consider bringing some swimwear as well.
Available Services
If you are bringing infants or toddlers, there are wagon- or pram-renting services available. You can also pay some extra fees for a tram ride around the zoo if you are tired of walking.
Remember to check the zoo schedules for any animal shows! If you stay after the show ends, you might get a chance to be up close with the animals and take pictures with them.
Visitin during the school holidays or on weekends? You're in luck! Events such as the Zoolympix and Zoo-rasic park are frequently held to teach children about wildlife conservation.
Feel free to give the zoo a phone call to check for events before you head there to get the most out of your visit!
While You're There…
Having arrived at the zoo early in the morning, you should definitely head for brunch or lunch early, as it can get really packed during lunch time!
The Singapore Zoo does have a free-ranging areas for the Orangutans next to the Orangutan Island, and while it is mesmerizing to see these close relatives of ours swinging from branches to branches, we strongly recommend you not to stand underneath any orangutans above if you do not want to get a golden shower from them.
Assuming that you left for Singapore around 6 or 7a.m., you'll have plenty of time to explore the zoo for the next few hours and to travel back to JB later! The trip can easily take you about 5 to 6 hours if you join the shows and waterparks.
After returning to Johor Bahru. You'll also be able to find a good variety of food around in the downtown area to satiate your hunger.
Well, that's for later. As for now, start booking your tickets to the Singapore Zoo!
Featured Lodges and Cafes in Johor Bahru that you should visit!
Liked this post? Why not share the love on social media with the click of a button at the top of this blog?
Feel free to comment below if you have any question regarding the trip.