Dubbed The Pearl of the Orient, Penang has much more to offer than just Laksa, Chendul of even Penang Hill (although that's likely one of the spots that Penang is most famous for).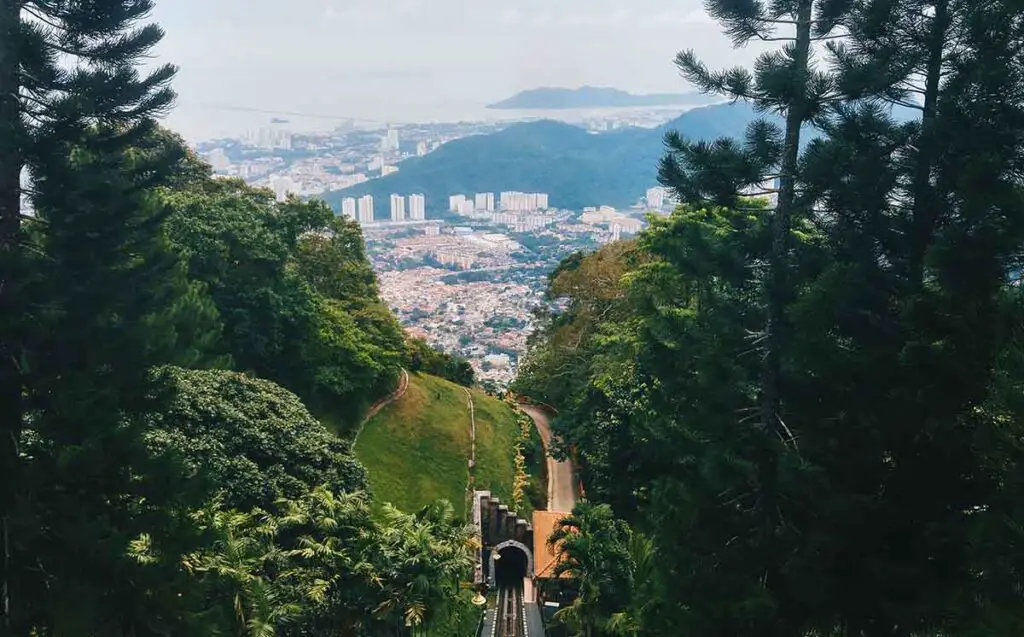 Penang features historical architecture and major tourist attractions. You're probably going to find plenty to do for free throughout Penang too.
You can discover the island's national parks or admire stunning scenery while you're here. With structures in the colonial style and contemporary street art, Penang's capital, George Town, is a cultural hotspot in Asia.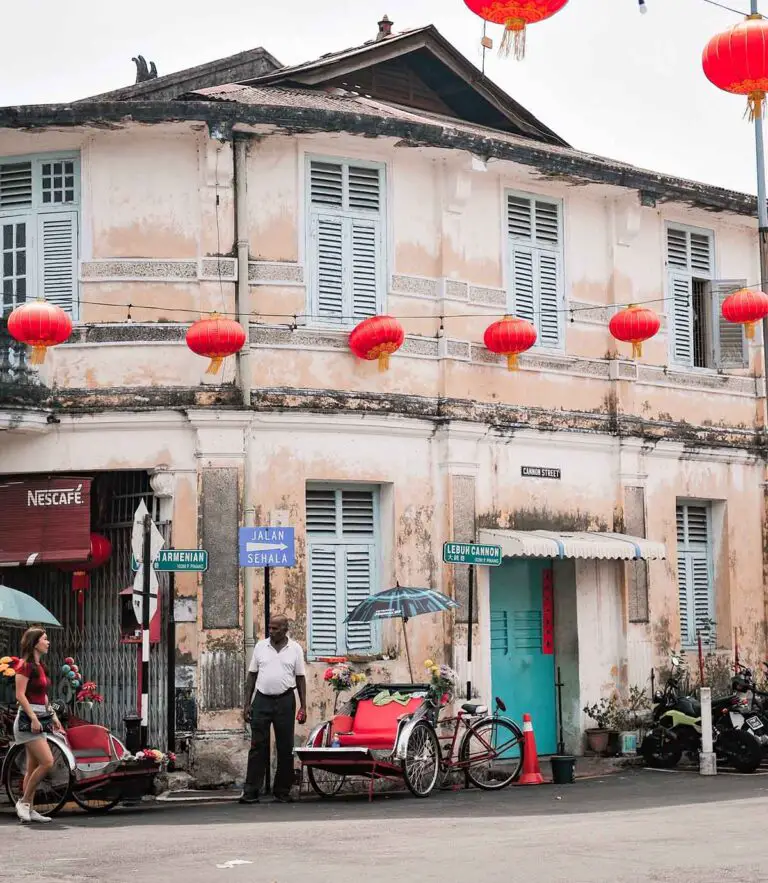 On top of that, there's spectacular Malaysian cuisine, the picturesque waterfront and more. So, how many of these do you think you can cover?
Well, that'll probably depend on how many days you intend to be there.
What to do in George Town Penang
See the street art across George Town
Fancy some street art to go with your street food?
Given Penang's remarkable popularity with regard to street art, it may be easy to mistakenly assume that it has been a part of the tradition of the island for some time.
However, these hugely iconic pieces actually constitute a fairly new addition to the town.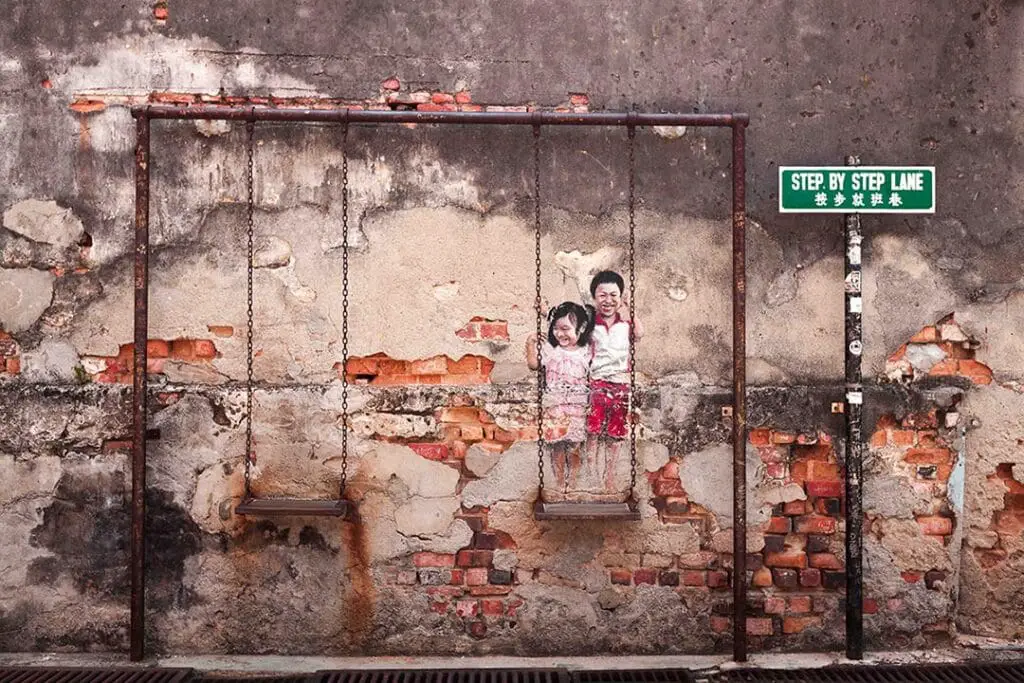 When a section of George Town was designated as a UNESCO World Heritage Area in 2008, the local government launched 'Marking George Town,' an initiative to brand the city as a mark of pride.
This initially led to the establishment of 52 steel sculptures used to tell the stories about these renowned streets – their citizens, shared heritage and unique cultural identity.
While some are honest and thought-provoking, many of them are quite amusing.
Check out the 360 Revolving Restaurant and Rooftop Bar
The 360 Revolving Restaurant & Rooftop Bar can be found among Penang 's famous nighttime dining spots.
This revolving eatery, situated in Bayview Hotel Georgetown, offers panoramic views of the city and its beaches and is a far-out or, probably more accurately, far up place for relaxing and having a late lunch or dinner.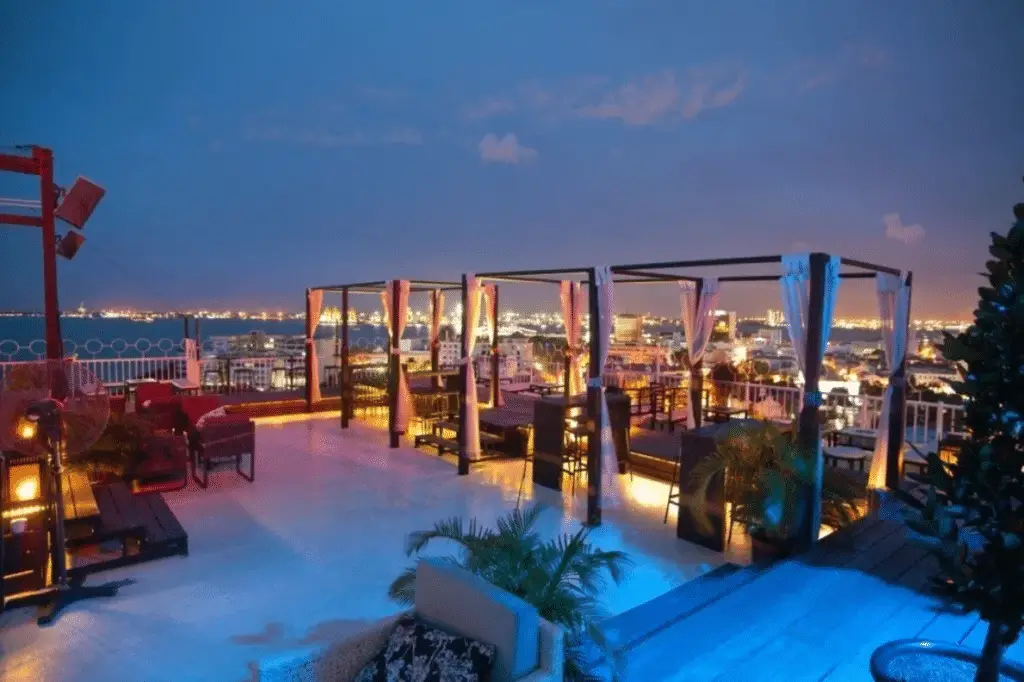 The bar and restaurant open at 4 pm and close at 2 am. This enables you to dine in a delightful and romantic atmosphere on the first level where the restaurant is located.
It is a warm and friendly spot, ideal for couples and solo travellers.
Go for a hike at the Penang National Park
Penang National Park stretches across the island 's northwest edge, defined by a weave of dense jungle and burnt orange treks, in which the high-pitched insect screech is unfailing and the grizzly bark of macaque monkeys can be heard from the canopy.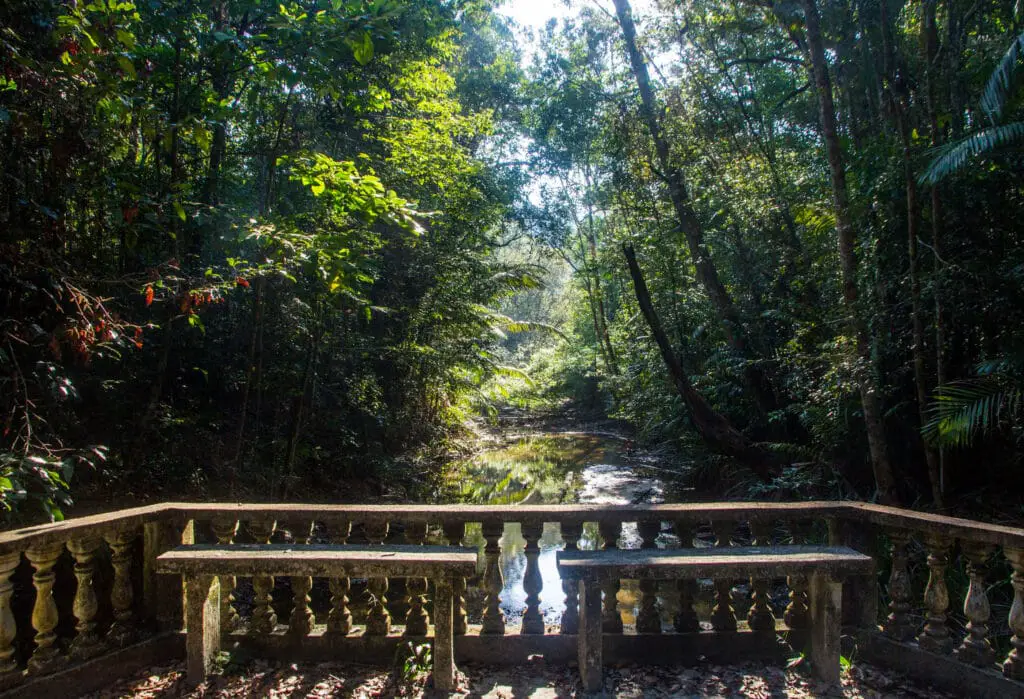 Image Credits: Flickr.com | Alexey Komarov
It makes a fantastic day trip from George Town and is a wonderful way for escaping the bustle of the city, clearing your head and experiencing a different side of Penang. 
Because of a landslide back in 2017, the formerly-popular Monkey Beach continues to remain off-limits for hikers with no plans to reinstate the route, but visiting Turtle Beach on the furthest side of the park is still achievable. 
This is a 4 km or 1-hour walk through the jungle and is predominantly flat with some small uphill sections to boot.
Check out the century-old Chew Jetty
Take a trip back in time, and experience past Malaysia with a visit to the age-old Chew Jetty. This destination comprises a collection of wooden houses built next to the water, most of which are over a century old.
The jetty was really just a row of planks where commuters could board boats, but in the 19th century, Chinese immigrants who worked at the port started to build homes directly above the jetty.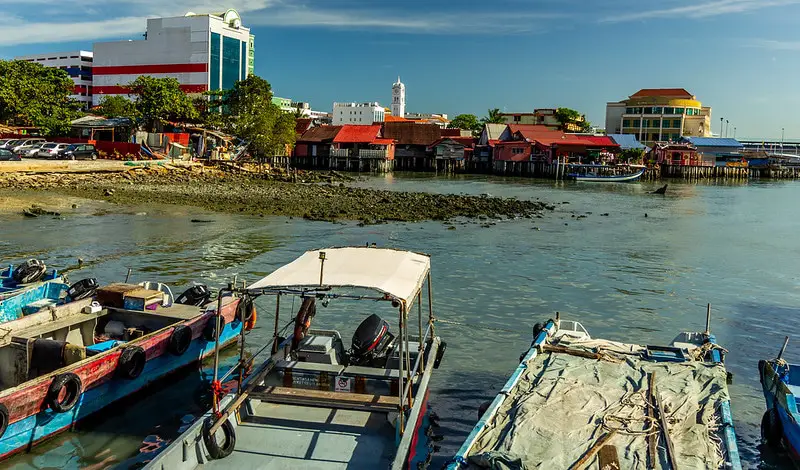 Image Credits: Flickr.com | johnmburgess
One of these structures still stands, known as Chew Jetty. In some ways, the jetty residences have managed to keep up with modernisation, adding electricity and running water among other things.
The haphazard nature of the built environment, though, is a clear nod to the past. Touring Chew Jetty contrasts sharply with some of the more modern architecture you'll find in Penang.
Indulge in popular culinary dishes
Penang's culinary scene attracts visitors from various parts of the globe. Street-stall hopping is one of the best things to do in Penang!
From absolute favourites like Penang Char Kuey Teow and Penang Laksa to Nasi Kandar, Mee Rebus, Hokkien Mee, oyster omelettes and spicy southern Indian curries, there is just too much to be discovered.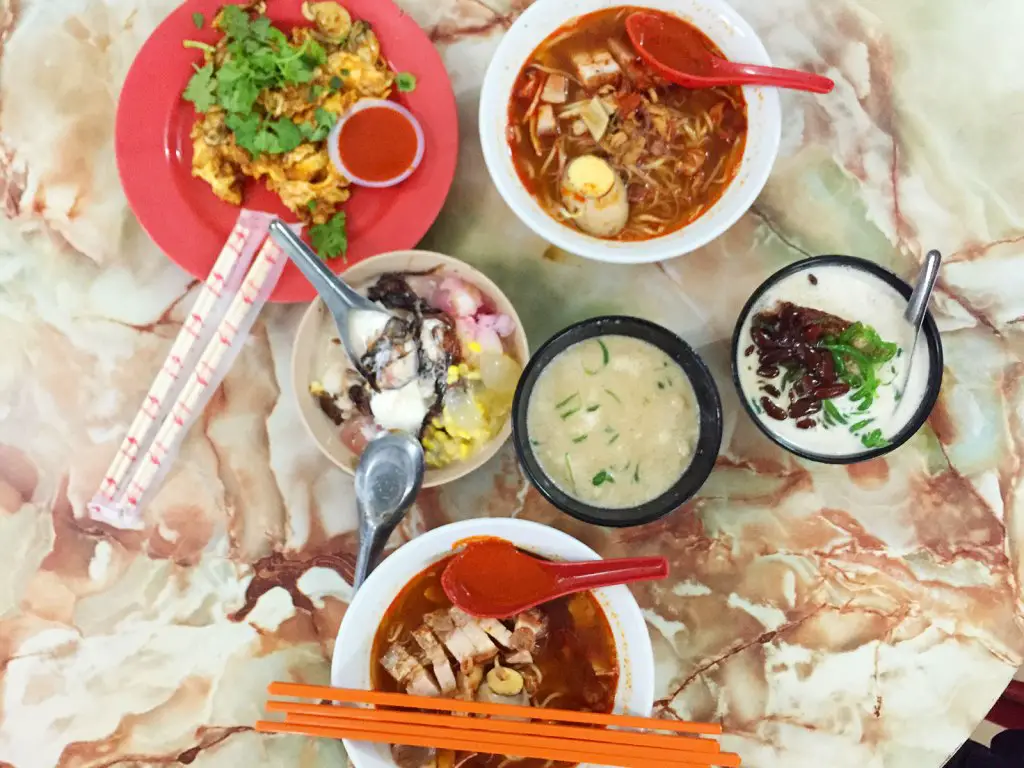 You will eventually realise that Penang is a gastronomic gem. Most tourists head to the renowned Gurney Drive – a beautiful plaza on the seafront with many restaurants, cafés and hotels – to kick off their culinary trip.
Enjoy a full day at Batu Ferringhi
On the island's northern coast, is Batu Ferringhi, one of Penang 's largest tourist hubs. Visitors can find stretches of sandy coastline along with plenty of eateries, accommodation and nightlife choices.
And although the beach is popular, when there are crowds it can get dirty, and jellyfish can be a problem as well.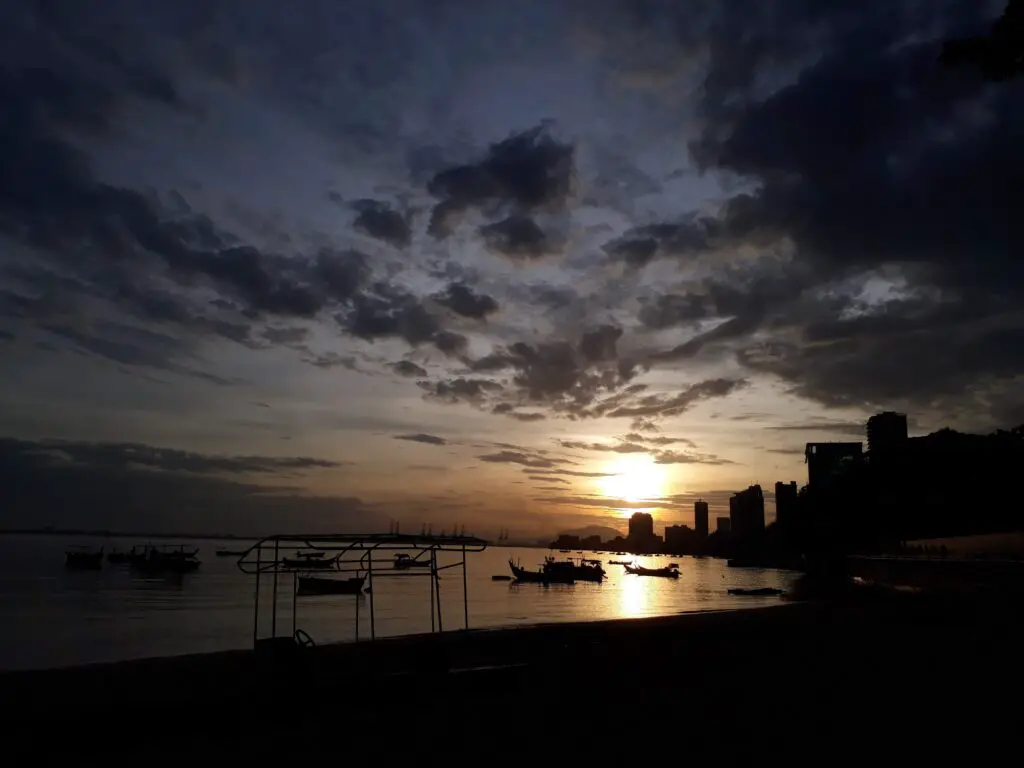 If you're prepared to walk a little further away from the crowds, you can discover the Muka Head Lighthouse can get an awesome view over the coast from the lighthouse tower. This should be worth visiting while you're in Penang. 
Make your way to the Teluk Bahang Pier after being at the beach working up an appetite, where you can choose from a fine selection of incredible seafood restaurants.
Drop by the spooky Ghost Museum
Image Credits: Ghost Museum Penang Official Facebook Page
The Ghost Museum showcases various sections with supernatural beings from different countries including Malaysia, Indonesia, Ancient Egypt and Japan. You will also get to pose in various photo spots with zombies and undead pirates. 
For every ghost you encounter, there are descriptions, so it would be an educational experience as well – if you're not too busy dodging the lurking creatures at every corner. 
The brave souls can feel free to wander around the museum on their own. But if you're a scared cat, there will be guides that are happy to take you around. You may also check out some other museums in Penang.
Enjoying some activities while you're in Penang? Why not take a break from the eating and exploring to unwind at a great place to stay! Discover all lodging on Placefu.com
Featured Airbnb and Boutique Hotel in Penang