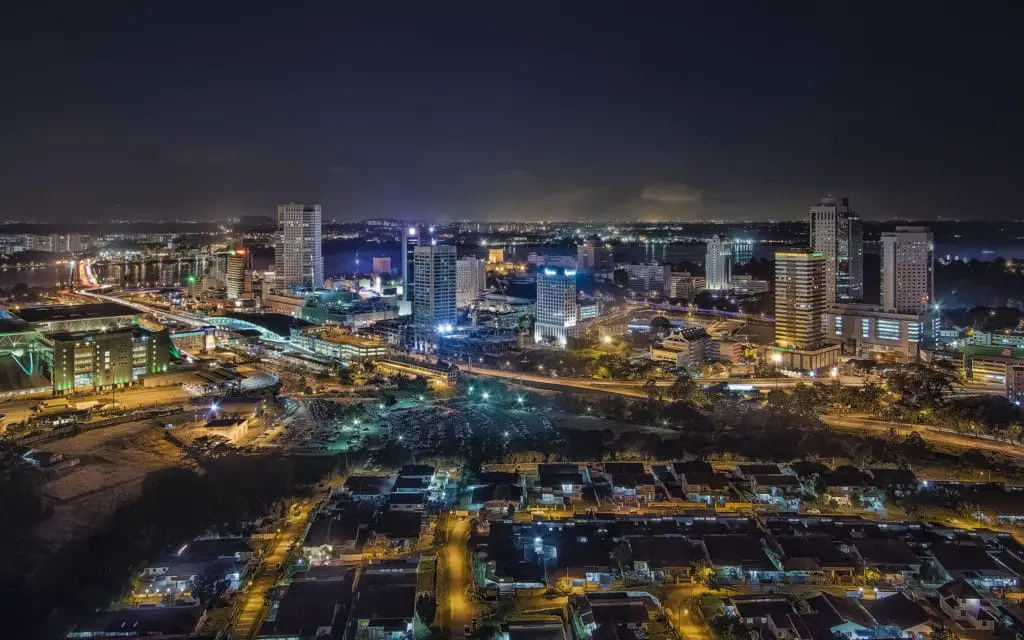 Johor Bahru offers a variety of delights, including delicious cuisine, breath-taking landscapes, and vibrant night markets. From the bustling cities to the serene natural attractions, the city provides endless opportunities for adventure.
As the sun sets, the night markets come alive, offering a variety of mouth-watering treats, refreshing beverages, and fascinating items displayed in charming side stalls.
Whether exploring the bustling streets or savouring the local delicacies, Johor Bahru's night markets provide an enchanting experience for all and have also become famous attractions for people who visit this country. 
If you're in the area, here are a few popular night markets you should check out.
Meldrum Walk Street Foods, Johor Bahru
This gem is well known for its scrumptious seafood selections. Open every night, this night market features an assortment of mouth-watering delights – including non-seafood options like piping hot chicken wings.
Situated nearby Causeway and JB Sentral, specifically on Jalan Wong Ah Fook and Jalan Meldrum, the Meldrum Night Market has become a favourite destination for food enthusiasts.
This vibrant market captivates visitors with its array of delectable dishes such as Wantan mee, Char Kway Teow, Oyster Omelette, and the immensely popular grilled marinated fish, known as ikan bakar. 
Located just behind JB Sentral and in close proximity to Salam Tandoori Corner, this bustling market also offers mouth-watering tandoori delights that rival those found in other Indian restaurants in the area.
The eatery's main attraction lies in its emphasis on freshness, ensuring that even the Naan is prepared piping hot upon each order, guaranteeing a delightful dining experience.
Opening hours: 5:00PM to 12:00AM daily
Bazaar Karat Night Market, Johor Bahru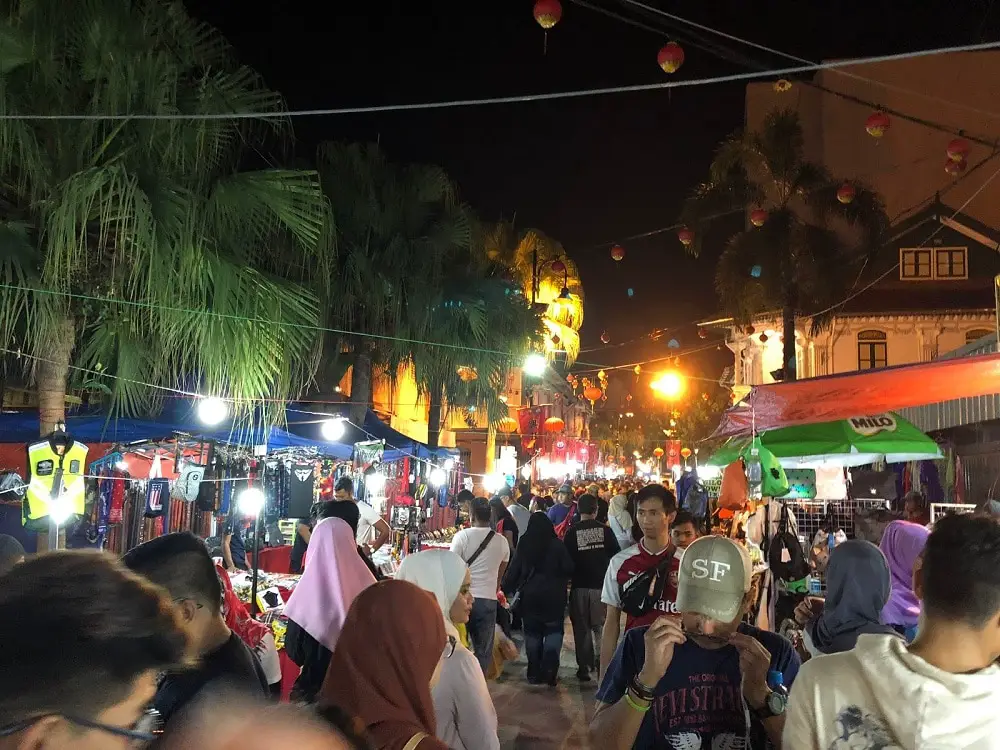 Bazaar Karat is another renowned night market where you can find interesting trinkets, vintage items, new or pre-loved clothes, accessories, and food. With a layout reminiscent of a neighbourhood "pasar malam", visitors can find items sold at various stalls.
It's especially lively on the weekends and strategically located close by to other prominent landmarks including UTC Mall and Puteri Pacific hotel. This area is the heritage town in JB that many eatery you can explore during the day.
Drop by after 9PM (or maybe even later) because that's when the streets begin to flood with hawkers selling their wares. There's even a haircut stall and Henna design services are available within the colourful labyrinth too.
Similar to other night markets, the quality for some of the merchandise here may be vary so please be aware of this.
If you're lucky, you will get to catch live performances by local bands on either end of the street as well.
Opening hours: Tuesday and Friday 5PM – 12AM / Closes every Monday
Taman Impian Emas Pasar Malam
The Taman Impian Pasar Malam could be considered one of the least crowded markets in Johor Bahru (and that's probably by design).
With almost three whole streets connecting a string of stalls and hawkers, the wide walkways and well-shaded paths can make for a great strolling experience that isn't filled with the same claustrophobic, stuffy atmosphere that pasar malams are often known for.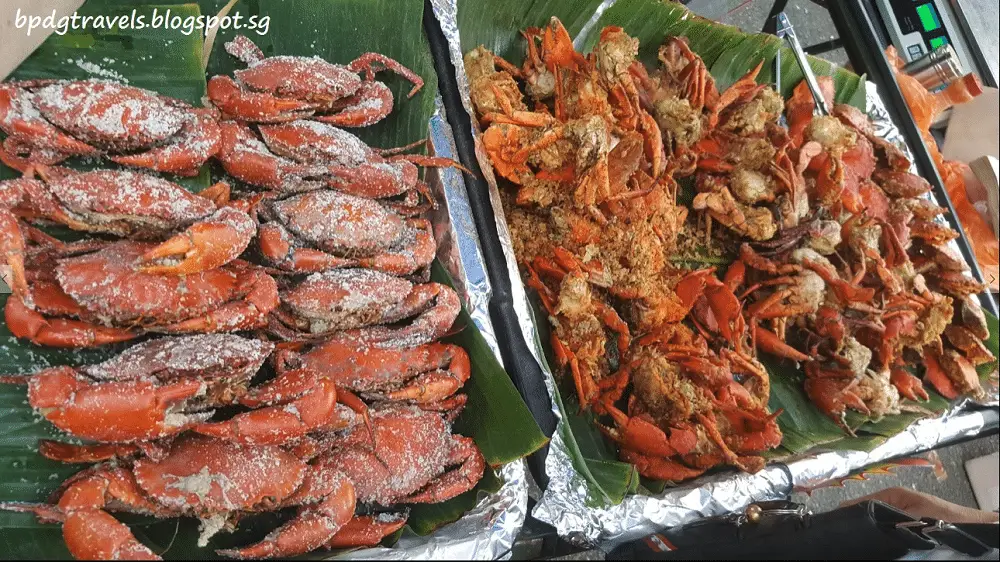 Taman Impian Emas is known more for its delicious food and unique dishes that are not easily found at the other night markets. Look out for the salt-baked BBQ Crabs which is crabs sautéed over a rich flamed charcoal grill until they're luscious red colour.
Opening hours: 4:30PM to 9:00PM on Thursdays only
Not too far from the Family Food Court in Mount Austin, Pasar Malam Johor Jaya is a well-hidden gem that's best known for the famous mobile kueh stall located there.
Started at 4PM, the sweet delicacies found at this famous stall are often sold out within an hour. It's advisable to arrive early if you're in the area and curious to experience the buzz surrounding this popular stall, as the vendor typically wraps up by 6PM.
Aside from the sweet kueh selections, Johor Jaya also features a wide array of other savoury delicacies.
KSL Monday Night Market, Johor Bahru
If you're up for something that's a little easier to find and more accessible, the KSL Monday Night Market is a colossal bazaar with food variations that can be observed throughout the entire stretch.
Night market staples like Carrot Cakes and Char Kway Teow or Tau Hway in Brown Sugar and Paos (Steamed Buns) are located here along with numerous traditional cake stalls, selling beautifully prepared classic marble cakes, Pandan chiffon cakes and many other fan favourites.
Be sure to 'take away' a few bags before you head off for the night.
Taman Puteri Wangsa Pasar Malam
You should have no problem locating this gigantic spot. It's known as one of the biggest night markets in Johor Bahru. This heavyweight contender holds true to this reputation.
Featuring more than a hundred stalls that serve some of the most delectable night market specialities JB has to offer, you could spend an entire night here so be sure to take your time.
Depending on the season, you can find vendors at Taman Puteri Wangsa Pasar Malam selling top-grade durians and jackfruits as well as many other choices.
You can also anticipate savoring authentic Malaysian street food offered at this location. Give the freshly prepared Mee Goreng a try, as it's cooked right in front of you.
Opening hours: 4:30PM to 10:00PM on Fridays only
Johor Bahru homes numerous night stalls and areas, each offering distinct culinary experiences and specialty dishes. During your visit, gather your friends and make it a point to explore as many of these places as possible to indulge in the vibrant food scene of JB after sunset.
Night Market Gadgets You Should have (Hand-picked!)
Looking to beat the heat while exploring the vibrant night markets? We've got you covered with a selection of cool gadgets perfectly suited for hot day and night market. Happy shopping!
Disclosure: This post contains affiliate links. If you click these links to purchase the product we may earn a commission without extra cost to you. We carefully select the best and all products sold by high rating seller.