Night market or locally known as Pasar Malam, is Malaysians' go-to place to eat and shop and has become increasingly popular among tourists as a night attraction spot in Malaysia. However, night markets in Singapore are quite different compared to night markets in JB in terms of the food, environment and ambience due to its strict local authorities. 
Every stall at the night market in JB tends to be a bit crowded, but fortunately the market is usually sheltered so no need to worry when it rain — though it's always a good idea to bring an umbrella with you.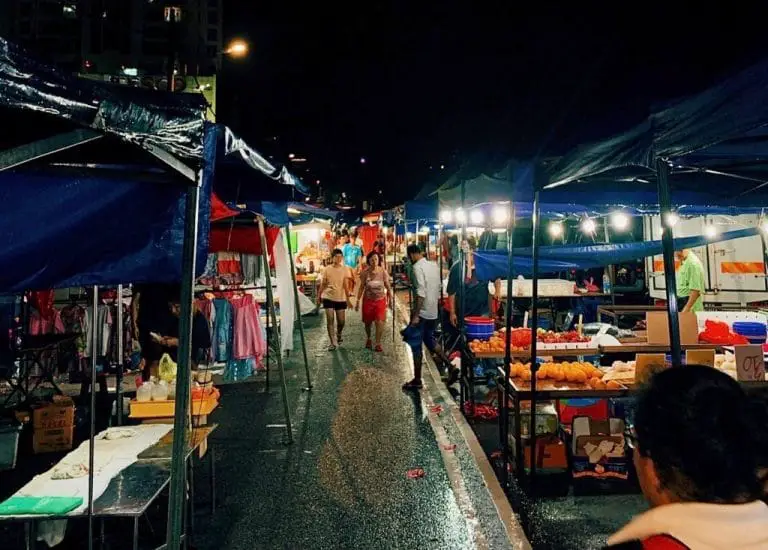 Pasar Malam in Malaysia are mostly held around the residential area on the cordoned road during the evening on a weekly basis. It is also not an unusual scene to have two night markets held around the same locations; which one is mainly to cater for Malay community who looks for Halal food and another one that offers more Chinese snacks and delicacies.
Most of the time, you may also find a line of stalls that does not only sell food but also other necessities such as home products, clothes, toys and more. Some of the largest night markets in JB offer a variety of food ranging from Japanese, Taiwan, China, Malay to Italian food like Pizza!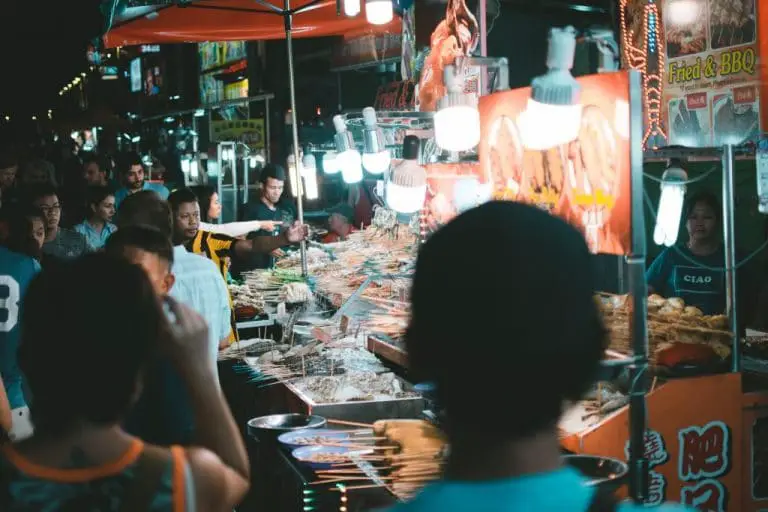 All sort of foods and drinks that you can't find in Singapore can be found in Malaysia. Some vendors that sell Asam Laksa and Fried Kuey Teow offer table & chair for "Dine'in" but it can be difficult to get a seat due to the limited and oftenly crowded space especially during the weekend and holiday season.
Continue scrolling below to see which night market is available throughout the week so you can plan out for your visit soon!
Century Garden Night Market or also famously known as KSL City Night Market is one of the famous Pasar Malam in JB. This vibrant night market has become a popular destination for many Singaporeans seeking an enjoyable experience due to its convenient proximity to the CIQ, which is only a short 15 minute drive away.
The night market starts from the entrance of KSL City Mall and stretches all the way to Grand Paragon hotel which extends for about 700-800 meters.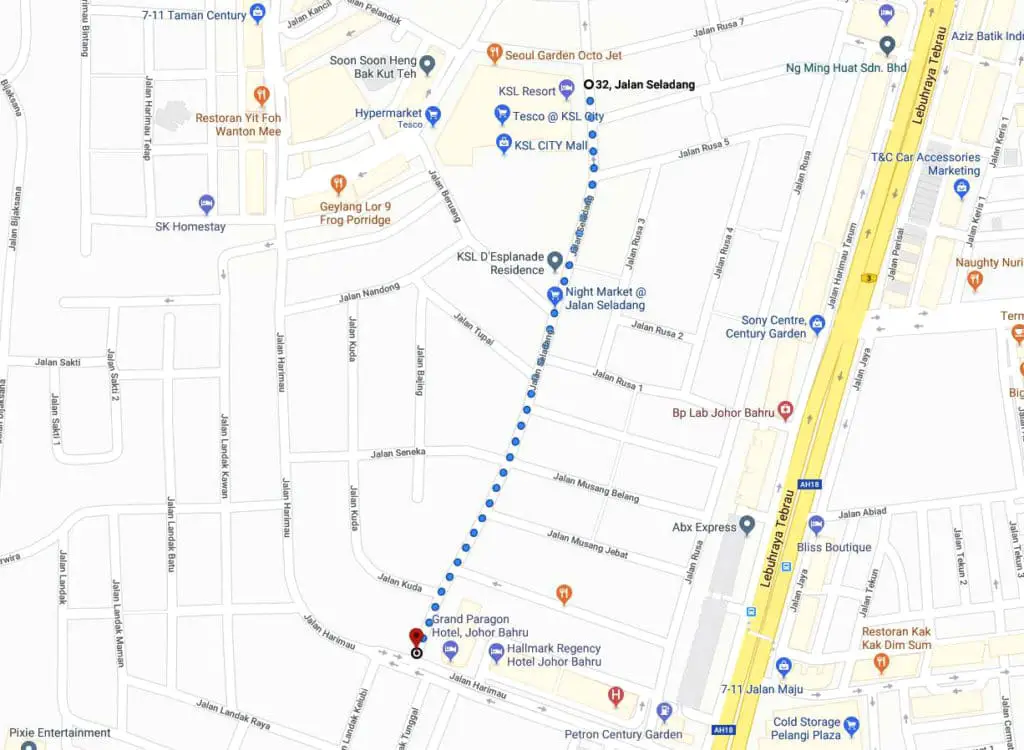 Here, there is a diverse array of mouth-watering food and refreshing drinks awaiting you. From the heavenly Carrot Cake and succulent Satay to the tangy Rojak and tantalising Grilled Seafood, there's something to satisfy every palate.
Don't miss the renowned stalls like JB HK Style Carrot Cake, Black Tea Stinky Tofu, Teochew Traditional Oyster Puff, and the delightful Muah Chee stall. Just be prepared for some crowds and lines as these stalls tend to draw a loyal following.
Since the night market starts at 5PM, it would be best to reach there around 5:30PM-6PM, to allow you to walk around comfortably.
Take note if you bring along kids, the first stretch of the pasar malam near the mall only has one side of stalls and there're cars moving in the opposite direction, just be vigilant and ensure your belongings are secured.
Hope you could get rid of Monday Blue by going to this pasar malam for all the food and stuff there that might excite you.
Public Bus from CIQ JB Sentral to KSL:
Take the F100 bus (Causeway link) which operates from 8:30AM – 10:45PM daily.
Located near the Aeon Tebrau City mall, it takes about 15-20 minutes' drive from the CIQ JB. Even though this pasar malam is placed in the shophouse area, it is the biggest pasar malam that you can find in Johor Bahru.
Those who have been to this pasar malam would know about the famous kueh stall that sells traditional assorted Kueh at a very competitive price which is about RM0.60 each.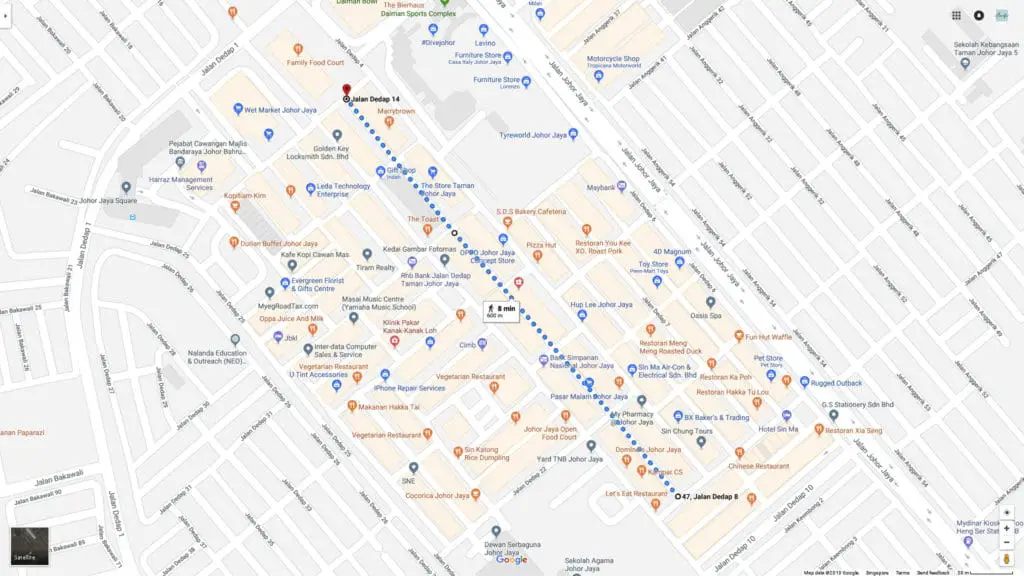 They would start setting up the stall in front of the van around 4PM. Due to its affordable price and tasty flavors, a queue would begin to form rapidly, and their kuehs started selling at an exceptional pace compared to other kueh stalls at the pasar malam. Unlike others, their kuehs would typically be sold out by 5PM!
Before 6PM, they will start to pack up and leave the pasar malam before sunset, so it is highly suggested for you to come early if you wish to buy some of their kueh. The stall is the lane near the Pondok Bit Polis, behind Season's cafe. 
There's also a very famous food street between Jalan Dedap 21 & Jalan Dedap 22 which is a walking distance from the pasar malam. The Roasted Duck Rice and Fried Kway Teow are worth trying!
*Please take note that this food street is closed on Tuesday so you may need to visit the pasar malam and the restaurants on two separate days!
With just 6 mins driving to the night market from the Bukit Indah Aeon Mall, this pasar malam is located in the residential area with one row of shophouse stretches around 220m with about 30 stalls and very limited parking.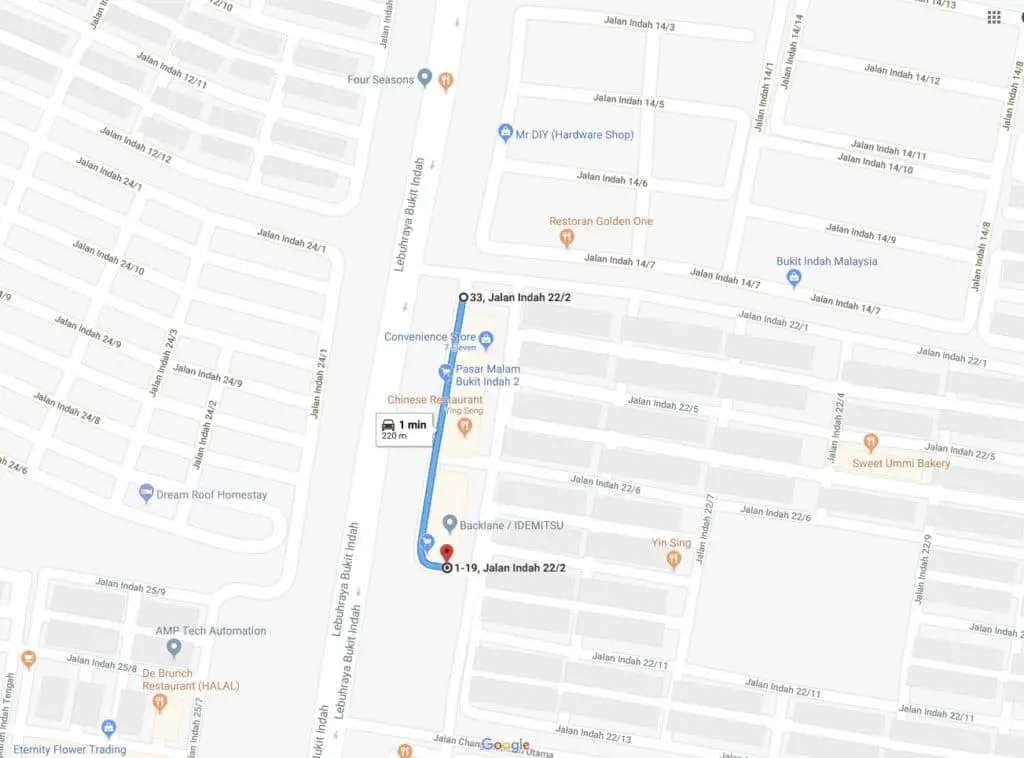 This night market mostly caters to the local community of Malay, Chinese, and Indian as It offers a variety of local delight at a very affordable price.
Even though it's quite small, it's good enough for you to stop by and fill up your empty tummy!
Discover a hidden gem in Johor Bahru – the Taman Impian Pasar Malam. Unlike crowded markets, this pasar malam offers wide walkways and a pleasant strolling experience. Explore the three streets lined with stalls and hawkers, free from the usual claustrophobic atmosphere.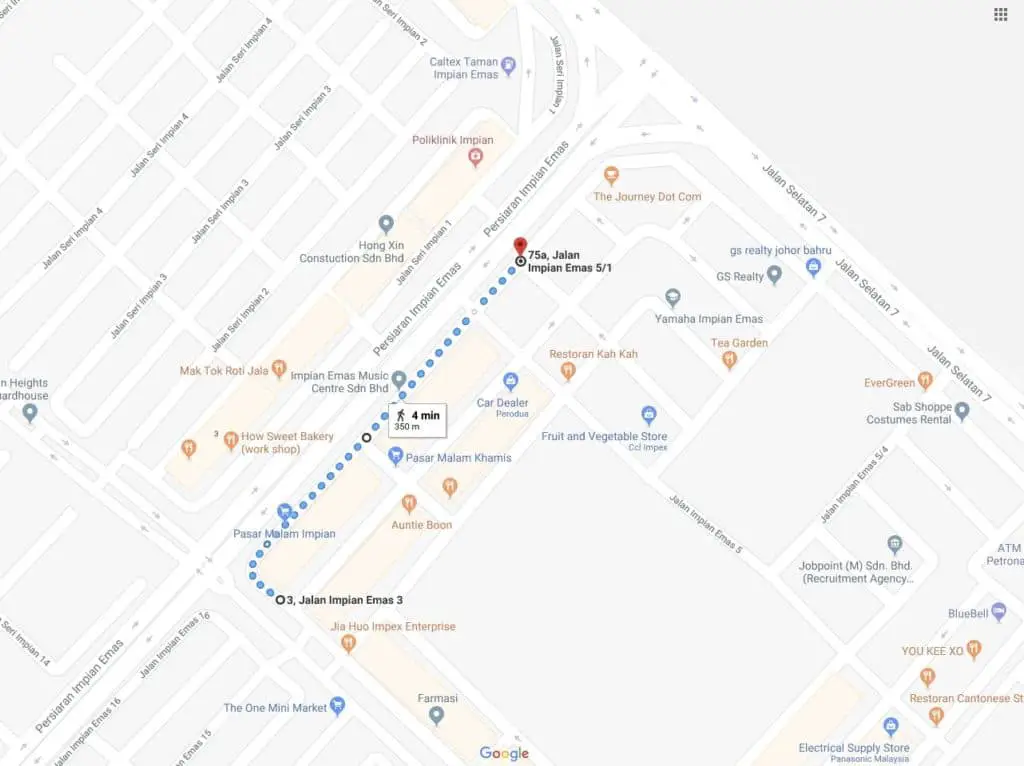 If you have a penchant for delectable delights, there's a variety of food stalls at this bustling pasar malam that are an absolute must-try. For all the food enthusiasts out there, the pasar malam can offer you so much to satisfy your taste buds! To name some of them are prawn and oyster omelette, marinated crabs, muah chee, asam laksa, and even the grandest paos can be found there.
This night market stretches an impressive 350 metres through the Skudai district, offering a gastronomic paradise for food lovers. A 10-minute drive from Paradigm Mall and Sutera Mall takes you on a flavorful journey that will satisfy your hunger!
This pasar malam is also considered one of the largest night markets that filled up the street over 800m long with more than 100 stalls.
Situated in the shophouse area at Jalan Beladau. It's mainly catered for the Malay community as the food there are mostly halal. You can find all kinds of stuff there you would never think of, ranging from household items, furniture, toys, shoes, clothing, electronic gadgets, accessories, and all kinds of stuff you could name it.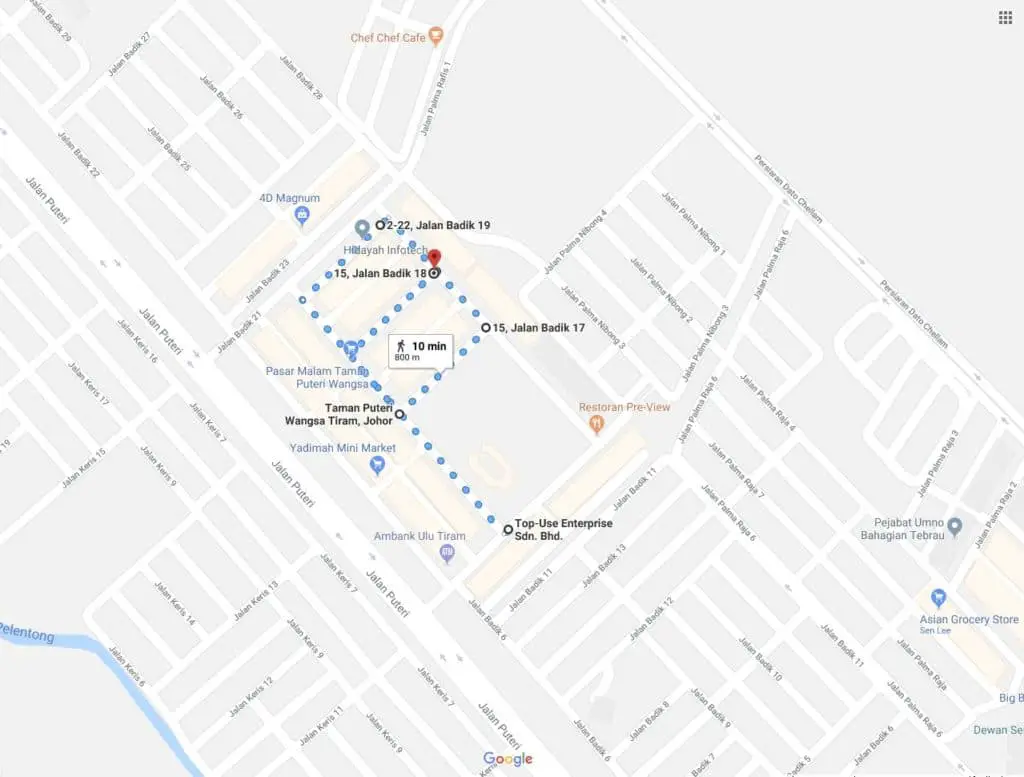 Apart from that, there are also some stalls selling fresh vegetables, fruits, raw fish, chicken and much more that are like a wet market!
Many local residents buy from there as early as 5PM-6PM to prepare meals for their family at home. It is almost like a mini wet market that operates at night.
Also known as TUTA, this night market stretches over 1KM at the shophouse area in the heart of Skudai district. It is also located near to Sutera mall and Aeon Bukit Indah with just less than 20 minutes of drive.
This night market offers a variety of food from Japanese, Taiwanese, Hong Kong, Malay, and Chinese stalls. Some stalls that are a must-try include Okonomiyaki, traditional pastries, bean curds and sweet drinks, roast duck and many more delicious options!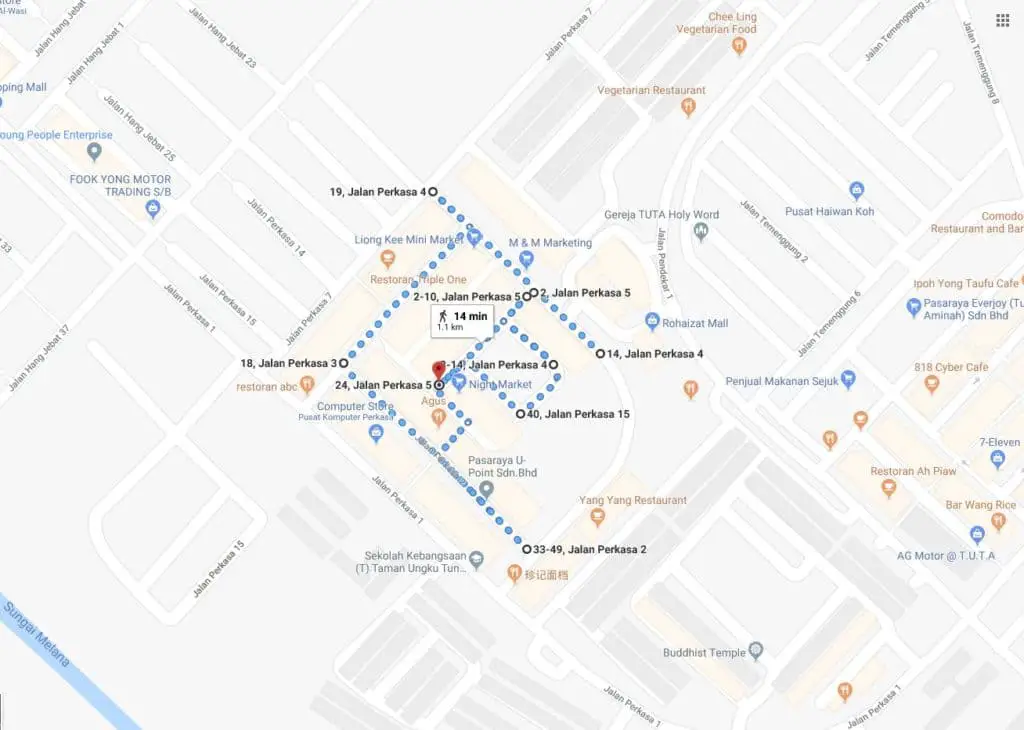 As the night market is located near residential areas and operates on a weekend, it tends to get quite crowded. To avoid the crowds, it is advisable to plan your visit to the night market at an earlier time, around 4:30 PM or shortly after it opens.
By arriving early, you can explore the stalls and indulge in the culinary delights before the market gets busy, ensuring a more relaxed and enjoyable experience.
This night market spans over 400 metres and is conveniently located in the commercial area between Aeon Permas Jaya mall and Renaissance Hotel, making it easily accessible on foot.
It is said to have around 50-60 food stalls which offer local food. You might also spot similar stalls from KSL night market such as the Black Tea Stinky Tofu, Oyster Omelette and more.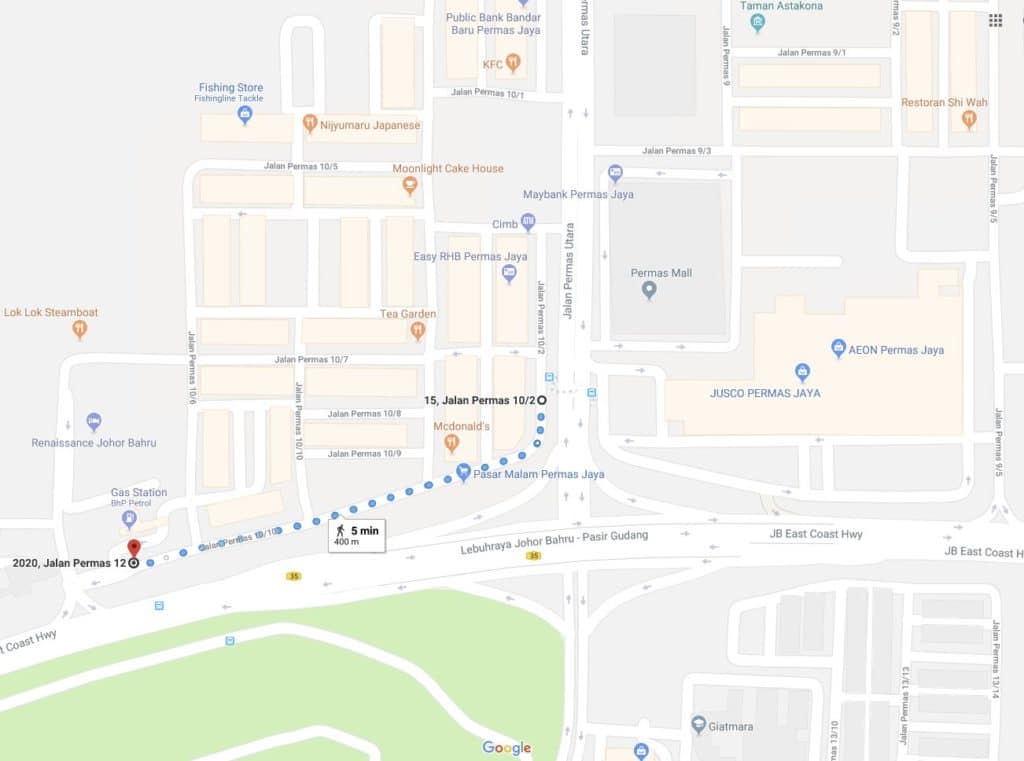 If the street food leaves you wanting more, there are plenty of cafes and restaurants nearby. As you stroll through the night market, you'll come across the enticing Permas Jaya Food Street, a haven for foodies.
Night market that open everyday :
Pasar Karat @ JB Downtown
Now that we have come to the conclusion, hopefully the article has helped you to decide on which one to visit. t's worth noting that the majority of the mentioned night markets tend to offer similar stalls, as they are popular hotspots in the city.
Meaning, while these stalls may operate at different locations each day, you can be sure that if you miss them at one night market, they will most likely be present at another.
Here's our tips before going to any Night Market:
Take Grab/Taxi to the pasar malam – It will be a challenge for you to secure a parking spot especially if you visit during the weekend of public holidays.
Dress comfortably but avoid wearing slippers – Being in a crowded space, it can be quite hot and humid, so it is advisable to wear anything that is comfortable for you that can adapt to the hot weather. Apart from that, to avoid any possible injuries, do consider wearing sports shoes!
Visit with an empty stomach – This way, you'll have plenty of room to indulge in the mouth-watering treats and fully enjoy the culinary experience without feeling too full.
Prepare wet tissue – Pretty sure you will buy and eat finger food while you are walking, most likely your hand will get dirty with the food's sauce. Wet tissue will come in handy.
Hopefully this guide gives you more insights on the famous pasar malam in Johor Bahru and helps you to plan out your visit here.
Night Market Gadgets You Should have (Hand-picked!)
Looking to beat the heat while exploring the vibrant night markets? We've got you covered with a selection of cool gadgets perfectly suited for hot day and night market. Happy shopping!
Disclosure: This post contains affiliate links. If you click these links to purchase the product we may earn a commission without extra cost to you. We carefully select the best and all products sold by high rating seller.