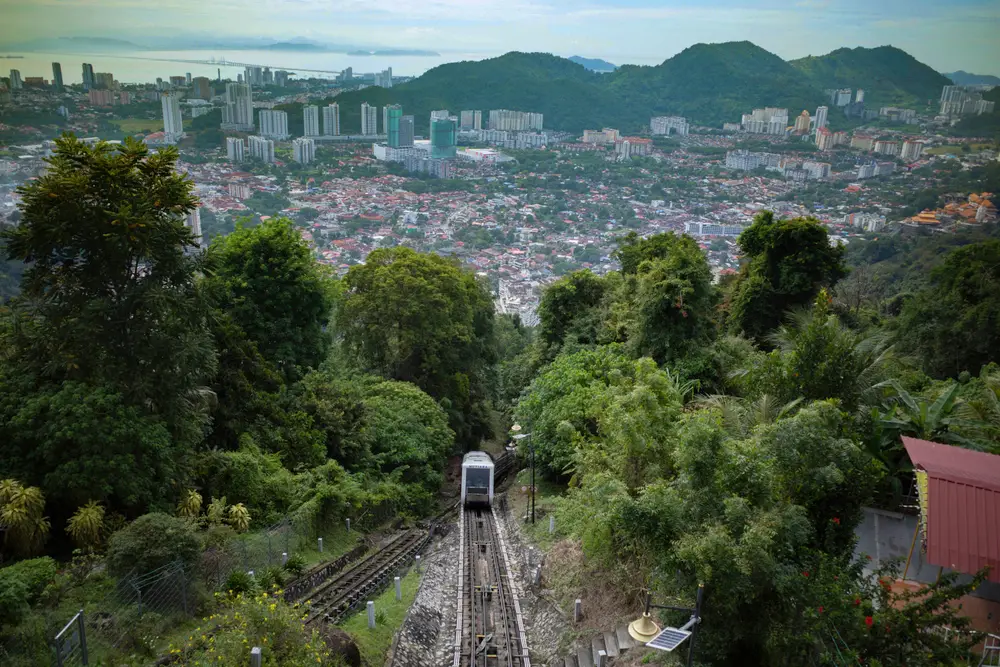 If you are in Penang or are planning a visit there soon, Penang Hill is one of the iconic places of interest not to be missed. This hill that is over 800 metres tall serves as the perfect spot to take a break from the hustle and bustle of the city and spend some time with Mother Nature.
Named after the island itself, Penang Hill is made up of a collection of hills and can be accessed via different hiking trails across the island. But what is there to do on the hill? We can only say, PLENTY!
10 Best Things to Do in Penang Hill
#1 Hike All The Way to The Hilltop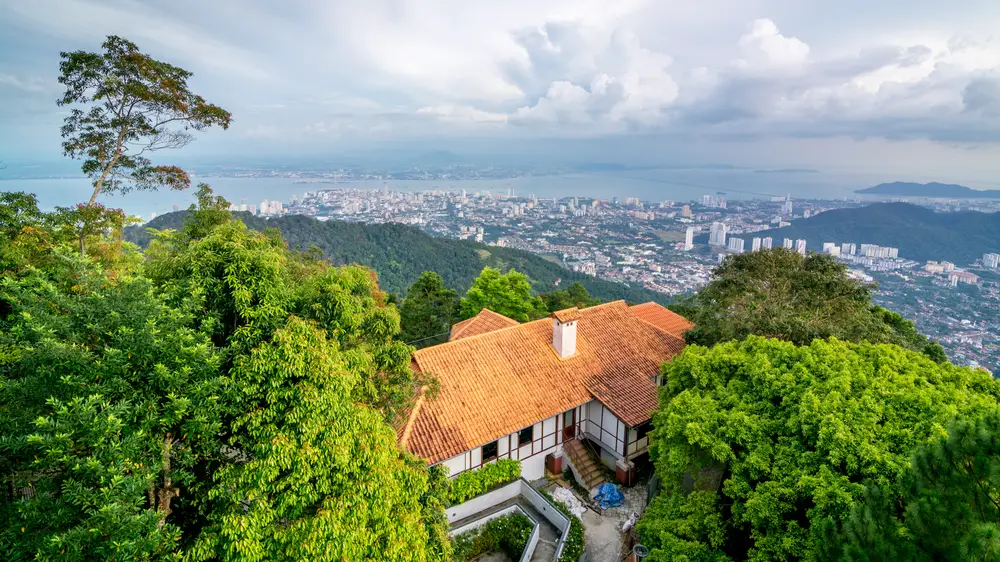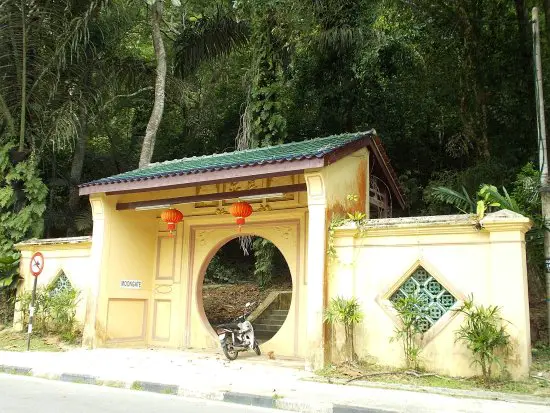 Image source: penanghill.gov.my
Penang Hill is one of the best hills in Penang for hiking – ask any local avid hiker and you'll see them nodding in agreement (us included!). The best part of hiking this hill is that, there are many different hiking routes for you to try to reach this place and hike all the way to the peak!
You can check all the available trails here courtesy of Penang Hill Corporation, such as from Moon Gate near Penang Botanic Gardens or from the Escape Theme Park. While you are at it, don't forget to pause and take in the calming sights of the pretty forest greeneries along the way.
#2 Take A Ride On The Penang Hill Funicular Train
What is visiting Penang Hill if you haven't sat on the Penang Hill Funicular Train at all? Get the train ticket and hop on for a lovely ride!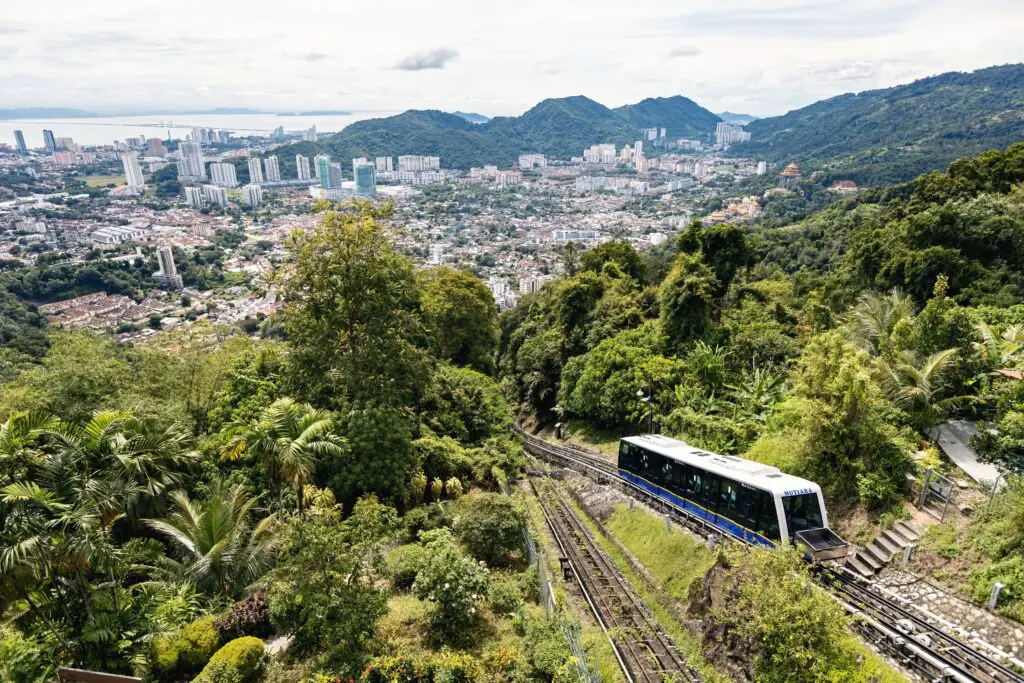 As the train is the only mode of transport up and down the hill (apart from your hiking legs), be prepared to queue for some time, especially if you happen to visit during peak seasons. The wait is totally worth it for the experience though!
#3 Enjoy Nice Scenery Of Penang Day or Night
This may sound boring among other activities in Penang Hill, but trust us on this – the view from the top of Penang Hill is absolutely spectacular! This is one of the few high places in Penang that allows you to get a wonderful panoramic view of the city, be it at the Lower Station platform or at the peak of the hill at Skywalk or Skydeck.
You get to experience a different side of Penang if you visit at night, though be sure to dress warmly and prep yourself against potential mosquito bites.
#4 Go for A Nature Trail At The Habitat Penang Hill
Can't get enough of Penang Hill's flora? You should consider going for an eco-therapy nature walk at The Habitat, which is situated at the peak.
Here, you can discover more about the rainforest, its ecosystems and the ongoing conservation efforts as you appreciate the gazetted jungle greeneries and wildlife present throughout the 3-hour Forest Bathing trail.
You can even join the Night Exploration tour to see nocturnal animals and Starlight Camping activity if you love camping under the starry sky!
#5 Check Out Historical Attractions on Penang Hill
Penang is rich in history, and Penang Hill is no exception. You will find a number of historical buildings and properties such as:-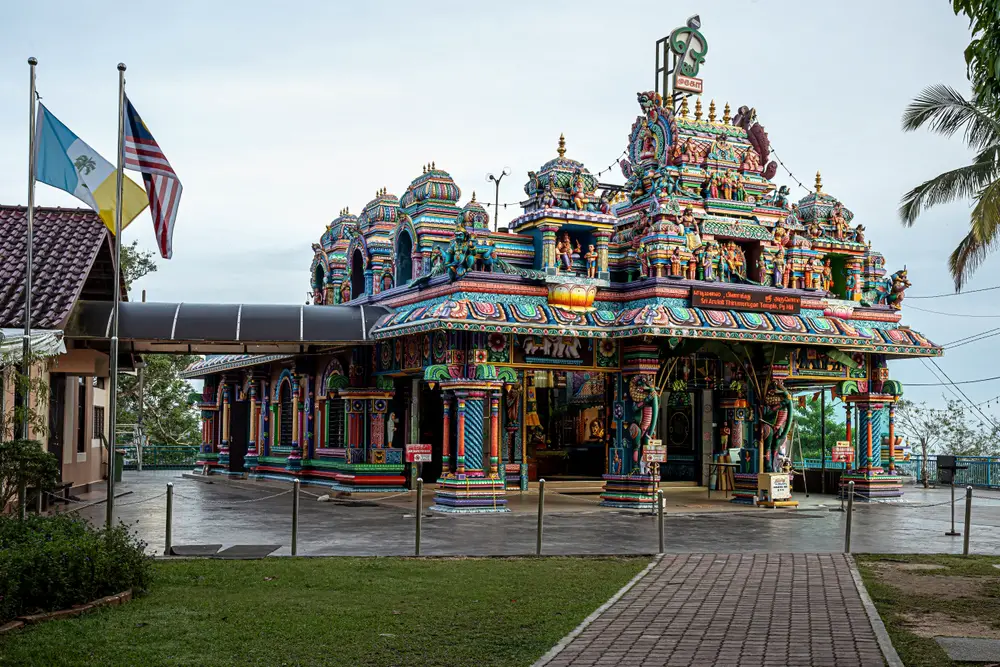 Penang Hill Hindu Temple (to be precise, the Sri Aruloli Thirumurugan temple) which is one of the oldest Hindu temples around since the 1800's;
Victorian Post Box, one of the oldest post boxes in Penang built during Queen Victoria's reign in the 1830's;
Cannon, which weighs 2.75 tonnes and can be seen on the same level as the Hindu temple close to the Penang Hill Mosque
Bel Retiro, a government building built in 1789 for the Penang governor that is still in use today
#6 Have An English Meal With A View or Taste Local Delights
Once you are at the top of the hill, you will also notice an establishment called David Brown's Restaurant & Tea Terrace – this is the popular place to drop by for an elegant English tea party of your own, or enjoy an English dinner while your eyes feast on the breathtaking views of the city.
Perhaps you prefer trying some local food? Cliff Cafe, also known as Astaka Bukit Bendera, has got your back.
You can find local kuihs, rojak, ice kacang (recommended!), char koay teow, Penang asam laksa and more at this food court, so there's a great variety of Penang food to whet your appetite! You can also shop for souvenirs here.
A must-eat food here would be the Chick Peas Masala, also known as Penang Hill Kacang Putih/Kacang Kuda Masala Penang Hill! The stall is easily spot on once you are at Upper Station area.
#7 Keep Calm and Coffee On At Kopi Hutan
Coffee enthusiasts, you can grab your favourite cuppa at Kopi Hutan Penang Hill, the highest cafe in Penang housed within Monkey Cup Garden!
Kopi Hutan is an awesome spot for visitors looking to chill and relax with some coffee and cake after a tough hike or a casual train ride up to the hilltop.
Don't expect too much from its humble menu offerings but we personally think getting some yummy caffeine boost amidst lovely green plants and trees at a height of 800 over metres above sea level is rewarding enough!
#8 Lock Your Love With Some Love Locks
The gesture of securing love locks on an 80-metre fence may seem dramatic or cheesy to some, but if you are bold enough and would love to leave a mark at Penang Hill, this is one of the best Instaworthy activities in Penang Hill you should try!
You can use your own lock, or buy from the vendor on-site at Penang Hill's Upper Station. Not just for lovebirds – single people are also welcome to participate because self-love is still love, right?
#9 Keep Your Eyes Peeled for Rare Wildlife and Plant Species
There's bound to be some interesting or rare flora and fauna waiting to be found on the hill either along trails or at places of attraction, so be sure to keep an eye out as you explore Penang Hill!
Some of the notable ones include black squirrels, dusky leaf monkeys, flying lemurs, Monkey cups and different types of birds.
If museums are your thing, you'll be glad to know that Penang Hill has two museums for visits – Teddyville Museum and Toy Museum. They are great places for photo-taking with kids, family and friends atop the hill.
Places to Stay in Penang Hill
Penang Hill does have three accommodations to choose from if you would like to experience staying at the hill itself during your trip: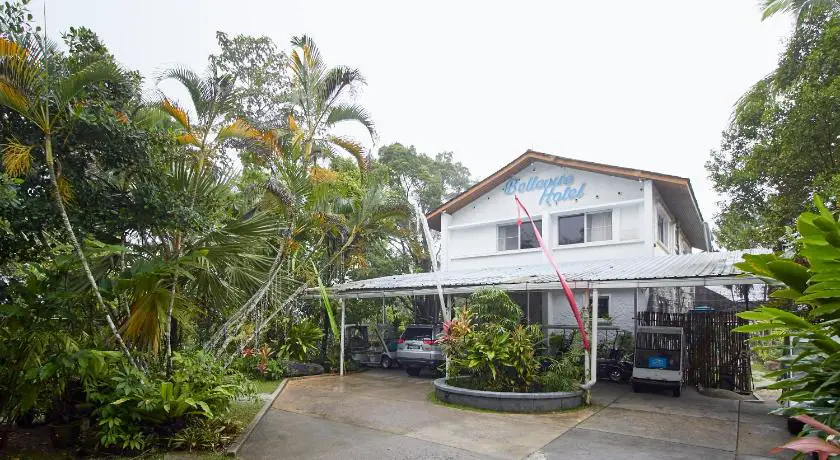 The one and only hotel in Penang Hill, Bellevue Hotel boasts a total of 12 rooms housed within one huge bungalow-like building. You will be able to see it a distance from the Upper Station.
Upon reaching the place, you will be greeted with an aviary that houses different bird species, which is one of the nice things about this hotel.
Relax in tranquillity with the birds and the beautiful forest setting as company during your stay along with a panorama of the whole of Georgetown here.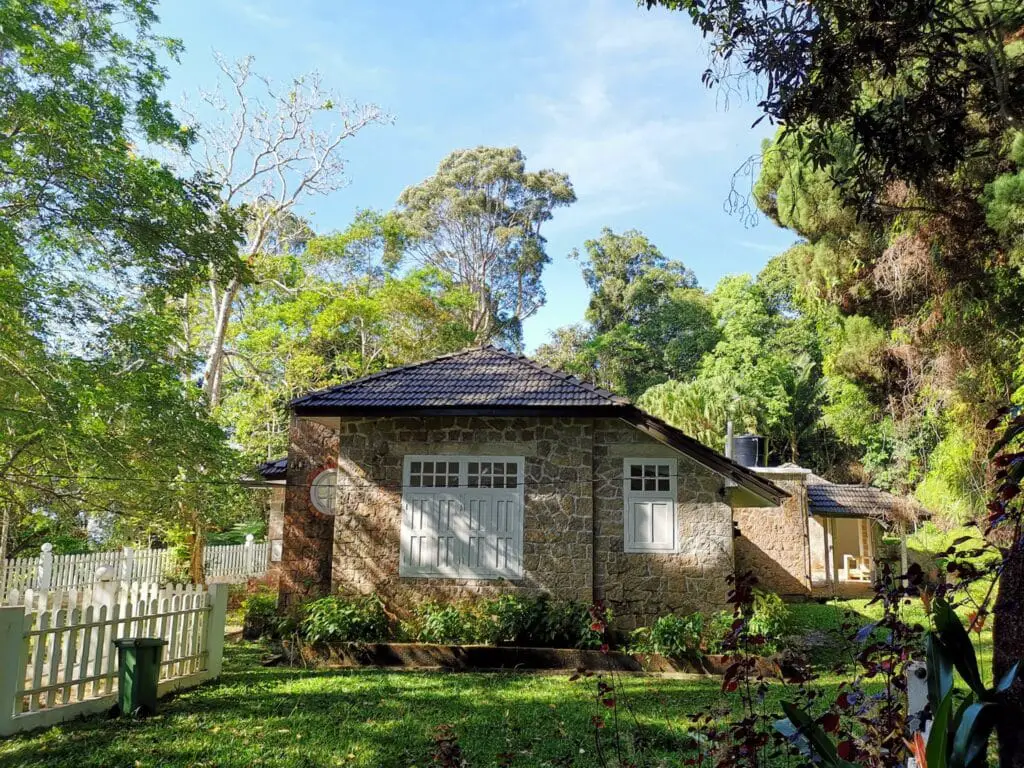 If you love having a homey space to stay at the hilltop, check out Hillside Retreat, a pretty bungalow that is about a century old yet still standing proud and elegant as a wonderful accommodation at the peak of Penang Hill.
Choose to rest in their boutique and bunker rooms, or indulge in some outdoorsy vibe sleeping in camping tents. No matter your stay preference, Hillside Retreat's calming ambience will make you recharge from all your activities after a good night's sleep!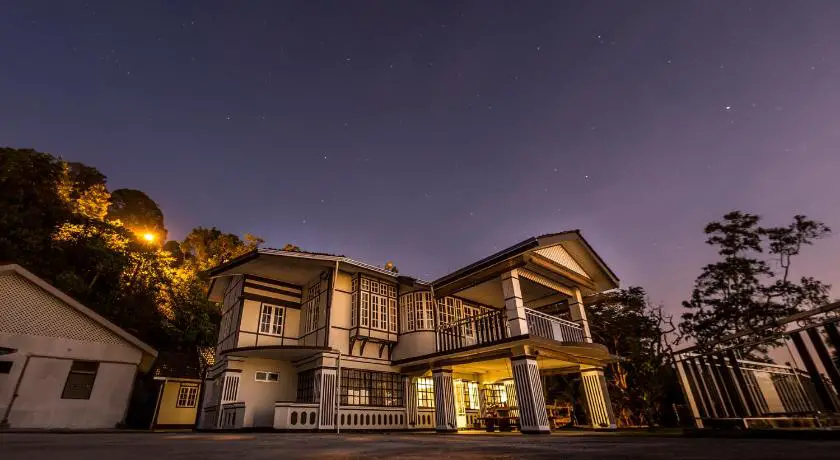 Want more colonial building choices for stay? Consider Hickory, another grand place perfect for spending a night or two (or more!) within a huge colonial lodge on a slope at the eastern side of Penang Hill.
You can reach this place via the train to the Lower Station. They offer 15 rooms within, with which you'll be spoiled with comfortable bedding and interior, plus scenic views of the city and the surrounding lush greeneries.
That's a wrap on our list of fun things to do in Penang Hill, peeps! Penang Hill is without a doubt one of the best tourist places to take respite from the buzz of the city, and we certainly hope you are able to make the most out of your trip with the abovementioned activities!