Malaysians cannot deny that we're all in love with Nasi Lemak. It's one of our most popular national food. We can eat it for breakfast, lunch, tea, dinner or even supper. 
But of course, our beautiful and vibrant country has so much more to offer from all the different states besides just this particular dish.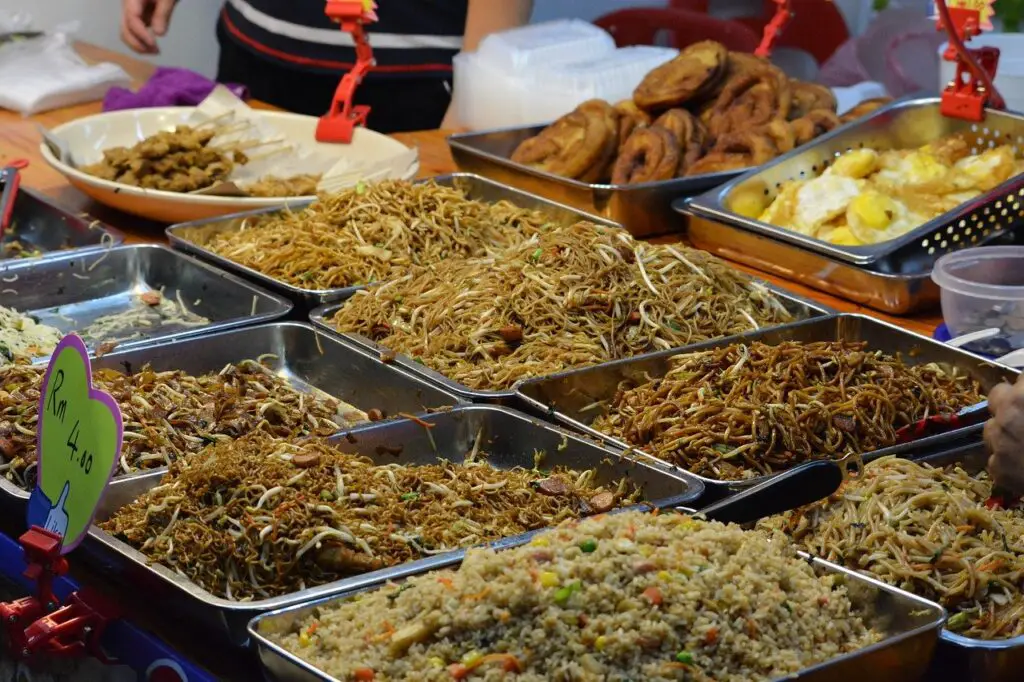 Hawkers might only serve in the mornings, others after dark (even though breakfast and lunch and late-night foods are not really that different).
In cities such as Penang and Melaka, though, finding street food at any hour of the day is no problem. You have the opportunity to familiarise yourself with quite a few dishes in a country where the eating never seems to stop.
This grilled skewered meat is generally served with a spicy peanut sauce and accompanied by things such as cucumbers, onions and ketupat.
The dish comes with a variety of meat ranging from chicken, beef and lamb to wild boar and rabbit. Although it is a well-known dish throughout the nation, the best satay can be found only in Kajang.
Originally from India, this dish is not only popular for its taste, but also for its simplicity and convenience- thus making it very suitable for breakfast.
Roti Canai is a flatbread with evenly fried flour, in Malaysian style, arranged in thin layers to be served with chicken curry, fish, some vegetables or simply served with condensed milk and sugar.
This sour and spicy dish is a favourite among the Peranakan community in Melaka. The Asam Pedas is usually cooked with freshwater fish and is made with tamarind juice and a variety of spices.
Although cooking it with fish is popular, there are other seafood options as well. In addition, a variety of vegetables such as brinjal and long beans are also added to this dish.
Laksa Johor uses spaghetti instead of the normal rice noodles used to cook kuey teow, as opposed to other laksa dishes in Malaysia. Reason being that paddy doesn't grow as much in the Johor region.
Also, because of its thick broth, this is the only laksa dish you will be asked to eat with your hands and truthfully, doing so will enrich the entire eating experience. 
So the next time you get a chance to visit Johor, don't forget to wash your dirty hands and get your hands on a healthy serving of this delicious noodle dish along with its assortment of condiments and herbs such as cucumber, bean sprouts, long beans, daun kesum and daun selasih.
Beef, Chicken and Seafood Rendang
A slow-cooked dry curry with ginger and turmeric, kaffir lime, and chilis deeply spiced, you can also find rendang coupled with chicken, vegetables, and seafood.
It fuses sweet, sour, and savoury elements in Malaysian fashion, the curry picking up a creamy wealth of two forms of coconut and an elusive tang from asam keping, slices of sour sun-dried fruit.
Now, back to the Nasi Lemak!
Nasi Lemak is rice boiled with coconut milk mixed. Pandan leaves are also involved (giving it an added rich flavour). You usually eat the rice with sambal (a nice spicy sauce), a boiled egg, cucumber slices and sometimes with fried chicken or rendang (containing spicy meat chunks). 
A handful of fried anchovies and peanuts are also sprinkled on top. In Malaysia, Nasi Lemak is a famous food and is often considered a national dish.
Hokkien Mee is a popular Chinese-originated dish. Many parts of Southeast Asia have their own take on it. One of the best foods to try out in KL is the Hokkien Char Mee. It is, after all, in KL that Hokkien Char Mee supposedly originated.
The fat yellow noodles are stewed over a charcoal fire, in dark soy sauce. They'll then add ingredients like squid and fishcake. To this day the original restaurant (Kim Lian Kee) which 'created' Hokkien Char Mee still operates in Kuala Lumpur.
Rojak comprises a mixture of chopped fruit and dough with other ingredients and can be either sweet or savoury.
Many eat it for dessert and others have it as a snack as well. The other sweet snack you can try is cendol. It is an ice-based dessert that you can expect to cool you down in Malaysia's hot and humid weather.
Banana Leaf Rice is a concept more than a stand-alone dish. In this incredible Indian feast, the banana leaf serves as the base for the meal, or plate.
A curry covered mountain of rice with a mixture of vegetables tops the banana leaf. Papadom is a thin crispy flatbread that gives it a crunch, and you can choose to have it included too.
The final touch is the number of side dishes you and your party are ordering. This might be a variety of curries in meat, vegetables or seafood. It's normal to share the dishes after they're served.
Image Source: FB Page- TTDI CHUEN Hainanese Chicken Rice
This Hainanese meal includes fragrant white seasoned rice topped with tender poached, peel-on chicken. Cucumber and coriander are usually seen accompanying the chicken on the plate.
A delicious garlic-chilli sauce is served at the side to dip your chicken in. That introduces the already delicious dish to a new world of flavour. Other variations include the BBQ Chicken rice.
If you're food hunting while in Malaysia and looking for a place to stay, head over to Placefu and start to explore now!
Explore some popular Restaurant & Cafe in Malaysia