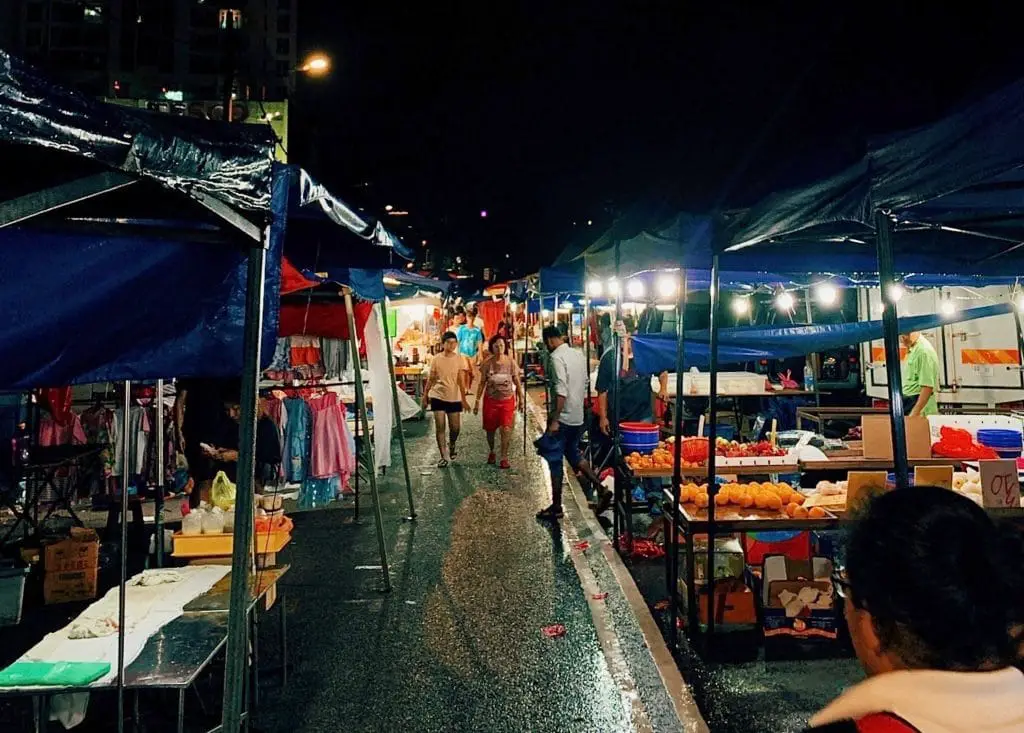 Penang is known to be a glorious foodie paradise and it's for good reasons – you never have to worry about finding good food to fill your hungry tummy during the day or at night!
We have covered the best bars in Penang in one of our earlier articles for those wanting to spice up their nightlife with live music, beers and wine, but what if you aren't a fan of alcohol and you just want some comfort food or snacks?
Fret not, simply head over to the night markets in Penang, where a huge variety of food, drinks, clothes, trinkets, wares and more await you.
The best thing is that, in Penang, you can enjoy the hustle and bustle of the busy pasar malam atmosphere every day – it's Every Night Fever here!
Macallum Street Night Market
Image source: Google Maps
If you are in town and are in need of a cure for your Monday blues, this pasar malam Penang along Macallum Street (also known as the 5th Road, Gor Tiao Lor in Penang Hokkien) could be the very remedy you seek. You can get your fill of local favourites such as Char Koay Teow, Loh Bak and Satay, to name a few. This is also a good place to shop for cheap clothes, personal grooming items and accessories.
P.s This night market sells mostly non-halal food though. You can visit it on Thursday too but it's more happening on Monday.
What to buy: Loh Bak, Satay, Seafood Char Koay Kak, Apam Balik, Handphone covers
Business Hours: Monday and Thursday, 6pm to 11pm
Get Direction on Google Maps
Teluk Bahang Night Market
The lesser talked about night market, Teluk Bahang Night market is popular among residents living nearby the area. You can find a lot of delicious Malay food and drinks such as Malay kuihs, Nasi Ayam, sugarcane juice, keropok lekor, burgers and hotdogs, all of which will keep you eating nonstop.
This is one of the best places to sample many Malay dishes and snacks, from evening till night!
What to buy: Lekor, Malay food, Ramly burgers and hotdogs
Business hours: 4pm to 10pm
Tanjung Bungah Night Market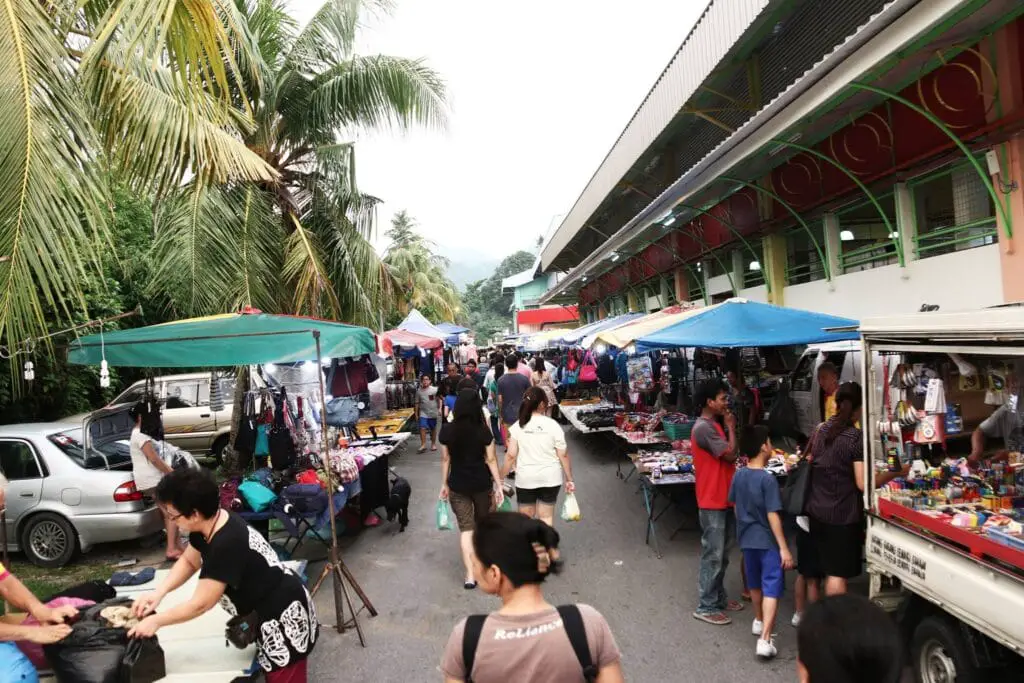 Image source: PARKROYAL Penang FB
If you happen to be around Tanjung Bungah and Tanjung Tokong, this is a must-go night market at least once! Enjoy a variety of local nomnoms such as Malay style economy rice dishes and Putu Mayong, special dishes like Xiao Long Bao and Peking duck, or treat yourself to some yummy Coconut ice cream.
I personally like the sharkfin soup and the sinfully delish mashed potatoes mixed with cheese here.
What to buy: Xiao Long Bao, Cheese Mashed Potatoes (Aligot), Sharkfin Soup, Nasi Kerabu, Putu Mayong
Business hours: 5.30pm to 10pm
Welcome to Penang's largest pasar malam, or some say, the best night market in Penang! The moment you step foot here, you will be awed by the many stalls and trucks selling an assortment of things, from food to drinks to clothes, toys, souvenirs and more – it's simply a feast to your eyes and hungry tummy!
Many night market goers here will go for Chinese desserts, Lok Lok, deep fried cuttlefish, satay and Char Koay Kak (fried radish cake) – and I can definitely attest to their good taste!
What to buy: Lok Lok, Satay, Dessert, Deep Fried Cuttlefish, Char Koay Kak, Children's Toys, Clothes
Business hours: 6pm to 11.30pm
Pantai Jerjak Night Market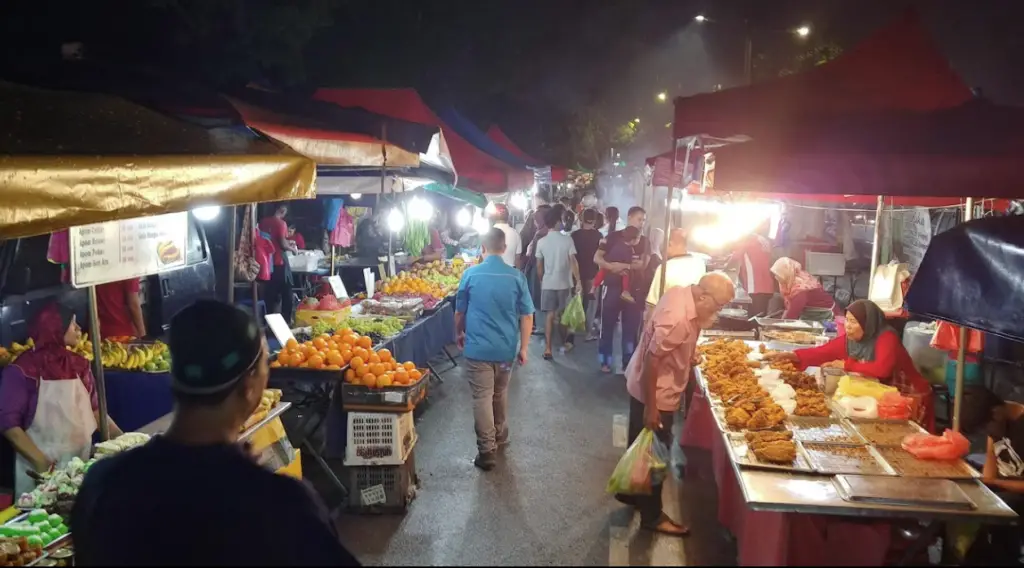 Image source: Google Maps
This small night market along Jalan Pantai Jerjak 14 & 15 caters mostly to the local residents in the area. You will find affordably priced grilled satay from Satay Pantai Timur stall, fried chicken, Malay kuihs, Nasi Tomato, cakes and burgers sold here.
There are vendors selling vegetables and fruits too, good for those looking to get their grocery shopping done at night. 
What to buy: Satay, Cakes, Cucur Udang, Vegetables and Fruits
Business hours: 5.30pm to 9.30pm
Batu Ferringhi Night Market
This used to be one of the best night market locations in Penang, but Batu Feringghi Night Market is still a good place to get pretty souvenirs, henna tattoo, clothes and accessories, not so much on food though (if you're hungry, you can head over to Long Beach Cafe for hawker food). The nice part about it is that, it is a daily Penang night market so you can visit it any day of the week!
As it is located in a popular tourist area, expect higher prices here but you can still haggle your way out of it as with other Penang night markets.
What to buy: Penang souvenirs (keychains, T-shirts, etc), Swimwear and beach wear, Durians, Henna tattoo
Business hours: 7pm to Midnight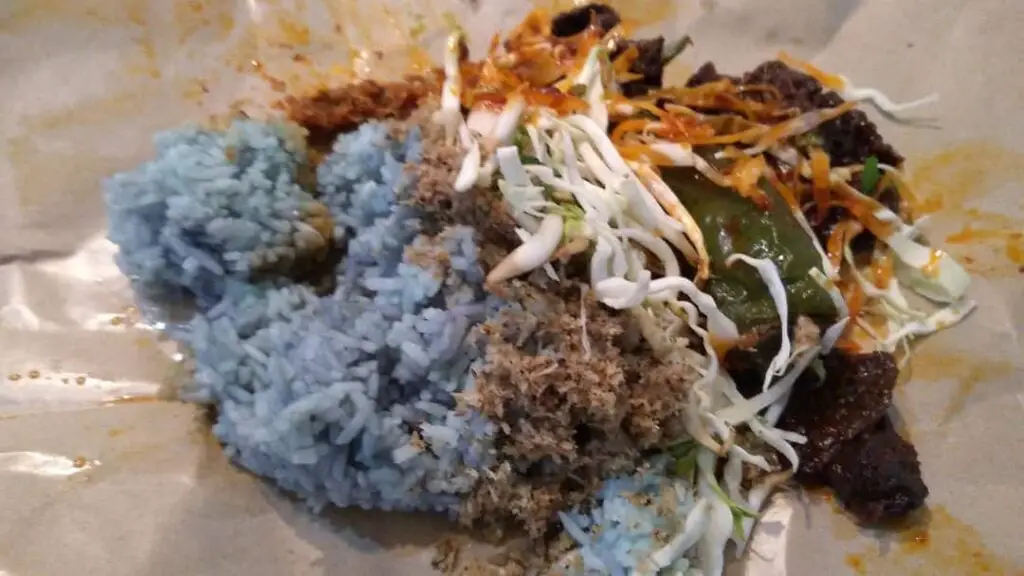 Bayan Baru is a township of its own, and its night market offers a splendour of a mix of Chinese and Malay local fares like Malay kuihs, satay, Yong Tau Foo, desserts and more.
The only downside to this night market is that parking can be quite a pain in the area.
The Nasi Kerabu and Yong Tau Foo stalls are most popular here – be sure to try them before you take your leave! 
What to buy: Nasi Kerabu Selera Pantai Timur, Fruits, Satay, Yong Tau Foo
Business hours: Can be as early as 4pm to 10pm
Van Praagh Road Night Market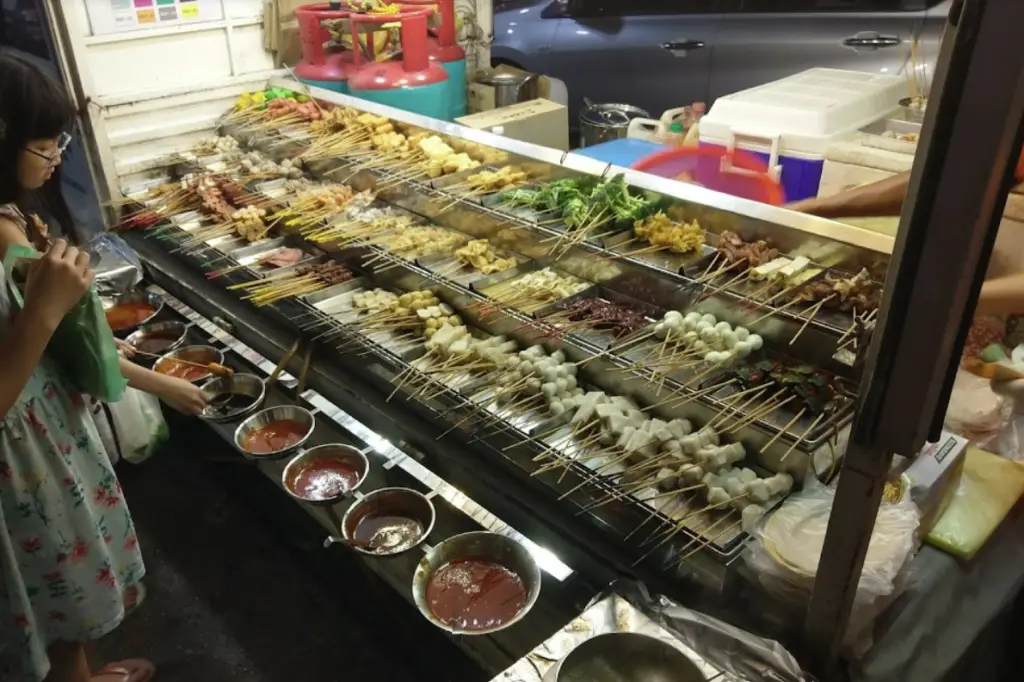 Image source: Google Maps
Also known as Perak Road Night Market or Taman Kheng Tian Night Market or Jelutong Night Market, this is another super popular night markets in Penang not to be missed!
Feast on delicious Yong Tau Foo, fried mushrooms, Popiah, Penang muar chee, Penang Asam Laksa, drinks and more as you celebrate the beginning of your weekend. I personally love the fish crackers and prawn crackers here! 
What to buy: Yong Tau Foo, Penang Asam Laksa, Popiah, Prawn/fish/tapioca crackers
Business hours: 6pm to 11pm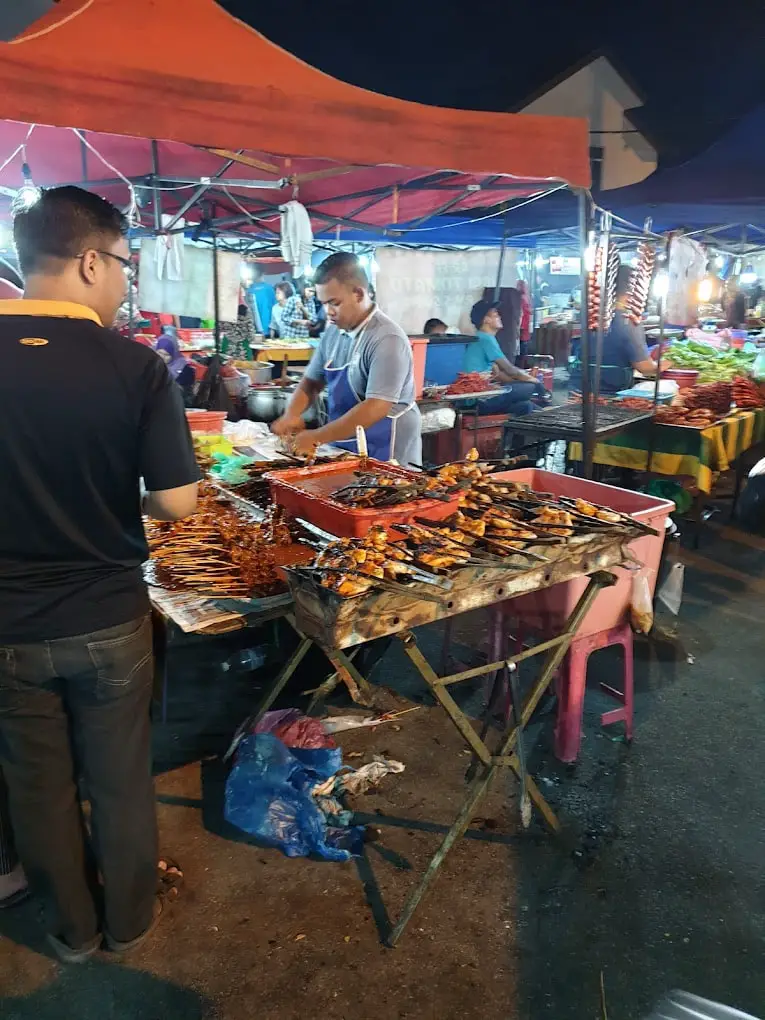 Image source: Google Maps
Not in town yet want to experience the night market liveliness on Friday night? Rejoice as you can also enjoy Penang night market busyness in Sungai Ara!
Local delicacies to buy include Nasi Kerabu, Laksa, BBQ Chicken Wings, Satay, assorted crackers like murukku, traditional kuihs, Popiah Basah and more. You can shop for household items, clothes, wet market groceries such as fish and fruits while you're here.
What to buy: Laksa, Nasi Kerabu, Popiah Basah, Murukku, Groceries like fish, vegetables and fruits, Household utensils
Business hours: 6pm to 10pm
The night market festivities continue even to Saturday in Penang, thanks to the presence of Sungai Dua Night Market along Jalan Sungai Dua, Gelugor!
This Penang pasar malam offers a great variety of food including Nasi Lemak, deep fried skewered meat, fried mushrooms, fried dim sum, Koay Teow Soup, Duck rice, Lekor, but this place is more known for selling fresh vegetables and fruits. Additionally, you can grab some kitchenware, household items and pretty trinkets too. 
What to buy: Fresh vegetables and fruits, Lekor, Nasi Lemak, Thai Satay, Household items
Business hours: 6pm to 10pm
Get Direction on Google Maps
Paya Terubong Night Market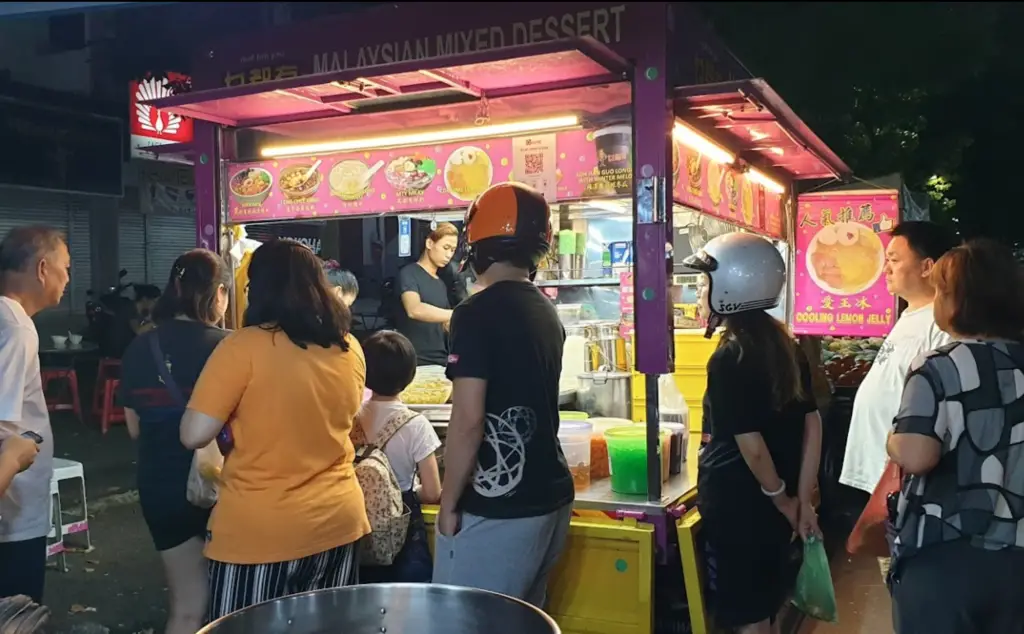 Image source: Google Maps
This place is perfect to get your final night market activity of the week before Monday blues come in! It's held at a smaller scale compared to other pasar malam in Penang, mostly catering to the local residents of Paya Terubong and Air Itam.
Snack on fried foods, slurp on cold desserts or grab some Lok Lok – your choice! It's also a great place to shop for cheap bags, shoes, clothes and accessories.
What to buy: Lok Lok, Desserts, Clothes, Toys, Handphone accessories
Business hours: 5.30pm to 10.30pm
That's all for our Penang night market roundup! Do note that business hours may vary on rainy days. We hope you have a great time touring and eating at these night markets in Penang!