Ah, 'Stay SongSong'. If you're familiar with the Hokkien dialect, you would already find this to be a cheeky name for an Airbnb. Just how 'song' is this homestay? What makes it so different from other Airbnbs in Penang?
Oh, boy, do we have a treat for you! A look of the exterior of Stay SongSong would reveal a traditional, heritage shoplot appearance lodged between other similar-styled shoplot builldings.
Don't worry – you'll be sure to spot it between these rows of buildings.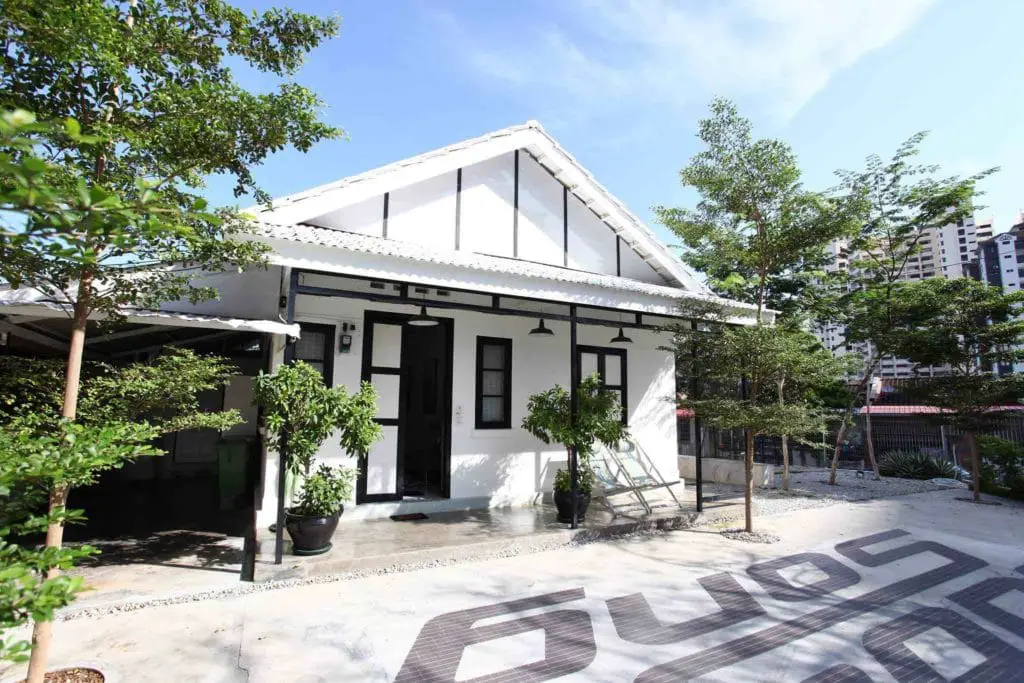 You see, Stay SongSong spans only one storey in comparison to its two-storey neighbours, while gleaming a clean, sparkling white entrance even while topped with the classic tin-slate roof.
It may not look like a lot, but you'll be pleasantly surprised the moment you walk in. We would even go as far as to say that the place is much bigger than the appearance of the entrance gives!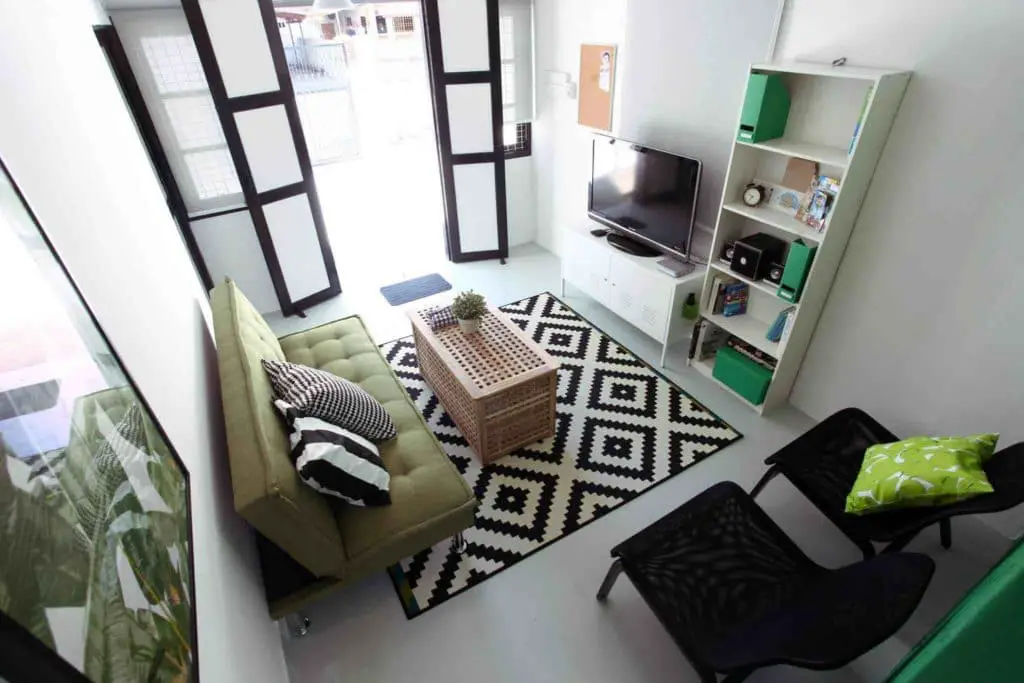 A quick look into the interiors will then reveal clean, modern interior layout and designing, accented with various shades of green within the building. 
However, as our Airbnb owner here reveals later on in the interview, you'll find that the original layout, structure and fixtures are still maintained as per the traditional appearances.
Okay, we won't spoil it for you any further. Read the interview below to learn more about how Stay SongSong came to be and what you can expect when you stay here!
Stay SongSong Airbnb | Interview Q&A
1. Please tell us about yourself and how you came to be an Airbnb host.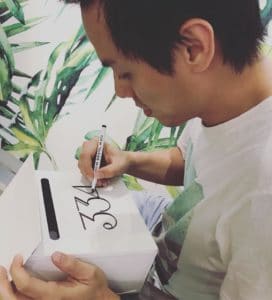 I am an Interior designer. The main reason why I started my own Airbnb was for the extra income. I did some research five years ago, and found out that there weren't many homestays that look good. 
So, I decided to utilize my skillset and set an example for other homestay owners on how they can make their lodging look amazing while preserving the low tenancy cost at the same time.
2. Why did you name it "Stay SongSong"? What's the story behind it?
The name Stay SongSong was actually inspired by my name Peng 'Song'. The term SongSong means "comfortable and enjoyable" in Hokkien, a commonly-used Chinese dialect in Penang.
We believe that staying in a comfortable place is important when we are on a vacation.
3. Can you share the history of this residence with us?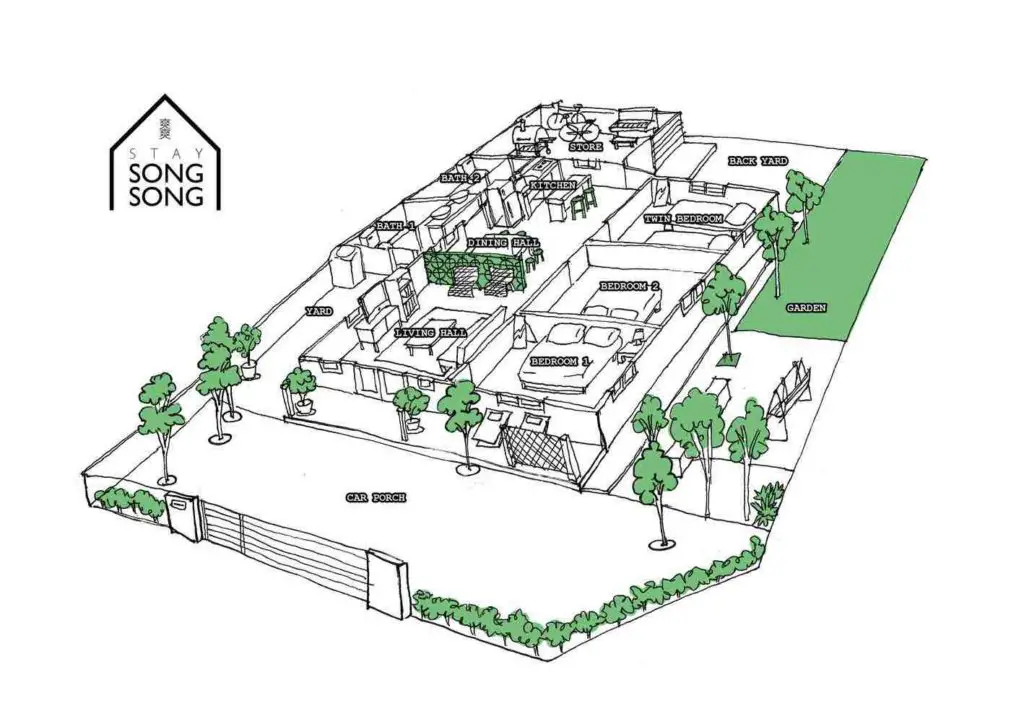 I grew up in the house and I had been living there for 20 years. This residence area was initially named "人寿园" (rén shù yuán; Life Garden).
At the time, this whole piece of land was a rambutan farm, owned by a Chinese landlord. The first row of residential houses were only developed after World War 2. 
Even then, each house had their own rambutan trees. Slowly, Hainanese immigrants started to fill this area, and so the area gained a new name – 海南村 (hăi nán chūn; Hainanese Village).
There are still many Hainanese families residing here today.
4. What inspired you to go for this contemporary interior design?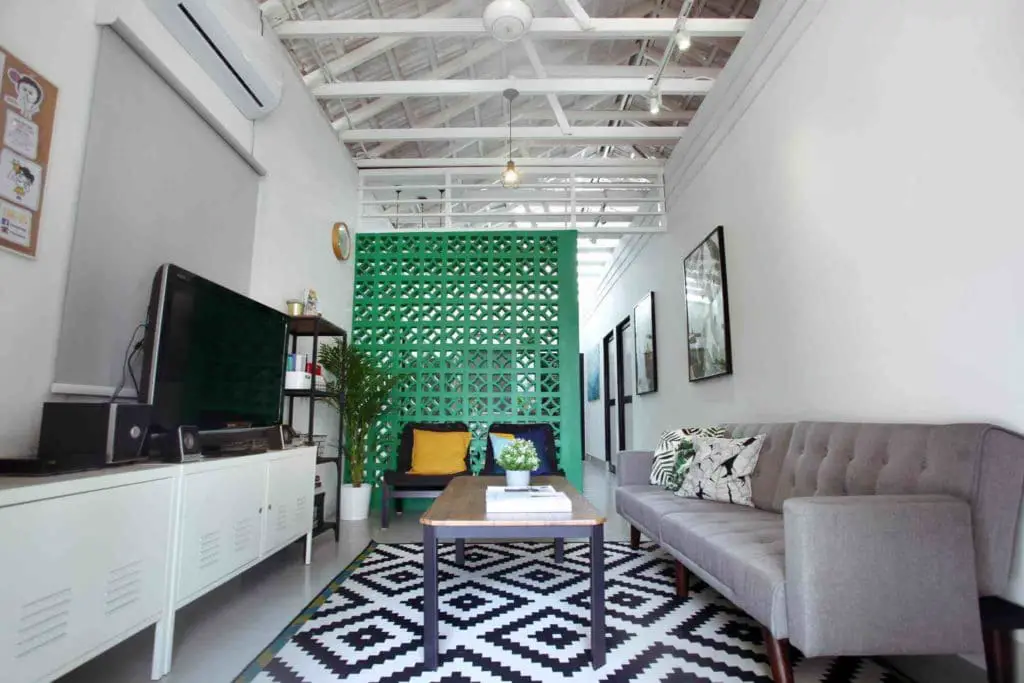 I had preserved most of the existing house designs and layout. I wanted to mix both contemporary and traditional architecture for my guest to experience the stay in a home from the 60's with comfort.
5. We noticed that you use a lot of white and green in your design. Is there any reason behind choosing these two main colors?
The color white makes a space look bigger than it actually is, and gives it a cleaner appearance too! As for green, well, the green feature wall color matches perfectly with the greenery in my garden.
It's kind of like bringing some of the home exteriors into the indoors – blending the outdoors and indoors into a harmonious appearance.
6. What is the relationship between Stay SongSong Mount Erskine and Stay SongSong Beach Street?
Stay Songsong Mount Erskine & Stay Songsong Beach Street both have the same design concept. However, they target different types of guests.
Our Mount Erskine Airbnb is more popular among the locals – you can often see Malay bikers there with their small gathering events. 
Meanwhile, the Beach Street outlet is more popular among foreigners and travellers. It could be due to the fact that foreigners do not really need to have their own transportations to reach this venue or tour around the nearby areas.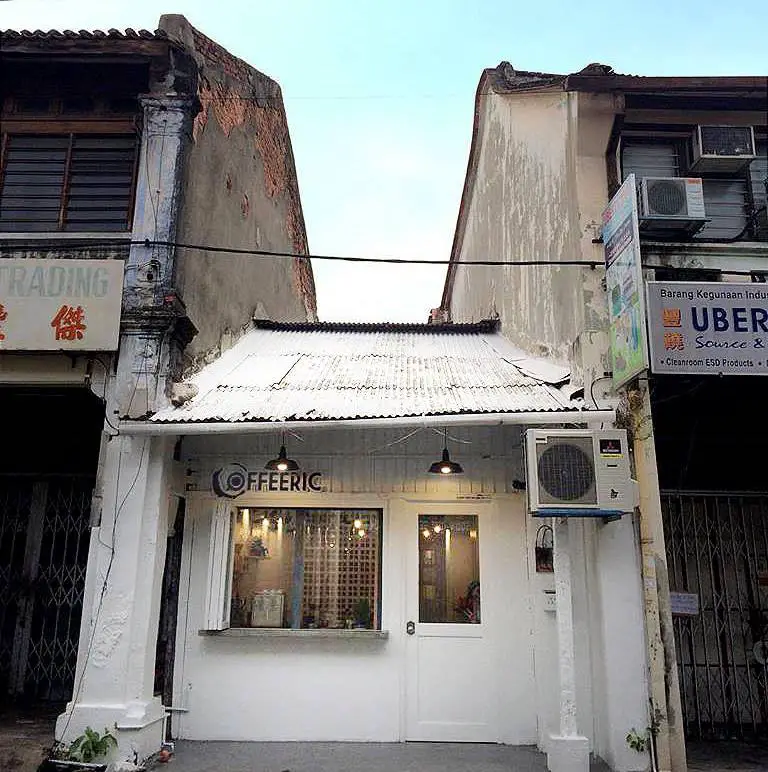 7. Can you tell us more about the places mentioned on the charcoal board in the kitchen area?
As you mentioned, the recommendations written on the board are all my personal food and travel recommendations for my guests.
There are actually many places that I want my guests to know about – Batu Ferringhi, UNESCO World Heritage sites in Penang, Penang Hill, Kek Lok Si temple and many more, to name a few.
I definitely have too many food recommendations to fit them all on the charcoal board. So, I just ended up highlighting my top recommended eateries and places to visit.
8. Are there any hidden gems around your place that you want to share?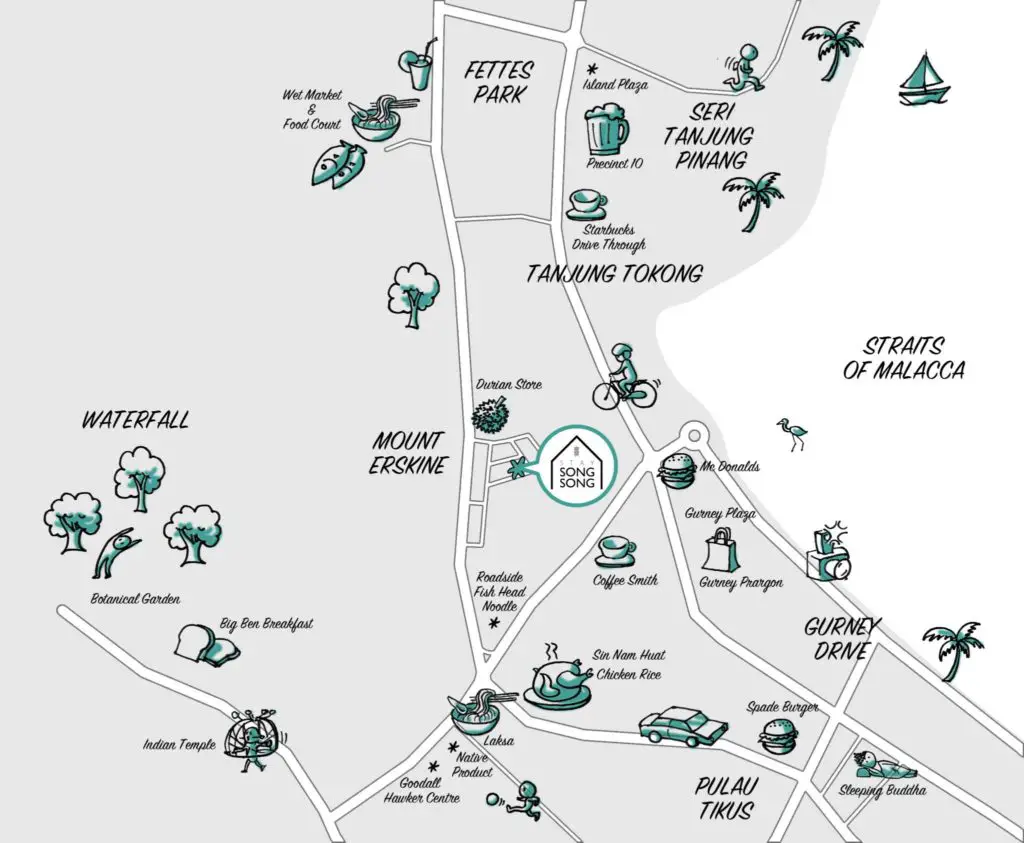 If you'r staying at Stay Songsong Mount Erskine, know that it's a very quiet residential neighborhood. From time to time, you might spot the dusky leaf monkeys jumping around the area!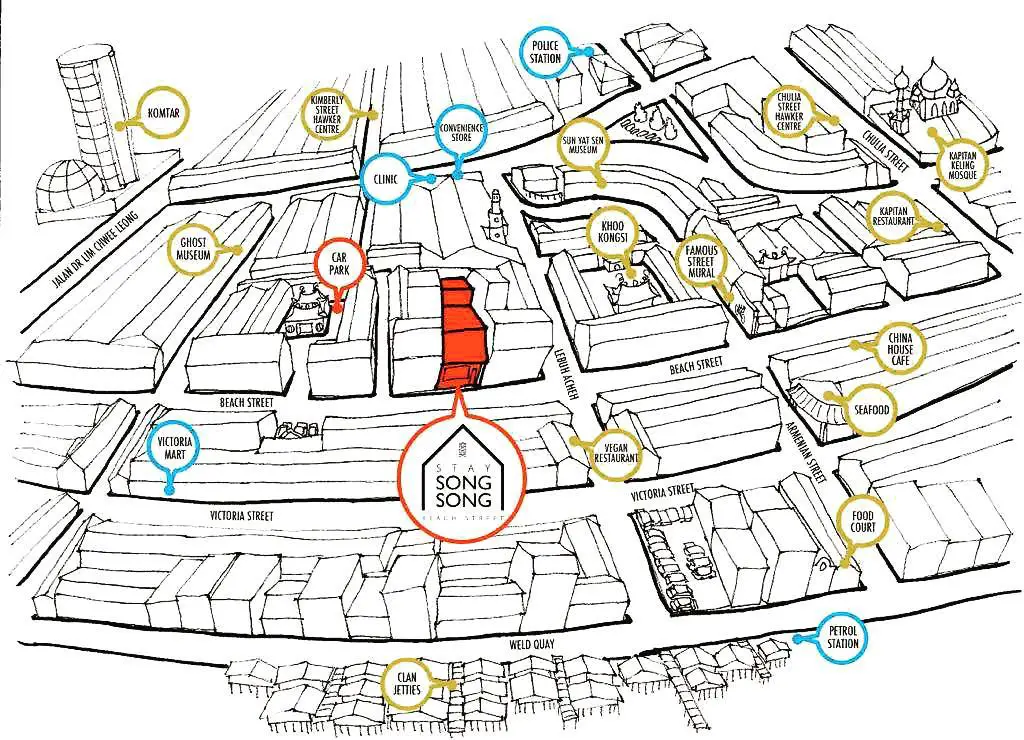 If you're staying at Stay SongSong Beach Street, you can experience the traditional Penang lifestyle, foods and explore the famous wall murals nearby.
This building was already standing where it is now since the pre-war period. Beach Street was named because it was a beach in front the building during the 18th century and later reclaimed by the British.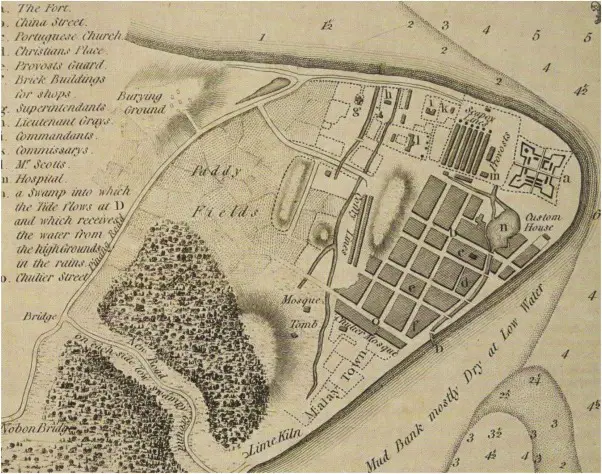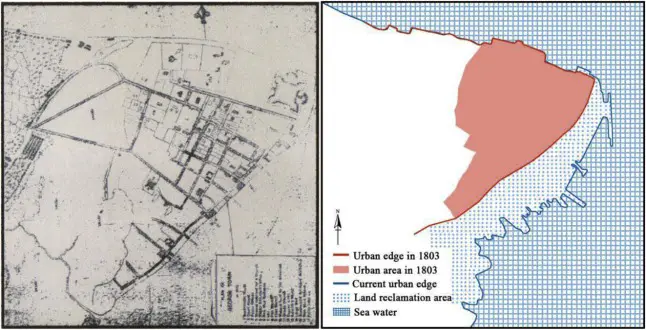 Stay SongSong at Beach Street is located right at the heart of UNESCO heritage sites of George Town. We encourage you to go around and take plenty of photos at these popular landmarks!
9. Can you tell us more about the cafe behind the house at Mount Erskine?
It's called Cake by R&S. They make a lot of very beautiful cakes for events. However, they are not open for public visits. If you're looking to order with them, you'll have to place a pre-order online on their Facebook page.
10. How about the Cafe located at the same building with Stay SongSong Beach Street?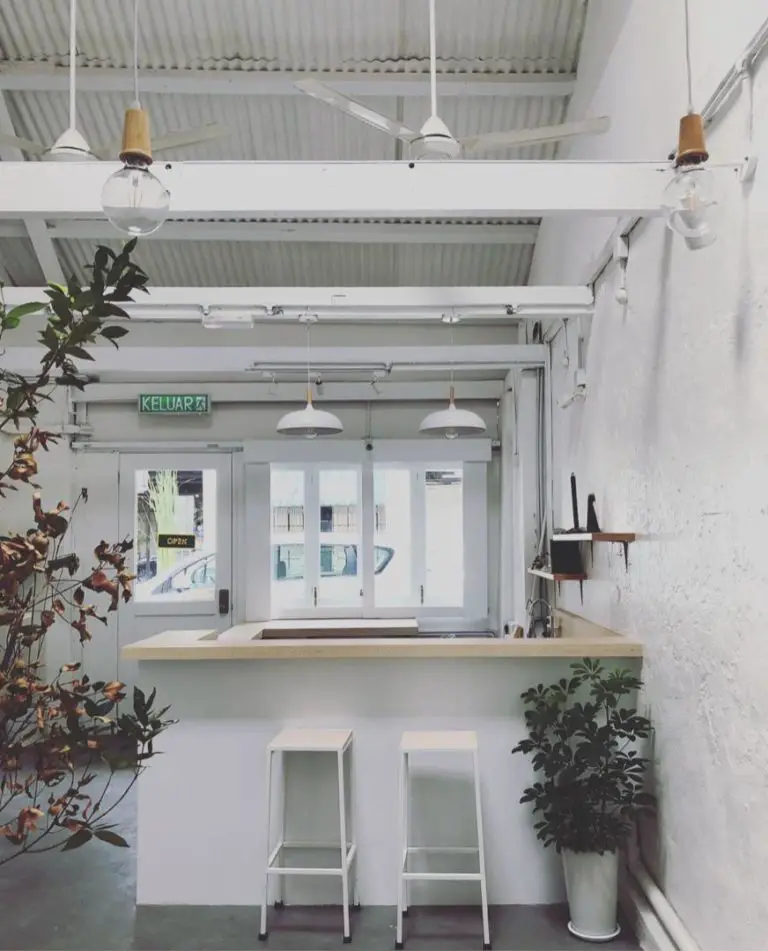 That is Bukit Mertajam's famous Cafe, 呱呱小铺 (Guagua's Store). They just rented the space recently and they are opening soon in August 2020. They are famous for their cake too!
11. Have you ever met any special guest that makes a great story to Stay SongSong?
I hosted so many different guests from all over the world. There are definitely a few unforgettable ones. There was this England-born couple who migrated to Hong Kong and booked a 2-week stay at Stay Songsong Mount Erskine.
They are hardcode believers of Fengshui, and they made a special request to change my furniture arrangement for their stay. As an example, they asked that the bed face the direction of the sunset for fengshui purposes!
Another unforgettable guest is definitely 2people1life. This couple held their marriage ceremony over 72 times – each time in a different location throughout the world. 
Watch their story below!
They did this so that they can experience different traditional wedding ceremonies, and here they held a wedding in traditional Penang's Baba & Nyonya style while they're staying at Stay SongSong Mount Erskine.
12. Any upcoming plans for Stay SongSong in the near future?
I've always wanted to design a beach house at Batu Ferringhi or a hilltop house near either Penang Hill or Kek Lok Si temple. At the moment, I'm still searching for a suitable venue, but you might just see another Stay SongSong venue in a few years!
Your special guest story has to be one of the most unique one that we've heard so far from our interviews! That must have been a unique experience that you can share to the people you know.
Also, we'll definitely be looking forward to seeing the new development when you've found the suitable location to make your future plans happen. 
Maybe we'll do another interview cover with you again, with updated visuals and locations once that plan has been put into place!
Meanwhile, dear readers, be sure to check out Stay SongSong below and consider them for your future stay! 
Disclosure:
*This post contains affiliate links. If you click these links to book a place we may earn a commission without extra cost to you.
*This is not a paid writing, all the interviews are by done invitation only.