Working from home might sound like a dream come true especially when you don't have to get ready early in the morning and suffer from an exhausting traffic jam on your way to the office.
Working from home simply means you can get your work done at the comfort of your own house—be it while lying on the bed while still in your pyjamas or even in your beautifully decorated home office.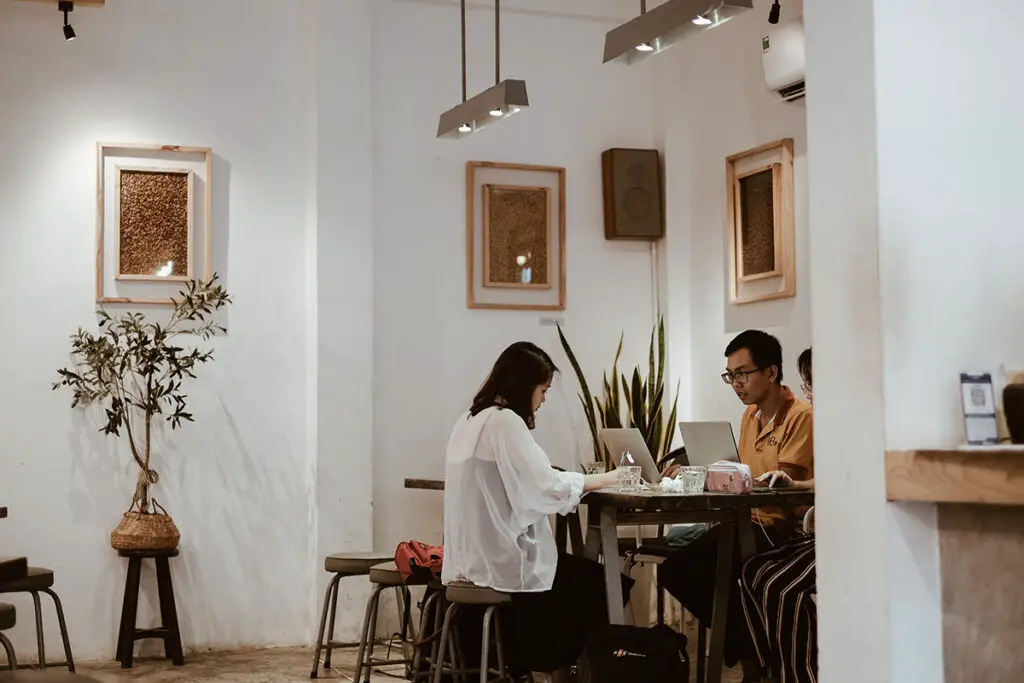 However, over time, you might get bored of it—the same view every day, not so much fresh air, and limited human interaction. So, how about you grab your laptops, iPads, and notebooks, and try to change the environment once in a while by working at these work-friendly and insta-worthy cafes listed below.
Not only do they have great coffee and food to accompany your day, but they also have stable WiFi connections and power sockets so that your laptop never dies!
Situated in Jalan Mesui and just a few steps away from Pizza Mansion, this work-friendly cafe has a pleasant ambience and great cups of coffee to freshen your day. Those who prefer the open air are free to sit at the table outside while those who prefer the air-conditioner can set up their laptops inside.
Aside from their coffees, Feeka Coffee Roasters also serves an array of baked goods and breakfast bowls—be sure to grab their chocolate tart as it is out of this world!
Combined with the soothing music, quiet surroundings, and perfect lighting, you'll surely be able to finish some of your work in no time!
Planning on finishing some work while being surrounded by vibrant green plants and ample natural light? Then, you can never go wrong with Bean Brothers.
One step into this cafe and you can straight away notice a few other customers peacefully working on their laptops and tabs while sipping on their hot latte.
Since the cafe features huge glass windows, it can provide you with a great amount of natural lighting, so it's quite impossible to get sleepy here!
Also, don't worry if you get hungry while doing your work as the cafe is not only packed with delicious snacks but also with a great selection of meals—from the classic egg mayo croissant to carbonara pasta and kimchi fried rice.
*Bean Brothers can be found in two different locations; The LINC, KL and Sunway Damansara, PJ.
Opens as early as 8 in the morning, LOKL Coffee Co is yet another great work-friendly cafe in the heart of Kuala Lumpur. Located in Jalan Tun H.S. Lee, this cafe has a rather rustic ambience, especially with its exposed brick walls and vintage wooden tables.
Equipped with speedy WiFi, mouth-watering breakfast pancakes, southern fried chickens, desserts, and a promise that your order will arrive in no more than 20 minutes, this cafe is definitely a great place for those who'd love to change their working environment.
Looking for a quiet cafe in the middle of the city? Then look no further than Kaffe 16. Located in Jalan Panggong, you can get to this cafe within a short walking distance from MRT Pasar Seni. For those who prefer driving, don't fret as there is also a spacious parking lot right across the street.
Beautifully decorated with a vintage arched doorway, a spiral staircase and exceptional natural lighting, this cafe could be a perfect spot for those who love serenity.
You might even notice a few people sitting quietly in their seats either working on their laptops or reading books here. Other than its quaint ambience and comfy seating area, Kaffe 16 is also famous for its chocolate drinks—so, don't leave without trying one!
Nestled in an old neighbourhood of Kuala Lumpur, just a short distance away from the historic Pudu Jail—now turned into a mall called Lalaport—VCR has been a favourite spot for coffee lovers, cafe hunters, as well as those working remotely.
Sporting an all black exterior, this cafe features 2 levels and is wonderfully adorned with slick wooden furniture, green plants, and a great amount of natural light, especially on the upper floor where the massive glass windows are. 
Equipped with WiFi connection and power sockets at most of the tables, you can easily set up your laptops and finish up any task that you have for the day.
Of course, coffee is not all that VCR is known for as they also offer a lot of tantalizing food and snacks for you to munch on—from soft shell crab burger to a generous plate of French toast, avocado toasts, baos, and so many more. 
So, don't worry if your stomach makes a sound, asking for food as VCR's menu has a wide variety of choices!
*VCR can be found in two locations; Jalan Galloway, Bukit Bintang and Jalan Telawi, Bangsar.
Petaling Jaya is no doubt brimming with various unique cafes, but not all of them are great for working. M'Laboori, however, is one of the several gems that can offer you everything that you need to finish up some of your office work—but do keep in mind that this place closes every Monday!
Situated in SS2, M'Laboori is in fact, a vegetarian cafe. Setting a foot inside this cafe, you'll immediately be greeted by a dozen wooden shelves filled with different kinds of books—you'll somehow feel as if you're in a library!
Order a vegetarian burger or a pizza to go with your preferred coffee, set up your laptop by the window seat and enjoy the day. If you have some time to spare after shutting down your computer, go ahead and enlighten the mood by reading a book or two found on the shelves.
Whether you're a digital nomad, a freelancer or even just simply finishing up some work on the weekends, you can never go wrong with these cosy cafes.
Some even claim that working in cafes and coffee shops can actually increase both your productivity and creativity—even J.K. Rowling first got an idea to start her writings while sitting in cafes!
So, grab your laptops, order up a cup of coffee and perhaps, a snack, and finish up your work!
Work at Cafe Essential Items (Hand-picked!)
Here is the list of curated products that you need for your work-at-cafe arrangement, it's sold by high rating seller without you spending time to search for the best one on the market.
Disclosure: This post contains affiliate links. If you click these links to purchase the product we may earn a commission without extra cost to you. We carefully select the best and all products sold by high rating seller.