Sometimes, going out and surrounding yourself in nature is what you truly need to unwind those heaps of stress—and the best way to do it is by going camping!
Imagine stepping out of your tent and getting greeted by the calming sounds of a cascading waterfall or a spectacular view of the sunrise or sunset on the beach. It surely does not get any better than that!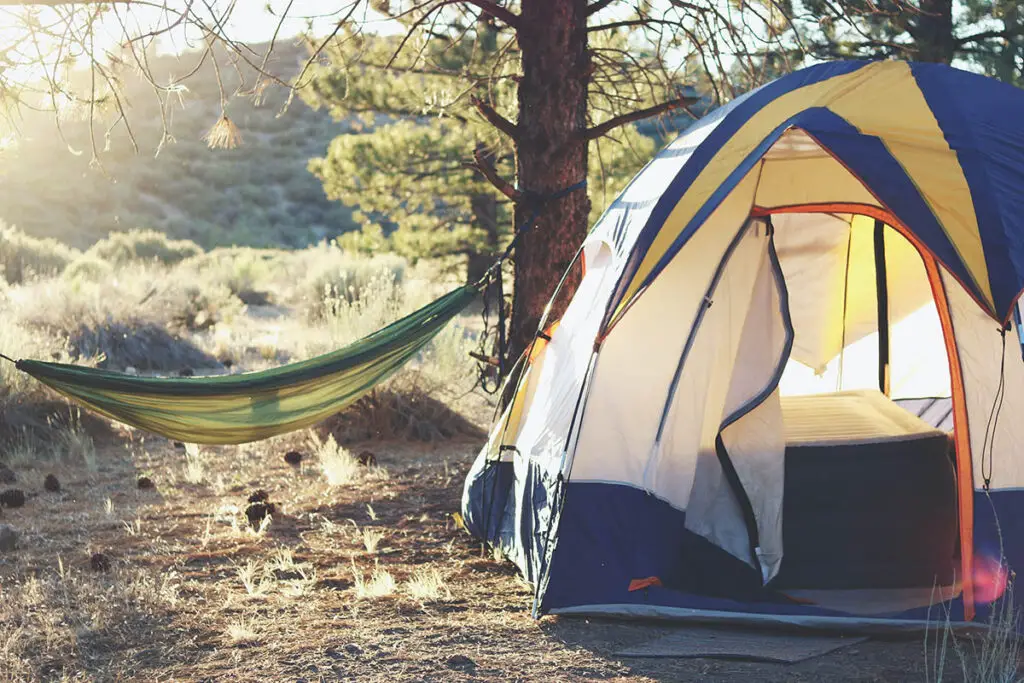 But, where are the best campsites in Malaysia located and do all of them offer exciting outdoor experiences and amazing panoramic views?
Continue scrolling below to discover them all—from beach campsites to the ones located in the middle of lush rainforest, beautiful waterfalls, and of course, glamping spots should you prefer a more luxurious camping experience.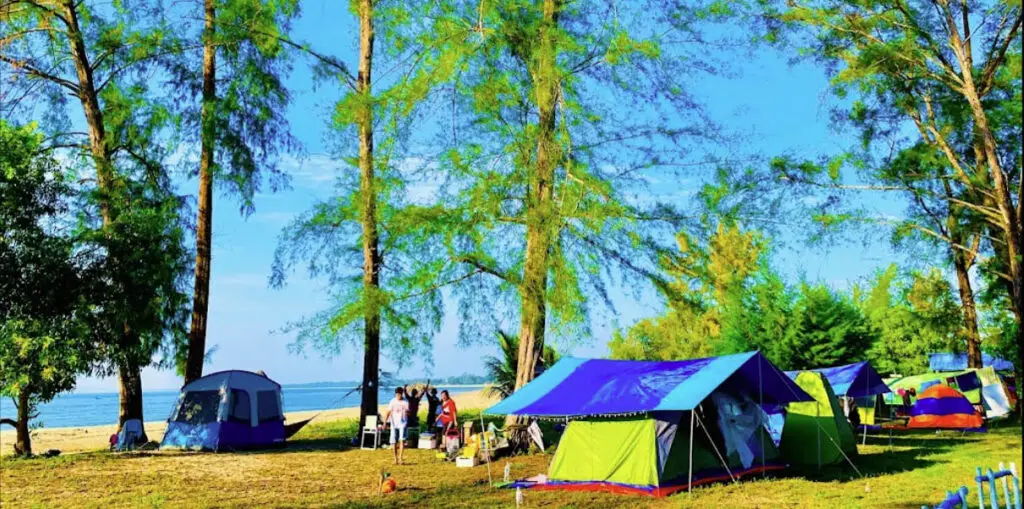 Planning to set a camp on a beach and more specifically, in Cherating, Pahang? If so, pack your camping necessities and head straight to Payung Getaway Campsite & Campervan Park.
Not only does this campsite have a rather pleasing ambience, but it is also located just a few steps away from the seawater!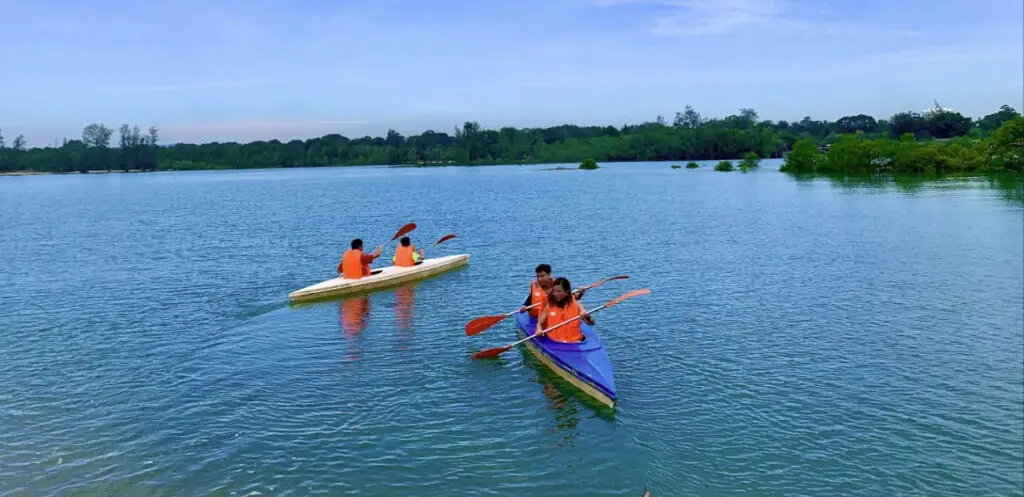 Image source: Google maps
This camping ground is fully equipped with various amenities too so that you can have the best experience—from spotless toilets and showers to a common space where you can sit and lounge all day as well as a spacious dining area.
To spice things up, Payung Getaway also offers an array of outdoor activities. You can rent a kayak, go on a surfing lesson, join a mangrove tour or rent a boat and spend the night marvelling at the fireflies taking over the dark skies at night.
LongSha Camping - Kapas Island, Terengganu
Other than the famous Perhentian Islands, you can also find Kapas Island in Terengganu. This is another great camping spot for those who have an undying love for scenic beaches and sunsets.
At LongSha Camping, you can surely get the best out of Kapas Island as your day will be filled with various activities.
To kickstart the day, get your snorkelling gear and head in the water to take a look at the beautiful marine animals and colourful corals adorning the sea.
Once it's finally time to sit back and relax, get on the hammock and enjoy the sea breeze. When the golden hour finally arrives, get your camera ready as the view is absolutely breathtaking!
If a quaint environment and minimal crowd are the two things that matter the most to you, then you can never go wrong with Mamutik Island. This island is located within Tunku Abdul Rahman Park, Sabah.
While it is known among locals as one of the smallest islands around the area, Mamutik Island still has its own charms that could leave your jaw hanging!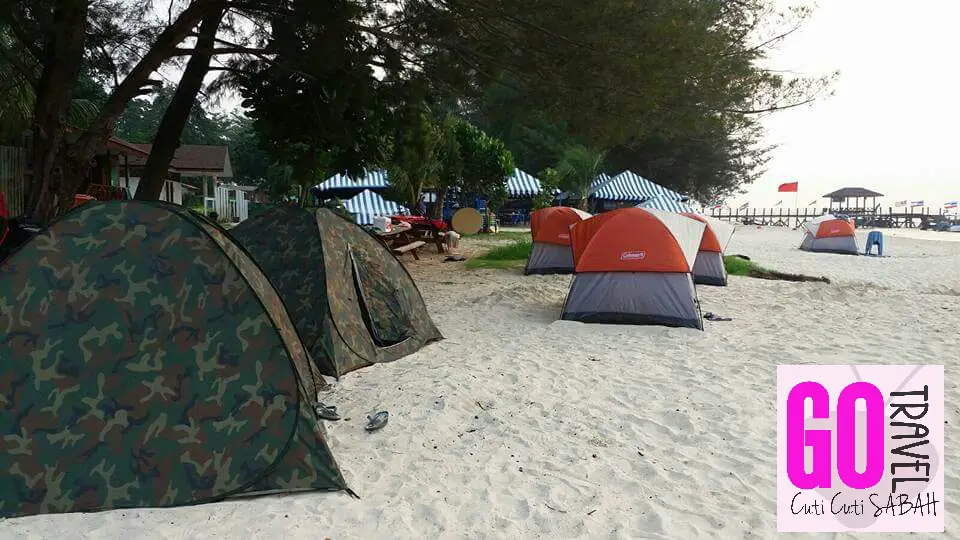 Don't worry if you don't own a tent since you can rent them on the campground too. But, keep in mind that permissions are needed from the officials before you could camp here. Also, most shops and cafes on the island start closing at 4 pm, so make sure you have enough food and supplies for the night.
By camping on Mamutik Island, you'll be spending your days swimming in the crystal clear waters, sinking your toes in the soft white beach sands, and watching beautiful sunrises and sunsets.
Endau-Rompin National Park, Johor
If you're more of an experienced camper, then you should definitely include Endau-Rompin National Park in your list where you can get a chance to fully explore what mother nature has in store for you.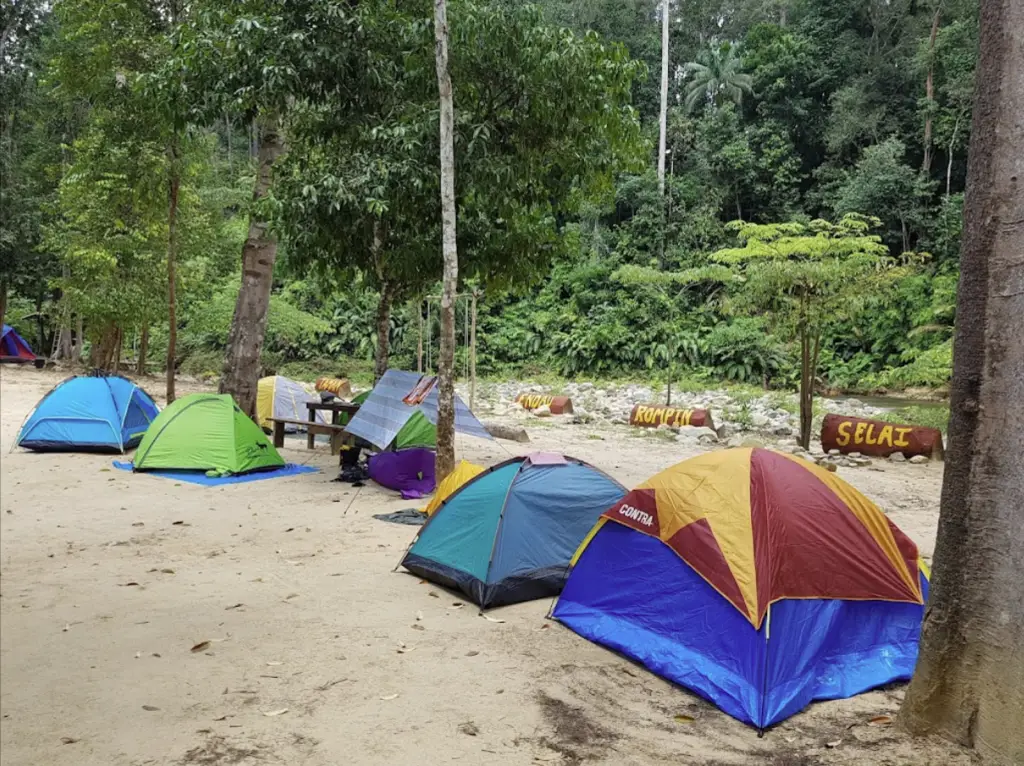 Image source: @saini-abdul
Start the camping trip by taking a boat ride to the campsite. When you've docked, you can go ahead and set up your tents. Once everything is ready, feel free to explore the area; go on a jungle trekking guided by professionals and discover all the unique flora and fauna calling the forest their home.
At night, lie down beside a campfire and gaze at the shiny star lining up in the skies.
Located in Tanah Rata, Pahang, Kem Sungai Pauh is yet another campsite that is perfect for both beginners and experienced camping enthusiasts.
Beautifully hidden in a quaint rainforest, this campsite is the place if you wish to get some fresh air and unique outdoor experiences.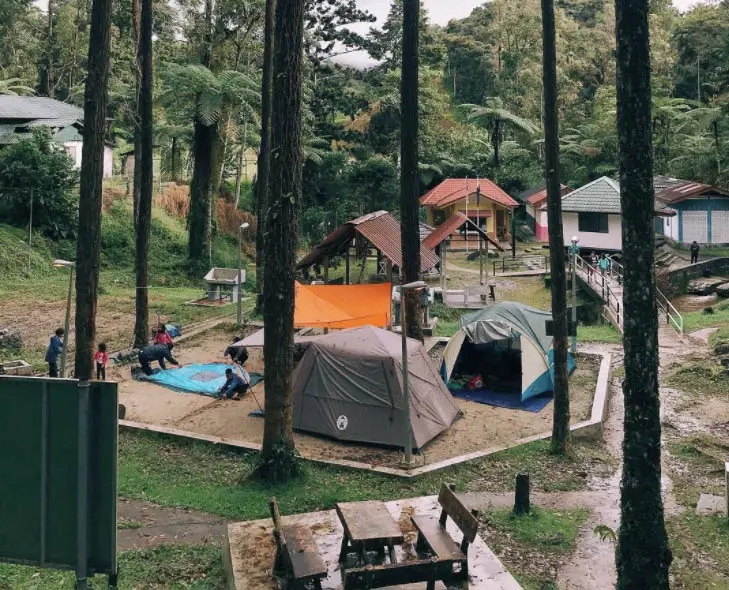 But, keep in mind that a booking is needed beforehand so all you have to do is head to their website here and fill up some information.
The campsite also has all the necessary amenities to ease your camping experience and you can find an abundance of activities here including jungle trekking, hiking, and bird watching.
Kuala Selangor Nature Park
Kuala Selangor Nature Park is undoubtedly one of the favourite spots for outdoor enthusiasts out there. You can either set up your own tents at the designated campsites, rent a chalet, a hut, and even hostels.
Recognized as an Important Bird Area (IBA) by Birdlife International, it is not surprising that you can find dozens of unique bird species here, flying around in their natural habitat.
The nature park also features a few trails that you can explore that suit both beginners and experts. Other than birds, you'll also get to witness other wildlife such as the endangered Silvery Lutung, otters, mudskippers, and iguanas!
As for those who'd like to set up camp by a cascading waterfall, make sure to plan a trip to Jerangkang Falls. Located in Pahang, about 30 kilometres away from Maran, you can find the quiet yet calming campsite at the base of the seven-tier waterfall itself.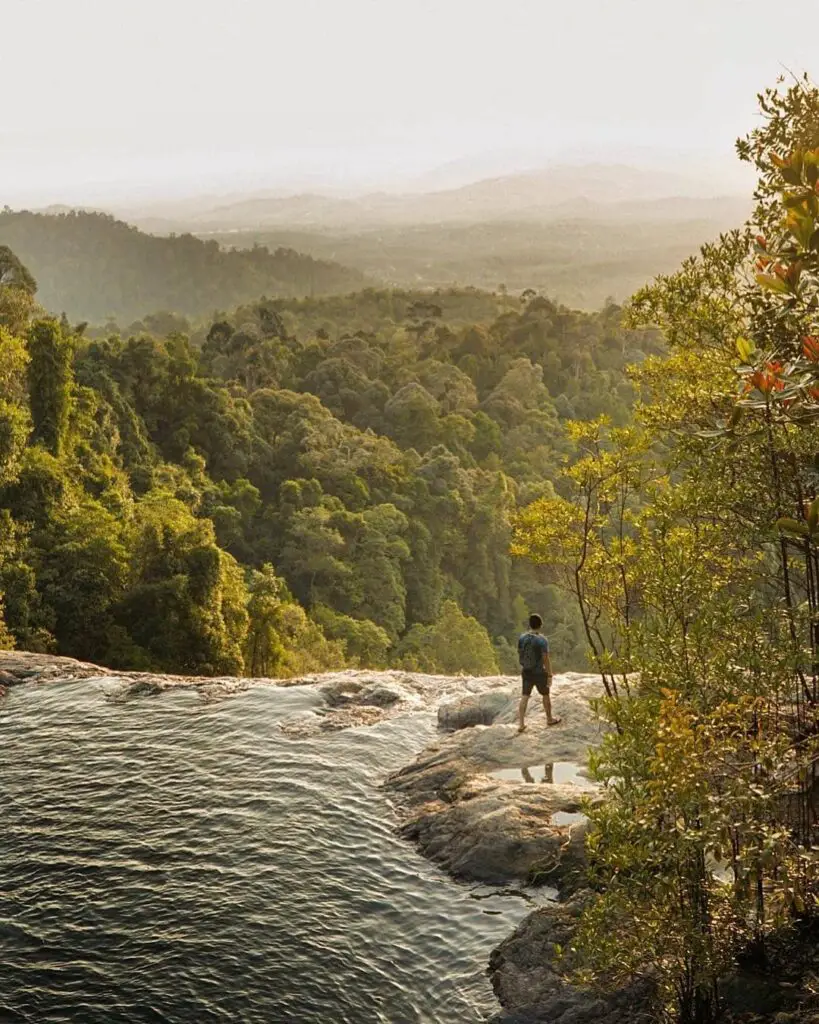 Image source: @nature_enthusiastic_
Once you've set your tents, you can either sit around and make yourself comfortable or put on your hiking boots, grab your water bottles and some snacks, and start hiking up until you reach the top of the waterfall.
Some said it's best to hike up the top in the evening as the sunset view is out of the world! However, the hike might take you about an hour and you'll also have to cross the rivers, so make sure you're wearing proper clothing and gear.
Tasik Puteri Bukit Besi, Terengganu
This campsite is located in Dungun, Terengganu, and is hands down one of the most beautiful spots you'll ever find in Malaysia. One glance at the turquoise blue lake and you'll immediately fall in love.
However, you do have to go through a walk through the jungle trails before you could reach both the lake and the man-made waterfall.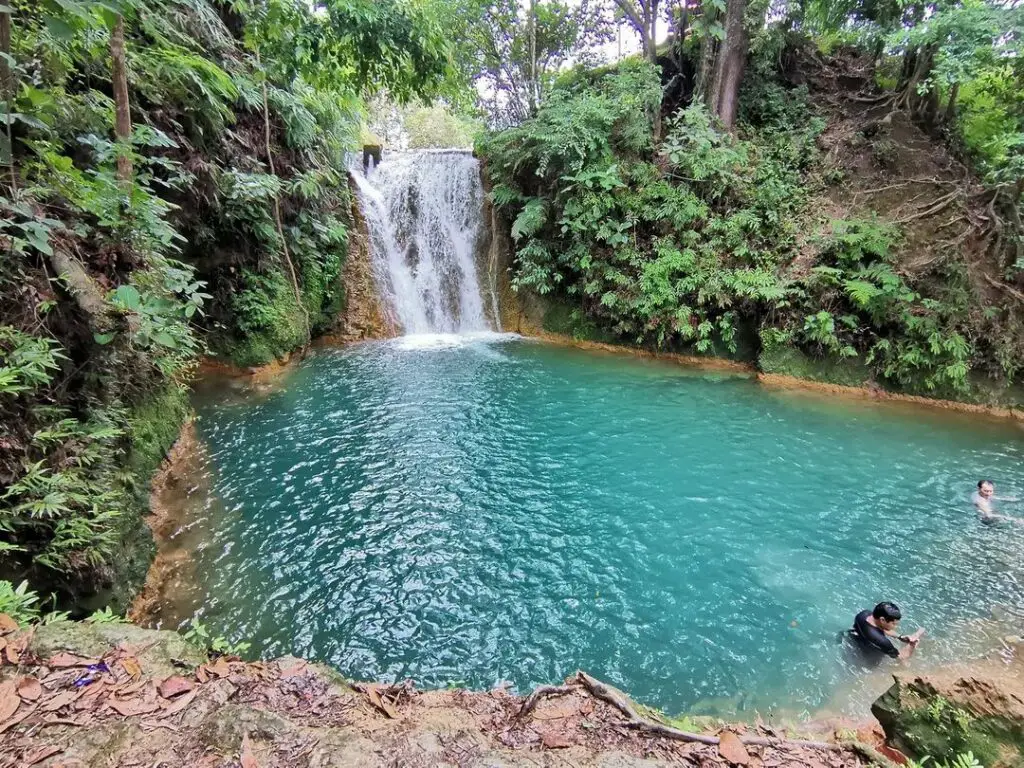 Other than taking a dip in the cold water, you can also enhance your camping trip by booking an ATV ride through the forest.
Explore the lush mother nature on wheels, pump your adrenaline rush, and by the end of the day, spend some time sitting by your tent while enjoying the pleasant sounds of the crickets chirping all night long accompanied by the sounds of the waterfall cascading down.
Rumah Kebun Camping Ground, Selangor
If you're from Selangor or Kuala Lumpur and you're not in the mood to drive for hours to another state, then Rumah Kebun Camping Ground might be the one for you.
It is located in Kampung Sungai Semungkis, Hulu Langat and is well-surrounded by rich mother nature that can easily turn your camping experience into one of a kind.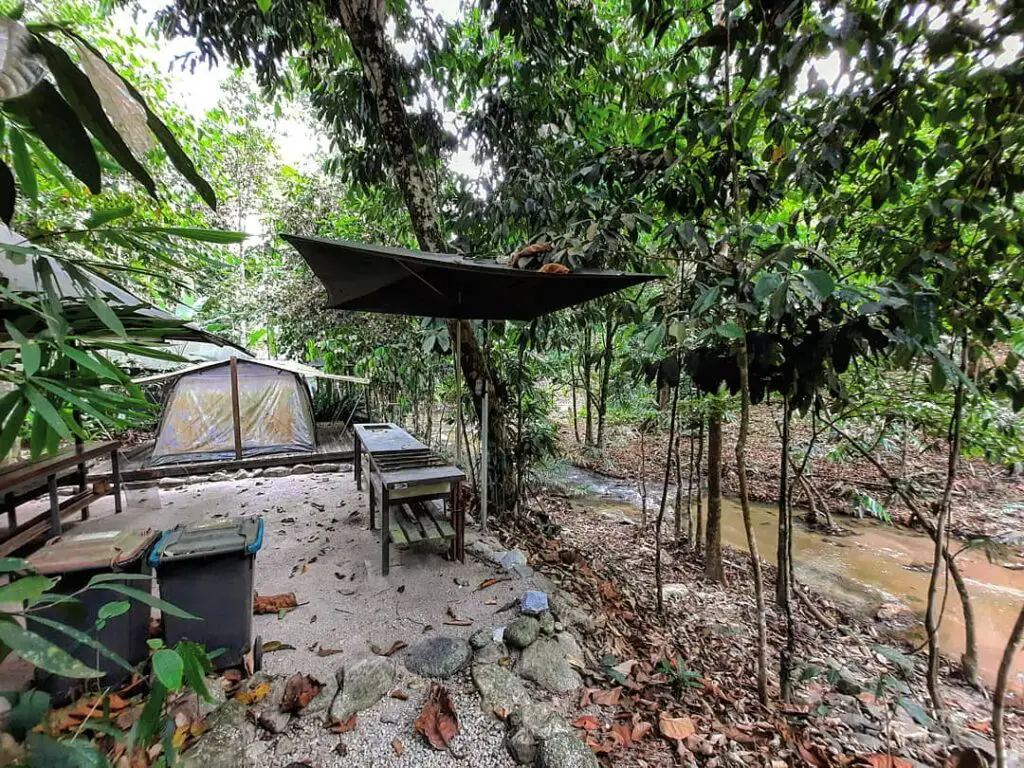 This precious gem also comes with everything you need for a camping retreat—you can find a spot for a campfire, barbecue, a clean set of toilets, and even showers with water heaters!
Even the tents prepared are spotless and extremely comfortable. Since the camping ground is situated right by the river, you can straight away take a dip as soon as you arrive and refresh yourself!
Wish to go camping without leaving the comfort of a real bed, but still surrounded by lush forests and cold mists in the morning?
If so, then grab your car keys and drive straight to Tiarasa Escapes, Janda Baik. For those who are from the city of Kuala Lumpur, the journey will only take you about 45 minutes!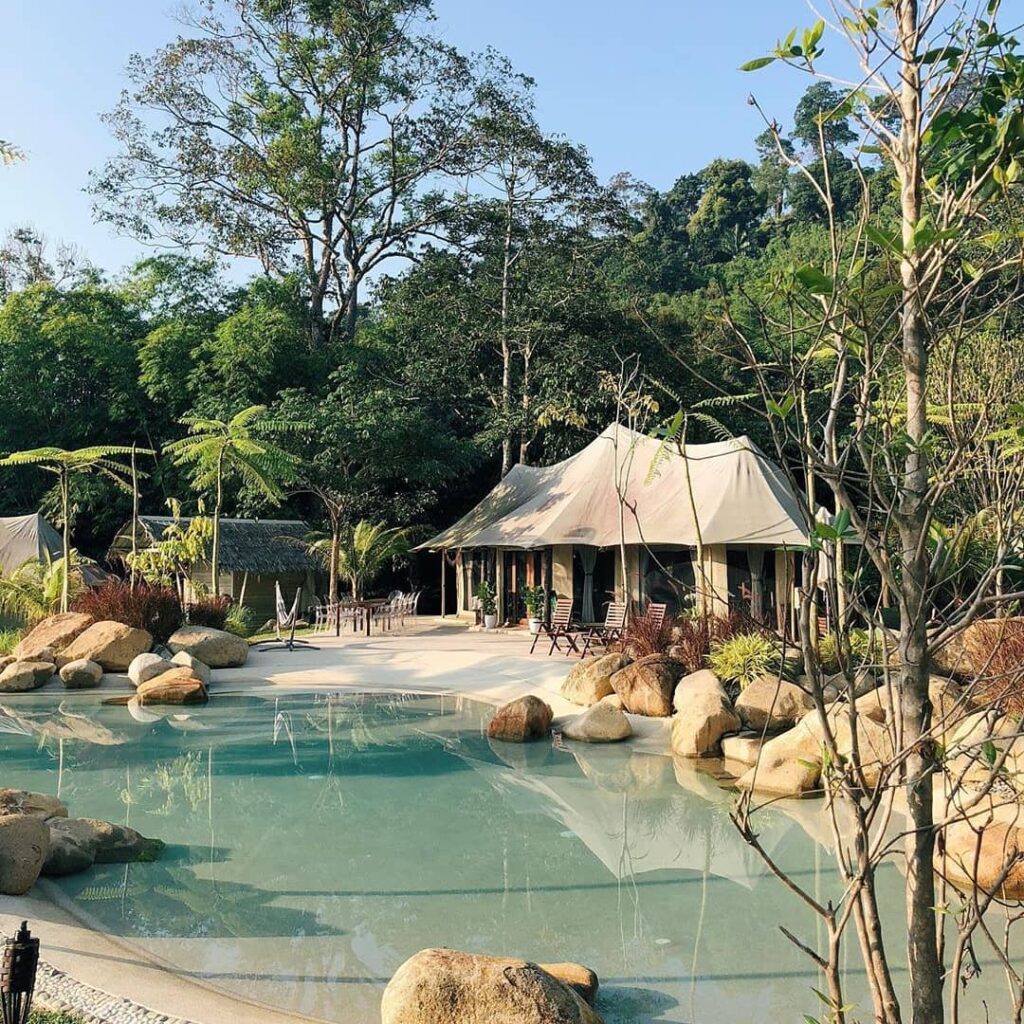 At this luxurious glamping site, you can either choose to sleep in a unique treehouse or safari-style tents! Both are great options since they are fully surrounded by tall trees and mountain mists, making you feel closer to nature than ever before.
However, those are not the only best part of Tiarasa Escapes as you can also participate in various outdoor experiences including nature walks, bird watching, riverside picnics, ATV rides, and moonlight cinema where you'll be enjoying great films under the stars.
Set in the middle of a rich green rainforest is the sticks, an off-grid glamping site that offers you everything you need for a peaceful nature retreat.
From home cooked meals to comfy accommodations and great activities all day and night like jungle trekking, white water rafting, paragliding, and even stargazing.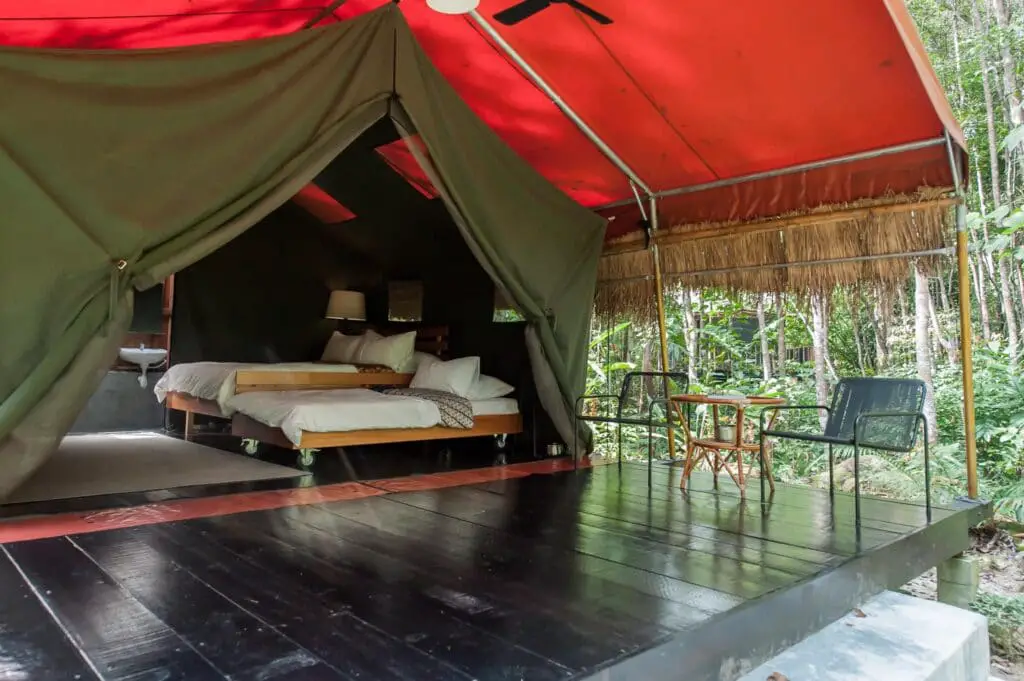 Aside from its location in Kuala Kubu Bharu which is just under an hour drive away from Kuala Lumpur, what's great about The Sticks is that it could also be a place for various events and functions packed with your very own activities!
Host a birthday party, a romantic outdoors proposal, yoga retreat, and even corporate meetups.
Have you ever woken up to the view of the sunrise right in front of you? If not, then Sea Horizon Resort can make it happen! This glamping retreat can be found in Sedili Besar, Johor and is perched on a cliffside overlooking the South China Sea—so you could imagine how breathtaking the views are.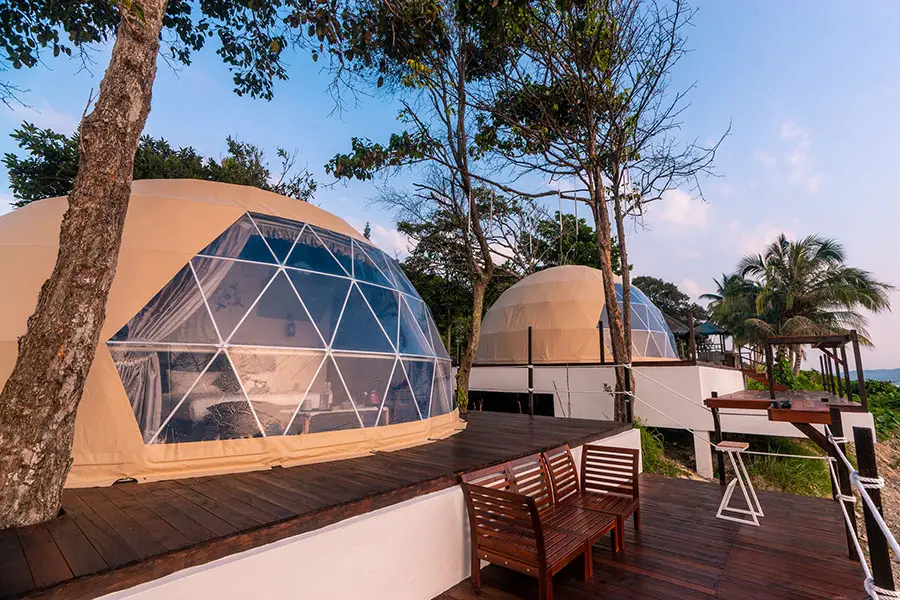 Other than its glorious panoramic view and the pleasing sounds of the waves crashing on the rocks, this place is also known for its comfy accommodation.
You can still enjoy nature without compromising your comfort as this dome-shaped glamping suite is fully equipped with a full-sized bed, air conditioning, a flatscreen TV, and a spacious bathroom complete with a bathtub. Even breakfast is served in your suite!
So, now that you have a list of camping spots to choose from, go ahead and pack your essentials. It is highly important to make sure that you have all the necessary camping equipment and supplies if you don't want your fun camping experience to turn into a nightmare. 
Take a look at our suggestions of the things that you need below and happy camping!
– Enough water and food supplies
– Extra clothes
Disclosure: This post contains affiliate links. If you click these links to purchase the product we may earn a commission without extra cost to you. We carefully select the best and all products are shipped from the local by high rating seller.