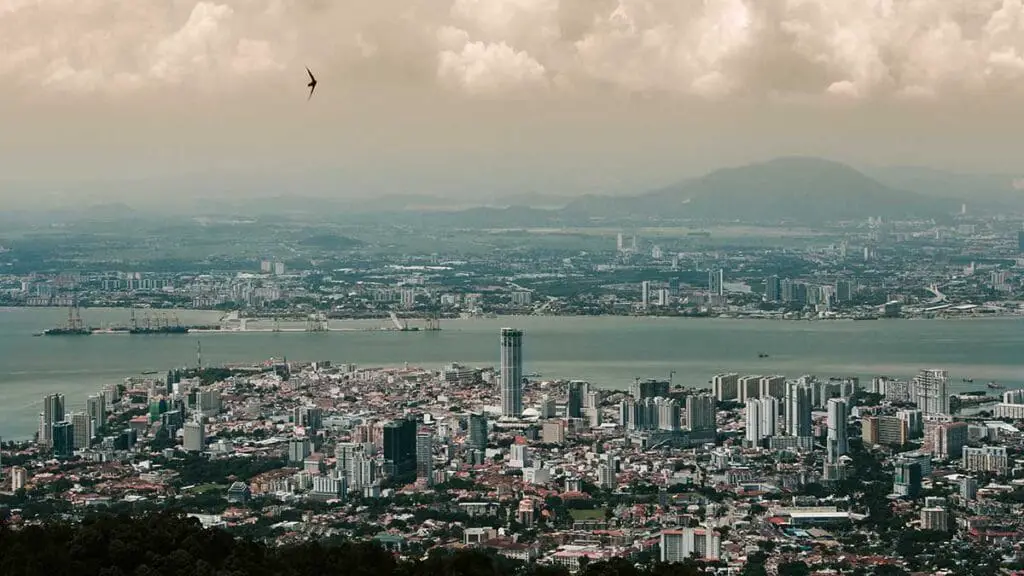 Talk about Penang, and the first thing that comes to mind is food. But hungry tummies aside, the Pearl of the Orient is also well known for its street art of Penang, which is also one of the many reasons tourists love to spend their holidays here.
There is more than 20 street art in Georgetown that you can appreciate and take plenty of photos with, be it the quirky murals in Penang or the cleverly welded iron wall caricatures. This article will cover only the wall paintings – there are simply too many pieces to see and admire, to be honest!
Let's take a quick tour of some of the best Penang street art around, shall we?
Disclaimer: These mural photos are taken in September 2022. The murals may not be permanently there as some of them are already faded away. So there's no guarantee you'll still see them in the same result as before.
What Are The Best Ways to See Street Art in Georgetown?
I always tell people the best way to see street art of Penang is by walking. This is largely influenced by the fact that I LOVE walking in Georgetown, but it's true that when you walk around the streets, you will tend to appreciate the beauty of the island and the Penang mural pieces more (because you work your legs for it).
Alternatively, you could also cycle to each street art location. There are a number of bicycle rental services available, or simply hop on a Link Bike from any of their 25 bicycle stations in Penang!
Or, if you have yet to try trishaw rides, it's also another fun (albeit slow) way to enjoy the sights of the city while ticking the street art checkpoints one by one.
Exploring The Street Art of Penang
I've grouped them all based on similar locations. It is advisable to start from one end of the trail to the other as marked on our map at the end of the article so that you get to cover as many murals as possible.

Children Playing Basketball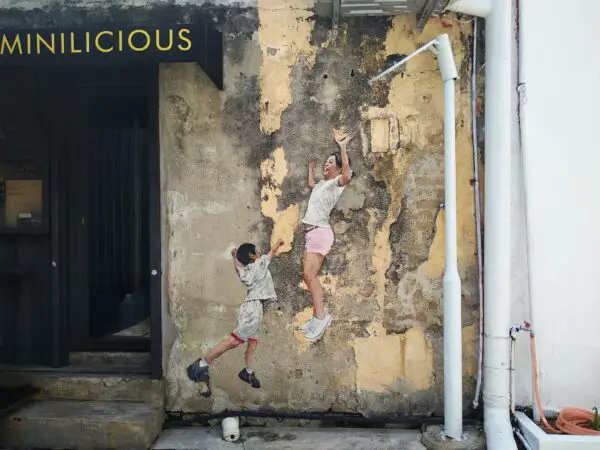 Take a look at one of the small lanes off Gat Lebuh Chulia, and you will find this lovely painting of a girl and a boy playing basketball by a local deaf-mute artist, Louis Gan. There used to be a real basketball stuck on the wall above the girl's palm but over the years, the ball somehow went missing.
Brother and Sister on A Swing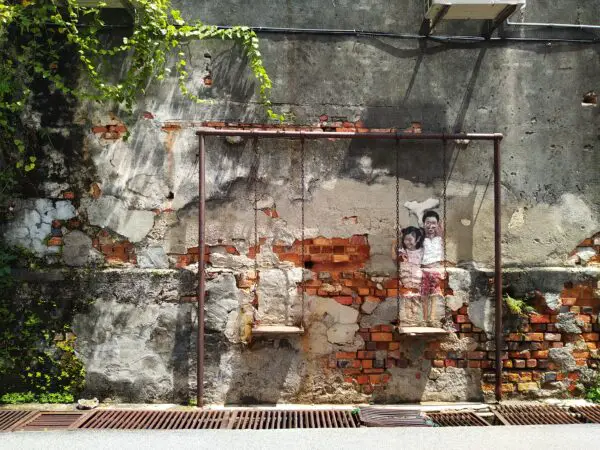 You can find this mural along Step by Step Lane, which is on the opposite side of the Children Playing Basketball painting. This wall painting of siblings playing on a swing is another art by Louis Gan, and it is one of the popular Penang street art not to be missed.
Not surprising, since you can actually be "part of the art" by posing with real swings that are attached to the wall.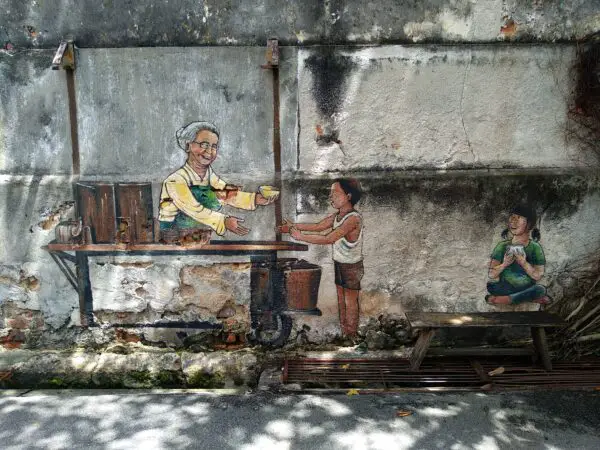 Pretty mural of an old lady selling fresh soy milk and "tau hua" (Chinese tofu sweet dessert). Not sure of the intention behind the art collaboration between the Penang Saint Xavier's Institution, Homesoy and Vilmedia, but I think this is a great painting altogether.
This street has quite a number of wall paintings, but these are the ones that catch my attention most:
Only You Can Stop Air Pollution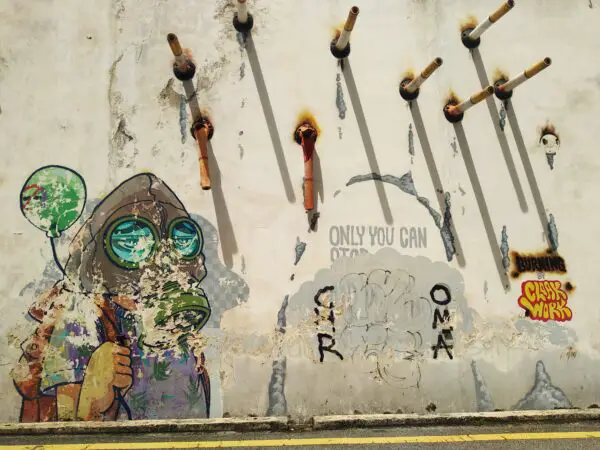 This is just located a few steps away from Motorbike Boy art. I find the art concept really cool. Cigarette butts as decor, with the message "Only You Can Stop Air Pollution" serve as a good reminder to the public.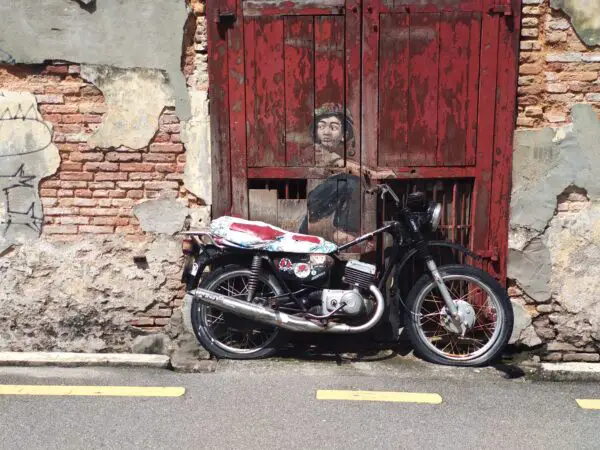 Vroom, vroom on the wall – how cool!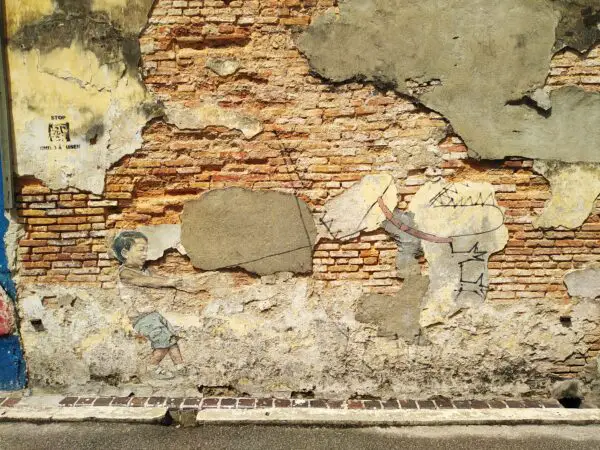 I might have missed this cute older artwork by the famous mural painter, Ernest Zacharevic if I don't stare at the wall long enough due to the rather faded painting, despite being right next to Motorbike Boy. The artist did a several murals in Ipoh as well.
Nameless Alley Connecting Armenian Street and Lebuh Ah Quee
You will find a lot of street art around this area, with many of them just located a few steps from one another, like Teach You Hokkien and Three Girls in Traditional Clothing at Lorong Soo Hong.
But just walk a little further and you will notice a nameless lane marked by colourful umbrellas – you will find these paintings that are among the popular ones that people love taking pictures with:
Chinese Woman Praying at Hanging Altar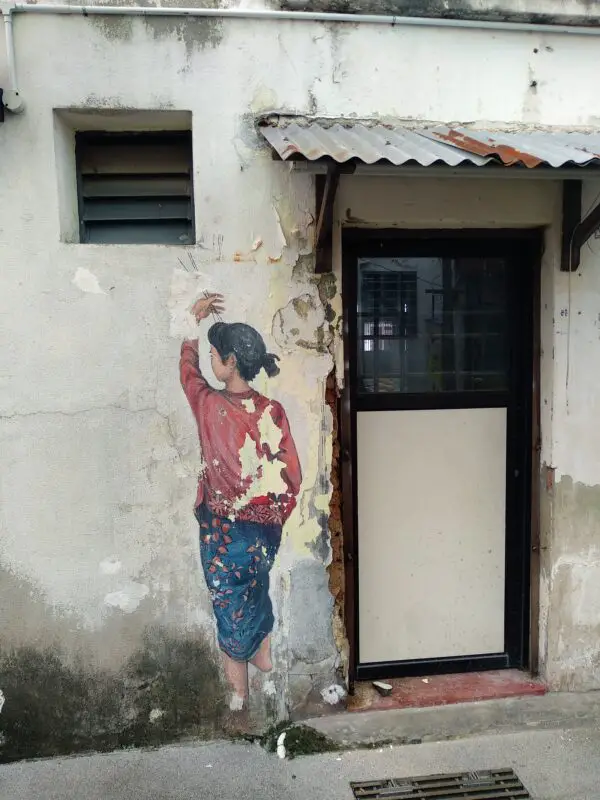 I almost missed this as it's not that obvious a painting. If you keep a close eye along the path, you will be able to see this Penang mural of a sarong-clad lady holding burning joss sticks to be placed at the hanging altar…except the hanging altar is now gone.
Still, I like this piece because it captures the joss sticks praying moment at a household really well.
Two Men Pushing a Door (next to the Glow in the Dark Museum)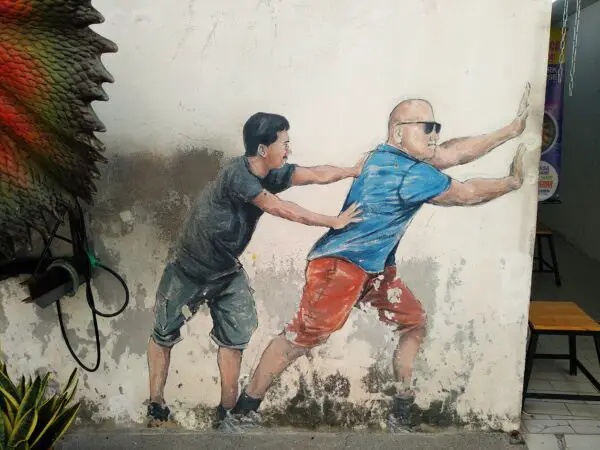 I help you push, or you push me? The door isn't closed sometimes as it's right next to the Glow in the Dark Museum entrance, so it takes a bit of luck to photograph the full men-pushing-door scenario.
Time for some Armenian Street art! Some of my favourites include:
Cultural Girls George Town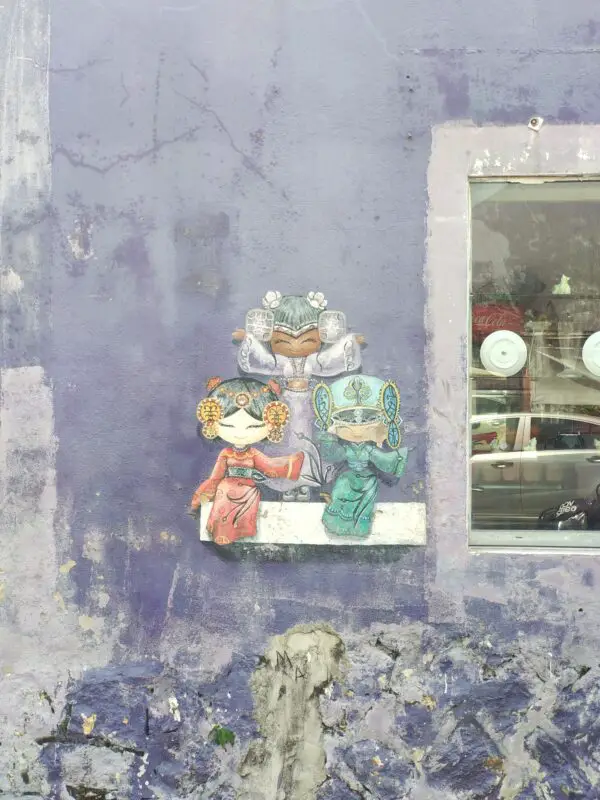 A tiny but pretty painting of three multicultural girls in traditional garb.
Little Children on a Bicycle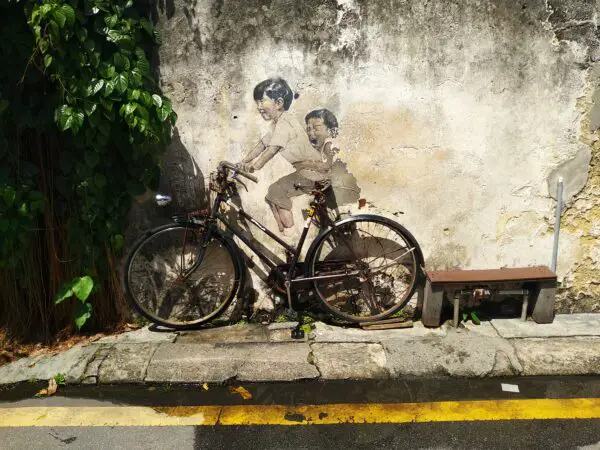 Another gem by Ernest Zacharevic, featuring a young girl "riding" on a bicycle with a young boy. Many people love posing here!
Lebuh Cannon and Lebuh Acheh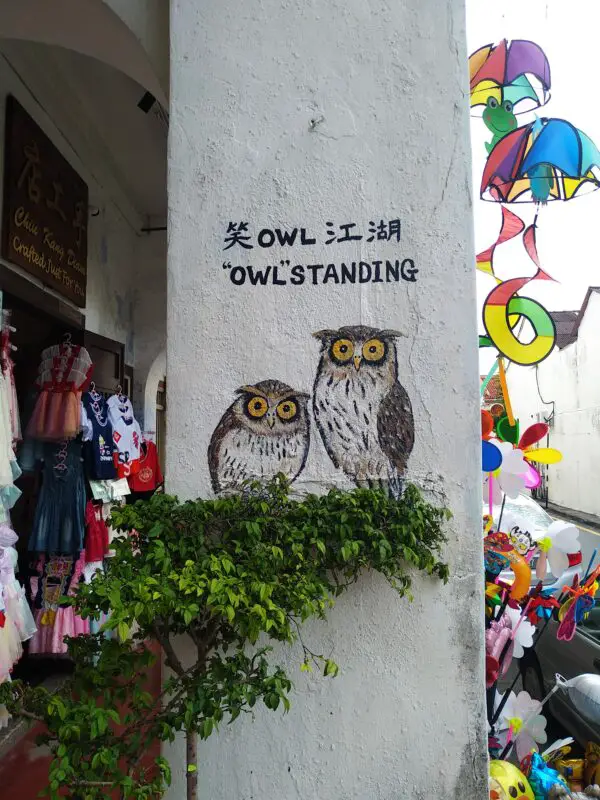 Can't help gushing over this pair of owls! Though I wonder if the name of this mural is a pun for "outstanding"?
Cat on a Swing (more swings!)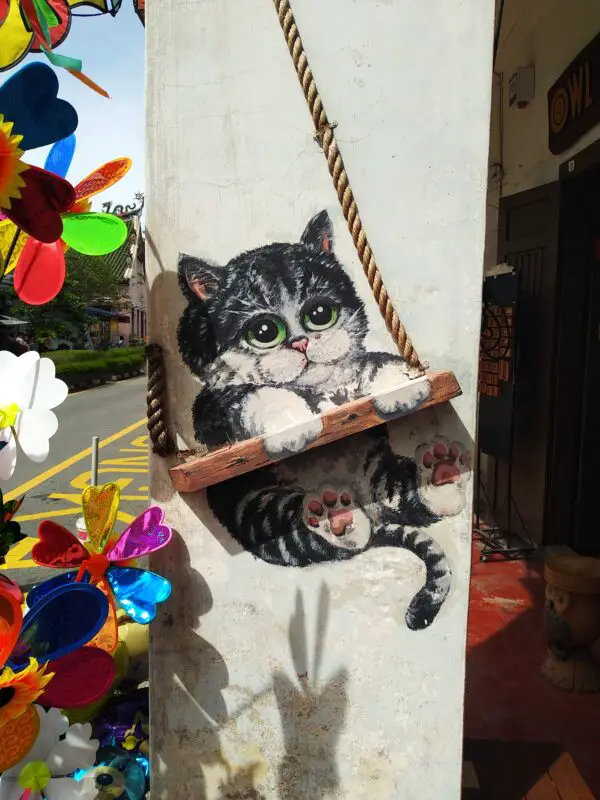 More cats, more cuteness, and more swings.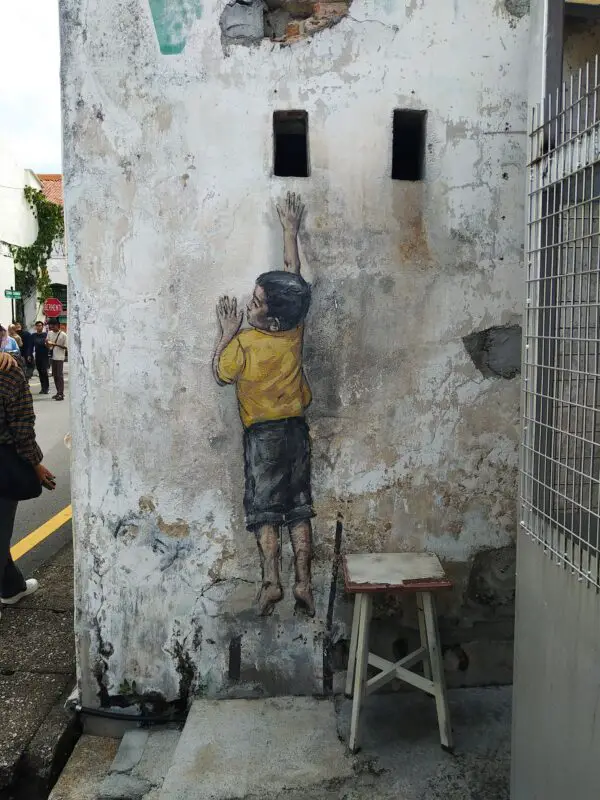 Literally a painting of a little boy standing on a chair, except the real solid chair that used to be attached to the wall is already missing a long time from the picture. It is one of the must visits for Ernest Zacharevic's art.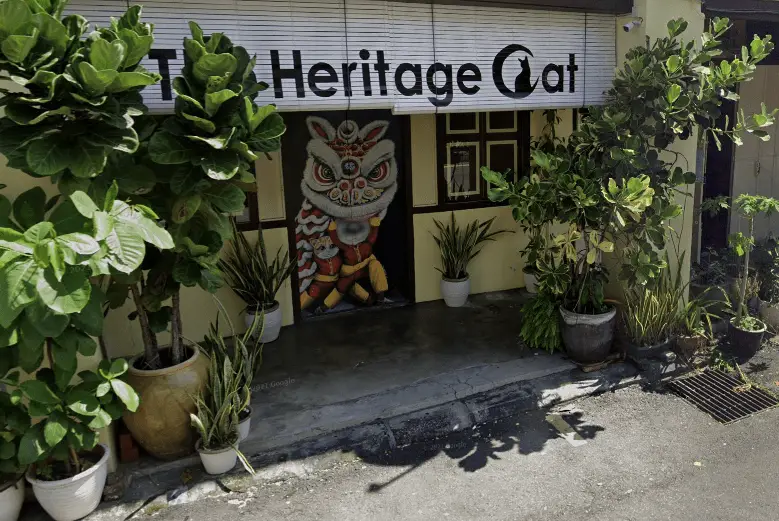 Image source: Google Maps
The bright-coloured mural on the doors of one of the corner shophouses is another brilliant work by WK Setor back in 2020. Love the colours and details here!
Indian Woman under the Tree - by Russian artist Julia Volchkova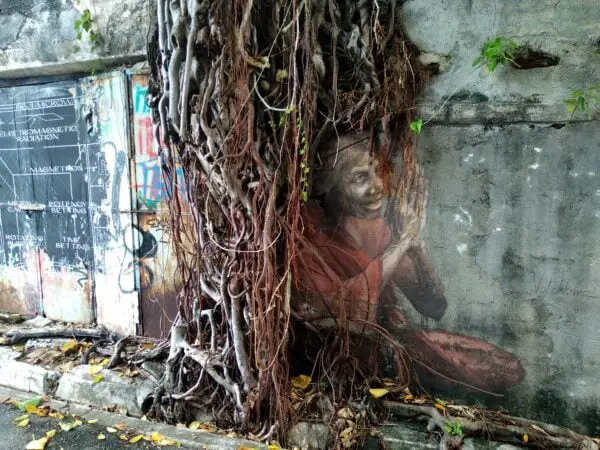 This mural by Russian artist Julia Volchkova should be in your list of must-see street art in Georgetown, simply because the painting was so artfully created that it blends in with the tree roots!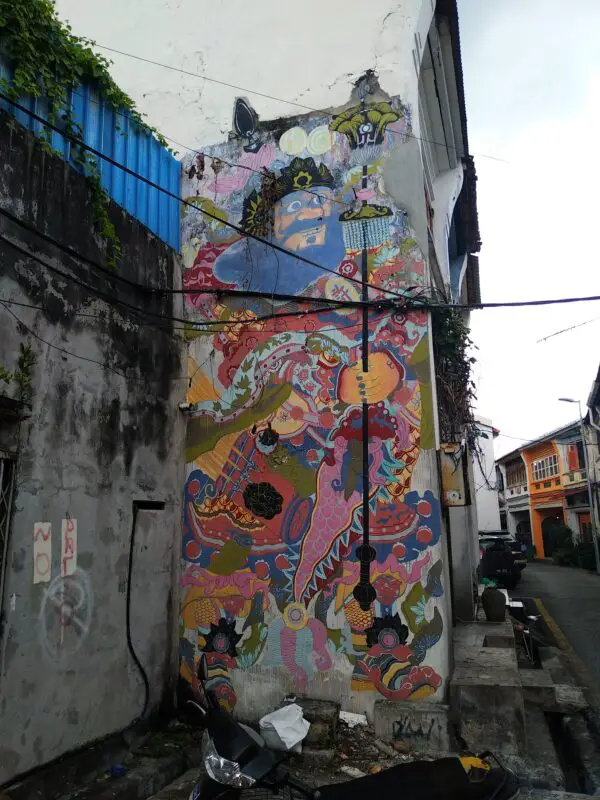 A rather hidden street art of Penang featuring a Chinese guardian deity at Lorong Lumut, but worth enjoying for its abstractness.
Home to a few street art pieces including the "Little Girl Walking on Numbered Tiles", these two paintings catch my attention more: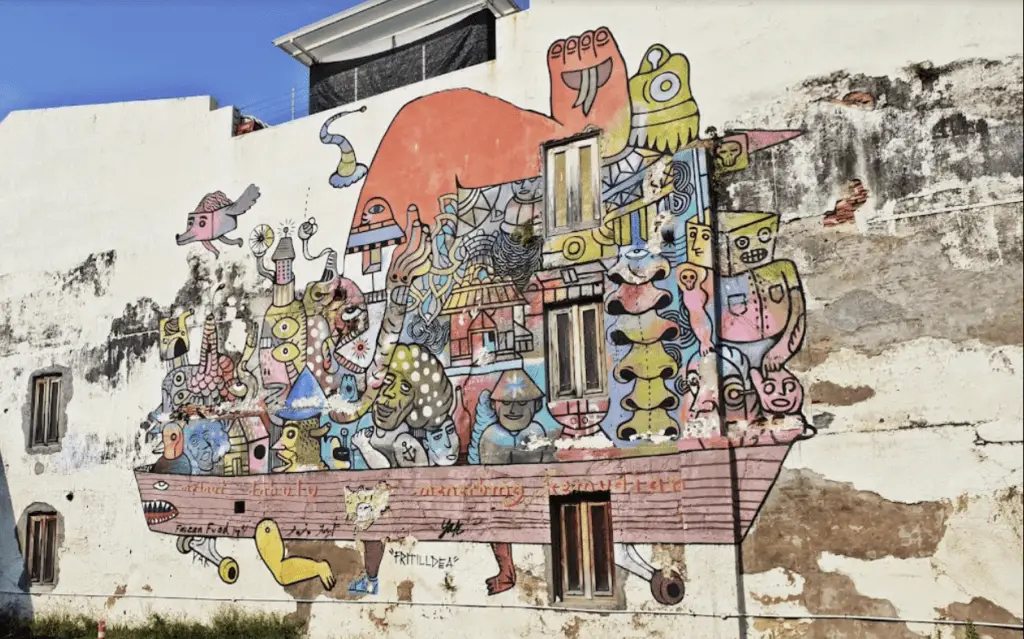 Image source: Google Maps
You can find this picturesque Urban Xchange mural in a parking lot owned by Genius on the wall outside of the Coffe on The Table shophouse building.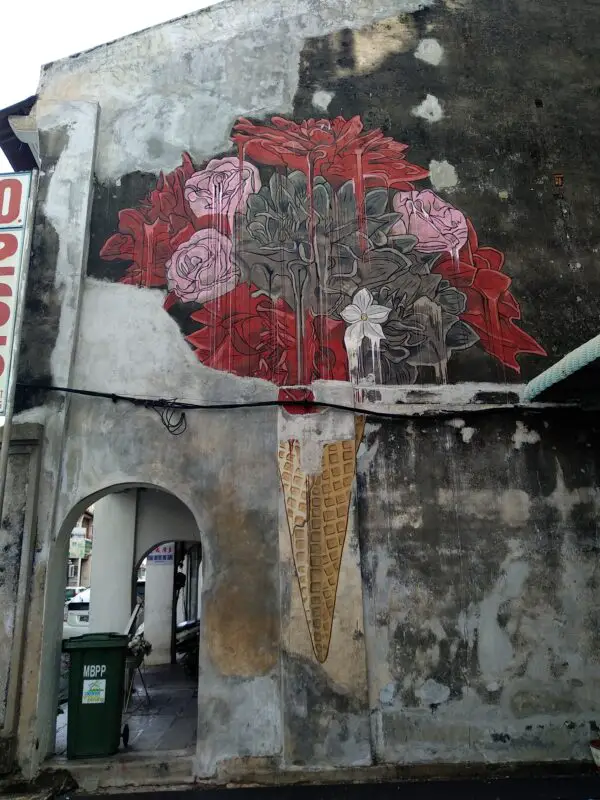 Fancy a bouquet of flowers in an ice cream cone? You can "get your fill" of the artwork by Don John here, which was created for the 2014 Urban Xchange project.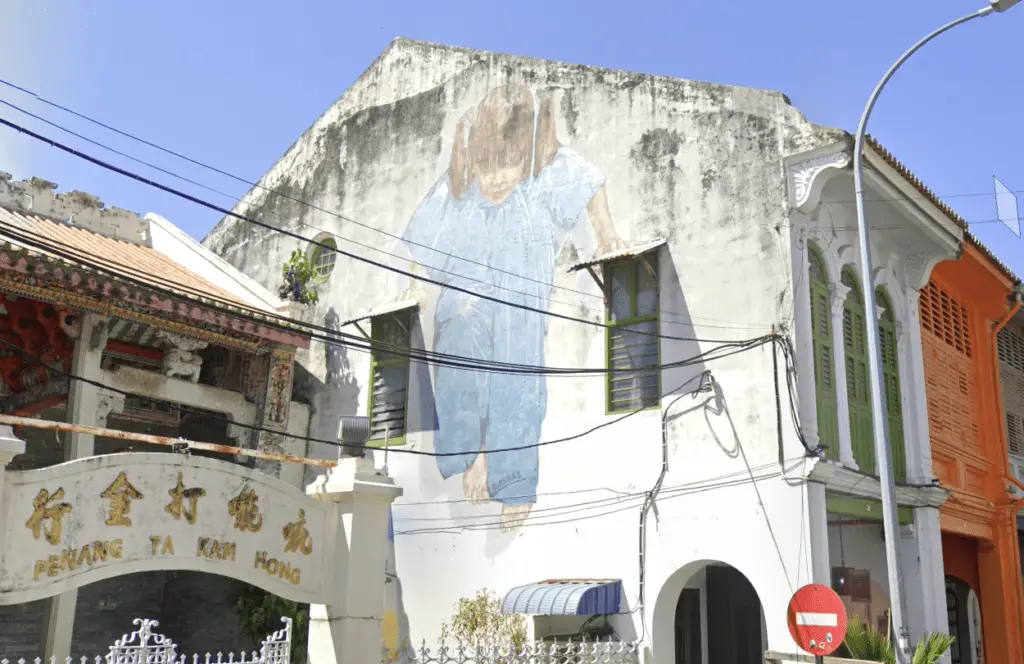 Image source: Google Maps
Another one of the most popular murals in Penang, you can't miss this sight of a giant girl in blue at Muntri Street!
Ballerina On the Five Foot Way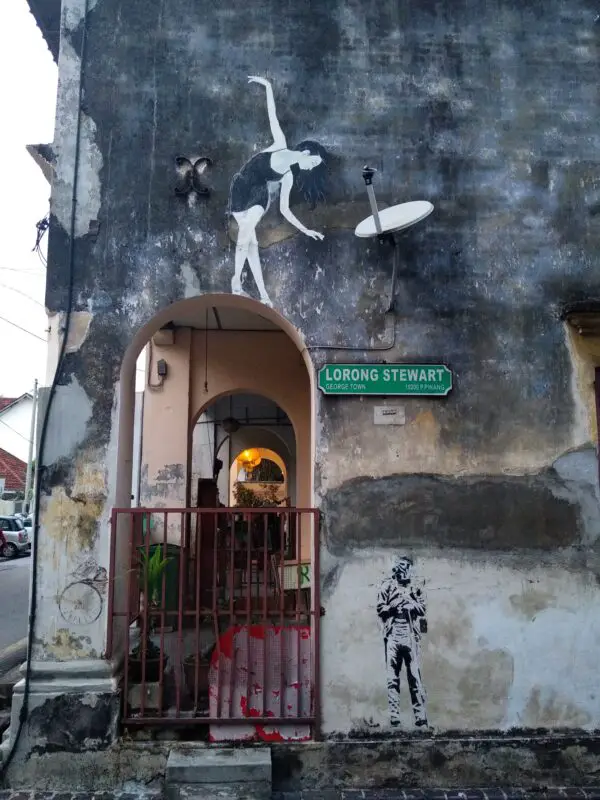 I have a thing for ballerinas – you can catch this beautiful piece at the intersection between Muntri Street and Stewart Lane.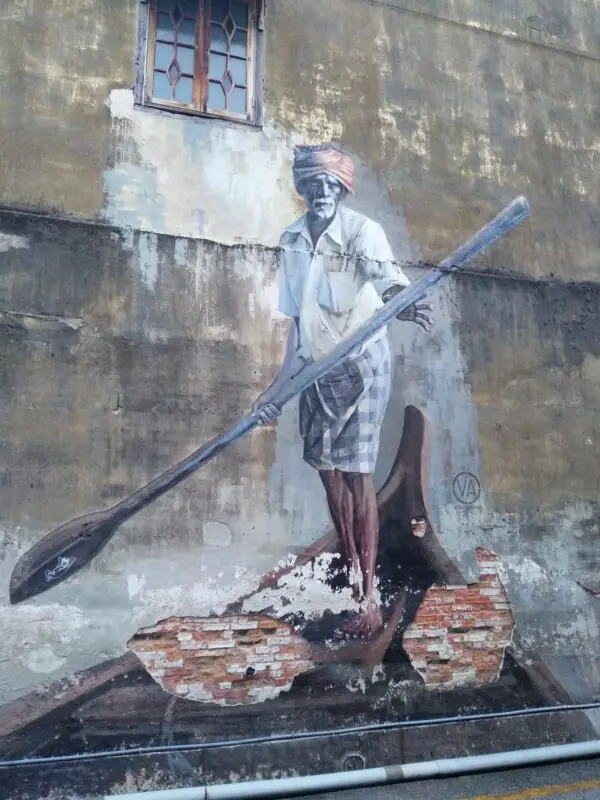 Slightly faded over the years, but still an iconic mural when you visit Stewart Lane, which was painted by Julia Volchkova.
Trishaw Rider takes a Rest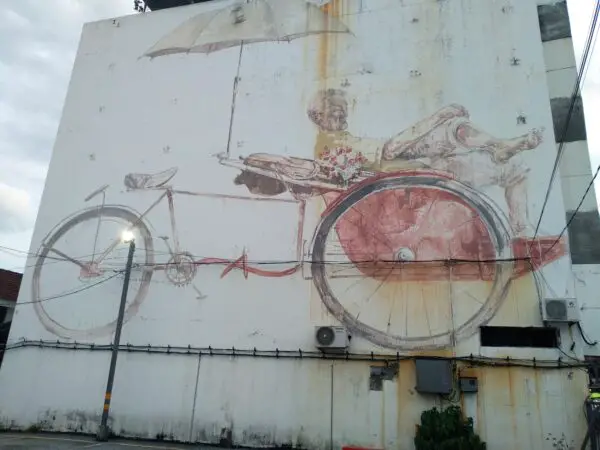 One of the wonderful murals in Penang that could have benefited from some artwork restoration, but nevertheless, is still pretty popular.
Some Lesser Known Penang Street Art
I wasn't aware of this mural on the wall of the building beside Ng Fook Thong Temple until I visited the temple one day. I love the simple art – this was done by an Australian artist called Vexta, centering around the theme of woman and nature it seems.
Jalan Bawasah, Nagore Square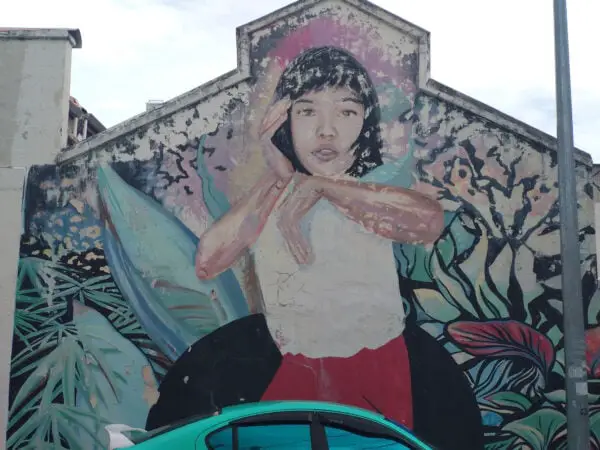 You can easily spot this huge, colourful painting. This is also the area where the popular cafe called Sitigun is at, so you can drop by for a cup of freshly brewed coffee after your photo sesh.  
Hin Bus Depot has a warm spot in my heart as it's a wonderful space for arts and crafts with some food and coffee in between – it's one of the best places in Penang to chill and relax in my opinion!
You will notice a number of murals, done by Ernest Zacharevic and later on by other mural artists around the space.
Hope you had fun going through all the lovely street art in Penang! Which one is your favourite? Be sure to take plenty of pictures with them and tag us @stayplacefu on Instagram – they will become one of your best memories of Penang!