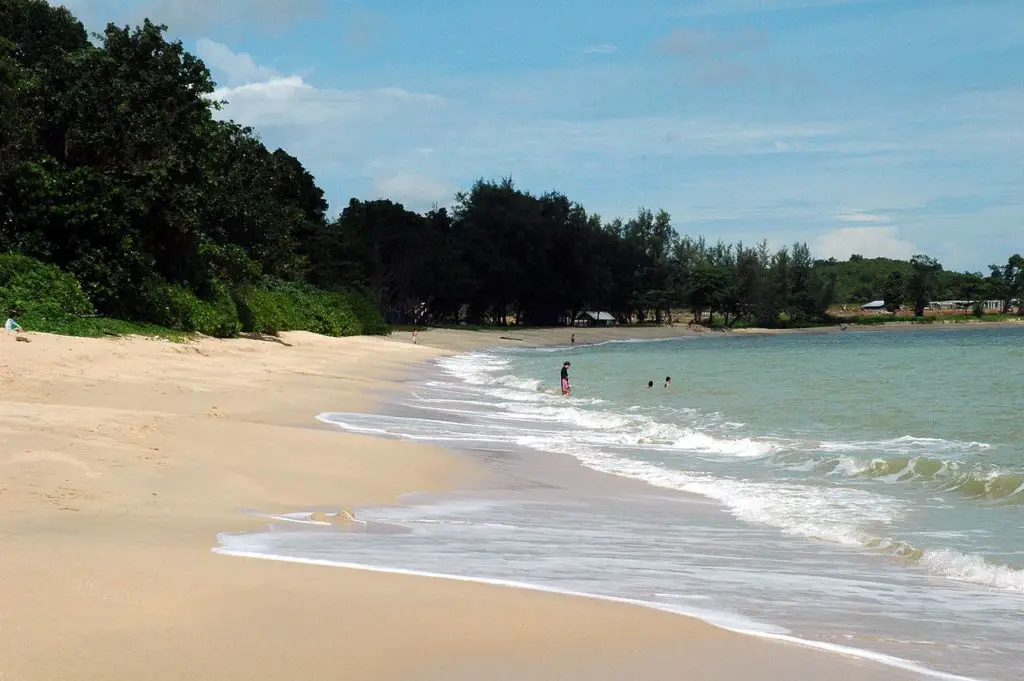 Located on the eastern coast of Johor, Desaru Beach has garnered a reputation as one of the more picturesque attractions in the region. Clean, sandy beaches that stretch far and wide, areas where you can look out over the South China Sea and lush tropical forests are just some of the reasons Desaru is home to so many renowned resorts and numerous activities.
If you're looking for a holiday destination that isn't too far from urban centres but secluded enough that you can wind down and escape the hustle of the city, drop by Desaru Beach if you're in the vicinity.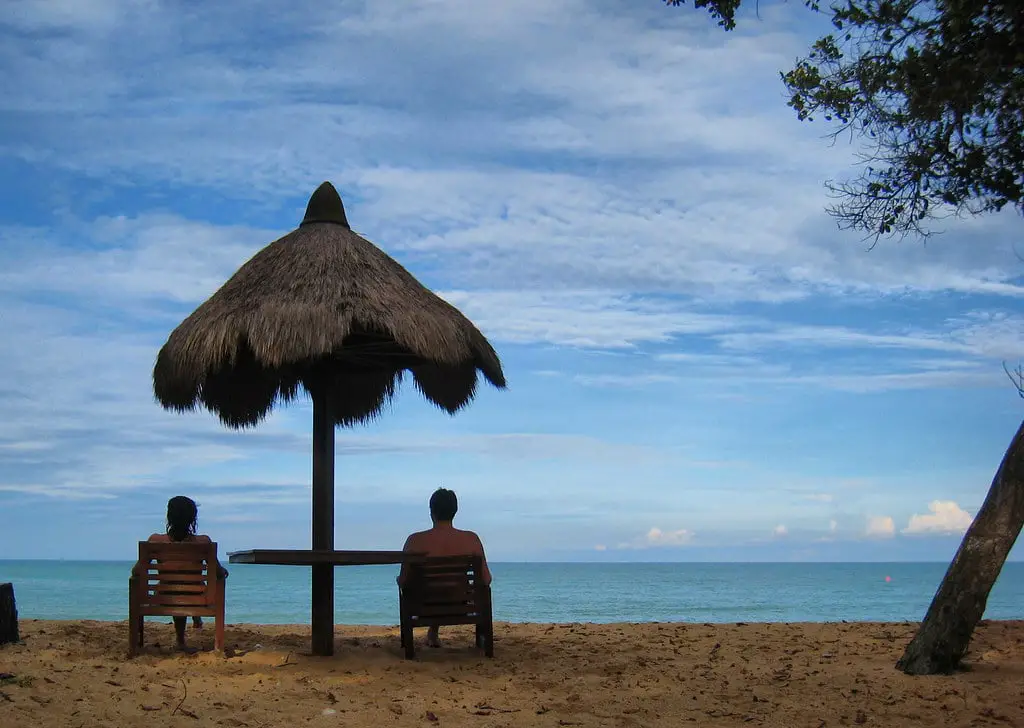 You can find many fun things to do at Desaru but it's the beach that most people probably come for. It's a key attraction. Desaru Beach's white sandy shores stretch far enough that you'll be able to find spots that aren't too crowded, even during peak periods.
The South China Sea is in view too, glistening in the distance in shades of teal and beautiful blue hues. Lounge by the breezy shores of Desaru Beach, work on your tan and immerse yourself in the relaxing beach atmosphere.
Swimming is also a common activity here. The sea is relatively calm and its shallow depths extend far out from the beach which means that kids (and adults who can't swim) can look forward to a casual dip.
Parasailing on Desaru Beach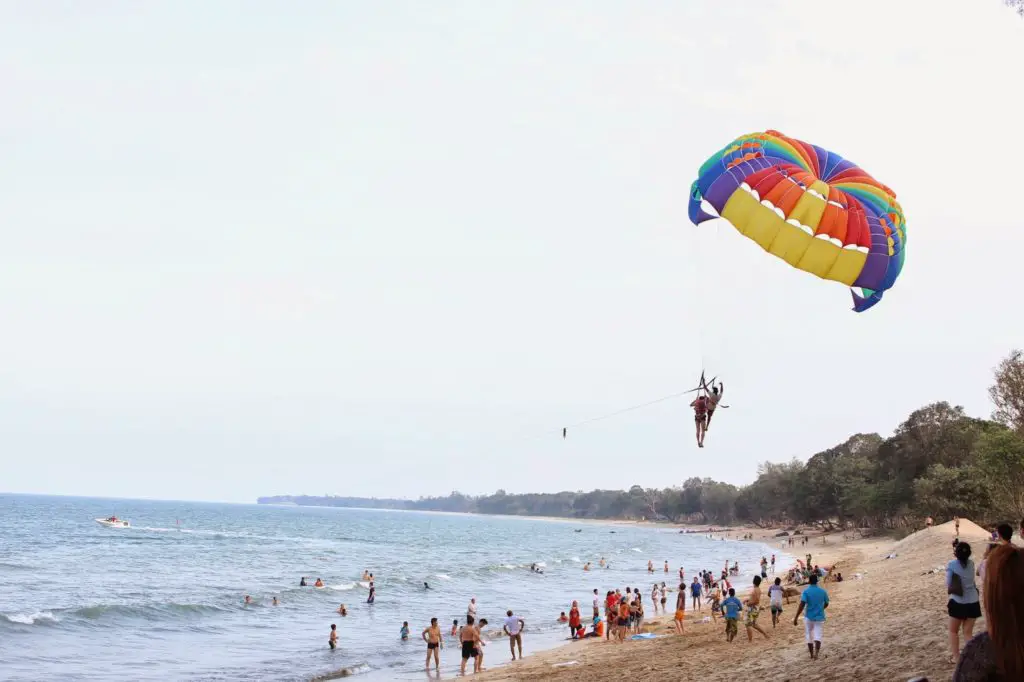 Have you ever been parasailing? It's a recreational seaside kiting activity with one or more people attached to a specially designed canopy wing that resembles a parachute.
This parasail wing is attached to an anchor and the sea wind carries people attached to the wing high up into the air. This exhilarating experience can be found at Desaru beach.
Some resorts in the area may also offer this activity as part of their itineraries and packages. Thrill-seekers, strap up and enjoy a round or two!
Fresh, affordable seafood at Desaru Beach
Desaru Beach is also known for its delectable seafood choices in various styles, served at many different establishments throughout the area. Sungai Rengit and Teluk Sengat are two key spots that offer a huge array of seafood restaurants with fresh seafood dishes.
Sengat Seafood Restaurant is an eatery that's popular because their seafood is sourced directly from the nearby sea a day before preparation and serving (at most). Expect freshness and authentic tastes from the seafood meals here.
While you're here, be sure to try their chili crab, it's highly recommended. There are also other amazing dishes available here aside from the seafood (and just as tasty).
Just 3km off the main road from Desaru-Kota Tinggi, located at Jalan Johor Silica, visitors are treated to a magnificent show of fireflies lighting up the night sky along Sungai Lebam.
While the firefly show can be expected to begin around 8 pm (after the sun has set), there's a boat cruise that you'll have to pay for as a way to access the area. It's about an hour-long cruise for a full boat ride but if visitors just want to see the fireflies, then it'll be closer to 30 minutes.
Aside from this, you can also find fresh seafood (including lobster dishes) at Sg. Lebam. BBQ specialities and Western Cuisine can be found on the floating Restoran Terapung Bujang. It's located next to the mangrove wood and is a great hangout for people from all walks of life.
Ostrich Farm at Desaru Beach
Are you a fan of wildlife? Desaru Beach is home to one of the largest Ostrich farms in Malaysia. Visitors to this intriguing attraction can actually get up close and personal with the resident ostriches, under the watchful eyes of professional caretakers and staff members (yes, these giant birds can be rather dangerous at times). 
While you're exploring the farm, you can find out interesting facts about these wonderful creatures. This can be very educational for kids as they might not have known some of these facts. 
Not too far away, you could have the chance to look at huge, intimidating crocodiles as well.
This establishment is divided into 4 gallery divisions that depict the historical and cultural significance of how the fishermen and agriculturists of the area lived. They've been at work in these parts for a very long time.
The museum is made up of the geographic gallery, the safe waters gallery and the Desaru wreck gallery as well as the special exhibition gallery.
Located at Sungai Cemaran, the Desaru Fruit Farm was set up as a tribute to all the amazing plants, ornamentals and fruit trees that can be found in the region. There's also a mini zoo, where you can spot wildlife common to the area.
Desaru is a thriving spot with activities and attractions. Drop by if you're in the area and looking for a spot that's well-rounded and not too far away from civilisation.
Explore curated places to stay in Desaru below