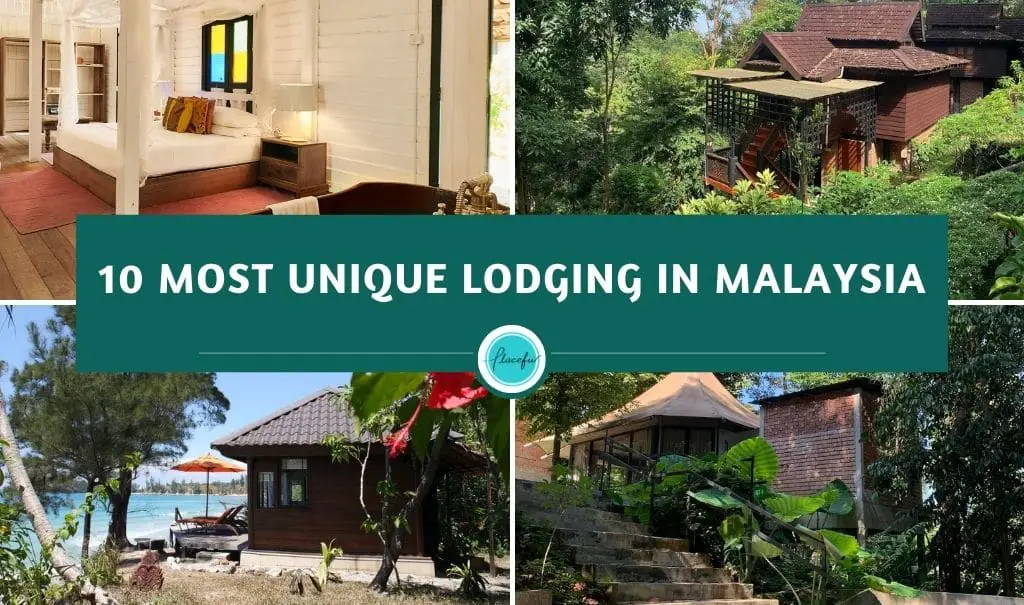 I think we can all agree that we have had enough of those regular hotels and resorts. It is about time that we experiment with our holiday a bit.
I am here to take you on a road less travelled to explore some of the hidden treasures Malaysia has to offer. Come join me to explore 10 Unique lodgings  Malaysia.
Most Unique Lodging in Malaysia
#10 The Rucksack Retreat in Melaka City, Malacca
The Rucksack Retreat is located right in the middle of the Melaka city, yet secluded from all the hustle and bustle. You will be greeted with picturesque and lush green gardens the moment you set your foot in. All the main attractions are at a walkable distance form the property.
Grab a slice of the rich heritage of Melaka at Melaka Sultanate Palace and Christ Church. You can indulge in some street souvenir shopping at DataranPahlawan and Jonker Street; all this is minutes away from the hotel.
Activities: The property has a swimming pool and a games room for entertainment. You may also visit local attractions such as The Stadthuys, Porta de Santiago and many more.
Food: Bikini Toppings, Southern Court Restaurant, Toppers Café, Capitol Satay are some of the popular foods joints around the hotel.
Getting here: Get direction on Google Maps
#9 Hibiscus Beach Retreat in Kudat, Sabah
This place boastsone of the best private beach experiencesin Kudat, Sabah. It offers some of the most stunning views you could ever imagine. Just sit back, and spend the entire day gazing at the breathtaking South China Sea.
Hibiscus Beach Retreat has two one-bedroom self-contained chalets, which makes them apt for couples or a small family of four. 
You can choose from Clifftop or Treetop, based on the availability. The Clifftop cabin is so beautifully positioned on a low cliff with unrivalled sea view.
This paradise proudly boasts *4.88 rating on Airbnb at the moment of writing this article.
Activities: You can indulge in swimming, mountain biking, snorkeling, jungle trekking, mangrove touring, surfing, and scuba diving.
Food: Merrimas Restaurant, Tip-top restaurant, Hakka private dinning, are some of the popular joints around for you to grab a bite.
Getting here: Kota Kinabalu Internationalis the closest airport, you can get a shared taxi or a private taxi depending on your preference to get here.
#8 Black and White house by Temple Tree in Langkawi
If you are into vintage items then this classic Malay House is definitely a thing for you. This bungalow, which was built in the 1940's, has an old-world rustic feel to it along with modern-day amenities. The living room has colored glass windows when coupled with its natural black and white theme take you on a pleasant trip to nostalgia.
This house comes with a huge double bedroom with a rain shower bathroom that also has a wooden bathtub, which makes it quite unique. The outdoor porch is just perfect for you to have your evening tea or catch up on some reading.
Activities: Swimming or you may visit local attractions such as Morac Adventure Park, Panorama LangkawiSkycab, LangkawiSkybridge, Langkawi Wildlife Park, and many more.
Food: Nam Restaurant, Smiling Buffalo, Gelato Cabana, Straits Restaurant are some of the popular food joints nearby.
Getting here: Langkawi airport just a 3 min drive from the property.
Tubotel is unique concept hotel and hostel of its kind. It offers amazing views of sunset in the Andaman Sea without breaking your bank account. The property has a nice porch area overlooking the blue waters, with beanbags, sofas, for you to relax. It is half covered so you can enjoy the sun or sit in the shade.
It offers multiple room options to choose from tube double room with private bathroom, room with a sea view with shared bathroom etc. Every room has a balcony, something not every budget hotel offers.
This property has plenty of comfortable spaces to work and relax, which makes it an ideal spot for Digital Nomads.
Activities: Visit Cenang Beach, which is less than 200 meters away for a swim or indulge in some water sports or rent a motorbike or a bicycle to visit local attractions such as Cenang Mall, Underwater World Langkawi, TelagaHarbour etc.
Food: It has an in house bistro, which serves amazing coffee, snacks and meals all day.
Getting here:
Langkawi airport just a 11 min away from the property.
#6 RainHill Boutique Guest House in Georgetown, Penang
One of the major highlights of the RainHill Boutique guesthouse is its convenient location. The hotel is in close proximity from all the major local attractions. The property comes with a kitchen for the guests to use and also has a laundry option at unbelievably cheap rate.
Some rooms come with a private bathroom and some don't, so it is recommended that you check well in advance before you finalize your booking.
Activities: Local attractions like Nattukottai Chettiars temple, KhooKongsi, The Camera Museum can be explored on foot from the property.
Food: Macallum Connoisseurs Coffee Co. ,Pinxin Vegan Cuisine, Patio Bar de tapas are some of the highly recommended eating joints.
Getting here: Penang International Airport is approximately 15 kms from the property. Get direction on Google Maps
#5 Sunbeam Luxury Villa in Sabah
If you are looking for a perfect tropical retreat then Sunbeam Luxury Villa at Sabah, is the place for you. The villa comes with two large bedrooms; both rooms have a private balcony, with a view of tropical garden and swimming pool.
Guests can access the private beach, which remains calm for the most part; it also has a lot of shells (if you love shell picking). The water is crystal clear and clean. All in all the luxury and the privacy of this place will make you feel spoiled.
This Property has a ratings of 4.95* on Airbnb at the moment of writing this article.
Activities: You can spend time lazing in the pool or a take a walk on the beach.
Food: Secret Place café, Tip Top Beach Bar and Restaurant, La Playa, Beach Bar Café are some of eating joints nearby.
Getting here: Kudat airport is the nearest airport, which is 14 kms away from the property. Get direction on Google Maps
#4 Boulder Valley Glamping in Penang
Boulder Valley offers lavish tented villas with soothing ambiance, which goes perfectly well with the quiet and green surroundings. It makes an ideal romantic getaway spot for couples to relax and unwind.
The hotel has several room options to choose from, it also has family rooms in case you are traveling in a group. The property has a shared lounge area, a garden and a terracearea.
Activities: You may enjoy several spa treatments at the in-house spa, or visit local attractions such as Penang National Park, KekLoksi Temple, Penang Hill and many more.
Food: Andrew's Kampung, Knife and Fork Restaurant, Enca Café & restaurant are some of the popular eating-places nearby.
Getting here: Penang International airport is about 14.8 kms from the property. Get direction on Google Maps
#3 Malihom Retreat in Penang
Malihom retreat is built on a 40-acre estate in BalikPulau, in southern Penang. The owners have converted traditional Thai Lama Rice barns into one-bedroom villas. The place has a rustic décor and luxury amenities, which makes this one of most the unique homestays one could come across.
They have plenty of room options to choose from and every en suite bathroom comes with hair dryer and essential oil toiletries. A lot of couples visit the resort for pre wedding shoots.
Activities: This property is ideal for relaxing and soaking up the nature, meditation, hiking, etc.
Food: Guests who have lived can't stop singing praises of the delicious food served here. The in-house restaurant mostly serves local and western delights.
Getting here: Penang International Airport is approximately 30 kms from the property. Get direction on Google Maps
#2 A'moss Farm stay in Cameron Highlands
A Moss farm stay is a very peaceful and tranquil place located in Cameron Highlands in the Pahang region.One can just lose the track of time and enjoy the serene views of the nearby farms and the majestic Mount Yong Belar.
The geodesic domes capture the serene beauty of Cameron Highlands so well with the backdrop of tea plantations and farms. If you are a nature lover you ought to pay visit to this place at least once.
This place has a terrace area at the campground, with a garden, where you can take some great sunset shots.
Activities: Learn organic farming at the farmstay, or you may visit Boh Tea plantation, Robertson Rose Garden, Cameron Highlands Butterfly Farms and many more attractions nearby.
Food: Boh tea centresungaipalas (café), ARANDA NOVA are popular food joints nearby.
Getting here: Get direction on Google Maps
#1 Terra Tree House in Cameron Highlands
Have you ever-camped right in the middle of a rainforest before? And the answer is no, just pack your bags and head straight to Terra Tree House, Cameron Highlands, Pahang.
Getting here is no walk in the park, guests have to trek 300 meters uphill to reach the estate. With no phone network and Internet, it here you can spend some quality time with your friends, family or just be one with Mother Nature.
All 6 houses have an attached bathroom; the property also has a community kitchen, and a main activity area for some group games.
Tips: Carry a torch light, rain coat / umbrella, jacket, personal toiletries and a pair good hiking shoes.
Activities: Cooking with local organic veggies, Mountain trekking!!
Food: 3 meals are served daily (no meat), they do serve eggs.
Getting here: Get direction on Google Maps
This concludes our list of 10 unique Homestays in Malaysia. The above stay options are well researched to make your holiday a special staying experience. 
Looking for more unique stays? Explore all on placefu.com