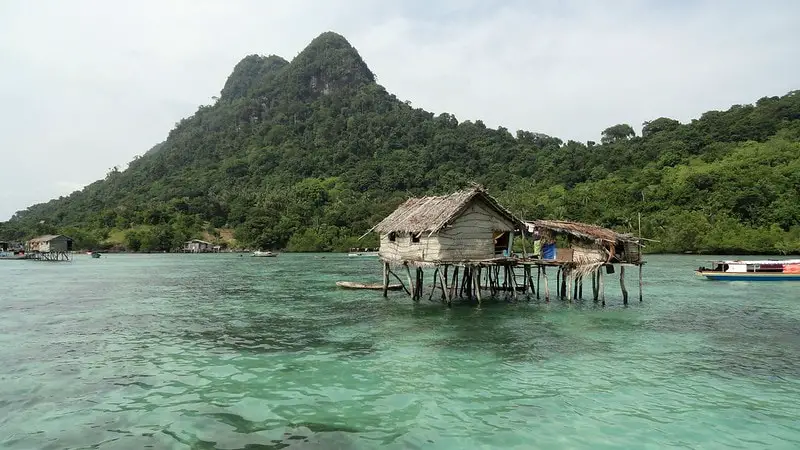 Photo by Fabio Achilli on Flickr
Whether you're a beach lover, a scuba diving enthusiast or perhaps an adventure seeker, a trip to Semporna can never go wrong. Nestled in the southeastern corner of Sabah, Semporna, which is a Malay word for "perfect" is also known by many as Malaysia's very own Maldives.; this is the part of Malaysia you should visit if you're expecting to get a glimpse of exotic marine life and coral reefs growing beautifully beneath the crystal-clear waters.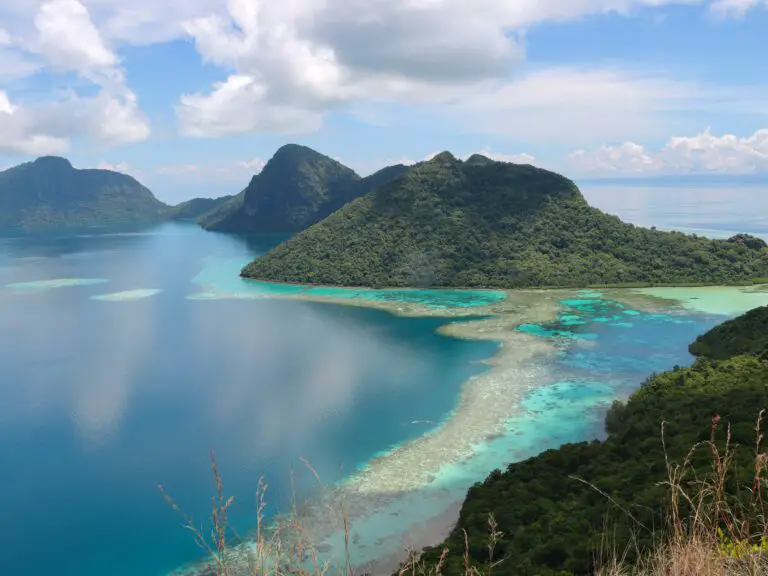 Apart from its beautiful surroundings and jaw-dropping mother nature, this coastal town also boasts a vibrant cultural scene with unique local traditions and tantalising culinary delights waiting to turn your trip into one of a kind. So, what exactly can you do here and where are the best places to stay in Semporna? Continue reading below to discover them all.
Where to Stay in Semporna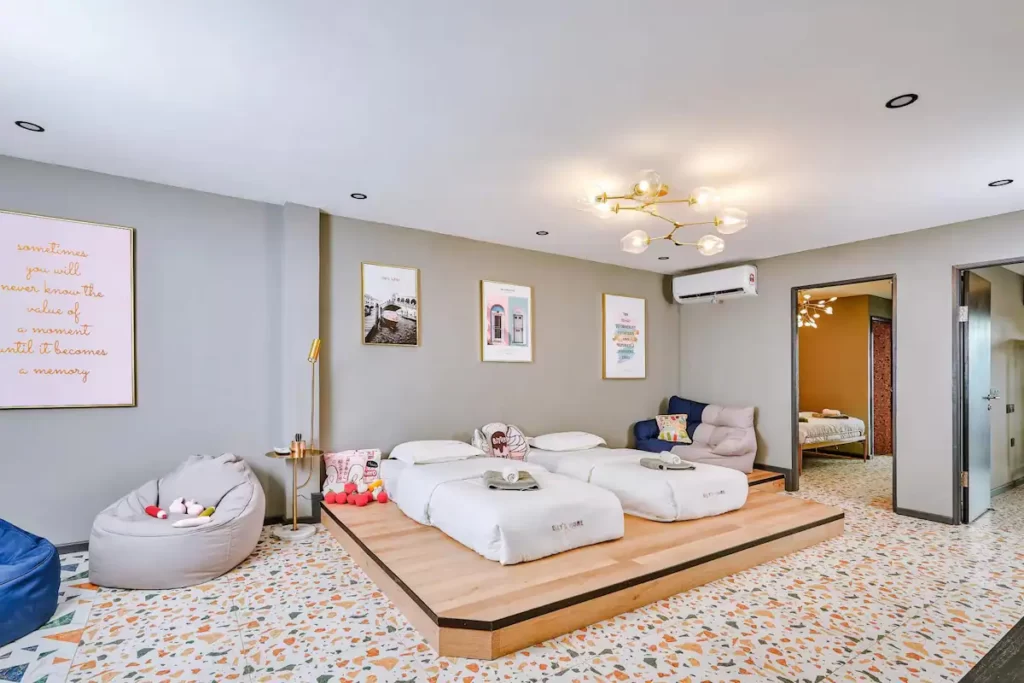 If you're looking for an amazing place to stay in Semporna that offers comfort, convenience, and a home-away-from-home atmosphere, look no further than Elly's Home. Located in the heart of the town, this homestay is perfect for those travelling in groups.
Boasting two bedrooms, two living rooms, a fully-equipped kitchen and two bathrooms, Elly's Home can accommodate up to six adults at one time. The entire place is also beautifully decorated, with soft pink and greyish beige tones creating a warm and inviting atmosphere. 
However, what truly sets Elly's Home apart from other accommodation is its convenient location. By staying the night here, you'll be just a few minutes away from the pier, restaurants, shops, and other attractions around the area. 
Looking for a unique and unforgettable place to stay? If so, then go ahead and book yourself a room at the five-star diving resort, Seaventures Dive Rig.
From what was once an oil rig, this place has been amazingly transformed into a luxurious diving resort that offers its guests with not only comfy and well-appointed rooms, but also stunning ocean views–the resort is located right in the middle of the Celeb Sea, facing the wondrous Mabul Island.
Aside from the decent accommodation, Seaventures Dive Rig also offers guests a range of world-class diving experiences. As the rig is located in the middle of the ocean, divers can enjoy easy access to some of the best dive sites in the region.
The rig even has its own diving platform, allowing guests to hop in the water and start exploring right away. Don't worry if scuba diving is not really your cup of tea since this place also offers a few other water activities such as snorkelling and kayaking!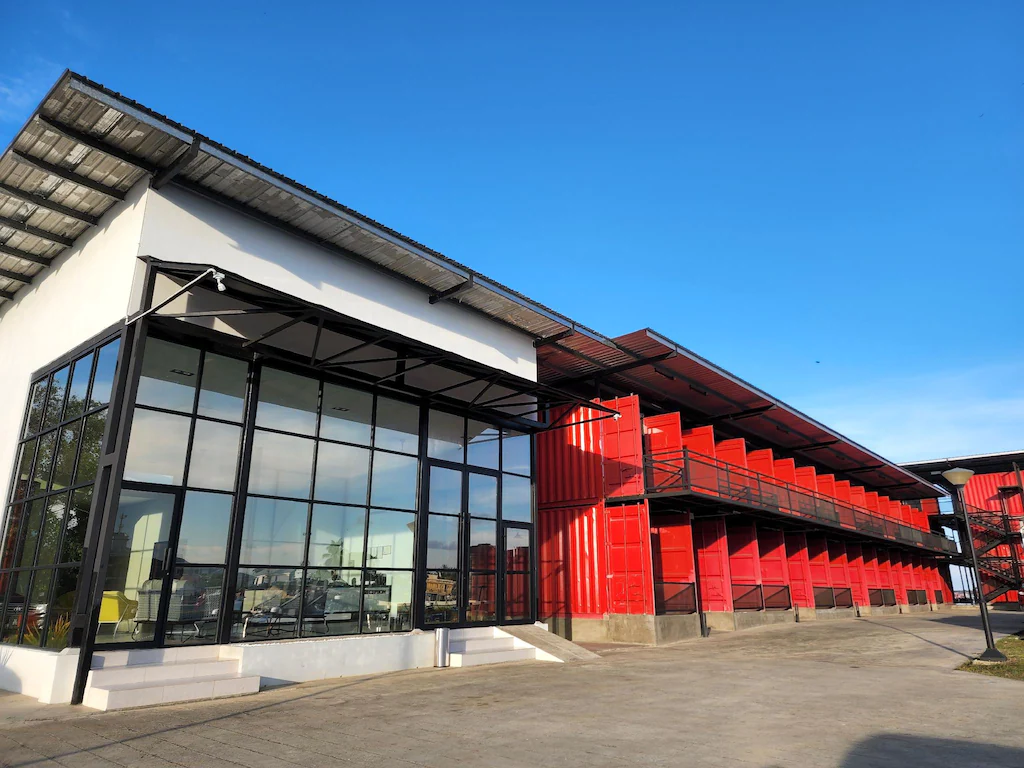 Those who prefer a rather chic and modern accommodation can never go wrong with Semporna Seaview Hotel. Located on Jalan Kastam, this container-concept accommodation offers cosy rooms complete with all the modern amenities and pleasing-to-the-eyes views of the sea dotted with several boats docked by the jetty. Apart from the excellent facilities, guests can also enjoy the hotel's very own restaurant which typically serves tasty local cuisines.
Apart from the excellent facilities and welcoming ambience, Semporna Seaview Hotel's strategic location is also one of its main draws. With easy access to the jetty and a few shops and restaurants, you can easily explore the best of Semporna just by walking.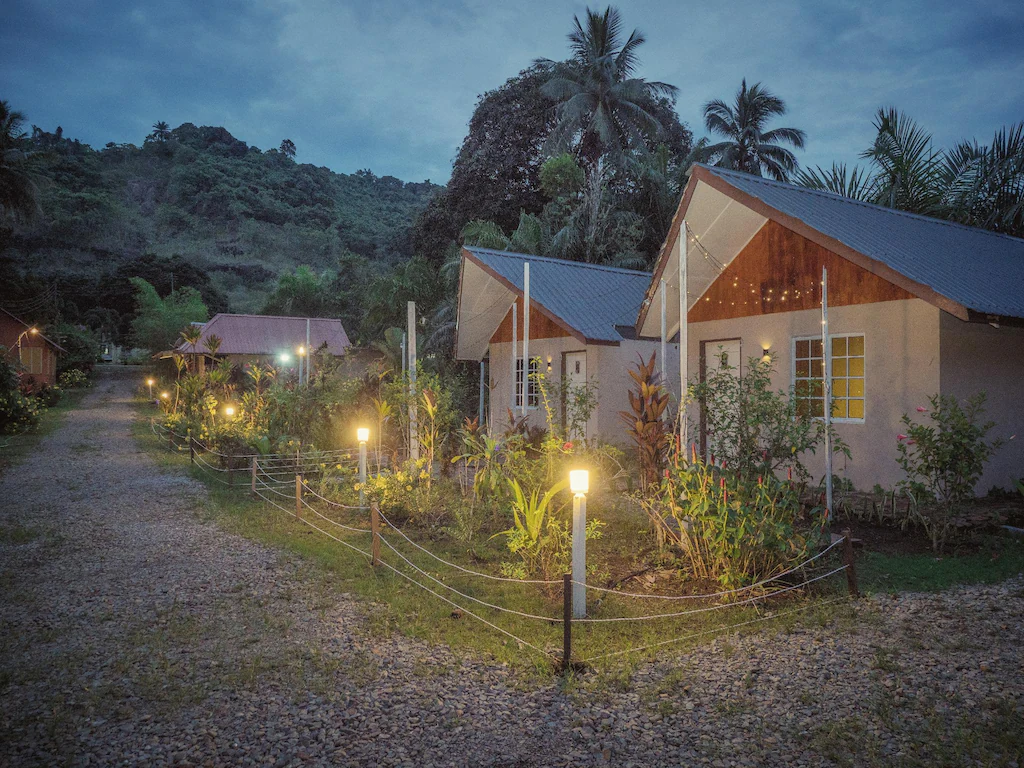 Planning to book a place a tiny bit further than the noises of the town centre? If so, then go ahead and check out Timba Garden, a unique accommodation that promises its guests a peaceful and relaxing stay in a serene garden setting.
Though this place has a rather rustic look on the outside, the rooms at Timba Garden are well equipped with both modern amenities and private balconies where you can sit around and get a whiff of the fresh air. Despite being surrounded by lush nature, you'll also get a strong WiFi connection here!
What's best is that the owners of this place also provide free transportation for you to commute to and from the town centre or the jetty. Do keep in mind, however, that because of its location in the middle of the lush greenery, you might get a few mosquito bites here and there, so be sure to bring your mosquito repellent with you.
Scuba diving is undoubtedly the most popular activity in Semporna, and for a very good reason. With its crystal clear waters, vibrant marine life, and stunning coral reefs, Semporna is definitely a diver's paradise. Whether you're a beginner or an experienced diver, there are plenty of sites to explore which are best known for their incredible visibility, diverse marine life, and stunning coral formations.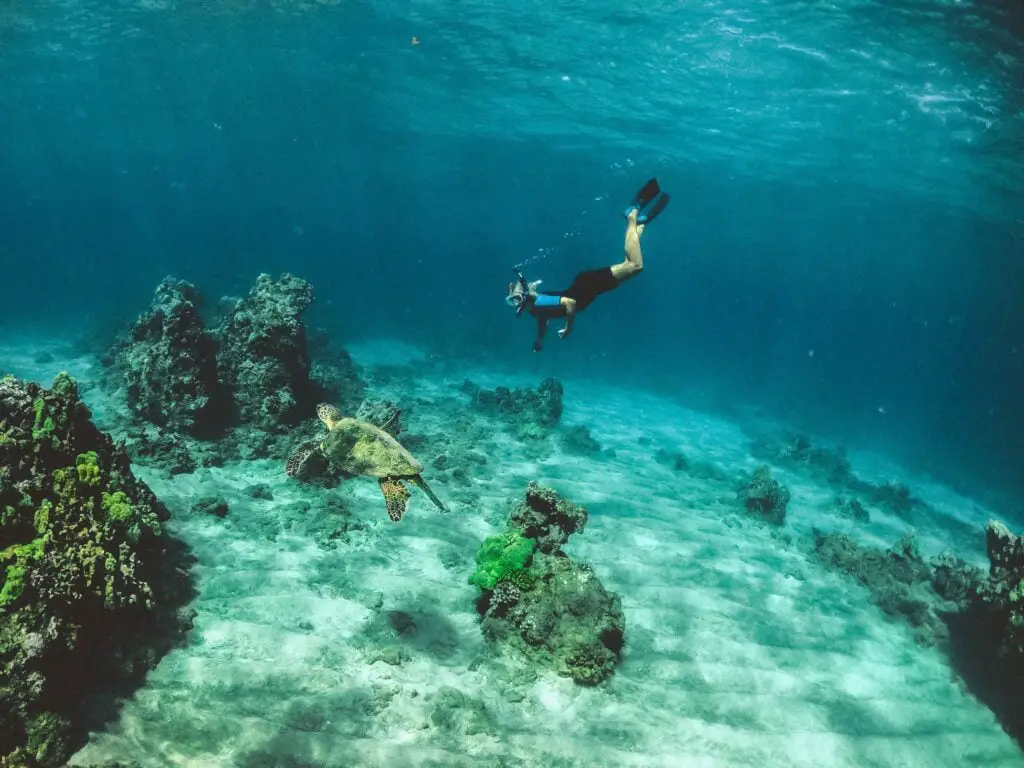 Sipadan Island, for instance, is one of the best dive sites that you should never miss whenever you're in Sabah. Located just off the coast of Semporna, this small island is surrounded by deep waters and is home to an incredible variety of marine life, including hammerhead sharks, hawksbill turtles, and impressive schools of barracuda.
Other popular dive sites include the underwater cave system at Sipadan Turtle Tomb and the stunning coral garden at Mabul Water Bungalows. As for those who have never gone scuba diving before, Semporna also has an array of diving courses that you can sign up for or you can also go for a sea walking experience.
Not planning on getting a diving license nor are you a fan of sea walking? Don't fret as Semporna is also a great destination for avid snorkelers. There are plenty of coral reefs and unique marine life to be explored just a few metres below the surface with Sibuan Island, Kapalai Island, and Mabul Island being some of the best sites for you to enjoy a few hours of snorkelling trips.
Snorkelling equipment can also be rented easily and there are an array of tour operations in Semporna offering attractive snorkelling packages fit for all levels of experience.
While Semporna is popularly known for its underwater attractions and activities, this part of Sabah is also surrounded by lush tropical rainforest that offers an array of opportunities for hiking and trekking. The Tun Sakaran Marine park, for one, is surely a location that you should not miss especially if you're an outdoors enthusiast.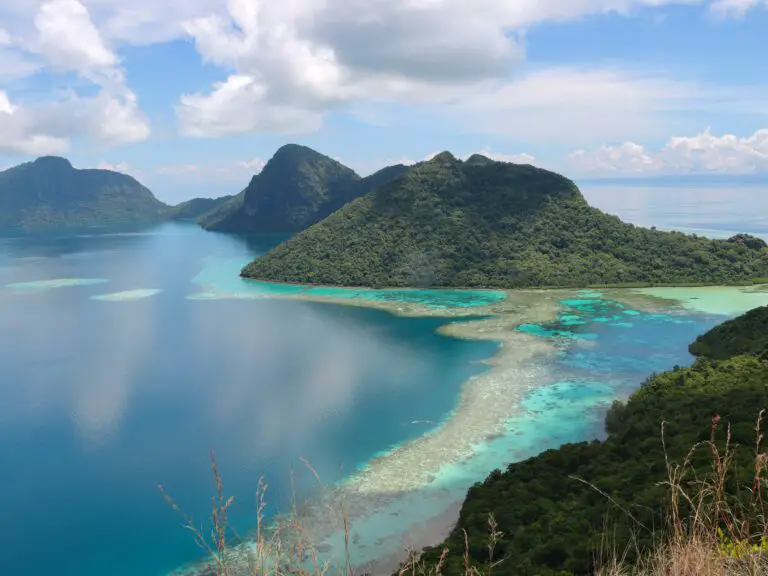 The park features a great number of trails, each leading to breathtaking viewpoints and amazing waterfalls. While hiking through the trails, travellers can expect to witness a diverse range of flora and fauna, including a variety of rare species of birds and monkeys. 
Another favourite spot for hikers and trekkers alike is none other than the Bukit Tengkorak Jungle Reserve which also features several well-marked trails perfect for hikers of different levels–from beginners to intermediate and experts.
Leading through the dense jungle, hikers will be given the opportunity to not only enjoy the sounds of nature, but also to witness various wildlife roaming about in their natural habitat.
Visit Teck Guan Cocoa Museum
If you're looking for an informative yet fun activity that does not involve the water, then consider adding a visit to Teck Guan Cocoa Museum to your itinerary.
Located in Tawau, this museum is dedicated to the history and cultivation of cocoa, which is the fourth largest agricultural crop in Sabah. Here, visitors can learn all about the different types of cocoa, their planting process, and the production of chocolate.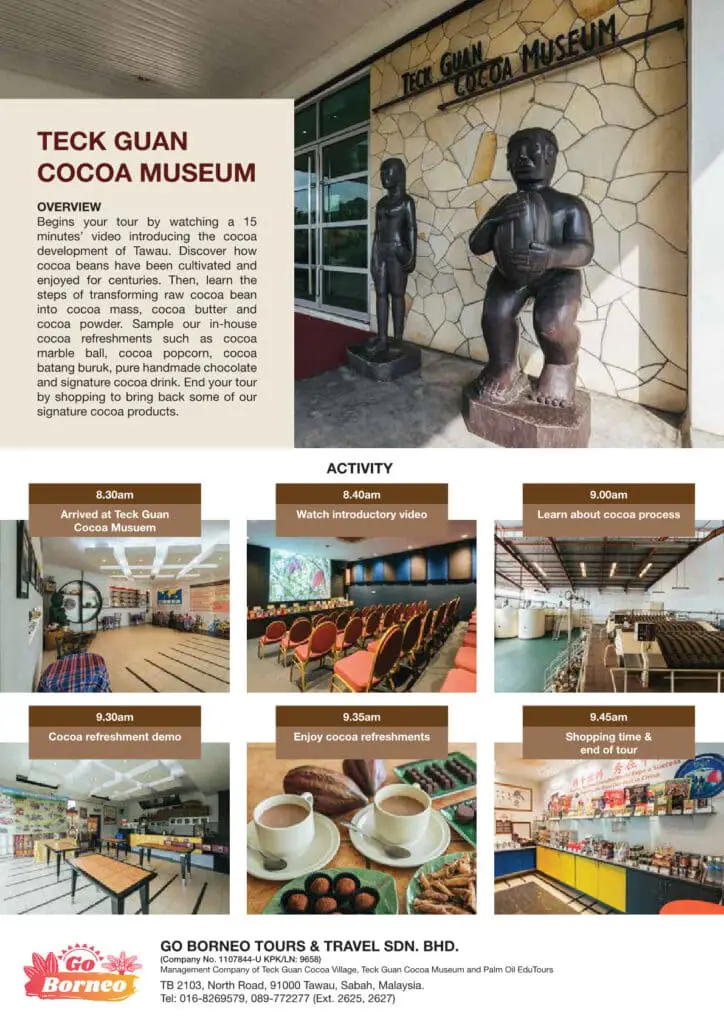 Image source: sabahtourism.com
One of the highlights of the museum is, of course, a chance to sample some of the delicious cocoa refreshments made from the locally grown cocoa such as the cocoa popcorn, marble ball, cocoa drink, and cocoa batang buruk (a type of traditional Malaysian dessert).
The museum also features interactive exhibits that allow you to experience the sights, sounds, and smells of a cocoa plantation!
Can't get enough of the non-water activities around Semporna? If so, then you might want to spend some time wandering around Tawau, the third-largest city in Sabah best known for its lively markets, historical landmarks, and vibrant culinary scene–Tawau can also be a perfect destination for foodies out there as the city boasts a variety of eateries, cafes, and street foods.
Since Sabah is popular for seafood, don't miss to dine in a few seafood restaurants scattered throughout Tawau which offer some of the freshest and tastiest seafood dishes in the region, from grilled fish to butter prawns and chilli crabs.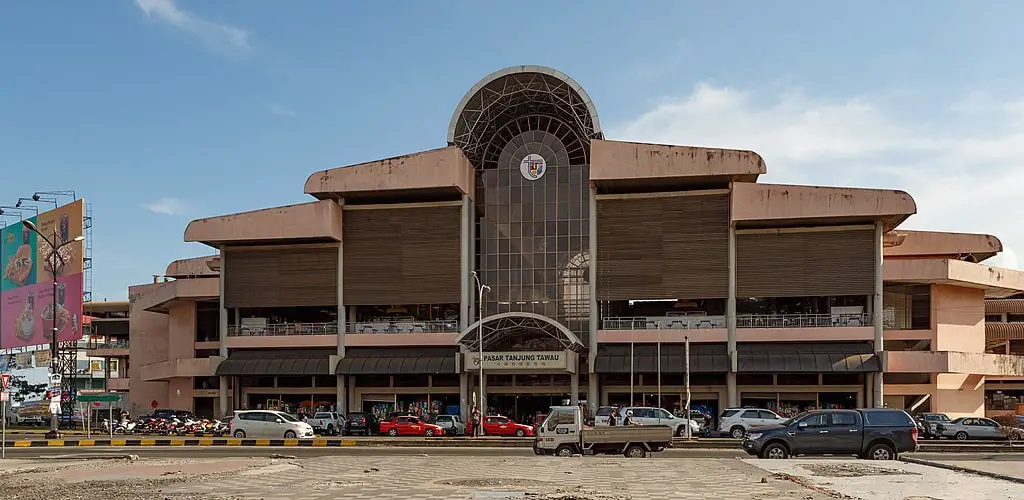 One of the must-visit destinations in the city, however, is the Tawau Tanjung Market which many claim to be the largest indoor market in Malaysia.
Here, you can find a wide variety of goods ranging from local fruits to fresh vegetables, spices, dried seafood (which Tawau is popular for), and unique handicrafts that could be brought home as souvenirs. Of course, don't forget to sharpen your haggling skills before coming here!
Semporna is indeed a tropical paradise filled with an abundance of exciting activities and unique experiences. From world-class diving sites to stunning island hopping trips, challenging hiking trails and a bustling market, there is always something for everyone in Semporna. 
| Activities in Semporna | Book on Klook |
| --- | --- |
| Semporna Island Snorkeling Experience | |
| Scuba Diving in Semporna Island | |
| Sea Walking Experience in Semporna | |