Going out of the house and embarking on a journey to a relaxing nature retreat can never be wrong for anyone, especially when you're living in the middle of the buzzing city.
But, whenever we're speaking of a short nature retreat, one could not help but to immediately think about either the serene village of Janda Baik, Cameron Highlands—especially for those who prefer a colder atmosphere—or perhaps Ipoh where they can find a secluded resort surrounded by rolling hills and lush greenery.
Not so many, however, are aware of Sungai Klah Hot Spring, another one of Malaysia's gems that can easily provide you with almost everything you need for a quick weekend getaway!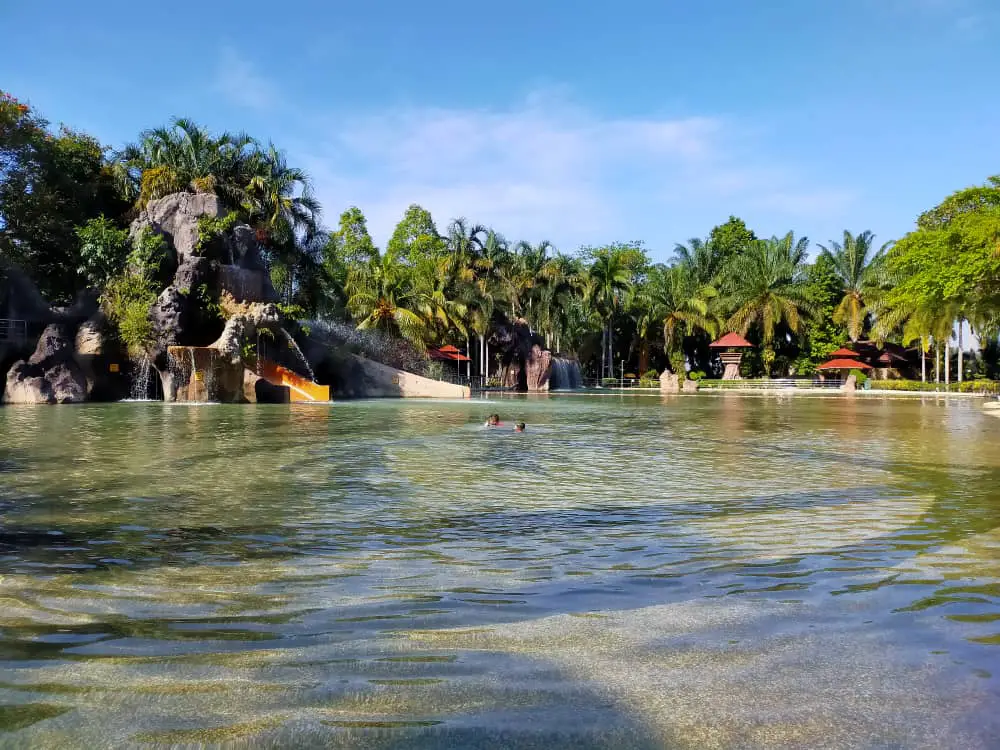 Operating every day from 8 am until 6 pm, this relaxing park is widely considered as one of the best managed hot spring parks in Malaysia since 2003.
Located slightly under two hours drive from Kuala Lumpur, the hot spring park can be found in Sungkai and right on the foothills of the Banjaran Titiwangsa which is the backbone range of Peninsular Malaysia—so it is not a surprise that you'll be surrounded by rich mother nature as soon as you arrive here.
But, of course, what can you actually expect from this hot spring park? Continue scrolling below to find out more including some of the best places to eat and stay the night.
What to Expect at Sungai Klah Hot Spring
Sungai Klah Hot Spring Entrance Fee Ticket: RM 15 per adult; RM 12 per child; RM 8 per senior citizen.
This six-acre hot spring park is not only a great place to unwind for adults, but also kids! However, do keep in mind that you are not allowed to bring outside food and drinks into the park. But, don't worry, as you can find a few stalls inside selling several kinds of snacks and drinks to keep your stomach from grumbling.
For those who are travelling with your little ones, be sure to make a stop by the vibrant-coloured wading pool several steps away from the main entrance. You'll know you're at the right spot the moment you see a set of playground and slides in the shape of a ship.
This area is also surrounded by a few trees, so you don't have to worry about your children getting exposed directly to the sun!

While you can find various pools around the park each with different temperatures ranging between 50 and 110 degree celcius, you can also find a stall nearby that sells raw eggs. These eggs can then be boiled in the hot spring—be careful not to dip your hands into the boiling water if you wish to not burn your skin!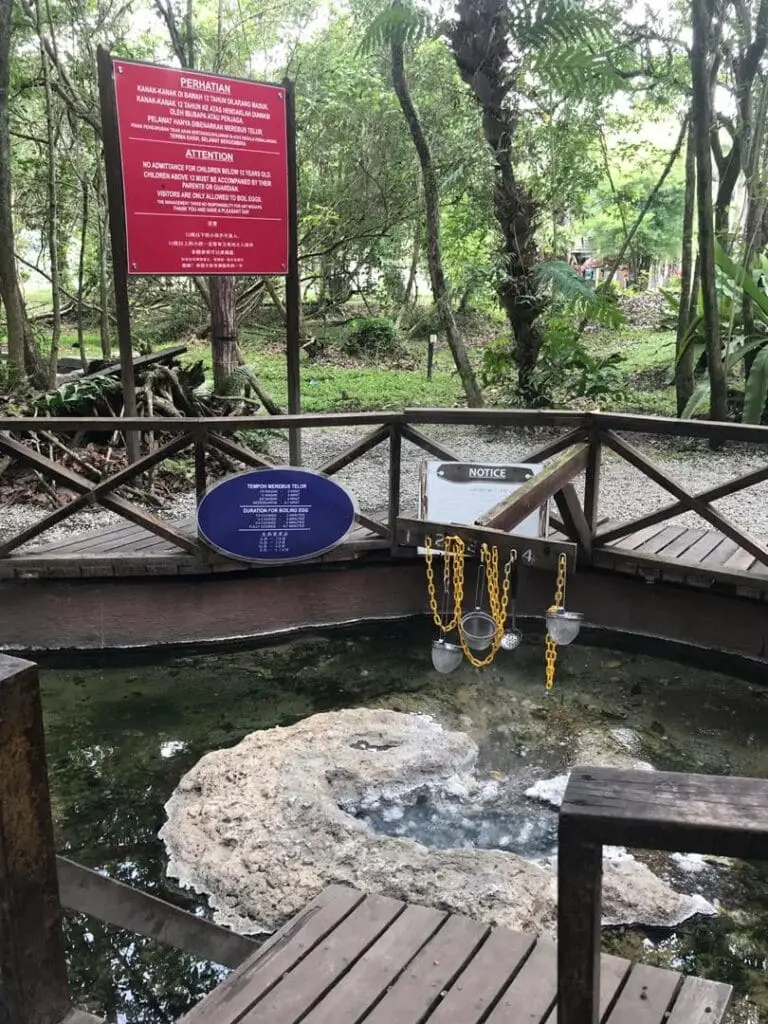 Make use of the net strainer prepared by the spring and boil your eggs to perfection; those who love runny eggs can dip them for only a couple of minutes while those who prefer hard-boiled can leave the eggs for at least six to seven minutes.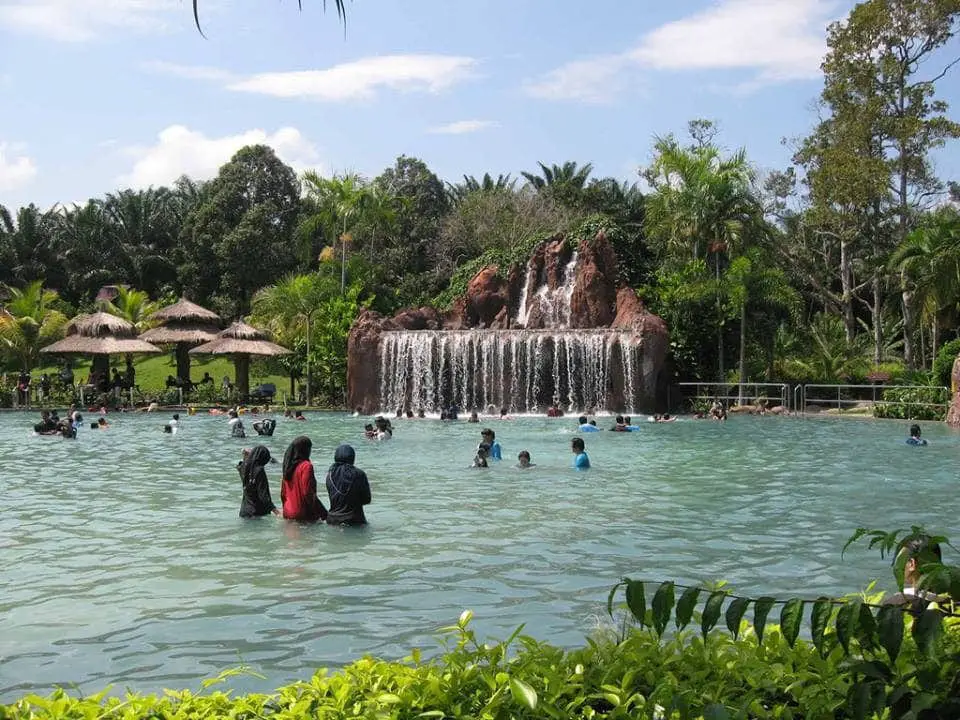 The main highlight of this park is none other than the main pool which is absolutely family friendly. The depths of this pool are great for both adults and children, but do make sure to keep an eye at the depth marker to ensure your little ones are safe at all times!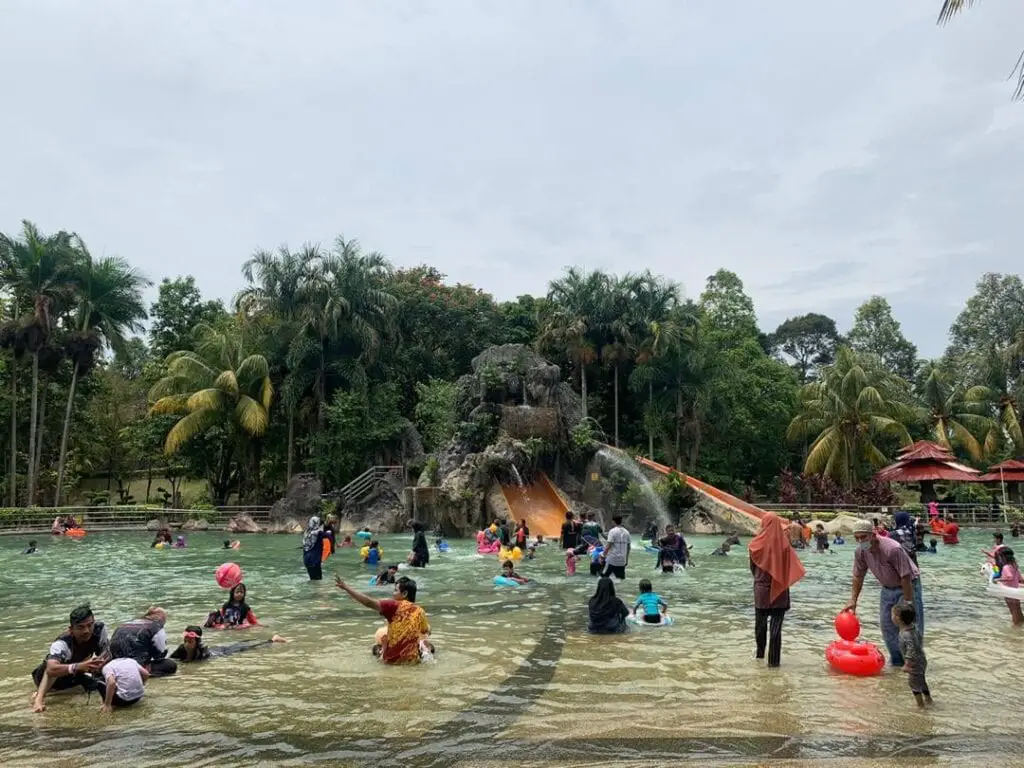 Other than having an ample space for everyone to have fun, this pool has a rather greenish water with a beautiful backdrop of mountains and lush greenery. You can also take a dip comfortably as the pool water is drawn from the natural springs from the mountains, so you can expect to enjoy a cold yet refreshing temperature.
What's best about this part of the park is that you can find two slides suitable for both adults and children along with a man-made waterfall that can give you a quick shoulder massage!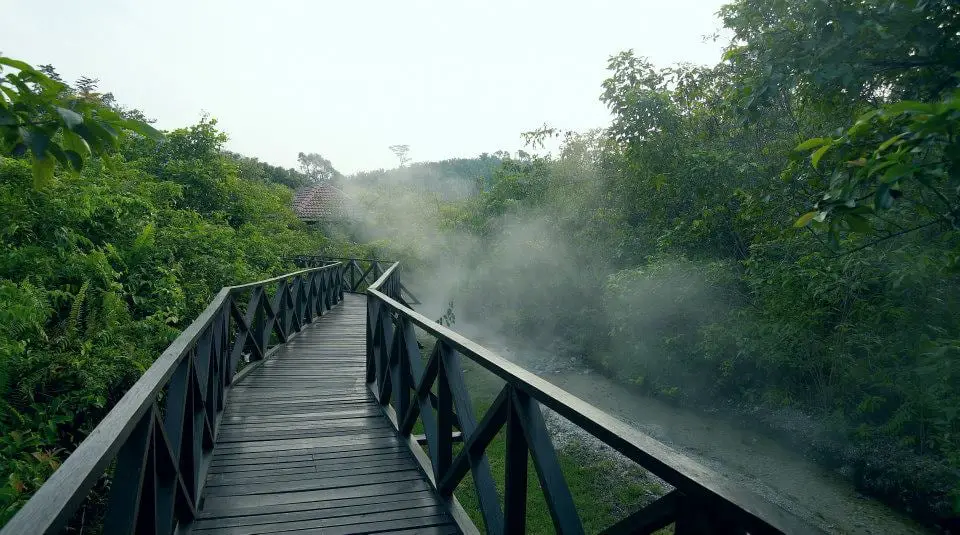 Legend has it that hot springs have the ability to miraculously cure or at least soothe various kinds of physical discomfort and injuries. If you're curious to try and see if there's any truth in that, go ahead and dip your feet into one of the pools at the therapeutic park.
These pools have different temperatures, so pick one that suits your liking. This part of the park is typically a favourite among senior citizens as they can easily enjoy a few hours of relaxation and peace under the shades. 
Where to Stay in Sungai Klah Hot Spring
Felda Residence Hot Spring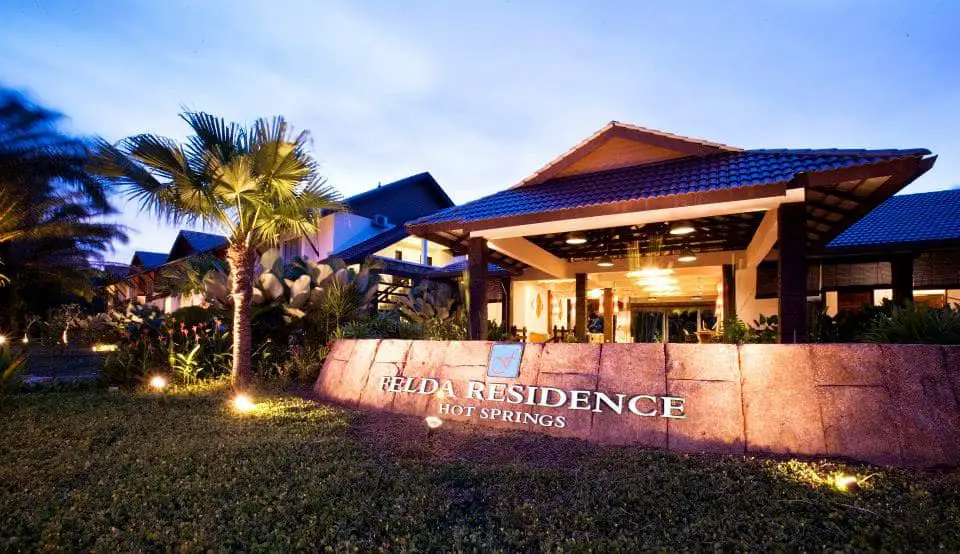 If you're planning to stay the night, you can go ahead and book a villa within the hot spring park itself. At Felda Residence Hot Spring, you can get an accommodation that can fit up to six adults at once.
Not only is the place pristine and comfy, but it is also beautifully adorned, making you feel as if you're on a short vacation in Bali!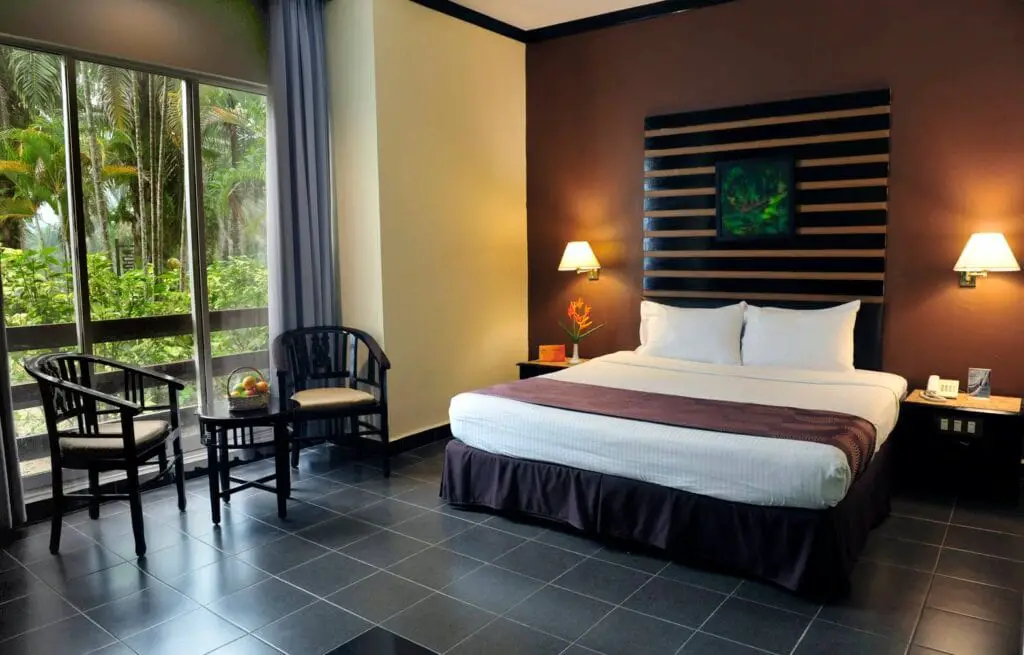 You'll gain access to your very own private jacuzzi complete with a pergola and surrounded by nothing but serene mother nature. This place also features a meeting hall for those who are planning for group activities.
Here's a short introduction video about Felda Residence Hot Spring below.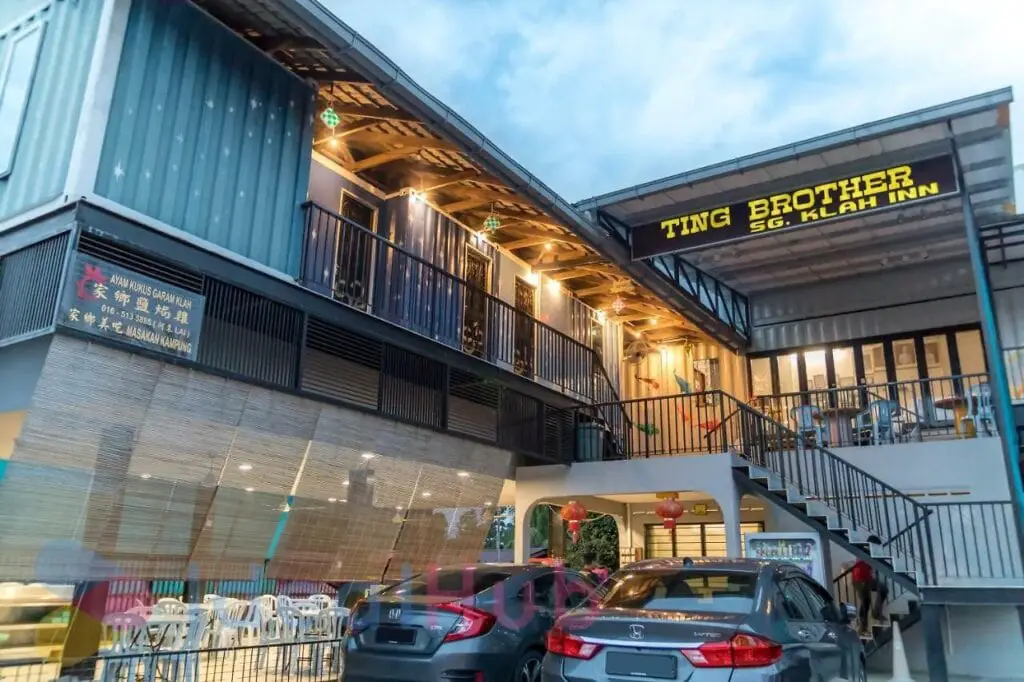 If you're searching for a place with a more rustic ambience, then you can never go wrong with Ting Brother Sg Klah Inn. Located approximately three kilometres away from the hot springs, this quaint accommodation is made out of recycled shipping containers!
However, don't be fooled by its simple exterior design as each room is filled with modern amenities and they even feature a massive all-glass window pane so that you can soak in all those amazing views of mother nature.
If you're feeling adventurous, feel free to contact them and arrange for a jungle trekking session where you'll be spending your day going through the lush forest and crossing the pristine streams of river.
Where to Eat in Sungai Klah Hot Spring
Spending a few hours outdoors calls for a great and satisfying meal. Before heading back to the city or your hotel rooms, for those who plan to stay the night, be sure to drop by Nasi Bamboo Sungai Klah in Kampung Buloh Telor. Taking a step into this simple Malay restaurant, you'll surely be greeted with all kinds of aroma that can immediately make you drool.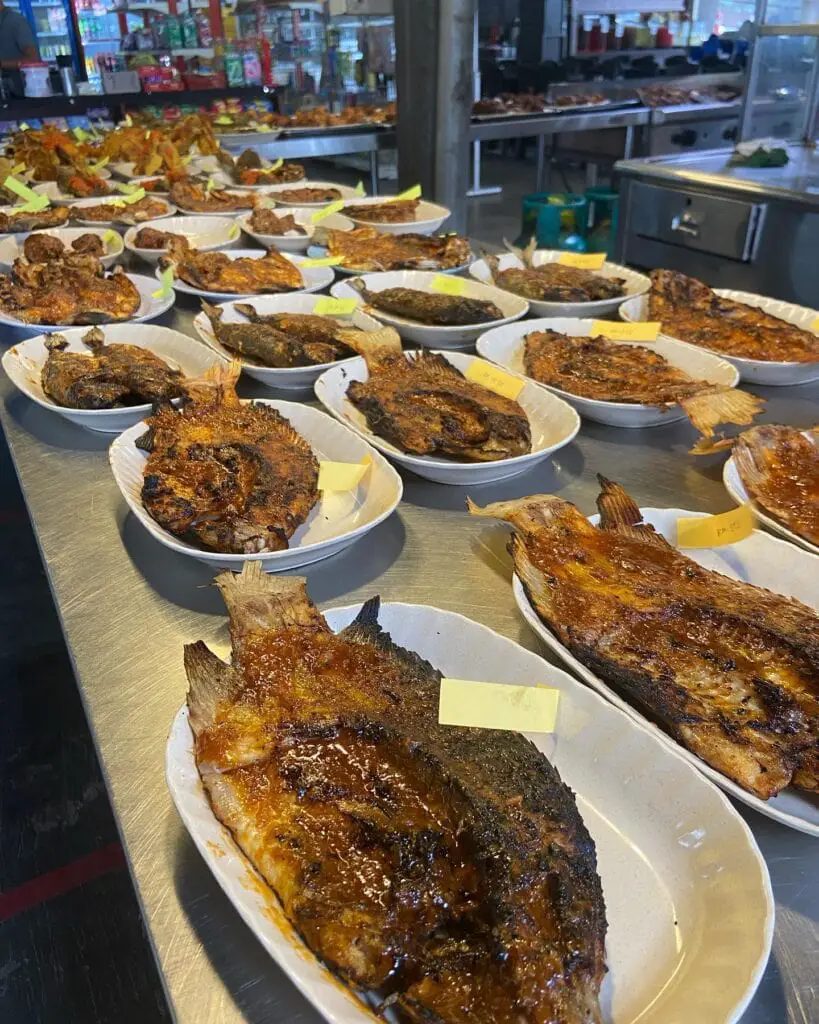 Those who have an undying love for grilled fish or ikan bakar, can straight away head to the grilled dish section and pick your favourites—from stingrays to catfish, tilapia, and sea bass.
Gulai Kawah, Sup Tulang, and Masak Lemak Cili Api are also some of the local favourites that can go well with your bamboo rice, so don't leave this place without trying them!
If you're one of those who are brave enough to try something unusual, make your way straight to Mus Tom Yam on Jalan Sungkai. This eatery might look rather simple, but don't be surprised if you get blown away by its delicacies served here.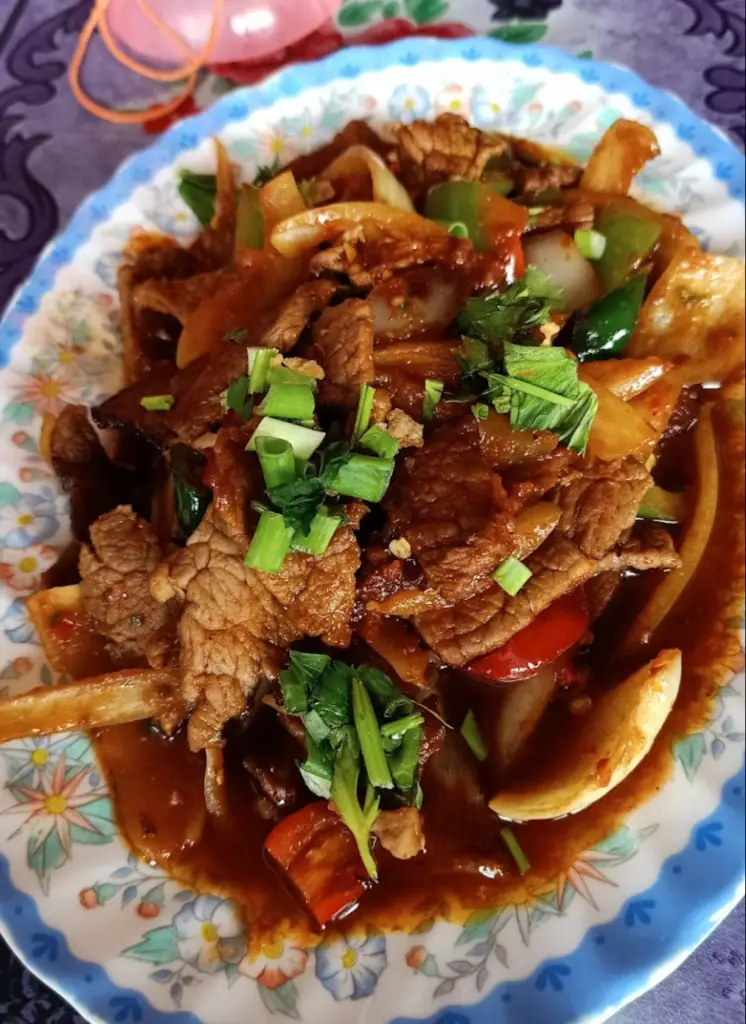 Image source: Google Maps
While some would stick to ordering the typical Malay and Thai-inspired dishes, many would prefer to try out their signature dish which is the ostrich soup. It is said that the ostrich meat will completely melt in your mouth as soon as you take a bite! Those who have never tasted deer meat before can also do so here.
After all those heavy meals, it is a must to stop by for some sweet desserts. Just as its name suggests, you can find a variety of cendol here to quench your thirst. The creamy taste of the coconut milk combined with some gula melaka and topped with the silky smooth cendol will surely leave you wanting for more.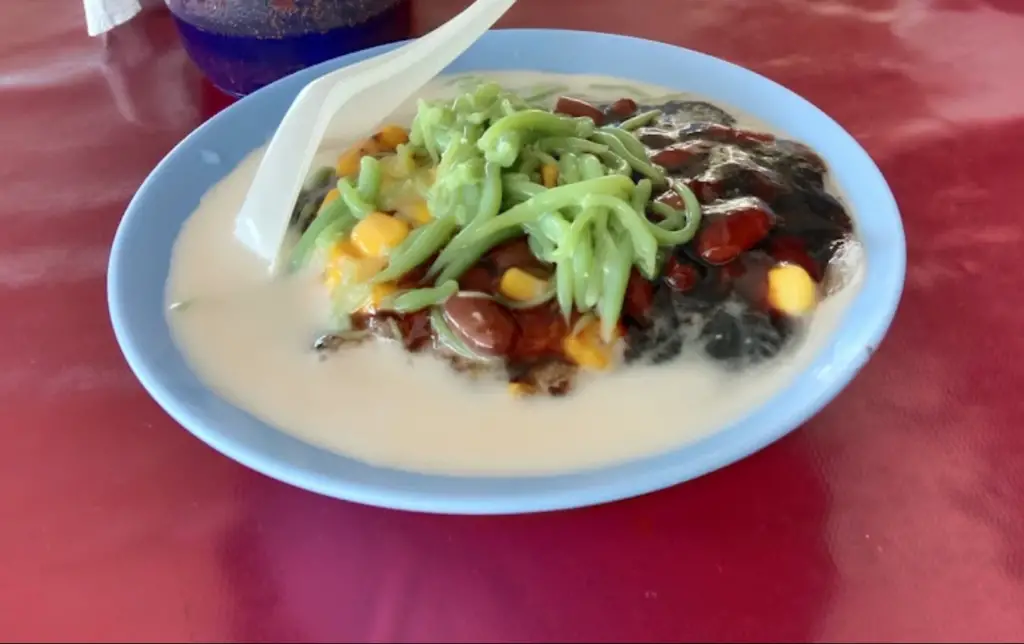 Image source: Google Maps
Those who love nutty flavours can go with Cendol Kacang, but if you're not a fan of that, go ahead with either their classic Cendol Pulut or Cendol Jagung. If you do have more space in your stomach for some food, this simple eatery also has curry mee and laksa available.
Although Sungai Klah Hot Spring might not be the number one destination in Malaysia, a visit to this nature retreat at least once is definitely worth it! 
After spending several relaxing hours dipping in the hot springs, you can stay the night at one of the few accommodations scattered around the park or continue your road trip to Ipoh which is less than a kilometre away.