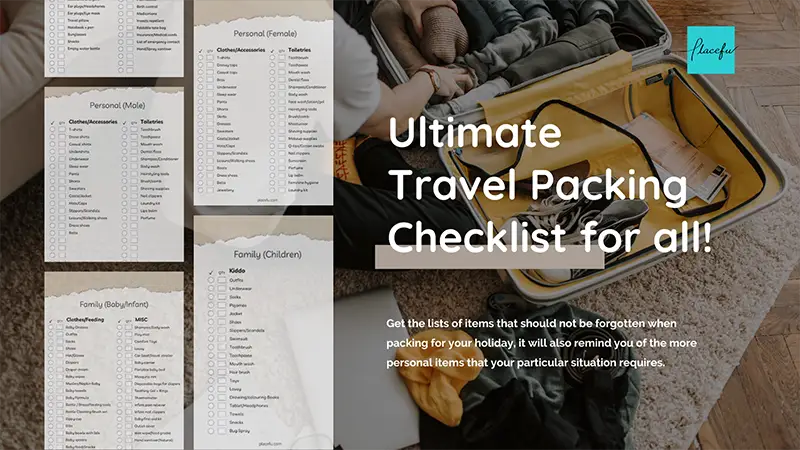 Obviously, the exact items from the travel packing list for each individual can depend on various factors, but there are some common items which just should not be forgotten, and this article look at just that, and by providing lists of packing items that should not be forgotten, it will also remind you of the more personal items that your particular situation requires.
Before I move on to more targeted packing lists, one general tip is of the utmost importance. Always take a complete change of clothing in your carry on bag, especially if your journey involves changing flights (where there is a greater chance of your main bag going astray). This can be a lifesaver and can make life more pleasant if a bag is lost or delayed.
The travel packing checklists PDF are downloadable and printable, simply just create an account to sign in to download for free! Let's move on to more specific lists and tips for different kinds of travellers. 
Travel Packing Checklists
Personal Packing List for Male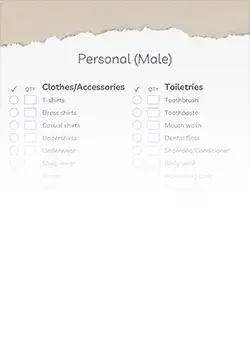 *Access to download is restricted to site members only.
Guys tend to be a little disorganize when it comes to packing. They frequently will pack just hours before they are due to leave and then scramble to gather together a random choice of items that comes to mind as they pack. Often this leads to essential items being forgotten and a degree of inconvenience during the trip.
A more organize approach does not necessary mean taking more. It means taking what you need and leaving the ill thought out items at home.
Finally, you should consider the type of bag you will use. Clearly there are different requirements for various kinds of trips. A trip to a city calls for a suitcase, whereas if there will be more walking on arrival, a rucksack may be more practical.
Personal Packing List for Female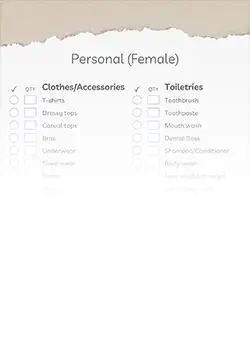 Women tend to be far more organize when it comes to packing, but there are still some tips that they may not be aware of. Of course the temperature of your destination will have an impact but one thing you should avoid is packing large amounts of denim (it's heavy and takes a lot of space).
There is also no need to pack a complete ensemble of clothes for every day. Choose items that can be mixed and matched, it will take a lot less space. Finally, there is no need to bring your entire toiletries bag. There is sure to be free stuff at the hotel, so save some space.
Shop our curated list of Travel Accessories
Disclosure: This post contains affiliate links. If you click these links to purchase the product we may earn a commission without extra cost to you. We carefully select the best and all products are shipped from the local by high rating seller.
Things to take note for the Senior / Elderly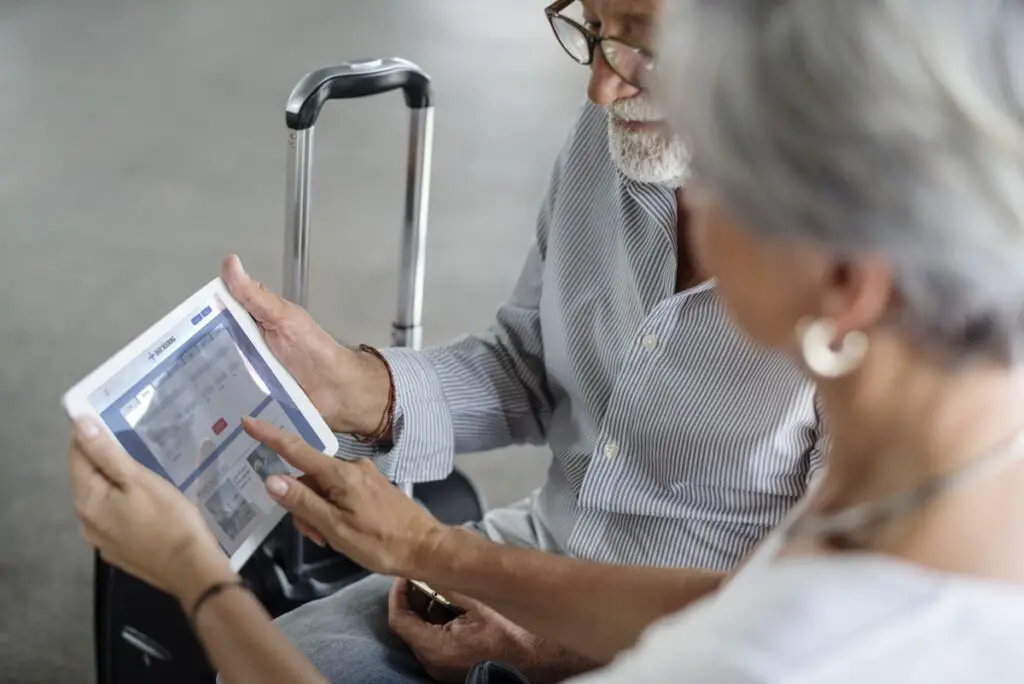 An extra item that seniors carry that can take a lot of space is the range of medications. To avoid having problems at customs make sure that the medications are in their original container and there is a doctor's prescription Only take a maximum of 90 days supply (or less) and you should have no trouble at the airport.
Here's the list of Health regulation for most common airlines in Malaysia:
It is wise to put medications in your hand luggage in case the checked bag is lost or delayed en-route With some medicines you may find that although commonly used in your home country, they are illegal in your destination. Take Japan, for example, some inhalers and sinus medications are illegal.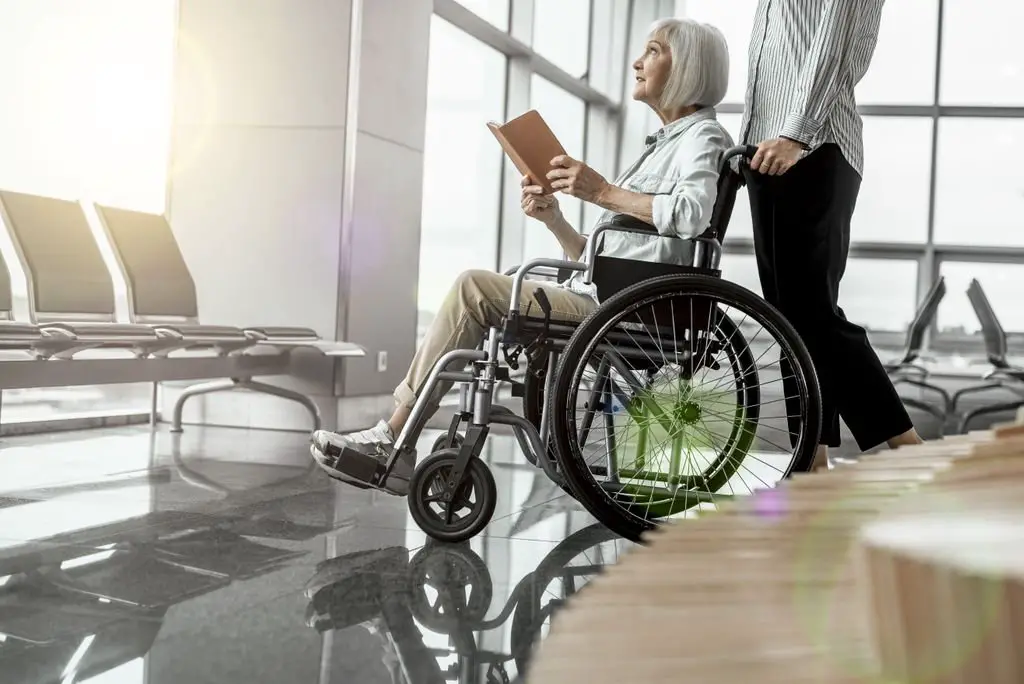 Finally, just a couple of notes on mobility aids. Airlines are required to carry wheelchairs free of charge. Walkers and canes will also be accommodated by the airline. Be sure to advise the airline of your mobility issues in advance so that any issues can be handled without delay.
Chances are, if a couple are travelling together, the woman will end up handling the packing. I am not saying this is right, but it is most commonly the way it goes.
If there are items you want to bring along, that both of you need, then these should be divided between the cases to balance out the baggage allowance. See the family section below to find out how you can share a baggage allowance.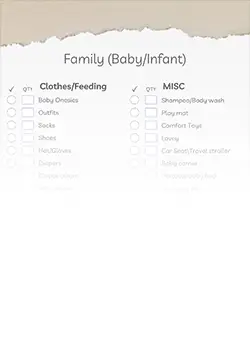 *Access to download is restricted to site members only.
Sharing a baggage allowance is allowed only when the people are on the same booking. You must be on the same flight, and have the same booking reference number. It typically does not matter if you are related, that booking reference in common is the thing that counts. Now obviously this opens great opportunities for your packing as some family members may need less than others.
Check with your airline on what their policy is and remember, whatever they say, it is ultimately going to be the check-in officer that is going to decide. If he has a bad day, who knows?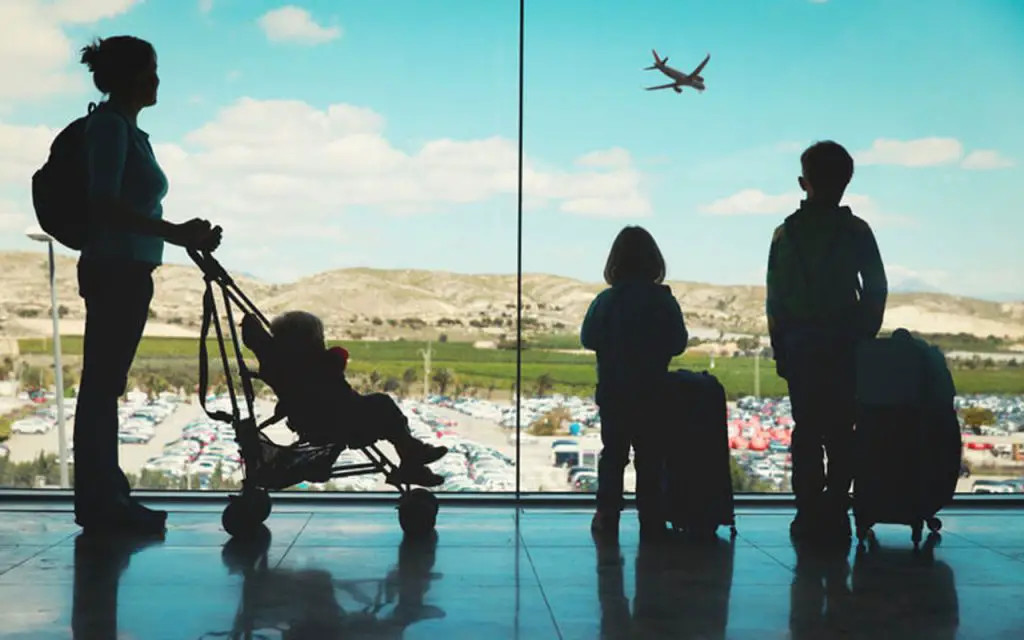 Hand luggage baggage allowances cannot be pooled officially but I cannot see how they can stop you packing some of your stuff an another family members hand luggage.
If you are flying with an infant, you can request a bassinet for a child under six months, but this must be done in advance and different airlines have their own policies. Philippines Airlines, for example, will only supply a bassinet for trips longer than three hours and only certain seats can accommodate them. You should discuss this with the airlines at the time of booking.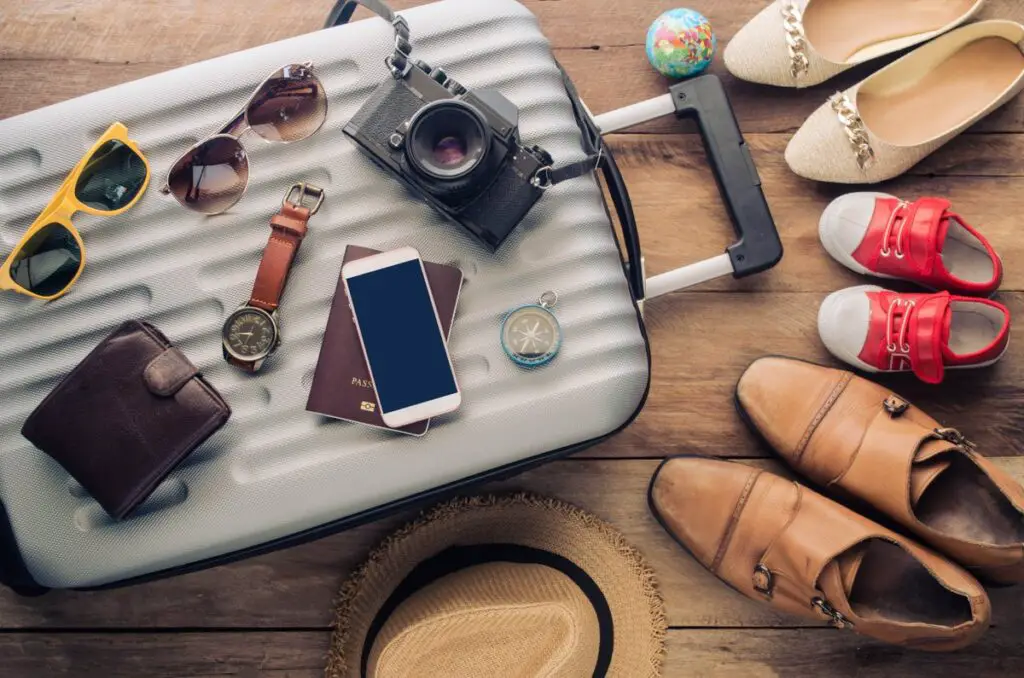 Packing for children who accompany you on a flight adds a whole new dimension to the packing process.
Where children have paid seats they have a baggage allowance of their own. Most airlines will allow both a stroller and car seat to be placed in the hold free of charge, in addition to your normal allowance.
Do check before flying in case a policy has changed. The stroller can normally be gate checked so you can keep it with you until you board. It may be a good idea to place the stroller in a padded stroller bag to protect it when you check it.
Bonus: Beach Vacation Packing List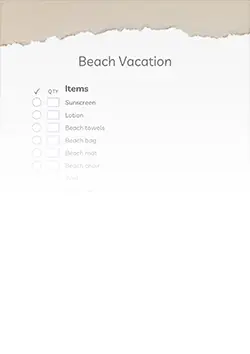 *Access to download is restricted to site members only.
Beach vacations add another new dimension to your packing requirements. There are so many extra opportunities for minor injuries, including sun burn and cuts and grazes. Consequently a first aid kit should be packed with appropriate items.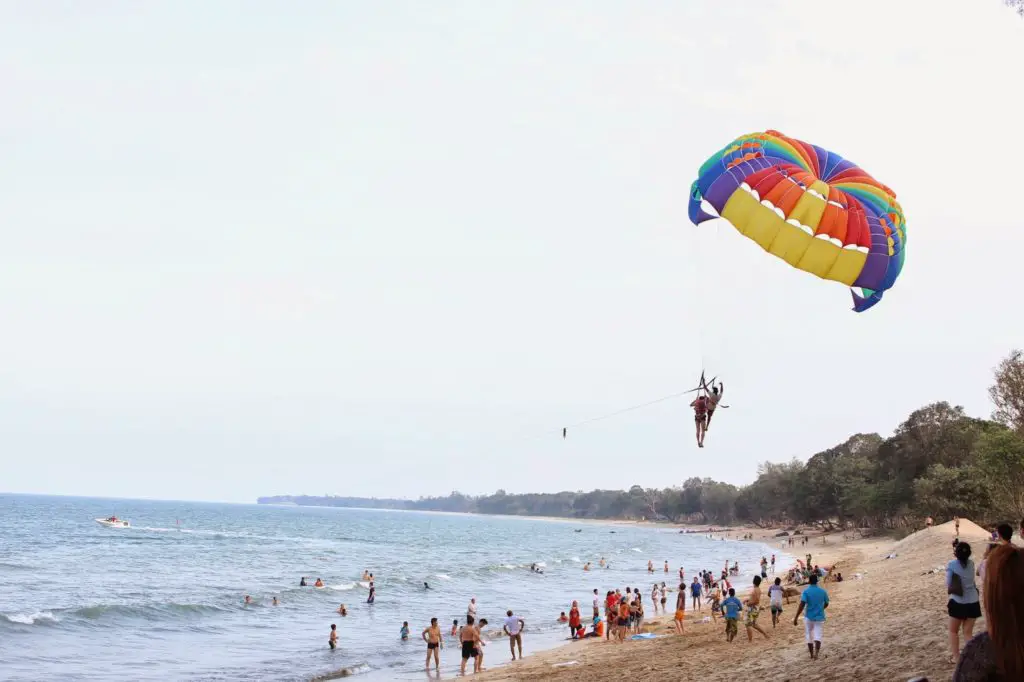 Of course, if you are going on a beach vacation, the need for lots of extra clothing will be reduced and this will free up space for first aid and beach necessities. It's a good idea to bring along more than one swimsuit so that one can be placed to dry while you wear the other one. Flip flops are also an indispensable accessory as are several t-shirts so that you can cover up to avoid burning.
Hope the travel packing list could help to remind you what to pack and things to buy for your up coming holiday. Have fun!