Sabah is well-known among Malaysians and international tourists for Kota Kinabalu, that much we cannot deny. 
However, our special guest today has brought an important fact to our attention – there is much more to Sabah than meets the eye, and we should all stop to smell the flowers once in a while.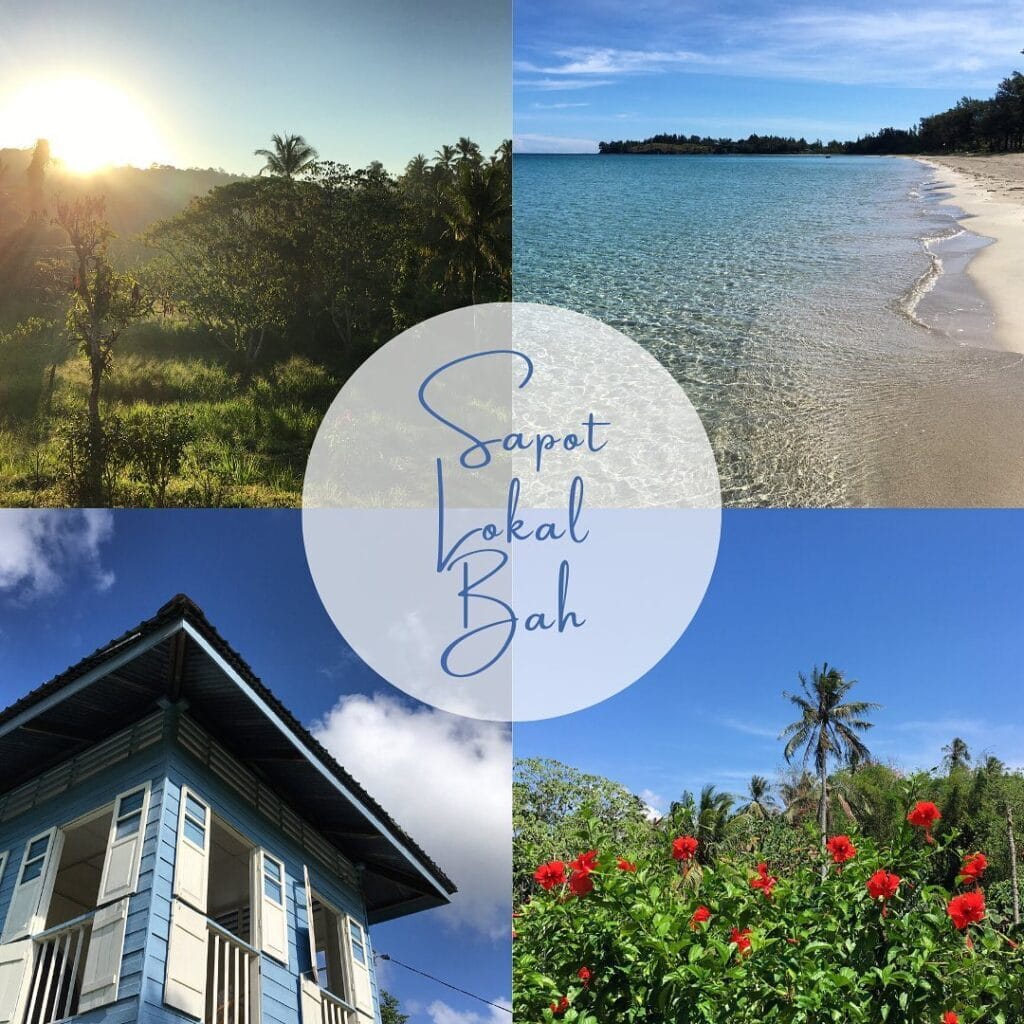 Well, this month we brought you a rustic Airbnb, ukkay Kudat. The guesthouse provides the perfect place and surroundings for you to do just that!A quick search on Google would show you a big and lovely wooden house, painted in the calmest shade of blue.
Surrounding this structure would be plenty of greens all around – enough for you to spot the beautiful sights of wildlife every now and then!
The style of ukkay would remind many of the traditional Malaysian kampung houses, but is that all that it is? 
Read our interview with the host Samantha to get an exclusive insight into the story of this cozy guesthouse!
Ukkay Kudat | Interview Q&A
1) Please tell us about yourself and how you became an Airbnb host.
For about 10 years, I was an underwater videographer. I was based at various beautiful island resorts in Sabah, Borneo and the Maldives, making underwater videos for Scuba diving guests. During my time off, I made sure to travel as I wanted to.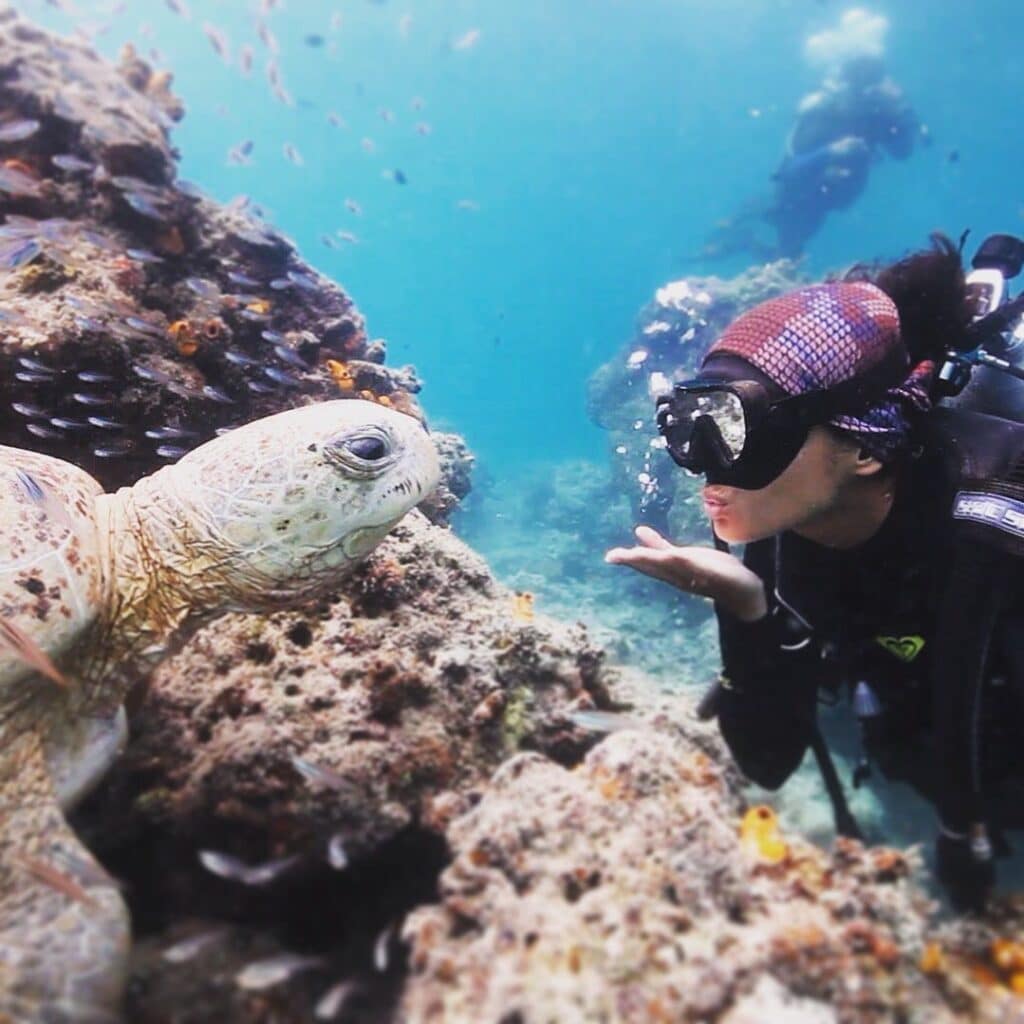 One day, I decided to take a year off just to travel. It was a huge solo overland trip; I travelled from Johor to Europe by train via the Trans Siberian railway.
In Europe, I stayed with Airbnb hosts; I was lucky to experience true local hospitality and see places that are off the beaten tourist path.
Among the many Airbnbs that I visited, a few hosts stood out; one runs an organic farm cum artist residency. Another restored a dilapidated house and barn, turning it into a guest house which hosts food weekends.
What these hosts had in common was the fact that they took their project one day at a time and did everything mindfully; They were living in the moment and enjoying every second of it. 
I loved their laid-back and chill-living lifestyle. I wanted to incorporate some of that into my life when I returned home.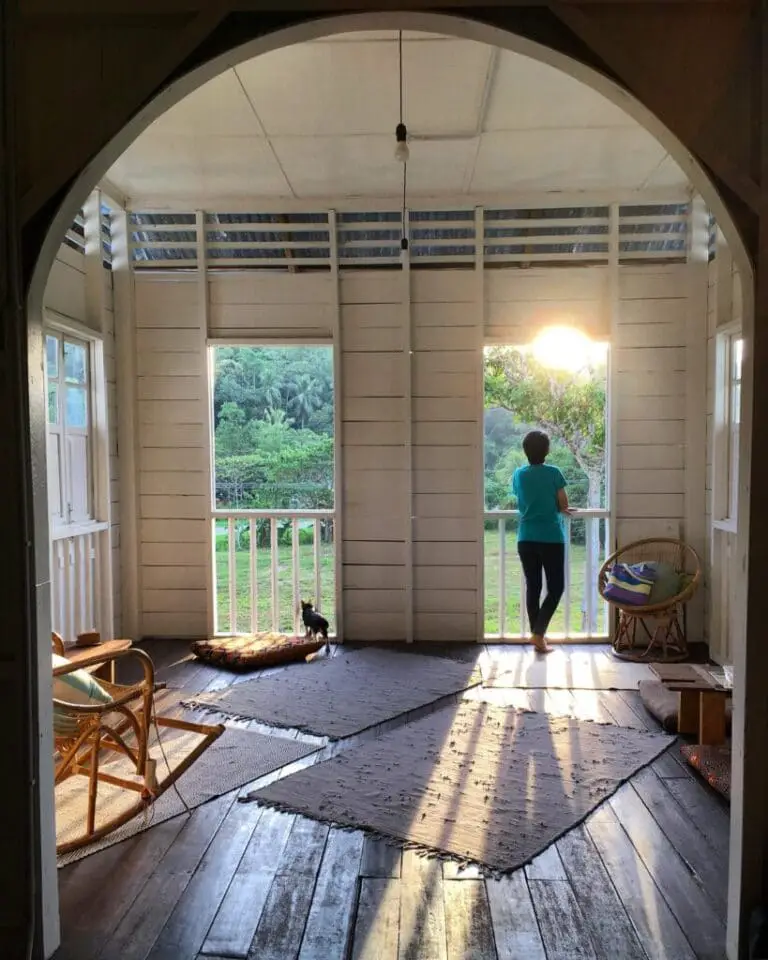 I believe that many are me in this fast-paced world, looking for a place to stop and smell the flowers.
Not everyone can turn this into a lifestyle, so I hoped that ukkay would be a place for a short respite to those who need to reset and rejuvenate.
2) What is the meaning behind the name of "ukkay", and what does your homestays theme represent?
When deciding a name for this place, I was sure that I wanted to call it "home". That was my vision – I wanted the place to be a home for myself, to my fellow travelers and to those seeking refuge and respite from the noise and busyness.
So, my sister and I looked into the native language of the Rungus tribe. "Valai" was the word for "home". Unfortunately, the word is already being used by a hotel at Kudat town centre. "So what about in Hakka?", we wondered, as there is a large Hakka Chinese community in Kudat. 
However, we didn't really like the sound of "ookkah" and it might give a wrong impression with the word sounding similar to "hookah". "Then, how about in Cantonese?". 
So, for the simple reason that I grew up in a Cantonese speaking household, this home of mine was henceforth called "ukkay".

As for the theme, ukkay is rustic and minimalist. It is homely and down-to-earth (which is why the name is spelled with a lowercase "u"); No frills but still very comfy and cosy.
When I was travelling, people always asked, "Where did you go? What did you do? Where are you going? What are your plans?". It's tiring to be constantly expected to DO something.
Here, I make it perfectly fine for my guests to do nothing, except for maybe taking in the sights and sounds of nature.
3) Can you share the history and the background of this former plantation house?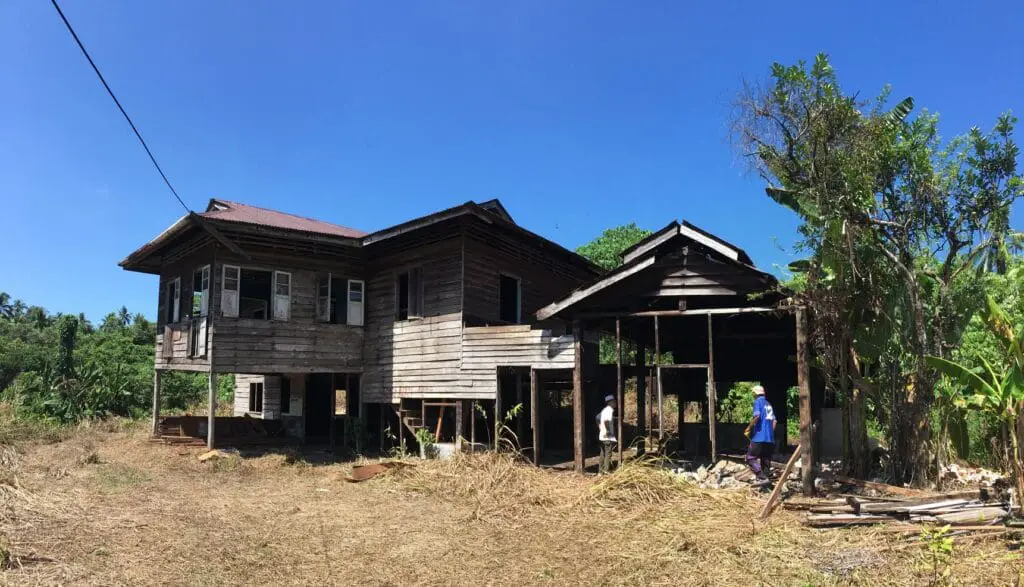 I had a brief meeting with the nephew of the former owner. According to him, his uncle built this house about 60 years ago.
The land surrounding it used to be a coconut grove. It was abandoned after the family moved to the big city in the recent years.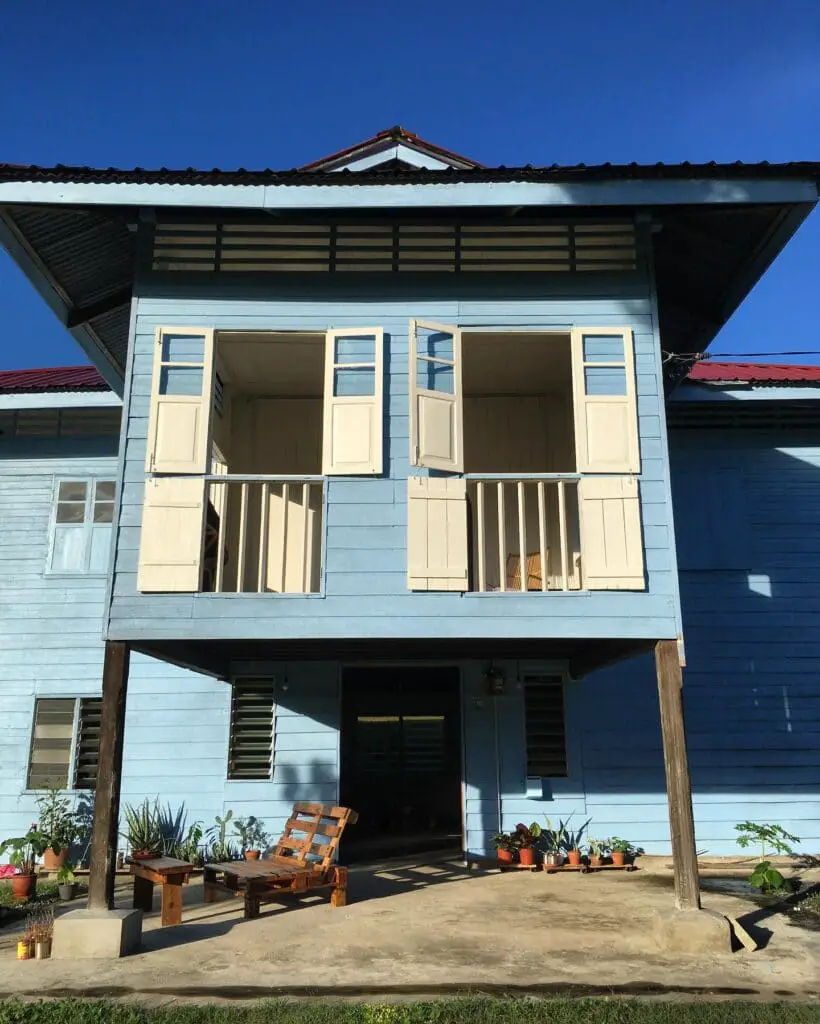 If I remember correctly from what I've read in a book about the history of Kudat, the house featured a typical Hakka design which dates back to the 1920s when the Hakka Chinese first came to settle here. 
If you explore Kudat, you can still find quite a few of these houses.
3. Why did you decide to take the bold step to choose this rundown former plantation house for your home and Airbnb?
There are quite a few reasons, actually. My first reasoning would be attributed to the mental conditioning from travelling solo.  After my big trip, I was actually feeling brave enough to take this huge step, haha!
Then, there's also the encouragement I received from several of my good friends. I was not specifically looking for a run-down house. 
Rather, I was looking for a wooden house with a character, plenty of green surroundings and some space to set up a vegetable garden or plant a few fruit trees.
This place fits the criteria I had in mind perfectly, albeit needing a little work. This then brings me to reason number three, which are the hosts I mentioned above – the ones who restored their house and barn.
They showed me the "before" photos of their place. They taught me to look beyond what it is and see what it could be.
4. How long did the restoration process take? What was the biggest challenge during the progress?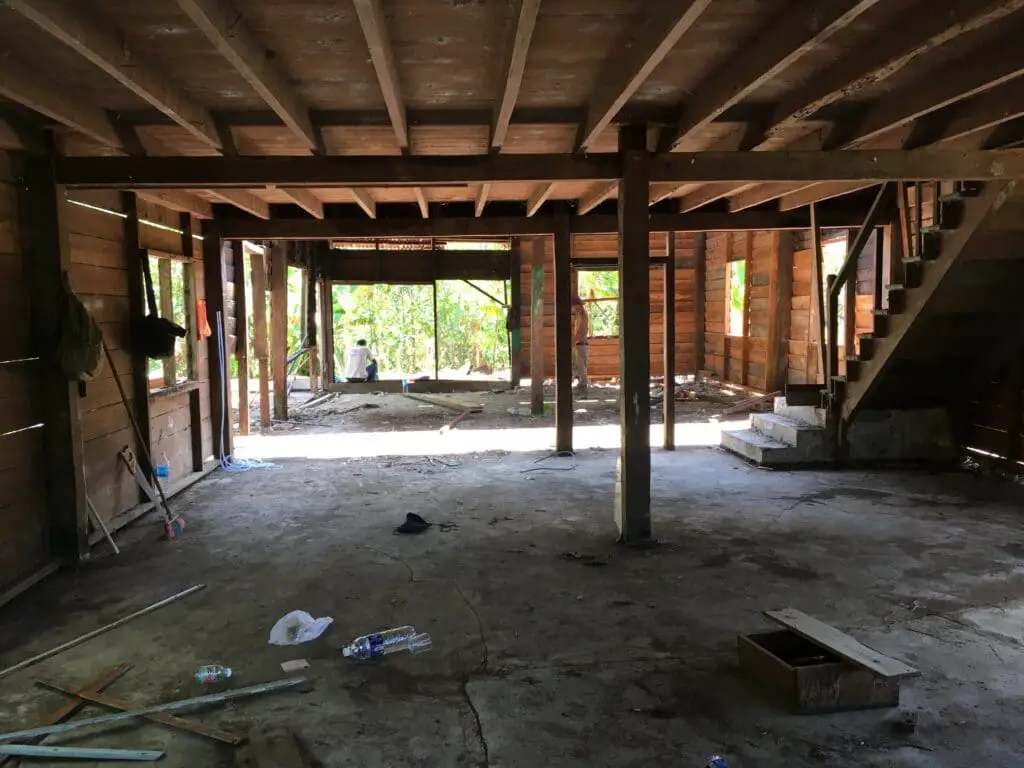 The restoration took too long, almost a year. The biggest challenge was turning up to the house to inspect the work, only to find that no one was working! 
I was based in Kota Kinabalu during the restoration. Driving 3 hours to Kudat only to face that situation was extremely frustrating.
5. Any particular reason why the house is painted in blue?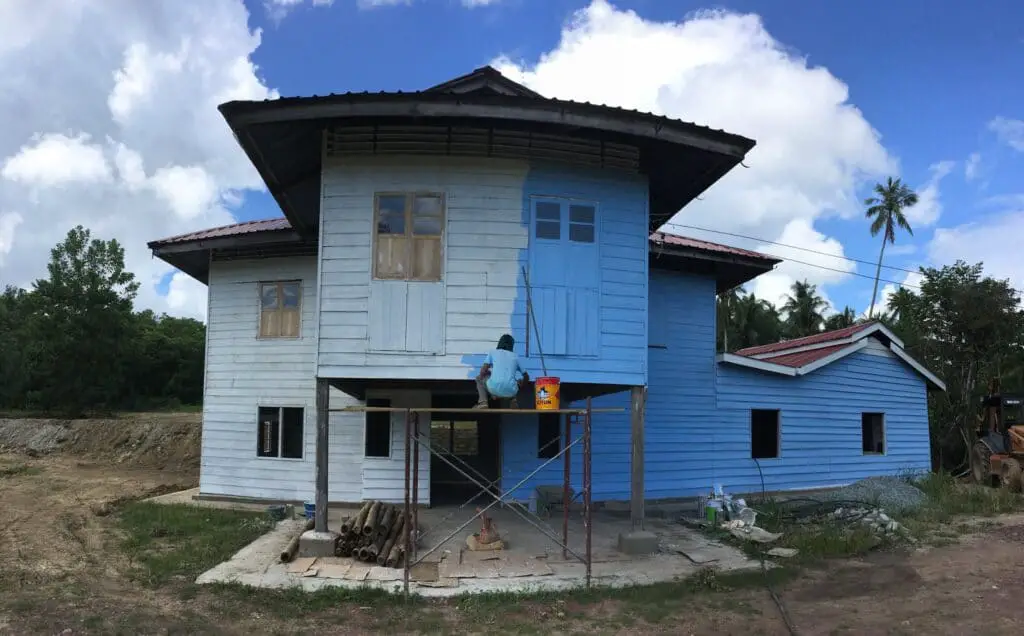 I wanted ukkay to have a slight resemblance to the sky; blue with white fluffy clouds (clouds being the windows when they are open).
6. What activities do you recommend for your guests to explore in Kudat?
The first thing I'd recommend would be to enjoy the beaches. They are truly underrated; powdery soft sand, blue waters and no crowds! More "active" recommendations would include surfing (seasonal) or scuba diving.
There are some hiking trails through the jungle as well.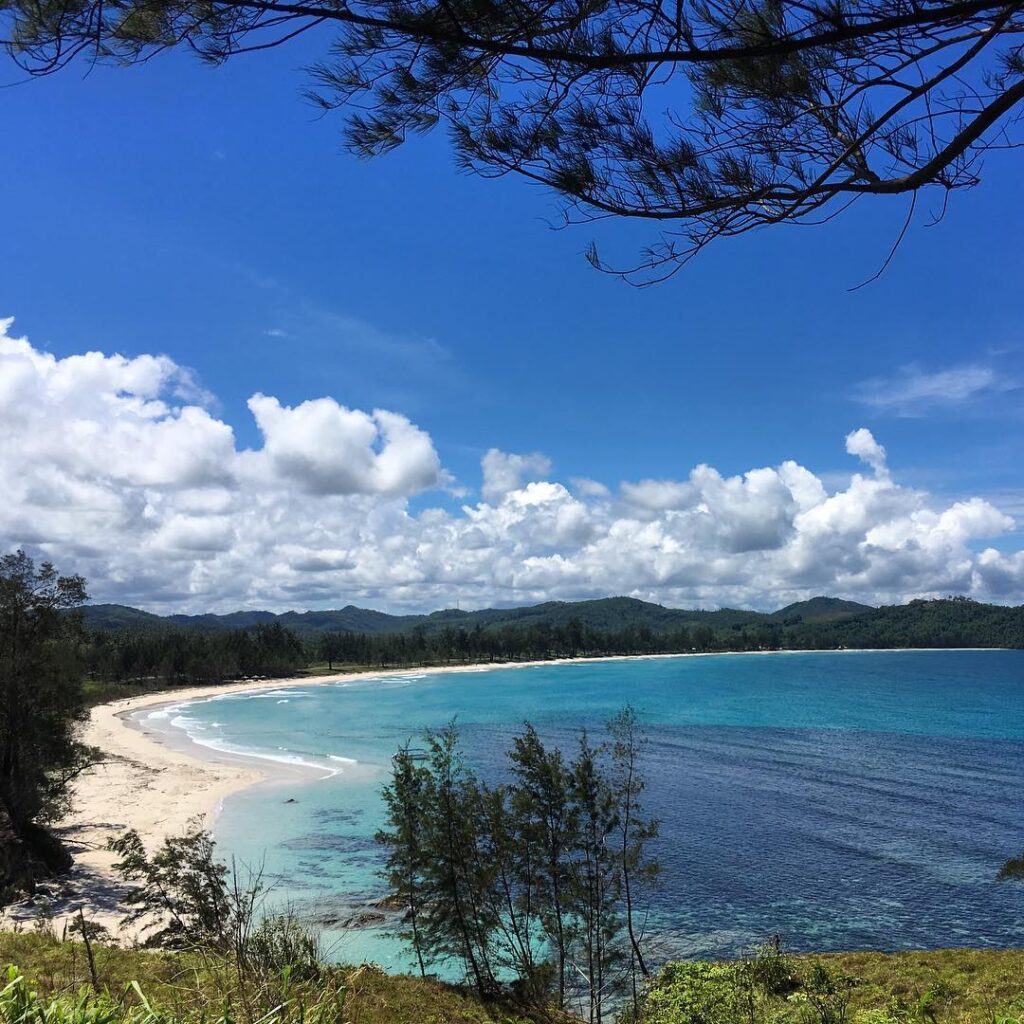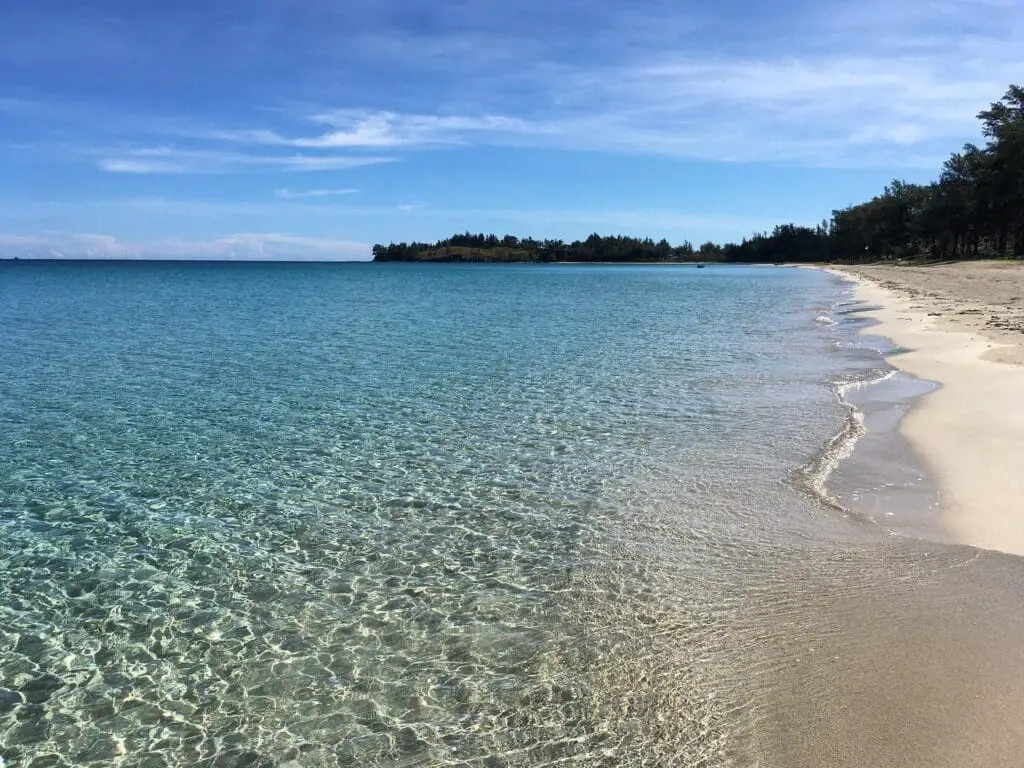 I also point my guests to the Borneo Honey Bee Centre. It's a great place to see and learn about the local bees and their importance to the ecosystem. Personally, I love seeing the Kelulut or stingless bee's hive.
It's not your average honeycomb, and the honey they produce tastes very different.
8. What type of guests have you hosted the most so far? Any special guests that make a great story to ukkay?
Most of my guests were looking to escape the cityscapes. Some international guests were curious and wanted to experience a unique stay. I'd say that all my guests are really laid-back people.
One of my first guests loved the place so much he extended his stay and made a short video of the house. Another guest that stood out would be a lovely lady who just restored an old BJ40, which was also blue and shared a very similar shade to the house.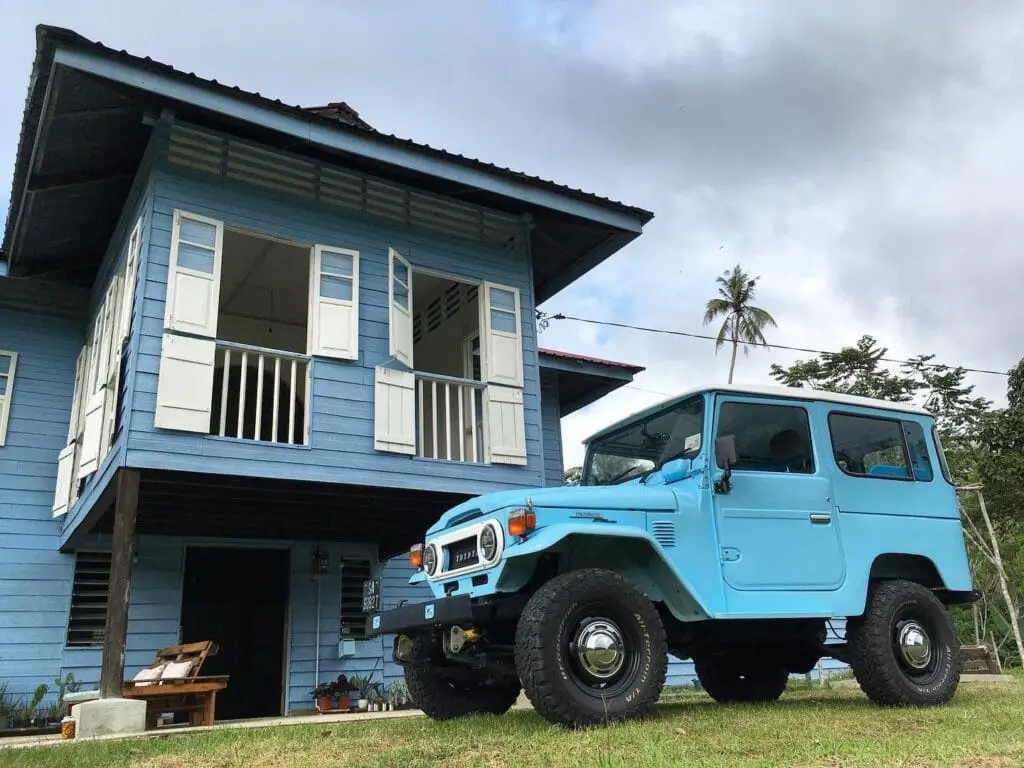 She chose to stay at ukkay because of the colour and it was a perfect backdrop for a photoshoot. Both the car and the house have similar stories; old and rundown with some restoration troubles along the way.
9. Can you tell us more about the surroundings of your place? Any hidden gems to share?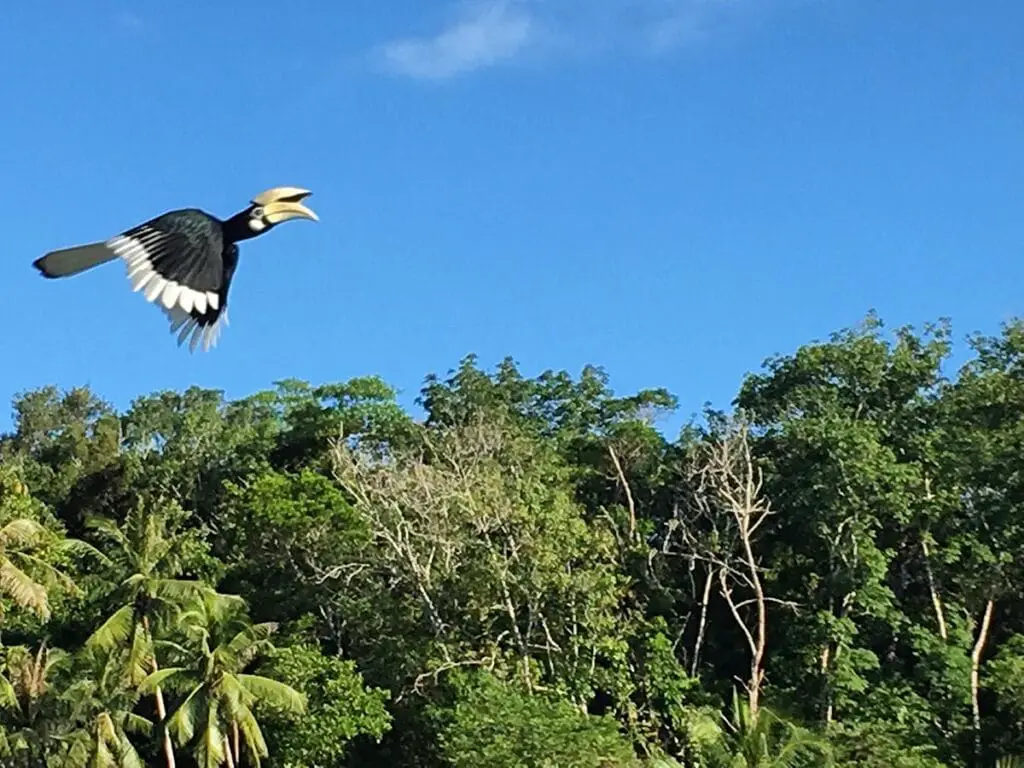 Across the road from ukkay is a forest reserve. So, we get to hear, and quite often, see the wildlife that lives there from the comfort of house's living area.
 Some of these creatures that you can spot here are monkeys, kingfishers and hornbills!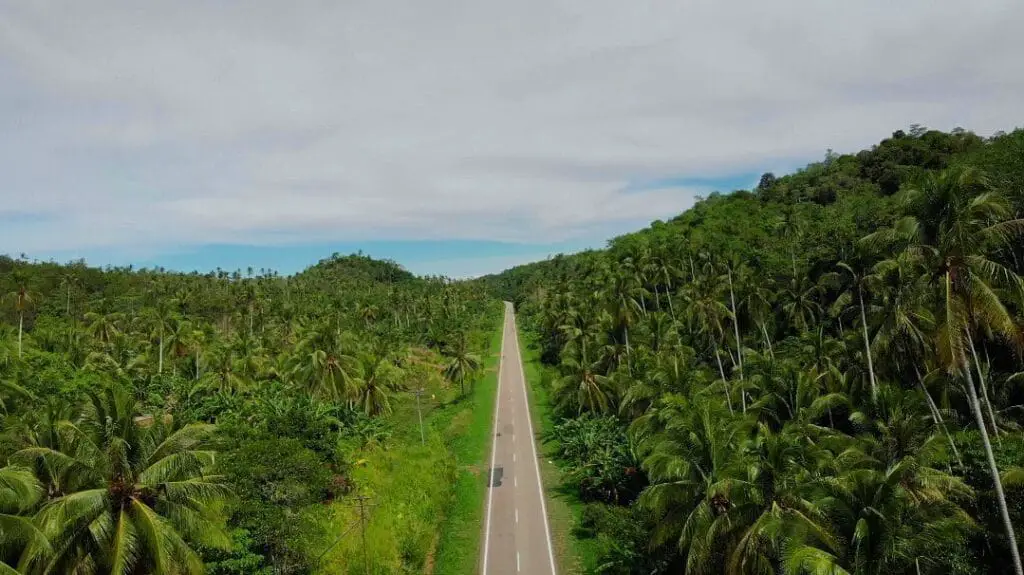 There's also my neighbours' houses located about 100 metres away. In between these houses it's all green, green, green.
10. What's your recommended food in the town? Please name a few!
A lot of people love the cheap and fresh seafood here. However, I'm a vegetarian, so I haven't tried that and I can't recommend it properly, haha.
I can, however, pass on recommendations by the locals; Mei Wei Cafe is said to have the best Tom Yam. Sin Lung Restaurant gets a thumbs-up for their homemade fish cakes. Hainan Kitchen is popular for their Hainan Chicken Rice, which usually sells out by 1pm.
Kedai Makan Hiew, located over the water, is a family run establishment frequented by locals for dinner; the service may be a little slow, but the seafood is fresh and affordable, and the view of the sun setting over the town is pretty nice.
What I can personally recommend would be the homemade egg tarts from one of the oldest kopitiams in Kudat – Kedai Air Sekerim Nam Sin – one tart is never enough.
11. Any plans that are coming soon in the near future?
12. Anything else you'd like to share with the audience that I didn't ask?
Part of the property is an outdoor fitness area behind the house that is almost complete. This consists of a Crossfit gym, a sunrise deck and a simple walking/running trail between the trees. 
There is minimal light pollution around ukkay, which would make ukkay a good spot for stargazing!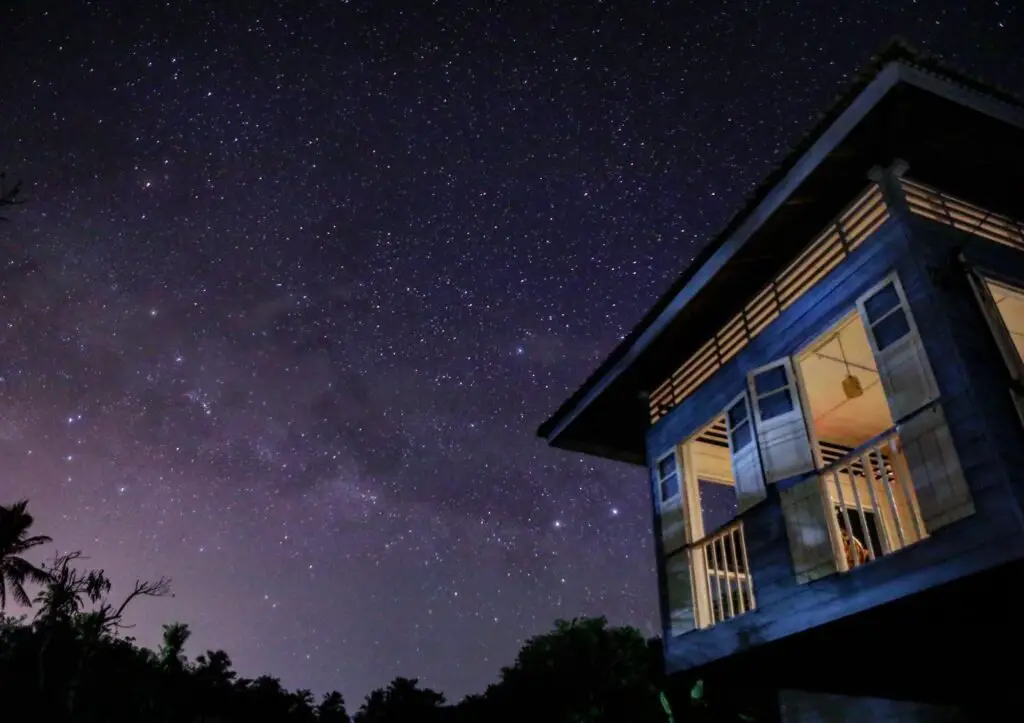 It's always heartwarming to know that someone's story can be another person's inspiration to take a bold leap towards something new. We love the story behind ukkay, and we hope that one day, ukkay would also be an inspiration for another aspiring guesthouse owner too! 
Be sure to follow ukkay's social media pages to keep yourself updated with their development, events and promotions.
Find out more details and check the availability below!
Disclosure:
*This post contains affiliate links. If you click these links to book a place we may earn a commission without extra cost to you.
*This is not a paid writing, all the interviews are by done invitation only.