Melaka is one of the top destinations for a holiday in Malaysia. Located just under two hours away from the city of Kuala Lumpur, Melaka can offer visitors an array of entertainment and points of interest that can surely keep your day exciting.
A little backstory about the state – back then, Melaka was actually a fisherman village! That was until the arrival of Parameswara in the early 15th century. 
Legend has it that it all began when Parameswara saw a bizarre incident of a mouse deer kicking one of his hunting dogs into a river. Seeing that as a good omen, he decided to create an empire and named it after a tree that he was resting under; the Melaka tree.
Now, enough about history, let's go straight to the question – what are the interesting places in Melaka that should make it into your itinerary and where can you stay?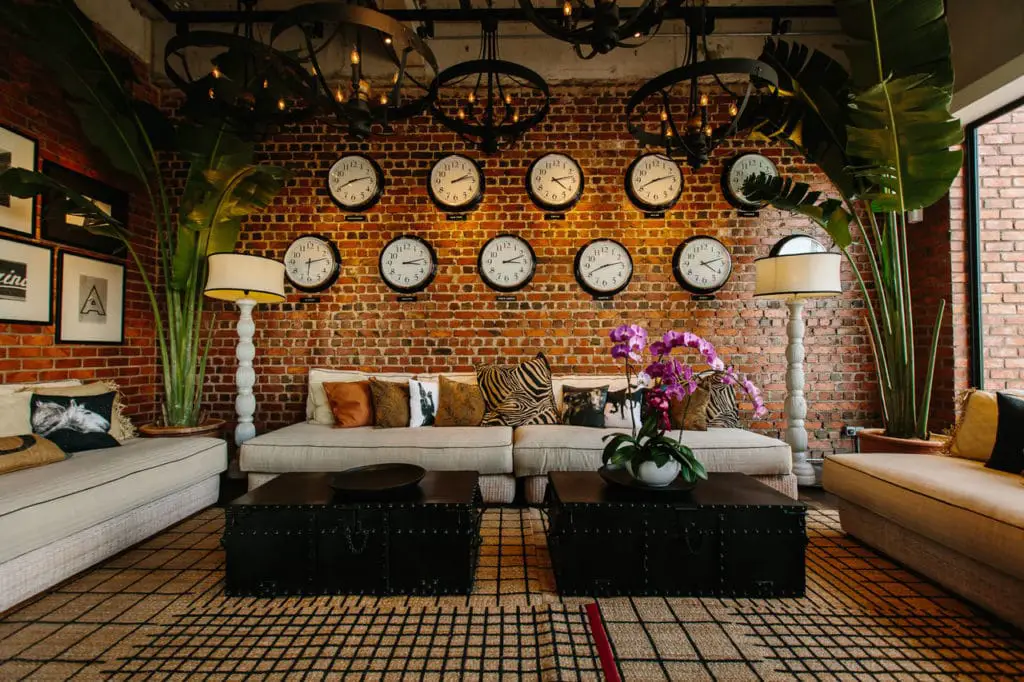 Rosa Malacca, a hotel nominated in the 2021 World Luxury Awards is the perfect place to stay for those who have an undying love for aesthetically pleasing interiors. 
Located at Jalan Parameswara, the entire hotel is heavily influenced by the rustic industrial loft design – which explains why you'll be seeing exposed cement and brick walls as well as recycled aged wood furniture.
This 4-star hotel boasts a total of 60 rooms ranging from Deluxe Twins, Premier King, to Family Suite. It also features its own cafe on the 1st floor called Bica & Courtyard Cafe. Not only does it serve mouth-watering food, but it also has an instagrammable interior!
If you're travelling in a group, you can opt to stay at Lorong One, a sleek-looking Airbnb that could accommodate up to six guests. Since it is also inspired by the industrial design combined with a modern touch, stepping into this homestay will offer you a cosy and homey ambience. 
It even has a kitchen area and a living room that you can make use of. Other than free WiFi, a parking spot is also provided.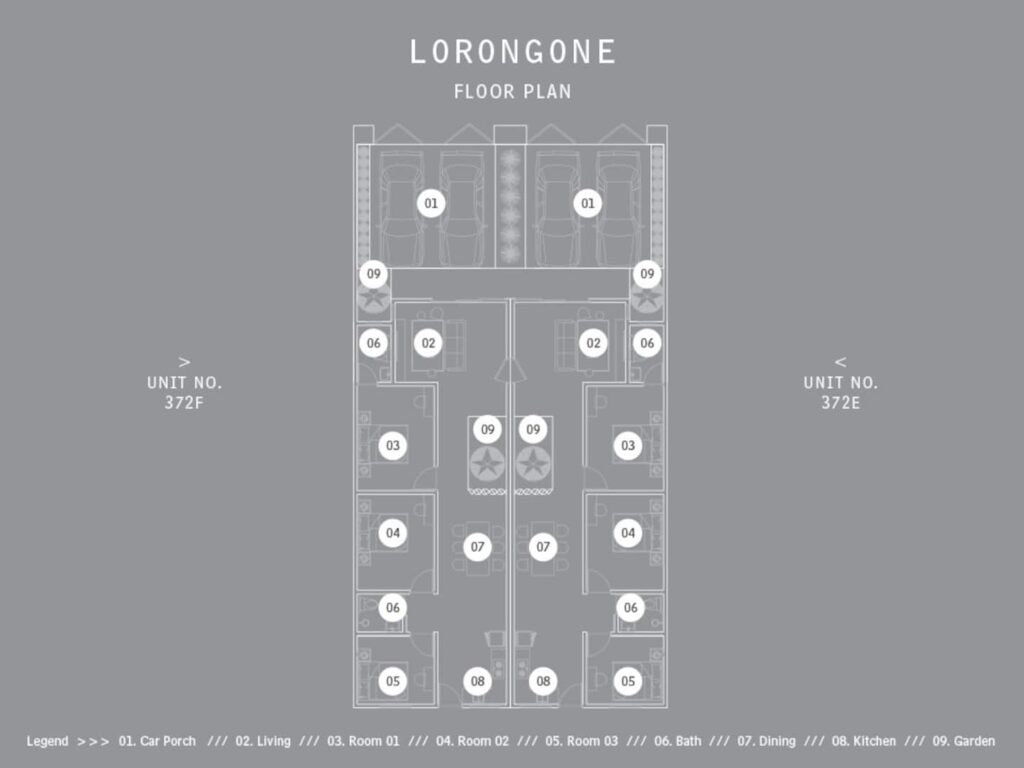 However, what makes this place special is that's actually 2 houses side by side, so you can book both houses for bigger groups. This Airbnb is also a short driving distance away from Melaka's top attractions. You can reach Jonker Street, A Famosa, and the Dutch Square in just under 10 minutes.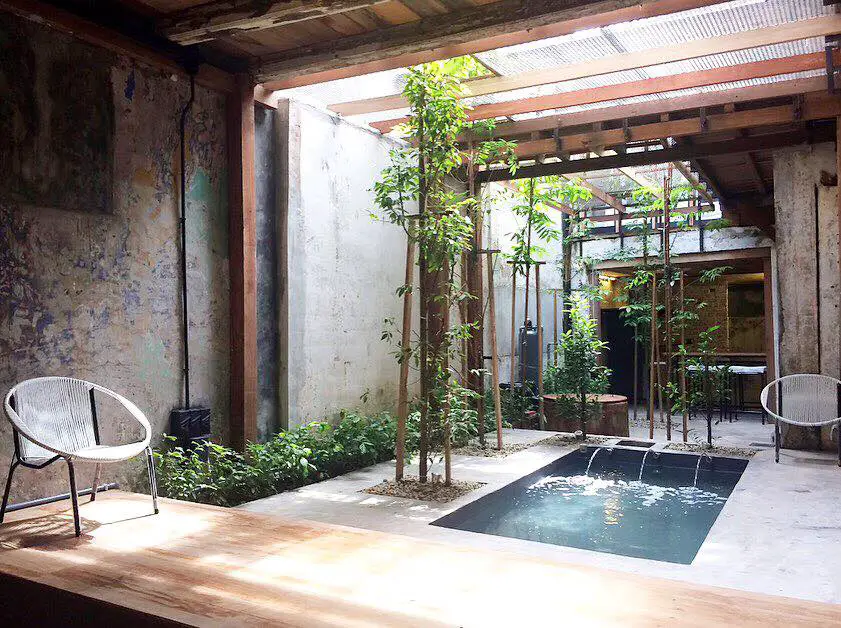 For those who are planning for a trip to Melaka in a much larger group, Rimba Hang Kasturi Villa might be suitable for you. If you love staying in Sekeping Retreats, then this villa will definitely impress you.
Featuring four comfortable bedrooms with a balcony and patio, you can also find a private swimming pool on the ground floor surrounded by green plants. Poly roofs are installed right above the swimming pool to provide enough lighting – so grab your cameras and snap a photo or two!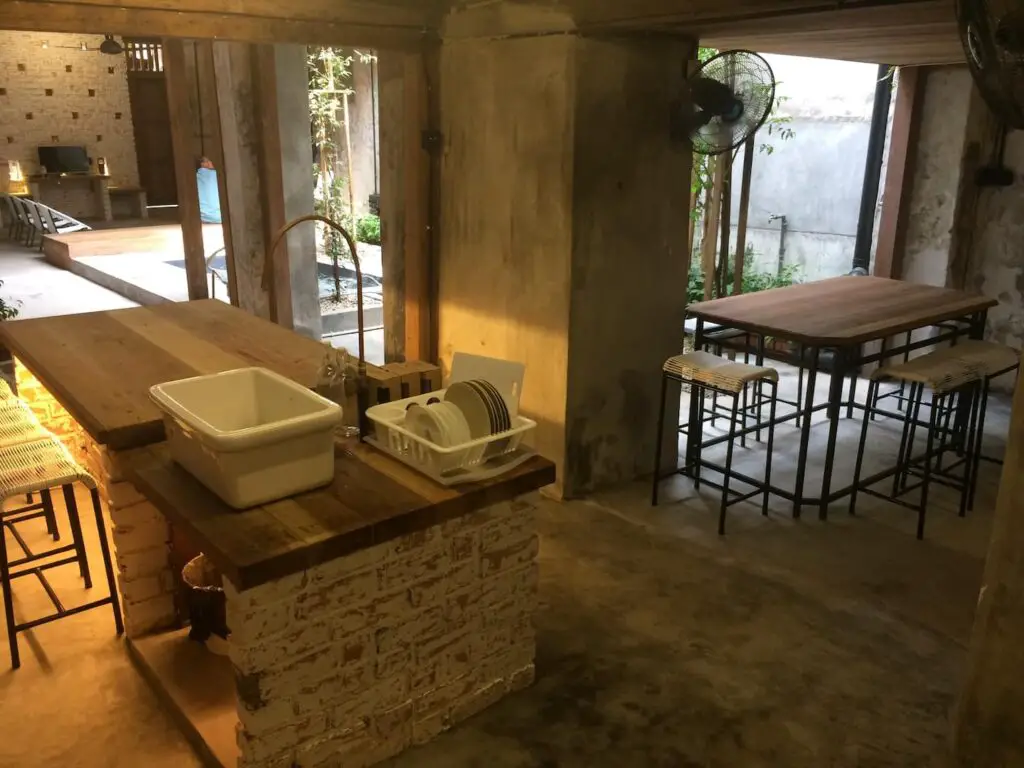 When it comes to food, don't worry about getting starved as the villa has a kitchen that you can use. Since it is just a 3-minute walk to Jonker Street, you can also choose to dine in one of the many cafes there. 
You can find an array of food options ranging from chicken rice balls to Peranakan cuisines, and western foods.
There's also a set of creative murals that you can't miss especially when it's located right next to the villa. If you need help to reach it, simply search on your GPS for Melaka Street Art (The Well) or 1938, Jalan Kampung Kuli.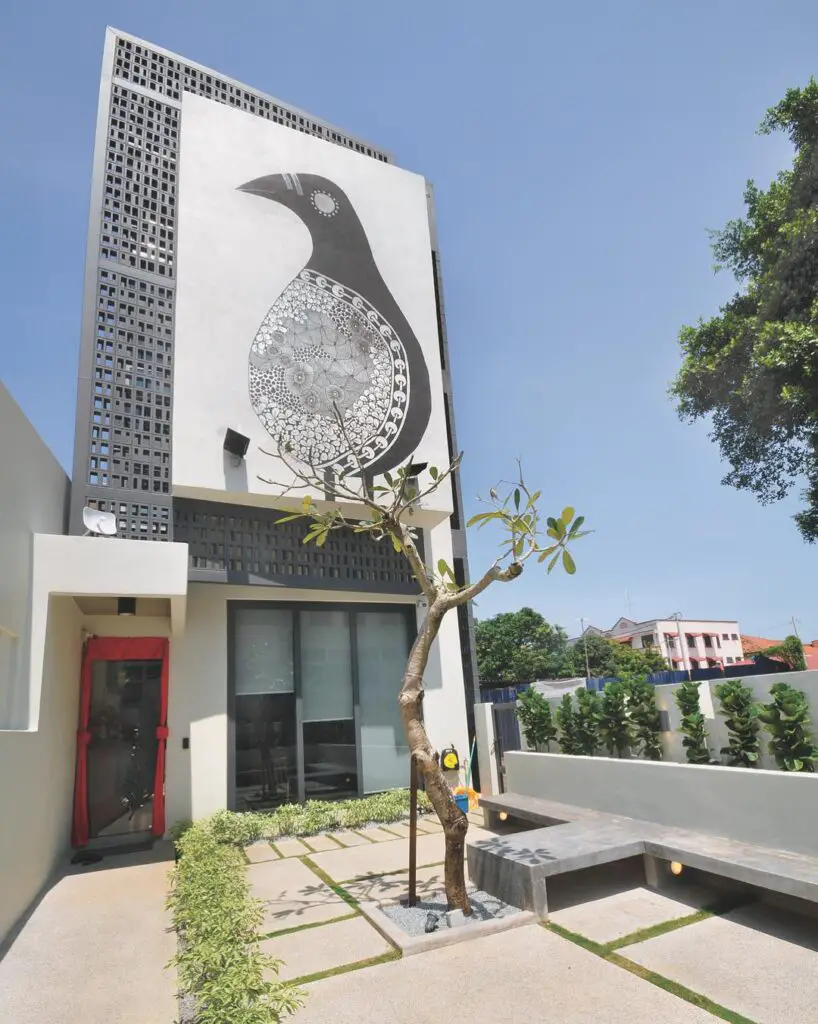 The Nest House, a precious gem located on an unnamed street right behind Jalan Melaka Raya is where you should consider staying if you're seeking some tranquillity. Even though the location is still pretty close to the main attractions in the city, it can still provide you with a quaint and quiet environment.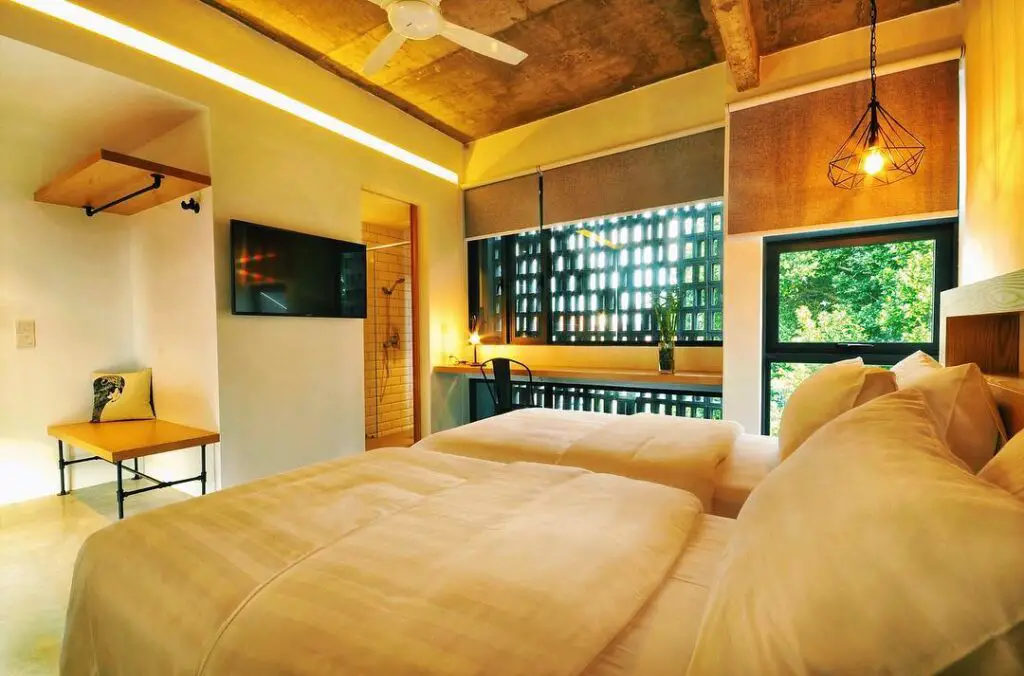 With its first-class decors and modern furniture, it is no doubt that this homestay could be one of the next Instagrammable places in Melaka! 
The homestay consists of three rooms; Premium King, Deluxe, as well as Standard Double rooms and each one of them are fully equipped with flatscreen tv, unique artworks, and blackout blinds to stop the sun from disturbing your morning sleep.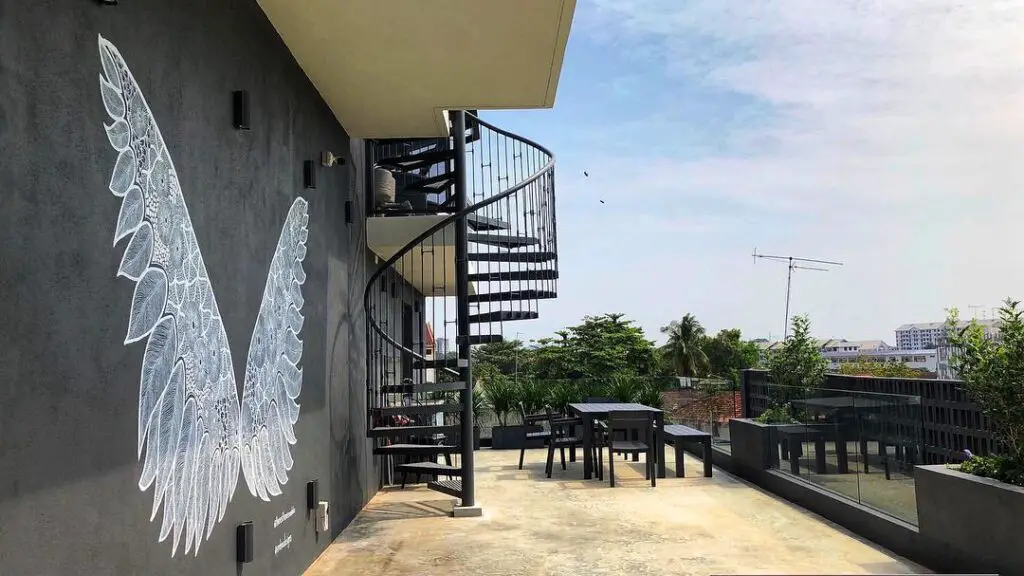 If you're bored, you can even chill on the rooftop and enjoy a 360 view of Melaka and take a photo with the mural wall! – how cool is that?
Of course, a visit to the city of Melaka will never be complete without visiting the Stadthuys, a historical building standing in the heart of Melaka City. Widely popular for its terracotta-red exterior and clock tower, Stadthuys was actually built in the mid 17th century by the Dutch!
But what can you do at Stadthuys other than taking pictures? You can visit a couple of museums available such as the Museum of History & Ethnography and Museum of Literature that tells stories about the origin of Melaka and the times during the Dutch Colonial period.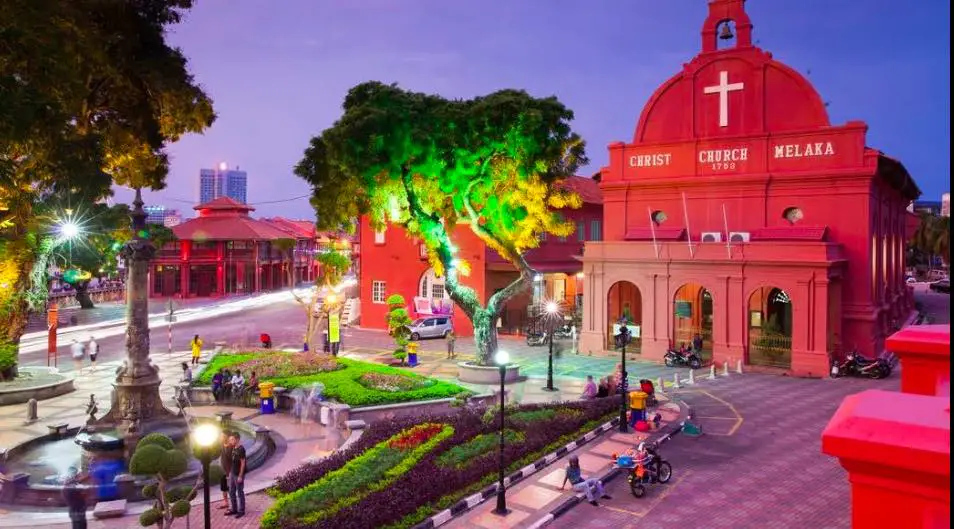 Not a fan of history? You can just take a stroll around the Red Square that has a wide variety of stalls selling fresh fruit juices, souvenirs, and other trinkets. You can even ride a trishaw from this place and take a tour of the city!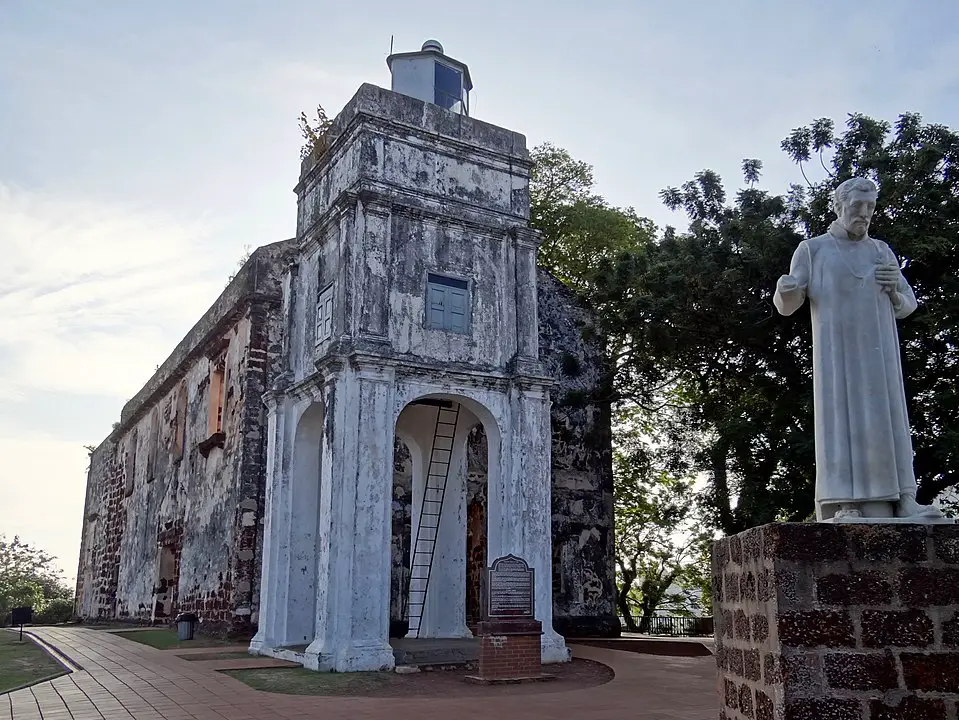 St Paul's Church can be found on top of the St Paul's Summit just a couple of minutes away from Stadthuys. It is said that the church was built by a Portuguese nobleman captain as a token of gratitude to the Virgin Mary, who saved his life during a heavy storm at sea.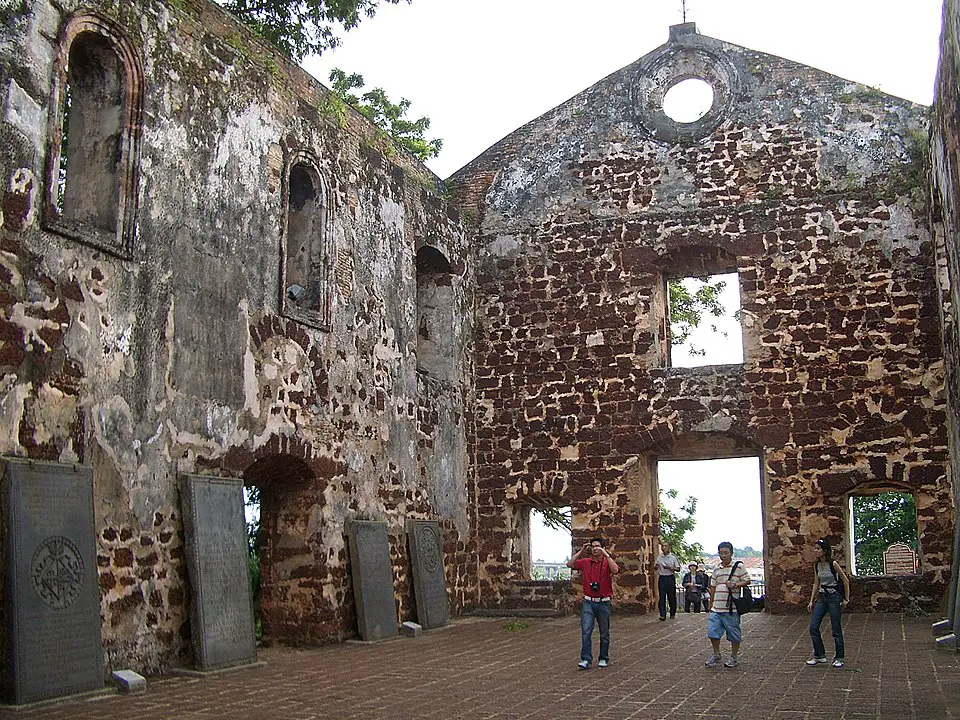 Having been constructed back in 1521, what's left of it now is just the ruins of the roofless church and a few heavily intricate tombstones belonging to Dutch Noblemen. Another unmissable landmark that you can find at this church is the armless marble statue of St Francis Xavier.
Legend has it that St Francis lost his arm in 1614 when he was supposed to be canonized. Right after the marble statue was built in 1952, a tree fell on the statue and severed its right arm in the process.
Other than the eerie atmosphere and interesting backstory of the church, you can also get rewarded with a stunning view of the entire Melaka City from the top of the hill. Feel free to take as much time as you want to enjoy the view while listening to the buskers singing and playing the guitars.
Also, don't worry if you're feeling thirsty after climbing the steps to the summit since you can find a few peddlers selling ice-cold canned drinks.
Jonker Street Night Market
You can never leave Melaka without going through the busy crowds in Jonker Street Night Market. Back in those days, this Chinatown street was widely known for its lines of antique shops. Today, you can find dozens of street peddlers opening their stalls selling different kinds of treasures, clothing, and souvenirs that you could bring back home.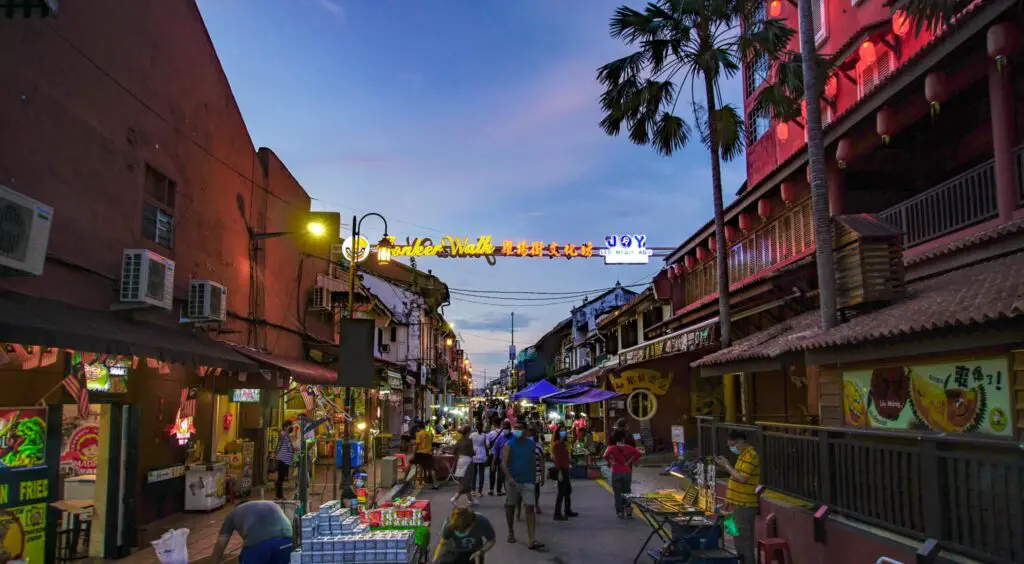 Other than keychains and fridge magnets, the night market is also brimming with food hawkers selling delicious yet cheap street food that could easily make you drool.
From laksa to cendol, durian crepes, ice creams, and barbecued meats and quail eggs on skewer sticks – you can find almost anything! If you want to take a short peek into your future, you can even find fortune tellers at the night market ready to tell you all about your destiny.
Operating hours: Open from 6 pm to 12 am on Friday to Sunday only.
Baba & Nyonya Heritage Museum
Baba and Nyonya are the honorifics of a straits-born gentleman and lady. If you're curious as to what a Baba & Nyonya house back in the late 19th century looked like, you ought to visit this museum as you can get a chance to take a glimpse of its old furniture and decorations that was used in pre-World War II Peranakan houses.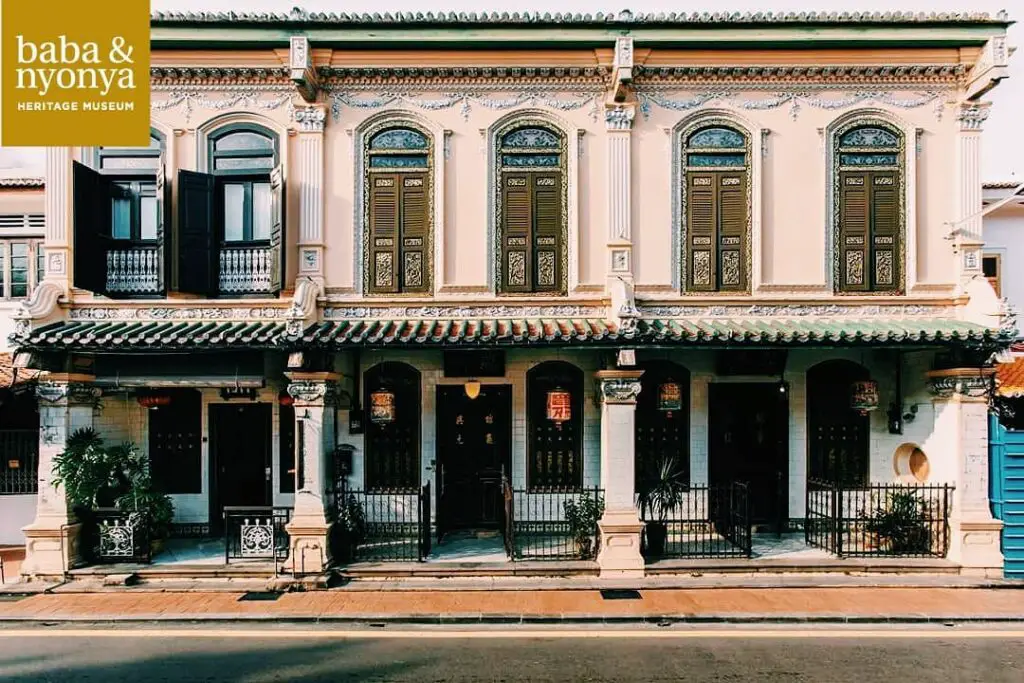 The house was originally owned by Baba Chan Cheng Siew and today, the museum is still managed by his family! 
At the entrance are a pair of Chinese lanterns hanging from the ceiling while inside, you'll be greeted by elaborately carved decors, exquisite hand-painted tiles, blackwood furniture, and Victorian chandeliers. 
The best way to fully experience this museum is by going on a guided tour where you can learn about the culture of Peranakan and listen to interesting Baba Nyonya tales.
Operating hours: Opens every day from 10 am to 5 pm.
Whether you're looking to put your art skills to the test or just simply searching for a place to spend a relaxing afternoon, The Clay House is where you should head to. 
This pottery studio is owned and operated by Leong Chee Hsiung, a creative pottery artist.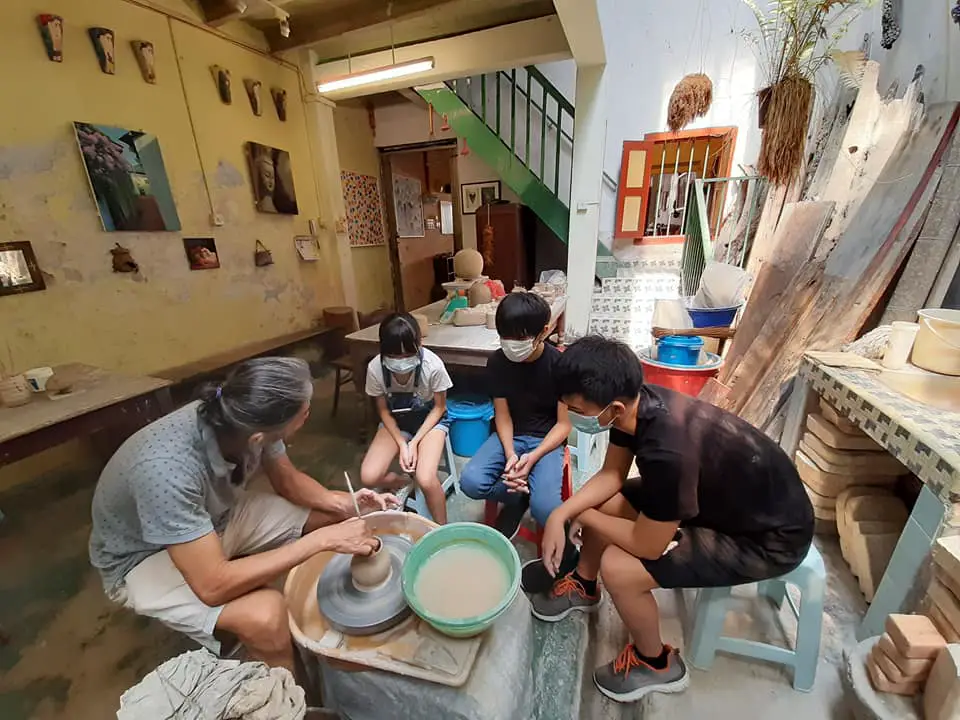 You can either walk around the studio, admire the sophisticated and quirky potteries or join a private pottery class conducted by Leong himself! You can choose to either create your own masterpiece by using only your pair of hands or take it to the next level by trying out the pottery wheel.
If you have never created anything with clay before, don't fret as the instructions provided by Leong are extremely easy to follow and he'll also guide you gently from start to finish. 
The best part of it all? You get to keep your artwork and show them off on your shelf – but only after the entire firing process is done which might take a day or two.
Operating hours: Opens every day from 10 am to 6 pm.
Vintage Green Cafe @ The Daughter
Nothing beats a nice and thick cup of coffee after a full day of walking around the city. To do so, you can visit Vintage Green Cafe in Kampung Jawa. 
Apart from taking a sip of your desired latte and indulging yourself in a generous plate of pasta or a bowl of fresh fruits Greek yoghurt, you can also purchase some unique vintage trinkets from this cafe!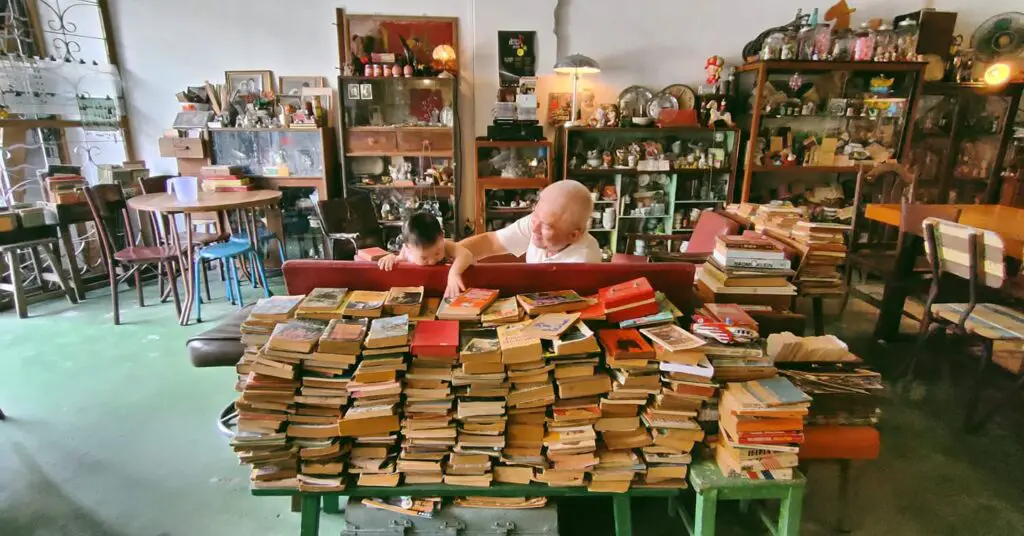 Another reason that makes this cafe one of a kind is that it is filled with old love letters written by couples in the '70s who were in a long-distance relationship. 
You can read those letters for free and follow the couples' life journey back then while enjoying your coffee – just make sure to be careful with your drinks so that you won't leave any coffee stain on those sweet old love letters!
Operating hours: Opens every day except Wednesday from 10 am to 5 pm.
There are a pretty hefty amount of things that you can do in Melaka to turn your ordinary trip into a memorable one. Park your car and begin your journey at the Red Square, visiting every single museum and attraction available nearby.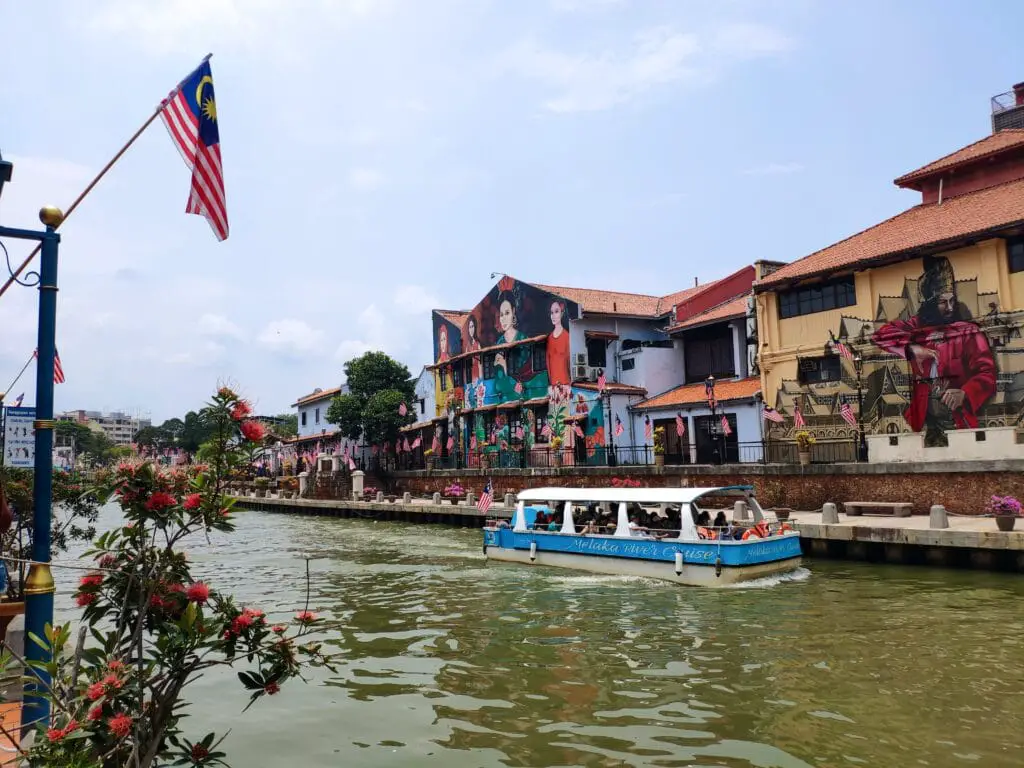 Take a stroll along Jonker Walk, do some cafe-hopping adventure with your friends, and don't forget to stop by Jalan Tukang Besi where you can pose for photos in front of the instagram-worthy murals along the riverside.
Explore more places to in Melaka