Pulau Ketam or directly translated to English as Crab Island is a quaint fishing village located off the coast of Port Klang, one of the busiest ports found in Malaysia.
This small island was first settled by a group of Chinese fishermen in the late 19th century and up until today, Pulau Ketam only has a population of 8,000 people living in its two villages, Pulau Ketam Village and Sungai Lima Village.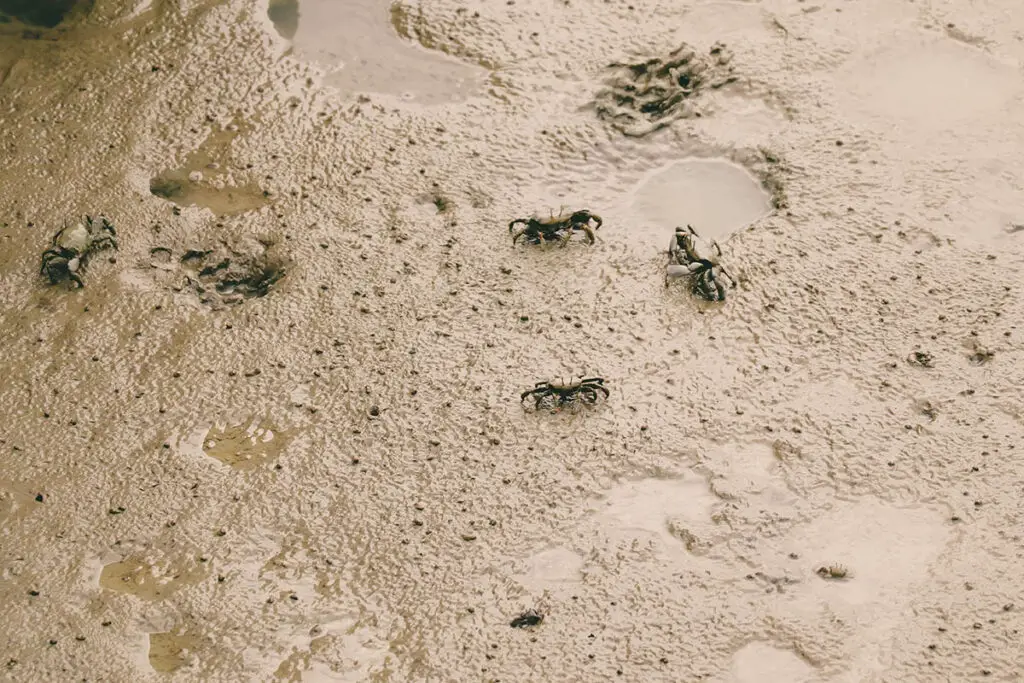 Since Pulau Ketam is a fishing village, you won't find beaches with soft, white sands, tall palm trees and luxurious resorts by the sea! However, this island is still considered one of the top destinations among locals, especially those who are in need of a short getaway or a day trip away from the busy city.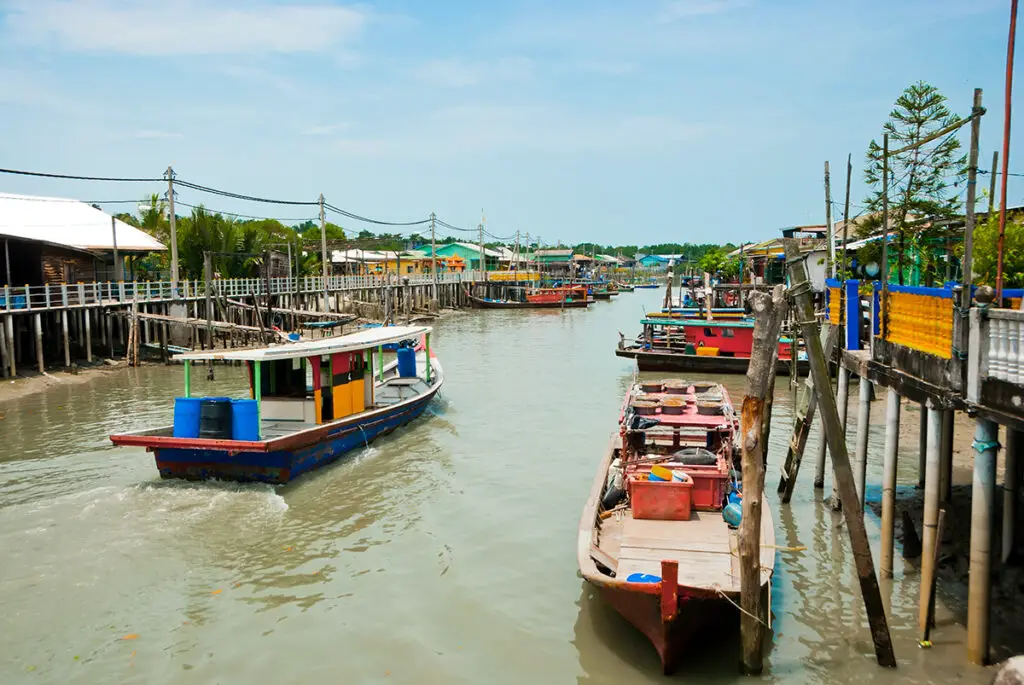 You'll get a chance to enjoy a lively panorama of the mangrove swamp surrounded by groups of wooden houses and huts perched on wooden stilts while enjoying plates of fresh seafood all day long. 
Continue reading below to discover some of the best things to do in Pulau Ketam.
How to Get to Pulau Ketam
Since the island is rather small, there's only one way to reach Pulau Ketam, which is by ferry rides. From the city of Kuala Lumpur, you'll have to drive for about 45 minutes until you reach Port Klang.
From there, park your car at the nearby parking spaces and walk to the ferry terminal located just a few minutes away.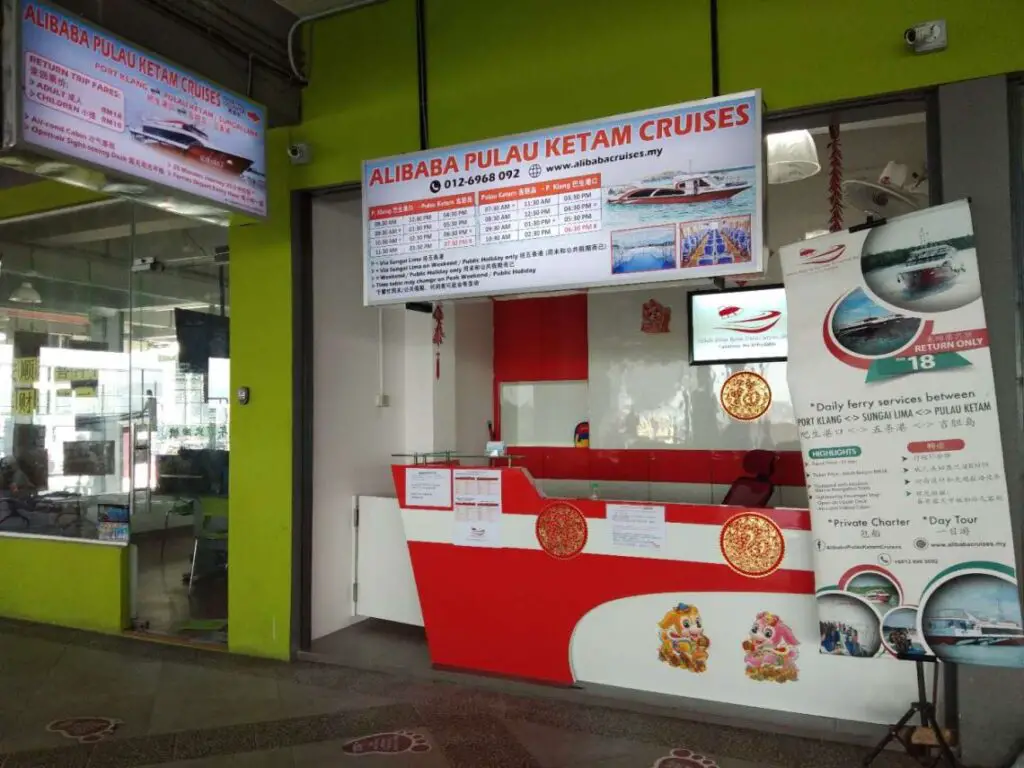 One of the ferry charters that you can find there is Alibaba Pulau Ketam Cruises Ferry. By boarding the high-speed ferry or passenger boats, you can reach the island in just slightly over half an hour.
You can either get the tickets at the counter or book online via email. The return tickets are priced at RM18 for adults and RM10 for children.
You can even choose which deck you prefer! If you'd like to enjoy the scenery and feel the wind, go for the open-air upper deck and if the weather's too hot for you, you can get a seat on the air-conditioned lower deck.
Things to Do in Pulau Ketam
Even though Pulau Ketam is not like other touristy-islands in Malaysia, there are still a good number of things you can do that can keep you entertained for hours. Here are some of them that you shouldn't miss:
Tour the Fishing Village on Bicycle
Given the size of the island itself and the muddy lands, you won't find any cars or trucks driving around—so, no traffic jams and stressful hours stuck in your vehicles! Everyone on the island uses bicycles to commute including tourists and visitors.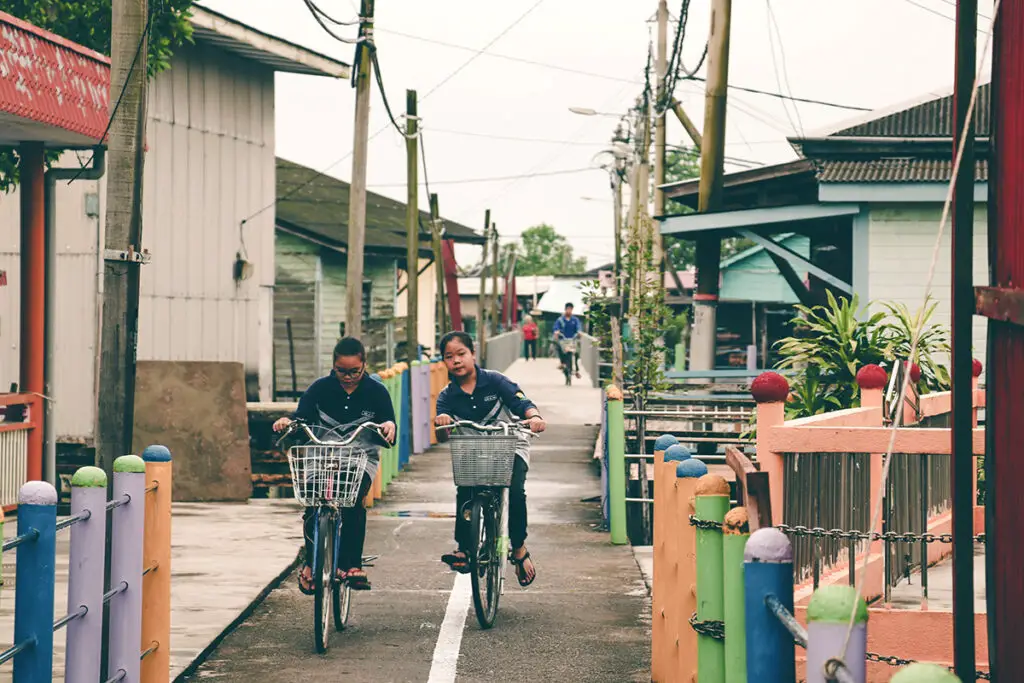 You can find a lot of bicycles for rent around the village and if you're not in the mood for cycling your way through the streets, you can even find electric bicycles! But, keep in mind that the rent for electric bicycles is, of course, higher than the normal ones.
With those bicycles, you can go around the fishing village, take a look at the traditional lives of the fishermen, enjoy the breeze accompanied by the view of the Malacca Straits, visit the vibrant Buddhist temple and snap a photo in front of the old and cute police station.
What's a short trip without spending some time hunting for tasty street snacks, right? On the main street of the island, you can find several street vendors selling different kinds of snacks for you to munch on while exploring the village.
The most popular one is, of course, the fried oyster omelette. The rich taste of the omelette combined with some bean sprouts and fresh oysters—who would say no to that?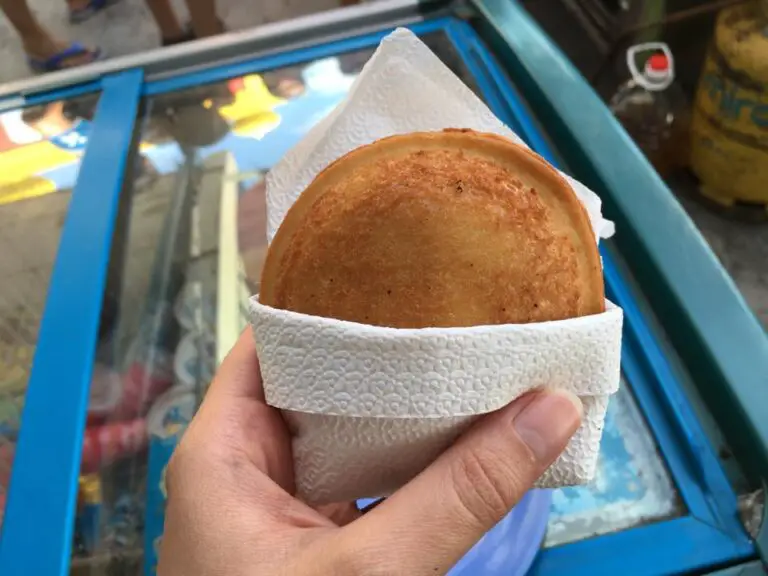 If you're up for some sweet snacks, you can also easily get fried ice cream around the area. Hot and crunchy on the outside, sweet and ice-cold on the inside. You surely won't get enough of this sweet snack, especially during the scorching hot weather!
Go on a Boat Ride and Visit the Fish Farms
Other than sightseeing on bicycles, you can also take a closer look at the mangrove swamps by getting on a boat ride in the village. Enjoy the rustic scenery of the Malacca Strait with all the fisherman's huts and wooden bridges connecting from one side to the other.
While you're on the island, don't forget to visit the fish farms too! At Kelong Greenway Fish Farm, you can buy some fresh fish to bring home or if you're an avid angler, you can also set your own fishing trip!
Test your fishing skills during the day and have a relaxing barbecue night with your family and friends.
Where to Stay in Pulau Ketam
If you're planning to spend a night on the island, you can find several humble inns and homestays ready to welcome you. Here are some of our suggestions:
Pulau Ketam Riverside Family Suite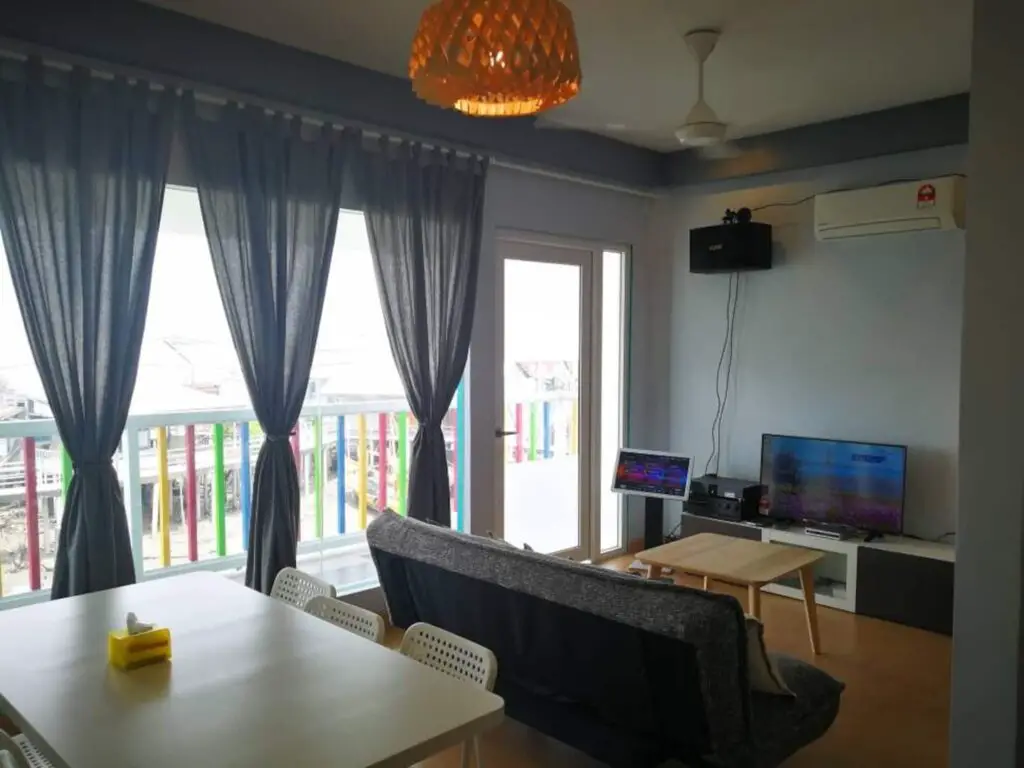 Visiting with your family and kids? Then this charming accommodation is a great option for you. With its close proximity to both the ferry terminal and the main street, you can reach all sorts of stores and restaurants in just a few minutes of walking distance!
Pulau Ketam Riverside Family Suite can fit up to ten people and it has a balcony with a water view! Its wooden interior, subtle decor, and the mattresses on the floor might even make you feel as if you're in Japan. 
Aside from its clean and cosy space, this place also features a kitchen with all the essential utensils. A stay at this family suite will only cost you about RM439 per night.
Yoshikaido Happy Family Homestay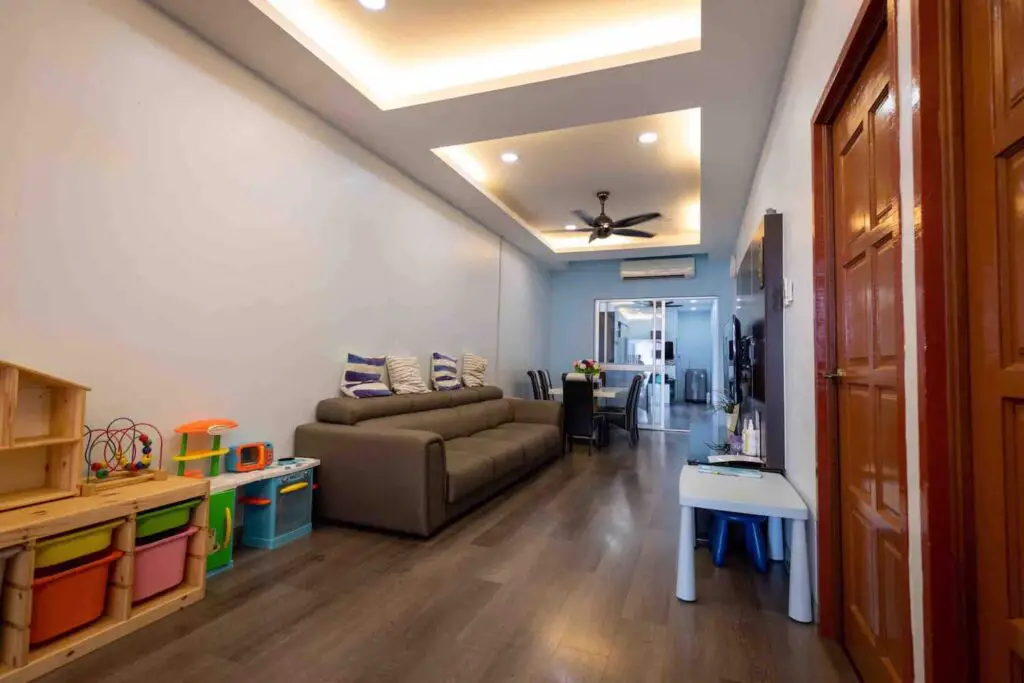 As for those visiting in a much larger group, Yoshikaido Happy Family Homestay could be a great place for you.
Known by many visitors for its cleanliness and location—from the jetty, it can be reached by foot in just under eight minutes—this accommodation is also said to have a great view of the pier, especially at dusk!
This place can accommodate up to 13 people and it also comes with various entertainment to keep the fun going! 
You can spend a couple of hours watching movies on the flatscreen TV while your kids play with various toys provided or you can also make use of the karaoke equipment and sing your heart out. 
Yoshikaido Happy Family Homestay is priced at RM800 per night.
Places to Eat in Pulau Ketam
One can never say they've been to Pulau Ketam without indulging in several plates of fresh seafood! Here are two of the restaurants in the fishing village known for their mouth-watering seafood: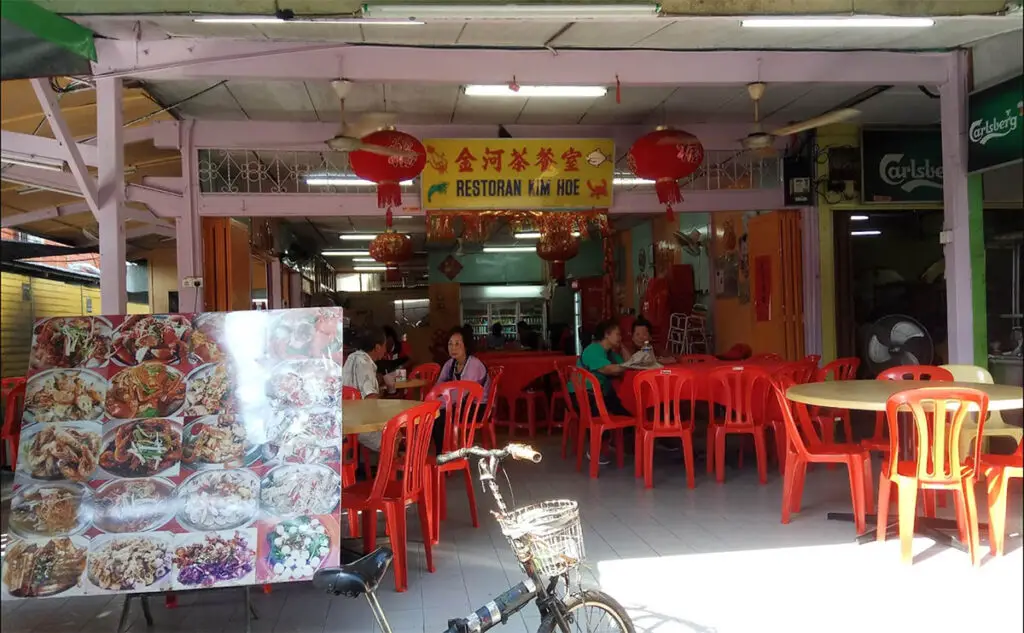 Kim Hoe Restaurant is one of the most famous eateries on the island that serves all sorts of delicious seafood platters—from chilli crabs to butter prawns, deep-fried squids, and signature Omelette Clams & Oyster.
Since the majority of the villagers on the island are Chinese, it is pretty hard to find restaurants that are halal certified. However, this restaurant is recommended by Muslims in Pulau Ketam since they only serve seafood!
Heads up—this restaurant is located near the jetty, so don't be surprised if you see a long line of customers queuing to get seated!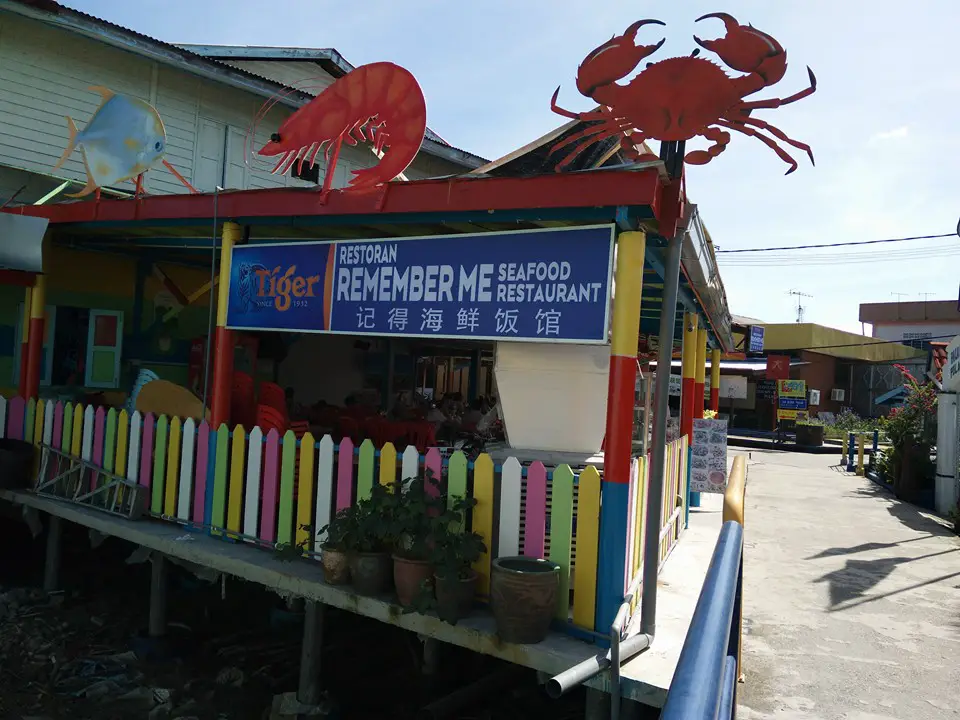 Can't get enough of all those crunchy deep-fried squids, juicy crabs, and steamed fish? If so, the next restaurant that might be worth a visit is Remember Me Seafood Restaurant that is located on the main street.
Just like the previous place, this restaurant also serves an array of seafood options cooked in different flavours. The seating area is also quite spacious and there are many fans to cool you down from the hot weather. 
If you've never gotten a chance to try the island's tasty oyster omelette, you can order one from this restaurant to accompany your huge sweet and sour crabs. 
Although Pulau Ketam is only a small fishing village, this destination should definitely get included in your must-visit list. 
Getting away from the noisy city could be great sometimes, especially if you have been surrounded by heaps of work all week long!
Cycle around the lively fishing village, enjoy a few snacks by the streets and indulge in fresh seafood for dinner—how great is that?
However, do keep in mind that certain restaurants on the island might overcharge you. So, be sure to take a look at the prices first before you order anything!
Disinfectant Essential Items (Hand-picked!)
As you know we're going to live in the post-covid world. So getting the essential sanitise products with you when you travel are part of our life.
Here is the list of curated disinfectant products with high rating and ready stock in Malaysia without you spending time to search for the best one on the market.
Disclosure: This post contains affiliate links. If you click these links to purchase the product we may earn a commission without extra cost to you. We carefully select the best and all products sold by high rating seller.