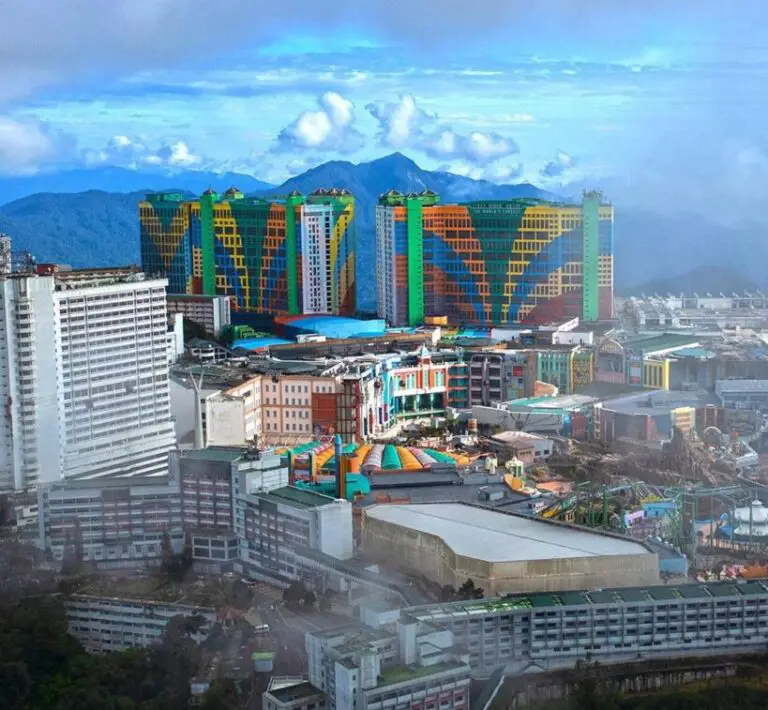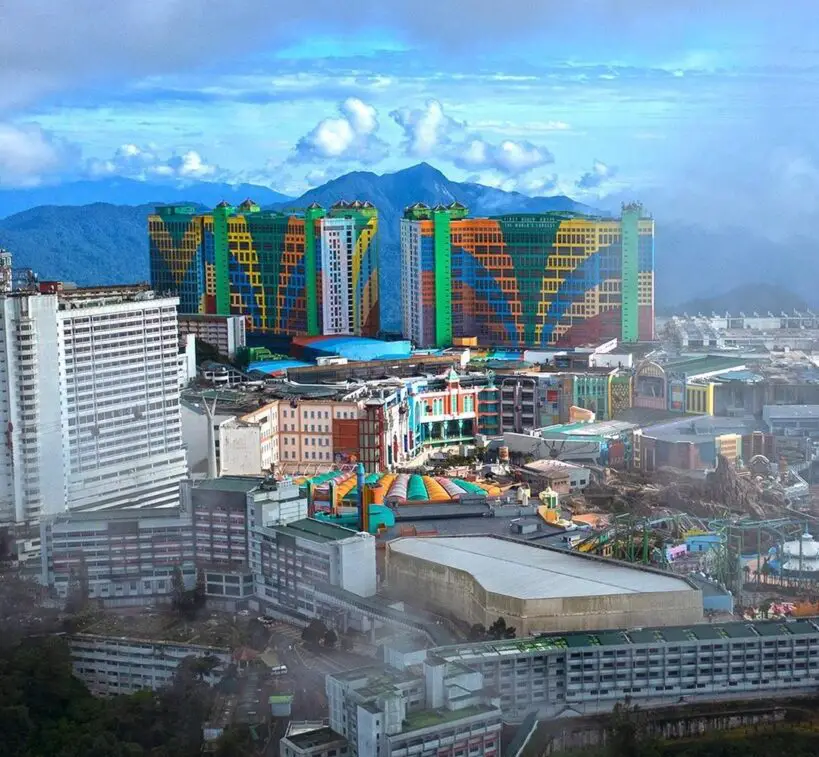 Do you know that all those exciting places in Genting Highlands are actually situated amidst a hundred-year-old rainforest? Being on top of a breezy hill, 1800 metres above sea level, this premier hillside station is known as Malaysia's city of entertainment as it houses an abundance of points of interest to keep you entertained all day long; from touristy hotels to theme parks, temples, and nature parks.
Genting Highlands is located just about an hour and fifteen minutes away from Kuala Lumpur, so you can either drive or take the bus from KL Sentral. While Genting is popular for day trips, it is also a great location for a night stay as you might need more than a day if you wish to explore all of its popular points of interest. So, before you pack your bags and start your journey, continue reading below to find out what to do and eat in Genting Highlands.
Note: You don't have to follow the itinerary accordingly and visit each of the places listed below to get full experience out of Genting Highlands! Feel free to move the suggestions around and organise your own itinerary.
First Stop of the Day: Awana Skyway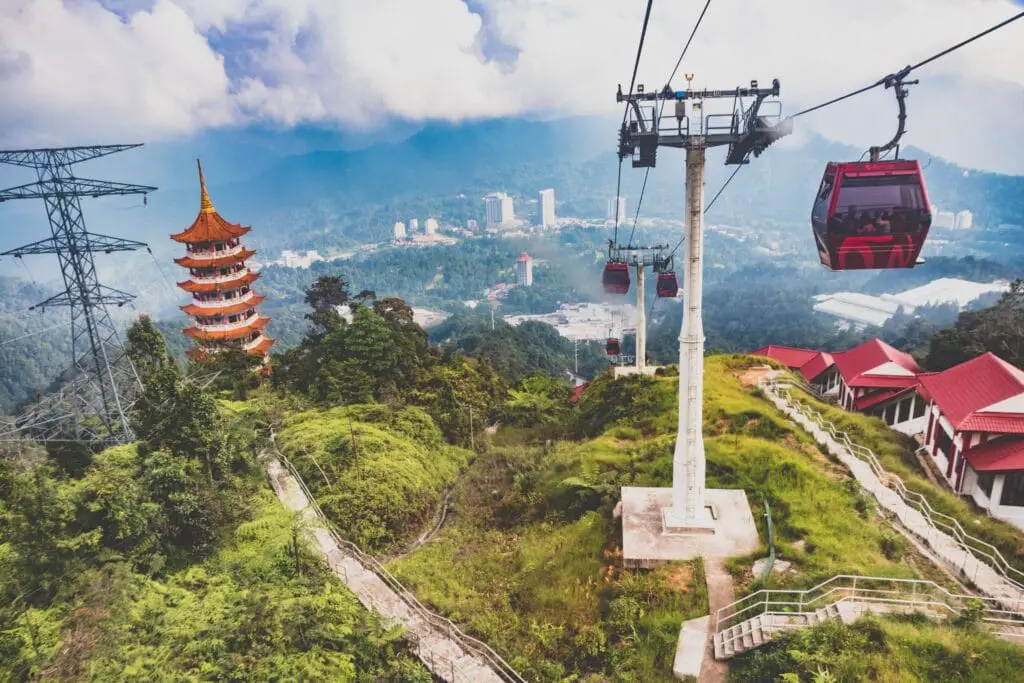 Of course, one of the things that you can't miss whenever you're visiting Genting Highlands is the cable car ride. Awana Skyway is open from 7 am up until midnight. You can leave your vehicle at the Awana SkyCentral Car Park and from there, you can just walk to the station, get your tickets and ride the cable car.
Admire the lush green rainforest below while surrounded by cold mist and fog. You can also get a chance to visit Chin Swee Caves Temple on your way up to the peak.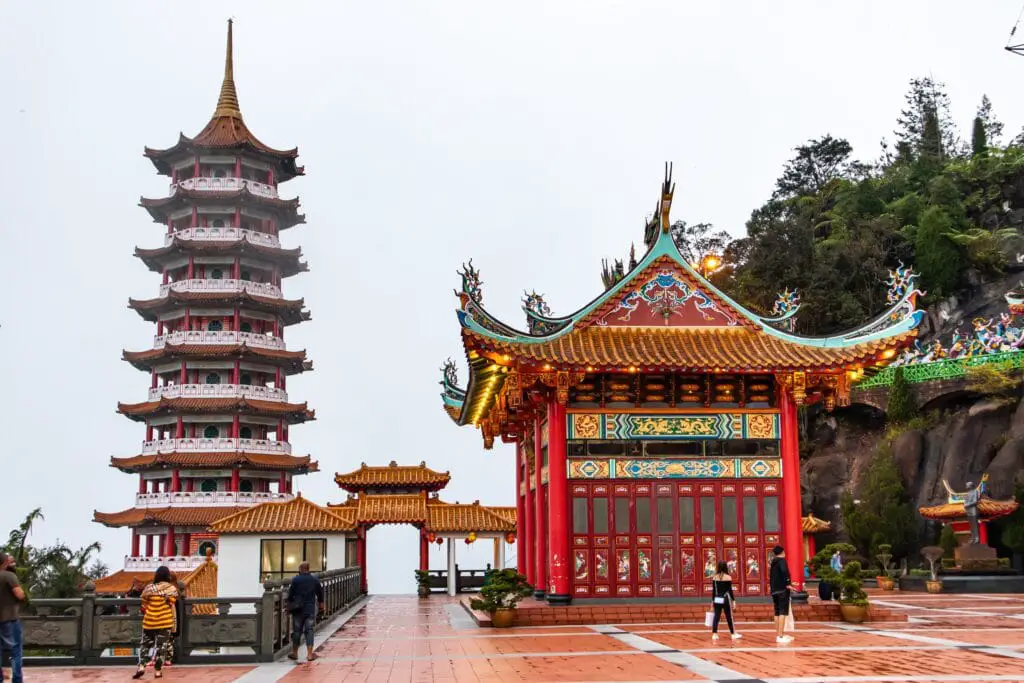 However, if you're not in the mood to wait in the long lines of the queue to get your cable car ticket, feel free to book them online. The standard gondola costs as low as RM 10 for one way while the glass floor gondola is RM 21.
Lunch: Malaysian Food Street and Wanhoi Yamch'a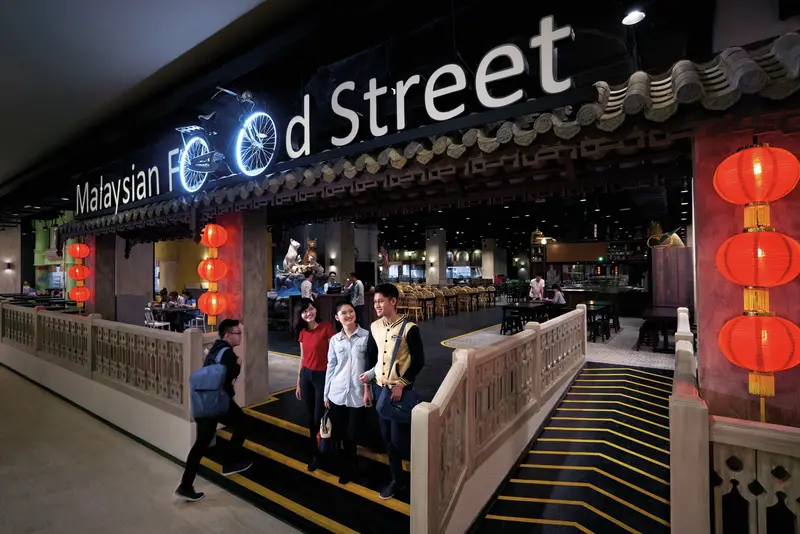 Image source: Malaysian FoodStreet FB
If you crave local cuisines, Malaysian Food Street is where you should head to. This dining place features a total of 20 different stalls that sell popular dishes originating from various states and cities in Malaysia—from Melaka to Penang, Kuching, Ipoh and even Kuala Lumpur!
If you can't decide which dish you should get, try out some of their famous ones such as the Hainanese Chicken Rice, Penang Fried Kway Teow, Hon Kee Porridge, and of course, Cendol. Plus, the dishes at Malaysian Food Street wouldn't leave a hole in your wallet!
For those who are looking for great Chinese restaurants, then Wanhoi Yamch'a is for you. What makes this place special is their food presentation; they serve some of the most unique food with one of them being their signature Phoenix Pastry with Lotus and Egg Yolk Filling. This pastry comes in the shape of a pair of yellow birds sitting in a cage—how cool is that?
Second Stop of the Day: Genting Skytropolis Indoor Theme Park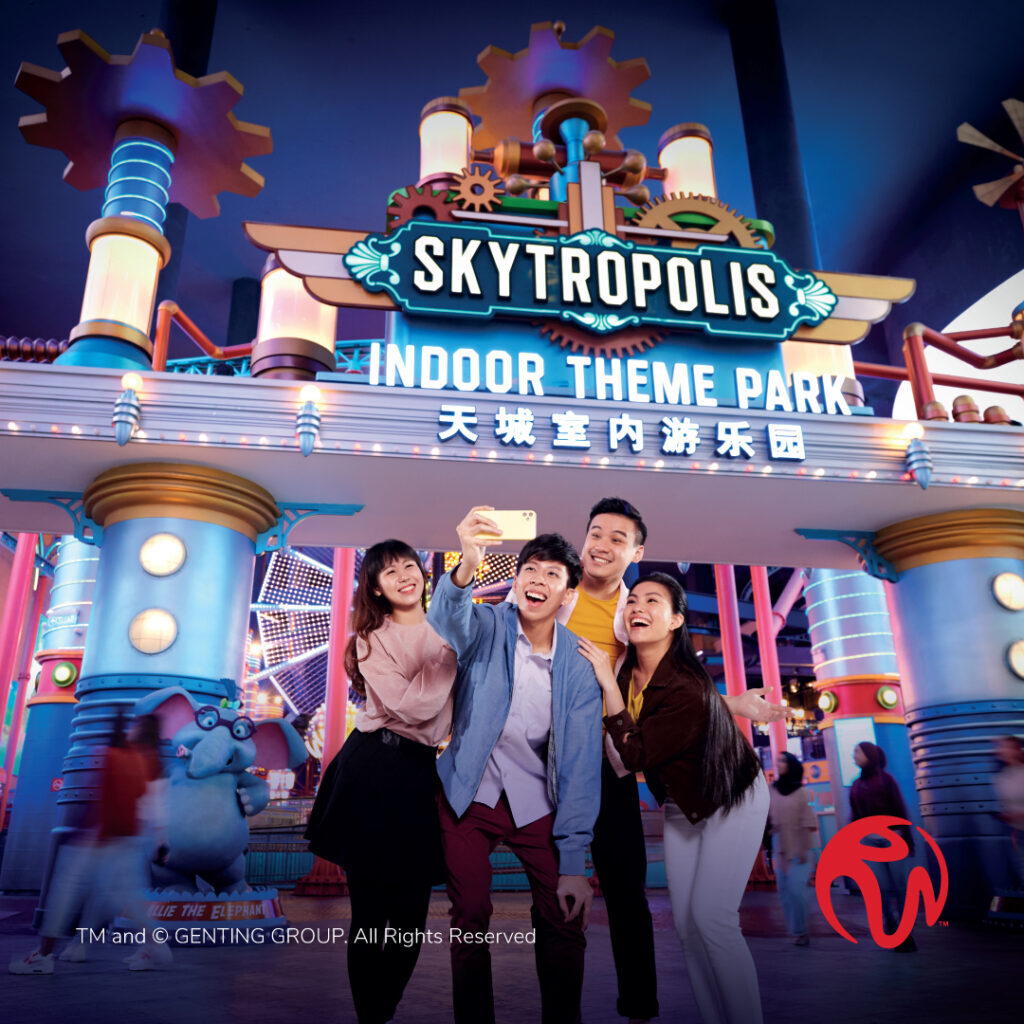 Image source: Resorts World Genting FB
What's a trip to Genting Highlands without spending a few hours having fun at its renowned theme park? The Skytropolis Indoor Theme Park is located in First World Plaza and it houses twenty exciting rides fit for both kids and adults!
Travelling with your small children aged eight and below? Get them on the bumper car for some laughs or they can also have fun on the classic merry-go-round.
For adults, challenge your fear of heights on the Sky Towers, a drop tower ride or get on the Super Glider, a thrilling roller coaster with sharp turns and sudden drops that could make your heart skip a beat!
To enjoy the rides, you can either get the one-day pass for unlimited rides or if you're not planning to get on every one of them, you can also go for the pay-per-ride option where the prices per ride might cost you about RM 5 to RM 17.
Third Stop of the Day: Snow World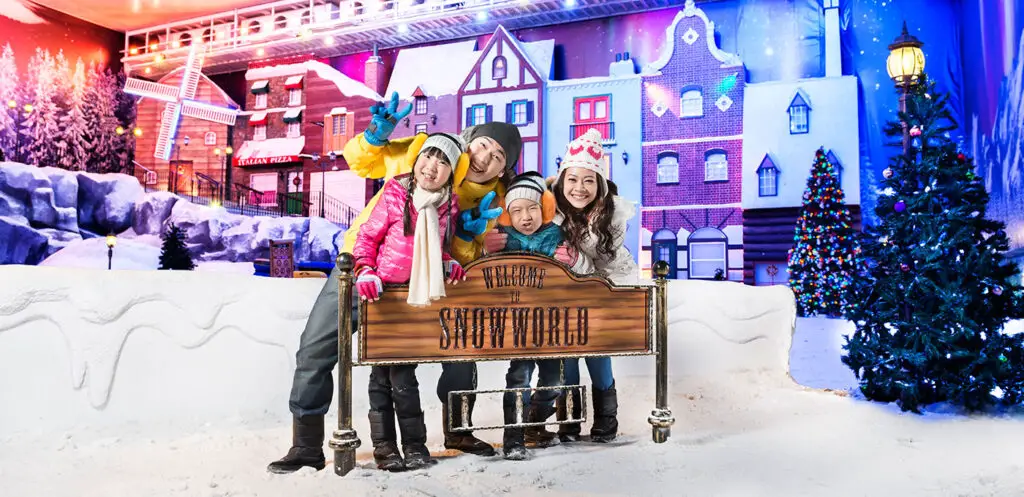 Do you dream of wandering around a quaint European village during winter? If so, you don't have to travel as far as Europe as you can experience that at Genting Snow World. Put on a pair of gloves, a snowcap, and a jacket, and get ready to walk around the village while the snowflakes gently fall on your head and shoulders.
Genting Snow World also features a fun tube slide called Toboggan slide, ancient Roman castles, and several 3D arts that are perfect for pictures. As for the ticket, the price per entry is RM 45.
Dinner: Burger & Lobster and East Court Restaurant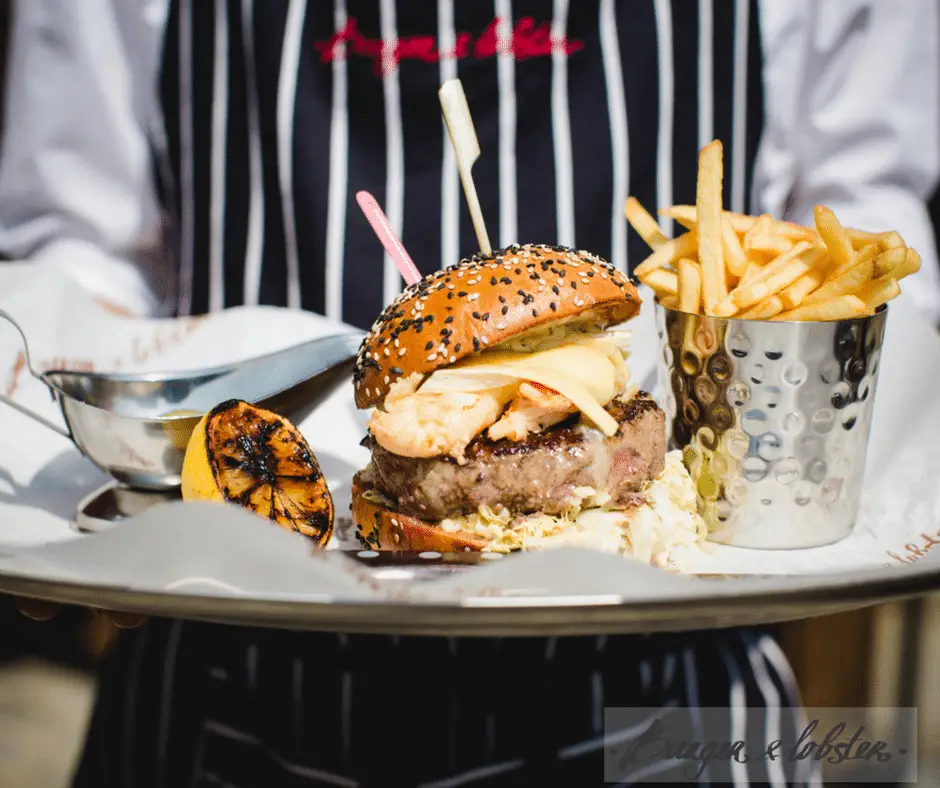 Image source: Burger & Lobster
Originating from the UK, Burger & Lobster is one of the most famous restaurants in Genting Highlands. Located in SkyAvenue Genting, this restaurant has a rather romantic ambience with dim yellow lights occupying the ceiling and bright red booth seats.
Just as its name suggests, they only serve three main menu items which are burgers, wild live lobsters, and lobster rolls. What's great about Burger & Lobster is that they only serve lobsters that are fresh from their very own aquarium! However, do expect to spend your cash more than usual at this restaurant and keep in mind that they only accept walk-in customers.
If you're planning on eating at a restaurant that serves healthier options, then head to East Court Restaurant on the lower level of Genting Hotel. This non-halal restaurant serves an array of Cantonese cuisines that is deliciously infused with traditional Chinese herbs.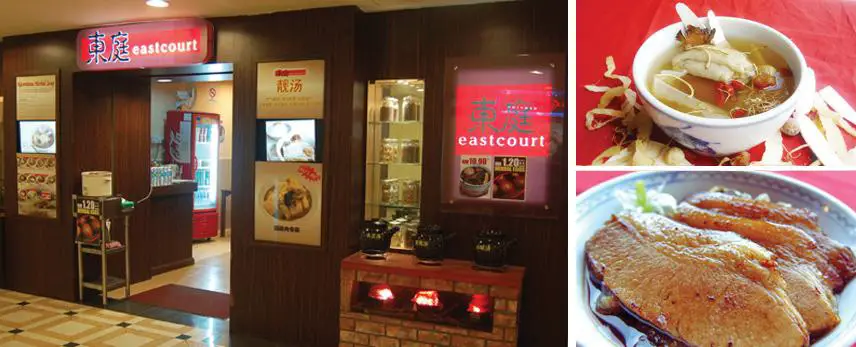 While they serve all sorts of tasty Chinese delicacies, most customers' favourite menu is their soup. Nothing beats sipping a nice and hot soup in the middle of cold and cosy weather on top of a hill!
Breakfast: Coffee Terrace
Before you continue your adventure in Genting, make sure to get some good breakfast in your system so that you have enough energy to have fun! To do that, you can head to Coffee Terrace that can be found on the lobby level of Genting Grand. Keep in mind that this restaurant has a dress code of smart casual, so dress accordingly!
Coffee Terrace is where you can find a great breakfast buffet serving all sorts of delicious cuisines—ranging from local favourites to western, Japanese, Chinese, and Indian cuisines. The restaurant also has a very cosy ambience where you can enjoy your food in full comfort. However, the breakfast buffet is only available from 7 am up until 10.30 am.
First Stop of the Day: Awana Bio Park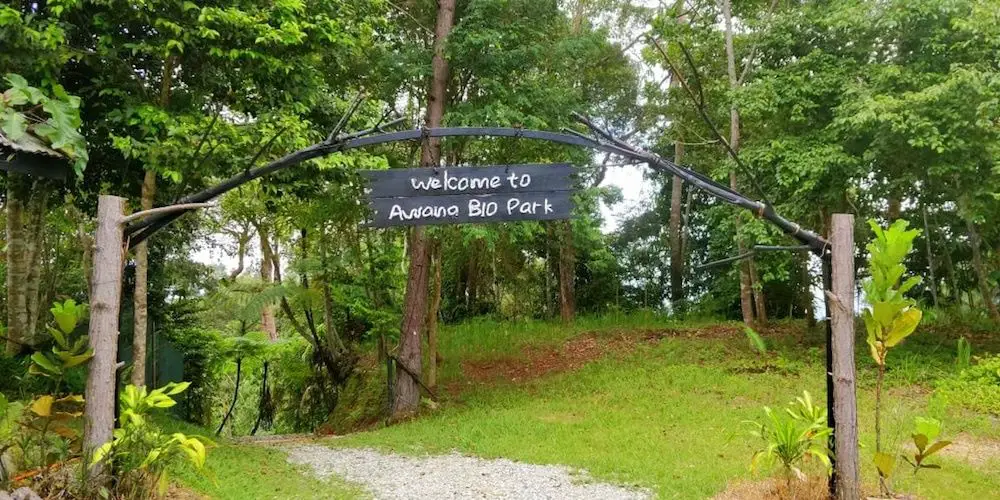 While Genting Highlands is famously known for its theme parks, five-star hotels, and shopping experience, not so many of us are aware of its beautiful mother nature.
If you're someone who loves the outdoors, you should definitely include Awana Bio Park in your itinerary. What's best about this park is that you can ease your mind with terrific scenery of nature while being accompanied by the cold weather!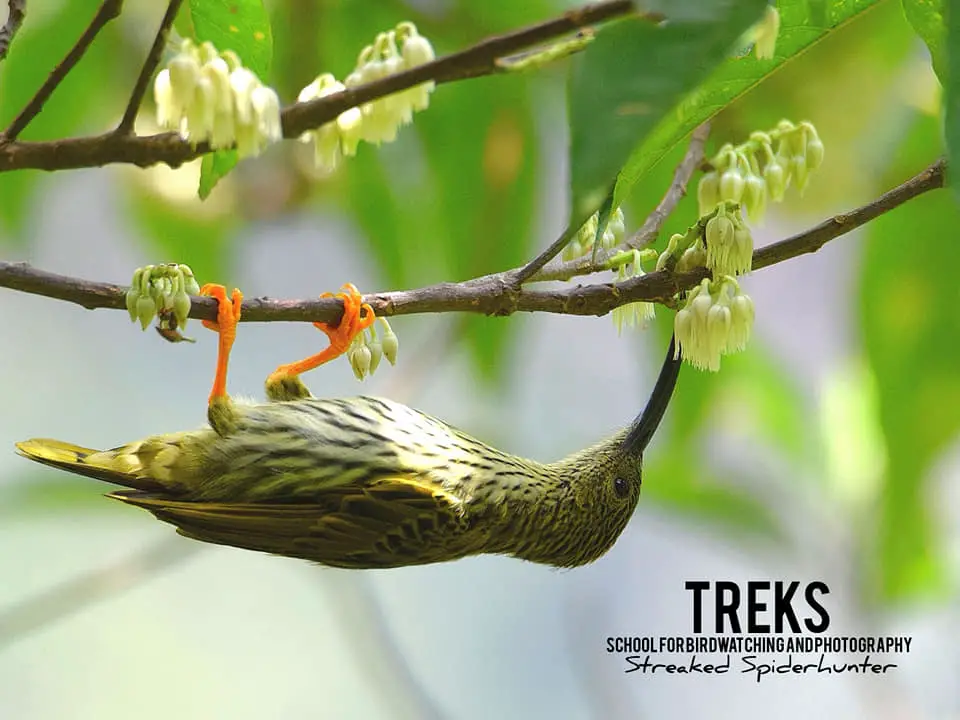 Awana Bio Park is also a perfect place for bird watchers as it is the home to more than 250 species of unique birds—you can easily spot several magnificent hornbills perched on the trees!
Either stroll along the track by yourself or get a guided tour so that you can learn all about the 130 million-year-old forest. If you're lucky, you might even spot the bat orchid, a rare species of orchid, blooming in its natural habitat!
Lunch: Motorino Pizzeria and Five Guys
After a few hours venturing the bio park and admiring the beautiful nature, time to replenish your energy with good food for lunch. Located on the fourth floor of SkyAvenue is a restaurant called Motorino Pizzeria, a top spot especially for those who love Neapolitan-style pizzas.
This place is best known for its tasty homemade sauce and each of the pizzas you order are actually cooked in a wood fired oven! What's best is that you can even watch the entire process of the pizza making from the glass window.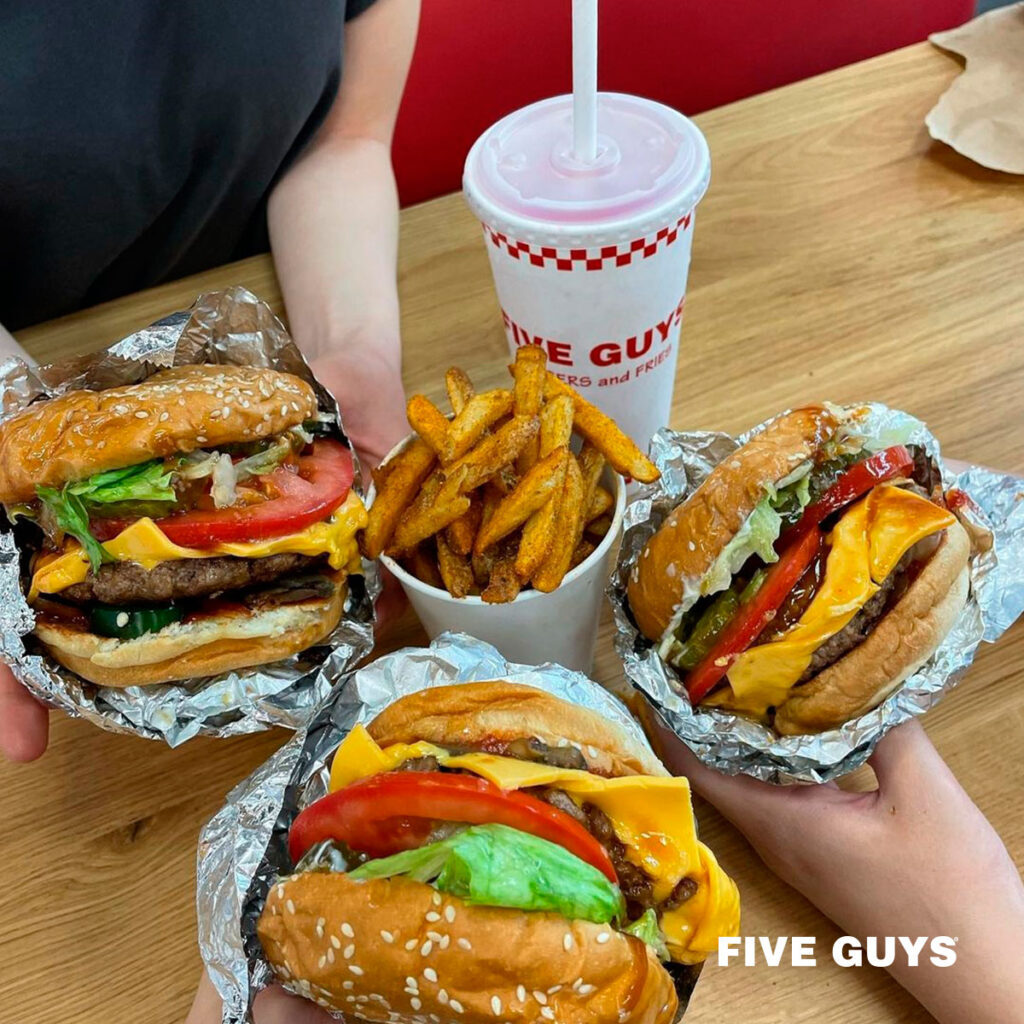 Not really a fan of pizza? Then include Five Guys in your itinerary. Originating from the US, this restaurant has been attracting customers for its juicy burgers and many special toppings that you can choose from.
This place also serves creamy milkshakes and hand-cut fries to accompany your burgers. However, since this is the very first outlet of Five Guys in Malaysia, you can expect to wait in long lines before you could get a seat!
Second Stop of the Day: Ripley's Believe It or Not! Adventureland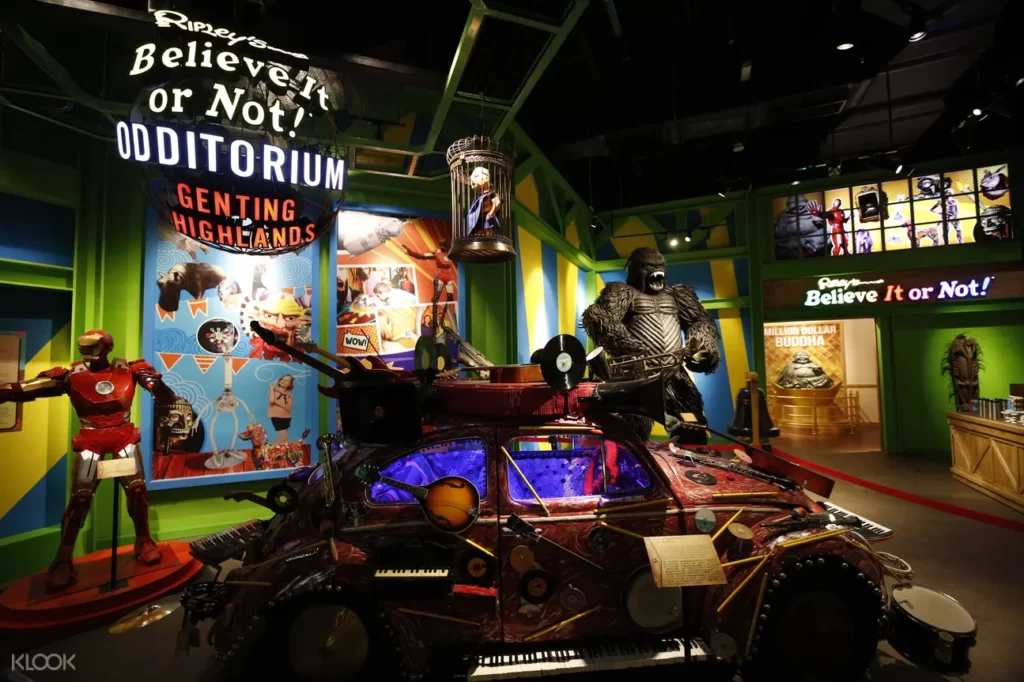 Also found on the fourth level of SkyAvenue, this unique odditorium features a collection of peculiar and wacky items originating from all over the world. 
Take a closer look at those artefacts and enjoy a few other exhibits including the Jurassic Research Centre where you'll be transported to 65 million years ago and meet the vicious dinosaurs that ruled the world, Zombie Outbreak where you'll be running around, trying to save yourselves from the creepy zombies, and 4D Trick Art Museum, a section filled with creative and mind-bending artworks perfect for a photo or two.
Third Stop of the Day: Genting Highlands Premium Outlets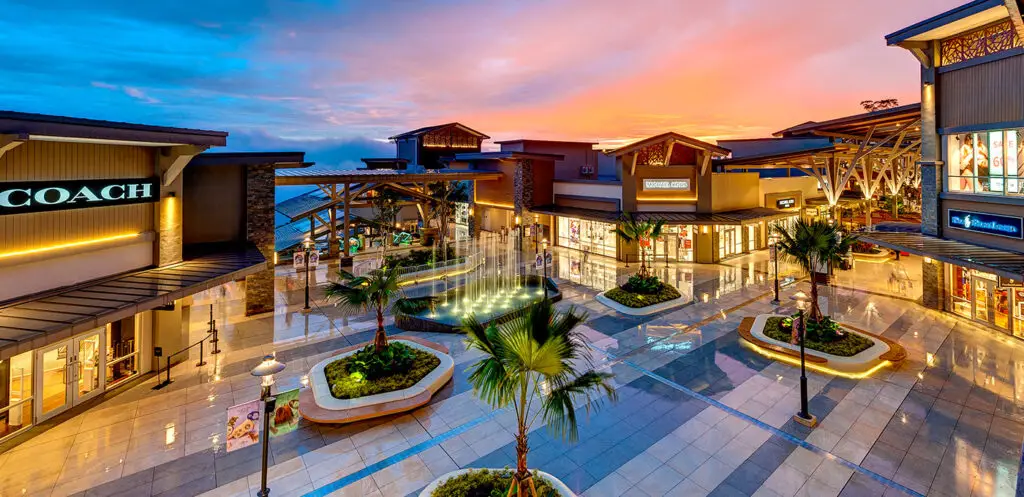 Before you end your trip, make sure to make a last stop to Genting Highlands Premium Outlets or GPO. This is a place that all shopaholics out there should not miss as it is equipped with more than 150 stores from various well-known brands ranging from Adidas to Kate Spade, Aigner, Michael Kors, Moschino, and Ralph Lauren.
Open every day from 10 am to 10 pm, you can enter one store to another without a rush and if you get hungry in the midst of splurging on your favourite brands, get some food and snacks at its food court before continuing your shopping session!
So, is Genting Highland a must-visit destination for your holiday? Of course, it is! You can spend the day having fun with your family and friends at its exciting theme park, experience snowfall at a European village, admire the beauty of a million-year-old rainforest, feast yourself with a wide range of tasty cuisines, and not to forget, go shopping at its premium outlets.
Either plan your short holiday in the nearest time or wait for the brand new outdoor theme park, Genting Skyworlds to launch its opening! Either way, Genting Highlands still can offer you endless fun.
Places to stay in Genting Highlands
Disinfectant Essential Items (Hand-picked!)
As you know we're going to live in the post-covid world. So getting the essential sanitise products with you when you travel are part of our life.
Here is the list of curated disinfectant products with high rating and ready stock in Malaysia without you spending time to search for the best one on the market.
Disclosure: This post contains affiliate links. If you click these links to purchase the product we may earn a commission without extra cost to you. We carefully select the best and all products sold by high rating seller.