Spending the weekends jumping from one cafe to another might sound like a great idea, but imagine the fun if your beloved pets can tag along too. Not only can you reward yourself with a cup of perfectly brewed coffee or perhaps, a plate of creative brunch, but you can also get a chance to brighten up your favourite fur companion's day by bringing them out—who knows they might even make some new friends too!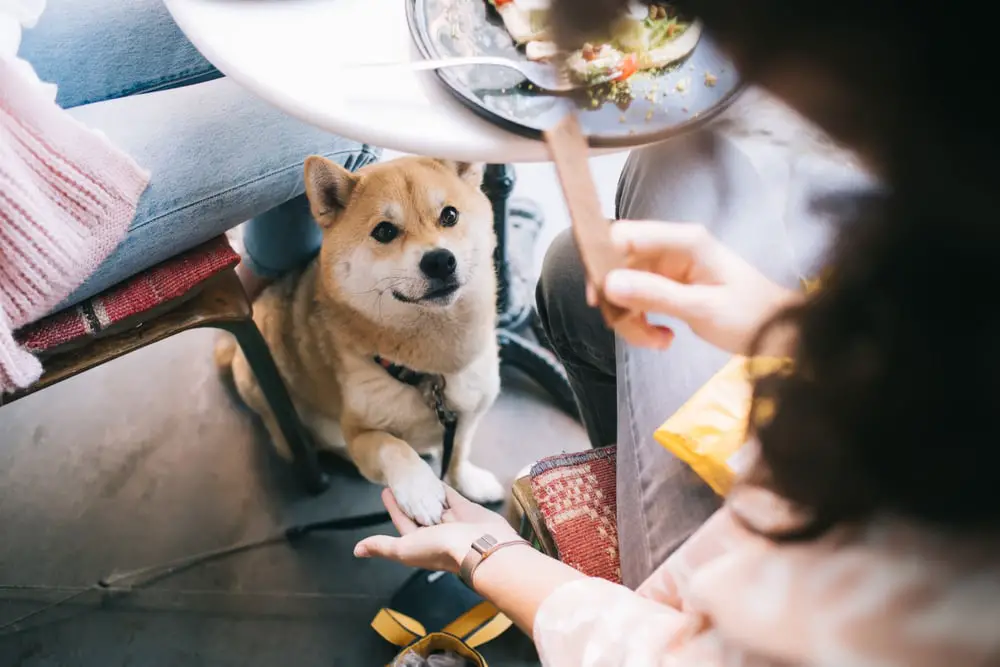 Of course, not all places allow animals into their establishments, but don't worry as we have compiled several pet-friendly cafes scattered throughout KL and PJ that you might not want to miss out on.
Most of them even have a special menu for your pets to enjoy! So, continue scrolling below to discover them all.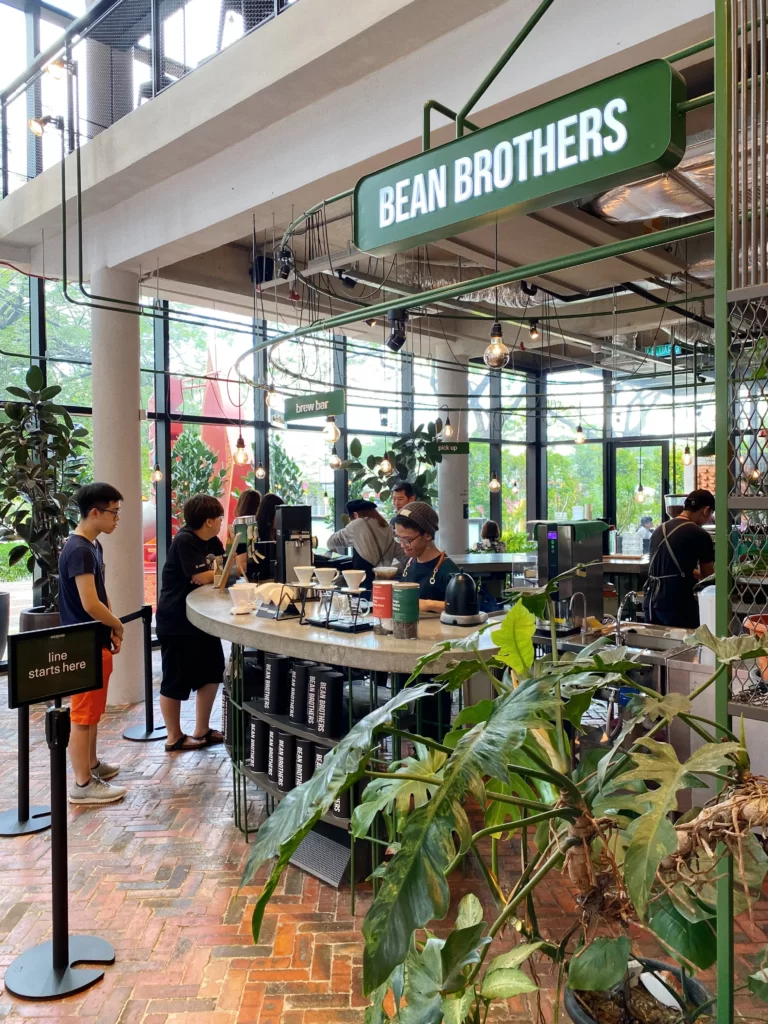 Image source: beanbrothers.my
Located in The LINC KL, a trendy and chic shopping mall in the middle of Kuala Lumpur, the Bean Brothers is definitely a must for those who are planning on bringing their furry friends out for a relaxing day.
This rustic cafe has two different seating areas—the quiet indoors which is typically filled with those with their laptops and the outdoors which is a cosy pet-friendly area with a tiny forest adorning the space, making you feel as if you're taking some time off somewhere far from the city!
What's best is that you can also enjoy a cup of coffee with your four-legged friends. Simply order a "Puppycino", a type of pet-safe treat topped with whipped cream and other healthy toppings for your loyal furry friend.
Apart from the great coffee and a treat for your pets, Bean Brothers also has an array of delicious food waiting for you, but do keep in mind that the kitchen closes at 5.30–you can, however, stay for drinks up until 8 pm.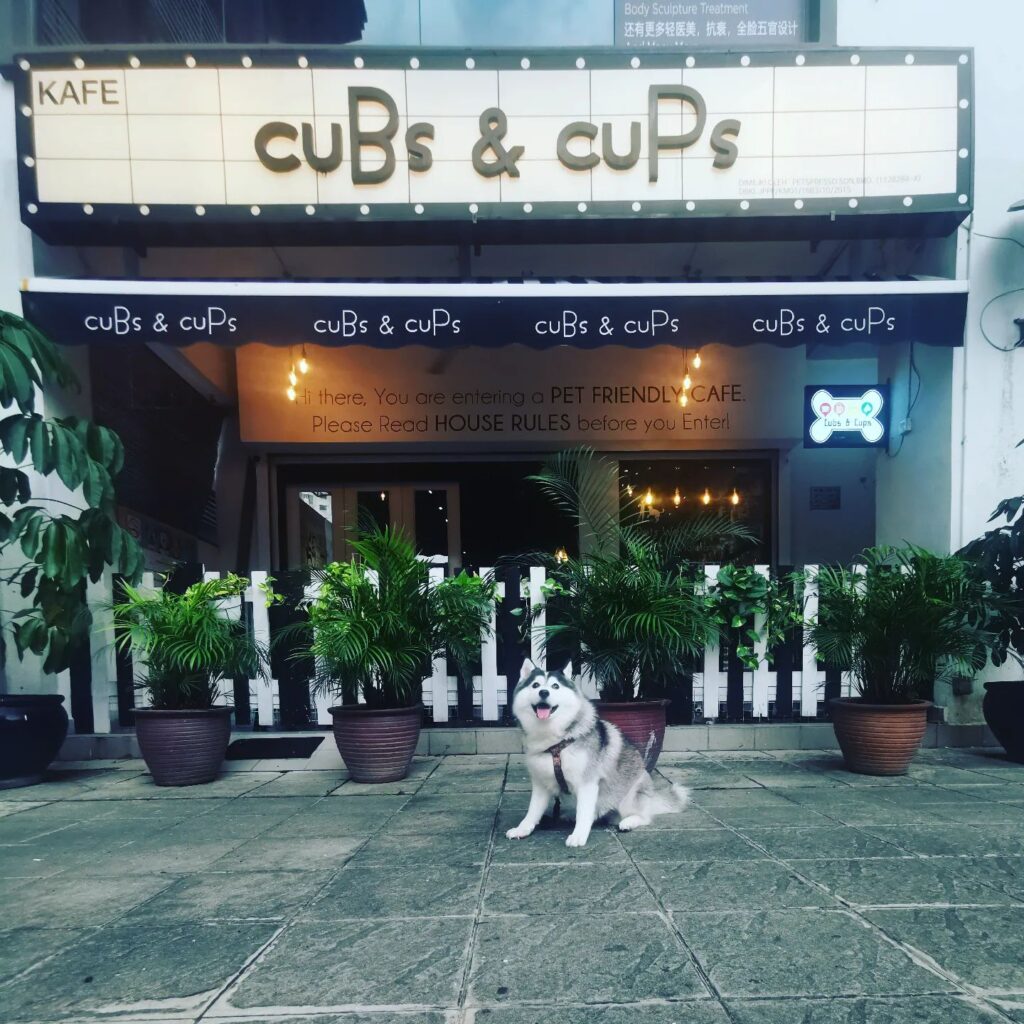 Image source: Cubs & Cups Facebook
Many claim that those with canine companions should visit Cubs & Cups at least once in their entire lifetime. Situated in Desa Sri Hartamas, this puppy-friendly cafe is pretty easy to spot especially with its adorable all-white picket fence surrounding its entrance.
Opens until 9.30 pm and 10.30 pm during the weekends, this cafe is often packed with customers during the evening. Also, don't worry if you're sensitive to smell as the cafe is squeaky clean and odour-free even when it is filled with a couple of furry friends all day long!
As for the foods and beverages here, Cubs & Cups has it all sorted; some of their best include their cheesy pepperoni and bacon pizza, basil pesto chicken pasta, and salmon alfredo.
You can also customise some meals for your friendly pets too so you won't have to worry about eating alone!
Swim Paradise Park & Cafe
Is sipping coffee in a quiet cafe accompanied by your pet a tiny bit boring for your weekend? If so, then make an appointment and head straight to Swim Paradise Park & Cafe in Jalan Klang Lama.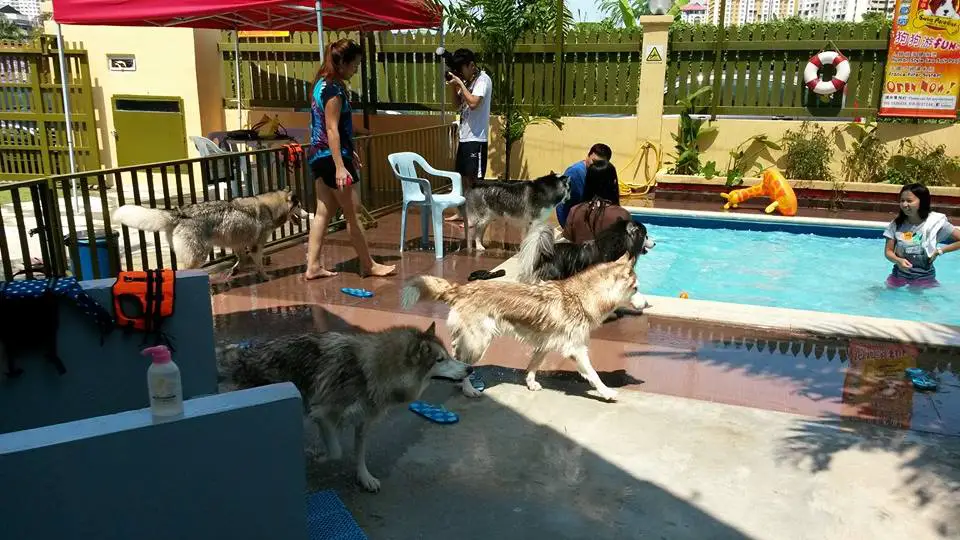 Prices at below RM 50 per session, you can get your friendly pet an access to the swimming pool along with several cute floats and slides for them to have the best time of their lives. The best part of all is that your furry companions will also get some complimentary food as treats!
While pet owners are also welcomed in the pool, those who are not planning to get wet can spend some time at the cafe while watching their beloved pets wiggling their tails and happily swimming around.
If you adore huskies and malamutes more than anything in this world, then you'll surely have a blast at Huskiss, a cafe situated in Zenith Corporate Park, Petaling Jaya. With a cover charge of RM 50, you will get a complimentary drink and an hour of fun with all the friendly huskies and malamutes there!
Do keep in mind, however, that you're required to make a booking beforehand and you're also not allowed to bring your own pets here. 
Since huskies are known to be extremely energetic dog breeds, you can expect to see all kinds of their behaviours and antics—some are even amusing! The cafe also has friendly and knowledgeable staff around so go ahead and ask all about huskies and dogs.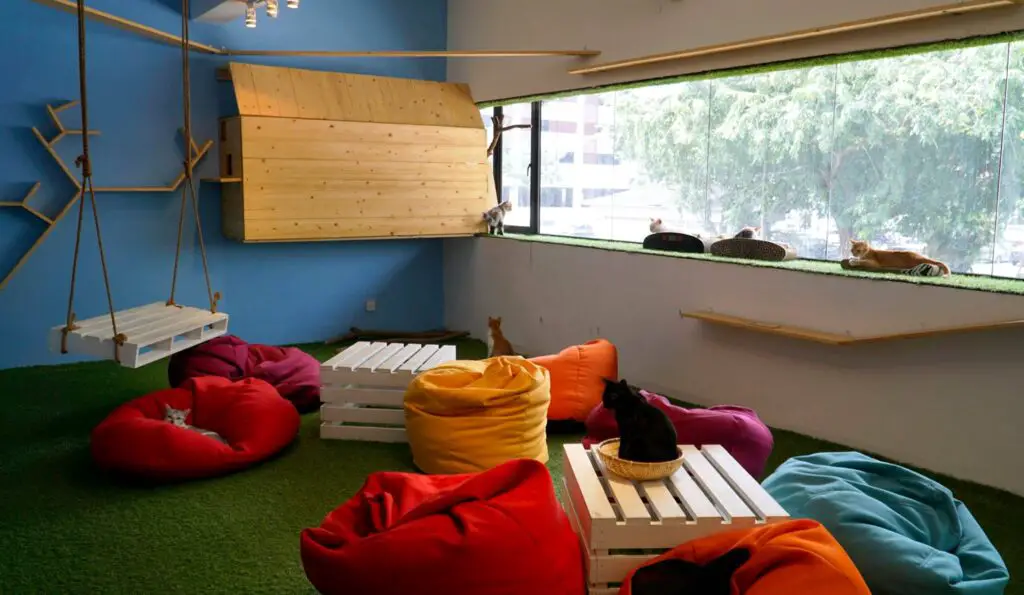 Image source: Purradise Car Cafe FB
As for feline lovers out there, Purradise Cat Cafe is surely a great spot for you. Just as its name suggests, this colourful cafe has several adorable cats waiting to accompany you throughout your entire visit. Located in TTDI and right above 99 Speedmart, this cafe opens its doors to all cat-lovers from 2 pm until 9 pm.
Since this cafe aims to support and improve both animal welfare and wellbeing, most of the felines housed here are rescued cats waiting to find their forever homes. So, if you've been planning on adopting one, be sure to plan a visit to this cafe.
Get to know these furry creatures and its behaviour and only adopt them if you can really commit! Apart from playing with the cats, do keep in mind that this cafe only serves drinks and light snacks, so don't expect a full meal written on their menu.
If you can't get enough of quirky cafes and you plan on bringing your beloved pet with you this time around, then you can never go wrong with Little Chirpy Hub which is situated in Bangsar. Sporting a vibrant royal blue entrance, this cute pet-friendly cafe even has its very own resident Pomeranian named Snowy who will greet you the moment you step into the doors.
Began opening its doors to all pet owners earlier in 2022, Little Chirpy Hub is also praised not only for its pet-friendly spaces and quaint surroundings, but also for its tasteful dishes—for humans and pets alike!
You can either enjoy your matcha latte with a plate of fish and chips or avocado toasts while your pets indulge themselves with a full meal consisting of 80% high-quality meat and 20% vegetables.
Designed to allow your furry friends to roam free, it is not a surprise when you see a couple of pomeranians in adorable outfits and corgis strolling around the space with their fluffy tails wagging with happiness and excitement.
Operating since 2014 in Damansara Jaya, Clawset Cafe has been a favourite spot to chill and hangout especially among dog owners—cats are welcomed too, but apart from the cafe's resident grumpy cat, they surely are a rare sight here!
When it comes to food, visitors can find an array of delicacies to satisfy their cravings—ranging from classic western food to flavourful Asian dishes and sweet desserts.
As for your furry friends, you can also order a few pet-friendly meals for them to enjoy. If you still have some time, go ahead and visit the pet salon next to the cafe—it'll definitely make your pet's day even brighter!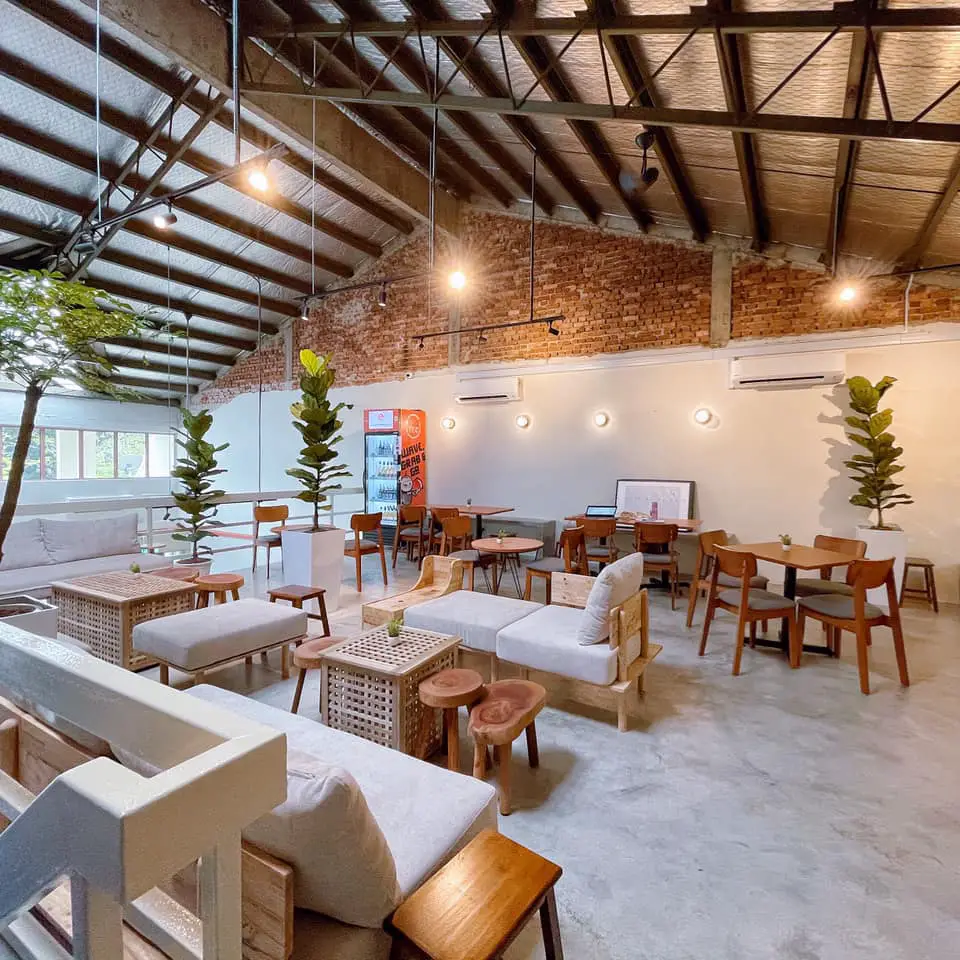 Image source: Twenty Forty Six FB
Twenty Forty Six might not appear like your typical aesthetically-pleasing cafe from the outside, especially when the glass front is completely opaque. But, don't let that fool you as the moment you step through the doors, you'll immediately be greeted by not only a quaint surrounding, but also a colourful sunlit space all perfectly decorated beneath the soaring high ceilings.
With the ample space in this cafe, it is not a problem for your furry little friends to start exploring and having some fun. You can sit back and enjoy a mouthwatering plate of lunch or their signature Portuguese egg tart accompanied with a hot cup of creamy latte while keeping your eyes on your pets wandering around.
Both KL and PJ surely do have a variety of unique pet-friendly cafes for you and your loyal companions to visit.
However, do keep in mind to always check on your pets whenever you're visiting these cafes and make sure you're responsible for any kinds of mess that they might accidentally cause!