Are you a fan of simple, clean and modern home designs? If you are, then we think you're going to love Jiran58 Guesthouse Airbnb Taiping.
When you visit Jiran58 Guesthouse Airbnb Taiping, some of the first things that you'll notice include the seamless mix between traditional and modern home elements. 
You'll first notice some traditional details in the home exterior, matched with a modern look for the overall building.
As for what awaits inside, let's just say that it's going to be very cozy and comfortable. You'll have to read the full interview piece below to find out more about this cozy hideout in Taiping, Perak!
Do note that our host Derrick Chua spared no details in his journey from choosing the establishment, renovating the place and the wonderful guests that he had the honor to serve, so you're getting the full scoop for everything that you need to know and more for Jiran58 Guesthouse Airbnb Taiping!
1) Please introduce yourself and the story of how you came to be an Airbnb host.
Hi, I'm Derrick Chua. I'm a graphic designer and I've been doing digital marketing for the hospitality and tourism industry in the past years. It may sound odd, but I became an Airbnb host purely by chance.
2) Could you introduce your co-host Mandy and Siew Ling as well? What are their roles and responsibilities at Jiran58 Guesthouse Airbnb Taiping?
Mandy and Siew Ling are both my sisters. They mainly deal with Jiran 58 Guesthouse's daily work routines, including replying to customers' inquiries. My mother and sister also heavily contributes to our homestay establishment. Jiran 58 definitely relies on our family members for a smooth management and operation.
3) Please tell us the concept behind the name of "Jiran 58" Guesthouse Airbnb Taiping.
'Jiran' means neighbours in Malay. In small towns, neighbours are all friendly and kind. Our terrace house just so happened to have 58 as our house number. The rest is probably self-explanatory.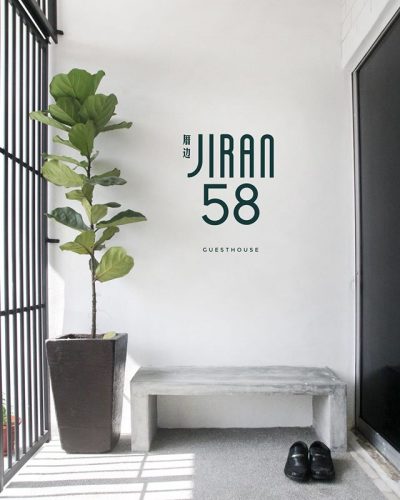 We named it 'Jiran 58' to emphasize the concept that we are here to be your neighbours regardless of your origin and background. We hope that our guests can sincerely feel our kindness and friendliness. If we were to open a second or third homestay in future, we would certainly incorporate 'Jiran' into the name as well.
4) Can you tell us more about the background of this 30-year-old house Jiran58 Guesthouse Airbnb Taiping?
Before my sister bought this house, the old landlord and his family stayed there. When the landlord's family moved away, they rented out the house. Soon after, we acquired the house.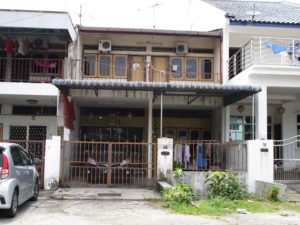 Original condition before taking over
We noticed that the bathroom and the toilet were separated, and the place has not undergone proper renovations for years. Signs of old age were showing, and the way the home was structured seemed to block sunlight from entering it. You can guess that the house wasn't in its best state just from this description.
5) Why did you decide to buy this old house and renovate it for your Airbnb?
My mother and my second-eldest sister first took a fancy to this house after noticing its strategic location. The house is located in the town centre town, so it's easy to access pretty much any other places in Taiping.
After my sister bought this secondhand house, she rented it out. However, we came across an issue where the home rental charges will not be enough to cover the costs for our home loan and routine maintenance fees.
So, I suggested that she gave Airbnb a try. My other sisters and I helped to pay the renovation fees, and so with that, I started to design my dream house.
6) What inspired you to go for the modern minimalist style concept?
We were limited by our funds, so in a way a minimalist concept was able to help us save costs and bring out an amazing modern style for the home.
This design style also enabled me to retain some of the older features of this home, such as the iron sliding door, the intricate details in the small ceramic tiles and so on. The modern minimalist style was just perfect for this purpose!
7) What was the biggest challenge during the renovation progress?
I'm not an interior designer, so fair to say that I have no clue how to start with the layout design. So, what I did was to create plenty of layout design drafts, perform plenty of research to gain insights into the type of design that I wanted.
I showed a lot of pictures to the contractor and communicated with them extensively. Given that I'm not an interior designer, I couldn't design the layout, so what I could do was drafting, searching for vast amounts of information, showing pictures and communicating with the contractor extensively.
At the time, I travelled from KL to Taiping every week to follow up on the progress and ensure that everything is being carried out smoothly. There were plenty of details to pay attention to because the house was old, and some decisions were not easy to make.
8) Which part of the house is your favourite and why?
The design of the en-suite washroom is my favourite. I made use of air bricks as part of the design to help with the ventilation.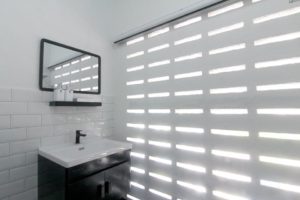 It improves the airflow for the washroom, and brings in more natural light as well!
9) What is the most memorable experience that you have gotten as an Jiran58 Guesthouse Airbnb Taiping host?
In mid-2019, a guest informed us that she wanted to bring her mother back to Taiping for a visit. Her mother was old and frail with mobility issues, so she needed a wheelchair to go around and require care around the clock.
Our guest told us that her mother had not returned to her hometown for 30 years, and has not been able to meet her sister for all those years. That was what prompted her visit to Taiping, her mother's hometown.
With her mother's condition in mind, we made some special arrangements. We wanted to do our part to help fulfill her wishes, and we thus started by adding ramps to certain areas of the house. There was a ramp at the entrance of the bathroom, and one from the living room towards the dining area. Our lovely guests turned out to stay at Jiran58 comfortably for 3 nights, and she fulfilled her mother's wishes to reunite with her long-lost sisters.
She expressed her thanks to us for helping to realize her mother's wish, but this gratitude certainly doesn't go on a one-way street. We were also thankful for her faith in us and the unique opportunity that she provided us with as well!
10) Have you ever met any special guests that make a great story to Jiran 58 so far?
I think it's fair to say that every guest that comes by Jiran58 is special to us. Each brings a unique story to Jiran58 – some were here for vacations, some for visiting relatives, some to attend wedding dinners and some were here to take part in marathons!
We also had a few guests who held wedding ceremonies at Jiran58, making our place a part of our guests' life stories forever.
11) Can you tell us more about the neighbourhood surrounding your house? Any hidden gem to share?
Jiran58 is located within a residential area, which is also within a walking distance to town. From here, you can easily navigate to Taiping Lake and visit tourist spots such as the morning market, the clock tower and so on just on foot! It's that close.
You can find plenty of restaurants around here, as well as a 99 Speedmart and a Maybank branch.
12) What are some of the best-recommended food in your area?
I would like to recommend the Teochew Fishball Fried Kuey Teow, Jawa Noodles, Ansari Cendol, Pokok Asam Laksa, Duck Egg Char Kuey Teow and Chee Cheong Fun at Siang Malam. I also fully commend Hor Ka Sai at Old Master Nanyang Chef Café and the salted coffee from Uncle Chuan Kopitiam. You'll need to try it to know it!
13) Any plans that coming soon in the near future?
I hope to establish a professional Airbnb management company to help lodging owners manage their property. I would also love to help promote tourism in Taiping by organizing some attractive activities. Who knows, maybe I'd be contributing to Taiping's development as well!
Wow, Derrick, that sure is some long-term goals to have along with Jiran58's development!
We also have to say, the recommended food sure does sound very delicious and tantalizing. Looks like Jiran58 guests will not need to worry about finding their next meal here at all!
Be sure to check out Jiran58's Facebook page find out more about what they have to offer and when you can get your chance to stay there as well! The Jiran58 Guesthouse Airbnb Taiping has 4 bedrooms and able to fit up to 12 guests!
New to Airbnb? Sign up for Airbnb with the link here will get RM138 off!
Follow us to get more stories like this on Facebook & Instagram
P.S. This is not a paid advertising, all the interviews are done by invitation only.
P.P.S Check out our collection of unique lodgings and add them to your wishlist!