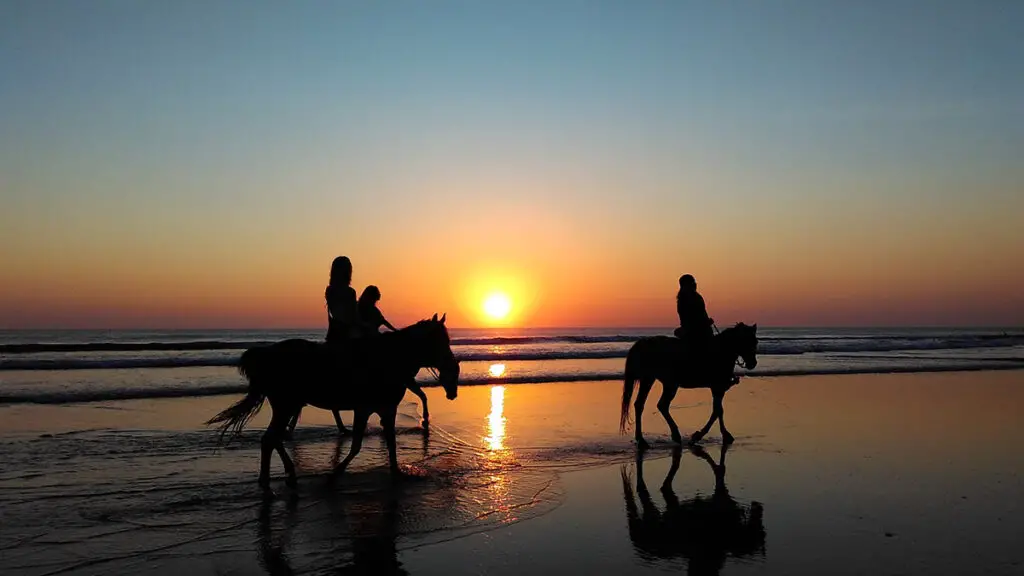 Have you ever dreamed about spending the weekends doing something productive, out of the ordinary, and of course, away from the sight of your desktops in your home office?
If so, how about you grab your car keys, bring along your loved ones and make your way to one of the few horse riding clubs scattered throughout both Kuala Lumpur and Selangor.
Don't worry if you have no experience riding a horse as all of the places we listed below have professional instructors who will guide you from the moment you climb up the saddle until you have the reins in your hands, ready to trot your way around the white-fenced paddock. 
Who knows, instead of a one time visit, horse riding will be your weekly activity!
Denai Alam Recreational and Riding Club (DARC)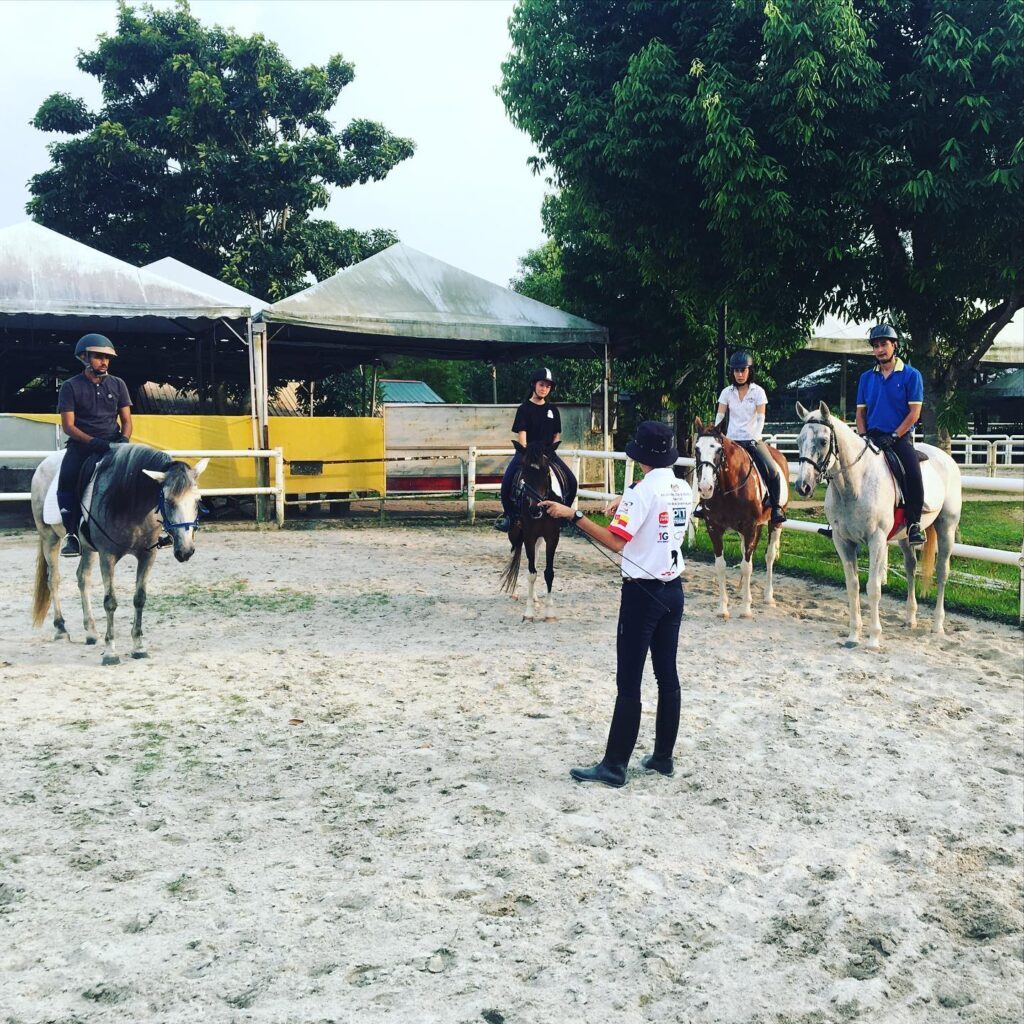 First opened to the public in 2009, Denai Alam Recreational and Riding Club or also known as DARC is a great spot for those who are new to the world of horse riding. Being the home to dozens of healthy horses, DARC is also known to have the friendliest horse riding instructors ready to show you the ropes!
You can either go for a joyride or if you're keen on learning all about horseback riding—from how to properly step on the stirrups to the correct posture while you're on the saddle—the riding club also offers a few lesson packages with a price starting from RM250 for six sessions.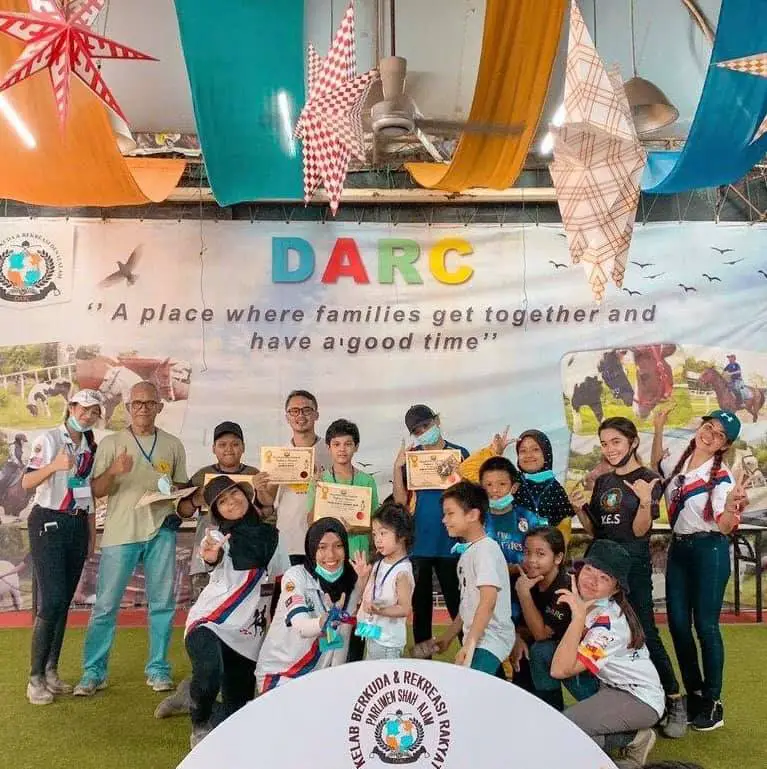 If you're visiting in a group of ten, Denai Alam Riding Club has a Half-day Programme that costs RM110 per person where you'll learn how to properly ride a horse while getting some information about horse care. At the end of the programme, you'll also be rewarded with a certificate!
What's best is that the riding club does not only focus on adults. They also have riding programmes for children and other kid-friendly activities that your little ones will surely enjoy.
Aside from horses and ponies, children can have some fun petting small animals at their petting zoo or have the time of their lives playing in the splash pool.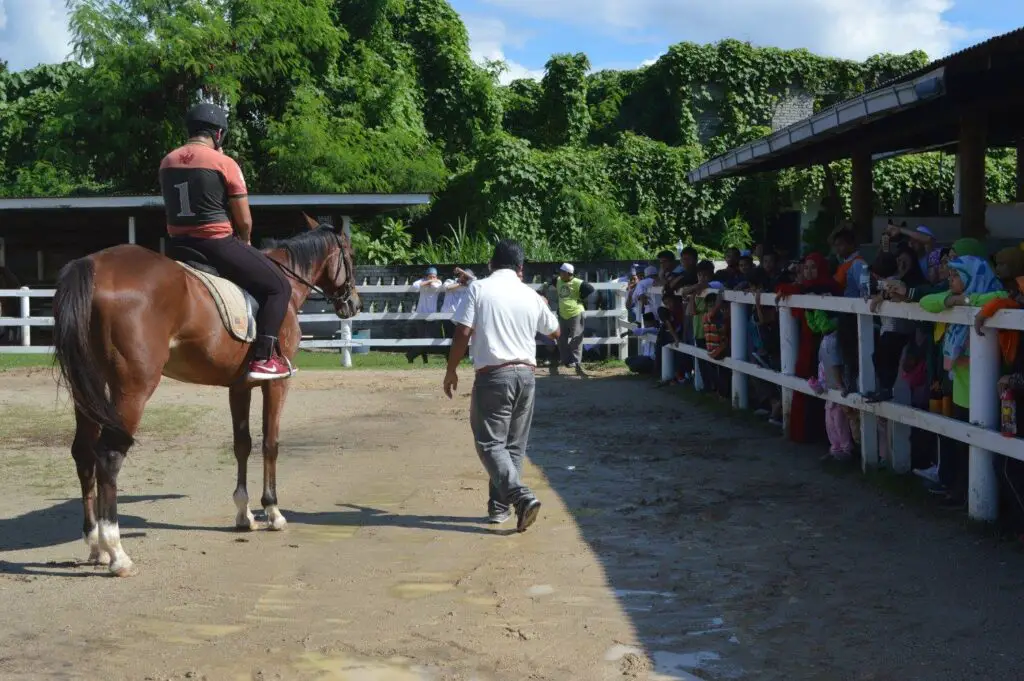 Located in Kg Changkat, Selangor, this equestrian park is another location perfect for beginners.
Tucked away from the busy sounds of the city, this riding club has a rather tranquil environment, making it great especially for those who are in need of a stress reliever.
Of course, just like other horse riding clubs, Rubinga Equestrian Park offers both joyrides and private classes. If you're not planning on spending hundreds of ringgit for a set of private classes, you can go on the double rounds of a joyride for only RM 3 per person.
After a few minutes on the saddle, you can continue the fun by shooting some arrows and trying to hit the bullseye at the club's archery range or interact with the adorable bunnies at its rabbit farm.
Taman Ekuestrian Putrajaya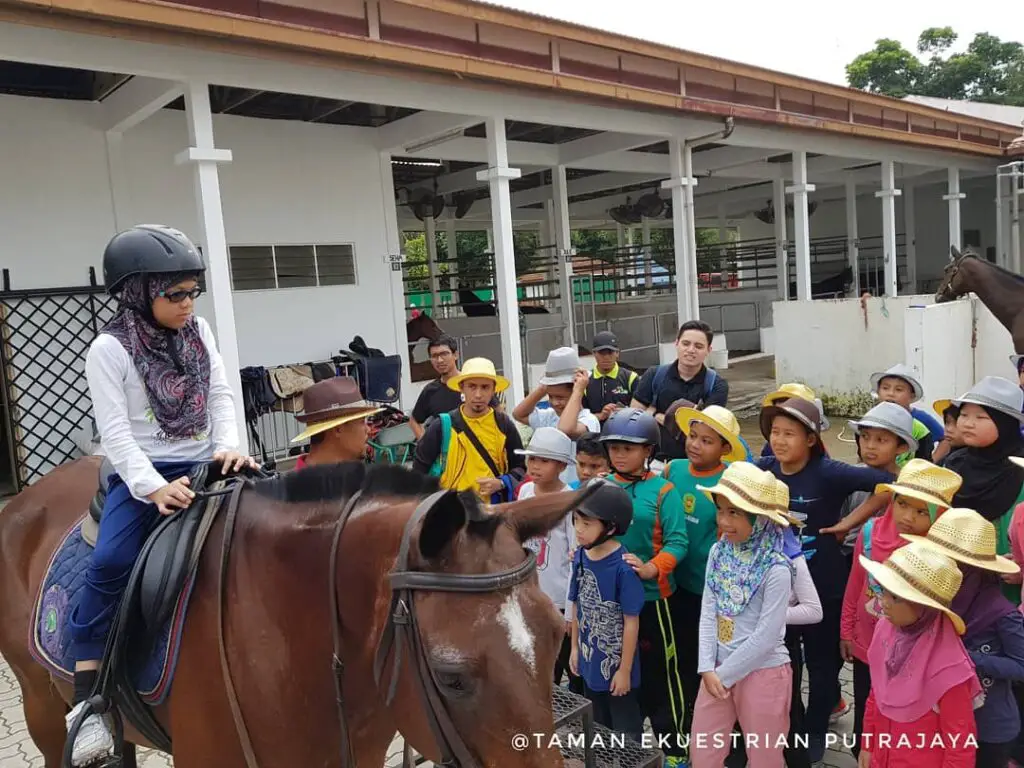 Ready to step up the game a little bit after all of those beginner lessons? If you're more than ready, then head to Taman Ekuestrian Putrajaya in Precinct 5. This equestrian park features three levels of lessons; beginner, intermediate as well as advanced.
These packages start at RM 600 for a total of eight 45-minute sessions. Of course, once you've passed the lessons, you'll be getting a certificate that can prove your skills in horseback riding!
Other than joy rides and pony rides for children, the Putrajaya Equestrian Park also has a football and rugby field, a netball court, and a space for you to throw frisbees.
You can even cycle around the area while inhaling the fresh air. After a few hours of productive activities, go ahead and order some food at their very own restaurant and cafe.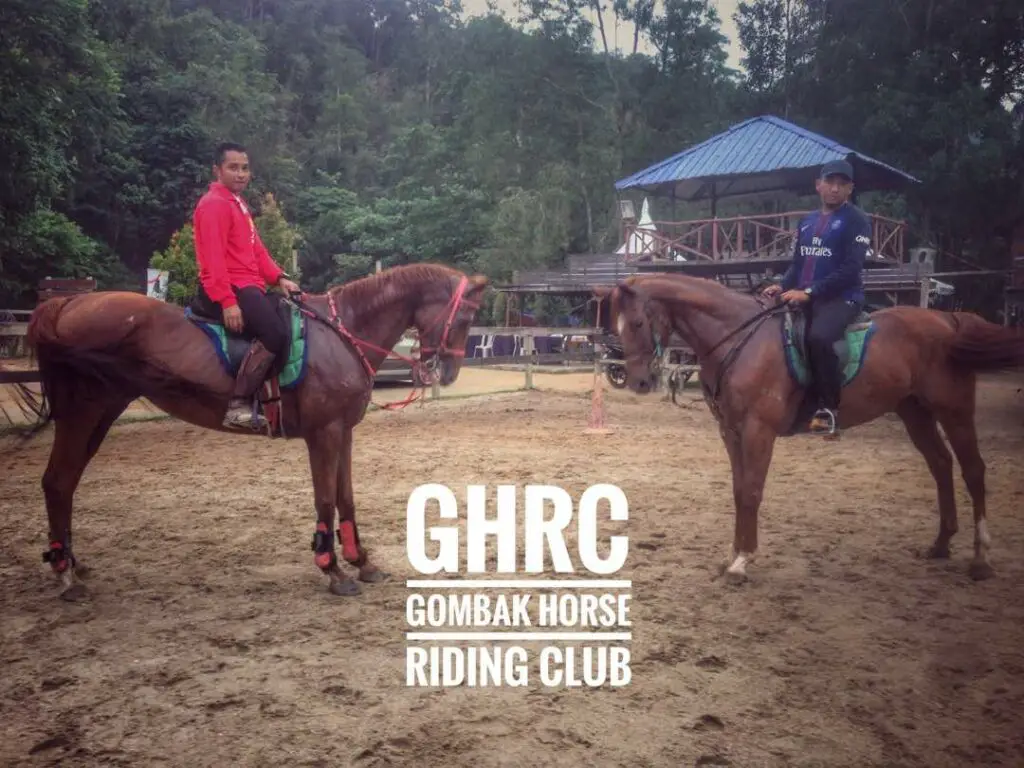 Situated in Gombak just about 30 minutes away from the Kuala Lumpur City Centre is a rustic horse riding club with a slight hint of a 'wild wild west' theme.
Once you set foot at the club, you'll immediately be greeted by a spacious paddock and a stable full of several friendly horses neighing and munching on hays.
Whether you have a membership or are a first-time guest, you can enjoy some of the riding club's fun activities and packages. Want to learn how to trot or canter?
Sign up for the lessons conducted by the professional trainers or if you want to mount the horse and ride somewhere out of the training paddock, choose the 20 kilometres outdoor track package where you'll be going through the woods and some villages. Prefer something more challenging?
Try shooting some arrows while riding the horse!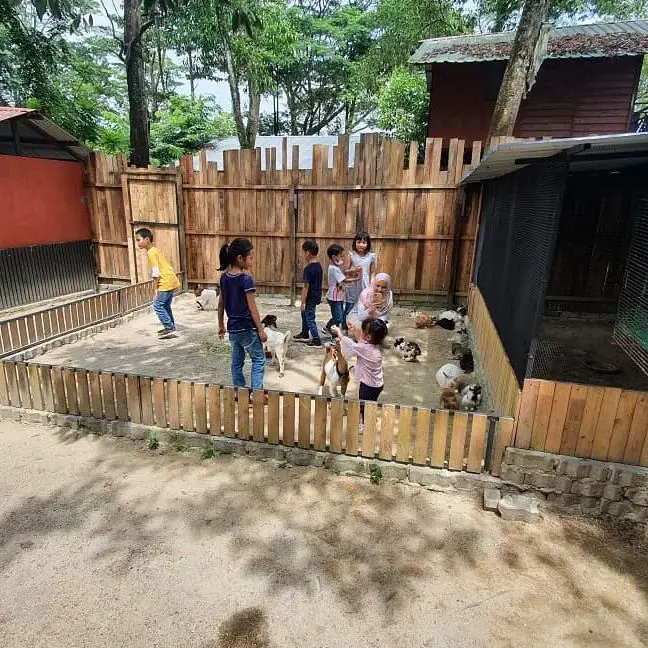 One of the things that makes this place stand out is that they are special-need kids friendly! The instructors are well trained and always ready to assist your special kids and make their day.
After the ride, take them to the small animal farm, feed some rabbits and interact with an intelligent parrot.
MAEPS Horseback Riding - Serdang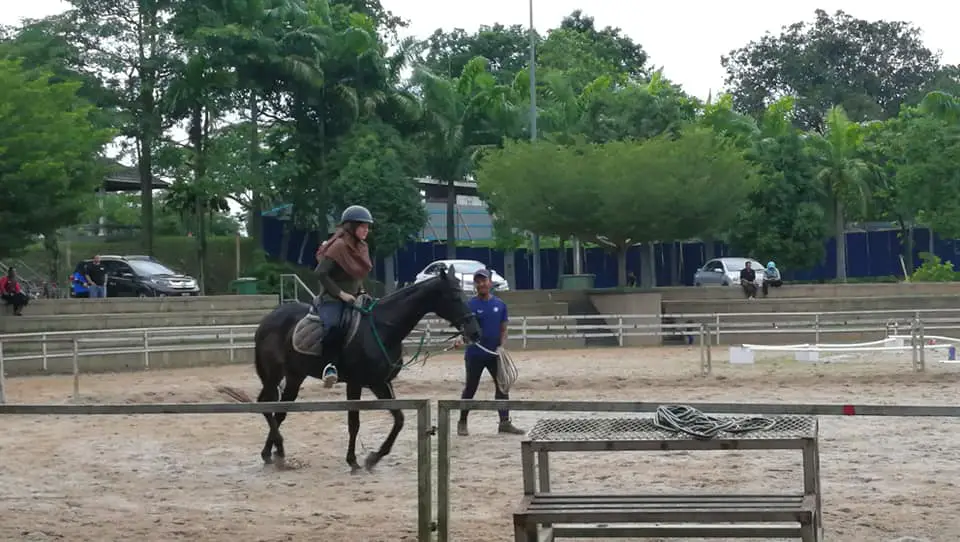 If you wish to take the horse out of the stables and go on a serene trail surrounded by lush mother nature and scenic views, then make your way straight to the Malaysia Agro Exposition Park Serdang.
Unlike the other horse riding clubs where you'll be riding inside of a closed paddock without a dramatic view of mother nature for your eyes to feast on, an experience at MAEPS will make you go through a jungle trail completely surrounded by the sounds of nature.
For about RM150 per pax, you'll be led by a friendly instructor who will guide you through the peaceful trail. Don't worry if your riding skill is a bit rusty since before the adventure, the instructors will ask you to go and warm up in the paddock to make sure you're comfortable enough with your horse.
Once you're done getting acquainted with your mount, the journey through the trails will take about two hours of your time including a couple of stops along the way.
The guide is also more than happy to snap a couple of pictures of you posing on your horse with a beautiful backdrop of the rolling hills and the city from afar. However, this activity only has two slots; morning (8.30 am) and evening (5 pm).
Other Horse Riding Places Throughout Malaysia
Kuala Lumpur and Selangor are not the only destinations with great horse riding clubs. Here are some other places that you can check out.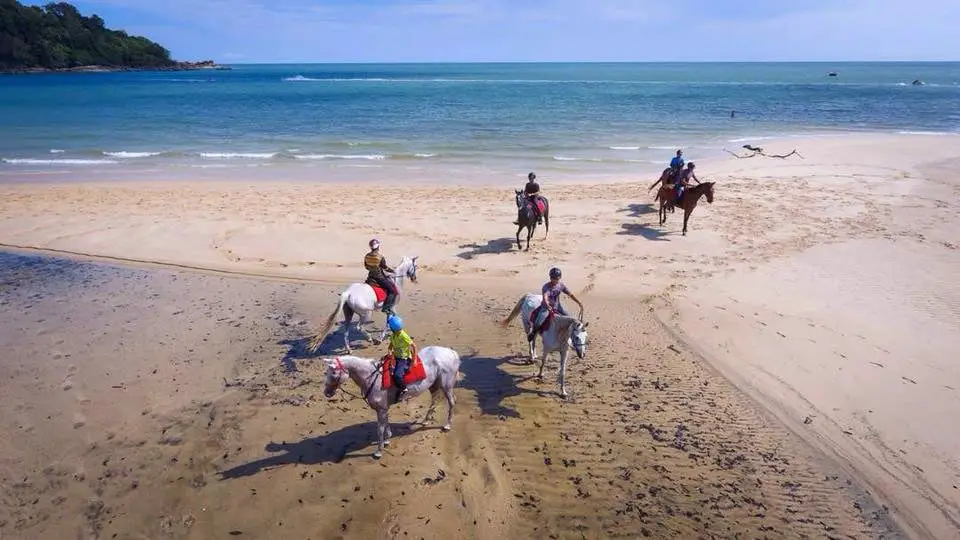 Ride a horse and canter by the beach while enjoying the island breeze blowing through your hair. Aside from the scenic views of the ocean, you'll also get to ride through traditional villages on the island.
Happy Hoof Riding Ranch - Masai Johor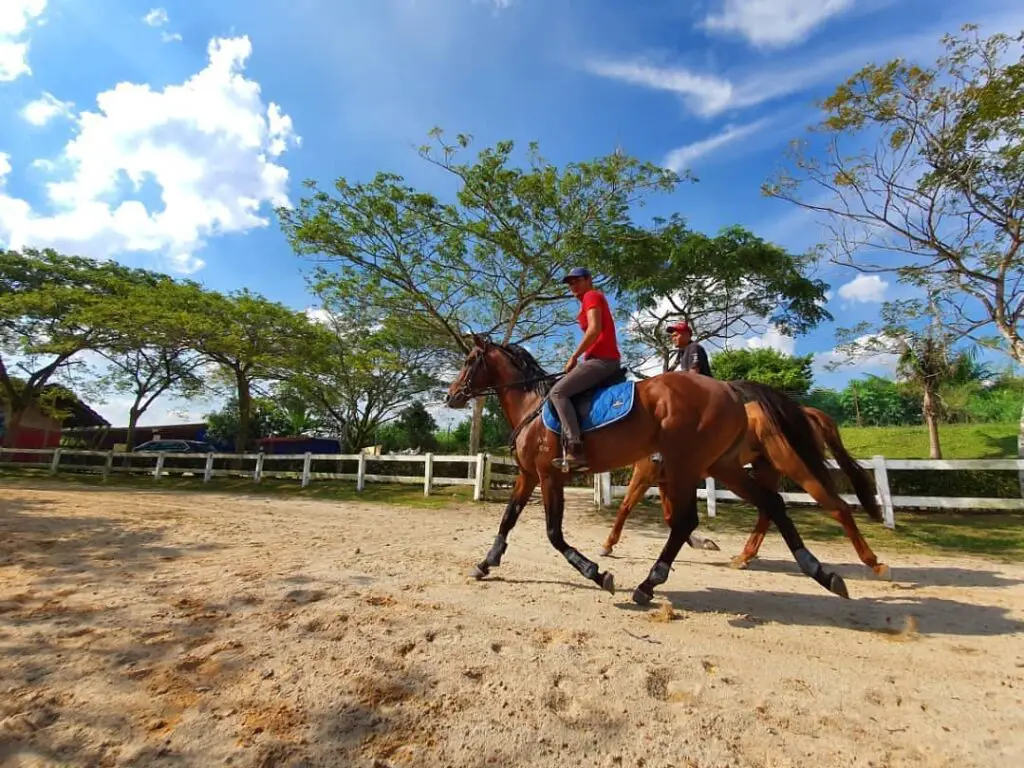 Image source: Happy Hoof Riding Ranch FB
Located in Masai, Johor, this horse ranch is fully equipped with a spacious paddock, an archery range, and a go-kart track. This family-friendly spot also has raccoons on its small animal farm.
Bukit Tinggi Horse Trails Rides - Bentong Pahang
Situated in Bentong, Pahang, this is one of the most famous horse tracks in Malaysia. Get on one of the imported horses, go on the two-hour scenic trail while enjoying the cool climate on top of a hill.
Horse riding can surely be a nice activity to unwind your week-long stress. However, keep in mind to wear appropriate attire before you head out.
Make sure you put on a pair of comfortable shoes instead of slippers and avoid wearing shorts as it might cause discomfort when your legs are rubbed against the saddle.
Horse Riding Items You May Need(Handpicked!)
Here is the list of essential horse riding wearable products with high rating and ready stock in Malaysia, without you spending time to search for the best one on the market.
Disclosure: This post contains affiliate links. If you click these links to purchase the product we may earn a commission without extra cost to you. We carefully select the best and all products are shipped from the local by high rating seller.