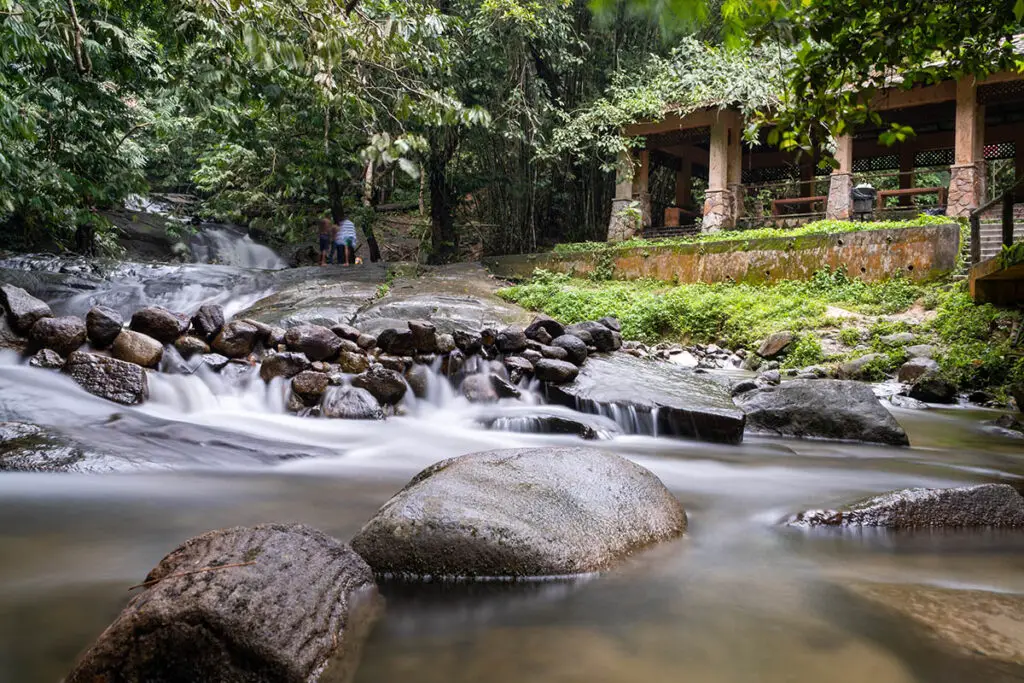 When speaking of nature retreats and quiet weekend getaways, most people would straight away think of places like Janda Baik, Fraser Hill, Cameron Highland, and so on.
But do you actually know that some of the best villas with serene surroundings can be found in Hulu Langat district which can be reached in just under an hour away from the city of Kuala Lumpur?
From glass villas to riverside homestays and farm retreats with baby goats and ponies roaming freely. These places are well surrounded by rich mother nature, so you can expect to get privacy and peace. Plus, they are great for family outings and gatherings!
Resort / Villa With Swimming Pool in Hulu Langat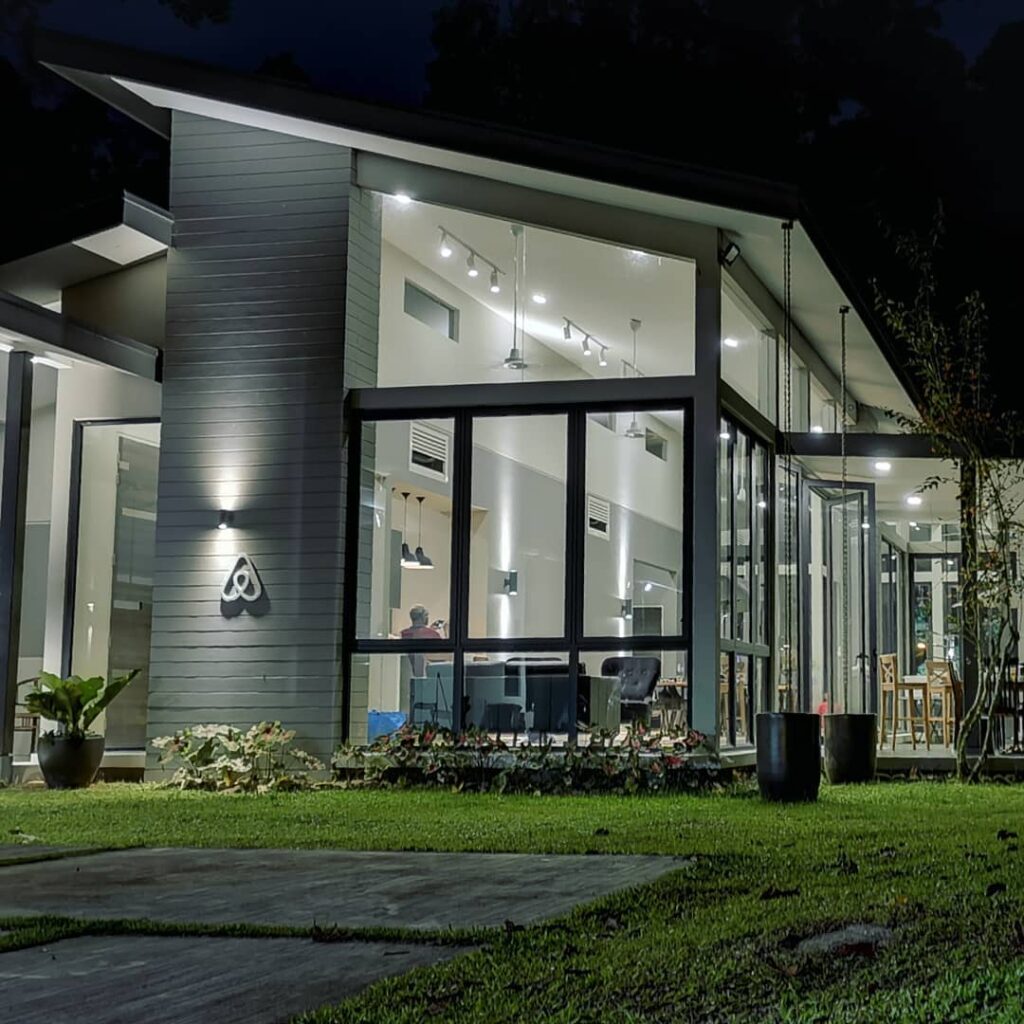 Located on Jalan Sungai Congkak, this Hulu Langat villa is the best option for those who are looking for a luxurious stay surrounded by nature. Aside from its massive window panes and private swimming pool, this villa also features a well-equipped kitchen, a barbecue space with a patio, 7 comfy bedrooms, eight bathrooms and a jacuzzi.
Taking a step into this sleek-looking villa, you'll be greeted with a collection of semi-modern furniture and decor, making you feel at home. The villa also has its very own guesthouse in the garden perfect for your family members who'd like a little more privacy.
You'll also notice an orchard right next to the villa that is full of tropical fruit trees ranging from papaya to mangosteen, rambutan, and of course, durian. Given its close proximity to the river, guests can spend the entire day splashing water and relaxing on the riverbank while listening to the calming sounds of the streams.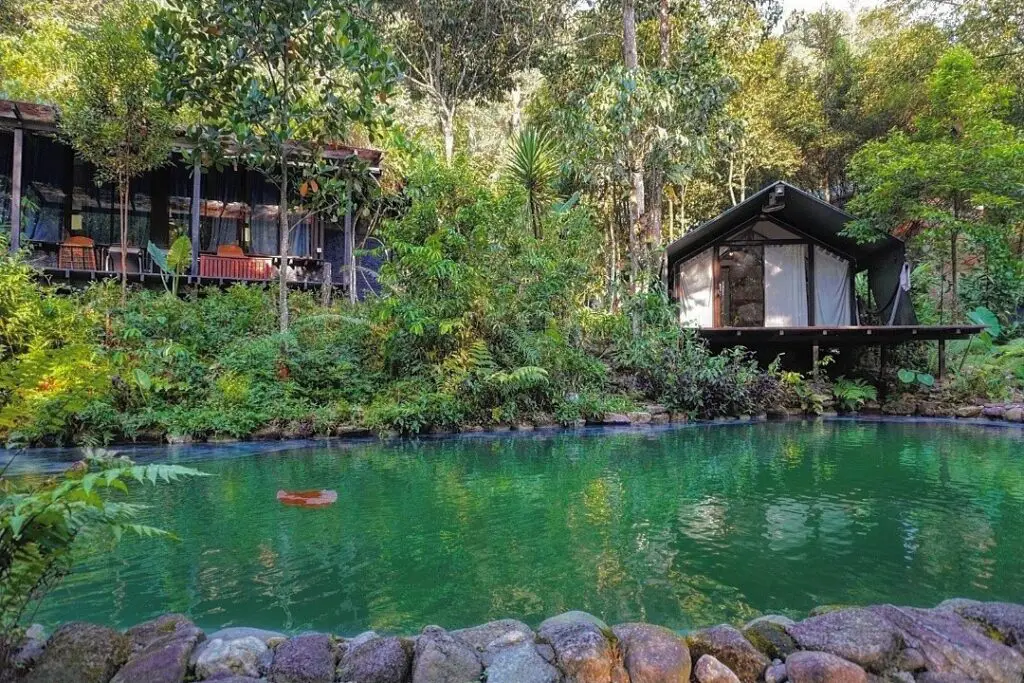 Do you really want to escape from the noisy sounds of the busy city and completely immerse yourself in the lush tropical greenery instead? If so, Rumah Kebun in Batu 14 ½ is definitely for you.
Built on 2 ½ acres of land, this villa has a rather rustic look, looking almost like a cabin in the woods. The interior is also to die for – the furniture is made out of natural woods, making you feel closer to nature and there are clear windows at every corner of the room to ensure good lighting.
But what makes this place stand out is the Insta-worthy private swimming pool that uses natural spring water! Imagine yourself swimming in the pool with the rolling hills and lush green forest acting as your backdrop – how cool is that?
Consisting of four sleeping areas, Rumah Kebun can accommodate up to 16 guests at once and it also features an open concept kitchen complete with all of the essential appliances and utensils.
The area also has friendly farm animals roaming around, so feel free to feed and pet those cute goats and ayam kampung.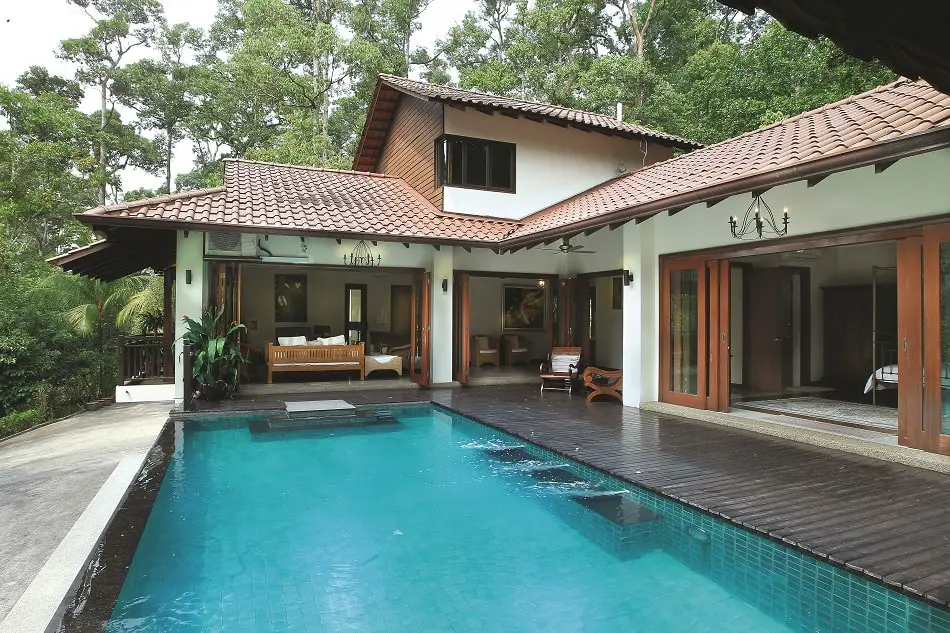 Daun Retreats is one of the few places in Hulu Langat that offers three different bungalows in the forest for you to choose from. If you're looking for a place that can sleep up to 15 people, you can check out Daun Retreats' Gerimis Senja Villa.
This place features three bedrooms and bathrooms with an outdoor bathtub, a fully-equipped kitchen and an infinity pool overlooking the peaceful forest reserve. The villa also has various games for you to make use of such as table tennis, carrom, and several board games.
Another accommodation that you can opt for in Daun Retreats is Norehan's Place. Aside from family and friends gathering, this old-school bungalow can also be a great stay for company getaways. It has bedrooms fully furnished with bunk beds – which explains why the entire place can fit 20 people at once.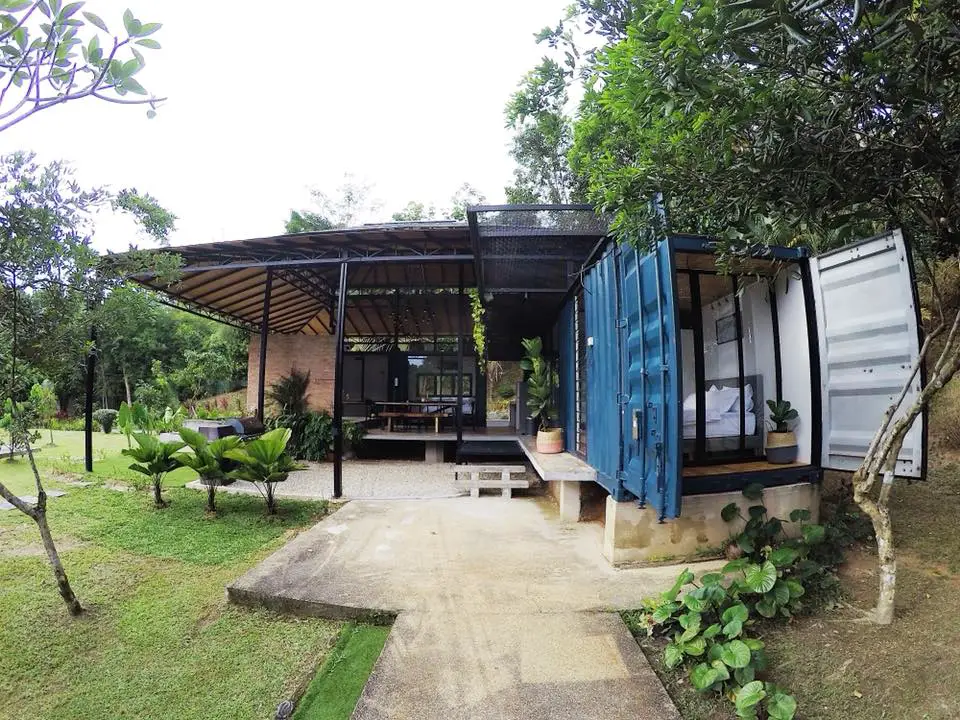 Not a fan of the typical and resort-looking villa? You can opt to stay the weekend at Kasturi Cabin. This container cabin with glass panels can accommodate up to eight pax and it also has its own infinity pool! For an extra charge, you can get breakfast served right in front of you too.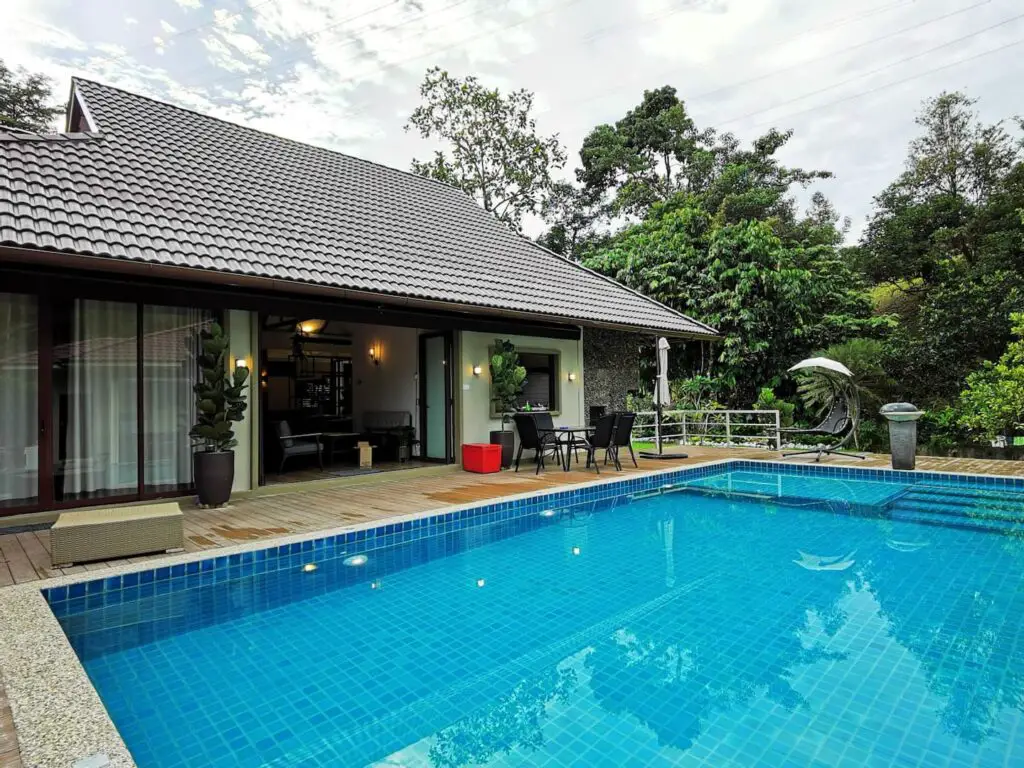 Two Sungai is yet another beautiful villa nestled on Jalan Sungai Congkak. Just as its name suggests, this villa is built on land where two different rivers meet. Surrounded by tropical fruit trees and other lush greenery, Two Sungai can surely offer you both intimacy and tranquillity.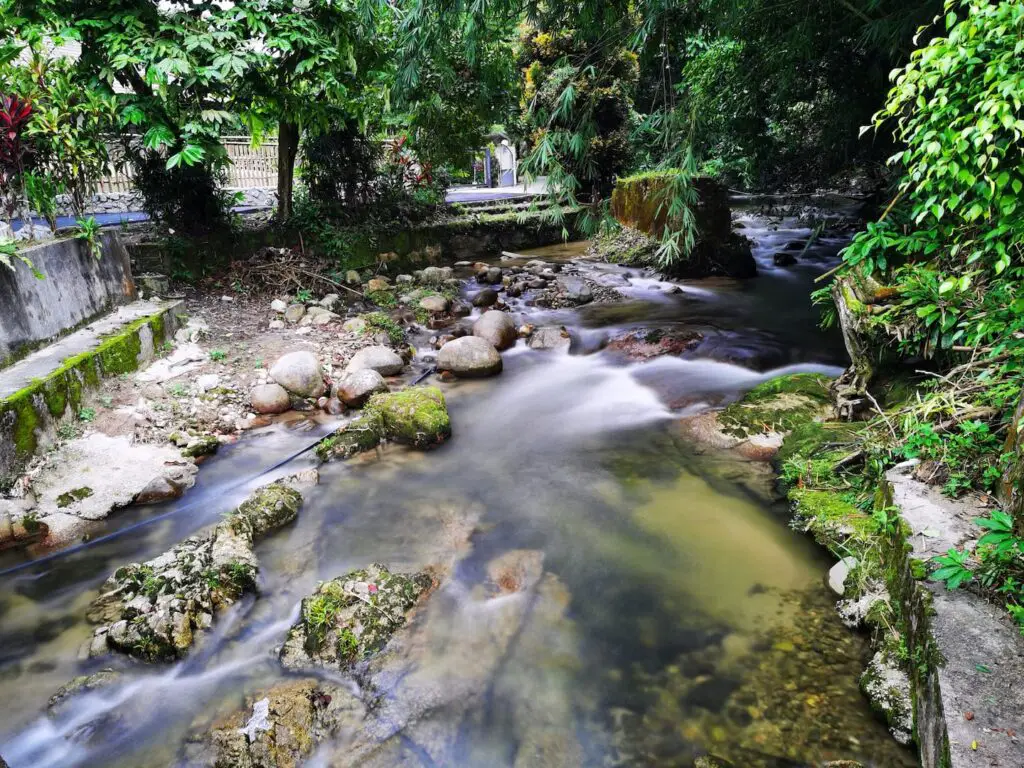 Booking a night here, you'll gain access to both the main house and also the guest house. Inside the main house, the spaces are nicely decorated with modern furniture with a hint of rustic decor. You'll find some bedrooms with exposed brick walls, and a living room with high ceilings and rattan lamps hanging down.
As for entertainment, the villa features a fresh river pool as well as a modern private pool with a jacuzzi. You can also find a pool table and an arcade machine inside, so don't worry if you have to stay indoors due to bad weather!
Villa with Farm Animals in Hulu Langat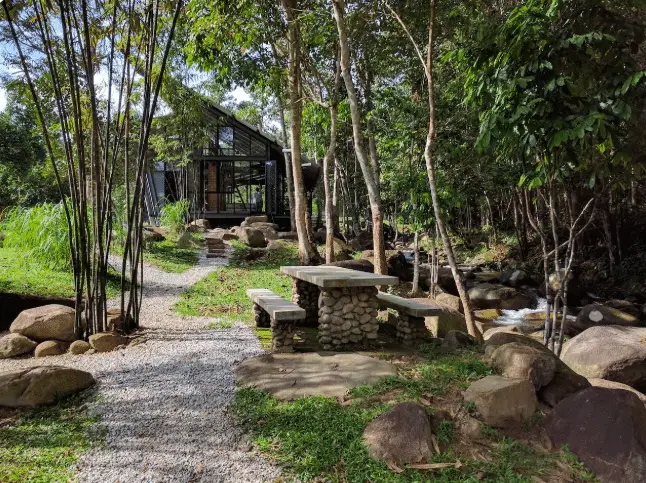 Tanah Larwina Retreat is a precious gem that is set along Sungai Larwin. Spread across three acres of land, this serene farm retreat is perfect for those who are planning for a quaint weekend getaway in big groups as this place can fit up to 16 people at once.
Among the accommodations that you can choose from are the beautiful glasshouse called Rumah Tebing that sleeps eight pax, Bilik Tigaguna that is great for a group of four, as well as Pod Biru and Pod Hijau, a space perfect for two.
As for the amenities, you can find a fully-equipped kitchen here, along with barbecue equipment, and a cosy campfire should you feel like gazing at the stars in the night sky while munching on soft, gooey roasted marshmallows.
For outdoor enthusiasts, spend the day going on nature walks around the area, have a picnic and cool off in the cold water of the river or get up close and interact with the farm animals. If you're staying during fruit season, you might also get a chance to pick and eat various tropical fruits growing around the area!
So, who said you need to book a flight ticket and travel for hours to have a fun and relaxing escape from the concrete jungle? 
These villas and homestays in Hulu Langat can definitely give you everything you need for a quiet weekend getaway, and some of them might even make you feel as if you're having a vacation in a whole different country too!
Disinfectant Essential Items (Hand-picked!)
As you know we're going to live in the post-covid world. So getting the essential sanitise products with you when you travel are part of our life.
Here is the list of curated disinfectant products with high rating and ready stock in Malaysia without you spending time to search for the best one on the market.
Disclosure: This post contains affiliate links. If you click these links to purchase the product we may earn a commission without extra cost to you. We carefully select the best and all products sold by high rating seller.