A Famosa, Stadthuys, Jonker Street, and perhaps, Baba & Nyonya — these are the things that often come to mind whenever we think of Melaka. Famously known for its rich history and old colonial structures, Melaka has also been attracting tourists from all over Malaysia with its vibrant culinary scene and unique culture.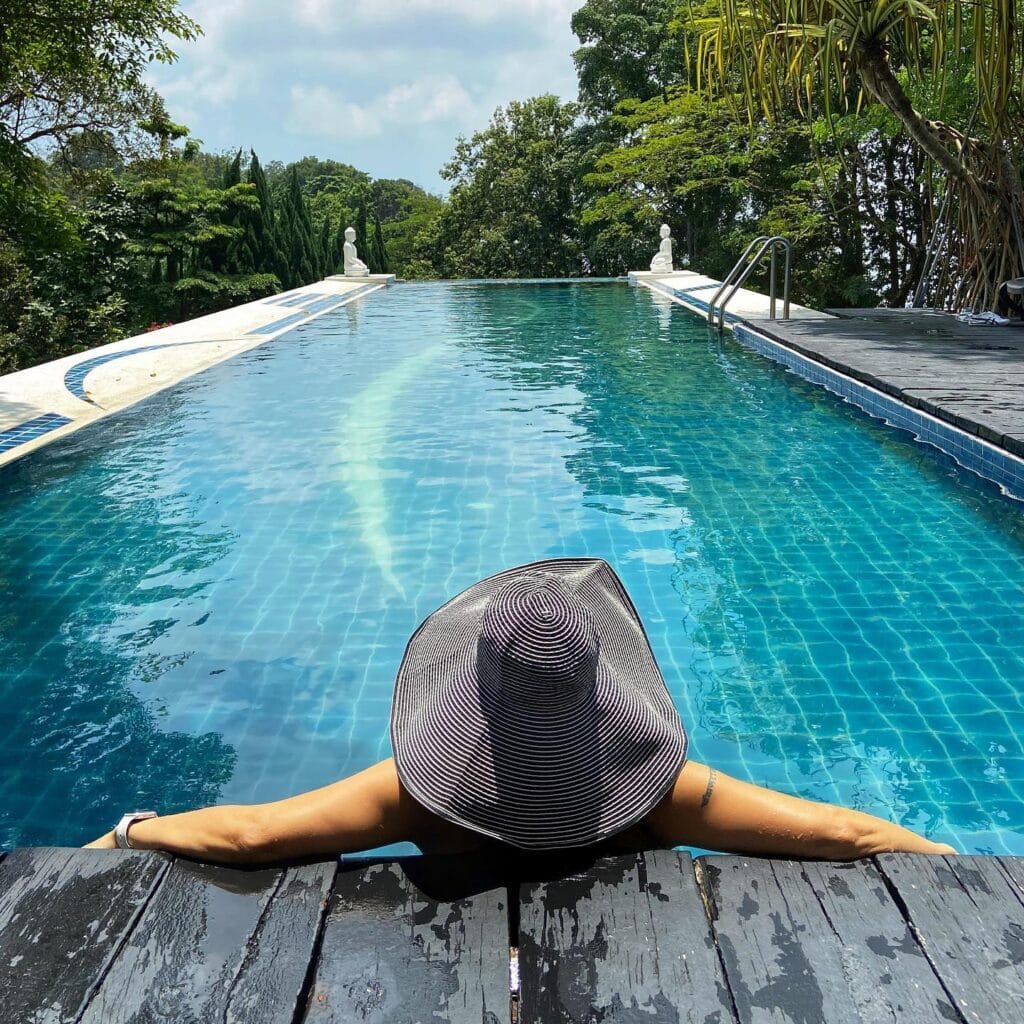 Whether you're planning for a trip with your family members or a group of friends, finding a perfect place to stay the night might be overwhelming since Melaka is brimming with dozens of choices!
To ease your trip, we've listed down several great accommodations in Melaka—from Airbnb homestays to villas and hotels. Not only do they have great locations, but each of them also comes with its very own private swimming pool! So, continue reading below to find out which of these places suit you the most.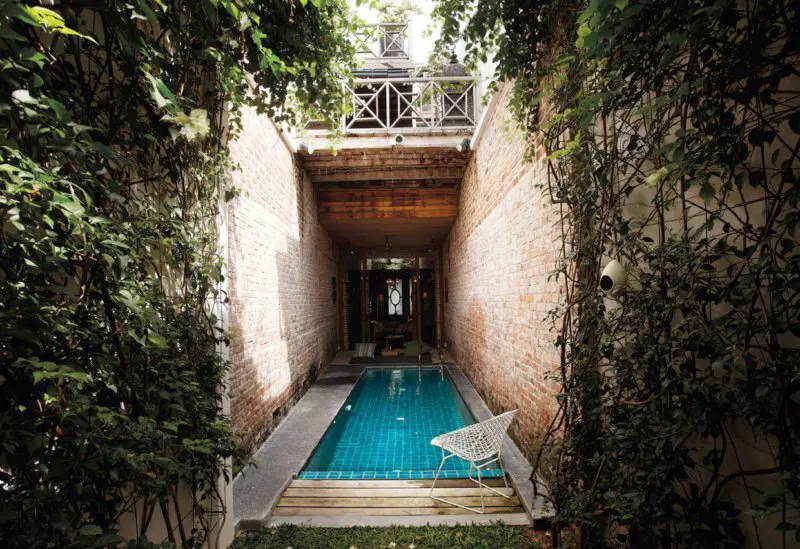 Located in Jalan Hang Lekiu, this accommodation is only a few minutes away from Melaka's famous historical sites, cafes, and museums. For those who'd like to spend the night in a stylish location without leaving the elements of history and culture behind, then 45 Lekiu is perfect for you.
Since it is nestled in a 1941 pre-war building, it is not a surprise when you can spot exposed brick walls and a rustic ambience.
Priced at about RM 998 per night, the entire place could comfortably fit up to 4 adults and each room is beautifully and luxuriously decorated, making you feel perfectly at home.
Either spend the day lounging around or go swimming in its 20-footer lap pool on the ground floor.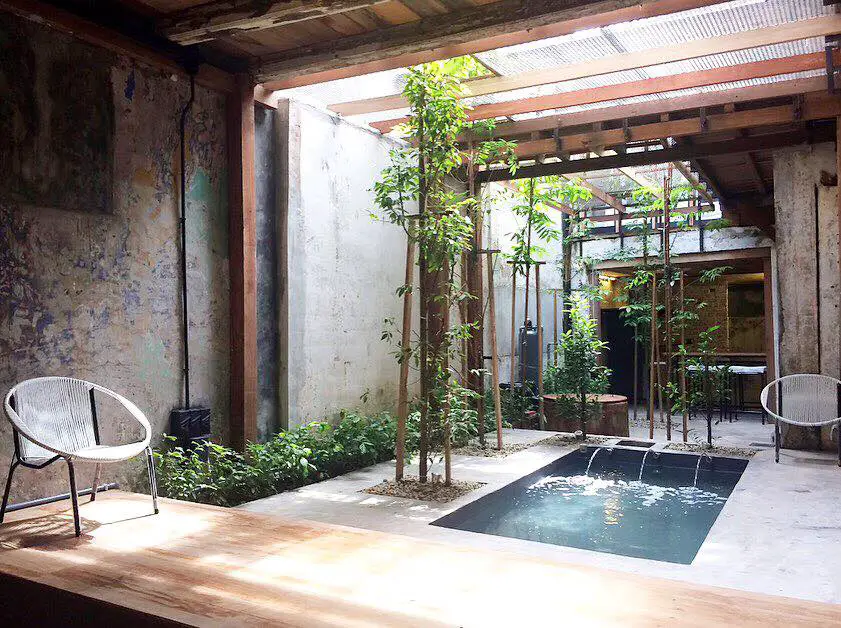 From an old shophouse within Jonker Street, the owners of Rimba Hang Kasturi had amazingly converted the building into an artsy yet cosy accommodation complete with a private dipping pool and a beautiful courtyard—which explains why this place is highly Instagrammable!
With a price of RM 1,488 per night, Rimba Hang Kasturi is a great choice especially for those travelling in big groups as it can accompany up to 14 travellers.
Consisting of 4 comfy bedrooms, this place also has an open common area fully equipped with a spacious living room and a kitchenette with all the essential utensils. Don't feel like making your own dinner? Then head to the many cafes and restaurants situated nearby!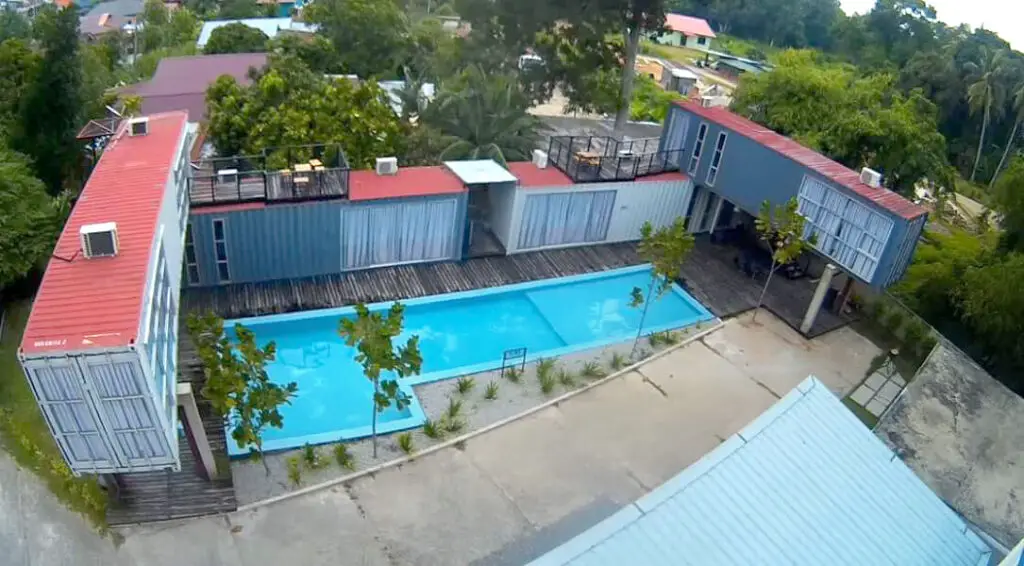 Ever wanted to spend the night in a beautifully decorated container complete with a massive swimming pool to cool down under the scorching bright sun? If so, then KeCabin is for you.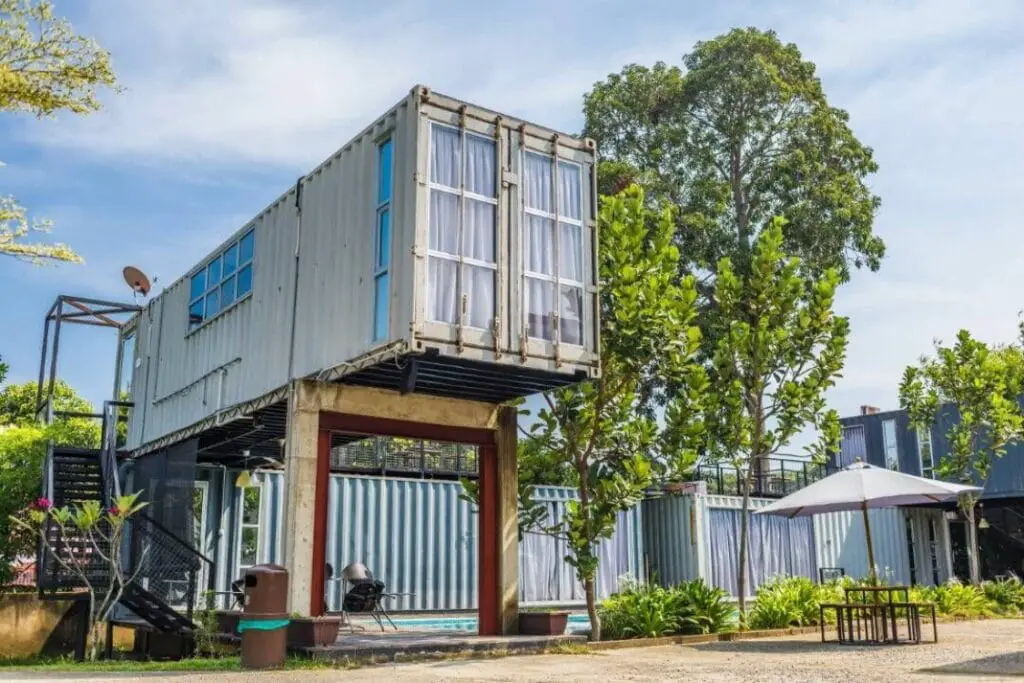 Situated within a quaint village in Semabok, this villa can be reached from the city of Melaka in just under 10 minutes. Featuring four cosy container cabins, KeCabin is a great place for a family getaway. The swimming pool itself is kid-friendly as it has three levels with different depths.
Travelling in larger groups? Then book their bungalow that can fit up to 15 people at once. However, do keep in mind that this accommodation only accepts Muslim guests.
Villa with Private Pool in Melaka
If you're planning to get away from the busy city, then you can never go wrong with Rumah Mak Embun. Nestled in Lorong Haji Khamis, this villa can be found within the peaceful village of Bukit Larang.
As soon as you arrive, you'll be greeted with a quaint surrounding with calming sounds of birds chirping and the breezy wind brushing through your hair—you'll get the same feeling as if you've just returned to your hometown!
This accommodation comprises three two-storey traditional chalets and a great swimming pool in the middle of the courtyard. As for kids, they can have some fun splashing water in the four-feet wading pool!
Each of the chalets can sleep up to 6 people. For those travelling in big numbers, consider booking their Rumah Induk as it can fit up to 20 people at once!
The Rubber Escape is yet another tranquil place surrounded by mother nature. Just as its name suggests this place is built in the middle of a rubber plantation! Located in Alor Gajah, this accommodation has three different rooms to choose from with a starting price of RM 328. 
Other than its secluded location and quiet surroundings, The Rubber Escape could also be a perfect place to stay for small families. Spend the day relaxing by the pool, bring your kids to the junior archery range, and make use of their barbecue facilities.
At night, you can spend some time watching Netflix or have fun by singing your heart out using their karaoke equipment.
Casugria Boutique Heritage Residence
For those who would like to experience the heritage city of Melaka to the fullest, then go ahead and book a night at Casugria Boutique Heritage Residence. Not only is this place situated only within a short distance to the main attractions, but it is also said to hold a deep history.
Originally built in the early 19th century, this accommodation once belonged to a Dutchman who was the governor of Melaka during the Dutch colony—which explains why this place is beautifully adorned with a subtle touch of European style.
There are four cosy rooms that you can choose from; Garden Chalet, Pool Chalet, Family Studio and Family Garden Chalet. Each of them is fully equipped with a free wifi connection, air-conditioner, water heater, and sound-proof doors.
While the swimming pool is open for guests until 10 pm, the common area also has great board games to keep you entertained.
Private Pool Hotel in Melaka
Located in Taman Paya Rumput, about half an hour from Klebang Beach and 7 kilometres away from the city centre, Masbro Village is an English-inspired hotel packed with all the necessary amenities you ever need during your stay.
Featuring vibrant triangular houses and a long outdoor swimming pool, this accommodation can be a great place to stay for those travelling in groups.
With a starting price of RM 280 per night, each of the guesthouses can accommodate up to six people at the same time. Complete with a basic kitchen, it also includes a living area with a flat-screen tv and a sofa.
They even have their very own cafe here—but keep in mind that it only opens at a certain time. Nevertheless, Masbro Village is no doubt a unique place to stay! Have fun splashing water in the swimming pool, take a few Insta-worthy photos, and enjoy the quiet evening.
Melaka surely is filled with an abundance of interesting places to stay at—from rooms nestled within an early 19th-century building to a subtle yet stylish villa in the middle of a quaint rubber plantation.
Whether you're looking for a location right in the city centre or a more secluded place away from the noisy sounds of the traffic, Melaka has almost everything! So, plan your weekend getaway, book a room, and have a blast.
Disinfectant Essential Items (Hand-picked!)
As you know we're going to live in the post-covid world. So getting the essential sanitise products with you when you travel are part of our life.
Here is the list of curated disinfectant products with high rating and ready stock in Malaysia without you spending time to search for the best one on the market.
Disclosure: This post contains affiliate links. If you click these links to purchase the product we may earn a commission without extra cost to you. We carefully select the best and all products sold by high rating seller.