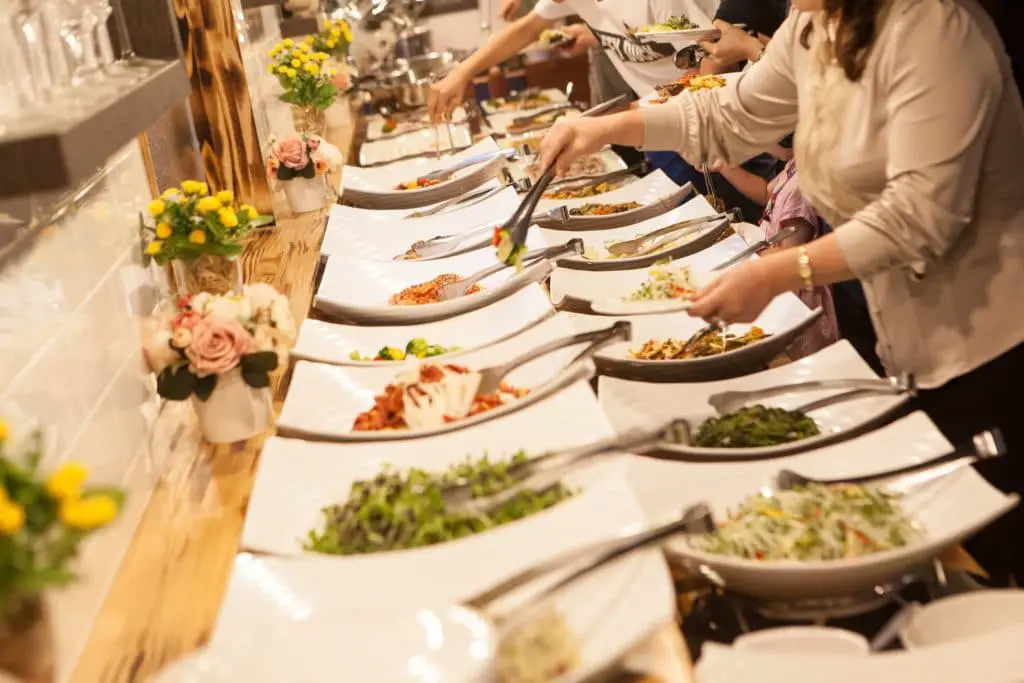 We Malaysians are known for our love of food. With so many all-you-can-eat buffets out there, can you really blame us? 
Whether burgers, heaps of oysters or chocolate fountains are your thing, here are several buffet spots in Johor Bahru that you should check out if you're in the area.
Makan Kitchen @ Doubletree Hotel
If you're looking forward to a relaxing ambience and top of the line service, head on over to Makan Kitchen at Doubletree Hotel. It's an all-day dining restaurant with a hi-tea Buffet Spot in Johor Bahru.
Cuisine ranging from Malay to Chinese and Indian can be found at the buffet here (available from morning until dinner).
Enjoy an interactive kitchen concept. Select your choice of ingredients and watch them get prepared right before your very eyes! Makan Kitchen also features Peranakan dishes, as well as Western fare.
Seri Mutiara Restaurant @ Mutiara Buffet Spots in Johor Bahru
Those with a voracious appetite might find the Seri Mutiara Restaurant in Mutiara Johor Bahru hotel worth a stopover.
Open 24/7, the buffet is available for Hi-Tea, lunch and dinner and, if you're thinking of trying anything at Seri Mutiara, the oysters are apparently a thing here.
There's also a BBQ station with a wide selection that includes satay, squid, beef sausages, lamb, chicken and more. Diners can select their ingredients and get the staff to grill them on the spot. Ingredients include sausages, chicken, squid, lamb, and more.
There are a number of live stations as well. At the "shellout" station, look forward to selecting your choice of sauce. Black Pepper, Tom Yum, and Sweet & Sour sauce can be found here.
Amaya Food Gallery, Amari Hotel
If grilled barbeque by the pool overlooking Johor Bahru's skyline sounds like your kind of thing, head over to Amaya Food Gallery. With Asian and international dishes throughout the day, there's also a buffet breakfast with presentation and taste.
Look out for bite-sized desserts arranged delicately on oversized wooden blocks and banana leaves.
It's a spot that's suitable for events too and, if you drop by for dinner on Saturday, you could feast on 500 grams of Sri Lanka crab!
Fern Pine Café @ Holiday Villa Buffet Spot in Johor Bahru
There's also the Fern Pine Café in Holiday Villa Hotel (where you can reach your buffet-licious goals with an all-day mouth-watering buffet).
At the Buffet Spots in Johor Bahru area, a variety of Eastern, local and Western fare that's available in the morning, during lunch, as well as for hi-tea and dinner can be found. The cafe is situated in a tourist hotspot. Look forward to a night view of the city to go along with your dinner.
The indoor section has sections for desserts, the main course, as well as soups. Rice and noodles can go with the seafood and there are also fried mantou (buns). A range of sushi and sashimi can be found at the Japanese section and nearby, look out for split open raw oysters, chilled prawns and crayfish or yabbies.
Café Para Para @ Grand Paragon Hotel
Café Para Para, located on the ground floor of Grand Paragon Hotel is where you can find a splendid spread of local and international cuisine.
The cafe has a variety of foods available at the buffet, including nasi lemak, pastry, cakes, toast and more!
Evidently, this spot operates 24/7 and seats up to 200 guests. Along with local, international, and even Singapore buffet fare during lunch and dinner, diners can also enjoy tea and coffee.
Infusion Café @ KSL in Johor Bahru
Craving local, Western, and Japanese cuisine? Look out for fresh delicacies at Infusion Café Buffet Spots in Johor Bahru (try the Lamb Shank, as well as fresh seafood).
Ranging from local to Western food, Japanese fusion, as well as BBQ grill, Infusion Café's ingredients are purportedly fresh too. If that isn't enough, this cafe has two chocolate fountains!
Look forward to al la carte, as well as buffet-style fare in a relaxed and friendly environment. Here, you can also expect 'live action stations' with food cooked before your eyes.
Infusion Café's name, one might assume, refers to an infusion of different types of cuisine into one spot.
Look forward to not having any of the dishes run about before you've managed to try a new batch. A variety of fresh fruits and dessert can also be found here.
Johor Bahru certainly does seem to have a lot going for it in the buffet department. So, share it to your makan kaki(eating pal) who you would like to go!
Plan and book your stay in Johor Bahru today!
Disinfectant Essential Items (Hand-picked!)
As you know we're going to live in the post-covid world. So getting the essential sanitise products with you when you travel are part of our life.
Here is the list of curated disinfectant products with high rating and ready stock in Malaysia without you spending time to search for the best one on the market.
Disclosure: This post contains affiliate links. If you click these links to purchase the product we may earn a commission without extra cost to you. We carefully select the best and all products sold by high rating seller.