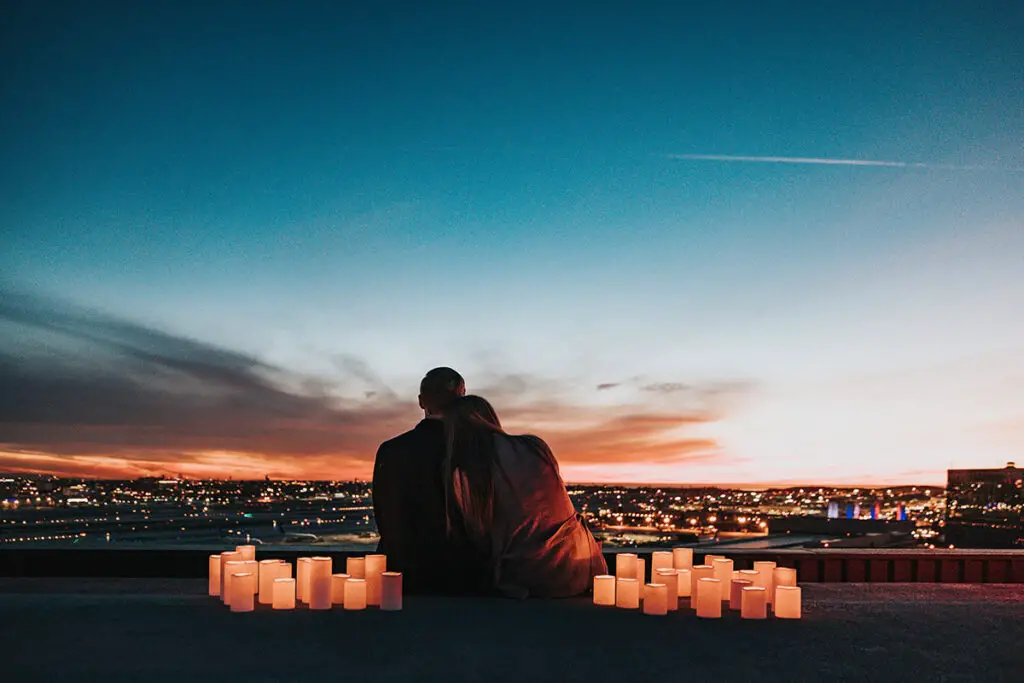 Planning a romantic dinner date might look easy and simple enough, but many tend to get stressed out even at the very first step: finding the perfect restaurant to dine in. You might already find a certain place known for its tasty food, but its ambience is not intimate enough for an anniversary celebration, Valentine's Day or even just a simple date.
So, here's our list of some of the most romantic restaurants scattered throughout KL and PJ to help you plan the best romantic date with your other half. From steakhouses to Asian and Italian fine dining restaurants with a view—we've got your back!
Romantic Restaurants in KL
Pampas Steakhouse Old Malaya
Succulent steaks cooked to perfection, dimmed lights, and a gorgeous backdrop of the KL Tower—who can ever say no to these for a romantic dinner with their other half! Some might have been familiar with Pampas Steakhouse as they already have several branches throughout KL, but this particular one is definitely the best should you're looking for a more romantic and cozy ambience.
Situated right in the heart of KL, what makes Pampas Old Malaya even more special is that it is nestled within a century year old colonial building. You can either dine outside (which is highly recommended) or if the weather is not doing so great, the tables inside are always ready for you. Although they serve pasta, gourmet burgers, and seafood platters, you can never go wrong with their signature steaks.
If you're feeling adventurous, go for the Spanish Octopus Leg as a starter and get the Black Angus Beef Rib Eye or the Pampas Surf & Turf for you and your partner. Those who drink can also accompany the mouth-watering steaks with their crafted cocktails and wines.
While Old Pampas Old Malaya has a view of the KL Tower, the fancy restaurant Marble 8 can provide you with a spectacular view of the KLCC and its surrounding skyline. Located on the 56th floor of the Petronas Twin Tower, Marble 8 has two different dining spaces for you to make a reservation for: the spacious premier steakhouse and the more private yet classy privé.
Fully adorned with sleek decor along with dark and elegant furniture, this restaurant can surely offer you with an intimate atmosphere perfect for a romantic date night.
Marble 8 claimed that their premium wagyu and angus steaks were imported from the best suppliers in Australia, so you can expect to indulge in only the most exquisite tastes and cuisines. Some of the best main courses here include their Wagyu Beef Burger and Pappardelle Truffle.
The latter is a great option especially for vegetarians and vegans alike. Those who wish to go all out, however, can opt for either their dry or wet aged beef. 
You and your date can try out their flavourful dry-aged Wagyu Sirloin or the wet-aged Black Angus Cajun Ribeye which is said to contain a special spice. If sharing a plate is your definition of romantic, then get their juicy Prime Rib on the Bone which is perfect for two.
Some said that Italy is synonymous with romance, so why not take your date out for a warm and intimate Italian dinner? Portofino is one of the best Italian restaurants in KL. There are two outlets that you can choose from: one is in Lucky Garden, Bangsar while the other, which in our opinion has a more romantic scene, is in Bangsar South City.
Aside from its creative plates of Italian cuisines, this restaurant also takes their ambience and decor seriously—you'll surely feel as if you're dining in the city of love! If you're overwhelmed by the menu since everything looks appetising, you and your date can start by having the classic Bruschette al Pomodoro and Parmigiana di Melanzane, a creative plate of deep-fried eggplant with tomato sauce and mozzarella.
Once you're ready for the main course, go for their homemade pastas to get a taste of authentic Italian cooking. The Squid Ink Spaghetti and the Tagliatelle Bolognese which uses an old recipe are some of the best options. Steaks, lamb shanks, salmon, and Roman-style pizzas are also available.
Fuego at Troika Sky Dining
If tapas, grills, cocktails, and city views are some of the things that you need for a romantic dinner night, then get on your phone and book a table at Fuego at Troika Sky Dining, a South American restaurant nestled right in the middle of Kuala Lumpur. Just as its name suggests, this restaurant is located on a rooftop and has an amazing 180 degree view of the city skyline—you can easily spot the KLCC, the KL Tower and their surrounding skyscrapers right in front of you!
Being a popular place for dinner dates, the restaurant can also provide its guests with a fun atmosphere especially when night comes. The romantic scene, however, can be experienced during sunset. If you wish to get a taste of a true South American flavour, then get your hands on their Fuego Ceviche.
Those who are not a fan of raw fish, however, can go ahead and order their Seafood Moqueca or the Argentinian Angus Striploin.  As for dessert, order up either their Berries Pavlova or Chef Ivan's Opus Ice Cream, a sweet homemade ice cream bar.
If you and your partner prefer local cuisines filled with the rich taste of different spices and flavours, then you can never go wrong with Bijan Restaurant & Bar. This dim-lit chic restaurant can be found in Bukit Ceylon and is best known for their perfectly crafted Malay fusion. Taking a step into this restaurant, you'll immediately notice the warm ambience and cosy surroundings.
The clean, white cloth on each of the tables, combined with the vibrant flowers, candles, and rustic floorings can definitely be a great setting for a dinner date. While the indoor dining is spacious and comfy, the outdoor terrace can also be a great spot too!
As for their menu, you can possibly find all kinds of Malay dishes typically originated from the different states of Malaysia—from Rendang Tok to Kambing Berempah Sambal Dendeng, Masak Lemak, Tempoyak, and Asam Pedas. If you choose to enjoy these dishes the Malaysian way, then order up a plate of rice too. They have different types of rice as well such as Nasi Minyak and Nasi Lemak.
Couples who love traditional Indochinese cuisine can book a table at Tamarind Springs where you'll get to enjoy a rejuvenating fine-dining experience. Surrounded by natural beauty, this restaurant is also fashioned after traditional houses which are fully adorned with Asian-style paintings and statues thus making you feel as if you're dining somewhere completely away from the busy city!
Tamarind Springs' rustic environment combined with a touch of its elegant settings can no doubt set the mood and turn your romantic dinner into one of a kind. When it comes to food, this restaurant gave its best as the kitchen is led by an executive chef from Chiang Mai who was professionally trained by her own mother, a former chef under the King of Siam himself!
The Crispy Soft Shell Crabs served with their special spicy sauce along with the Cambodian-style deep fried shrimp cakes are some of the best menu options for you to enjoy. Before leaving, make sure to end the dinner date with their Sticky Rice with Mango or Cendol & Sagu in a Young Coconut.
Romantic Restaurants in PJ
This restaurant in PJ is best known for quite a number of things; their hip and magical surroundings, the extensive list of wines and cocktails, along with a perfect view of the city skyline.
While JIO can definitely offer lovebirds a romantic and serene ambience right when the sun is about to go down, this chic restaurant can also turn into a vibrant spot as the night falls with live in-house bands taking the spotlight.
If you're more of a traditional guest, start the night with some classics such the creamy Fresh Truffle Mushroom Soup. Those who're planning on getting a glass of wine should also not miss the chance to pair it up with their Cheese Platter.
The main star of this restaurant, however, is none other than the Lobster Island and the Chargrill Angus Tenderloin with Foie Gras. The Baked Truffle Salmon and the Pan Fried Macadamia Nut Crust Cod Fish are also some of the best options—what's best is these two dishes come with Black Caviar!
33 Blue Room is an elegant jazz & wine bar specialised in both wines and pork cuisine. Its modern decor along with the sets of yellow lights lighting up the entire space can surely make you and your date feel at home. At certain times and day, there will also be jazz bands performing on the stage.
Although the restaurant is known to serve mostly western delicacies, you can also find a few Asian dishes here such as the Finger Katsu Fried Rice. But, what's a dinner date at 33 Blue Room without indulging in their signature pork cuisine?
Their Shoulder Loin Pork Steak and Bolivia Style Roasted Pork are some of the highlights. If you and your partner are in the mood for something Italian, they also have great selections of pasta and wood-fired pizza.
Jing Ze Contemporary Asian
Located in Section 17, Jing Ze Contemporary is a remarkable restaurant that serves contemporary Southeast Asian cuisines with a splash of creativity. So, if you and your date have been craving for some unique Asian flavours, this restaurant has it all!
Inside, this open concept restaurant sports a clean look with its dim-lit lanterns and serene surroundings. You can even see the chefs in action from your seats!
Not only do the dishes prepared by professional chefs look marvellously presentable, but the flavours are also top-notch that some of the bites that you take can even give you a sense of nostalgia. Kickstart your romantic dinner with a couple of fresh oysters and perhaps, some Pork & Prawn Gyoza.
Once you're ready for the main course, let the Dry Aged Duck Breast surprise your taste buds and watch the eyes of your loved one widen as they take the first bite of the Sichuan BBQ Lamb Skewers or Wagyu Beef Fried Rice.
Some of these romantic restaurants might cost slightly higher than your usual restaurants, but the experience is definitely worth it especially when you and your date are out celebrating a certain occasion.
Plus, nothing's better than getting dressed up in some fancy clothes and spending the entire night with someone special!